There is something about the way Italians engineer and design things that renders them beautiful in one way or another. It shows in almost all aspects of life in Italy. They could design a door to open and close with a door handle, but that door handle will have subtle curves and flair to it that turns it from a simple usable device into a work of art.
It has shown throughout their motor industry as well, with some of the most revered cars and bikes of the past century elevated from simple machines used to transport people to masterpieces of form-following-function. 
One only has to look at, for example, a Ferrari 250 GTO, one of the most beautiful shapes ever with four wheels, or a Ducati Desmo 750 Super Sport, a racing bike with a shape that seems more sculpted than designed.
For 2020, the Italians have not disappointed their many fans. New models from MV Agusta, Aprilia, Ducati, and many others grace our eyes and ears, and we've sat down here at Badass Helmet Store to bring you our favorite models of the new 2020 model year.
2020 Benelli TNT302S
If there is one thing that this bike could be called, it would be aggressive. It's hunched, hunkered, fists up in front of its face ready to take on all comers. 
Small features like the side mounted rear suspension bolted to the exterior of the exposed trellis frame just give it that extra punch. As well, the diagonal line from the rear axle, up through the swingarm and suspension, and then up through the trellis frame to the headlight just gives it that look of speed. 
Powered by a respectable 300cc parallel twin that pushes out 37.5 HP and 19 lbs-ft of torque, this mini naked definitely has the looks and the grunt to get some fun going in your daily ride. It also has enough punch to get you into mild trouble, but that's up to the rider, not the bike, to handle…
2020 Energica Ego+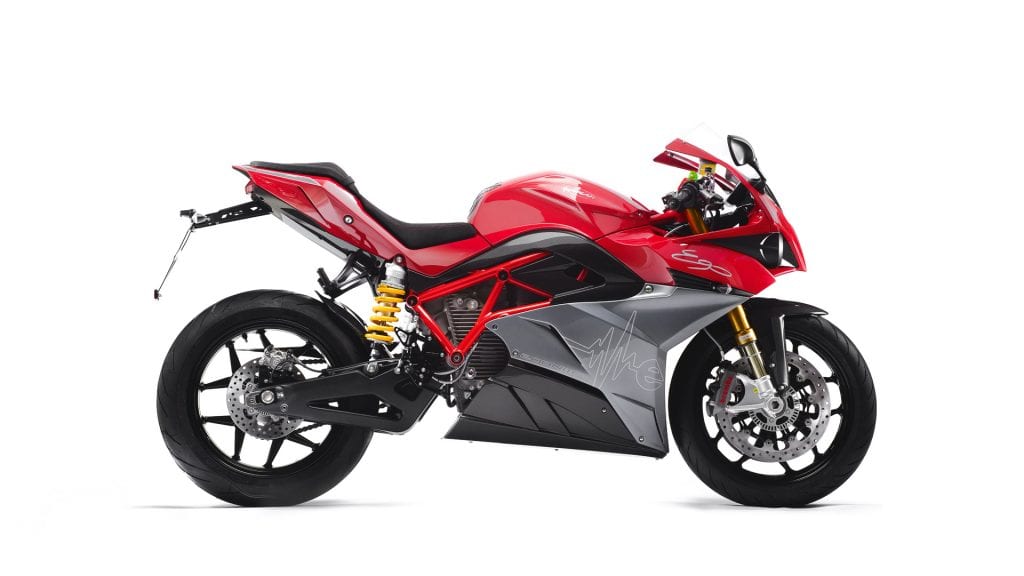 This is potentially one of the most exciting new models of 2020 from any Italian manufacturer. In 2019, the Energica Ego Corsa was the single make bike used for the FIM MotoE Championship, and with the lessons learned from the inaugural season, including from a fire that claimed the first run of MotoE prepped bikes, Energica has now released the Ego+ model.
The Ego+ sports a racing-derived battery that hold 62% more charge than the base Ego, but weighs only a couple of ounces more. The new battery holds 21.5 kW in lithium-ion cells, and powers a race-proven AC motor that pushes out 145 HP and 159 lbs-ft of torque. You indeed read that right: 159 lbs-ft of torque. And all of it is available at 0 RPM.
With the upgraded parts, the Ego+ has an appreciable range of 250 miles in urban settings, 143 miles in mixed urban and freeway riding, and 112 miles for freeways and highways. As well, it is designed to work either with your home garage power or using a ChargePoint charging station, which can power the bike to 80% on the battery in 20 minutes. 
If the future is electric, count us excited.
2020 Ducati Panigale V2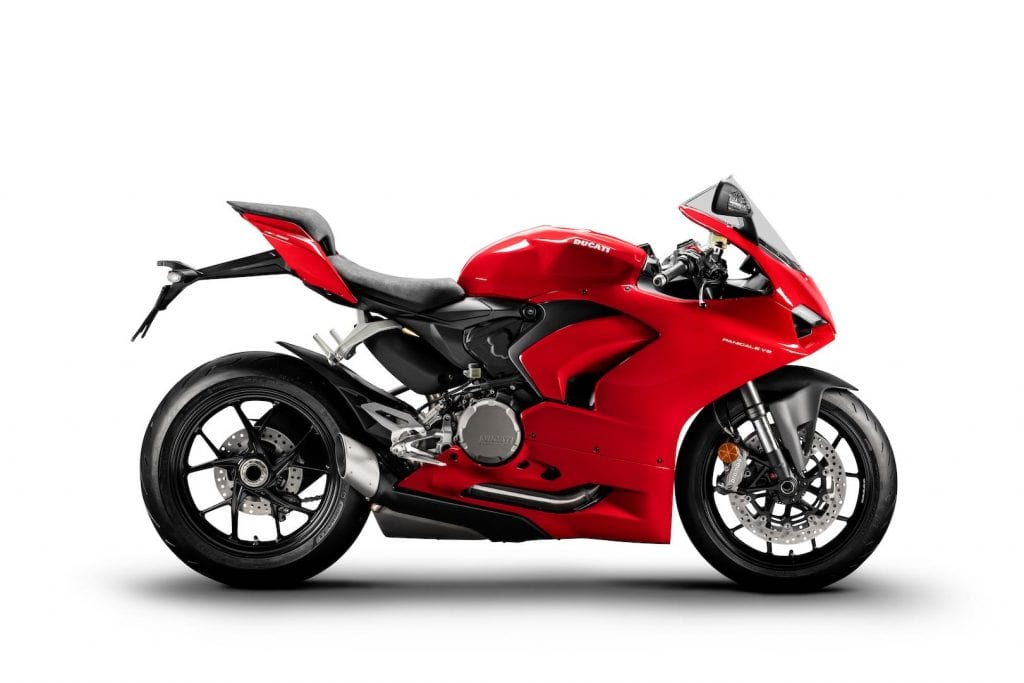 New for 2020 is the "baby brother" to the Panigale V4 series of superbikes. Using most of the same lines of the Panigale V4, with some shape and size adjustments, the V2 still boasts an impressive profile that screams speed in Italian. 
The 955 cc V2 engine is still a mighty power plant, with 155 HP and 77 lbs-ft of torque at the command of your right wrist. Named the V2 Superquadro, it's a full L shaped 90-degree V2 with four valves per cylinder, four strokes, and liquid-cooled, leading to extremely good fuel efficiency. As well, it is Euro 5 compliant, meaning it meets a more stringent emissions protocol than even California's. 
And in a series of better, better, best, in testing the new Panigale V2 can keep up with its Panigale V4 brethren, being only a second or two off of the V4 S's lap pace at the Panigale V2 launch in Jerez, Spain in December of 2019.
2020 Ducati StreetFighter V4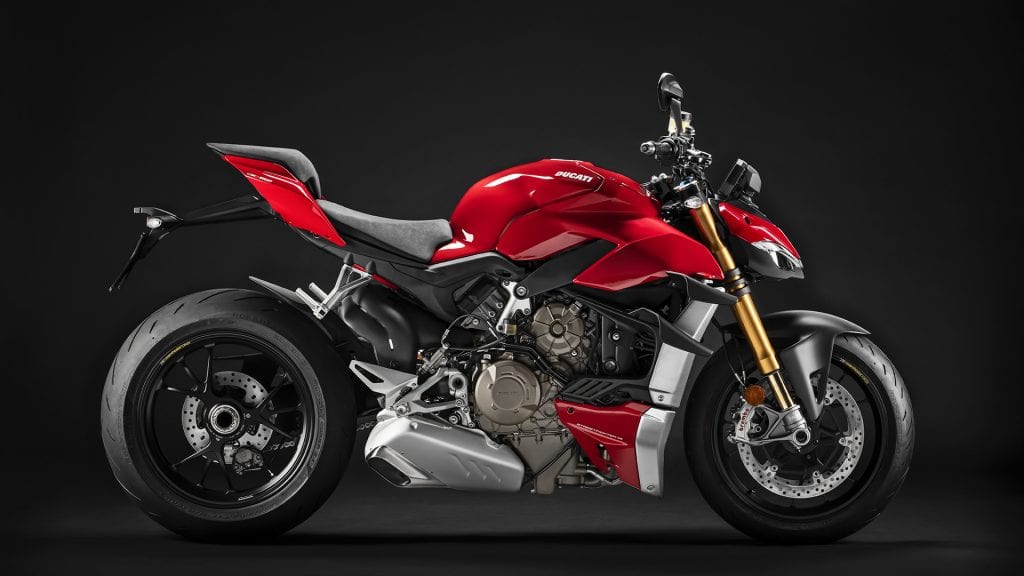 Another new bike for 2020 from Ducati is the long-anticipated StreetFighter V4 and V4 S. Practically a Panigale V4 with all the fairings removed, the body and seating position has been modified and moved around some to give the bike a more standard riding position, while also allowing the rider to tuck down flat to the tank when needed.
Adding to the somewhat mesmeric styling are four aerodynamic dive planes on the front of the bike, designed to move air around riders' legs, much like a front fairing, while also adding some downforce on the front wheel to aid with braking. As well, the all new headlight design, and I quote, "evokes the crazy grin of the Joker" as a stylistic element. It's a mad machine, completely mental.
And just to complement that insanity, it uses the same Desmosedici Stradale 90 degree V4 from the Panigale V4, pumping out 208 HP, 90.5 lbs-ft of torque, and screams to a redline of 15,000 RPM. This is not so much the Joker, as it is Bane in the Joker's clothing.
2020 MV Agusta Superveloce 800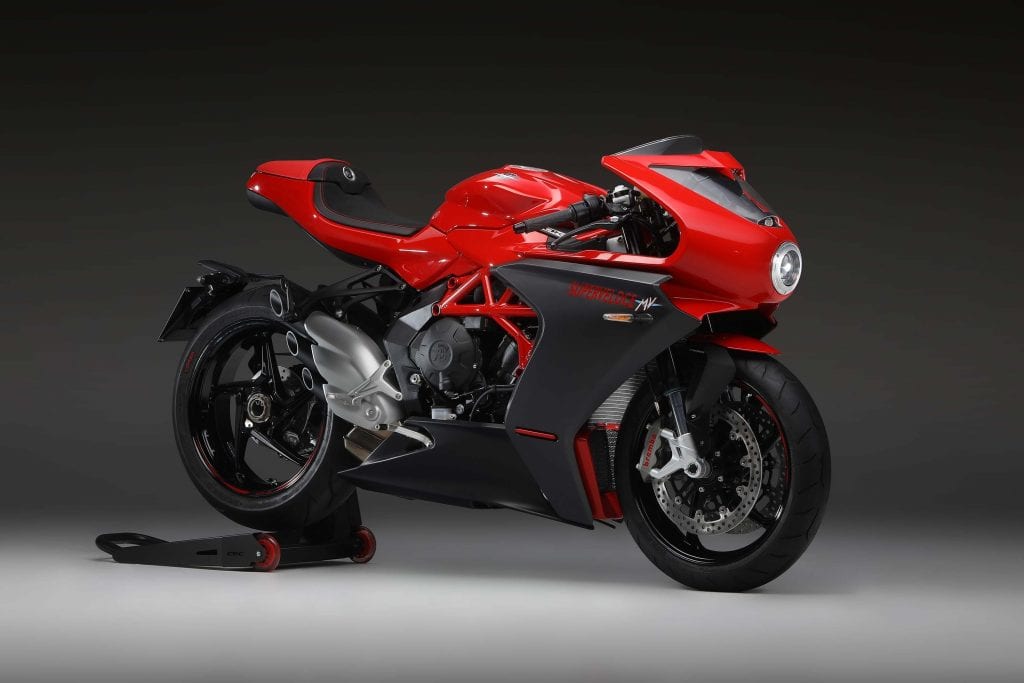 They may not be the most reliable supersports in the business. They may cost an arm, a leg, and most of your firstborn. There are even whispers that there is some black magic or witchcraft involved in the styling department, but whatever you believe, you absolutely cannot deny that MV Agusta makes some of the most beautiful bikes on the planet. 
This is proven once again in 2020 with the stunning MV Agusta Superveloce Ottocento (800). A perfect blend of modern and retro, it is designed specifically to recall the long, low slung look of a cafe racer, but built on a modern superbike frame and technology. The discreetly peeking trellis frame, the one-piece cowl with the single headlight, even the circular brake light. Engineering and design at its finest.
It's also no slouch, with a 798 cc inline triple producing 148 HP and 72 lbs-ft of torque, and producing that classic MV Agusta 800 cc triple howl that emanates from its 800 cousins, the Dragster 800 RR and the Brutale 800. 
2020 Aprilia RSV4 RR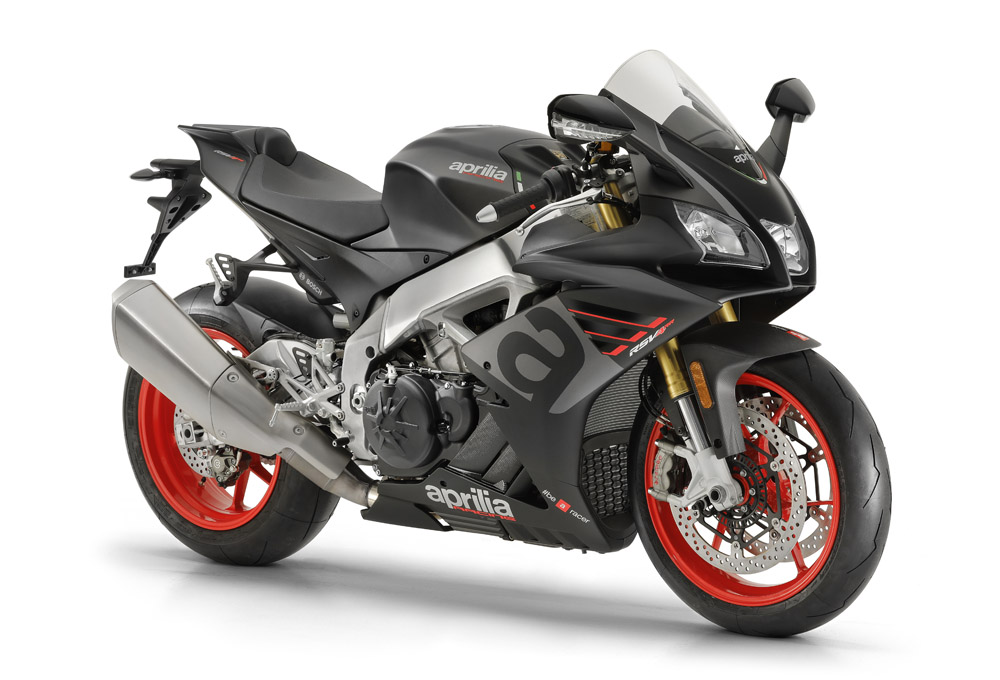 Aprilia and RSV4, as a name combination, go back quite a ways. All the way back to 2009, to be precise, when the RSV1000R was shuffled out of production and the first RSV4 models started to come out. Since that original model, multiple evolutions and redesigns have occurred, following on with technology and lessons learned from participating in the World Superbike Championship.
The 2020 Aprilia RSV4 RR is, in Aprilia's own words, one of the most important advancements they've made for supersport bikes. It features multiple design changes to the front end, including a new air intake system, new headlights, and even wing mirrors whose stems are aerodynamically involved in keeping the bike planted and sure in it is handling. 
The biggest upgrade though is in the 65 degree V4 engine, which they have reworked from the 2019 model to produce 16 more HP and weigh nearly 4 lbs less. It now pushes 201 HP and 85 lbs-ft of torque, and the weight savings from the engine and front end drop the RSV4 RR under 400 lbs dry, and under 430 lbs wet.