While spending the big bucks on a helmet is typically the first priority for new riders or those who are upgrading their gear, we must not forget the importance of a quality jacket when it comes to rider safety.
Your helmet protects your brain – arguably the most important part of your body – but your jacket needs to be up-to-par to ensure the safety of the other vital organs that keep your body functioning.
With such a huge range of leather jackets available, there is one major issue when selecting a jacket that's right for you: they all look way too similar. How can we judge which leather jackets are better than others when they all feature leather construction and look about the same? What does a $600 jacket have that my current $300 jacket is missing?
Today, I present you a list of what I have found to be the best leather jackets and split them up into three very important categories: Touring, Casual, Sport, and Women's jackets. I have included options for all pricing categories so riders of all budgets can make sure they are making the right choice when buying a new leather motorcycle jacket in 2022.
Note: some of the links in this post are affiliate links and we will earn a commission if you purchase something through them. Thank you for supporting us.
Best Touring Leather Jackets
REV'IT! Ignition 3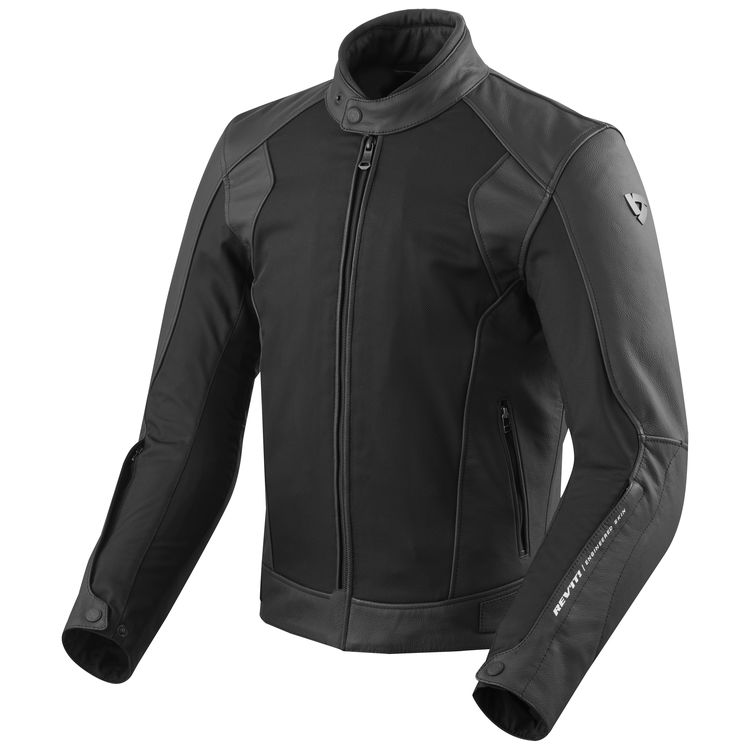 Is it really possible to have one jacket that is basically BadAss in all situations? You bet it is, if you get the Ignition 3.
Monaco Performance cowhide and Dynax mesh make up the majority of the outer shell of this jacket, and with well-placed vents this jacket can really flow some air and keep a ride comfortable. But wait there's more! The REV'IT! Ignition 3 Jacket comes with a removable thermal liner and removable waterproof liner so you can make Mother Nature your… well you get it. This jacket has all the zips, reflective bits, Seeflex CE Level 2 armor, and good stuff you will ever want or need.
The REV'IT! Ignition 3 is a damn fine jacket. They have a women's version as well.
Olympia Bishop Leather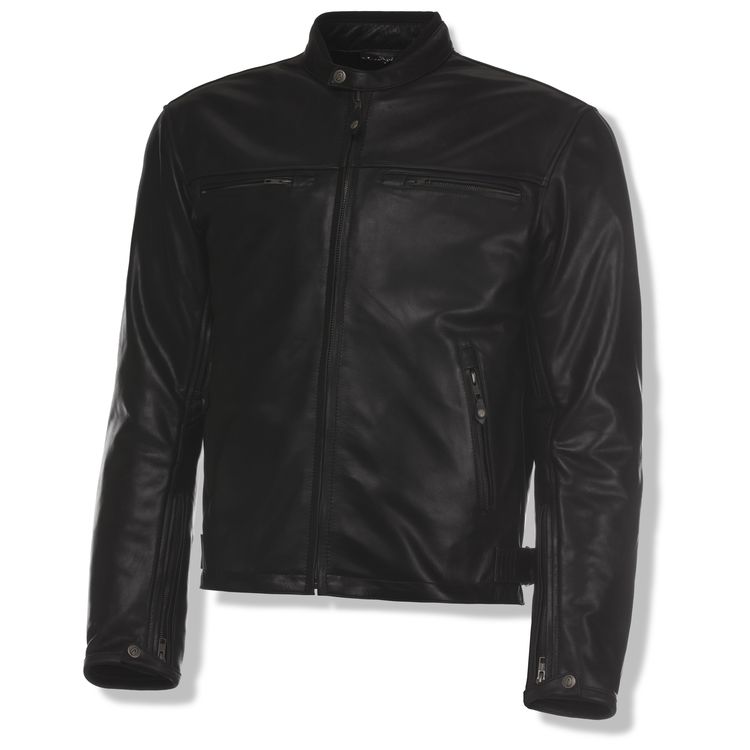 This Olympia jacket is a top choice if you want quality leather under $400. You will know what I mean about the premium feel of this jacket constructed from wax-finished 1.1-1.2mm top grain leather and complete with CE approved Motion Flex armor at your back as well as elbows and shoulders. It does have decent venting to keep things cool under the thick leather, and you also get an insulated liner turning this into a true three-season garment.
This is the best value I can find for the BadAss readers looking for a touring option.
Helite Leather Airbag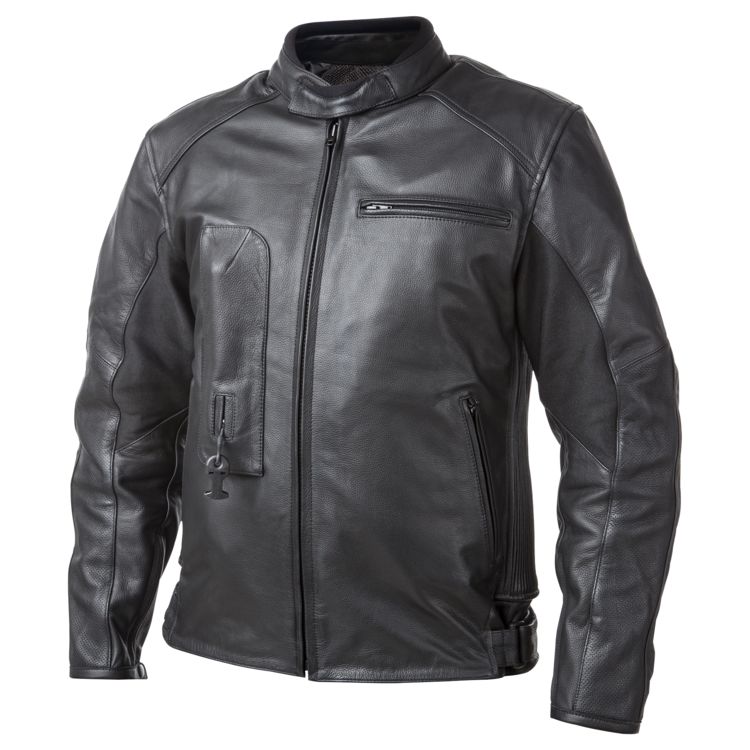 For the high mile, iron butt crowd spending the money for this level of safety has value. The Helite Leather jacket is very much a premium piece of kit, made from supple 1.3 mm cowhide leather with a classic cafe style, and comes with FreeAir mesh vents and a removable thermal liner.
For standard protection, there is Knox armor at the elbows and shoulders plus a SAS-TEC CE level 2 back protector. Now let's talk about the huge feature, the active airbag system. Activated by a tether trigger, the Helite Leather Airbag Jacket protects you like no other jacket. Designed to support your neck and spine, it provides critical protection to your vital organs and stabilizes your body in the event of a crash, it deploys in just 0.1 seconds.
This is top-level touring protection, and it's hiding in a great-looking leather jacket.
Best Casual Leather Jackets
The Casual Leather Jackets, what exactly are these? Well for this reviewer it is my polite way of saying these are the jackets that just get better with age. The jackets BadAss bikers love to wear, because like your favorite pair of jeans, they just have the right look. You can dress them up and you can dress them down, but the BadAss energy lives in this type of jacket.
First Manufacturing Raider Jacket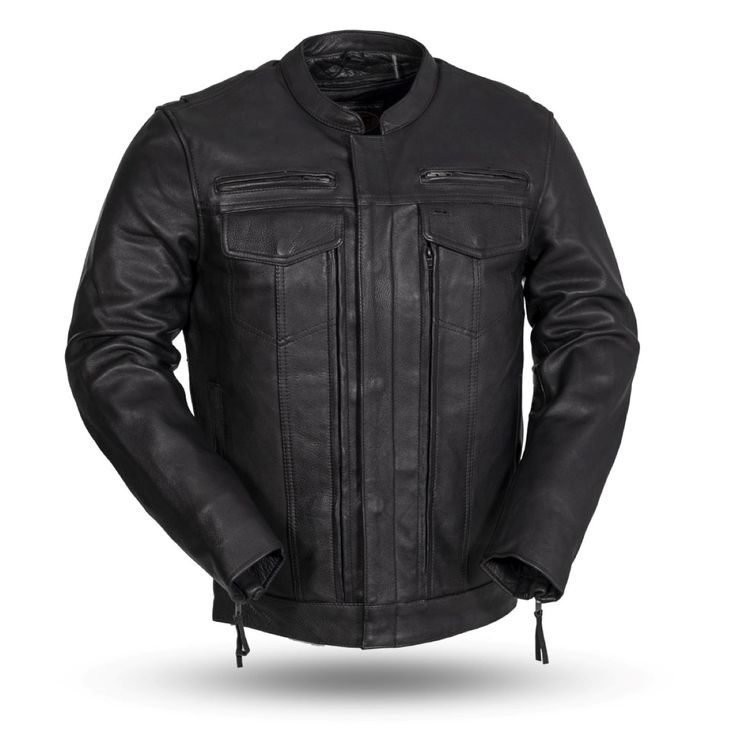 The Raider Leather jacket by First Manufacturing is the perfect casual option for riders seeking a stylish jacket that checks both boxes off for protection and style while maintaining features to keep your daily commute pain-free. What makes this such a 'daily driver' jacket? There are 16 pockets for functional storage. Anything you could need to stash away on-the-go can be placed into any of the 16 pockets provided. Just make sure you keep track of where things are going, of course.
The jacket features a Diamond cowhide construction for great durability and safety. Leather isn't typically the most breathable fabric, so for those who naturally run-hot or live in warmer climates you'll be pleased to hear that there is a removable zip-out liner and ventilation so you can stay comfortable no matter the season.
This jacket may not come with armor pads installed from the get-go, but have no fear, there are pockets in the shoulders, elbows, and back for armor pieces that can be purchased separately. A simply fantastic jacket given the features and price point.
Roland Sands Clash CE Leather Jacket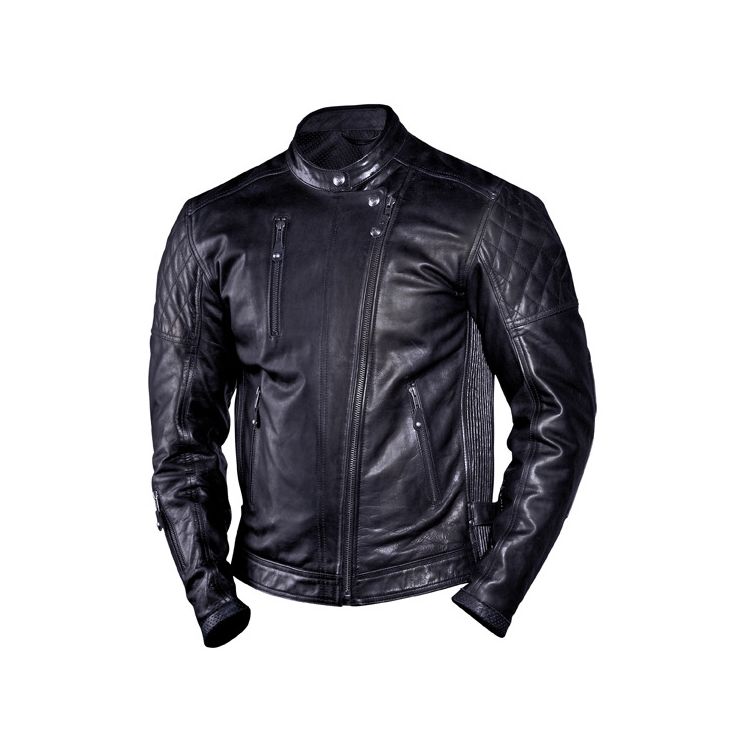 Coming in at just more than double the price of the First Manufacturing Raider jacket listed above, we have the Roland Sands Clash CE Leather Jacket. Roland Sands is known for great-looking, high-quality jackets with all the features we have come to expect from a high-end jacket manufacturer. The RSD Clash looks like an old school rocker with grease stains on his jeans. Constructed of a specially developed and exclusive GT Racer leather that feels and smells as good as it looks, each Clash is unique.
Don't let the looks of the Clash fool you; underneath that rocker styling is a true performance riding jacket with top level technical protection technology. All seams have been double, or triple stitched to meet vigorous CE level safety standards and include innovative, low profile CE level 1 armor by SAS-TEC.
Yes, Roland Sands jackets command a premium price but trust me when I tell you, there is simply nothing else like them.
Joe Rocket Classic '92
The Joe Rocket Classic '92 is, quite simply, a jacket from 1992 that has been updated to 2022 standards. Made of 1 to 1.2 mm drum-dyed cowhide, the jacket is bare-bones, just enough to be retro without overstating it.
Armor is not included, unfortunately, but there are zips that will allow for shoulder, elbow, and back armor to be inserted. There is a zip in liner that is quilted to be extra warm on those cold days, but can be removed on the warm ones. A tight-fitting but comfortable mandarin-style collar helps keep your neck out of the wind as much as possible.
Ventilation is mostly through the upper chest zips, although there are no rear exhaust vents. As stated, this is a leather jacket for those that want the best retro style protection without going overboard.
Street & Steel Dakota and Madison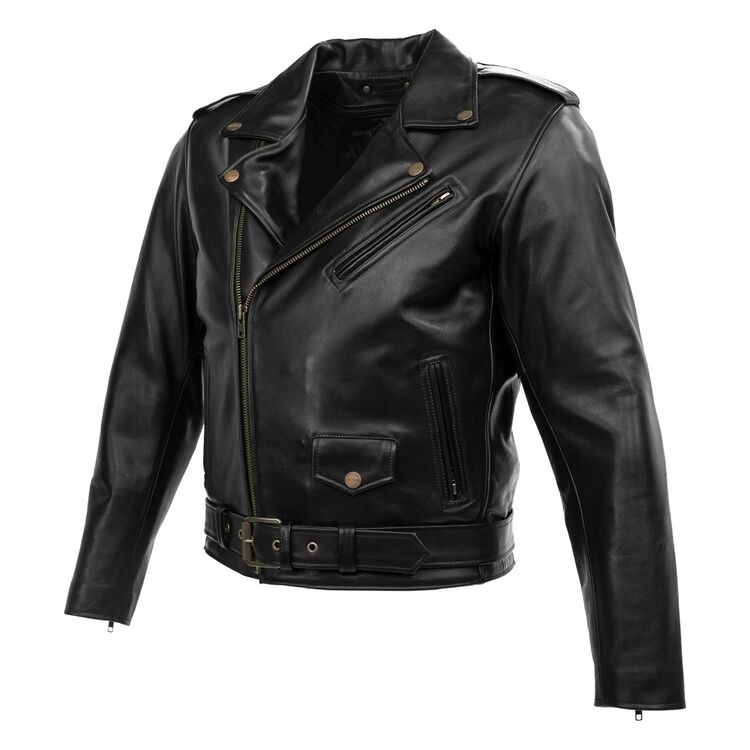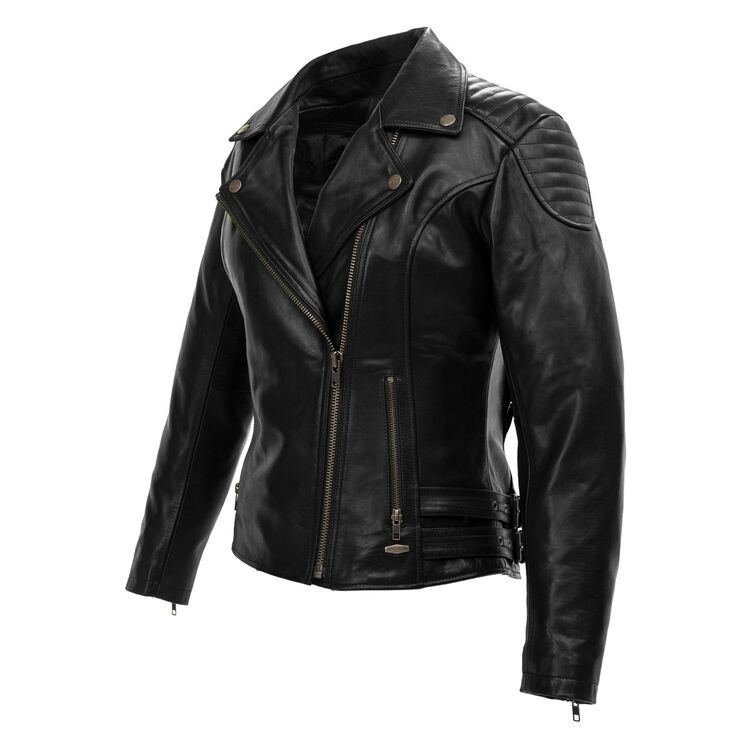 We have to admit here at BadAss that we've been impressed with the gear that has been coming out of Street & Steel, and the Dakota is no exception. Definitely a cruiser's jacket, it is pure aniline cowhide, 1.2 to 1.4 mm thick. All the zippers are true YKK, and provide access to ventilation, pockets, and concealed pockets as well.
The lapels can be worn multiple ways, such as snapped down as in the picture. They can also be worn with the zip fully up, in which case the upper lapels become the primary lapels. There are two hidden zippered vents in the vertical shoulder seams on the back. As well, there is a jeans loop built into the jacket, and the belt on the waist is fully removable.
However, and this is the best official description for the Dakota at least, it is designed to have a "generous American fit." Definitely a cruiser jacket!
Scorpion EXO 1909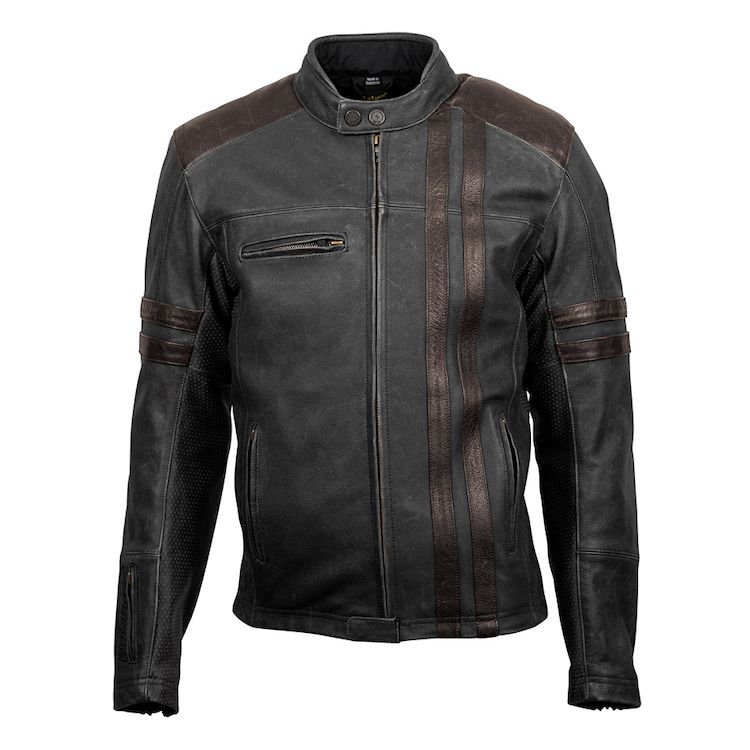 If the saying "looks can be deceiving" could ever be applied to a riding jacket, the Scorpion EXO 1909 is that jacket. A simple, retro exterior, which is distressed to look worn in and used, hides a technological marvel of a motorcycle jacket.
First up is Scorpion's inner liner, which will keep you warm even if the weather is determined to chill you to the bone. With the liner out, microperforations allow just enough ventilation to wick away heat without cooling you too much. Those arms and shoulders hide full Sas-Tec CE level 2 armor, with a pouch for an optional CE level 2 back protector to slip into.
All the seams are double-stitched with the stitches folded over each other for extreme durability. There are rib and underarm flex panels that allow for much more natural movement than many other motorcycle jackets. And should you be wearing armored jeans with the jacket, it has a full 8-inch pants-to-jacket zipper and rear belt loop attachment tab so that if you do come off your bike, your jacket won't slide up your body.
Best Sport Leather Jackets
If you're a certified 'Street Rossi' or spend most of your time on the saddle at a speed faster than 150mph, a casual leather jacket just isn't going to cut it regarding your safety when spending a day at the track or heading to the mountains to shred up some twisties. Here are some of the top sport-oriented leather jackets available in 2022:
Alpinestars Missile V2 Ignition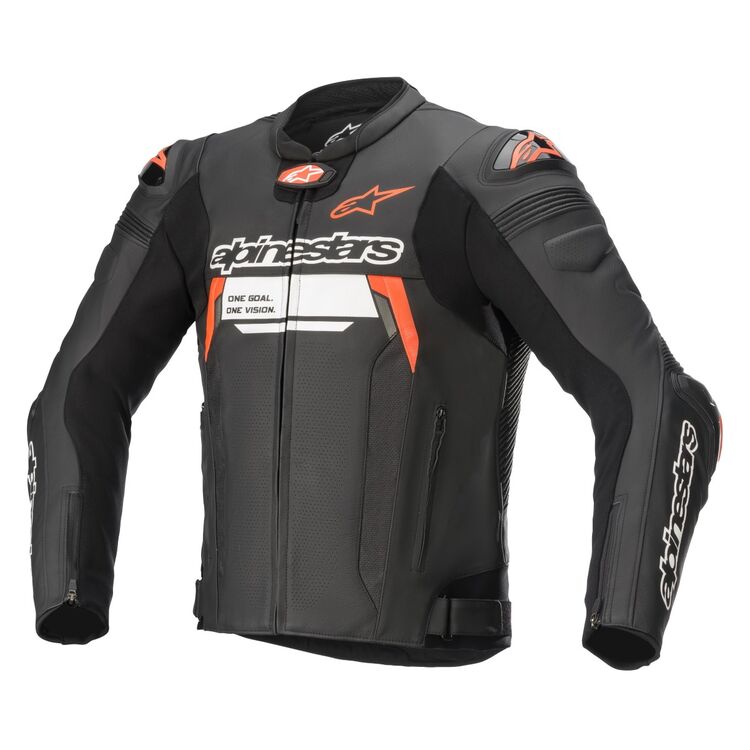 The Alpinestars Missile V2 Ignition is bar-none the safest jacket on this list. The jacket was fully designed with Alpinestars' Tech Air Airbag systems in mind, providing riders with the option to integrate the Tech Air system straight into the jacket making it the perfect option for riders who like to race on the edge.
The construction features a  leather main chassis constructed from 1.3mm genuine bovine leather, Alpinestars' Dynamic Friction Shield protectors in the elbows and shoulders, and a snap system for an additional CE level 2-certified Nucleon Back and Chest Protectors to be added on the fly.
If you've ever watched a MotoGP race, I'm sure you have seen 'the hump'. This hump functions as a guide for the air passing off your helmet to seamlessly meet your back for maximum aerodynamic streamlining. The jacket comes in both black/white and another colorway with some red accents thrown into the mix.
Dainese Racing 3 D-Air Perforated Leather Jacket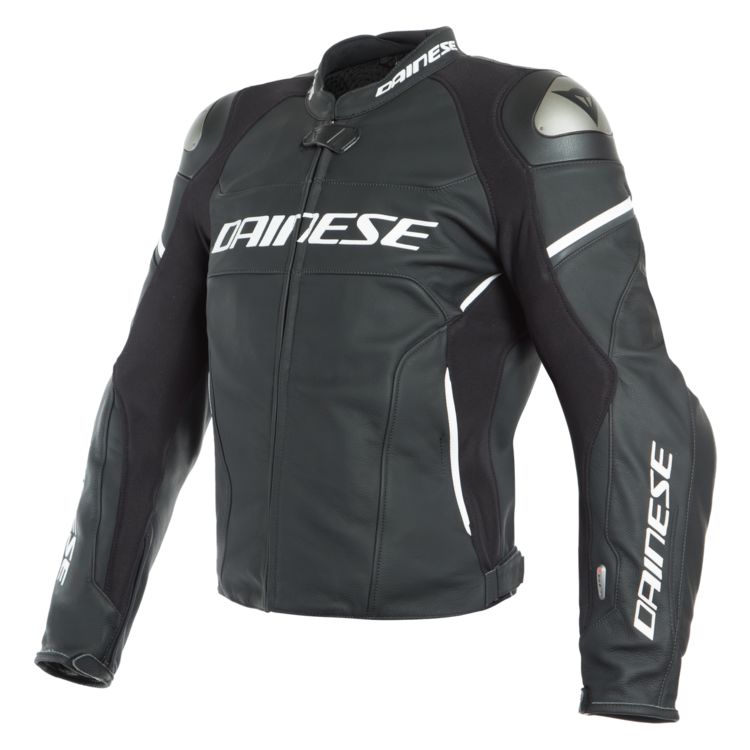 $1300 for your protection only. Dainese is the Ferrari of the racing-gear world and has been manufacturing awesome gear for years. Nobody complains about the cost of a Ferrari, because typically with high-end stuff you're getting what you pay for. The Dainese Racing 3 D-Air Perforated Leather Jacket is the pinnacle of performance racewear. Much like the Alpinestars GP Pro V2, this jacket has the option for a full airbag safety system. Technically, it's not an option because the system is seamlessly integrated into the jacket, hence the hefty price tag.
The D-Air airbag system requires a full maintenance overhaul every 5 years (the cost is on the owner, not Dainese) to ensure that it's armed and ready to save your life on the racetrack. The jacket is jam-packed with sensors and features a GPS to gather data in the event of a crash, which will inflate the airbag to protect your neck and chest area.
Beyond the safety system, you can find EN 1621.1 Level 2 standard body armor on the shoulders and elbows. The jacket breaths well and has a few pockets; but probably isn't your best option if you're looking for a jacket suited for daily commuting.
Dainese Racing 3 Perforated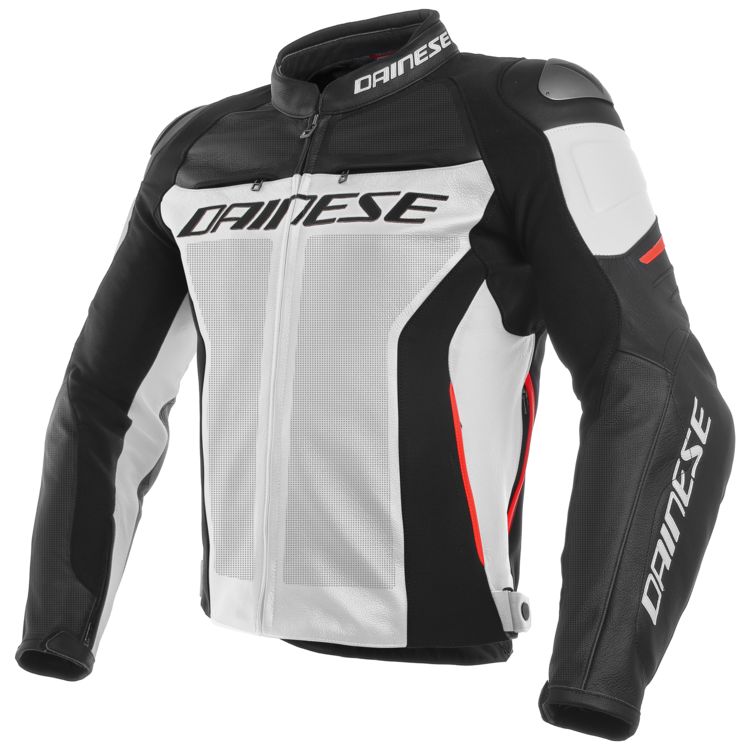 The Dainese Racing 3 Perforated jacket is one of the best jackets, flat out, that you can get as a sport rider. Race-grade Tutu Leather (a special type leather that is perforated but also has a specific water repellent treatment) makes up 95% of the jacket, with strategically placed elastic inserts and variable air vents that are controlled via zips and what you wear under the jacket.
The biggest thing that makes this a superb value for the sport rider are the composite CE certified protectors that go from elbow to wrist on each arm, as well as the thermoformed aluminum insert shoulders which are then covered in Tutu Leather. The entire jacket is certified to CE category II, which qualifies the jacket as track and race capable.
You can also severely armor up the jacket, with available chest protectors, a G1 or G2 grade back protector, and it can pair with pretty much any racing leather pants that have a zip connector.
Best Women's Leather Jackets
Many manufacturers today are finally providing women's options for their best-selling motorcycle jackets. We have a few picks here, but see our sister site webBikeWorld for a much more expansive list of ladies motorcycle jackets.
Here are the best low and high priced leather jackets for our formidable lady-riders in 2022:
First Manufacturing Ryman Women's Jacket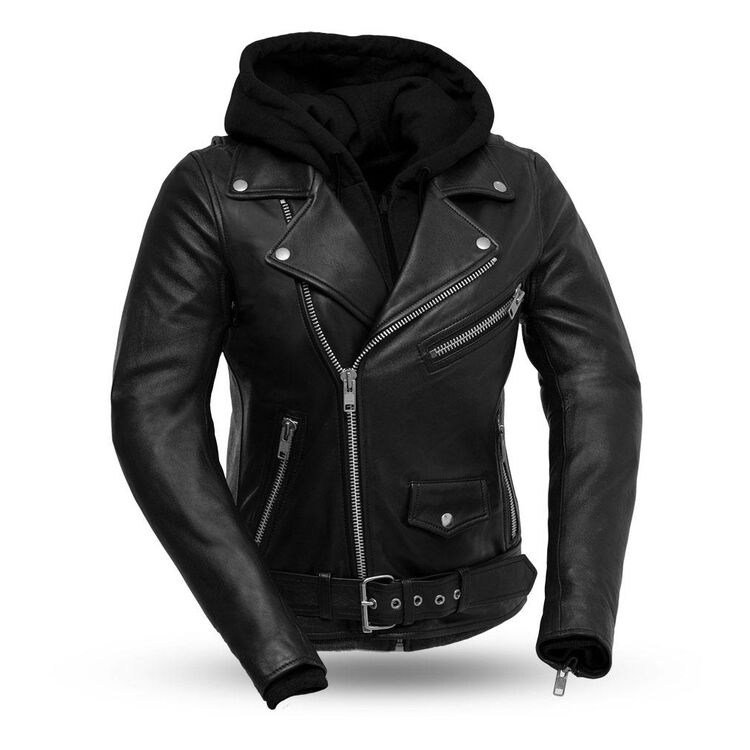 First Manufacturing produces stylish, value-focused gear that is tailored to the curves of female riders. The Ryman jacket takes an absolute classic of a biker jacket style and includes a hoodie with it, completing the look that many would put together anyway. But this goes together properly with no odd bunching or hanging below the waist excessively.
It is clear to me that the crew at First Manufacturing are as aware as we are here at BAHS that women who ride are inherently BadAss, which may be why the Ryman jacket has not one, but two interior conceal carry pockets.
Street & Steel Athena Women's Jacket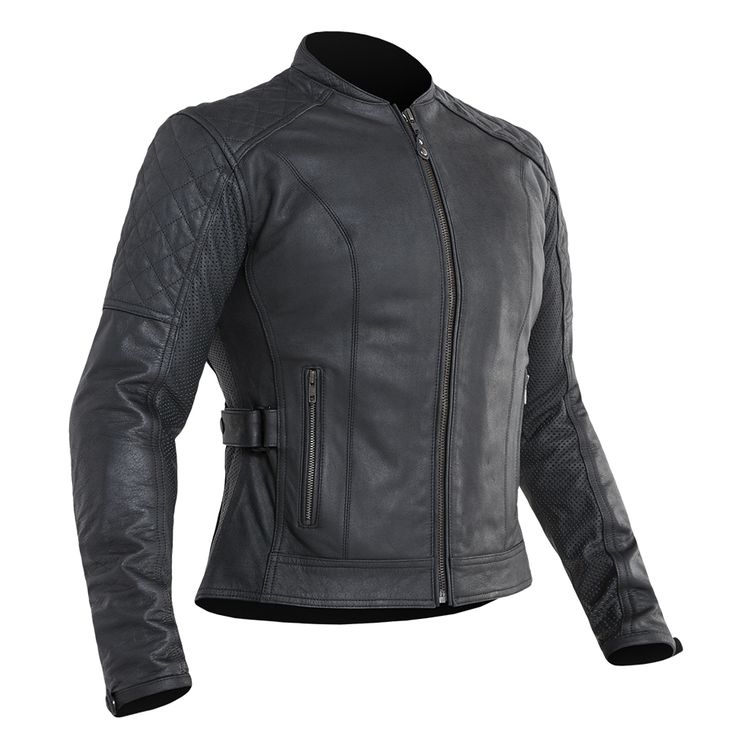 The Street & Steel Athena Women's Jacket is a great entry-level option for women looking for a classy riding jacket that can be worn both on and off the motorcycle. The natural drum dried leather core makes this jacket robust and Street & Steel takes it a step further with the introduction of CE rated armor protectors on the shoulders and elbows. This jacket won't come with a back protector off the rack though, but there is a pocket that allows for users to add their own armor sold separately.
The torso has perforated panels for increased airflow (not a strong suit of leather), and a mesh lining to keep this jacket breathing in the wind.
Are you a motorcycle-riding, gun-wielding badass chick? Well, this jacket features a pocket to keep your concealed weapon and ammo close to you at all times. BAM. You read it correctly; this jacket actually has a dedicated pocket for riders who require firearms storage while on the go. That, and granola bars.
Roland Sands Riot CE Women's Leather Jacket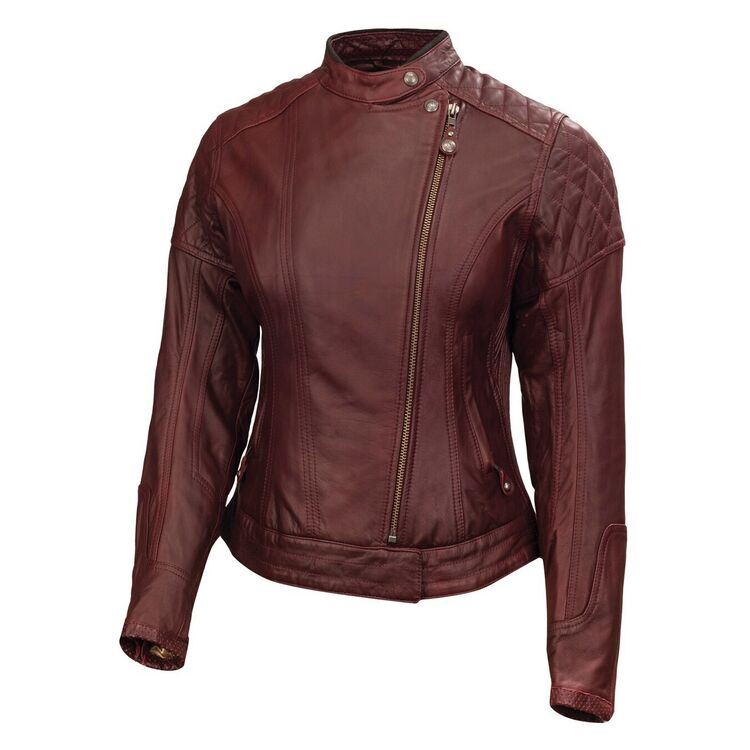 This is essentially the women's version of the RSD Clash we covered in the men's casual section of this list. It comes in Black, Tobacco and Oxblood colors and is built with Blackstone supper top grain cowhide ranging from 0.8mm to 0.9mm thicknesses for a quality feel that cannot be topped. Just like the Clash this jacket includes CE EN 1621:2021-1 certified SAS-TEC flex elbow and shoulder armor and back pockets ready for D30 to be dropped in for extra protection.