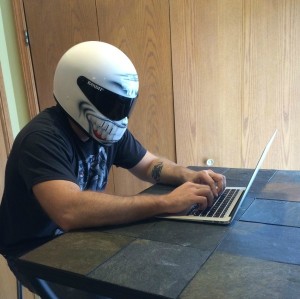 The first novelty helmet I ever purchased at a Biker rally (some $20 piece of thin plastic) for cruising around the parking lot needed a few stickers to complete the look.
"I GET SHIT DONE" was the very first helmet sticker I ever bought, and still describes me perfect to this very day.
That same helmet fell off my handlebars and cracked in half.
*face-palm
More about the man behind this store below…
About the Badass Helmet Store:
Starting and building this motorcycle helmet store has been a fun and wild ride. At the beginning, I really had no clue about online business, marketing, and the struggles that entrepreneurship had in store for me. Creating something from scratch -something that I could be proud of and can show my son how to do it the right way, how to fail at a lot, and how to persevere through the challenges are just a few of the benefits this project has presented. Ok, Ok, about the store….
Testing the market with quality helmets through affiliate products (primarily through Amazon) was the launch point of this website. Today, I continue to test a wide range of factors including traffic channels, conversion rate optimization, and search engine optimization. Partnering with small and large brands to increase our exposure across the web, and eventually private labeling my own brand, or developing a helmet brand that I can call my own are just a few upcoming moves that you will see here in 2016-2017.
I'm also trying to improve on the video review front. Here is an few example of one I shot earlier this year;
–

Details behind the scenes of the Website:
UPDATE:  2016 = 2.4 million page views.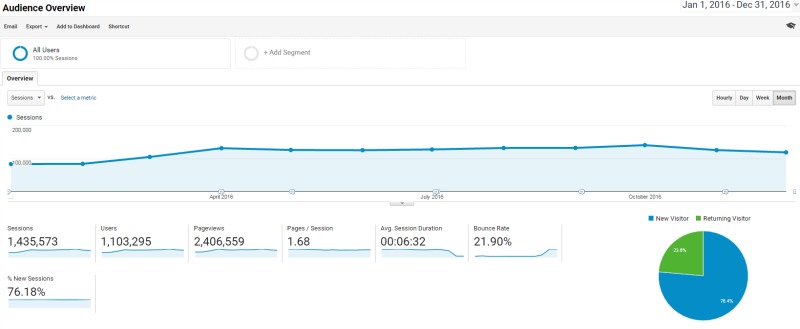 Focus, focus, wait,…….. did I hear a motorcycle!?
New content and content promotion this month are the keys to the addition of the new page views. The Avg session duration (dwell time) and bounce rate saw a huge fluctuation based on a couple plugins crashing and spitting in bad data to google analytics. Cleaned up, but was misleading earlier this year. Actual users and page views were not affected.
I also began to collaborate with motorcycle brands and continue to get new requests every week. 🙂
Here are my 3 favorite so far in 2016:
Popular Content:
10 Clever ways to make money while riding your motorcycle
Here are my 3 favorite brand collaborations: Jan-Feb 2016
Let's talk about how we can partner up and feature you on this site too – shoot me an email at [email protected] and let me know why or check out the Advertising Page for more options. I've also setup a few motorcycle brands on Amazon, and would like to help you get your's on that sales channel too. It's a bit of a learning curve, but one that I've traveled and want to leverage for other brand builders too. Hit me up, and we will get you selling on the world's biggest online store – on your account or mine 🙂
Write for us:
Do you have a motorcycle product that you can wear on your body? We are currently accepting guest posts in the motorcycle space for gear, not bike parts at this time. So if you would like to write on our site to promote your gear, send me an email with "guest post for BHS" in the subject line.
More about me:
2017 Update – My current ride is a 2017 Harley Davidson Street Glide. That's me ringing the bell at Grand Rapids Harley Davidson. The new 107 cui Milwaukee 8 engine and the denim black paint had me at hey good lookin'. Can you tell that I'm f-ing excited or what!?
My goal with this website is to replace my full-time income and be able to enjoy the more of the motorcycle lifestyle while helping others do the same.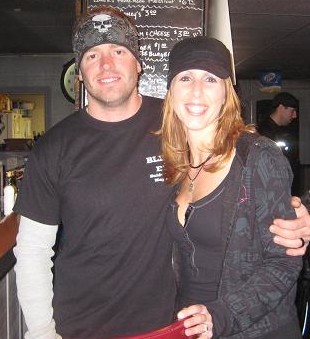 How to find me:
Karl @badasshelmetstore.com
Facebook: Badass Helmet Store
Questions?