As with any hobby, the deeper you get into it the faster the receipts will begin to stack up. Now, I'm not trying to say you need to dump $20k+ into your motorcycle in order to become a true enthusiast – any amount of modification will do – but with the right base selected as your platform for modification, you can find yourself on a highly customized motorcycle at a relatively low cost.
Typically when embarking on your motorcycle modification journey, it is important to select a good base to modify. What is right for you perhaps may not be right for your garage-tinkering neighbor. One thing we all can agree on, however, is the fact that older/used motorcycles are almost always your best bet when seeking a model for modifications. Many years of OEM and third-party parts have had the chance to accumulate, and forum posts directing how you can go about these modifications have had decades to fester.
Every new year brings a wave of new motorcycle models; meaning the previous models and renditions continue to get cheaper (and in some cases, if you're lucky – more expensive!). Although 2022 brought many great new models to the market, this list is going to focus on more traditional motorcycles that have a deep-rooted heritage in the modification communities.
Keeping these things in mind, here are some great models that serve as fantastic platforms when weaving your motorcycle modification dreams into a reality. This list is split up between classics (directly below), and then more modern models that you can also find at a lower cost.
The Classics
Restoration and refabrication have been around since the dawn of time, and it is not specific to any niche either. If there is an object that existed 100 years ago, I can promise you there is an entire community microcosm that has been built around it in 2022 serving as the foundation and square one for restoration. There is nothing more admirable than taking something that has been previously completely decommissioned and breathing new life into it through your own blood sweat and tears, and this idea definitely applies to motorcycle models as well. Here are some older motorcycle recommendations that can serve as an amazing bike for modifying.
Honda CB (Any Displacement)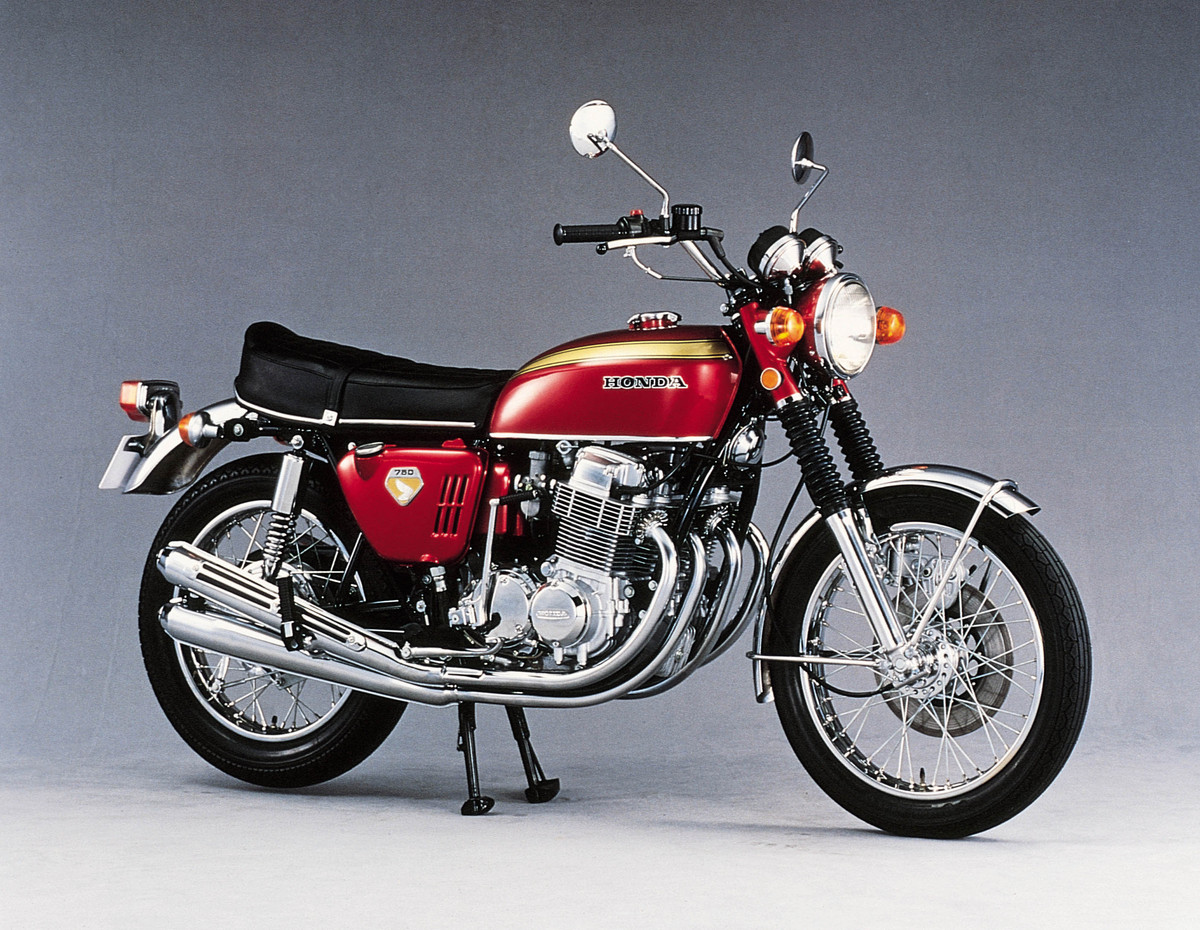 Ah yes, first stop; Honda CB station. What screams "cafe-racer" more than this classic Japanese steed from everyone's favorite team red? The entire CB line of bikes from Honda has been endlessly modified for an insanely long period of time now, meaning shops have tons of experience working on them and there are also a plethora of parts available for the platform.
With only a couple thousand dollars in modifications (on what can already be found for a very low cost, to begin with), the Honda CB can make the perfect scrambler, flat tracker, or bobber build. Not only are these bikes easy to find, but they're a ton of different variants and versions available spanning from 125cc all the way above 750ccs.
Yamaha XS (Any Displacement)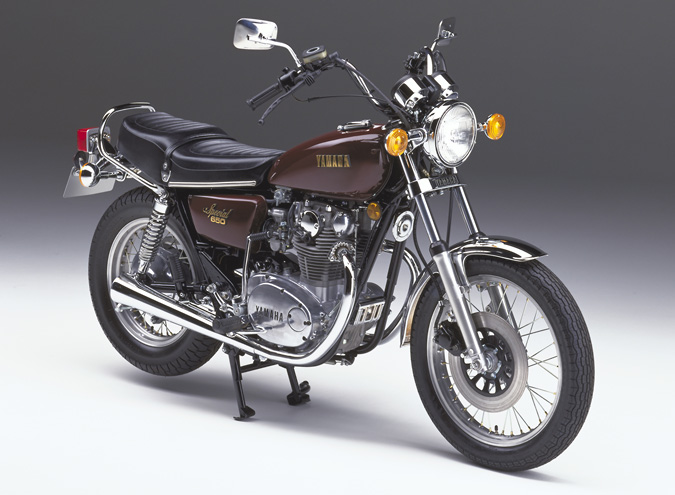 Enjoy the idea of a CB build, but bleed Yammie Blue? Yamaha's historically significant lineup of XS motorcycles should fit the bill; being pretty much identical since it was the CB's direct competitor.
With practically thousands available on the second-hand market at any given moment and a large range previously available of engine displacements, you could realistically manage to buy two or three of these things to merge into a special 1-of-a-kind model to appreciate for years to come.
Although these are often bent-up and mangled into bobbers and scramblers, the large selection of aftermarket parts will give you the ability to customize this thing to your heart's desire. For this reason, I believe an XS400 or XS650 is probably a better option than something you would find in Yamaha's RD line of models.
Kawasaki KZ (Any Displacement)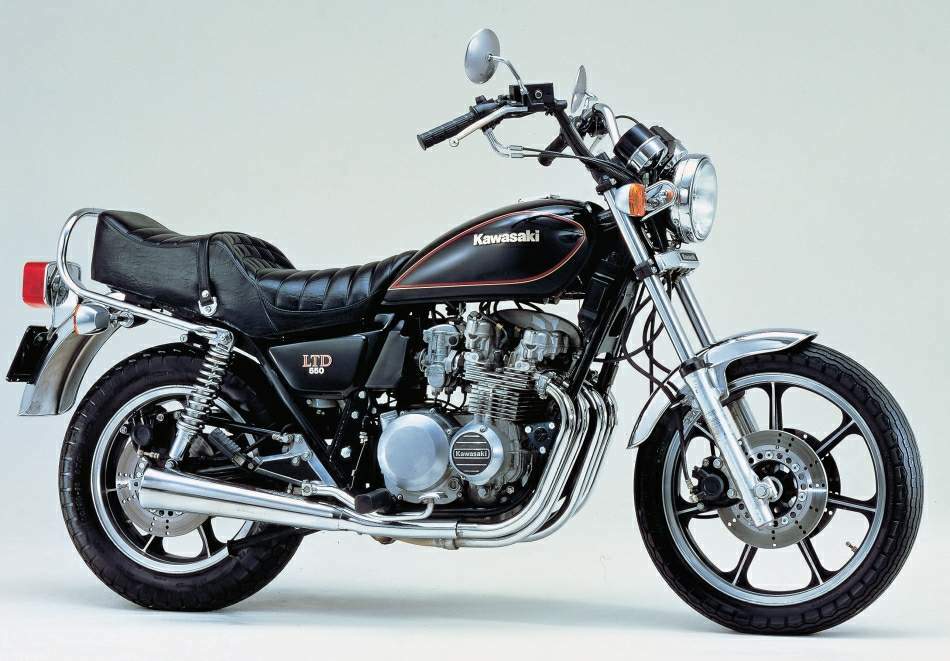 You can't have red and blue without a little bit of green represented on this modification spectrum. With Kawasaki taking a bit of a back-seat when it comes to historical sales figures and general popularity, you can actually manage to nab yourself a bike from their KZ lineup for a little bit cheaper than the Yamaha and Honda models listed above… This means more $ left over for parts!
Thanks to the prevalence of modern-day cafe-racer communities, the XS and CB model prices have seen hockey-stick growth, leaving a low-priced gap for the KZ to squeeze itself into.
Beyond the pricing semantics, the KZ line of bikes also come in a handful of displacement variations and have seen quite a bit of attention from the aftermarket parts community, giving it even more reasons as to why it has a home on this list.
Unsung Heroes
As mentioned above, many of the aforementioned classics are hard to get hold of nowadays. The custom boom drove prices up, and unfortunately, it made unmolested models quite hard to come by. You can find a million half-started projects on eBay, and even more "finished" ones from sellers asking for astronomical prices. If you can find a CB, KZ, or XS for a reasonable price, then by all means go for it. However, if you need to think outside of the box, here are few models that are really worth pursuing.
Honda GB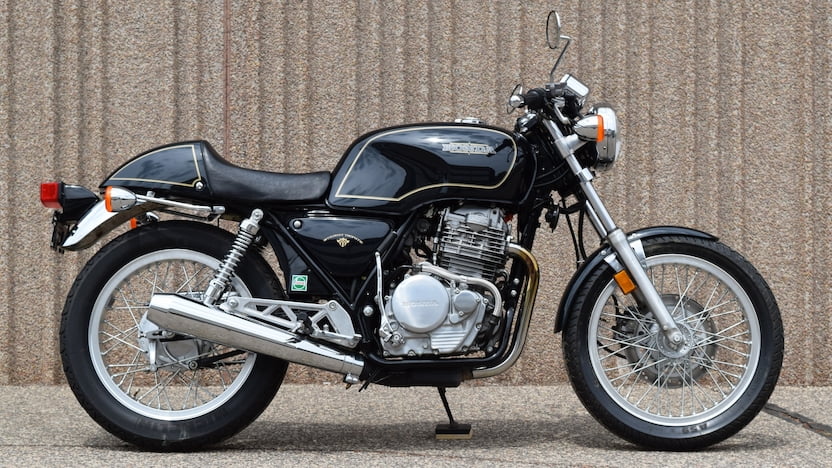 Credit: Mecum Auctions
You've heard about the CB, but what about the Honda GB? The GB had a brief stint in the United States in 1989 and 1990, in 500cc form. The GB500 TT (Tourist Trophy) was something of an oddity. It was a factory-made café racer with almost all of the soul sucked out of it. However, for those looking to build a café racer of their own, it's got all of the right hardware, allowing you to focus on the customizations that really matter.
Dubbed the "GB" in short for Great Britain, the GB takes a lot of inspiration from the British-made 500cc single-cylinder machines of old, such as the BSA Gold Star. It's got the racing tank, it's got the low handlebars, and it's got the bee-sting tail. So what's left to modify?
Well, more power would be nice. In stock state, the 500cc single only produces a fairly anemic 33 horsepower. Getting the most out of that may require shedding weight rather than any real tuning. But, since you're not having to shell out for a café-racer-esque fuel tank, or overpriced clip-ons, you might be able to splash out on an engine swap. A similar-era and similar displacement Honda parallel-twin might slot into that recess nicely, giving an immediate power boost.
Then again, maybe not. If true performance is your goal, maybe a dated and underpowered Honda model isn't the way to go. But with a nice paint job and a few choice aftermarket parts, the GB500 could be a real head-turner.
Suzuki GS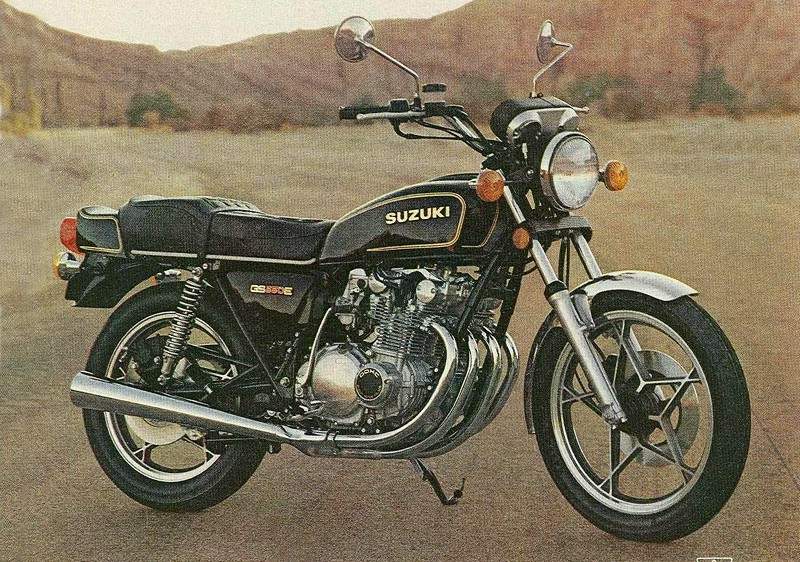 Credit: Motorcyclespecs
The Suzuki GS series is often overlooked when compared with other Japanese motorcycles of the era. The GS marked Suzuki's first foray into mass-produced four-stroke motorcycles. Previously, the company almost exclusively manufactured two-stroke machines but in 1976 that all changed with the release of the GS750 and GS400. The 750 was a four-cylinder machine, while the 400 was a parallel-twin. Technologically, the early GS models were more or less identical to their Kawasaki KZ counterparts but they haven't left such a lasting impression on the industry.
And that's a good thing. While many home customizers are driving up the prices of the models above, the GS isn't quite as sought after. And that means that you can pick them up for a reasonable price. And most importantly, since they're not as iconic as the other models, you don't have to feel guilty about taking an angle grinder to one. It's all very well if you can snap up a cheap CB, but it's borderline sacrilegious to turn something so perfect into some workshop horror. Unless you know what you're doing, of course.
Yamaha Virago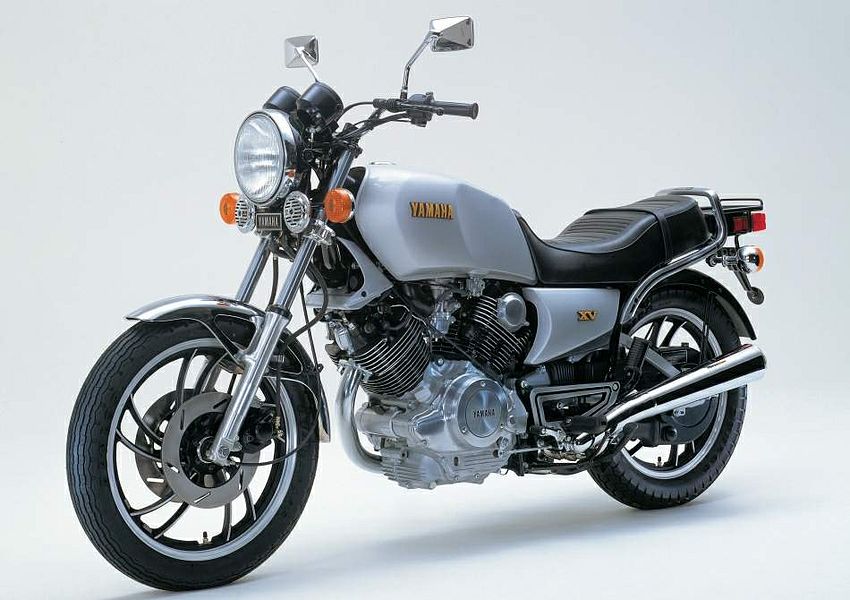 Credit: MotorcycleSpecifications
The Yamaha Virago was something of an ugly duckling when it first arrived on the scene. It was Yamaha's first attempt at a V-twin cruiser, and while the early models might not have been much to look at, they managed to leave a lasting impression on the motorcycle industry. From the model's introduction in 1981 (as a 750 cc), the Virago went through many different evolutions, in many different sizes, before it was eventually retired in 2007. It has been rebooted since then, but as a donor bike, you want an older model.
Because it has been around for so long, and in many different displacements, they aren't hard to find. What's more, they're also fantastic motorcycles for riders of all stripes, shapes, sizes, and budgets. Given the "XV" model designation, you can pop XV125, XV250, XV400, XV500, XV535, XV700, XV750, XV920R, XV1000, XV1100, or even XV1400 into a search engine and turn up a result near you with an appropriate price tag.
Now, just because the Virago sports a V-twin rather than a single-cylinder or parallel-twin engine, don't think it can only be transformed into a chopper or bobber. Fire up Google and see what other creators have done. There have been many impressive scrambler and café racer builds made out of the humble Virago, and each and every one of them.
If you're looking for an affordable V-twin donor machine that you don't have to feel precious about if you need to get heavy-handed with an angle grinder, then consider the Virago. It's fun, versatile, affordable, and very reliable too.
Tomos Mopeds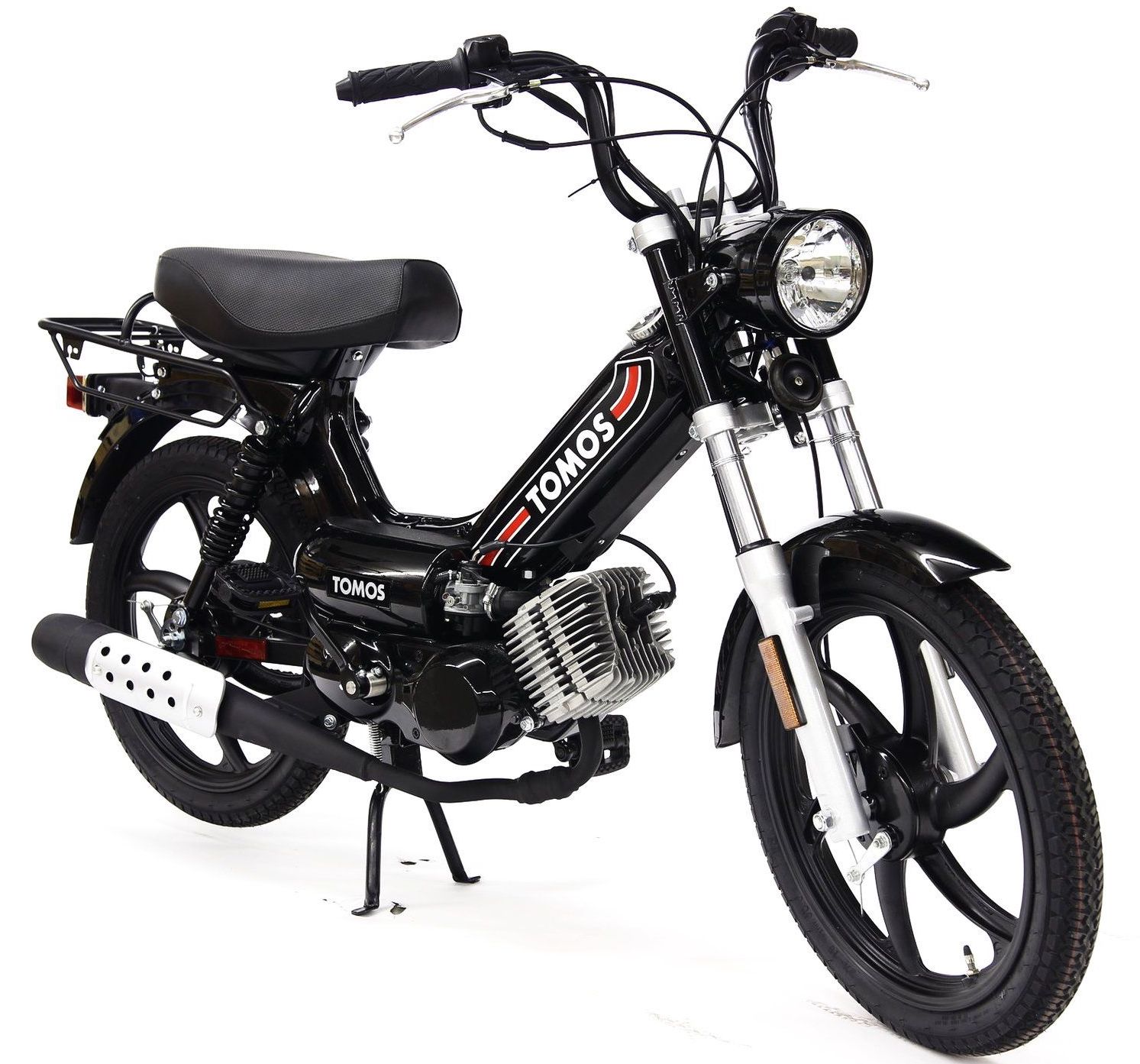 Okay. I had to throw a weird one in here. Tomos is a company that was based in Slovenia. It made small-displacement motorcycles and mopeds. You'll commonly find these things for sale for as low as $200 to $300. They're 50cc and you won't be winning any drag races, but they're fun as hell, and I own one that isn't 100 percent stock.
The cool thing about these is there is a vibrant custom bike scene out there for them. These get lumped in with the classic Puch, Motobecane, and Garelli bikes, but you can find modern ones so you're not necessarily working with an old bike. You can find any part you need or want online, and there's a robust library of content out there on how to maintain, modify, and do pretty much anything to them.
If you're just getting into customizing bikes, you should buy a Tomos, download Fred's Guide, get the bike running well, and then customize it like crazy. The most you can get wrapped up into these builds is a couple of thousand bucks, so it's a cost-effective option, too. The company went bankrupt in 2019, but there's still plenty of aftermarket parts out there, and if you browse your local classifieds you'll find these out there for basically pocket change.
Modern Bikes
Honda Rebel 300, 500 and 1100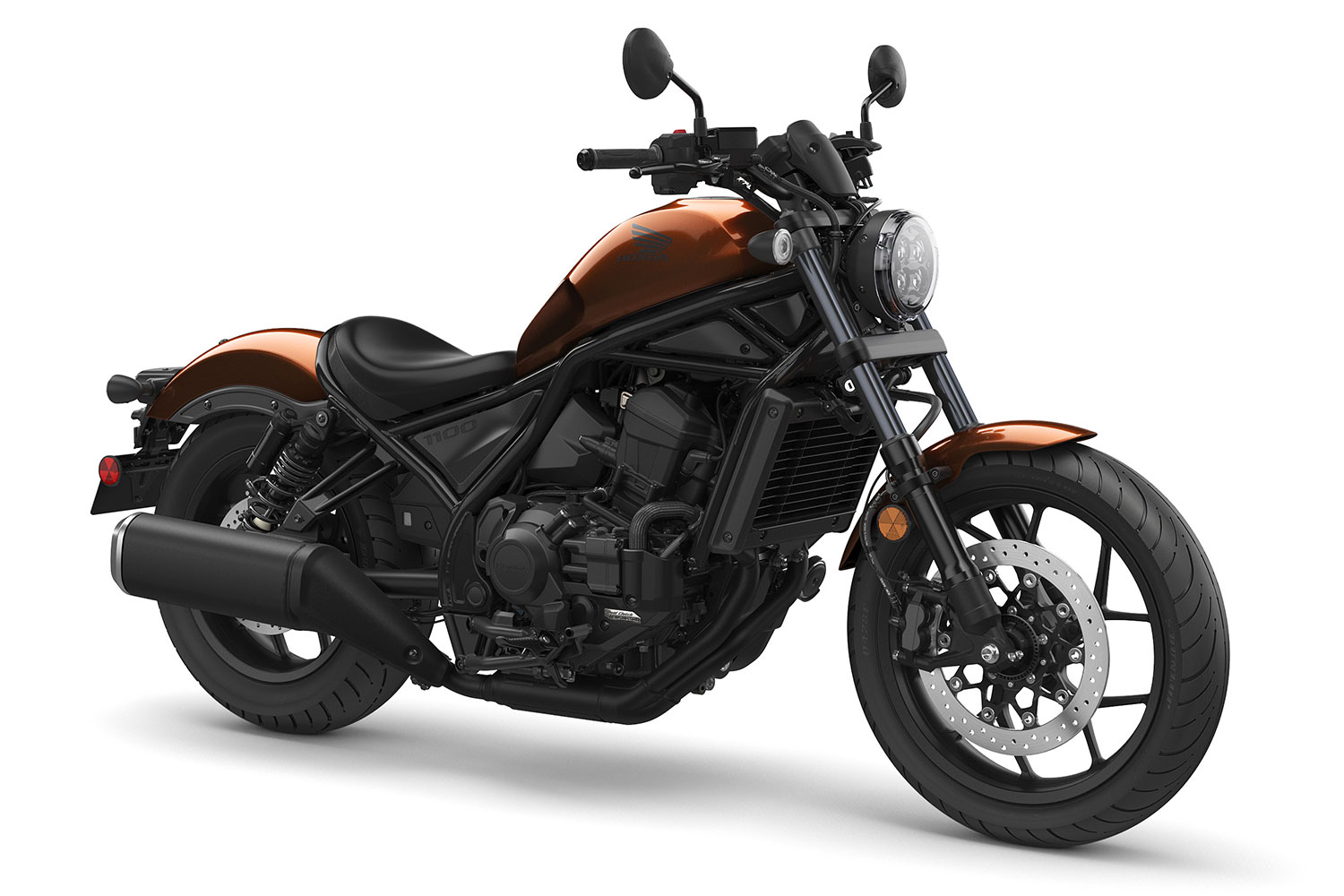 Speaking of the Honda Rebel, the bike makes for a fantastic motorcycle to customize. Honda really built the bike with this in mind. Most of the motorcycle is exposed and ready for customization. It doesn't really matter what displacement you buy. Both the 300 and 500 are ready for some fancy custom parts. If you enjoy the styling and ethos of the platform but are deterred by the very small displacement options, last year brought the world an 1100cc version to market that is sure to captivate modders who are seeking something with a little more "girth".
Although modders haven't had much time yet to really give the 1100cc version a full reimagine, the fact that it shares so many parts and components with it's 300cc and 500cc brothers means there is already a ton of aftermarket support.
I haven't customized my model yet, but that's mostly because I haven't decided what I want to do. Part of me wants to stick some mini-ape-hangers on there and lean into the small cruiser thing, but the other part of me wants to go more of a scrambler route. The cool thing about the Rebel is you can do whatever you want to it. It's a great blank canvas for anyone that wants to modify their bike.
More:
Royal Enfield Continental GT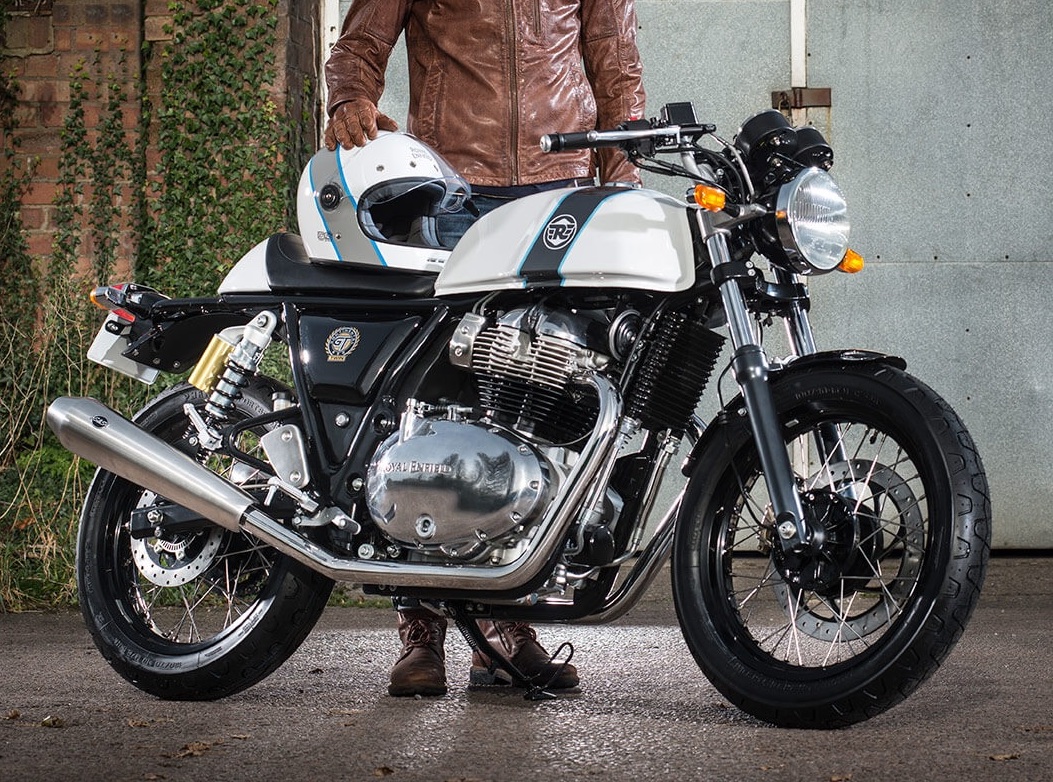 My first thought when I saw the new Royal Enfield 650 Twins was that the custom bike scene would be all over them, and I wasn't wrong. Some of the best design houses and custom shops have taken the Continental GT or INT650 and completely transformed them. These bikes look a lot like the classic bikes I recommended above, so they're an obvious choice for building a scrambler or cafe racer.
I typically see builders using the Continental GT over the INT650, but that's really up to you. The basic frame and powerplant of the bikes are very similar, so either will be just fine to take and transform into the custom motorcycle you always wanted. Of course, doing so will probably void that nice big warranty Royal Enfield gives these bikes.
Check out an in-depth overview of the 2021 Royal Enfield Continental GT at our sister site.
Harley-Davidson Iron 883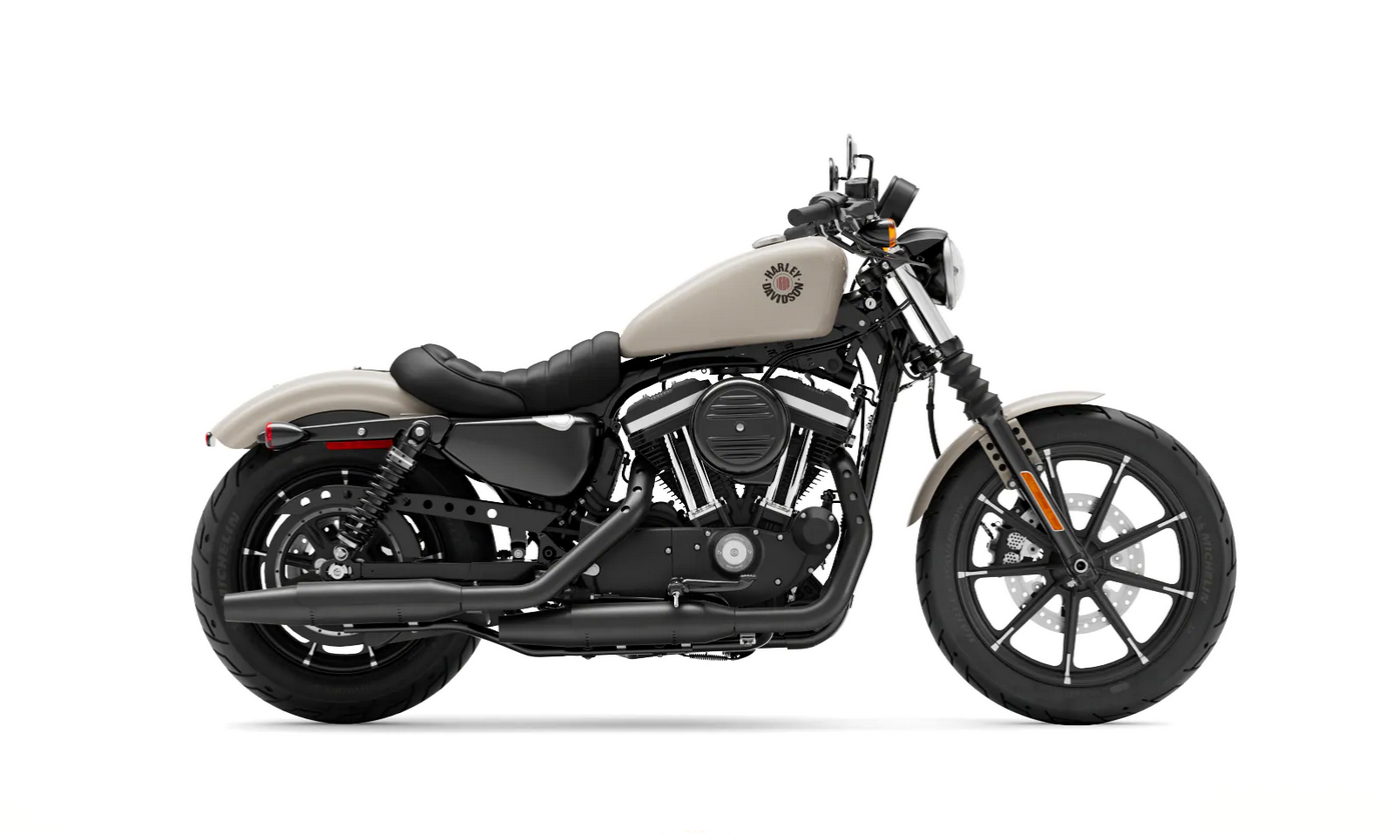 Let me say this: any Harley is good for customizing. I recently rented and rode a Harley-Davidson Iron 883 and found it to be a horribly uncomfortable bike, but here's the thing: few people who ride an Iron 883 keep the bike stock. They almost all customize the bike in some way, whether it's a different seat, some soft bags, higher handlebars or some other type of change.
My issues with the bike were ergonomic ones, not performance. That said, there are all kinds of aftermarket and Harley official parts out there to change just about everything about this bike. You can improve performance as well as ergonomics or aesthetics. Harley knows its audience, and it knows those guys and girls like to customize and individualize their bikes. There are tons of support and parts out there for customizing these machines, whether you do it yourself or have a shop or dealer add the parts for you.
Want to know more about this bike, including specs and photos? Check out wBW's 2021 Harley Davidson Iron 883 overview.
Honda Grom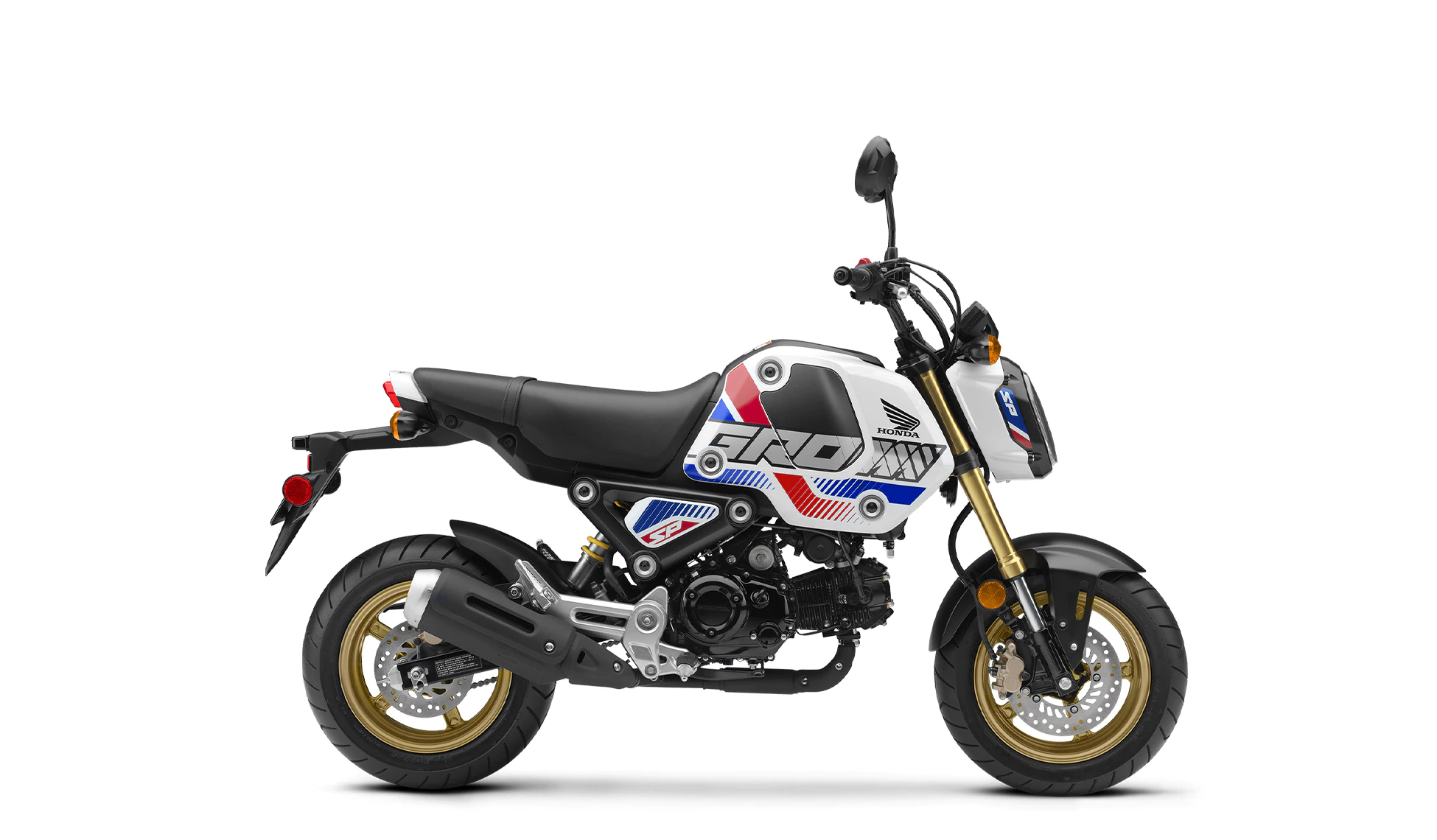 If you have ever visited a JDM car meet, I'm sure you're familiar with how crazy people can get with Honda's Grom and Ruckus platforms. From stretch kits, to deep dish rims and lowering kits; the world has spent it's fair share of time modifying the Honda Grom since it first hit the scene back in 2014.
With almost a decade worth of aftermarket support, this little bike has become something special to the modding community, but more importantly to the stunning community. Many famous motorcycle YouTubers keep a modified Honda Grom around equipped with engine guards and stunt bars. Due to its short wheelbase and lightweight maneuverability, the Grom is typically a perfect first option for riders looking to get into stunting and wheelies.
The modification of Honda Groms is actually so prevalent that many cities (on top of the existing general 'Motorcycle Club') will have a Grom club where guys go on rides and exchange aftermarket parts and knowledge. Thanks to the low price point and ease-of-ride, many people have a Grom as a secondary project bike and as a result small communities dedicated to all things Grom-related have popped up all over the world.