Cross country rides are fun, changing weather is a delight and anything from sunny to rainy, windy to cold, and even snowfall during winter. It's not the cagers', but it's the bikers who get to feel the difference.
If you simply cannot stand the thought of riding in a car because the road conditions are "not perfect," you are going to need some great gear and a full-face helmet to ride in these diverse conditions. Hitting the trails on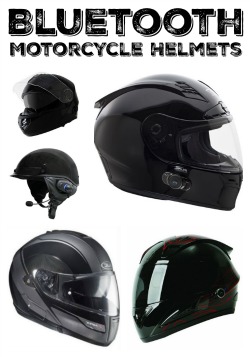 an off road adventure, navigating through a busy city, or just wondering off the beaten path; it is in these times that you will feel the need to also have a bluetooth motorcycle helmet. These helmets are often waterproof and offers different features from mBluetooth enabled calling to FM. There are a number of accessories to choose from as well so that you can have a great riding experience.
Why just ride your bike when you can do a whole lot more? Recently, we are seeing a rising trend of Bluetooth compatible head gear that offers both functionality and comfort. How can they be useful? Remember, bikers take up the long road trip and require a helmet that is comfortable to use for long sessions on the road. 
These helmets offer you entertainment functionality and also work as a GPS to navigate through your journey. If you are looking for an advance piece of technology in your helmet that doesn't compromise on the looks, you will need a good bluetooth helmet.
While you will have a lot of options to choose from when it comes to choosing a bluetooth helmet, the difference is primarily in specs and range. The tech gear works perfectly for a full face, open face, and half helmets. You can also use some clamp-on systems to suit your requirements. Here is a look at some of the popular options that you might want to take a look at.
The Top Bluetooth Motorcycles Helmets
1. O' Neal Commander Bluetooth Helmet
This is the top seller in the category and scores with its stylish looks, affordability and comfort. The second installment of the series, it offers Bluetooth compatible GPS, and syncing cellular phone and devices for directions and music on the built-in stereo speakers.
No hanging wires, a cool look, advanced functions, what else would you want in your helmet.
2. Hawk Modular Bluetooth Motorcycle Helmet
Hawk HX-2700 modular helmet has an ABS injected moulded shell with Blink Bluetooth module.
There are easy access buttons in the front and you can drop second inner tinted visor on sunny days.
The Bluetooth synced module can play songs, or you can talk to your friends on the road. You can converse with your co-riders, listen to turn-by-turn directions and enjoy your rides while not worrying about getting lost.
3. HJC IS-Max Bluetooth ready flip-up modular touring helmet
The HJC helmet offers a wide variety of colors, options, and accessories. It's a complete package with amazing display and comfort.
Features like one-touch flip-up button, inner sun shield and Bluetooth connectivity make it one of a kind.
It has these functions intelligently integrated to your helmets system and just enhances the fun of your tour.
4. Sena Bluetooth Half Helmet
Looking for a helmet that offers more than just bluetooth functionality? The Sena half shell helmet is equipped with Bluetooth stereo and intercom and FM tuner.
The comfortable ear patch attachment and Bluetooth 3.0 allows 760 yards range and facilitates four channel communication. You can also hook it up to your phone for GPS directions or listen to music.
5. Bilt Techno Bluetooth Helmet
Have a look at this bluetooth helmet from BILT. The construction is awesome, the design is awesome and it has all the easy setup features that make it more awesome.
The system only takes a few minutes to setup, and the whole package is rather affordable for the superior quality that is delivered.
Check out all the details of this helmet here.
These helmet accessories are affordable and advanced as well. From communication to Bluetooth-enabled entertainment functions; from navigation to FM, everything can be integrated to your head gear. You just need to look for the right product. These are some affordable, stylish helmets that look cool and the features scores them a place on this list.
Get a hold of a helmet that make enjoying more of the open road – really enjoying more of the open road.