Camping and motorcycles just go together. There's something about riding with the wind in your hair to a campsite, setting up a tent, and sleeping in the wilderness that completely reconnects you with nature and helps you truly enjoy your time outdoors.
Tent camping can also be a great way to keep long cross-country motorcycle trip costs down. Hotels, Airbnbs, and other sleeping accommodations can get expensive. Tents are affordable, easy-to-pack items, and they provide you all the shelter you'll need in most situations. It's a great additional piece of motorcycle gear for your adventures.
With all that in mind, you'll need to know which motorcycle tent to buy. Here are ten of the best motorcycle tents out there.
1. Vuz Moto Waterproof 3-Person Motorcycle Tent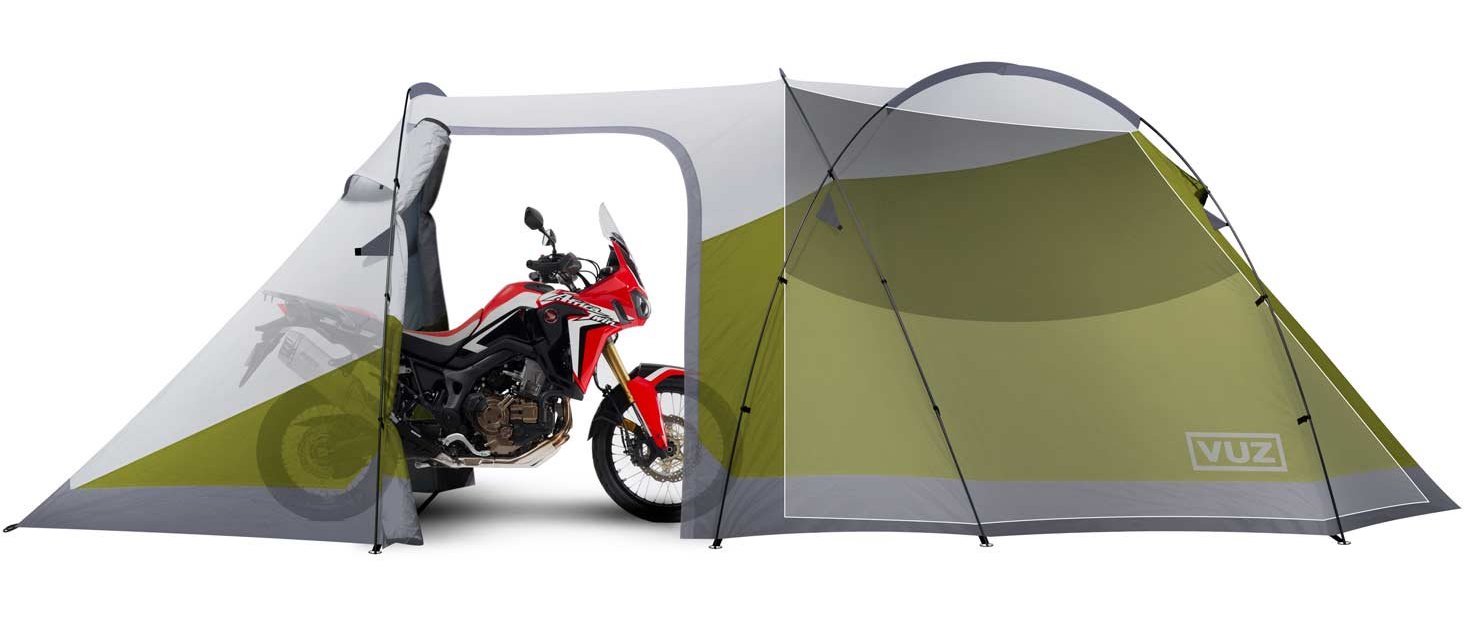 First up, we have the Vuz Moto Waterproof 3-Person Motorcycle Tent. This unique tent was designed specifically for motorcycles. If you're the kind of person who likes to take long tours on your motorcycle, this might be the perfect tent for you.
The tent offers a spacious interior that can sleep up to three people. There are four different entrances to the tent and various mesh material that provides good airflow but still keeps the bugs out. The tent has two lightweight poles for easy setup and teardown, and the tent is waterproof.
One of the best parts of this tent is the unique garage portion of it. You can pull your bike right in and do a little maintenance or just keep it dry in a rainstorm. The tent's overall length is 18 feet, which means you'll need a pretty decently sized area to set it up. Despite this, it's one of the smarter designs out there.
2. Lone Rider MotoTent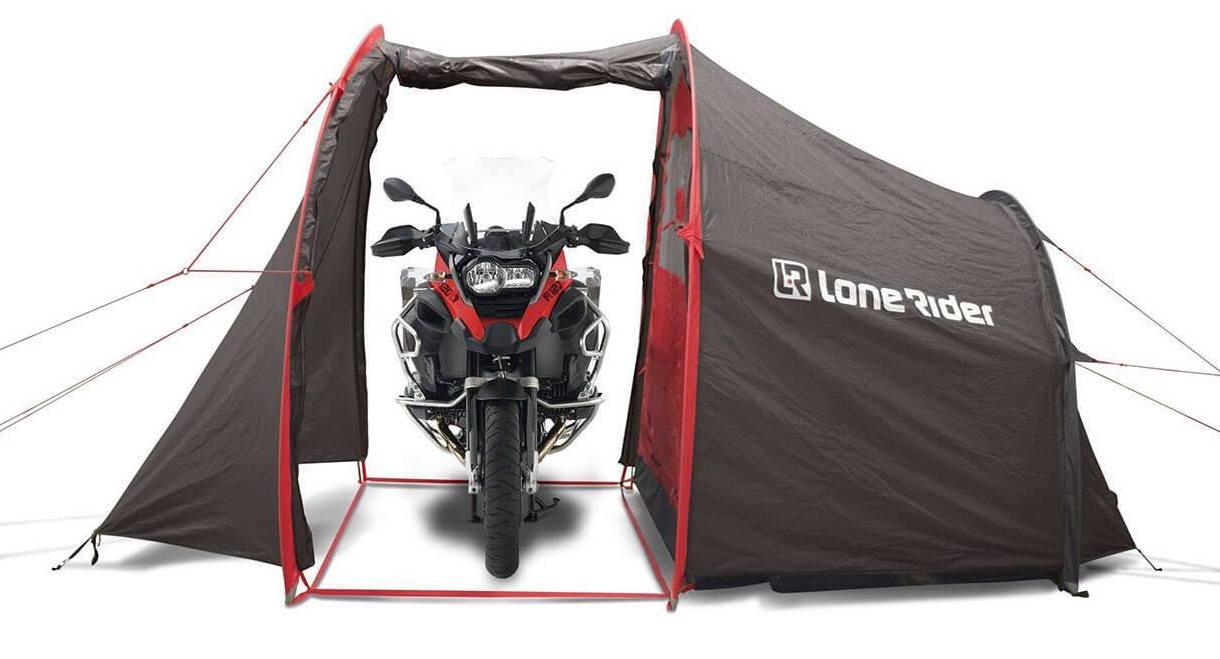 Looking for one of the most well-loved motorcycle tents out there? The Lone Rider MotoTent has received rave reviews from various moto-journalists and has a unique, compact design that was created specifically for motorcyclists.
The tent can sleep up to two people and provides a little closeable garage area for one motorcycle or two if you really squeeze them. This allows you to keep your bike out of the weather and gives you a shaded area to do a little maintenance if you need to. Lone Rider's MotoTent also comes with a handy carrying bag that packs easy on your bike.
The tent's waterproof design and strong material mean you'll be able to use it for years. It was designed with adventure touring riders in mind, so you can trust it will stand up to some abuse.
3. Coleman Hooligan Backpacking Tent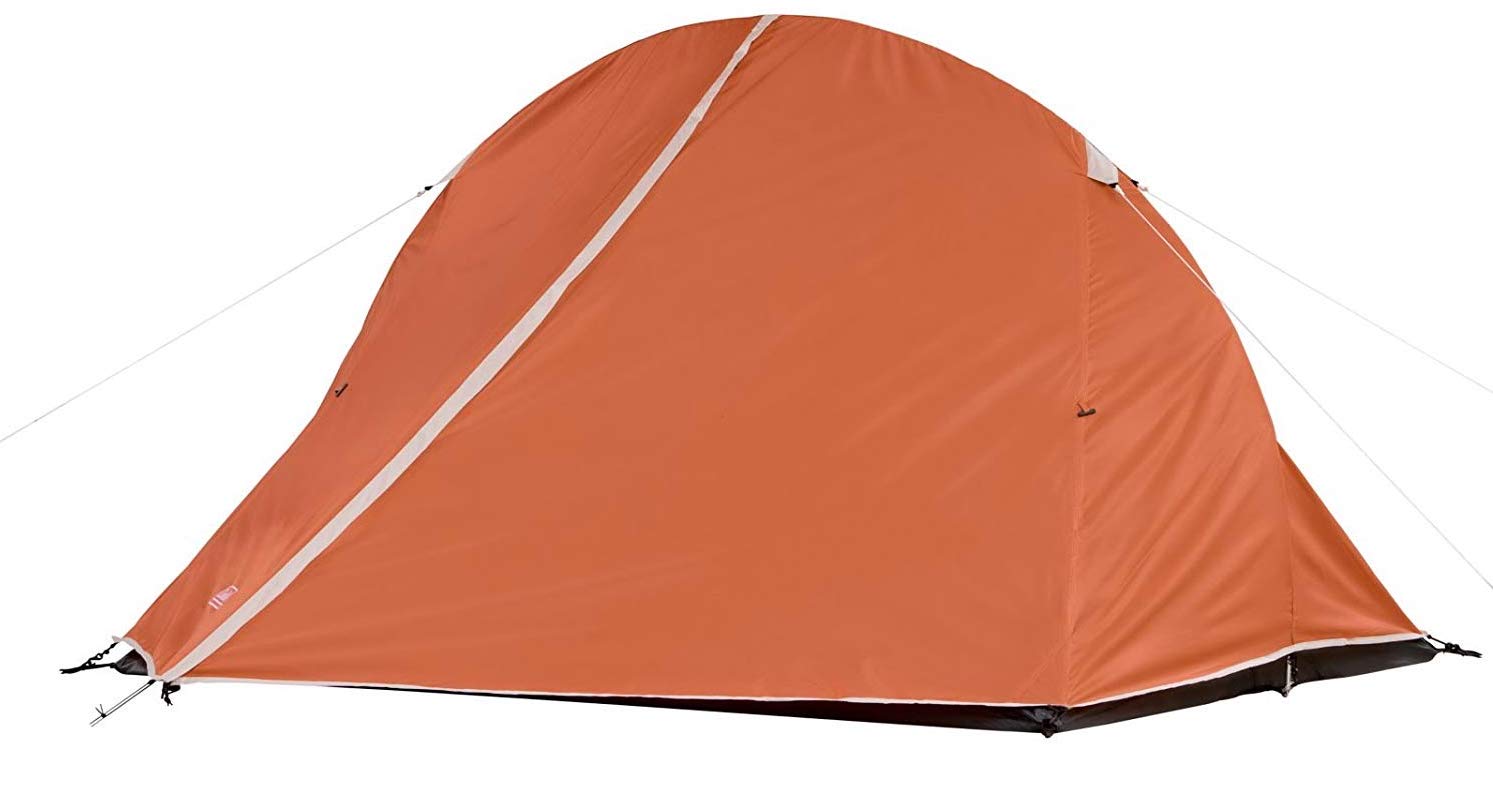 While the Coleman Hooligan Backpacking Tent isn't specifically designed for motorcycles, it does do an excellent job for riders. It's compact, packs easily onto the bike, and provides ample sleeping space for up to two campers.
What makes this tent special is its unique single pole design. You won't have to carry a ton of poles with you, and that makes it super easy to take anywhere and quick and easy to set up. The tent also offers fantastic breathability thanks to mesh material and it comes with a good rain fly.
One of the things makes the Coleman Hooligan a good motorcycle tent is that it has a unique exterior vestibule. You can at least partially cover your bike here, or keep gear dry and out of the elements that you don't actually want to bring into the tent with you. This makes it a very useful tent for traveling by motorcycle.
4. Harley-Davidson Rider's 4-Person Motorcycle Camping Tent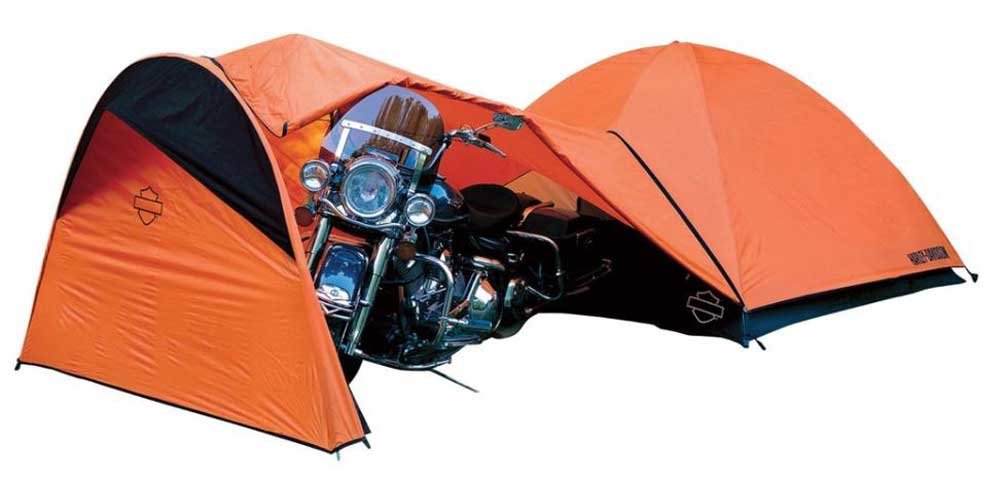 The Harley-Davidson Rider's 4-Person Motorcycle Camping Tent combines a classic dome tent with a tent garage for your bike into one unique offering. The garage area can be removed from the tent when not needed.
As you can tell from the name of this tent, it can sleep up to four people. This means it's great if you and your spouse want to go on a motorcycle trip with another couple who rides. However, their bike will have to reside outside of the tent garage because there's only room for one motorcycle in there.
This tent should be easy to set up. Harley claims a setup time of just 10 minutes, which means you won't have to spend too much time fussing with it once you get to your location.
One of the best things about this tent is that you don't have to set up the garage area if you don't want to. This gives you some options and allows you to cut setup and teardown times so you can spend more time enjoying the campground or more time out on your motorcycle. For more great offerings from Harley Davidson
5. Catoma Lightweight 2-Person Motorcycle Camping Tent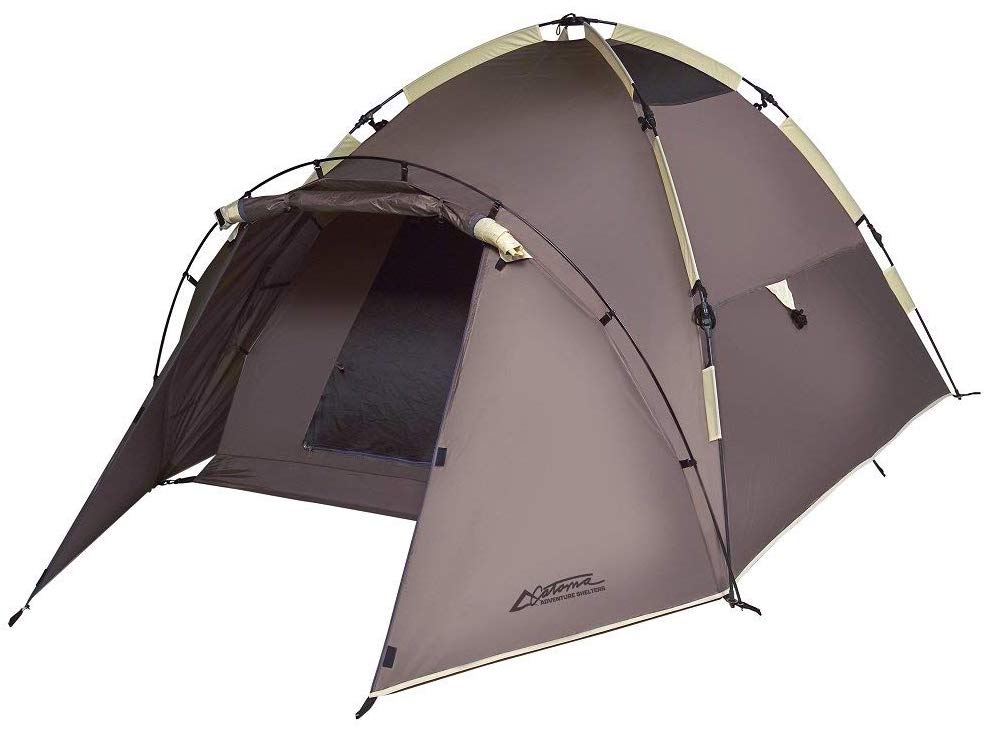 A simple camping tent that works well for motorcyclists is the Catoma Lightweight 2-Person Motorcycle Camping Tent.
This tent has a specific vestibule designed for motorcycles. Like the Harley tent above, this vestibule or garage area doesn't have to be attached if you don't need it. The tent features two doors, one at the front and one at the rear. Both offer a unique mesh material that allows for plenty of airflow.
The tent's unique Speedome integrated frame system allows it to be set up in just a minute. Inside the tent gets some storage options like a gear loft that allows you to store things overhead while you're inside the tent.
In addition to being easy to set up, use, and well-constructed, the Catoma Lightweight 2-Person Motorcycle Camping Tent is also easy to carry on your bike. It comes with a special carrying case with adjustable straps so you can really pack the tent in as compact a space as you need on your bike.
6. TeePee Tent 2-Person Motorcycle Tent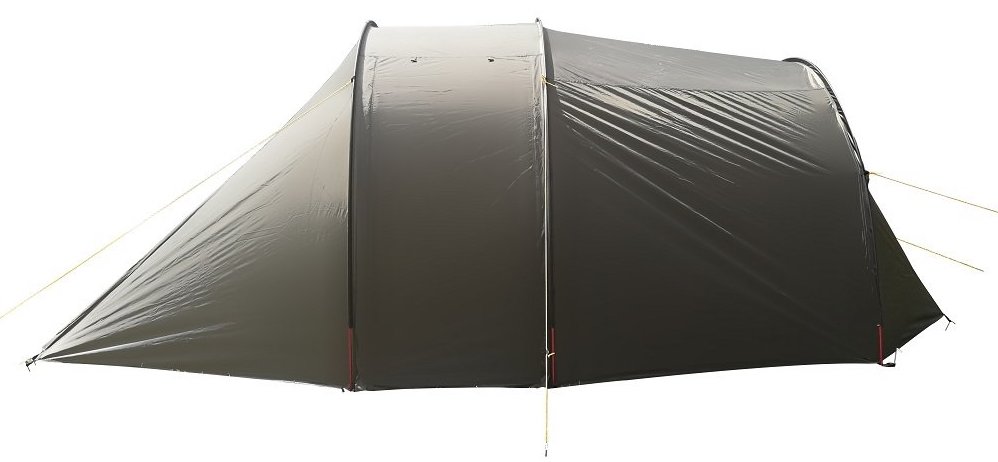 The Teepee Tent 2-Person Motorcycle Tent is a tent that's divided up into three main parts. There's the sleeping area that's big enough for two people to sleep comfortably, a closeable garage area designed to house the motorcycle, and then there's a small parlor area that's perfect for your gear.
The tent features four different entrances and ventilation, making it comfortable to sleep in even on warmer days. The polyester fabric is strong and sturdy and the tent's frame is aluminum, meaning it's lightweight and easy to carry on your motorcycle. The material is treated and waterproof, meaning you'll stay comfortable even when you experience inclement weather.
When compared to similar tents like the Lone Rider MotoTent, this tent from Teepee is a bargain. It offers pretty much the same features for far less money. While it hasn't received the same fanfare from the press, it still provides a fantastic option for camping motorcyclists.
7. Enkeeo 2-Person Camping Tent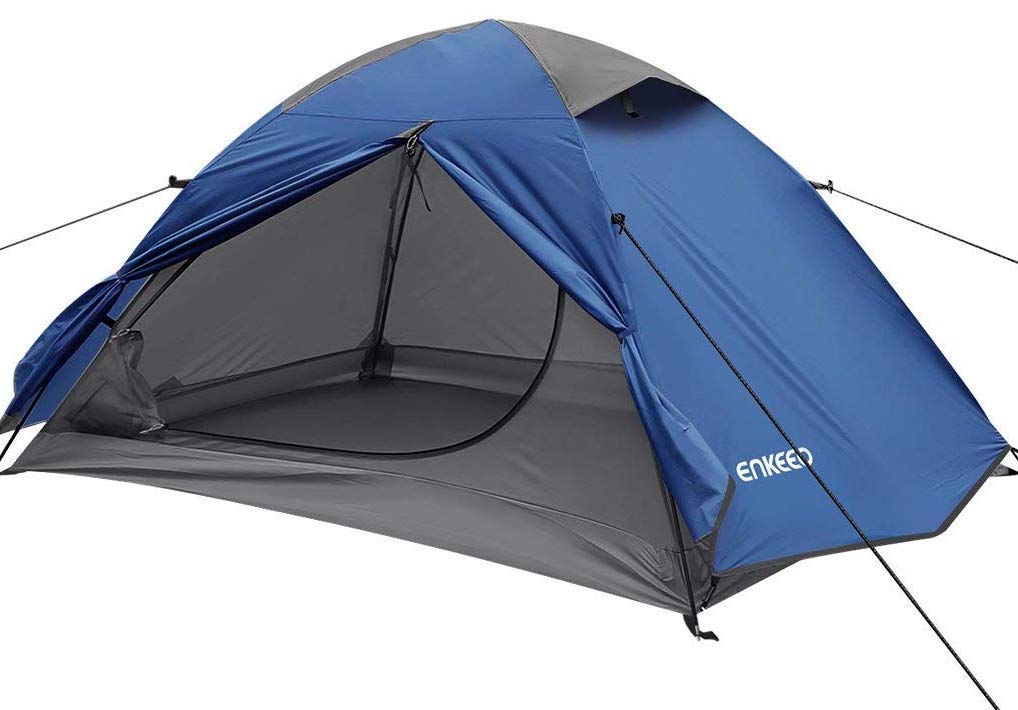 Although the Enkeeo 2-Person Camping Tent wasn't designed specifically for motorcycle camping, it still does a good job as a tent for bikers. Why? Because it's so lightweight and can be packed down into a very small bag.
This tent was designed for backpackers and cyclists. That means it has to be easy to carry long distances and still provide a comfortable place to sleep. The tent is built with high-density mesh material for extreme airflow, and it has a waterproof and sunproof exterior flysheet that protects you from the elements.
It's easy to set up thanks to its minimalist design. The tent takes roughly 10 minutes to go from being packed away to being set up and ready for you to relax inside. The only real downside to this tent is that it lacks a vestibule or garage area for your bike, but you could always carry an additional tarp for that.
8. High Peak Outdoors Biker Tent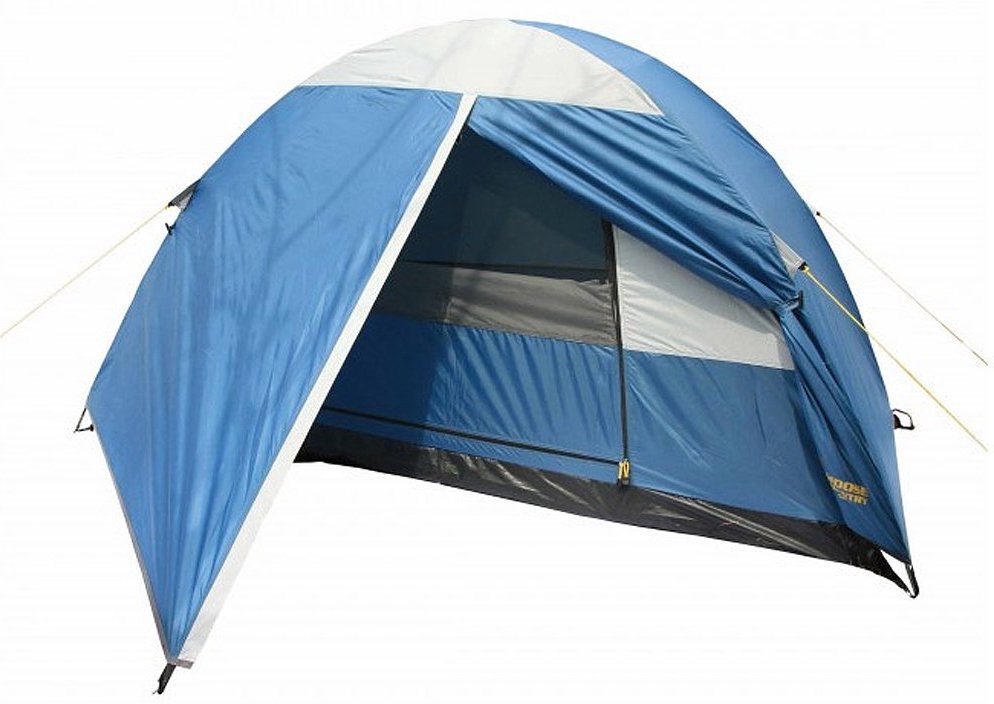 Another good option for bikers is the High Peak Outdoors Biker Tent. This tent was designed for motorcyclists, cyclists, and backpackers who need a lightweight tent with an area to cover a bike or gear.
The area is on the smaller side, so if you have a big bike, you may have a hard time fitting it under the little vestibule, though. Stick to a smaller bike, or consider using that area for your gear.
With the tent's two fiberglass pole structure and quick snaps, you can set this tent up in just three minutes. The tent features plenty of air vents on either side for airflow, so it should be good in warm and hot weather, too.
The tent is built for extreme weather and has been tested for up to 60 mph winds. That means if you're an adventure touring rider with a penchant for going well off the beaten path, then this tent might be perfect for you.
9. ALPS Mountaineering Lynx 1-Person Tent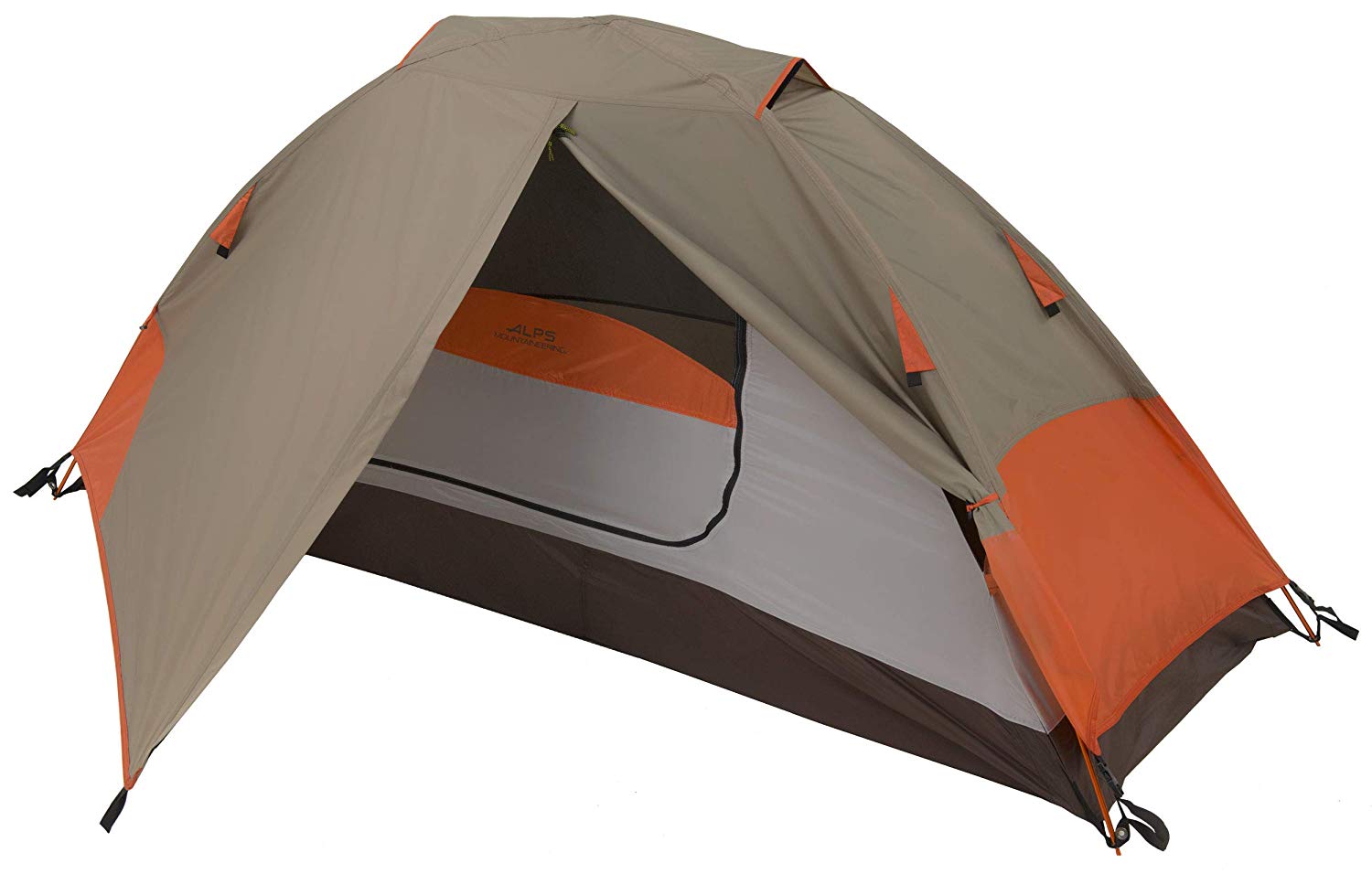 If you're not so worried about having a tent that can cover your bike and just need the bare minimum for yourself, the ALPS Mountaineering Lynx 1-Person Tent is a great option. It's one of the more compact tents out there.
The true merits of this tent are its quality construction and its compact size – both once it's set up and when it's packed away.
The two-pole design means it sets up in a couple of minutes, and it has a small vestibule outside the door. This vestibule is far too small for your motorcycle, but it can help keep gear dry that you don't want to take into the tent with you.
There are certainly fancier tents out there. If you just want something simple that's extremely easy to pack away on your motorcycle, this is it. The entire tent weighs well under five pounds when packed, and it is very affordable.
10. River Country Products Trekker Tent 2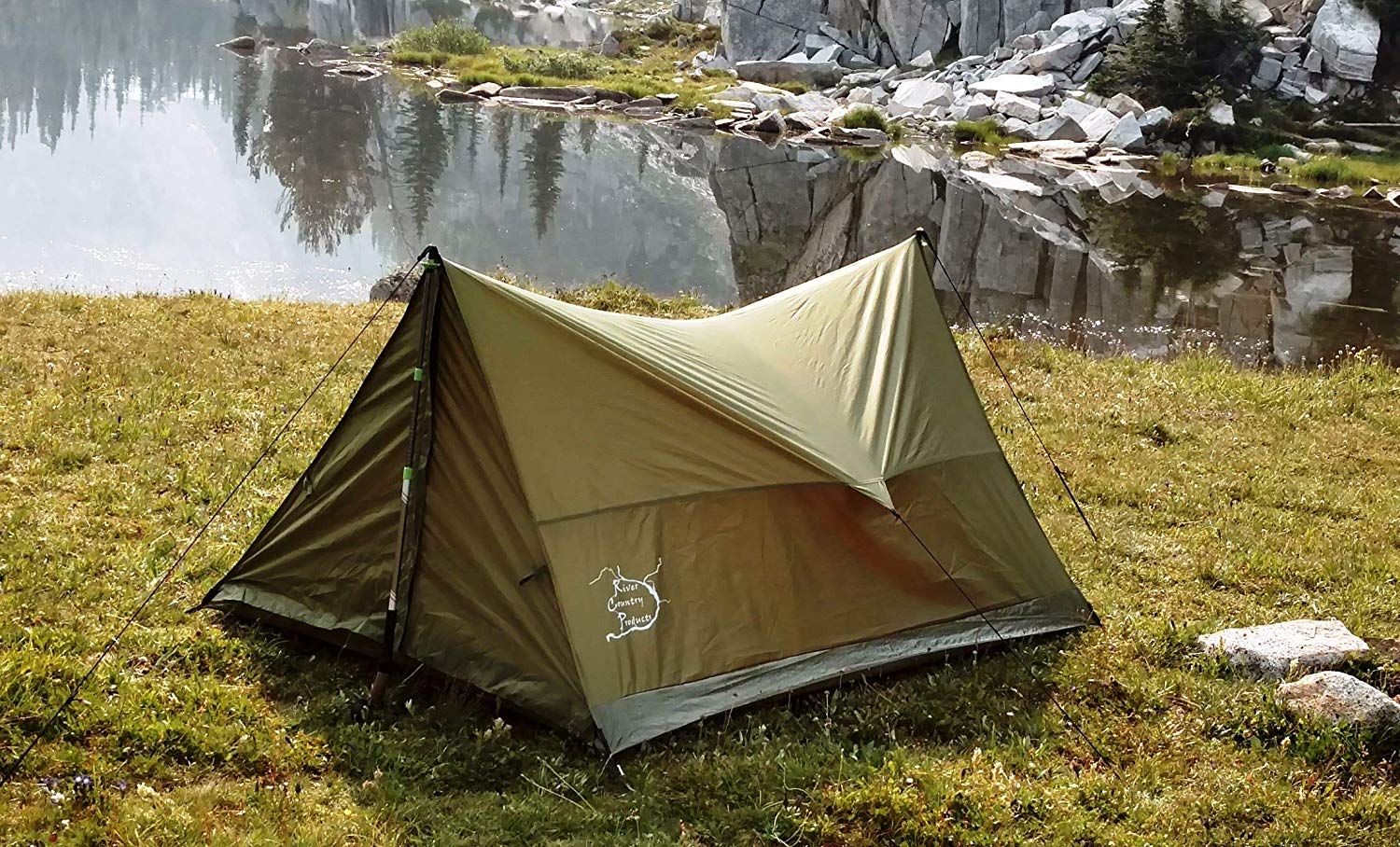 Not interested in carrying tent poles with you but want something better than just a tarp you'll have to string up? Check out the River Country Products Trekker Tent.
This unique tent offers several different ways you can set it up. It can be attached to trees, sticks you find at the campground or other poles or posts. The tent's unique structure makes it extremely easy to pack away and strap to your bike. The interior of the tent is perfect for one person and his or her gear.
Tent poles aren't included, but you will need something to use. However, anything over 42-inches tall will work great. You should be able to find some sticks in the wilderness, or a couple of trees to set this tent up between. It's this tent's versatility that makes it so special.
If you thought the ALPS tent above was basic, this thing takes simplicity to a whole new level. The tent weighs less than three pounds when packed away, meaning you'll have plenty of time for all of your other gear on your bike.