Steampunk is a sub-genre of science fiction that typically features steam-powered machinery –  especially in a setting inspired by industrialized Western civilization during the 19th century. Steampunk works are often set in an alternative history of the 19th century's British Victorian era or American "Wild West", in a post-apocalyptic future during which steam power has regained mainstream use, or in a fantasy world that similarly employs steam power. – Wikipedia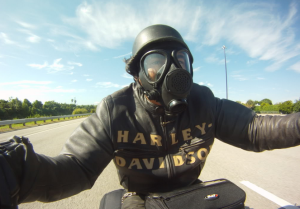 Steam Powered Punksters. I instantly love them. Combining the hipsters dramatics with one genre of science fiction and an entire new category is born. If only these guys really existed in history.
So the question I pose to you is this; if a you can combine an era of time (steampowered machinery) with a sub-genre of science fiction, can you combine the result (steampunk) with another genre of science fiction? Maybe the Transformers? or Star Wars? Video Games.
The answer to that question is an overwhelming – yes.
Stormtroopers steampunk helmets – "steamtroopers"
Halo and Iron Man steampunk helmets – Video game enthusiasts
Bumblebee steampunk helmets – Transformers fanatics
Steam-troopers
Halo & Iron Man Steampunk
Transformers Steam-punk Style
So how to do it? With some creativity you can put together your own steampunk styled helmet. First head off to the junkyard and pick up some old copper tubing, fittings, and whatever else jumps out at you. There are no rules here – as with any art – it is completely up to you from there. 🙂
Here are some a few popular pics of some steampunk motorcycle helmets and bikers to get your imagination started.
Even more Steam Punk Helmets
Steampunk Goggles
Goggles are worth mentioning here as well as most steampunk helmets are either 1/2 helmets of 3/4. States without helmet laws can also get in on the steampunk fashion with a pair of steampunk goggles or glasses. Putting together a pair for yourself is about like a helmet, head off to a scarp yard and just get started. And if you don't have one nearby, well – you're already online now aren't you?
Some Steam Punk Goggles for Sale
Combine one of those pairs of goggles with a leather face mask and you're all set to go scare some children.