Just collecting some of my favorite pictures of the Skully Motorcycle Helmet for a review later. To date, this is the best unbiased review on this awesome tech helmet that I have watched. Check out what Chaseontowheels has to say:
What others are saying about this badass motorcycle helmet below —>
All images copyright to their owner – Skully
An interview with an early supporter of this badass helmet:
What others are saying about this high tech motorcycle helmet:
Everything these days is becoming "smart". I just saw a "smart" cooking pan the other day online – it's awesome. It's just a matter of time until smart helmets become standard, I believe. I think Skully has a long road ahead of them since they are pioneering this path, but I give them major props for what they are trying to achieve. Most will agree that the price point of their initial model is too expensive, but as an entrepreneur and engineer myself, I understand why they are pricing it as such for their first run. Luckily, their Indigogo funding has proven to them that there is a market for what they are creating and despite their delays in product development/manufacturing, I have high hopes that their company will only go up from here.

I think technology is very important when it comes to rider safety. We all know how dangerous riding is, so anything we can do to improve our chances of survival on two wheels should be welcomed. In Vancouver, BC, lane splitting is illegal so when I'm at a stop, I always kind of duck my head a bit and watch my mirrors until I'm sure the car behind me is coming to a stop. The 180 degree rear-facing helmet camera that the AR-1 comes with would likely be my favorite feature. I can imagine lane changing would be easier too, though I would probably still shoulder check. But having that extra viewing angle would be really handy.  – Thomas Plywaczewski of Lightmode Helmets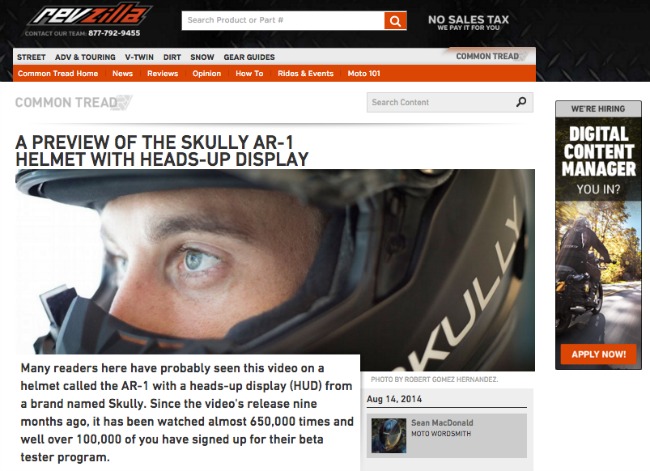 Revzilla's Sean Macdonald (who writes over at Lanesplitter) wrote up a pretty good preview after having an opportunity sit down with co-founder Mitchell Weller ….. back in AUG 2014.
My first impression of the AR-1 is that it's an incredibly nice-looking motorcycle helmet. It's easy for guys like us (geeks and journalists) to get caught up in the numbers on the page and make light of what any specific product makes you feel. Skully, however, has created something that really makes you think, "That's badass, I want that." The shape has some of the design language of the latest AGV or Shoei helmets, with its lowered chin bar and rear spoiler, and the matte black finish is just beautiful. – Sean on Commontread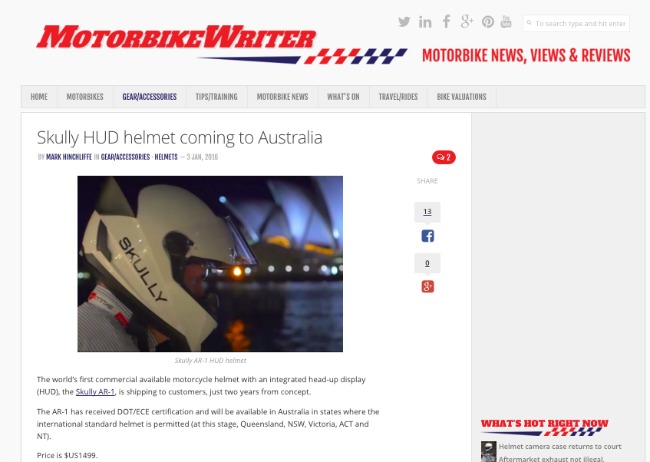 Although Skully had said they would attempt to gain Australia (AUS/NZ) certification, Skully spokesman Jarnard Garrett says they have not decided to only offer the helmet in ECE certification in Australia. – Mark at Motorbikewriter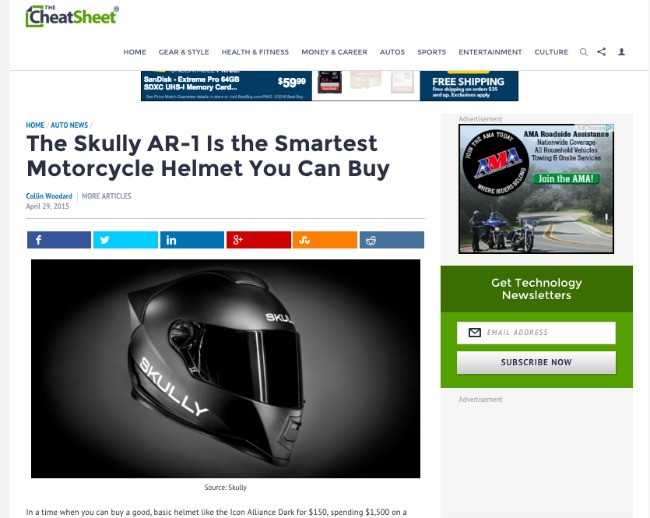 Being able to clearly see behind yourself is always important, especially when stopped in traffic, and the camera on the AR-1 could end up being its most important safety feature. – Cheatsheet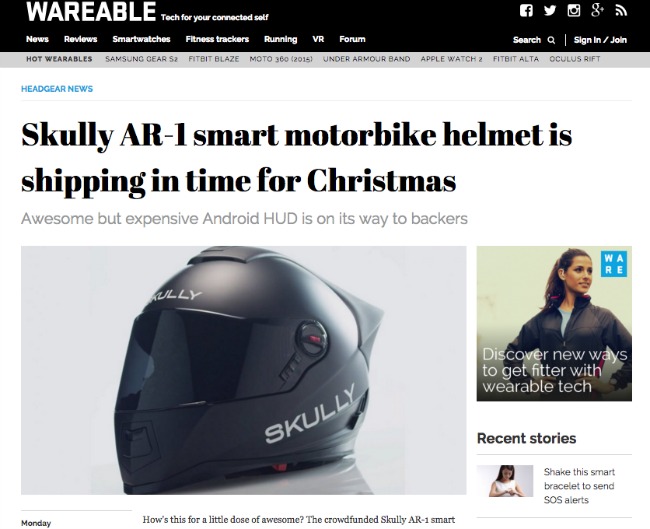 With a battery life of nine hours, it should last even a mammoth riding session. Not that you'd get bored on an extra long journey – there are music playback and hands free calling features too, all controlled by your voice. – Wearable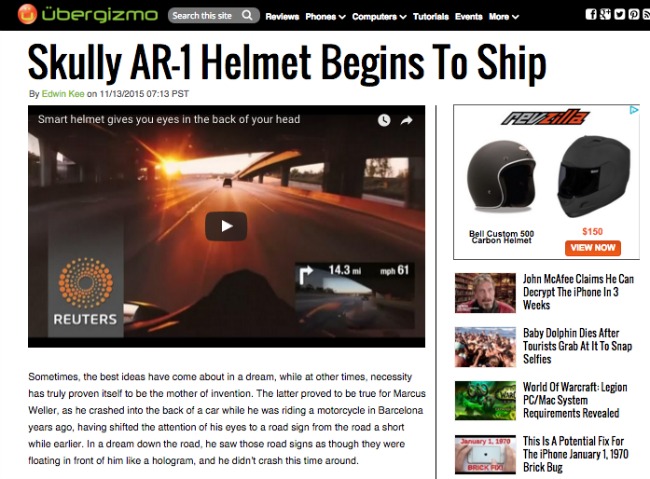 The helmet will synchronize with a smartphone through Bluetooth connectivity, enabling the likes of hands-free calling, GPS navigation, and music streaming without having you remove your eyes from off the road, and shipping has already begun to buyers so that said buyers have a new 'toy' to play with this Christmas – slightly more than a year after pre-orders for it were open. – Ubergizmo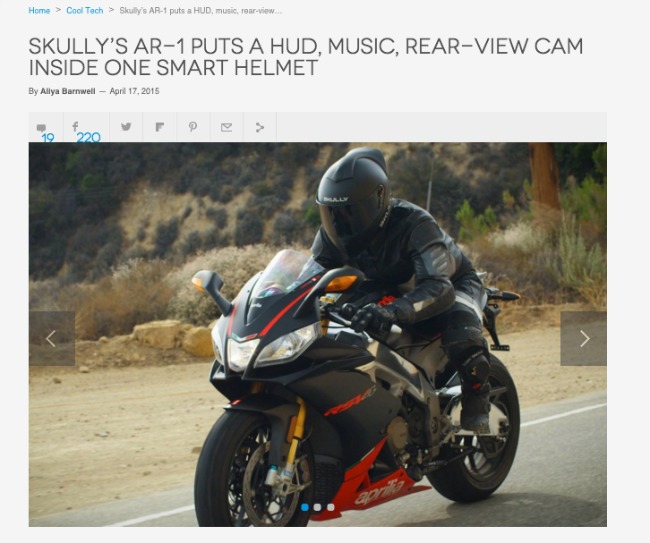 Thanks to "Infinite Focus," the heads-up display focuses to your eye, as opposed to the other way around — or rather, it always looks like its floating clearly in the distance. – DigitalTrends
For now, you can follow @skullysystems on IG or @Marcusweller for the latest updates.