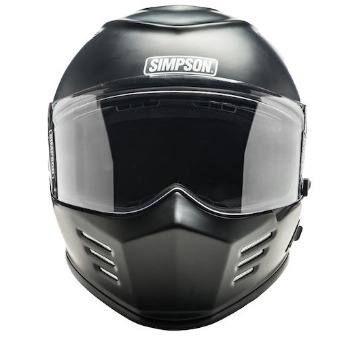 If you're looking to go on a bike ride, you sure are looking for a good helmet. For any motorcycle rider, a good helmet is an integral and indispensable part of the experience. Bill Simpson's line of products is top-notch; the brand itself is a guarantee for quality coupled with a stylish design. I decided to review their all-new Ghost Bandit Helmet for fellow bike enthusiasts.
For the best, rounded experience, a helmet needs to cover its bases in quite a number of areas – look, design, weight, comfort, strength and durability being a few.
You'll find that the Ghost Bandit Helmet is worth its MSRP of $450.
And why, you ask?
Features and Specifications
The Ghost Bandit comes with a remarkable combination of features, making it a valuable addition to your biking gear.
Helmet Style: It has a full face that covers your head entirely with the bonus of an adjustable internal sun visor. It incorporates air vents in the back and the front, along with a detachable shield.
Weight
The composite shell is very lightweight, and the carbon shell even more so. The former weighs about 3.1 lbs (1.4 kg). The carbon shell costs $200 more.
Design
The design is aerodynamically sound, which is a prerequisite for a satisfactory helmet. It is modern and convenient while still keeping the trademark Simpson tough-guy look.
Other Features
1. It has integrated speaker and boom mic pockets.
2. The helmet comes with a removable chin noise and air dam.
3. Multiple shield options are offered.
4. It has the benefit of a DOT/ECE certification.
5. The liner is removable
6. Available in Black, Black Matte and White.
Benefits
The style of this piece of head gear offers maximum protection.
The design of the sun visor is one-of-a-kind, with a lever on the left side of the helmet that allows you to flip it up and down with ease, making riding in varying levels of sunlight effortless.
The tint of the visor is neither too dark nor too light, with good clarity.
The dual adjustable chin vents allow for excellent ventilation, with cool air entering and hot air leaving from the back.
As the Ghost Bandit is lighter than most of its counterparts, it facilitates riding for large spans at a time without developing untimely neck pains or back aches.
The design makes for smooth riding at high speeds with minimal buffeting. The helmet cuts through the air without much resistance.
It is much quieter than other Simpson models, and the plush lining makes for an incredibly peaceful and comfortable ride.
The external design is sexy and masculine, lending you a totally badass demeanor!
The anti-bacterial liner protects you from skin infections. Being removable, it is easy to clean too and great for proper facial hygiene.
The pockets which allow you to mount speakers and a microphone inside are a unique and awesome feature, in my opinion. They are perfect for riders who use those devices in their helmets.
The air and noise dam is ingenious. It significantly lowers noise levels and makes it easily possible to listen to music while riding. It comes in handy in highly polluted areas too!
The availability of multiple colors offers you a wider range for selection.
Safety Standards
As I mentioned above, this piece has DOT and ECE certification. So, you have nothing to worry about when it comes to bike safety.
DOT stands for 'Department of Transportation'. The product is tested on its adequacy along parameters like impact attenuation or energy absorption, penetration resistance and finally the retention system effectiveness.
A DOT certification guarantees that this helmet:
Has peripheral vision no less than 105° from the helmet midline and that its projections from the surface of the helmet (snaps, rivets, etc.) do not exceed 5 mm.
Has a peak acceleration of 400 G. This is tested in the impact test when a head-form inside the helmet is dropped from a fixed height onto a spherical and flat-surfaced anvil.
Cannot be penetrated by a striker deep enough to touch and injure the head-form. This is verified in the penetration test.
Has a strap which can bear a load of 22.7 kg (49.9 lb.) applied for 30 seconds, following which a load of 136 kg (299.2 lb.) for 120 seconds. The retention system check guarantees this.
ECE that is 'Economic Commission for Europe' is another safety standard for helmets. The testing done is similar to that of the DOT standard; with slight differences like:
Peak acceleration of the head-form during the impact test is 275 G. This makes the Ghost Bandit helmet a very safe option indeed.
The rigidity of the shell is tested, and deformation is measured when a load is applied. It is an assurance that the product would hold up well under high stress conditions.
The surface of the helmet is checked for abrasion resistance. The amount of twisting force the helmet would transmit to the wearer's head and neck is ensured to be minimal in this test.
What would you love the most of the Simpson Ghost Bandit Helmet?
Since Simpson's Ghost Bandit is certified with both these standards, it is a guarantee to the buyer that it has successfully undergone and passed all the necessary safety checks. Seeing as the product's main objective is keeping the user safe and sound in the unfortunate scenario of an accident and preventing head injuries, you can be sure that these certifications were instrumental in my deciding to buy this helmet.
Final Verdict
So, what's the final consensus? I would recommend this beauty 10/10. For anyone who best likes to live his life on two wheels on the road, a top quality helmet is not a luxury; it is something which is paramount for safety, it is a need.
The Simpson Ghost Bandit delivers a product with the most value-for-money design and features that very few helmets can boast of. Without costing you an exorbitant amount, it is sure to upgrade your road trip to a more comfortable, enjoyable and safer version.
Click here for Pricing and Sizing Options
If you're looking for safety while on the roads without compromising on what you love doing, this is one of the best buys that you can make. And one that you will surely love.
Yes, it does come in Carbon Fiber too!
Simpson Ghost Bandit Subdued Helmet
Check out the New "Subdued" Ghost Bandit Edition. For a Limited time only….