Simpson Bandit Helmet Review
3 Bandits: The Street. The Outlaw, and the Super Bandit.
While looking at Simpson Helmets, there are three distinct models of helmets that seem to get more attention than the other lines. The style, function, and quality are usually the biggest indicators of a great helmet brand. And Simpson delivers on all three fronts with these helmets.

Comfort and style are two words that commonly come up when you read any Simpson Bandit helmet review. However, you may also see comments regarding their unique style choices, their function, and their high quality. There are three Bandit helmet styles for you to choose from and they are all available at an affordable price. Here are the reviews for "The Street", "The Outlaw", and the "Super Bandit" helmets from Simpson for you to consider. The best part about the Simpson helmets are that they are created in the USA with the safest products available to meet or exceed the required safety measures for motorcyclists. This one company has been trusted for many years for race car drivers and the casual everyday bikers alike. They provide quality and value in a single product.
Simpson Outlaw Bandit Helmet
This is a great all-round helmet from Simpson that not only looks great, but allows the wearer to remain cool and comfortable whether you are making a quick ride through town or traveling down the freeway.
You will also never have to worry about a blind spot due to the very large viewing area that the shield provides. This shield can also be changed out to make your helmet look more unique.The best part of the shield though, is the fact that there are ports built into the chin of the helmet which will allow air to keep you cool and prevent fogging. The air ram duct feature is important whether you are traveling during the winter or summer months.
You can even wear it at night and the visor shield will still allow you to see anything you want to see, clearly.The Bandit helmet is also approved by Snell M and safety rated by the DOT.
Simpson's Street Bandit Helmet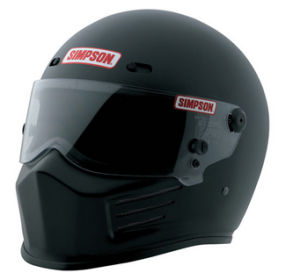 The helmet provides all the quality and style of the Outlaw Bandit helmet, but it is a much more menacing style. It has a larger eye port for better viewing and the shield is 3mm clear. It has adjustable air vents so that you stay cooler while riding and it also will keep the fog off your visor. There are top vents on it which can be shut off if you need it.
The Street helmet is also a very lightweight helmet so that you will not mind wearing it on short or long trips. The lightweight style means that even if you are traveling a long distance, you will not have to worry about a stiff neck when you arrive at your destination.
This helmet has been Snell M rated and ideal for anyone who wants to enjoy riding a motorcycle in style.
Would you like to ride with a helmet that makes you look great while it keeps you safe?
The Simpson Super Bandit
If you are more interested in a sports helmet, the Simpson Super Bandit helmet could be the ideal helmet for you. This helmet has set the standards in safety as well as style for drag racing helmets due to its Snell SA rating and the aggressive style. It has everything you could want as far as the aerodynamics. This helmet has recessed eye ports to shield your eyes completely while still allowing you to see everything around you. It is ideal for casual riders as well as anyone who wants to drag race, drive stock cars, or go karting safely.
This racing helmet allows air to flow in through uniquely placed vents within it so that you will not feel hot. It is lightweight and comfortable regardless of how much time you will spend wearing it. As a bonus, you can get it in the regular black or white color scheme. If you want something more, your helmet can be custom made to meet your color preferences or style.For the racer, it is ready for head and neck restraints as well as the necessary radio connections. There is also the side pipe option and sizes from junior sized to a comfortable fit for a larger head. The only issue with it for a racer could be that it is not pre-drilled for the HANS device, but this is an easy problem to fix.
Custom Bandits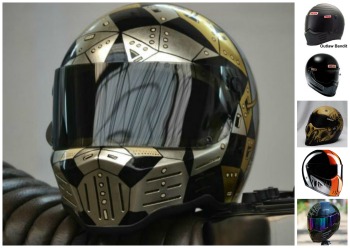 A great helmet brand is bound to gather a following of loyal customers and users. With this comes a need to customize and differentiate again from the herd of people that own the same helmet that you do.
A custom motorcycle helmet can match your bike (or bikes), car, or any other big-boy toy that you want.
Smiley Helmets, Carbon Fiber Helmets, and Custom Painted are just a few of the options while tweaking the Simpson brand to match your style.
Here are a few Custom Simpson Motorcycle Helmets:
The Unboxing of a New Simpson Bandit Helmet
More Simpson Motorcycle Helmets for Sale: