With the easily removable front mask, this cross bread between Half Shell Helmet and 3/4 shell helmets lands this badass lid into the hybrid category. This one is the first major competition presented to the Bell Rogue Helmet, and it already has some traction in the market. In fact, it looks like HD already got in on this and labeled a version of this helmet for their own. More on this below.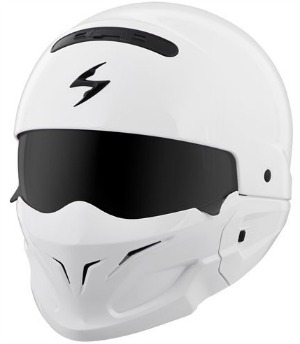 This lid comes equipped with:
SpeedView internal sun visor with EverClear no-fog coating
Neodymium magnetically attached front mask
Aero-tuned ventilation system
Kwikwick 2 anti-microbial fabric liner
Advanced Polycarbonate shell
It's also DOT approved.
Will this be the next trend in modular motorcycle helmets? Maybe.
Maybe we'll start to see more of a crossbreed/hybrid approach in the motorcycle helmet innovation in the future.
Where do I buy a Scorpion Ratnik helmet you say?


One more particular reason that I like seeing this style of helmet start to become more popular is that the 3 sections of the helmet can be easily replaced. Any damage done to a piece of it doesn't require a new full helmet purchase. And customizing becomes a custom painters best friend too. As soon as those 3D printers start producing a high quality carbon fiber printout, I'll be all over it.
Also available in Black (duh)
Scorpion Covert Ratnik EXO-COMBAT Motorcycle Helmet
At the Aimexpo 2016:
Does the inner shield work with glasse?
Harley Davidson went ahead and jumped in on this trend in helmets too with the Pilot 3-in-1 X04 Helmet. It's clean and mean. I think that we are going to see a lot of mods on the removable front nose/chin piece this year. Personally I've thought about making a Carbon Fiber clip in replacement version for a premium upgrade. (We'll see.)