4 Lens Kit, Eyewear for Men's Desert Storm War Game, Tactical Glasses, Sporting Army Goggles for Half Helmet, or Military Sunglasses.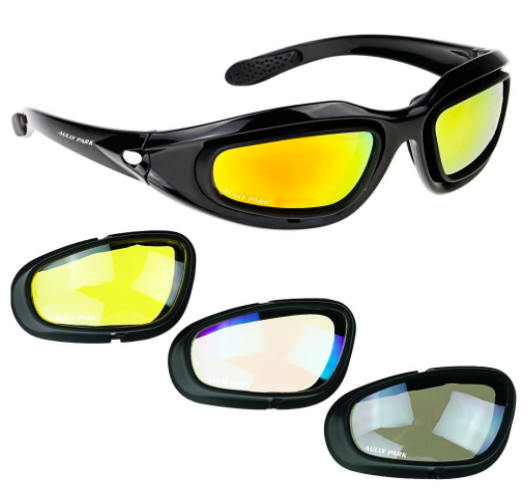 Features:
Polarized motorcycle sunglasses with foam padding.
UV400 protection polycarbonate lens, shatterproof and scratch-resistant
4 Interchangeable lenses: Polarized Lens – Neutral Gray; Non-polarized Lens – Clear MLC, Cadmium Yellow, Copper
Matte black plastic frame with rubber ear pads. Sport headband, pouch, cleaning cloth, and hard case included
detachable strap for sports
4 Interchangeable Different Color Tinted Lenses:
Neutral Gray – Provide true color definition. Ideal for everyday and all purpose.
Copper – Increase contrast. Ideal for strong sunlight condition, cycling / daytime driving and playing golf.
Clear MLC – Clear lens with special multi-layer coating. Enhance visual acuity under dim light condition.
Cadmium Yellow – High contrast yellow lens. Ideal for very dim light condition like cloudy days or evenings.
100% Protection Against Harmful UVA/UVB Rays.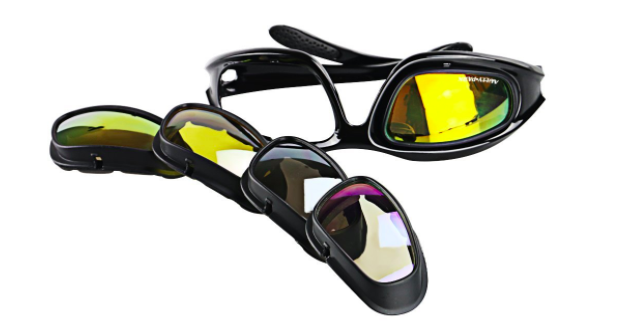 How to remove the lens?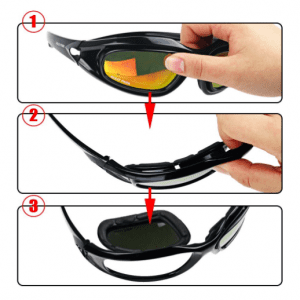 Hold frame with fingers then push the lens inward with two thumbs where the lens clips are located.
Package Includeds:
1 Pcs of Glasses Frame
1 Pcs of Glasses Cloth
1 Pcs of Fabric Bag
1 Pcs of Glasses Strap
1 Pcs of Hard Case
8 Pcs of Lenses (Including a pair of polarizing lenses)