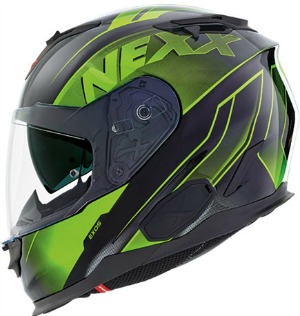 This is a new touring helmet from the popular company known as Nexx and includes a selection of features, such as a internal sun visor which is retractable, as well as a anti-fog visor insert pin lock on the helmet which comes free. The Nexx XT1 has been designed to a very high level and looks incredible. There are three different sizes of shell that are available and these are built from a tri-composite carbon blend which includes fiberglass and Kevlar. The finish on the helmet has been achieved by hand and this allows for incredible aerodynamics. The Nexx XT1 is approved by ECE 22/05 and DOT and can be used in North America and within Europe.
Nexx Motorcycle Helmets – XT1 Features
One of the first things that you noticed about this touring helmet is that the ventilation is incredibly well designed and it is quickly made apparent that Nexx have put a lot of time and focus into this achievement. When looking at the helmet one can find that there are two separate air intakes, as well as up to 4 different outlets, as well as a rear spoiler that is shell integrated that leads to very high level of airflow within helmet and does not detract from the riding experience in anyway. The helmet has also taken several design ideas from the XR2 and comes with an eye port that is panoramic. This gives the rider the ability to see a wide view of the road that they are traveling on and increases the overall peripheral vision. The helmet also comes with a visor that has a selection of new features which will be helpful for the rider. This includes a system involving a quick release using the new X-swift quick release as well as the new block'N'seal system. These features have been implemented into the helmet so as to create a seal between the visor, which is hermetic and with the rubber seal that can be found on the helmet.
Another design feature which can be considered is the fact that the XT1 has been designed specifically so that it works in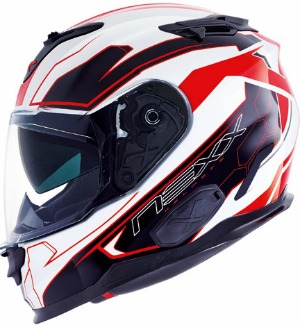 conjunction will with the new  Nexx X-comm Bluetooth. This is a cool feature as it allows you the ability to connect with your riding friends in a way which is effortless and easy to carry out. You can also use this technology to connect with other smart phones that have Bluetooth enabled or even to a GPS system. One will be able to see the X-COM technology integrated into the side of this new helmet.
As well as these interesting new features, there are also a selection of features which have been designed, so as to make the helmet more safe for the rider. One of these features can be found within the helmet and comes in the form of Cheek pads which have a emergency release function. This means that the helmet can easily be removed in accidents. Built within the helmet there is also a securing buckle which has a micro-metric design. One will also find a wind stopper and more cheek pads within the helmet which are designed to create an anti-noise function. The fabric lining of the helmet on the inside has also been designed to a high level of quality and comes with a cool max fabric which is anti-allergenic and anti-sweat in it's design. This inner lining which is made of fabric can also be removed and can easily be washed so that it is fresh.
More Features of the Nexx XT1 Motorcycle Helmet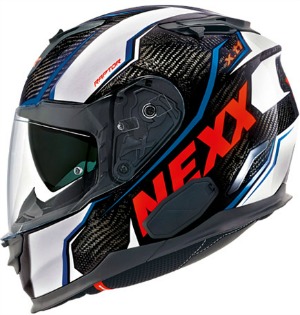 Specifications of the Nexx XT1 helmet.
The helmet comes with a shell made of tri-composite fiberglass, Kevlar and carbon
The helmet has an anti fog visor pin lock insert and is included with the helmet for free
The helmet ways 1350 g for the first shell size, 1400 g for the second shell sized and 1450 g for the third shell size
Approved for road use in North America, Europe and beyond by the ECE/22-05, NBR-7471:2001 and DOT
Sun visor which is retractable and comes with a tint that is 80%
The helmet is available in three different shell sizes and these include shell one which is XS and S, shell two which is M and L, and shell 3 which is XL and XXXL
An excellent level of airflow is created on the top of the helmet for the head via the use of four outlets and two inlets.
Emergency cheek pads have been designed so that release of the helmet is easy and quick
A spoiler which is shell-integrated
Anti-allergic interlining which is made of fabric and has CoolMax technology as well as anti-sweat functions
Cheek pads which are anti-noise
Washable and removable interlinings
Wind stopper on the chin
Secure buckle that is micro-metric
A quick release system known as the X-Swift that comes with a new device system which is dual resistant and is known as the block'N'seal
Ventilation system for the visor
Breath guard which is removable
Increased visibility on the helmet via reflectors which can be found on the front of the helmet, as well as
the back and sides