Hooks, Shelves, Bags, Cases & More, We List Our Favorite Ways to Store Your Treasured Motorcycle Helmets
Getting the best means for storing your helmet is usually a great way to start your riding adventure. Further, helmets give you the confidence you need all through your riding exercise, leave alone protecting you. Make sure to protect it, while it's not protecting you.
To realize a great way to keeping your helmet safe and in good condition, however, takes some considerations too.
Motorcycle Helmet Hooks
Hooks are the most convenient ways for keeping your helmets when you are back from the ride. So what are some of these hooks and why are they important after all? Well, many advantages come with using hooks to store your helmets when you do not use them, or when you do not need them anymore. Here are some types of helmet storage hooks you may like.
1. The Pit Pose PPT 125 Dual Helmet Rack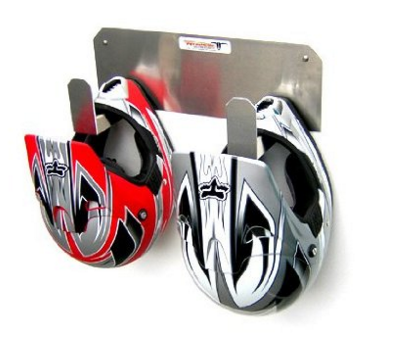 Goes for a little over $20, with a $ 4.00 (13%) waiver and free shipping
At 8 ounces, the dual helmet rack is the way to go in storing your helmets. As the name suggests, this rack can hold two helmets at once, coming in color silver, this helmet is an ideal suit fit for your garage/ trailer. These racks come in 6" H X 18" W X 6" D inches in dimension with a 5-year warranty. The Pit Pose helmet rack does not come with predrilled holes. These racks, however, incorporate supportive studs with 12, 16 and 24 inches on the center.
Check prices and availability…
2. Condor Helmet Hanger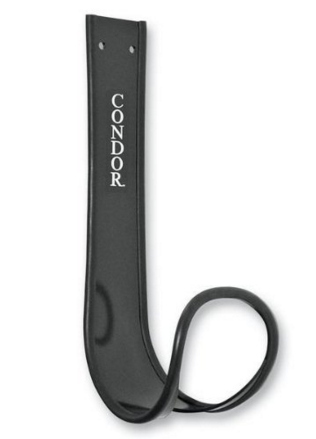 Tagged at ~$20 with free shipping, the Condor is worth the expense you have to incur to get it.
Made of 1/8" steel with a rubber lining along the edge, the Condor comes in large, color black, and duo predrilled holes, with a great rolled front edge for supporting your helmet, either open or full face. The universal style is an ideal hanger to mount anywhere in your house, on walls, closet rods, doors, name them. The solid style takes up less space and is a classy style you would relish incorporating in your trailer. Their rounded hook as well as the rubber finishing further prevents damage to the inner (padding) side of the helmet.
Check prices and availability…
3. Condor Motorcycle/ Atv/ Offroad Universal Helmet Hanger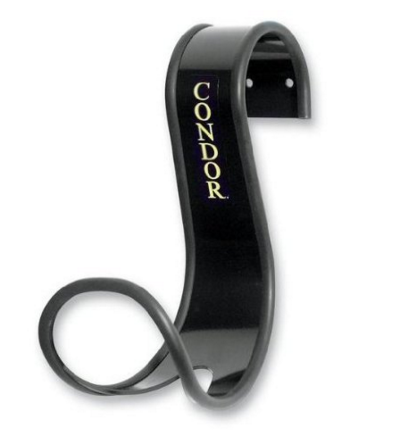 Going for~$20 and free shipping, this is the way to go for a great ride.
Just like the Condor MTHH, this hanger fits almost everywhere; mount it on doors, closet rods, walls, anywhere. Further, its universal type can do on tent trusses and clothing rods as well; it is ideal for both open and full-face helmet types. It comes in color black hot rolled steel, with a rubber strip running around the edge to ensure that it is safe for the inner side of your helmet. It weighs 1.5 pounds with 12.2" X 6.7" X 6.5" in dimensions.
Why you need hooks for your helmets
Hooks offer not only space for helmet storage; but also offer you additional space for keeping your garments, creating a little more space in your house, trailer or garage.
Well-mounted helmet hooks also have the benefit of decorating your trailer/ garage and making it look even more organized.
Again, helmet hooks can be mounted high on the walls so as not to use up your space or cause obstruction along your garage. If well positioned, helmet hooks will give you the service you need without necessarily having to create any more space for them.
Above all, hooks are relatively cheap, and yet they serve the purpose, which means they can offer you the very storage you need while you still get to save a few more dollars.
Check prices and availability…
Helmet Shelves
If you are looking for a more spacious storage for your helmet, rest assured the shelves will do. The advantage with shelves is that most of them feature additional storage space for gloves, holding clothing on hangers and tie-downs, tailored to give you a more complete all in one package. Here are some of the shelves you might like to try out.
4. Pit Posse 448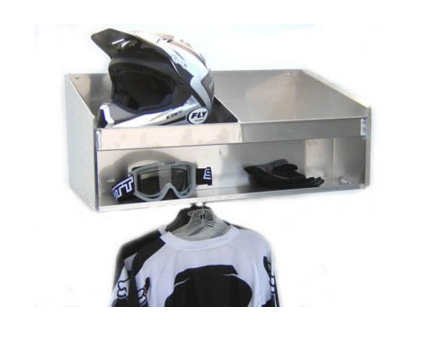 The Pit Posse shelf will cost you about $100, with the advantage of inclusive free shipping on board.
The Pit Posse 448 Cabinet helmet bay double mount comes fully assembled with a silver aluminum finishing, great for trailer storage. With a 28" X 16" X 12" dimensions, this cabinet further has a great compartment for keeping your gloves, goggles and other stuff you may find a fit for the rack. On the far lower shelf, you can keep other gear and garments as well. The Pit Posse cabinet is an hi-tech shelf you need not only for helmet storage, but it also helps keep your trailer organized and impressing, besides keeping your helmet and other gear safely off the ground.
Check prices and availability…
5. Pit Pal 334 Vertical Corner Helmet Shelves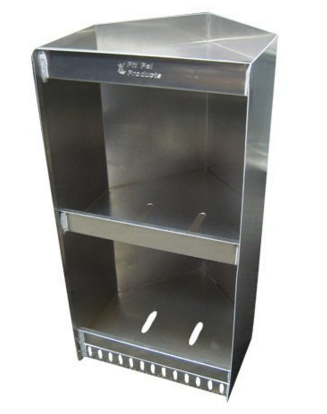 This high-end shelf from Pit Pal costing +$150 with additional $31.41 shipping fee saves you $64.26(26%).
This shelf is satisfaction guaranteed, coming in 1/2W X 30H X 16D dimension and 21.2 pounds; this is an excellent quality piece of your helmet. More alike with the Pit Posse 448, the Pit Pal vertical helmet shelf features three racks where you can store your other stuff besides the helmets. It is spacious and can be great for a decorative stand at the corner of your trailer/ garage. Its silver color and shape make it even more stunning. This shelf is strong and organized, an ideal item to secure your helmets, hang coats and any other gear you may find fitting.
Check prices and availability…
6. Venom Wall Mounted Shelf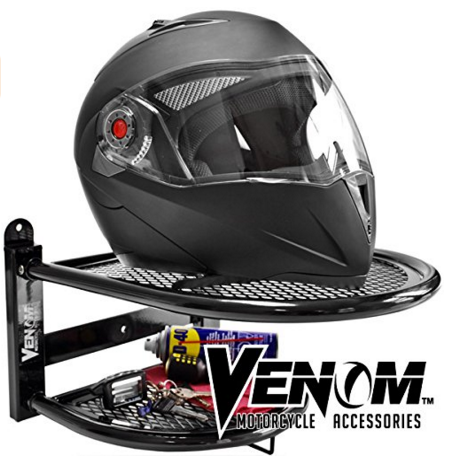 Venom wall shelf is one among the great items you can go for when looking for a suitable shelf. Selling at -$50 besides free shipping, this shelf saves you $$, equivalent to about 20%.
If you have your gloves, jacket, helmet, and some other gear to take care of, then Venom shelf has you fully covered. More importantly, this item comes with all the installation hardware you need to mount your shelf on the wall. With a black finishing, this item comes with two shelves; with the upper shelve measuring 13-1/8" L X 11-1/8"W, the bottom shelf with 7-3/4"L by 11-1/8" W. The overall measurement hits up to 15-7/8"L X 13-1/2"W X 9-1/8" H to offer you sufficient space for all your gear and garments.
Further, Venom shelf, built with high-grade steel, comes in either a large shelf or small shelf (with hanging rail). This item is durable, with a great potential and above all, it is easy to use item.
Some benefits come with helmet shelves
Helmet storage shelves stand out with their durability and strength. Storing helmets in shelves guarantees more safety as it is quite unusual that they will slip and fall off.
Helmet shelves also provide more collective 'one for all' storage space. With these, it is easier to store a number of helmets and provides a space where you can store such other stuff as a jacket, goggles, and gloves among other gear.
Shelves can further be used for alternative storage for such items as hang coats; you will never have any use for helmet shelves in the house/ garage.
Check prices and availability…
Motorcycle Helmet Bags
The hooks and shelve will deal you a great deal in keeping your helmets. However, when headed out for a ride, you will obviously need to take your helmet with you. This is where the helmet bags come in. There are a number of these bags that are perfectly tailored, with the necessity of keeping your helmet safe as well as easy and comfortable portability taken into consideration. There are a number of bags you would relish carrying your helmet in.
7. Raider BCS-8C Deluxe Helmet Bag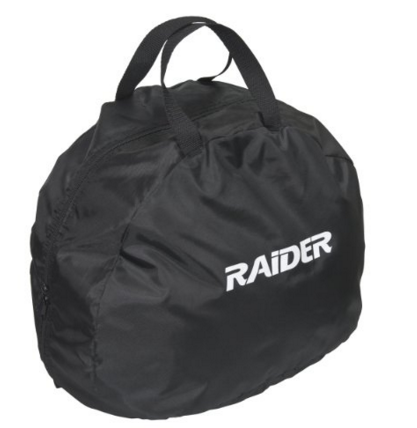 This wonderful bag goes for under $20 with free shipping on orders exceeding $49.
The Raiders BCS Deluxe features a resilient nylon shell, which means guaranteed durability and service. This bag also comes with a soft pile lining and a large size that can house almost all types of helmets. To add to its splendor, this bag comes with a full top two-way zipper and a great D-ring slot base for support from beneath. The China made carrier measures 14.5 X 7.8 X 4.4 inches, and weighs 5.6 ounces.
If you are an all terrain, an often off-road rider or a street cruiser, this bag is the way to go. Its durability and heavy-duty make give it all you are looking for.
Check prices and availability…
8. Coleman Motorcycle Helmet Bag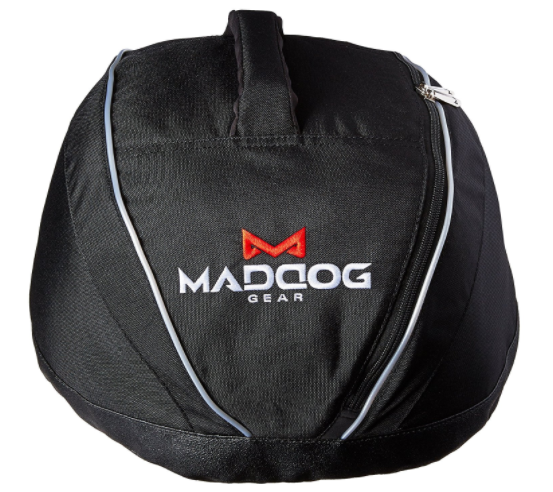 The Coleman also goes for sub $20 with the advantage of free shipping on orders exceeding $49.
This is yet another great bag to secure helmet in, comes in color black with a 600D X 600D Polyester and a faux-leather bottom. Additionally, it is highly water resistant and incorporates a fleece interior lining for additional protection of your helmet, not to mention the comfortable handle with an inbuilt neoprene. It measures 15.75 X 14.17 X 10.63 in dimension, weighing 1.2 pounds, which makes it a lightweight piece when empty.
Check prices and availability…
9. Classic Accessories Moto Gear Helmet Bag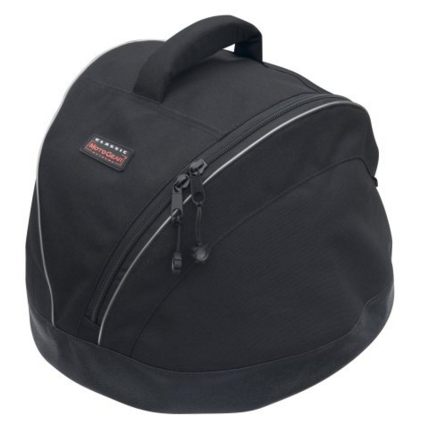 Protect your helmet with this wonderful bag at the mid $30 range and a free shipping advantage at any order above $49.
This bag features such great components as a non-scratch fleece lining, non-skid protective bottom, a smooth exterior and a relative large zipper as well. Carrying your helmet around will be easy and comfortable with its padded carry handle, a guarantee of comfort and convenience, and above all, this bag comes with a 2-year warranty.
Another great product from China, this bag comes in black color measuring at 91" X 59" X 4" inches and a lightweight of 1.1 pounds.
What these bags can do for your helmet
If you are seeking protection of your expensive helmet from dust and scratch, these bags will do, their fleece linins among other protective features will save you the damage during storage and transportation of your helmet.
For weather and abrasion protection, such special features as the tough U.V resistant Protek XTM plus fabric in these bags' exteriors have you covered.
Carrying these bags is comfort guaranteed with their padded carrying handles. Besides, the bags come with a 2-year warranty, which is in no doubt a plus to go for.
These bags' size makes them an ideal case for carrying your helmet around and their lightweight add to the advantage of their portability.
More important is these bags weather protection features, which help keep your helmet, off the risk of being prone to such harsh weather like rain.
Helmet bags can be multi-functional sometimes, if you opt to utilize them for the storage of your helmet, these will still play the role conveniently.
Check prices and availability…
Motorcycle Helmet Cases (premium bags)
We spend a lot on our helmets, but sometimes it is worth sacrificing a few more dollars to get a classy bag for your helmet. Premium helmet bags are not only flashy, but they are also more reliable in terms of durability, enhanced protection, and ideal for comfort and confidence too. Who would not yearn for such a high-end bag with such many advantages? There are such bags out there that are impressive you cannot afford to overlook them.
10. Ogio ATS Adult Stealth Gear Bag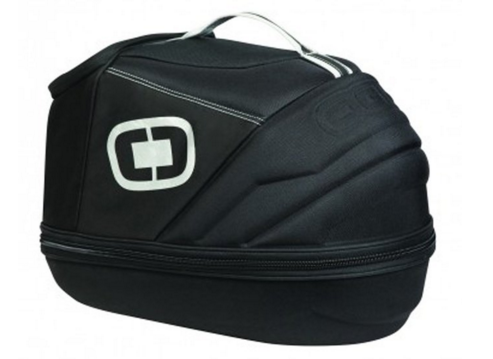 Ogio ATS goes for around $70 with free shipping to save you $19.67 (22%).
This bag comes in color black, measuring 17.7" X 21.6" X 295" inches with 4.4 pounds.
This bag comes with a great protective shell and an adjustable padding thickness. This bag further incorporates compressed foam, which holds the helmet intact within. If you are fond of carrying your goggles along with your helmet, this bag has you fully sorted with the adjustable visor storage capable of holding up to 3 or 4 goggles.
Check prices and availability…
11. Ohio Head Case- Stealth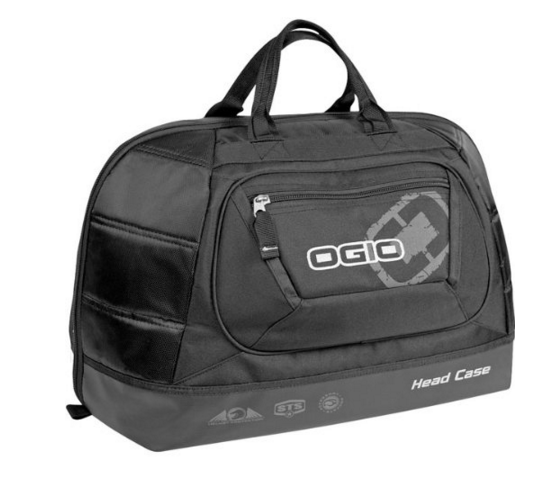 This bag is priced under $50 with free shipping, a fair deal to save you $0.97 (2%) of the upfront cost.
The Ohio helmet casing features stealth color, measuring 19.5" X 13" X 23" inches in dimension and weighs only 1 pound, light enough for ease of portability.
Further, this head case incorporates IFOM integrated foam panels and extra anti-scratch fleece interior for full protection of your helmet. Besides, this bag has well tailored external sleeve pockets and exterior zippered pockets for lenses, goggles, and other valuables as well. Its zipper teeth closure protects your helmet from zipper scratch. The durability of its fortified base cover and comfortable handles are another plus for these bags.
Check prices and availability…
12. MOTO-D Motorcycle Helmet Bag
MOTO-D helmet bag costs +$50 with free shipping.
Coming in color black, this bag measures 16.3" X 12.4" X 12.3" inches by dimension and weighs 2.6 pounds, slightly heavier than the other two.
This bag features stunning internal suspension straps for holding the helmet securely in place. It also incorporates exterior mesh pocket for holding additional visor, not to mention a vented interior for allowing sufficient air circulation through into the helmet especially when in storage. It also features comfortable shoulder straps and carry handles for comfort in transportation. Its sturdy make further provides great protection to your helmet from scratches and weather as well.
Why premium bags are the best
The premiums offer a touch of class above the normal bags,
These bags durability outstand those of the others as well; the advanced protective features on their exterior shells make them the choice to go for when it comes to ensuring full protection for your helmet.
Some of these bags' features of these bags as air circulation help keep your helmet fresh and in good conditions.
Premium bags also have great additional features for holding gloves, glasses and other valuables incorporated, these advantages make these bags worth the few extra dollars you have to part with.
Further, their large size ensures a safe and secure environment for your helmet, not to mention the shoulder straps that some of them come with, which ease portability during transportation.
Just like the medium bags, Premier Bags can be an ideal option for you when it comes to storing your helmet, especially when you opt to buy them for the multipurpose use.
Check prices and availability…
Whichever way you find interesting to either carrying or keeping your helmet safely when not in use depends fully on your preference. Additionally, it matters much the number of helmets you have and the need to keep them all in a safe way. Whichever choice or needs you may have, getting the right means to keep your helmet is essential and counts. You want your helmet to last long, and so keeping it well, and safe is inevitable.