Here we are, comfortably ending the final quarter of 2022 and you find your pockets full after those mad gains you achieved in the crypto market, or was it Gamestop? Either way, a significant challenge remains, whatever shall you do with this newfound cheddar?
My suggestion is to follow your passion and buy motorcycles, but not just any motorcycles, vintage motorcycles. Okay, I admit there is a distinct possibility I went way deep down the rabbit hole known as Mecum. How could I avoid it? The largest classic motorcycle auction occurred at the end of January in Las Vegas and the results are full of all kinds of interesting tales.
Follow along and I will share what I found about the most expensive motorcycles you can buy.
Vintage British Bikes
1938 Brough Superior SS100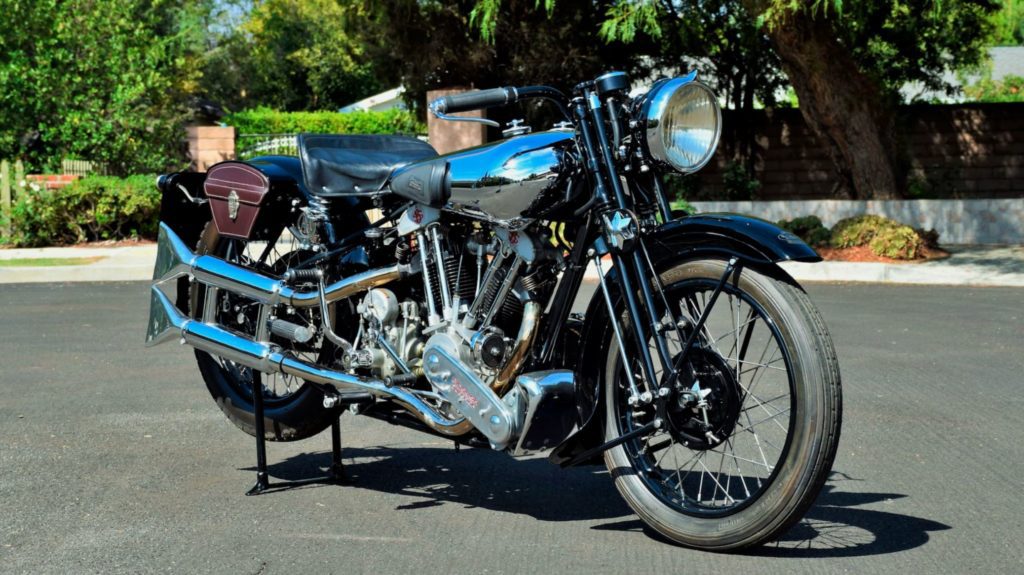 Photo Credit: Mecum Auctions
Price: $236,500 USD
Brough Superior SS100's have been at the top of the collector market for years, which is logical based on the history of that model. This particular SS100 was in a sad state when found, and went through an intense restoration.
The odometer shows just 29 miles. The seller bought this SS100—Frame No. 8/1496 and Engine No. BS/X2 1043—in 2003 and took the People's Choice at the San Jose Clubman Show and Best of Show at El Camino. The seller states the twin-cylinder, 1000cc engine, and 4-speed transmission start and run well.
The market has always been strong for the SS100 and buying at a reputable auction house, or any of the known examples with full pedigree will most likely never lose value.
1951 Vincent Series C Black Shadow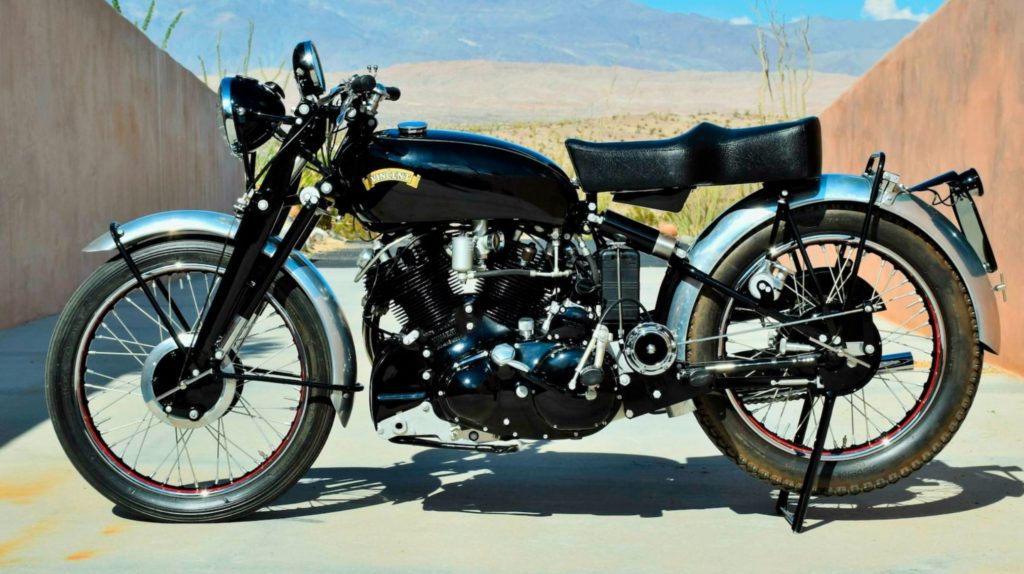 Photo Credit: Mecum Auctions
Price: $231,000 USD
The British bikes held on to the two top spots at the January Mecum Auction, and this Vincent could very well have taken the top spot.
Only 1,507 Series C Black Shadows were produced from 1948 to 1954, and a 1951 road test indicated that these bikes could produce 55 HP at 5,500 RPM and reach a 125 MPH top speed, making it the world's fastest production motorcycle in the 1950s, and at a weight of only 455 pounds, the lightest in its class. The most powerful standard motorcycle of its time, and with legendary performance to boot, the Vincent Black Shadow is considered one of the greatest motorcycles ever produced.
This Vincent was the winner of the "Spirit of the Quail Award" at the 2013 Quail Motorcycle Gathering, where it received a perfect judging score as quite possibly one of the most authentic Series C Black Shadows in existence today. 
Vintage American Bikes
1917 Henderson Model G Four Cylinder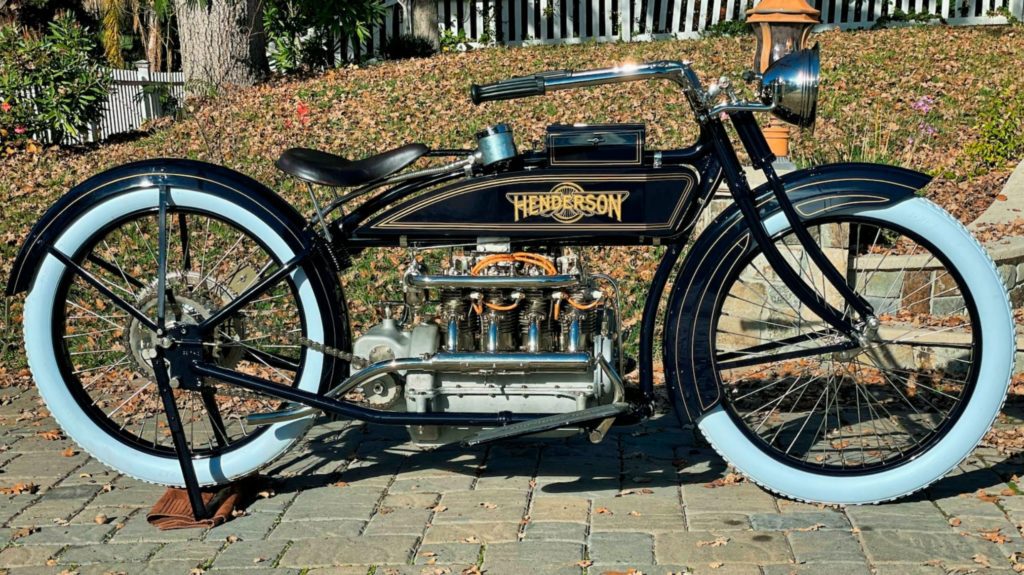 Photo Credit: Mecum Auctions
Price: $203,500 USD 
This Henderson is the bike I would be throwing all my money at. I just love the board track racers, and the stunning engineering and exposed mechanical nature of these American bikes fascinate me.
Considered the finest of William Henderson's designs and accomplishments, the 1917 models were the first of the fours to include an internal 3-speed transmission and modern clutch. It was also the last Henderson to sport the highly nickeled motor and deep blue color with its gold accents.
Alan Bedell set the transcontinental long-distance record riding a 1917 Model G for 1148 miles at Ascot PA to California for 24 hours with an average speed of 48 mph.
Model G Henderson motorcycles are already a rarity, but one with the optional generator and electric headlight, like this example, push it to another level. It may be a Concours level restoration, but a bike like this deserves to be ridden on those perfect weather days.
1936 Harley-Davidson EL Knucklehead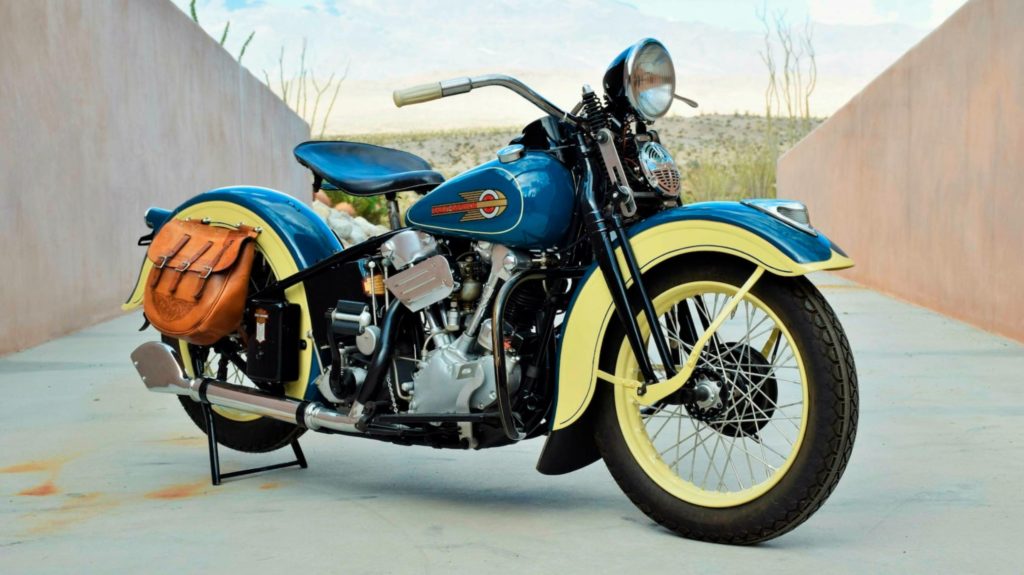 Photo Credit: Mecum Auctions
Price: $203,500 USD
The Knuckleheads are on fire these days. Prices are climbing year after year, and I fully understand with examples like this 1936 EL.
Needing a bike to fend off rival Indian, William Harley, the company's chief engineer had been hard at work on a completely new overhead-valve design. This new design made great power but was so plagued with oil leaks that Harley Davidson almost did not release the bike. Thankfully, solutions were found, the bike was released, and even though engineers made multiple revisions on the fly through 1936, the unique "Knucklehead" was born.
For me the EL is the best-looking Harley Davidson ever made, the two-tone paint schemes are stunning to see up close.
A Knucklehead of any year is looking like it will only ever increase in value, finding a 1936 EL, is a prize to buy and hold.
Vintage Italian Bikes
1977 MV Agusta 750S America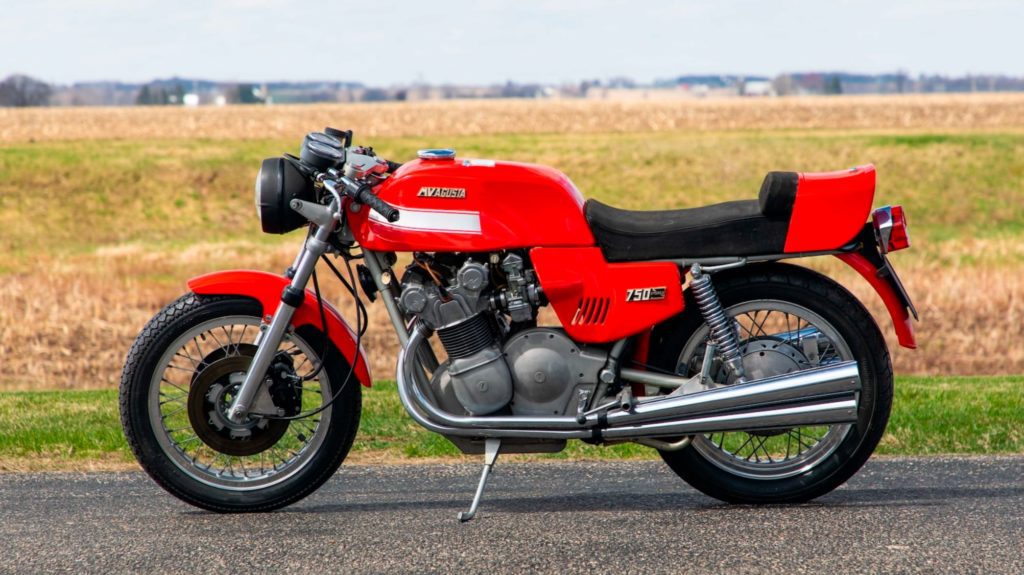 Photo Credit: Mecum Auctions
Price: $69,300 USD
The Italians were in tough against some mighty impressive Japanese 750cc machines back in the 1970s. Trying to sell a bike at as much as 3x the competition was a huge challenge. 
There is little question the MV Agusta 750 S is a far more unique-looking bike than anything coming out of Japan, and it had the performance to back up the look.
As of late, the 1970s Japanese bikes are seeing tremendous value at auction, and the MV Agusta appears to be benefitting from this rise. Values seem to stretch from as low as $30,000 up to over $130,000 for a 1973 sold at the 2019 Mecum Auction.
1974 Ducati 750SS Green Frame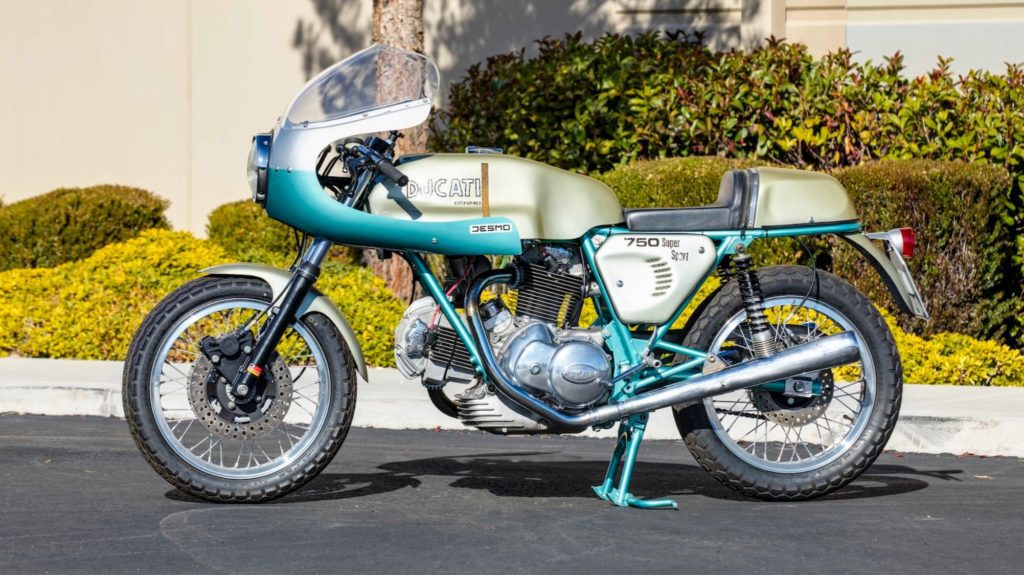 Photo Credit: Mecum Auctions
Price: $132,000 USD
Of all the Italian bikes the famous Ducati 750SS with the Imola Green frame stands above the rest. They were built to be an homage to the machine Paul Smart rode to victory at the 1972 Imola 200.
The bike I pictured here crossed the Mecum Las Vegas 2020 stage. This example is incredible in unrestored condition. The patina is just incredible to see, and it has just 395 miles on the odometer.
Ducati Chief Designer Fabio Taglioni created an instant icon when introduced in 1974 with its unusual "duck egg" green frame and silver metal-flake bodywork. The gas tank famously included a clear strip for keeping track of the fuel while riding, and the 750SS proved the fastest production motorcycle in the world with its 135 MPH top speed.
Finding a true Imola Green Frame is a challenge, but that is also why the values will always hold, but I can say that they can vary wildly based on condition and documentation.
Vintage Japanese Bikes
1970 Honda CB750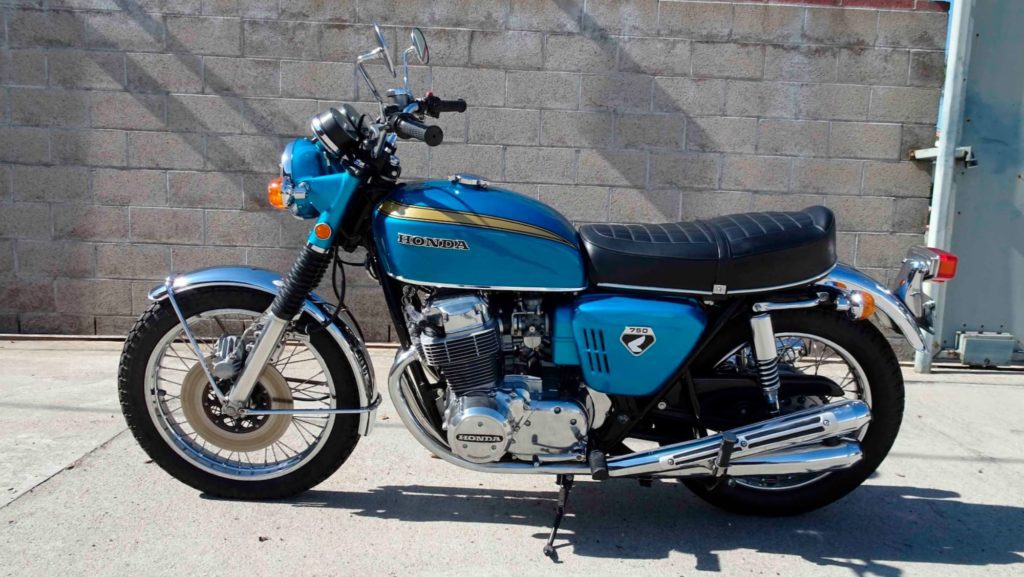 Photo Credit: Mecum Auctions
Price: $55,000 USD
The 1970s were one heck of a decade for Honda Motorcycles. The entire CB lineup was a force to be reckoned with. Due to the sheer number of motorcycles made during that time, it might seem that from a collector's perspective they are not a great choice, but pristine original examples like the 1970 CB750 sold at the January 2022 Mecum Vegas auction show otherwise. The single overhead cam, 4 cylinder engine, and front disc brake were quite an evolution for a mass-production bike at this price point. Pristine examples of the earliest 1969 or 1970 models will command big dollars and are well worth the restoration effort. 
1972 Kawasaki H2 750 Triple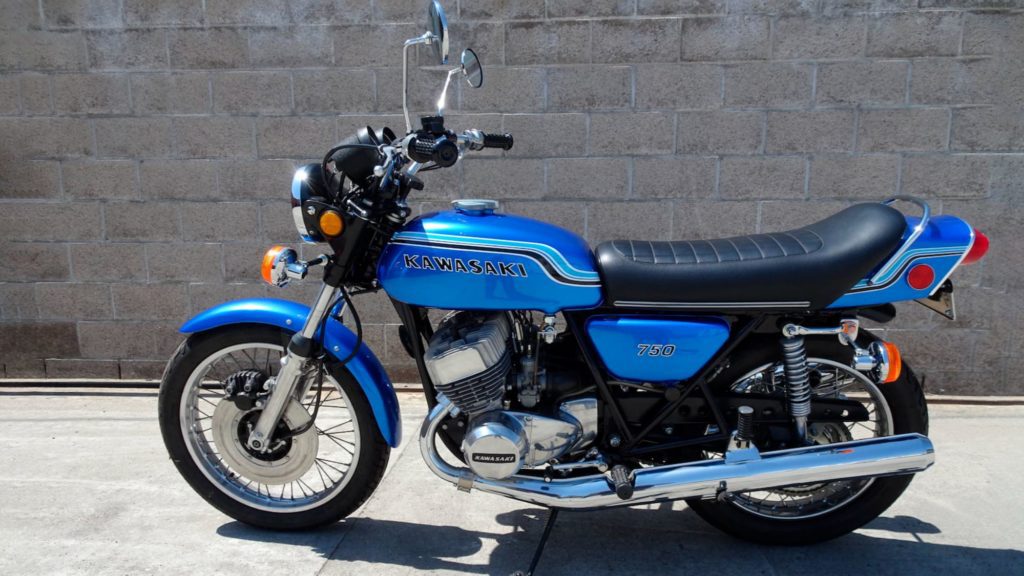 Photo Credit: Mecum Auctions
Price: $33,000 USD
Kawasaki Triples are just so damn cool. When you have a nickname like the Widowmaker, people take notice. Now granted that nickname applies more to the H1 variant, the glow did carry across to the H2 that I am showing here. 
Basically, the early 19070s 750cc Triples from Kawasaki are highly collectible. They were the fastest 750 available, in the H2 making as much as 74 hp. At low rpm's the Kawi was relaxed and easy to ride, but spin up the throttle and you best hold on, things are going to get rowdy.
The sculpted tank, kicked-up tail section, and color-keyed front fender lent the Mach IV sleek style. In the end, the same regulatory and economic forces that clobbered American muscle car performance turned against the mighty Mach IV, and by 1975 they were gone.
If you can find one, buy it, restore it, and hang onto it.
To Sum It All Up
Each January the Mecum Auction company holds the largest sale of vintage motorcycles in the world, and much of what I am sharing today is based on their auction. Including the images and prices of bikes that were available very recently. The examples I have highlighted are meant to help you see some of the historical value certain machines have. If you do some research, finding cool machines that will likely always hold solid value is very possible. There are many many auctions around the country and the selling prices can help you understand if those classified ads you see are even reasonable. Happy Hunting!