Cruisers are a special kind of big in the good ol' US of A. They constantly battle against sport bikes for market dominance, and you'll most likely find a cruiser model on the showroom floor even from the Japanese, Italian, and British manufacturers. And many cruisers have a certain something about them that gives them that touch of the bad boy.
However, certain cruiser models have a big dose of extra badassery. It could be an engine that is more at home powering the small family sedan. It could be insane styling that makes you take a second look. And maybe it's just so mean looking, so unbelievably evil and twisted, that it demands to be called badass.
Here, then, in no specific order, as the newest, most badass cruisers you can buy today
2021 Triumph Rocket 3 GT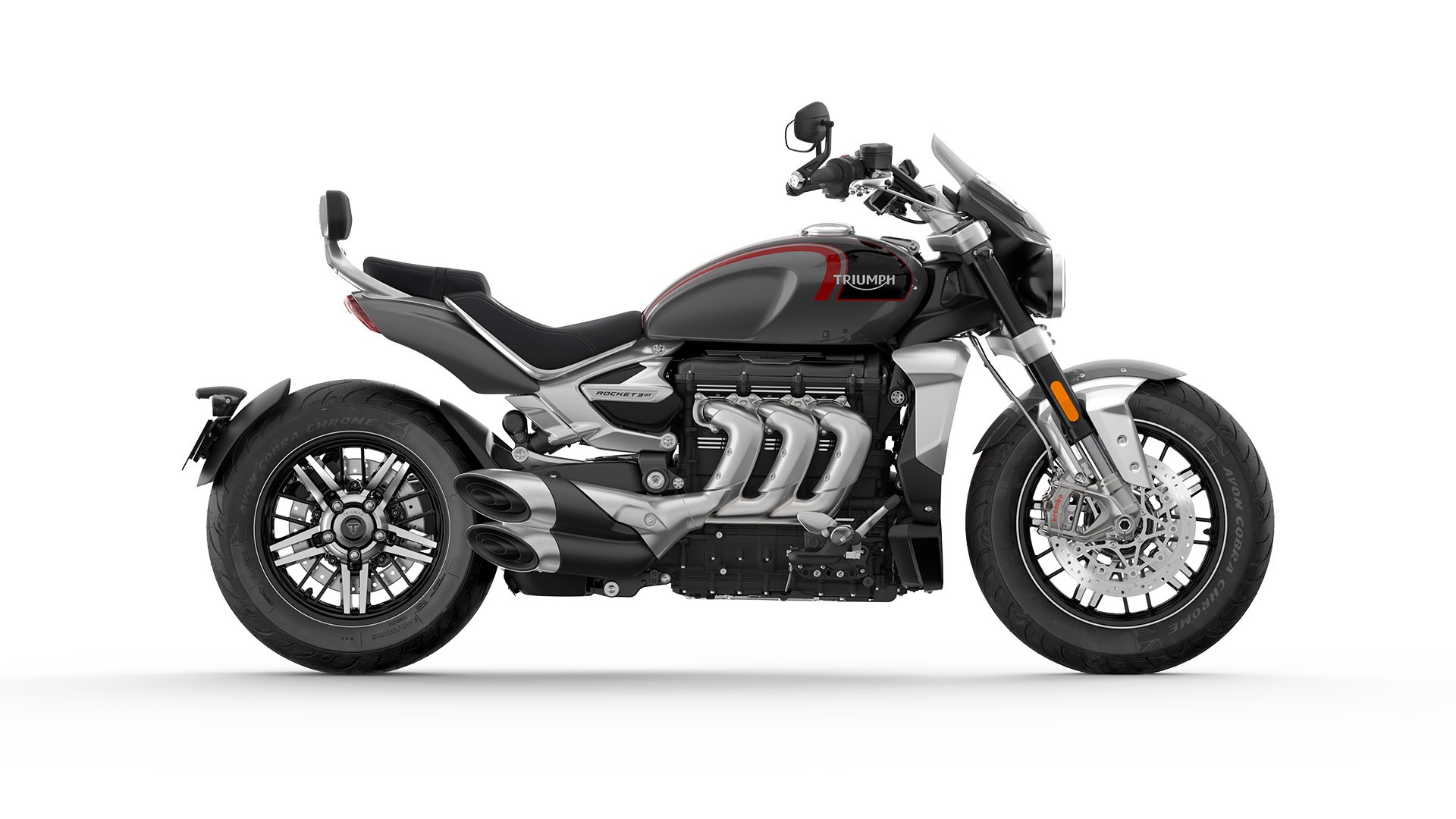 Reason For Badassery: Engine
It's simple, really. It's all about one number that casts a shadow on pretty much every other motorcycle engine out there. That number is 2,458 cubic centimeters. In Imperial, that's 150 cubic inches. That, ladies and gentlemen, is the size of the three cylinder engine that powers the 2021 Triumph Rocket 3 GT.
165 HP. 163 lb-ft of torque.
Compare that to, say, the 2021 Kia RIo5 hatchback. That car has a 1,600cc inline four engine with 120 HP and 112 lb-ft of torque, pulling a car weighing 2,762 lbs.
The Rocket 3 GT weighs just over 660 lbs soaking wet with a cinder block or three tied to its seat.
And then tell us that's not a badass engine.
2021 Indian Scout Bobber Sixty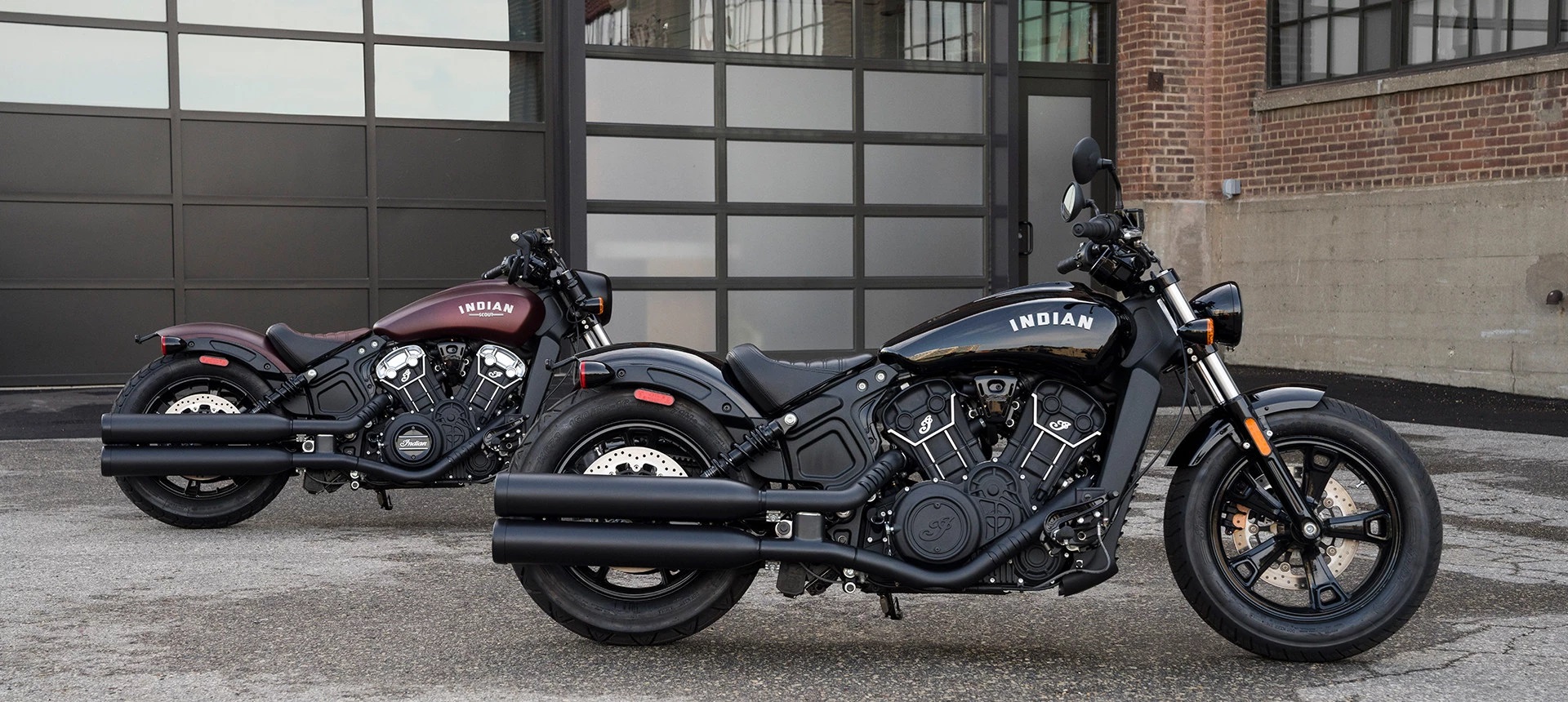 Reason For Badassery: Aesthetics
It used to be that if you wanted the Indian introductory bike, the venerable Scout Sixty, you could only get it with a softail and a few old school bits to make it look like an older bike. Not so anymore. For 2021, Indian listened to their growing younger audience, and whacked half the tail off, lowered the seat, hauled back on the handlebars, and gave the Scout Sixty a couple of big, badass noise makers, one from each cylinder.
Then, give the customer the option of a deep, threatening maroon metallic, or completely murdered out black as their color options.  Give it a 1,000cc (61 ci) liquid cooled V-twin that rumbles out 78 HP and 65 lb-ft of torque, and make it a middleweight at 550 lbs wet.
That is how you make a rider's first bike a badass street machine that won't get them into too much trouble, but will ooze badassery every time it's rolling down the road.
2021 Honda Rebel Lineup (350, 500, 1100)
Reason For Badassery: Bringing new riders to the cruiser community
Let's face it, the Honda Rebel bikes don't overtly look threatening. They also don't have particularly loud exhausts, and use parallel-twin engines to deliver linear torque and have very forgiving handling. But that, in and of itself, is why they are badass.
Honda has pulled a master stroke with the Rebel lineup. Many new riders choose a Honda, because of their reputation of being easy to ride, easy to fix, and reliable as all hell. So why not let those interested in cruisers have a great first bike?
For 2021, the addition of the Rebel 1100 finally gave those that are on the taller and heavier side of the spectrum their intro bike. Using the Dakar Rally tested 1,100cc engine from the Africa Twin, the Rebel 1100 has 86 HP, 72 lb-ft of torque, and is big enough that even those above 6 feet tall will be able to sit comfortably on it.
2021 Triumph Bonneville Speedmaster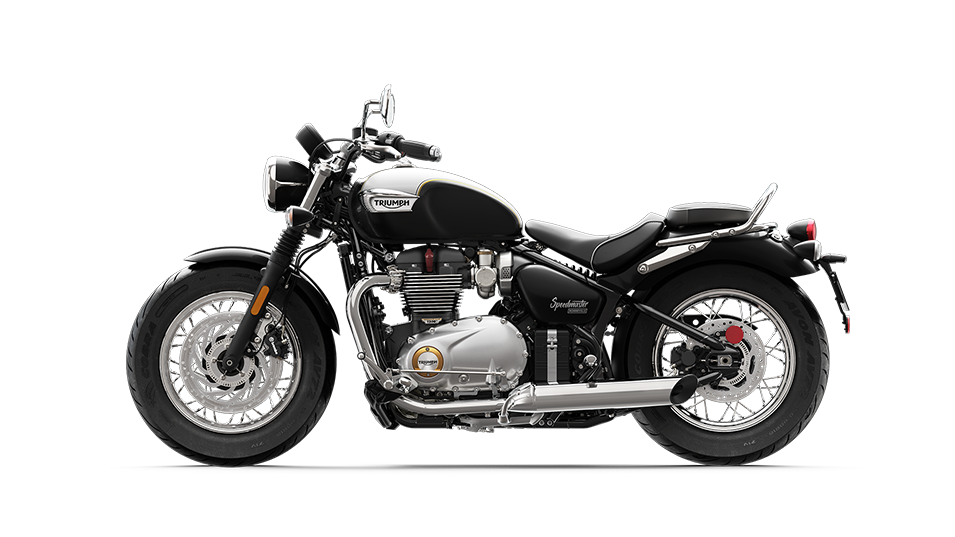 Reason For Badassery: A bruiser cruiser with a top hat
The British have a weird way of looking at things. They have a tendency for stubbornness, a fight-before-flight attitude, and despite living on a tiny island in the North Atlantic, have some incredible influence around the world.
So it should be no surprise, then, that a cruiser from England is understated, wearing a nice tux and a top hat aesthetically, while packing a solidly developed, honed-over-years body underneath. A 1,200cc parallel-twin puts out 78 HP, 78 lb-ft of torque, and does so confidently and smoothly.
It also looks spectacular. It's one of those cruisers that you look at, turn around, then turn back again to appreciate the confident curves, the seemingly perfect rake of the front forks, the way the seat hitches up over the back wheel almost like a bobber, but then eases into a pillion rider cushion. The 2021 Triumph Speedmaster is just badass.
2021 BMW R18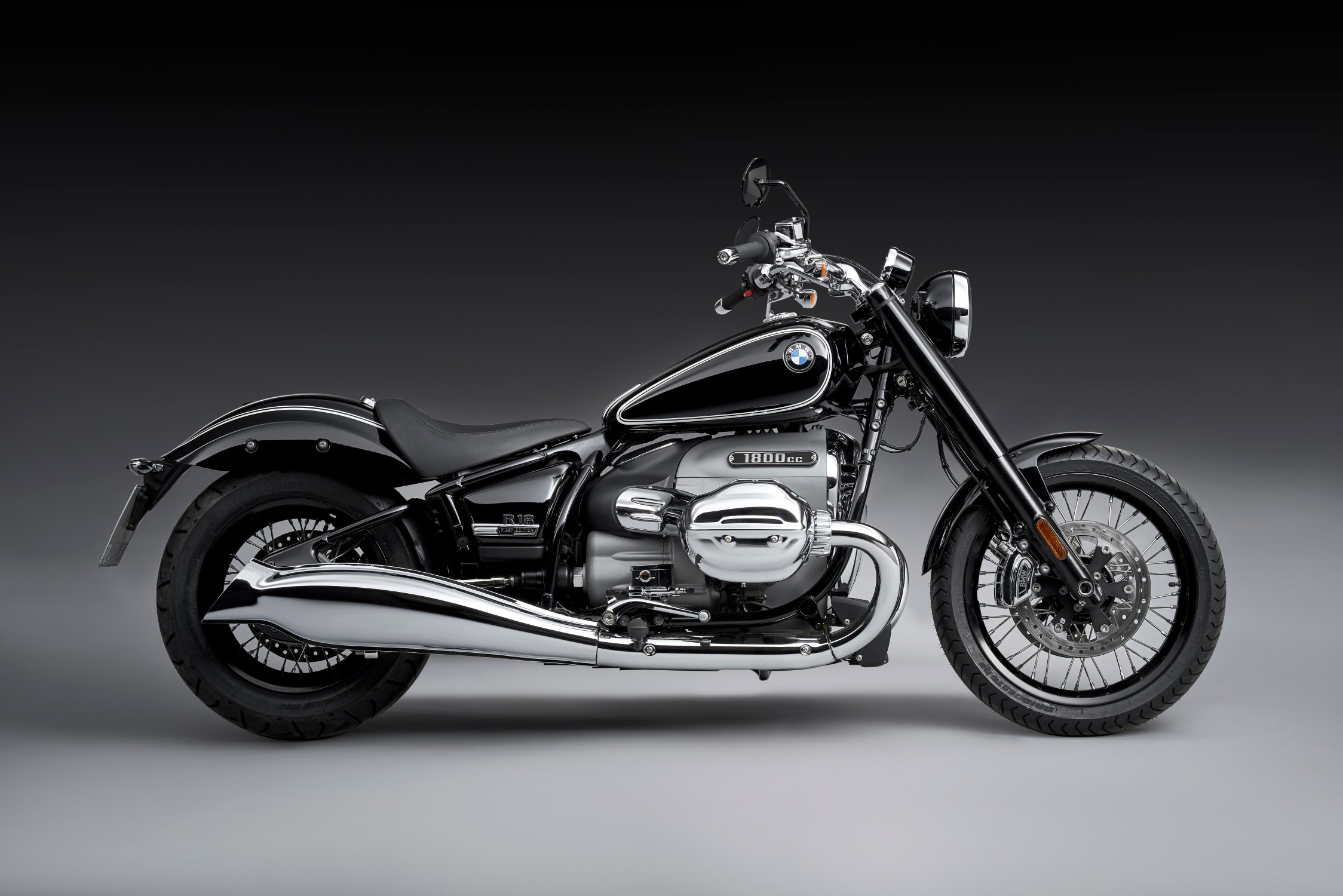 Reason For Badassery: A true heritage classic that brings the noise
Few know that prior to the new millennium, BMW actually made quite a few cruisers. They weren't really labelled as cruisers at the time, but throughout the middle few decades of the 20th century, BMW cruisers were prized for their ride and handling.
BMW decided to bring back that love of their cruisers, but they also kind-of packed Mjolnir, Thor's hammer, with it. A 1,802 boxer-twin is the engine of the R18, making it both the first true boxer cruiser in the 21st century, as well as harnessing the horizontally opposed cylinders to smack out some big numbers.
With Harley-Davidson squarely in their sights, the R18's boxer makes a grunty 117 lb-ft of torque, which beats Harley's mainstream Milwaukee-Eight 107 by 10 lb-ft, and the 114 by 3 lb-ft.  It also takes the longtail bobber look and puts a bit of German engineering excellence to it, with a steel double frame to support that monster of an engine covered in gorgeous classical lines and curves.
2021 Moto Guzzi 1400 Audace Carbon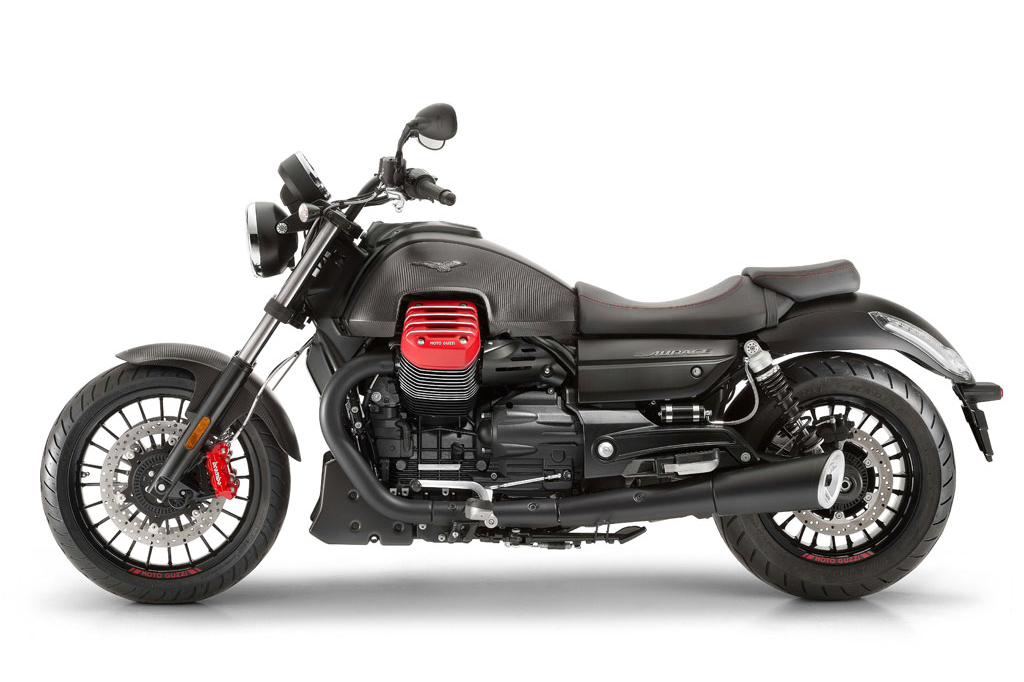 Reason For Badassery: Over-the-top Italian style in a blacked out murder style
You know you've got a badass on your hand when the literal translation of a motorcycle's name is "Bold." And it is bold. The body hulks up over the longitudinally mounted 90 degree V-twin, on the larger end of the scale at 1,380cc's. It's so bold it needs to have both air cooling on the cylinder heads and oil cooling for the transmission and crankcase.
96 HP and 90 lb-ft of torque are nothing to sniff at either. Especially when the bike is made primarily from aluminum with composite and/or steel reinforcements, giving it a pleasant 660 lbs wet weight. And that engine… what a sound it makes!
Then, just when you think it's done, it has Italian flair in every corner of the bike. The seat doesn't need to be double stitched, but it is because it looks better. The instrument TFT could be put in a standard dash, but no, the Italians put it in a circular dial, and put it on top of the forks like an old school bike. And the rear suspension, it could have the gas canister attached right on the shock, but yet again, the Italians put the canister down by the seat and run some beautiful braided stainless steel lines to the shock. And we absolutely love it.
2021 Harley-Davidson Fat Boy 114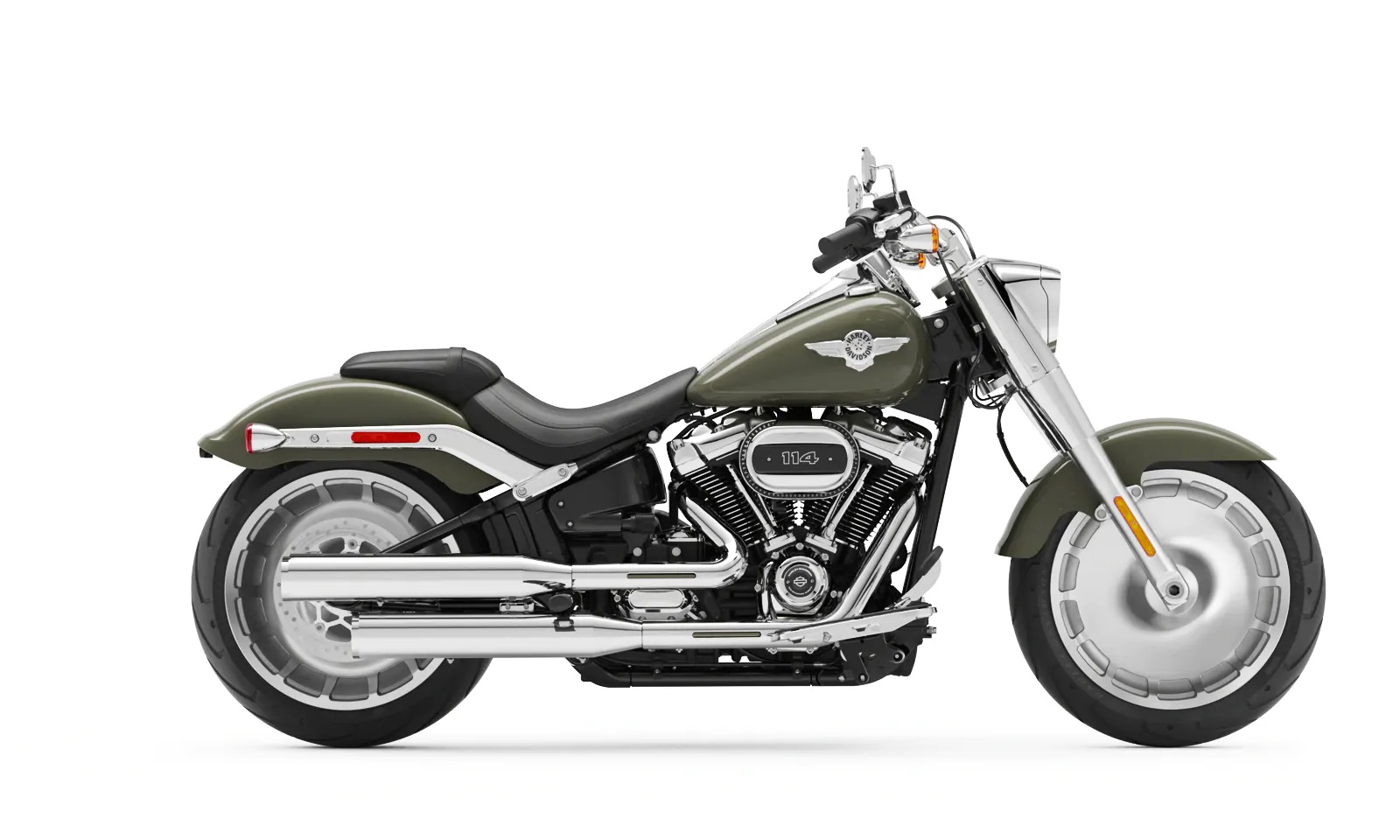 Reason For Badassery: Honestly, it was the original badass cruiser, and we respect that
Way back in the 20th century, Harley-Davidson was known for making touring motorcycles, continent crushers, and baggers. And then, out of the depths of their skunk works, a little cruiser (okay, a fairly big, chunky, loud cruiser) called the Fat Boy emerged. It took the same basic frame and style of those baggers, tourers, and continent crushers, got rid of all the extraneous things that weren't needed, dropped the seat down a bit, and put a big badass V-twin into it.
Fast forwards to today, and that same basic recipe has helped many motorcycle manufacturers build badass cruisers that rival the original. But, and this is a hefty but, there can only be one original. Harley remembers that, and so the Fat Boy 114 is their 2021 flavor of the classic badass cruiser.
With a Milwaukee-Eight 114 V-twin, the Fat Boy chucks out 114 lb-ft of torque and "adequate" HP. It has the classic rumble of a straight piped, slightly baffled V-twin as well, another of the signature badass sounds. It has the classic lines of those first Fat Boys, the slope of the tank matching to the front slope of the seat. It is a classic, and it was the original, so we respect that badass cruisers exist because of Harley-Davidson taking a risk back in the 20th century.