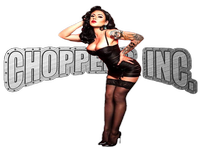 MONEY SHOT was Billy Lane's 2nd hub-less bike. Originally created for the Camel Roadhouse tour it is often still referred to as the Camel bike because it maintains the Camel branding on the side of the tank. Notice of course the hubless rear wheel. Also note features like the foot clutch, the pedal styled with a chrome trucker girl that means less clutter on the bars and also frees up the rider's left hand for changing gears. The tall shift lever is is topped with an acrylic die shifter knob and the dots are all .357 casings. Lovely Playboy Playmate of the Month, June 2004, Hiromi Oshima, graces the MoneyShot motorcycle, built for Camel in 2002.
Built In: U.S.A. Bike Style: Chopper
Image Gallery
---
Money Shot, Camel Bike Bike Specifications – Choppers Inc.