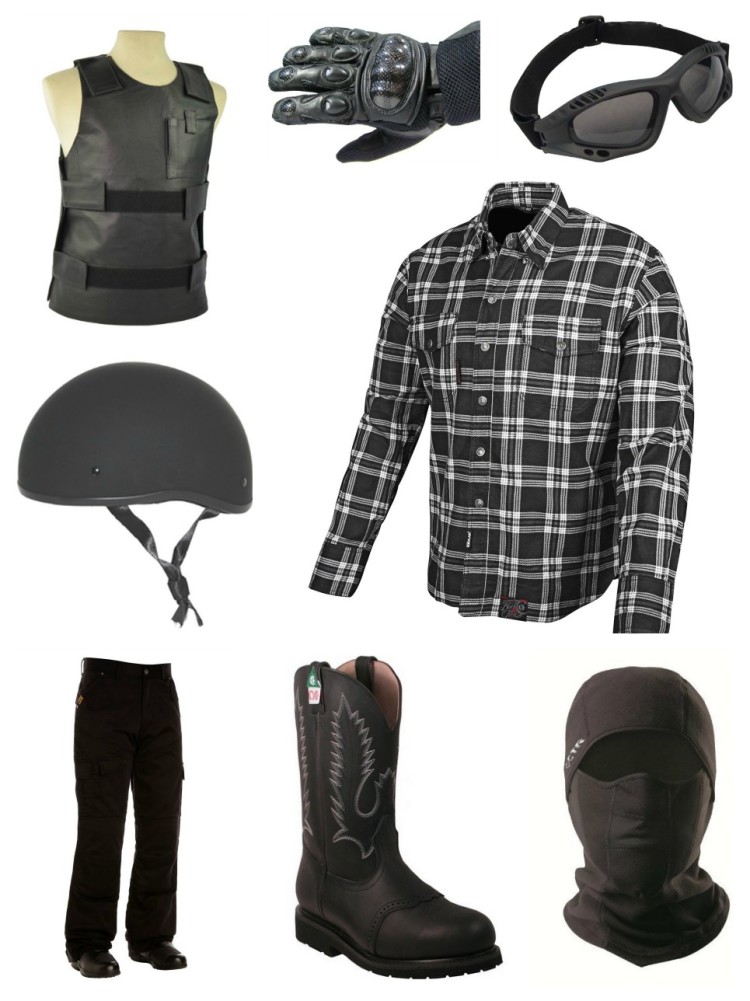 BILT IRON WORKERS Motorcycle Cargo Pants – List Price: $129.99  Sale Price: $79.99
Looks great and is functional with places to stash your gear with quick access to reach the things you need to have in hand fast with quick open Velcro fasteneings. Just the thing you need for the long cross-country runs to protect your legs and insulates you against Road Rash the elements with:
KEVLAR® / Polyester mix fabric on the impact zones; knees, hips and bottom
Hand-washed cotton / polyester mix
Loose fitting, casual save the world style
Multiple cargo pockets w/ hook-and-loop latches
Variable ankle adjustment tabs
Speed and Strength Men's Reinforced Moto Shirt -List Price: $99.95 Sale Price: $95.95 & FREE Shipping
You fit in with your bros and the citizens as well. Plus you have the added edge with Kevlar protection. The shirt looks like a normal flannel shirt, but its lined with Kevlar and is the best thing to have between you and the road today for protection and strength.
A protective flannel with DuPont Kevlar-lined impact zones, a hidden zipper behind the snaps, and a snap down collar make the Black 9 Moto Shirt ride functional. Features: Cotton/poly blend-fabric. Shoulders/elbows reinforced with DuPont Kevlar fiberthread. Shoulder expansion gussets. Hidden YKK zipper opening and snap down collar.
CARBON Fiber Motorcycle Mesh & Leather Race Gloves -List Price: $140.00 Sale Price: $32.99 & FREE Shipping
Hard-hitting and tough these Kevlar gloves protect your hand both on your bike and off with reinforced knuckle protection to withstand heavy impacts. Keep your hand warm during those night rides cross country and with their no slip grip your hands stay where their needed on the throttle or the bat.
Zox Nano Old School Motorcycle Helmet -List Price: $89.99 Sale Price: $72.34 & FREE Shipping
Today as well as back in the day, this helmet is a classic and now made from Kevlar it is light and nigh indestructible as well. It keeps your head from making contact with the pavement and from impacts from flying objects during your rides in heavy weather and zombie traffic.
Boulet Men's Pull-On Vibram Kevlar Work Boot -List Price: $239.99 Sale Price: $234.99
While you ride, you feet are protected with Kevlar and a steel toe. When you're off the road it's a heavy-duty boot that can do double duty as a work boot and comfortable to wear when you're out and about. With a cowboy boot design it hides its Kevlar and steel toed construction.
The Original Shot Flask – 8oz Hip Flask & Shot Glass -Price: $39.99  Sale Price: $24.99 & FREE Shipping
During a long run down Highway 101, carry your favorite pick-me-up in a make for your drinking pleasure with a built in shot glass. A 5 day run is dry and thirsty traveling. This hip flask is perfect for toasting with your bros after that successful cross-country run.
Rothco Ventec Tactical Goggle -List Price: $16.49  Sale Price: $10.99 & FREE Shipping
Protect your eyes from dirt, grit, and flying insects as you are pushing the limit down the highway on your way out yonder. It is the perfect match to the open faced Kevlar helmet shown earlier. Made from high impact resistant materials, it can take it in spades as it sports:
Lightweight- padded frame w/ smoke gray, shatterproof polycarbonate lenses
Anti-scratch and anti-fog coating; SPF 400 ultraviolet protection
Adjustable elastic strap holds goggles secure
SPF 400 ultraviolet protection; CE approved
Bullet Proof Leather Motorcycle Vest -List Price: $79.99  Sale Price: $44.95
Just the thing to have under your jacket to add that extra protection you may need for the unexpected during your long hauls on the dark roads at night and in the troubled streets of the city today. whether you are your bike or just walking down the street you never know when you might be assaulted or even shot at. It is becoming a common occurrence with road rage sweeping the news lately. It's best to be prepared if you are on the road for anything.
Chaos Chinook Micro Fleece Balaclava with Windproof Face Mask – List Price: $44.99   Sale Price: $18.48
Protect your face and neck from cold and windburn and dust while you are riding the road. It keeps your face, neck, covered, and warm, with the following features:
Polyester 95% / Spandex 5%
Polartec Micro Fleece Balaclava with Windproof Face mask
Hinged construction allows for multi-function
90% polyester Fleece – 10% Windshield/Windproof Fleece.