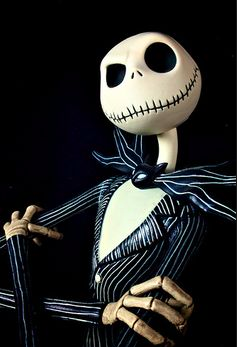 Jack Skellington is the main character in the Disney movie "The Nightmare before Christmas." The 1993 movie was about a town which was built around the holiday of Halloween. Many Halloween spirits lived in the town who came down to earth on Halloween night to scare people.
The most important spirit among them was Jack Skellington, the Pumpkin King.
He is as popular as the Santa Claus and Easter Bunny in the town. He is intelligent, graceful, mischievous yet a kind and happy character.
*Jack Skellington Motorcycle Helmets are at the bottom*
What does Jack do in the movie?
Jack is bored of the same way Halloween celebrated every year. He accidentally finds a door to Christmas town. He really likes Christmas and wants to take it upon himself and his town members to celebrate it. But things go wrong and eventually the villain Oogie captures jack's friend and Santa Claus. Jack then has to defeat Oogie and rescue his friends. Santa Claus also returns to save Christmas in the real world and gives Halloween town an experience of Christmas.
Jack makes cameo appearances in two other films – "James and the Giant Peach" and "The Princess and the Frog." He is also featured in many video games including "Kingdom Hearts" series, "Disney Magical World" and other Disney games. He's present with his friends in many Disneyland parks over the world.
Jack is Undead
Jack is undead and that means he is very tough to kill. He can detach body parts easily and control them with his mind. Though he can be killed by grounding his bones to dust. But luckily that never happens to him in the movie and he is able to save his friends and Santa Claus. It's one of the best things that you would ever see in a movie.
The "Skellington" part of the name is a reference to skeleton. Jack is basically a skeleton without any muscle or flesh. This makes him very light and he can jump great height in the air. Taking long leaps and bounds is not at all difficult for him. But being a skeleton does not make him weak. He is quite strong and easily lifts heavy things. This gives him advantage while defeating Oogie.
Jack cares for his friends
Jack was really obsessive about celebrating Christmas in his own way even when his friend Sally warned him against it. But once he realizes his mistakes, he does not hesitate to save his friends. He fights with Oogie who had captured Santa Claus and Sally and rescues them. Jack has his skeleton kids
An epilogue in the official film soundtrack CD gives us an interesting addition to the story. This part is missing from the film and describes Santa visiting Jack after many years in Halloween town. Jack now has 4 or 5 skeleton children with him. They all happily play together in a xylophone band. The mother of the kids is not shown though many fans consider Sally to be the lady.
All this makes Jack a popular character in these films and games, and also an excellent character to paint a motorcycle helmet after.
Jack Skellington Custom Motorcycle Helmets:
Helmets by: