I am Iron Man.
You might find the science subject to be boring. After all, who would want to know that two atoms of hydrogen and one of oxygen gave you a molecule of water? Or even the different laws of physics? It's only studied by boring people who don't have a social life or friends…..
However, what if we were to tell you that there is a man, who not only was an excellent science student, but also, used this boring science and technology to become one of the coolest superheroes of all time? Yes, we are talking about none other than Iron Man.
Iron Man Motorcycle Helmets
The man who dons a cool, tough, suit on the outside and goes around saving the world! And the best part is that he wasn't born with the natural talents like Superman was and wasn't even lucky enough to get bitten by a spider which is precisely what happened with Spider Man. He didn't wait around waiting for good things to happen to him. No way. He used what you call the 'boring' science and technology to help him fly and go around saving the world!
Normally known as Anthony Stark or "Tony Stark", he is the suave owner of a famous American company called Stark Industries. And while he is a clever businessman, he takes his persona as the Iron Man seriously too and saves the world whenever it needs him to.
Let's have a closer look at Tony Stark, shall we?
His childhood:
Even as a small boy, Tony was highly mesmerized with the way machines were made and operated. When he was just fifteen years old, he enrolled for the undergraduate program in electrical engineering at one of the most prestigious american universities –
The University of Massachusetts, and by the age of nineteen, he had not one, but two masters degrees. HE did return to Stark Industries once he completed his education, but was known to live the notorious life of a playboy that his father detested. His relationship with his father had been a sour one, but he still respected his father. However, he had no option but to take control of the company when his parents were mysteriously killed in a car crash.
He is the cool superhero that the world needed.
Although he enjoys his science and always seems to be eager in developing technology and living the life of the rich and famous, he doesn't take himself very seriously. Among all the other superheroes, like the Black Widow, Thor, Spiderman and even the Hulk, Iron Man is the one who brings in the much needed fun and vigor to the group.
He knows that life is not meant to be taken seriously and has his fun unabashedly. However, he is not a fool either. There is a very thin line between being cool and foolish and he always makes sure that he doesn't cross that line. He has his fun, but he doesn't go around fooling with his life and his business.
How did the suit come into existence?
Tony was out on business at one of his plants where they were attacked by a group of terrorists. In the fight that ensued, a shrapnel got in to his body and came very close to his heart.
While under his captor, Tony shared room with a famous scientist, with whom he teamed up to come up with a suit that the world had never imagined before. The suit would help him survive that unwanted shrapnel, but also needed to be charged frequently.
He finally wore that suit and went in to the battle field and defeated the terrorists who had unexpectedly attacked his plant. He then returned to the United States of America and claimed that Iron Man was his bodyguard so that he could keep his new identity a secret.
The Formation of Avengers:
After being left by his fiancee who realized that Tony would never be the family man that she wanted, Tony didn't allow himself to break down because of that. Instead, he went on and played an important role in establishing the Avengers as a sponsor and also contributed to the team as Iron Man.
He also was the one who discovered the body of Captain America preserved in the ice after World War II and helped him revive and later on also became good friends with him. Iron Man a.k.a Tony Stark, shared a good rapport with all the other members of the Avengers team like Hulk, Thor, Spiderman and the Black Widow.
He has always had slightly different opinions from his team-mates but never backed down from voicing his opinions. He takes his job lightly, but gets serious when someone crosses the line.
Not only are there movies solely based on Iron Man and his life, but he also has one of the most important roles to play in the Avengers movies series.
A change of heart: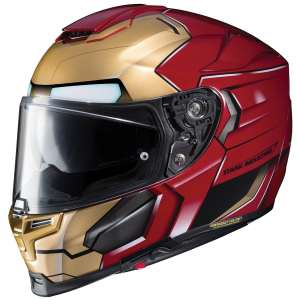 Tony discovered his humane side and changed the name of his company from Stark Industries to Stark International. The new company abandoned the production of weaponry as Tony was not happy with the large-scale destruction that his company had helped create.
Update: HJC RPHA 70 ST Iron Man Motorcycle Helmet Now Available.
Instead, Stark International was immersed in electronics and computer engineering. He decided he was more interested in using science and technology to help change the world for the better and not for the worse. He is the perfect example of a man who realizes his mistakes and makes sure that he learns from them. His reckless way of living, do help him earn several enemies along the way, but he is a man who knows his ground and sticks to his beliefs.
More IronMan Motorcycle Helmets:
Here is how to convert a DOT Motorcycle Helmet into an Iron Man helmet –>