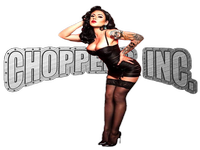 This Board track racer styled bike is based on a 1917 Henderson 1000cc in line 4 engine adapted to fit a BMW transmission and a Yamaha Virago shaft drive. The story of the Henderson Company goes a bit like this: While undoubtedly one of the best-educated men in the motorcycle industry, Thomas always downplayed his academic achievements. For example, he is quoted as answering an interviewer who pushed him on the subject of education, that he spoke French, Italian, German, English and profanity with equal fluency. While brother William experimented with motorcycles, Thomas went on to become the sales manager of the Winton Motor Car Company for the state of Michigan. But in 1911, William's prototype motorcycle so impressed Thomas, he decided to leave his secure position with Winton to join forces with his brother and founded Henderson Motorcycles. Another Billy (Lane) has restored some and customized the rest on this resto-custom Henderson project.
Built In: U.S.A.Bike Style: Board Tracker
Image Gallery
---
Henderson Project Bike Specifications – Choppers Inc.