You love riding long distances on your motorcycle but hate that the helmet is giving you a receding hairline. When you are riding, the helmet shifts that cause the inner surface of the helmet against your scalp, which pulls your hair. The process is aggravated in hot and humid conditions and sweating only worsens it.
Wearing a skull cap under the helmet can definitely help in reducing hair loss significantly. It also absorbs all the sweat and keeps your scalp dry, reducing the chances of developing fungal hair diseases, which can happen when you are driving long distances.
While purchasing a skull cap, remember that it should keep your scalp cool. They should also be odor resistant so that you are fresh smelling all day long. At the same time, they should be designed to maintain body temperature and also generate heat when you are driving in a cold weather. There are many skull cap designs available, so only go for the one that suits your style the best and defines your personality.
The Top 12 Skull Caps You Can Buy
Let's take a look at 12 best skull caps that are recommended by bikers around the globe: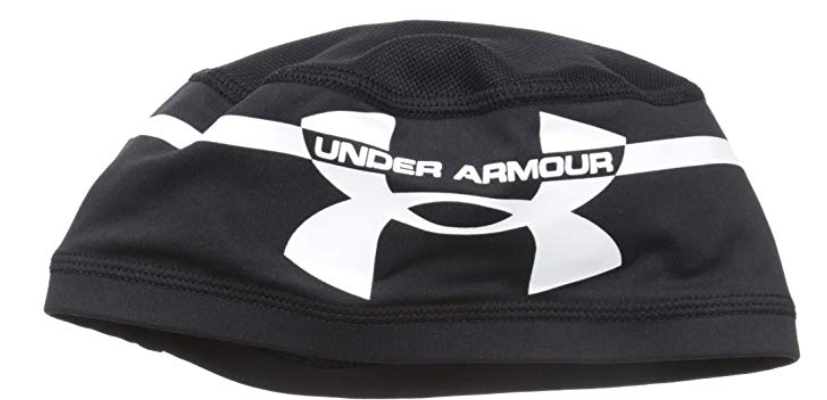 Priced reasonably, Under Armour Men's Mesh Skull Cap 2.0 is made with superior quality material that absorbs sweat and transfers it to the atmosphere. Top of the skull cap is a soft mesh fabric that lets your scalp breathe. The cap's pattern is simple, which makes it a favorite choice of many people.
Features
4-way stretch construction helps the skull cap move along with the helmet reducing hair loss
Made using a smooth material for extra comfort
Lightweight – you will forget that you are wearing it
Fibre has anti-odor technology that stops the growth of odor-causing fungus on the scalp
Pros
Worth the cost as it lasts for more than seven years
So comfortable that you'll forget you are even wearing it
Material is suitable to use during any weather conditions
Cons
Can fit too tightly for some people
Can make you sweat more
Elastic tends to loosen after prolonged use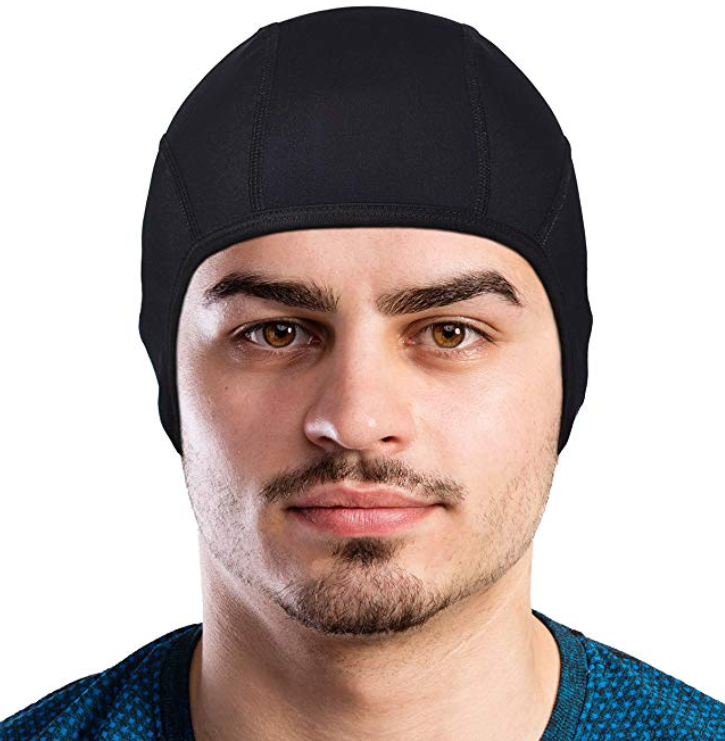 Designed for multipurpose use, this skull cap by GearTOP not only absorbs sweat but also retains heat when driving in a cold weather. The cap keeps you cool during the summers as well. By paying a small amount, you get top quality features and is thicker than many other available in the market. It is also available in white color.
Features
Made using Super Roubaix fabric, which is designed for a 4-way stretch for maximum comfort

Covers the ears and keeps helmet liners in place

Breathable fabric prevents sweat and odor to develop on the scalp

100% Premium Lifetime Guarantee
Pros
Fits perfectly on every head size and keeps sweat out of your eyes
Perfect gift for a motorcyclist
Doesn't make hair oily after a long day's ride
Cons
Not quite durable; the stitch isn't consistent
The thick material might be uncomfortable for some
Cannot be washed in a washing machine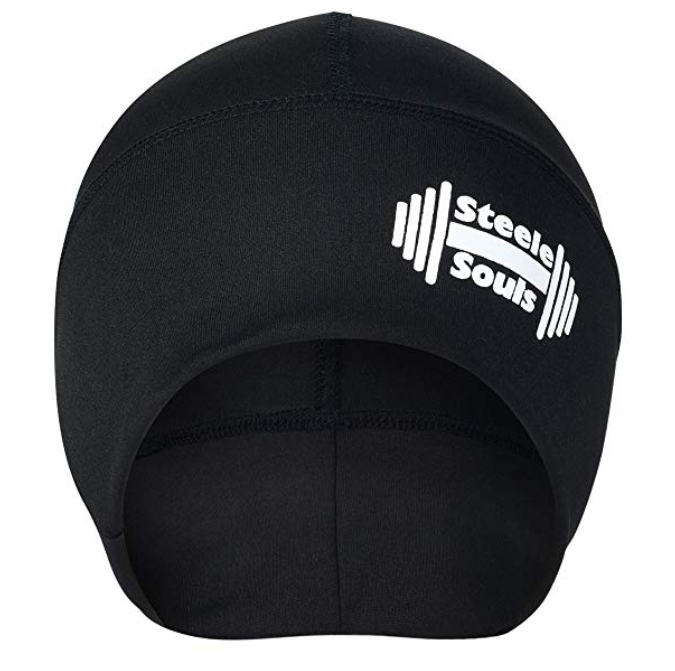 This biker's skull cap by Steele Souls is quite a catch. You can not only use it while riding a motorcycle but also when you go skiing or play football. Since it is smaller than usual skull caps, it is an ideal fit for teens from 16 to 19 years of age. Older people can wear as well if you have a small head.
Features
Made with 100 percent polyester that reduces production of sweat
Protects from ultraviolet light as it is powered by SPF 50
Premier fitness technology that assists in a comfortable fit
Suitable for all weather and is windproof
Pros
Pocket-friendly
Holds it shapes even after a machine wash
Long lasting
Cons
Fits tightly for some people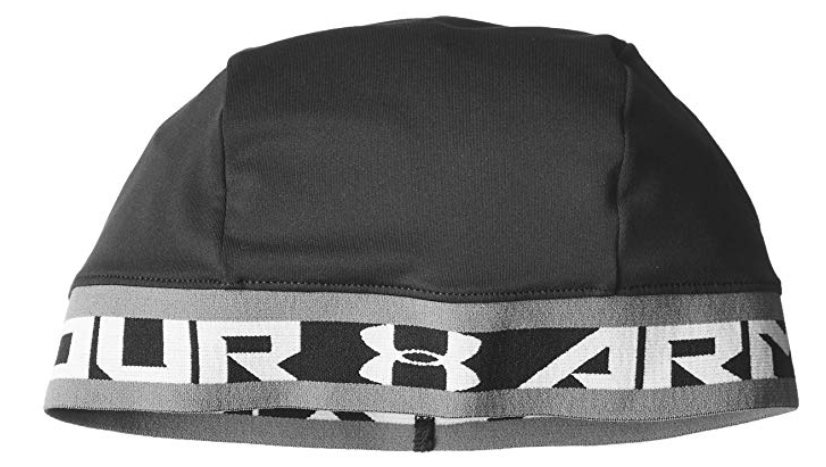 Another wonderful skull cap by Under Armour, the Original Skull Wrap is made with 84 percent polyester and 16 percent elastane. The product is made using high-quality material that makes the cap durable and keeps sweat out of your hair. It fits snugly around your head, which is required to keep hair out of your eyes while riding.
Features
Signature material helps in absorbing sweat
Anti-odor technology keeps microbes out of your hair
Material is ultra soft and doesn't suck moisture and essential oils out of your hair
4-way stretch construction for comfort
Pros
Affordable and highly durable
Fits every head size according to American standards
Can be used by women too as it has a neutral design
Cons
Material is too thin
Ears start to hurt if worn for too long
Fabric loosens after multiple washes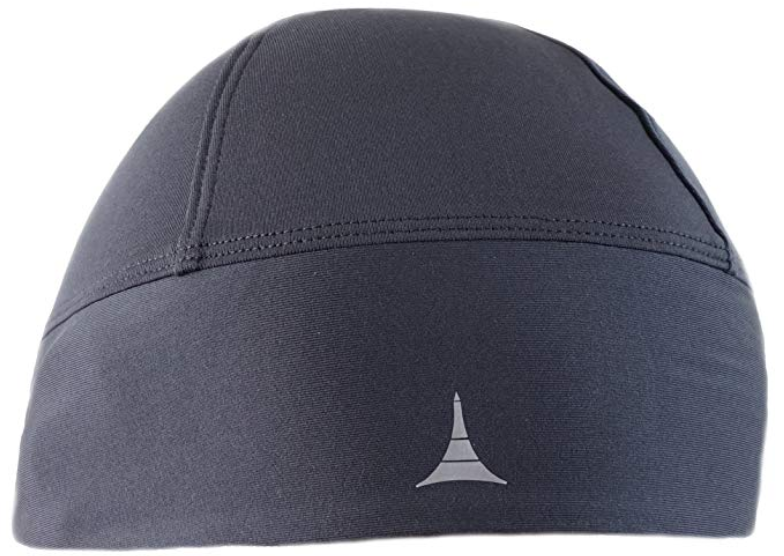 Known for its good stretch, French Fitness Revolution Skull Cap fits snugly around your head and keeps out cold. If you are traveling to a cold place, this is the cap you should buy as it is lined with fleece. The skull cap comes wrapped in a nice packaging, making it the perfect Christmas gift. The cap's fabric is quite breathable and works that transfer sweat to the atmosphere.
Features
Fabric blend makes it a one size fits all product

Four-season performance

Four-way stretch for greater comfort

Helmet-friendly – fits well under every type of helmet from motorcycle helmet to ski helmet
Pros
Retains shape after machine wash
Long lasting
Pocket-friendly
Cons
Black dye of the skull cap bleeds if you swell excessively
Can be too thick for some people
Colors shown in the photos are slightly different than the actual ones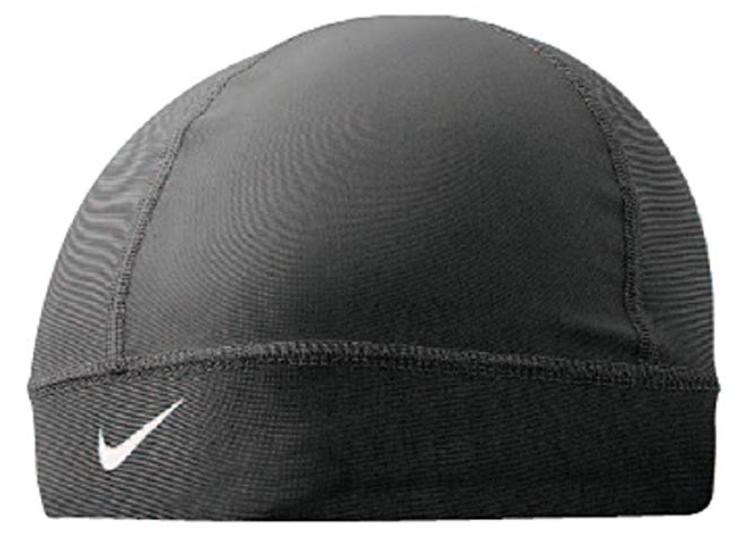 A favorite choice among athletes and motorcyclists, Nike Pro Combat Skull Cap, even though priced higher than others, is the best in the market. It provides a dynamic fit that moves as the helmet moves, thereby protecting your hair damage and odor-causing microbes. It comes in one size fits all size, so you can order without worrying about its stretch and comfort.
Features
Flat seam construction that stays smooth against your skull

Promotes breathability

Hi-viz color finish enables it to be visible in the dark

Machine washable
Pros
Keeps hair out of the eyes
Keeps you warm in cold weather
Sturdy material that stays in place under a combat helmet
Cons
Costlier than skull caps that provide the same quality and comfort
Some people can find it too tight
Shrinks after washing frequently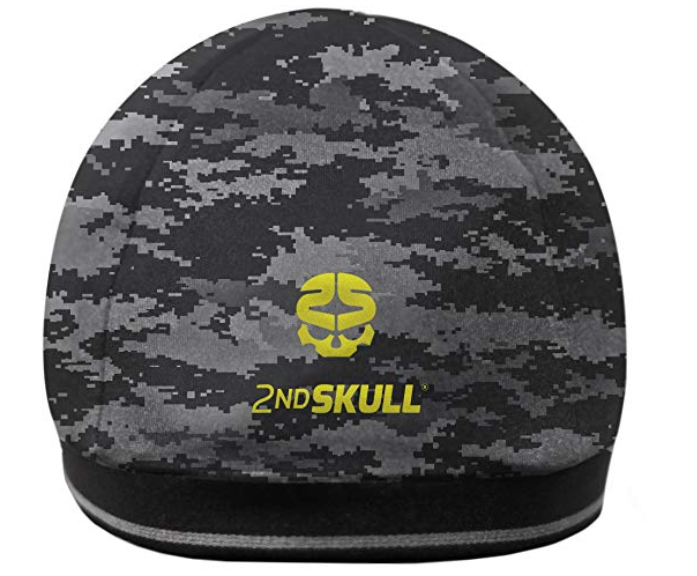 Engineered scientifically to bear extreme impact, 2nd SKULL Protective Skull Cap has a thin lightweight XRD layer made using special urethane molecules, which are soft when relaxed and hardens on impact or under sudden pressure. It can be used as helmet liners by skiers, skateboarders, and other sports players as well.
Features
Made with polyester designed with Impact Absorbing Technology

Lightweight and breathable

Stretchable but compressive fit

Four-season performance
Pros
Made of highly durable materials
Fits nicely and covers ears without feeling too tight
Top notch customer service
Cons
Expensive skull cap
Padding isn't stitched permanently on the cap and falls off when washed
Can be hand washed only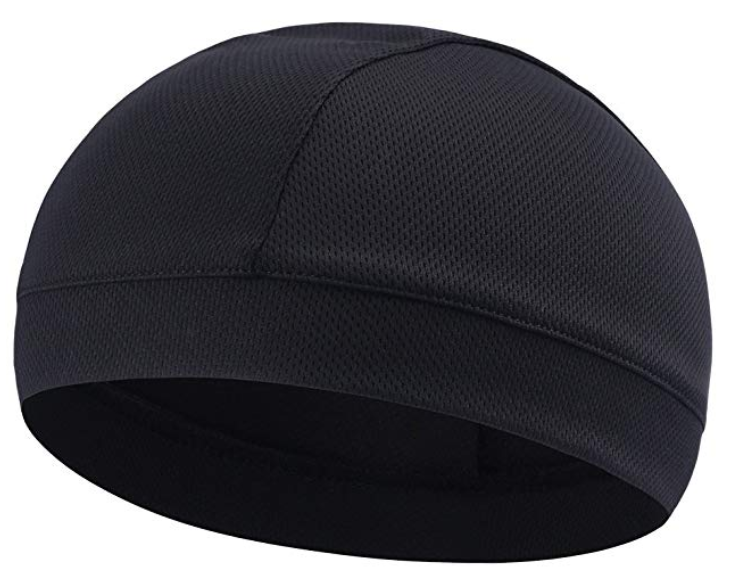 One of the most affordable skull caps around, the TOFERN Summer Moisture Wicking Elastic Skull Cap is the perfect choice for infrequent motorcyclists. It is available in more than eight colors including black, pink, green, white, blue, and brown. The skull cap is made with soft and breathable fabric that has excellent sweat wicking qualities.
Features
Quick-drying and dustproof performance
Suitable for head circumference of 51 – 59 cm
Made with 100 percent breathable polyester in a mesh pattern

Hand and machine washable
Pros
Pocket-friendly – worth the cost
No ironing required
Designed for multipurpose use
Cons
Loosens after using for a long time
Fits only a particular head size
Gets drier after every wash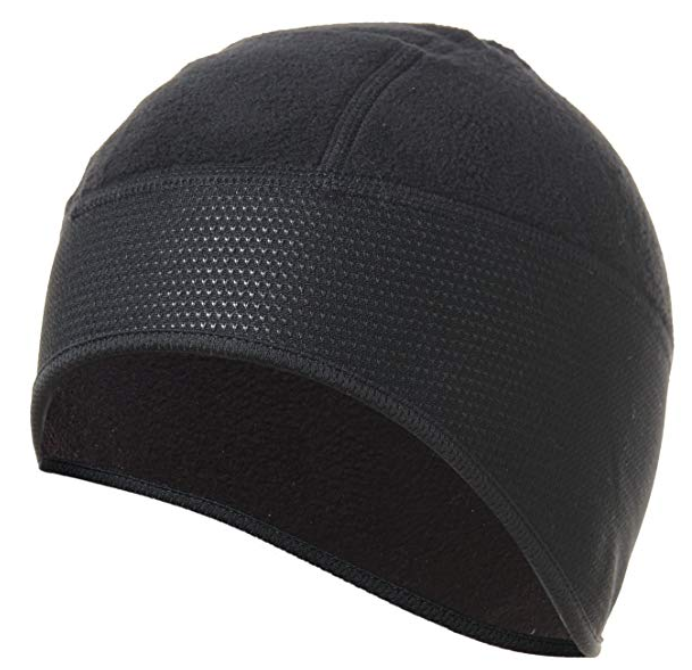 Another affordable skull cap designed for warmth and comfort, the 4ucycling Thermal Fleeced 10% Spandex Skull Cap is ideal for long-term user and it doesn't get lost even after multiple washes. It is comfortable as it fits snugly around your head. You can use it every day as it has a minimal design.
Features
10 percent spandex material for comfortable fit
Woven with strong binding retain shapes even after using for many years
Keeps you warm in cold weather and cool during the summers
Moisture-wicking material
Pros
Reasonably priced
Made with good stretchable good quality material
Keeps out cold and maintains body temperature
Cons
Makes noise during movements
Can get itchy if worn for a long time
Might not cover the ears if you have a big head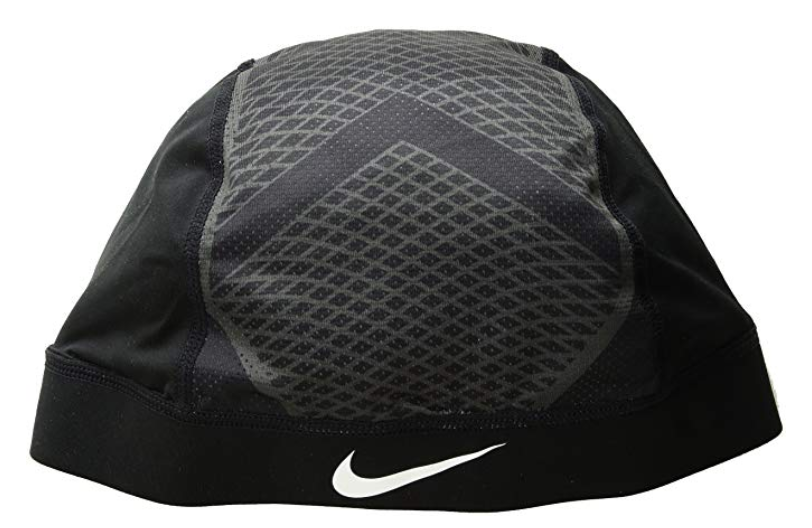 Available in three neutral colors, the NIKE Pro Hypercool Vapor Skull Cap 4.0 is made with Dri-Fit fabric that is moisture wicking and breathable. The three colors are blue, grey, and black and are priced depending on it. The cap has a larger fit than usual skull caps, so order accordingly.
Features
Nike Hypercool material for breathability and ventilation
Flatlock construction for greater comfort
Nike Pro Branding visible
Made with 80 percent polyester, 11 percent rubber, and 9 percent spandex
Pros
Best fitting skull cap in the market
Prevents hair from getting oily or dusty after riding for a long day
Constructed very well makes it durable
Cons
Fits loosely and doesn't retain shape after washing multiple times
Pricier than many other similar quality skullcaps available in the market
Feels weird on wearing at first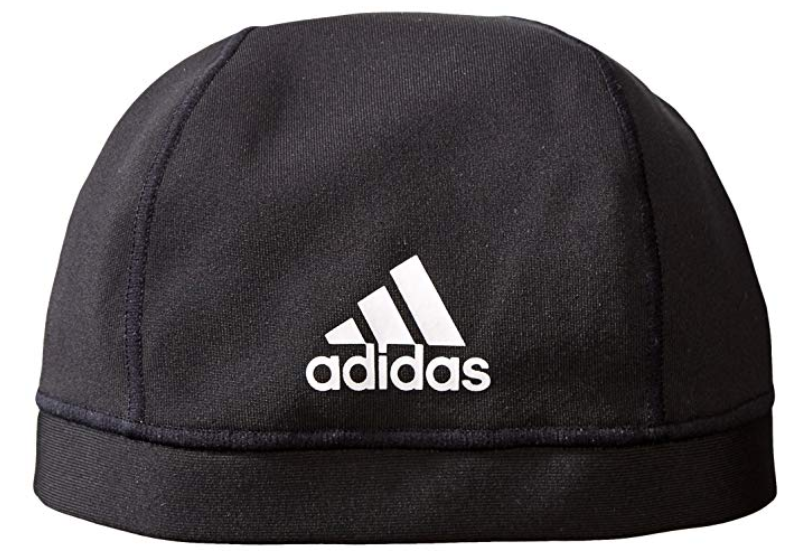 Famous for its perfect fit, the adidas Football Skull Cap is easy to clean and keeps sweat and hair out of the eyes while driving. Unlike other sports brand, this one is reasonably priced and offers even better quality than most of them. It has a simple and plain design, making it a favorite among today's youth.
Features
climalite® Skull Cap that keeps you warm in the cold
Helps in the transfer of moisture to the atmosphere for faster evaporation
Seams positioned in a particular fashion for better comfort
Made with stretch polyester material
Pros
Fits snugly and stretches well around the head
Pocket-friendly
Minimal design
Cons
Can slip off the head after prolonged use
Fits tightly in the beginning
Might not cover the ears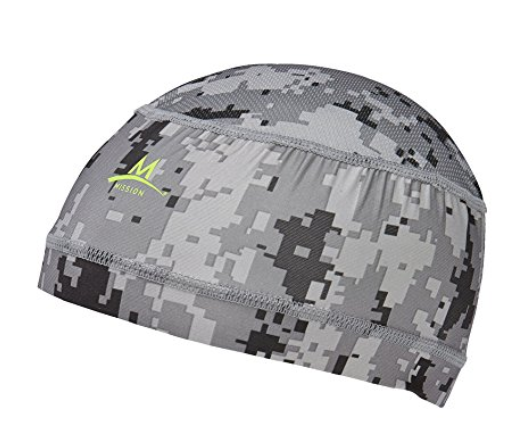 With UPF 45 protection under the sun, the Mission Enduracool Cooling Helmet Liner regulates body temperature and moisture levels. Its cool design and comfortable fit make it an irresistible catch. The cap covers the ears snugly and keeps you warm in cool temperatures. Developed using thermoregulation technology, the fabric absorbs sweat into it capillaries and maintains a constant comfortable temperature of 30-degree Celsius.
Features
Cap is made using chemical free technology that has natural and long fibers, which don't degrade after prolonged use and machine wash

Instant cool technology
Available in five different colors and prints
Made with 92 percent polyester and 8 percent spandex
Pros
Worth the price paid
Multiple choices in prints
Easy to wash and clean
Cons
May fit tightly on some people
Doesn't absorb sweat well in hot and humid conditions
Head feels pressured after wearing it for some time