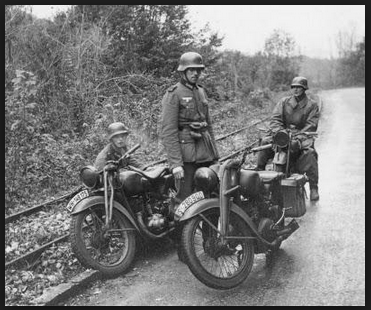 After looking into the history of my German surname (more on that below), it makes more sense to me why I was originally attracted to the current German Motorcycle Helmet designs. The German Battle Helmet that was first developed sometime between WWI and WWII for general purpose use in the German Military.
There was not a need to create a separate helmet for those soldiers that used motorcycles as a form of transportation in the military- so the wore the battle helmets.
Motorcycle Helmet Designers and Manufacturers were later attracted to the designed and developed DOT certified German Helmets. You have seen them before, now you know what they are called and a small bit of history about were they came from.
DOT, Novelty, and Carbon Fiber German-Style Helmets
My last name is Steinmeyer, and according to Ancestry.com:
Steinmeyer Name Meaning

German: distinguishing name for a tenant farmer (see Meyer) whose farm was on stony ground or was distinguished by a conspicuous rock formation (Middle High German stein 'rock').
WTF!? A tenant farmer on stony ground? It has been a looooong time since anyone in my family, (great-great-grandfather included) has been accused of being a tenant farmer. My dad does wear plenty of stylish tied died shirts and lives on a farm. A farm that he owns with a big ol' garden – not too far off from a tenant farmer I suppose.
Customizing your German Biker Helmet
Some of my favorites – All respective rights to their owners.
Custom German Motorcycle Helmets
Quick Links: