There is a massive selection of helmets on the market, but sometimes it is almost like they all begin to blend together. I see people cruising past on fantastic-looking bikes but on their heads is just the same sort of helmet everyone seems to be wearing.
I have spent thousands of hours pouring over the pie charts on coolness that I colored, just for this very definitive list of all that is cool in motorcycle helmets for 2022. I would never exaggerate, at all, the exhaustive polls that I undertook or the hours of judgment I subjected myself to while selecting these helmets. The bottom line is… I think these are cool helmets.
Check out the list.
Deluxe Baseball Motorcycle Helmet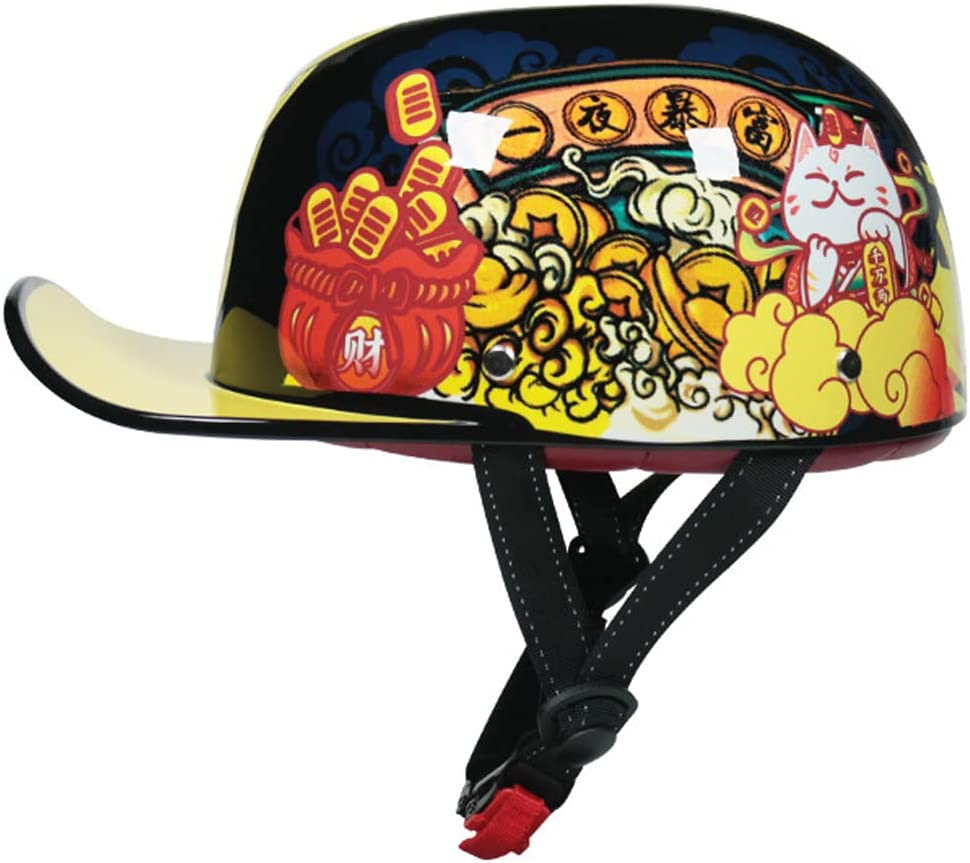 What is not to love about a stylish helmet that mimics a look many of us wear daily? The classic ball cap!
The shell is made from ABS plastic, a common material in lower-priced helmets. The EPS is 1" polystyrene covered by a removable, washable soft liner. The chin strap has a nice pad over the clasp area, and the clasp is a micro-ratcheting style.
This ultra-light half helmet comes in 10 colorways and looks like it is simple to wear with the peak either forward or reverse. Many companies sell versions of this helmet, but the best deal can be found on Amazon.
German WWII Leather Half Face Helmet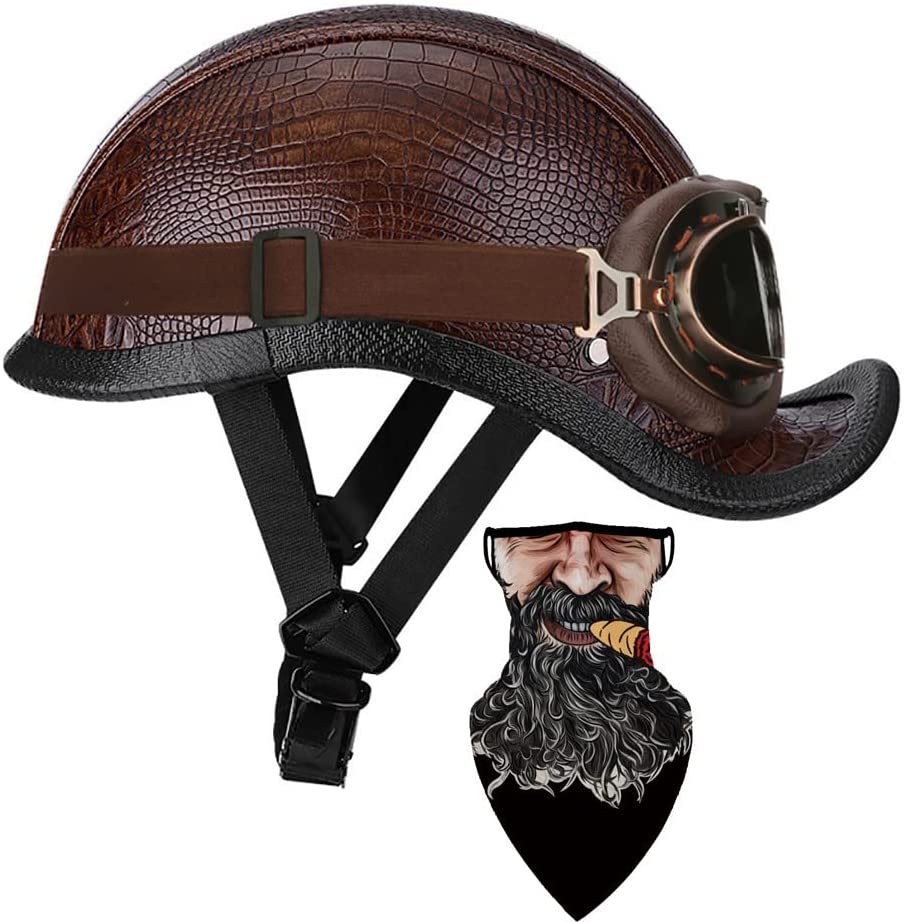 There are many versions of a "WWII" half helmet, but this one has way more style. Leather-covered with the unique duckbill back is one of a kind. Paired with a set of retro goggles and you have a look that stands out from Cruiser to Cafe.
This helmet carries both ECE R22-05 and DOT approval. The lightweight ABS shell has an EPS core with some venting and a soft liner. The double D-ring closure helps keep this helmet to just over 500 gms.
This is a stylish around-town choice, certain to have you standing out among all the exhaust and chrome.
Scorpion EXO Covert X Digicamo Half Helmet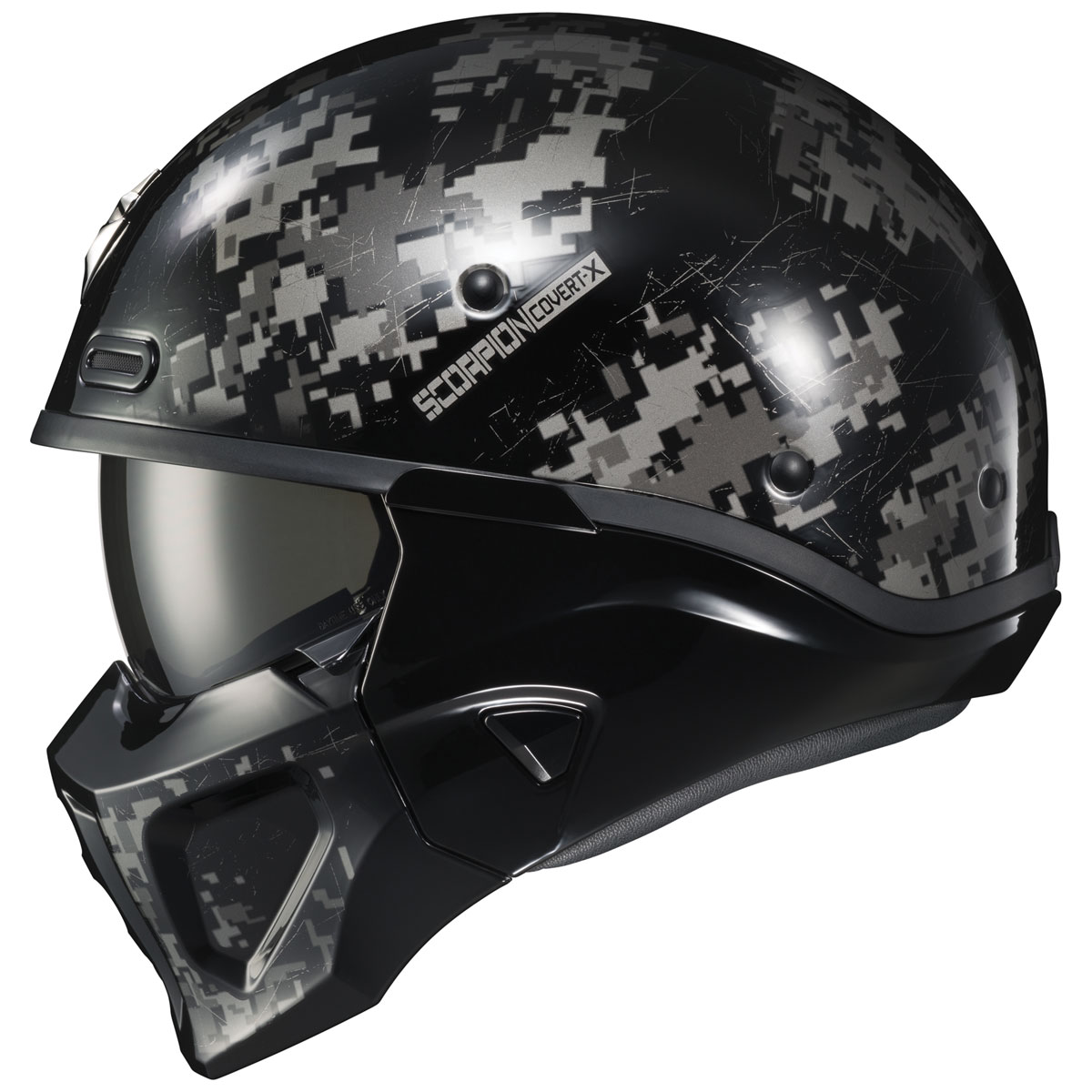 This cool helmet from Scorpion USA is a half helmet with additions. Made from an Ultra-TCT fiberglass and polyester fiber composite, this helmet has a lower portion that is affixed turning it into a ¾ helmet, and then a chin bar can be added which makes it like a full face.
Thanks to the built-in sun visor, the whole look becomes unique and one I appreciate far more than I first expected. Scorpion offers many graphic choices for the Covert line but this new Digicamo is sick.
Bell Rogue Honor Half Helmet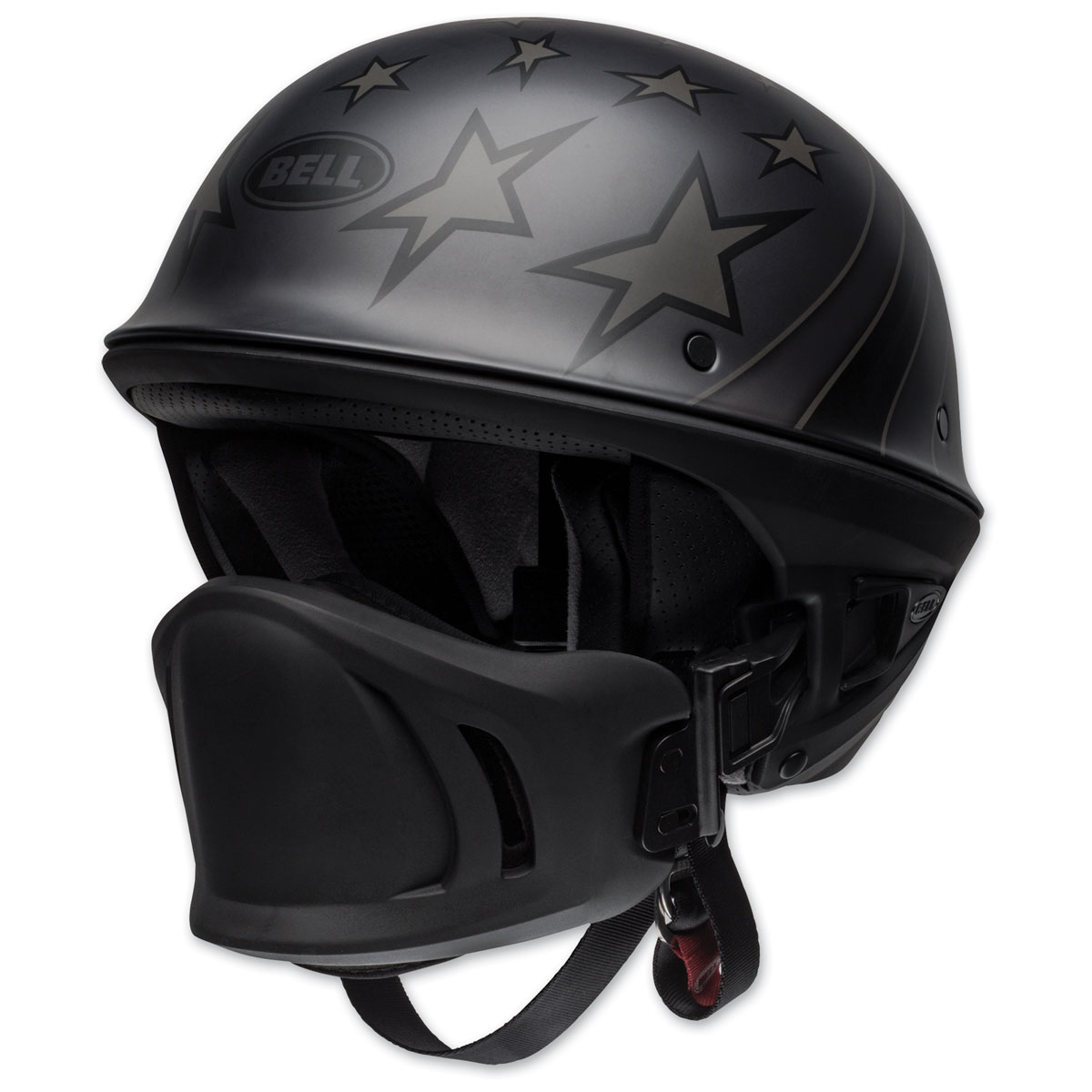 I am certain Bell designers must have been Mad Max when inspired to design the Rogue.
A half helmet made from a lightweight composite shell, with an adjustable muzzle that can be detached if needed. The liner is soft and comfortable, in total contrast to the intimidating, combat-ready styling.
The shell comes in three sizes which will help avoid the bobblehead look that happens when there is excessive liner under the shell to fit smaller heads. I love this Honor Matte Graphic.
Caberg Ghost Helmet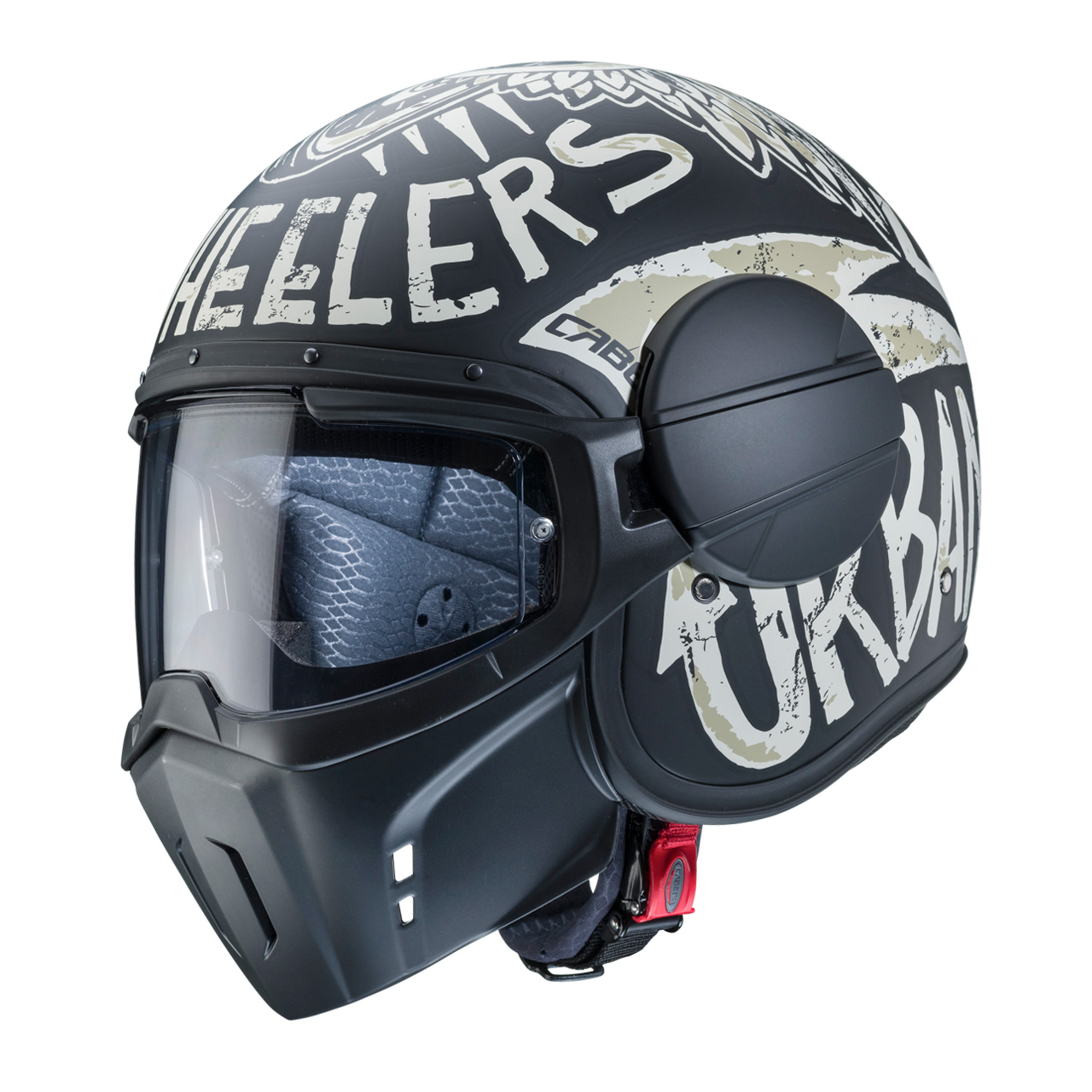 This is another unique, aggressive-looking helmet that can adapt to multiple configurations. The shell is made of fiberglass and is offered in two shell sizes; it is also available in a full Carbon version.
The finishing of the refined materials and features, all made in Italy, all show care and attention to detail. Thanks to a spring tilting system, it is very simple and intuitive to open and close the visor with only one hand. The lining is completely removable and washable made with breathable fabrics. This modular helmet offers 2 main ways to wear it, with or without the lower mask, Caberg claims 4 ways because there is also an option to remove the foam profile that runs just inside the visor. However you choose to wear this cool helmet, you will be very happy with the quality of the construction.
Icon Airflite MIPS Helmet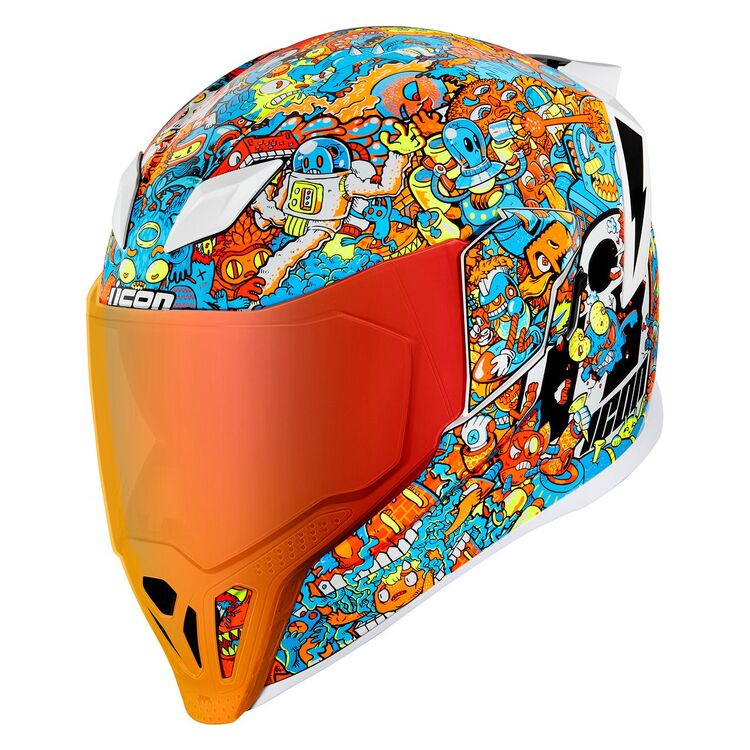 Icon offers the Airflite series in a huge array of insane graphics, but I present this new style called "Redoodle." Once you stop swooning over the Outer-Space toon-stew artwork, you will come to find that this full face helmet is also going to keep your melon protected.
Featuring the latest rotational-reduction system from MIPS, Hydradry interior liner, internal DropShield, and injection molded Polycarbonate shell, Icon sets you up to look cool and stay safe, no matter what you ride.
In case you are curious, Icon offers over 30 choices in the Airflite lineup, good luck choosing you will probably want them all.
Biltwell Gringo S ECE Helmet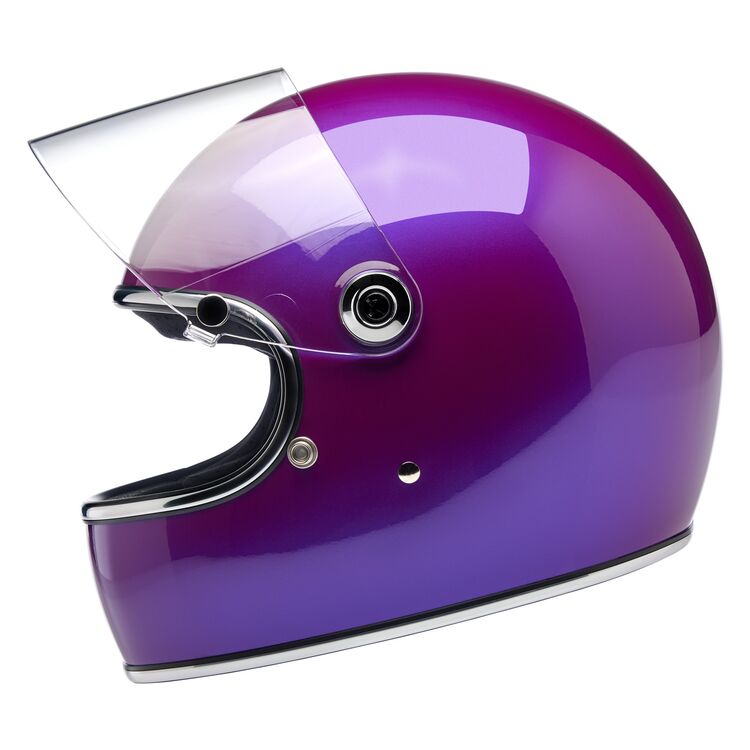 Call it 70's F1-inspired, or what your parents rocked back in the day, trust me it never looked as cool as the Gringo does now.
The Gringo S ECE Helmet is built around Biltwell's injection-molded ABS outer shell and features a shock-absorbing EPS liner with hand-stitched interior padding, cheek pads, and BioFoam chin bar cushion for comfort. Forget the snap-on shields, Biltwell has a simple and smooth hinge that looks right at home on this retro lid. The optics are top-notch and the shield is easy to remove and clean. Cutouts for speakers are now part of the Gringo package, but the big addition is the ECE certification. Nothing better than safe and cool. Except maybe purple, this lid looks so good in purple.
Sena Stryker Mesh Intercom Helmet
How did such a standard-looking full-face helmet make this list? I mean it has to be more than just a premium composite fiberglass shell, right? When that helmet is fully integrated around a top-level Bluetooth system and is still a good helmet, I have to include it.
Sena makes premium Bluetooth systems and riding without being connected is something that I am not sure I could go back to. I have experienced frustrations when adding a system to a helmet, from speakers that fit poorly or getting the microphone placed properly and then staying in place. The Stryker has all of that built right in.
Sena features their latest and greatest mesh Bluetooth technology blended with Harman Kardon premium speakers, and a new microphone perfectly placed to ensure you are always heard by the group. To top everything off, Sena's Stryker Helmet features a retractable sun visor for on the fly shade, an impressive seven vent design for all your cooling needs, and an integrated tail light for maximum visibility to those around you.
6D ATS-1R Helmet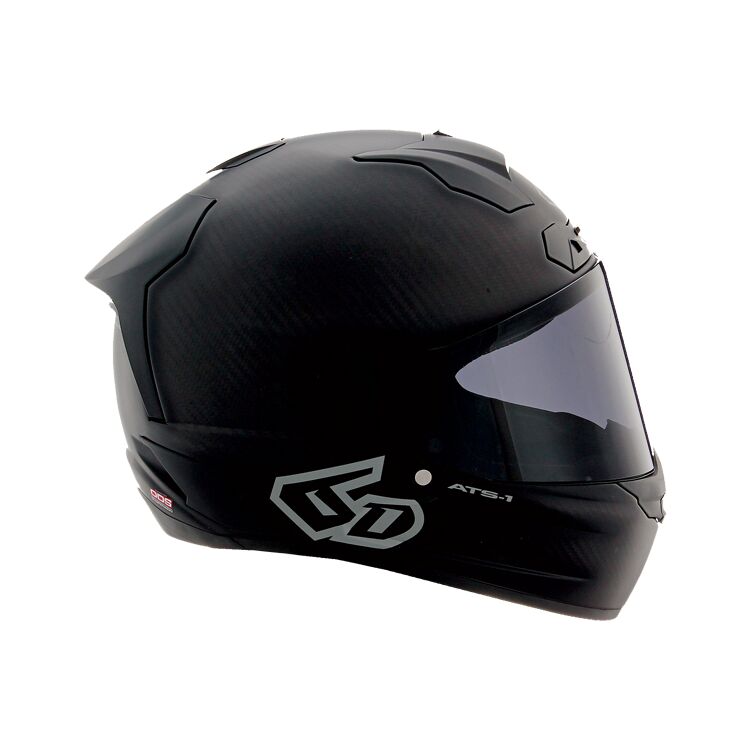 To those not in the know, the ATS-1R may just look to be another MotoGP-styled high-priced brain bucket, but you would be wrong. This is one extremely safe, and well-designed MotoGP-styled brain bucket well worth its asking price.
Inside the helmet are two nested EPS liners that 6D patented into a system called Omni-Directional Suspension. In basic speak, the outer shell moves independently of the head and independent testing has shown it makes a very significant reduction to the energy transferred to the rider's head during impact. The innovation and wide-ranging applicability of ODS helped 6D win the Grand Prize in the NFL's Head Health Challenge III competition. So yeah, 6D and ODS is kind of a big deal.
The shell is carbon fiber, it has good venting and speaker cutouts, of course.
Nitrinos Fury Helmet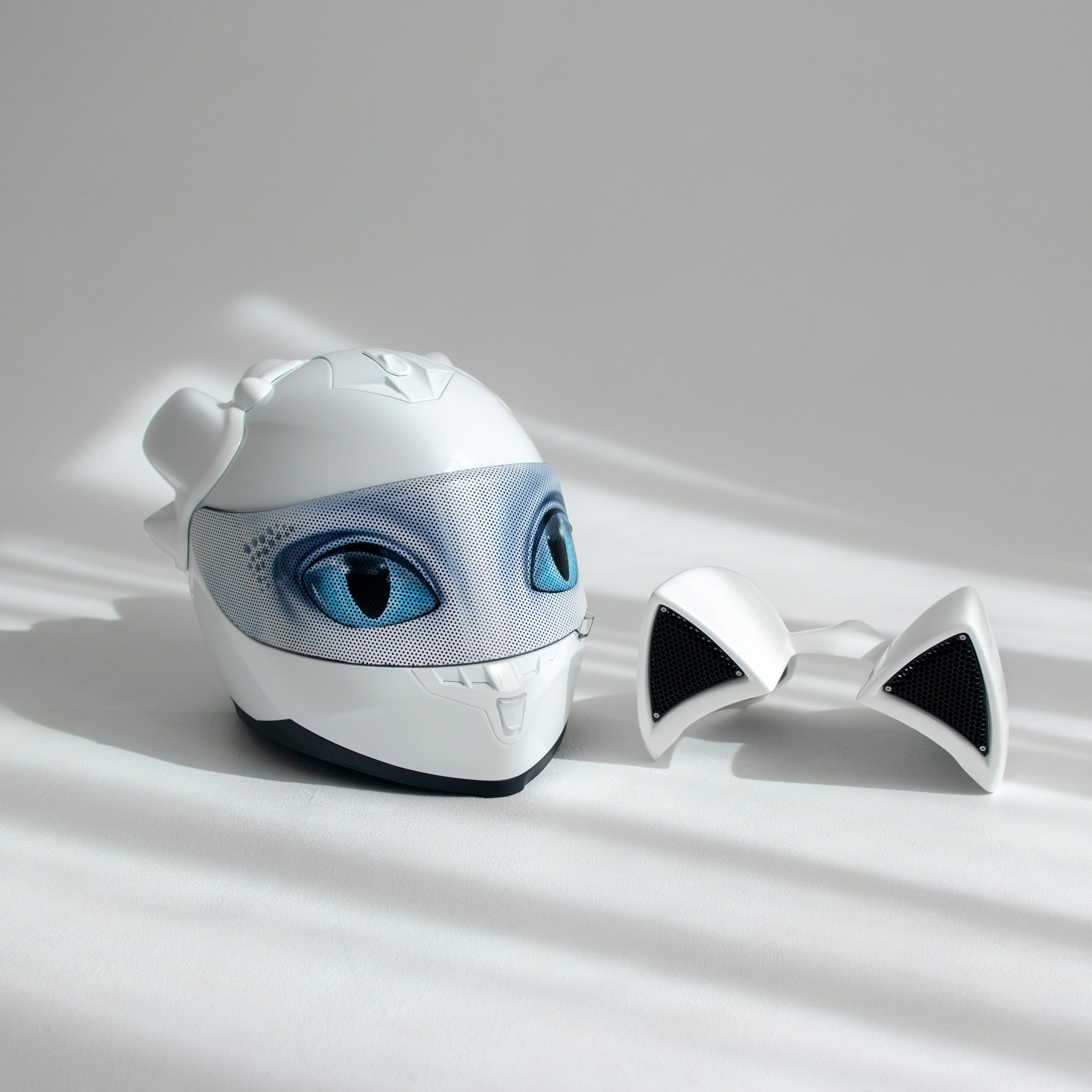 Every Nitrinos helmet is based on some story and character. The idea of creating a Fury helmet arose after the release of How to Train Your Dragon films. Each helmet is a custom item, taking about 30 days to create, depending on the number of options you choose. Starting with the single color, then adding airbrushed graphics, Niko Ears, and all kinds of LED options.
The Fury helmet is based on the modern and comfortable polycarbonate shell. Each helmet is equipped with a scratch-resistant transparent visor and a built-in tinted visor. It has double ventilation (around the forehead and chin) and a removable and washable inner liner.
Shark Evojet Helmet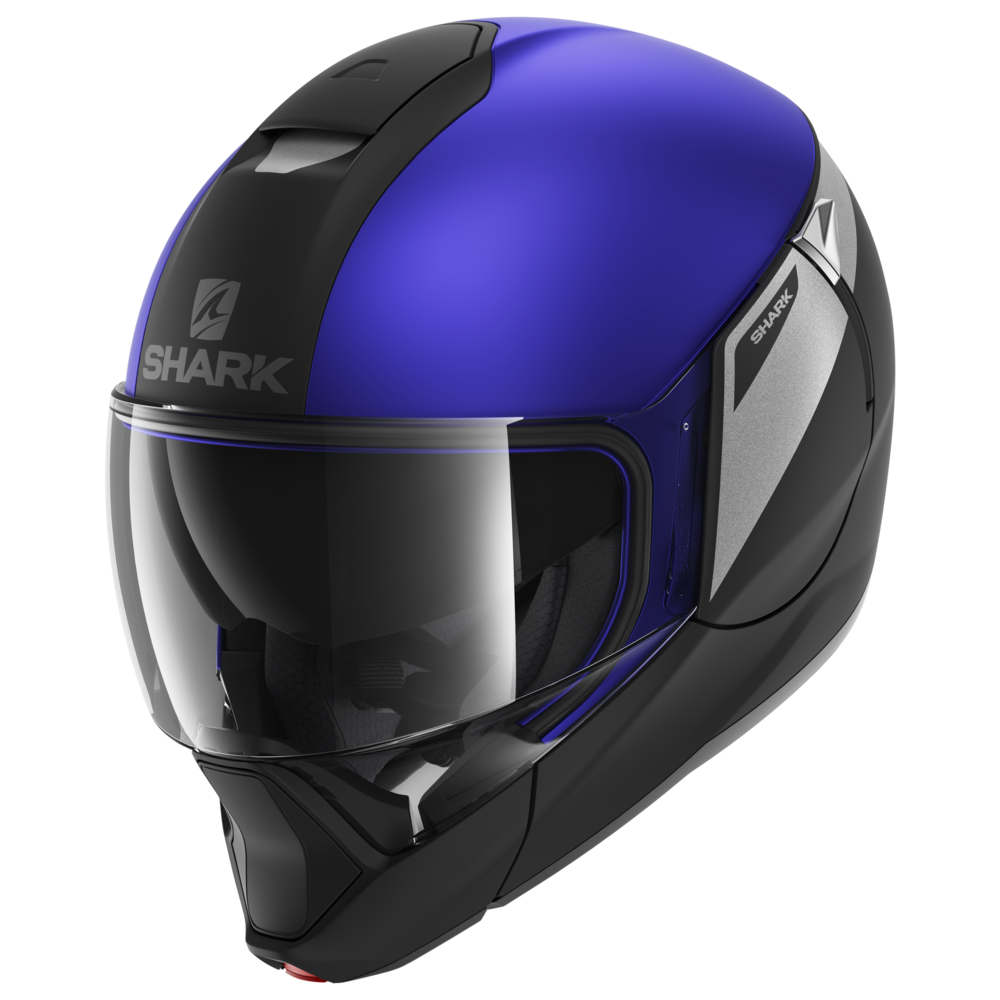 The Shark Evojet is a modular lid designed with urban/street riders in mind. The eyeport is massive, with class 1 optics making for incredible outward visibility with the chin bar either up or down. Shark claims up to 50% more viewing space compared to a traditional full-face design. You will notice the visor itself extends quite significantly into the lower chin bar.
The Evojet helmet has received certification as both a full face and an open face helmet. The first to receive such a dual homologation.
Constructed from Polycarbonate with a drop down internal sunvisor, this is an excellent offering from Shark which can often be found for less than $300, and it comes with a 5 year warranty.
LS2 Spitfire Spark Helmet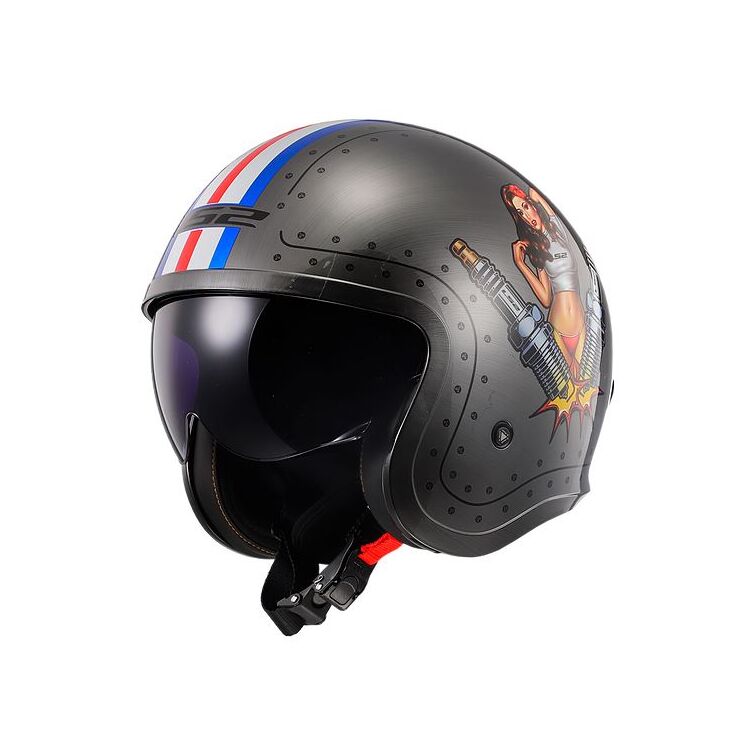 The fact that I have already watched Top Gun 2 twice in theatre has nothing to do with this pick. Okay fine it totally does, but how can you not love the open-face fighter pilot vibes of these LS2 lids?
The thermoplastic shell and dual-density EPS core are light and comfortable, meeting DOT specs. I am a fan of micro-adjusting chin straps, so thank you LS2. The Spark also has a slick pull-down sun visor which yes, keeps the sun at bay but its primary function is to nail the fighter pilot look.
I know you are going to carve corners at slightly above the speed limit humming "Great Balls Of Fire" when the Spark is on your head.
HJC RPHA 11 Pro Joker Helmet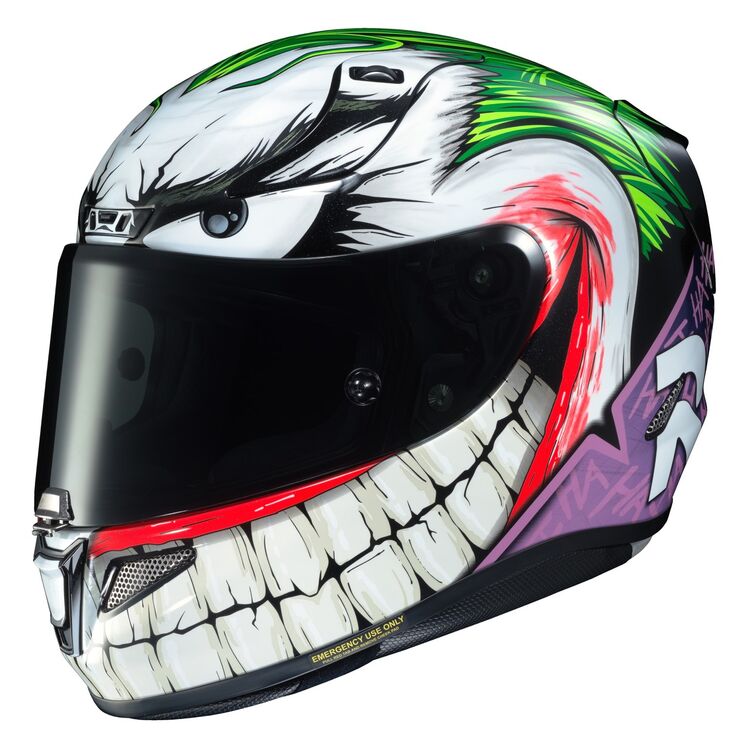 I could have put about 20 HJC helmets on this list, so take that as a recommendation to have a look at the full lineup of graphic helmets they are making. HJC has licensed with Marvel, DC, and others to make some sick-looking lids.
I am loving this Joker graphic, part of the DC group, which leans more toward the Heath Ledger Joker than others. Now a killer graphic doesn't mean much if it isn't on a great helmet, and the RPHA 11 Pro is one of HJC's best.
Made with a composite shell, the RPHA 11 Pro is very lightweight but with a solid feel. The ventilation is excellent. This is typical HJC, much more from a helmet than the price tag would indicate.
DMD SeventyFive Swan Helmet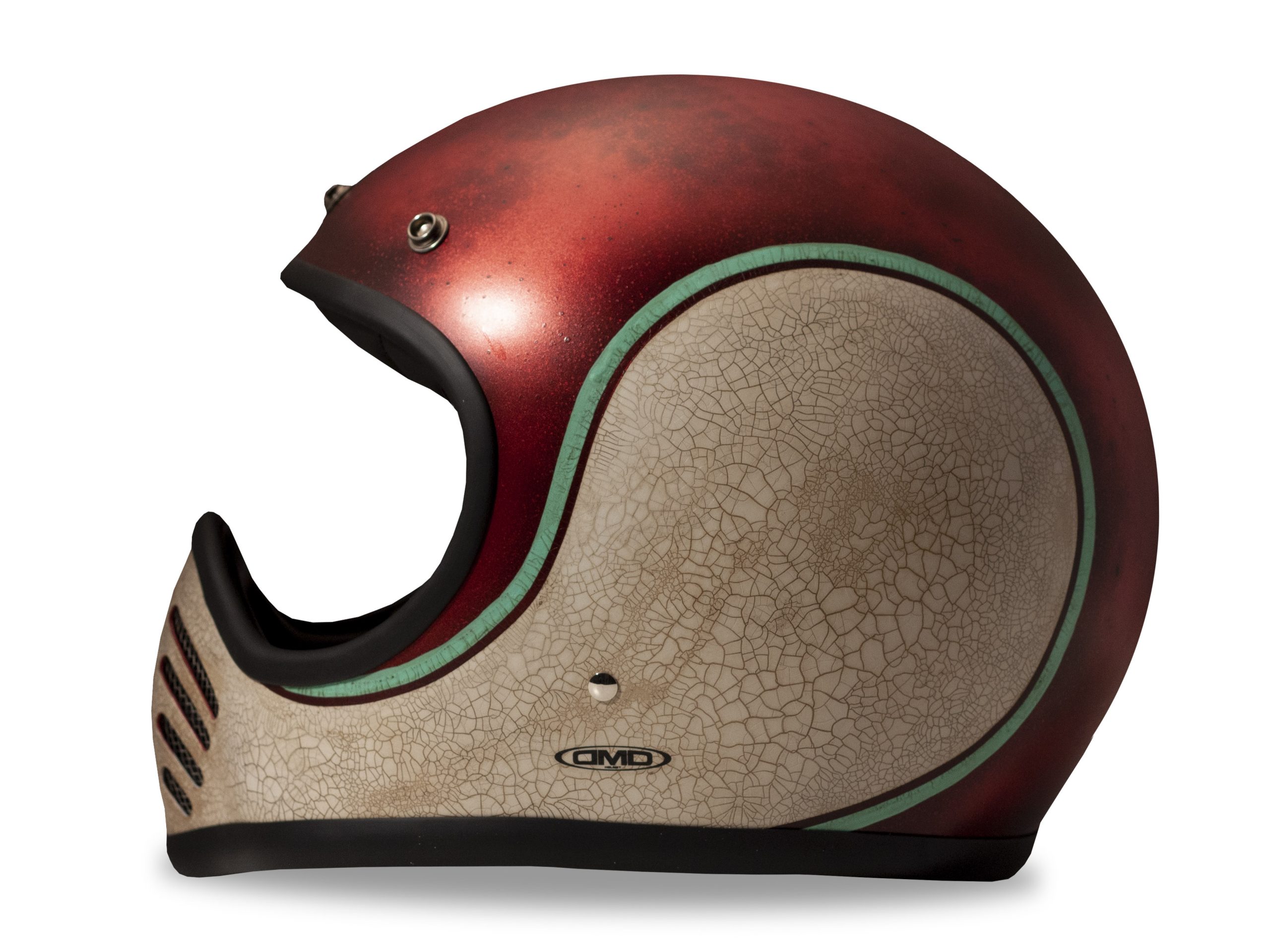 Italian style at its finest. DMD has nailed the perfect homage to the Bell Moto3 with a Euro flair. This helmet is perfect for urban/street riders, and thanks to the Carbon Kevlar shell construction it will not stress your neck. The SeventyFive is a featherweight helmet at about 2.4 lbs and fully meets ECE Homologation.
Now, DMD has plenty of color options in the SeventyFive series, and many are priced under $400.00, but they also have Handmade versions like this one called Swan. If you want to be as unique as the cafe bike you straddle, going Handmade may be worth the additional coin.
Don't forget to complete the look with a set of goggles, DMD sells some that fit this helmet perfectly.
Bell Bullitt Carbon Helmet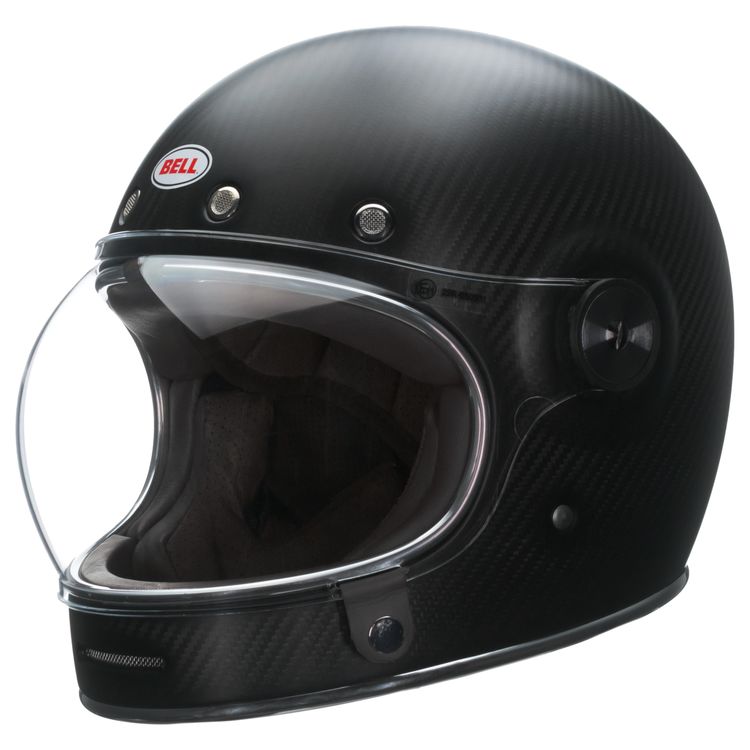 Retro styles are very cool. That cool factor increases if you get one in Carbon, but it goes off the charts if you go all in and add the bubble shield. Say hello to the Bell Bullitt Carbon with a bubble shield.
Bell is legendary for their high-quality helmets, so I will just touch on the highlights.
The Bullitt complies with current DOT requirements while maintaining the most accurate replica of the original Star's appearance and feel thanks to its low-profile fiber composite shell and multi-density EPS liner. I am sure Steve McQueen would appreciate the posh features like pre-cut speaker pockets, micro-suede lining with leather trim, and circular intake vents made of metal mesh with a rear exhaust vent.