Kids love motorcycles just as much as the rest of us. While you won't see any kids out riding around on Harley-Davidsons, you will see them at racetracks and off-road parks across the country. One thing you'll notice is that there is a major need for motorcycle helmets for kids.
Because of this, there's a lot of helmets out there. This isn't a bad thing because it gives you plenty of options, but you need to find a helmet for your kid that gets the job done and that he or she likes.
The Importance of Motorcycle Helmets for Kids
Motorcycle gear is important for every rider. This goes for the person who just got on a bike for the first time last week to the person who has been riding for 20 years. Helmets are one of the most important pieces of gear.
If you have a kid who rides, you need to make sure they have a helmet that fits them properly, will protect them from any accidents, and be something they're excited to put on when they go out riding. Here are ten of the coolest and best motorcycle helmets for kids.
1. HJC CL-Y Helmet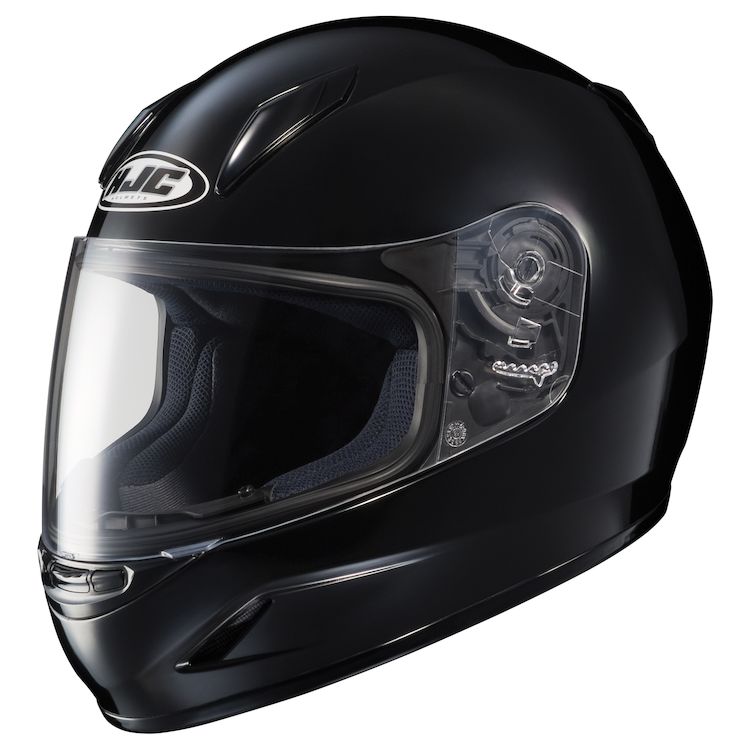 If you're looking for full-faced protection in a street lid for your kid rider, then you should consider the HJC CL-Y helmet. We're all aware that HJC makes some quality helmets for adults. Well, the company does the same thing for kids, too.
The CL-Y helmet is designed to not only keep your child safe thanks to dual density EPS and an injection molded thermoplastic shell, but also comfortable with a large adjustable chin vent, brow vents, and two exhaust vents. Here's a look at some additional features:
Wind-tunnel-test aerodynamic shell
Large eye port for good visibility
Room for glasses
Wraparound neck roll to reduce noise
Nylex interior
4-position, positive lock ratcheting anti-scratch face shield
2. LS2 FF392 Junior Helmet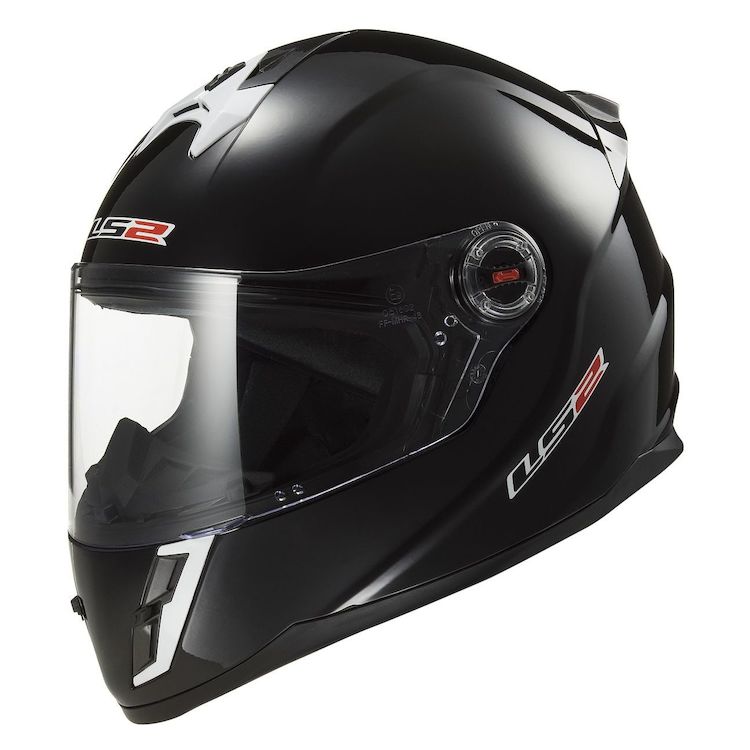 Another great option for any kid wanting a true full-face helmet is the LS2 FF392 Junior helmet. This helmet offers the look and feel of an adult full-face lid but in a smaller size. If you have a kid who you think will grow into riding motorcycles into their adulthood, then this helmet might be a perfect choice.
The LS2 FF392 Junior helmet is one that offers a long list of features. Most notably the high-pressure thermoplastic technology and the channeled EPS construction. Additional features include:
Quick-release face shield
Removable liner that can be easily washed
Breath Deflector
Vents at the top and chin of the helmet
Rear exhaust vent at the back of the helmet
Quick-release strap
Laser cut foam cheek pads
3. Fox Racing Youth V3 Matte Black Helmet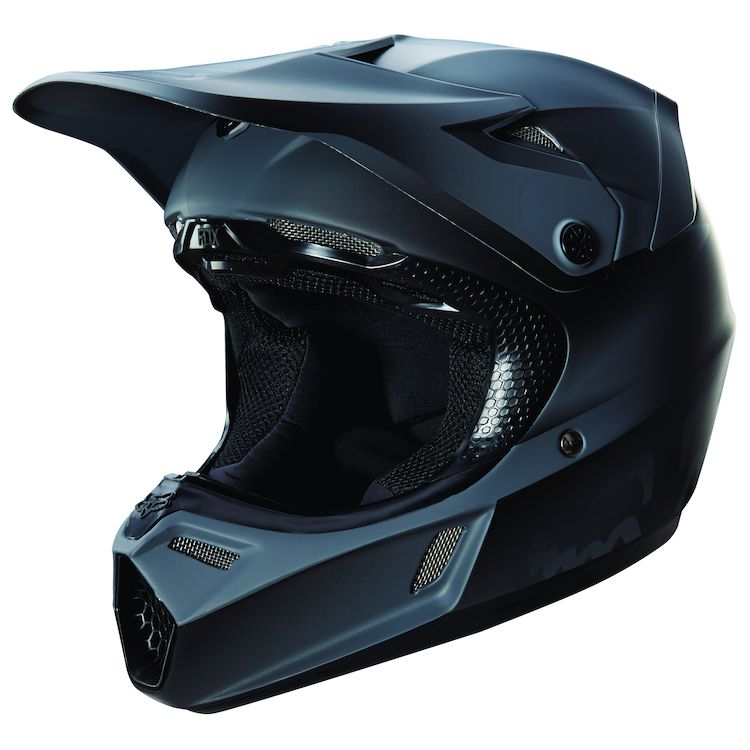 The Fox Racing Youth V3 helmet is designed to be one of the most advanced off-road helmets for kids out there. The high-level of safety comes from the unique technology that Fox Racing as developed and introduced to each and every one of its products. The V3 is no exception to this rule.
The big standout feature for the Fox Racing Youth V3 helmet is the implementation of MIPS or Multi-Directional Impact Protection System. This safety system allows your head to slip or move inside the helmet during truly hard falls. It's a fantastic safety system. Here are some of the helmets other features:
3 shell and 4 EPS sizes for a perfect fit
Dual-density EPS
Dri Lex comfort liner
14 intake vents and 4 exhaust vents
4. GMAX Youth GM49Y Alien Snow Helmet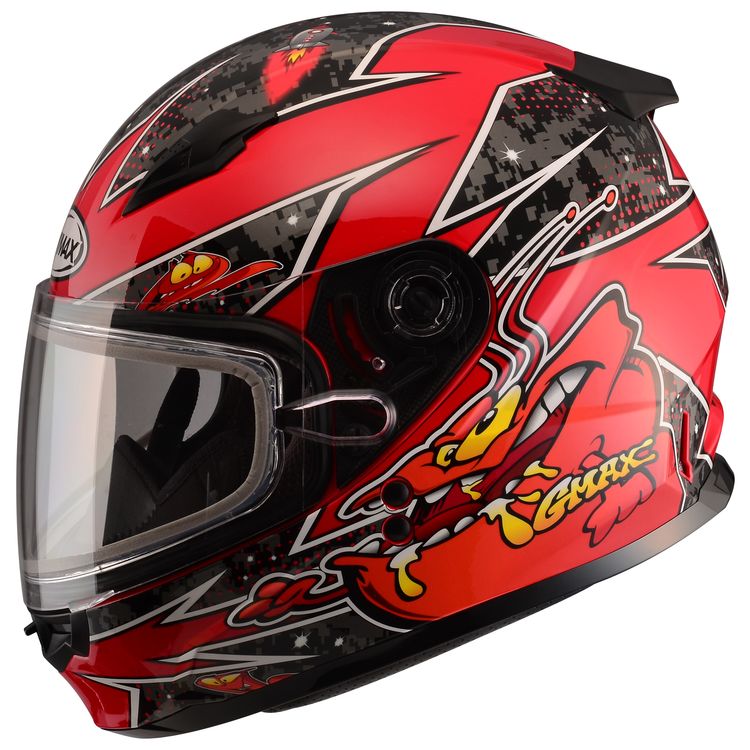 This full-face option offers a quality helmet with a fun graphic. The GMax Youth GM49Y is the follow up to the popular GMax 39Y that many people found to be such a great helmet. This new updated model seeks to build on that success.
The most notable thing about the GMax GM49Y other than it's loud and eye-catching graphics is that it comes with a single shell that can be adjusted to fit different sizes. This means as you kid grows up, he or she can continue to wear the same helmet. Here are some additional features:
DuPont CoolMax interior that's removable and washable
Anti-fog face shield that offers 100 percent UV400 protection
Several intake vents and a large exhaust vent
Breath guard and chin curtain
Large eyeport
5. HJC Youth CL-XY 2 Avengers Helmet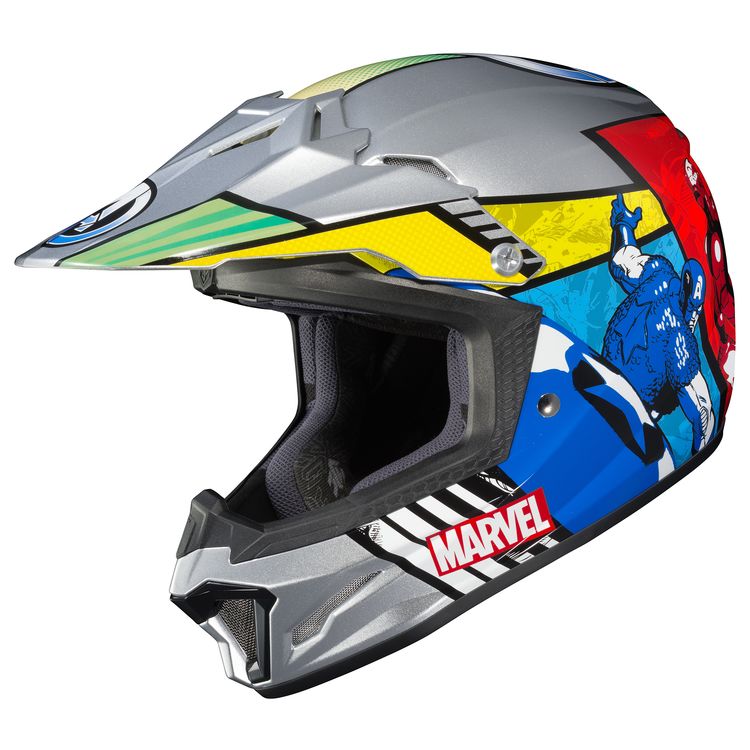 If your kid is a Marvel fan, then the HJC Youth CL-XY 2 helmet with the Avengers graphic is the perfect helmet. Designed for dirt bike and off-road riding, this helmet can let your child channel his inner superhero while taking on jumps and ripping around on a dirt bike.
Perhaps the best part of the helmet is the advanced channeling ventilation system. It will help ensure that your kid's head stays cool and comfortable while out riding even on the hottest of days. Here are some of the additional features:
Polycarbonate composite shell
Single-density EPS
Large eyeport and adjustable visor
Nylex interior that's removable and washable
Multi-layer cheek pads
6. O'Neal Youth 3 Series Helmet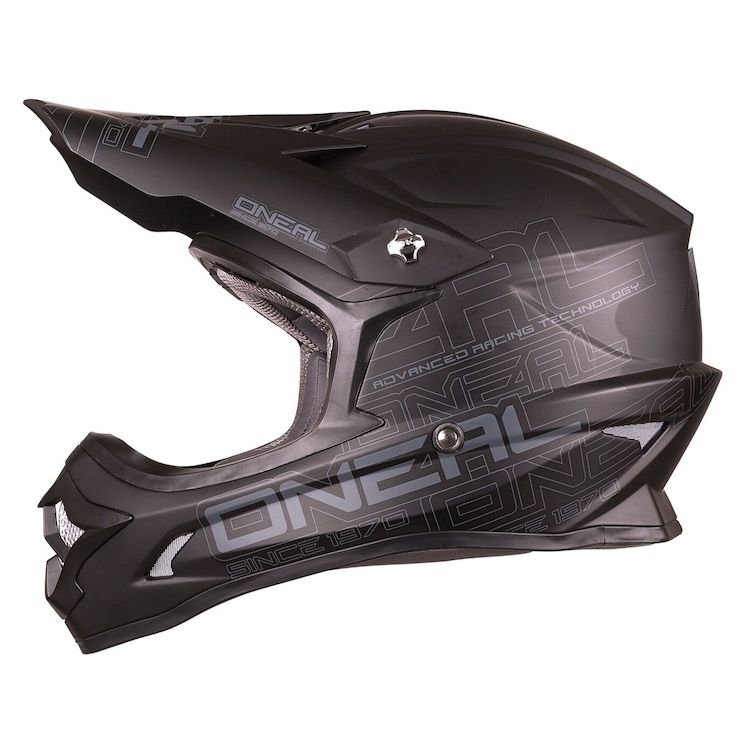 O'Neal is one of those brand names that tend to stand out, and it helps that the company's products are memorable. The O'Neal Youth 3 Series Helmet is one of them. With a smart design and an eye-catching graphic, your kid should be able to ride in comfort, protection, and style.
The aerodynamic shell and visor are what sets this helmet apart from the competition. It is purposely designed to move through the air more easily. This helps reduce fatigue and keep your kid out and enjoying his or her ride longer. Here are the additional features of the helmet:
Poly-injected construction that's lightweight and strong
Removable and washable comfort liner
Various intake and exhaust vents for superior airflow
Goggle traction pads to the sides of the helmet keep straps in place
7. Fly Racing Dirt Youth Kinetic Burnish Helmet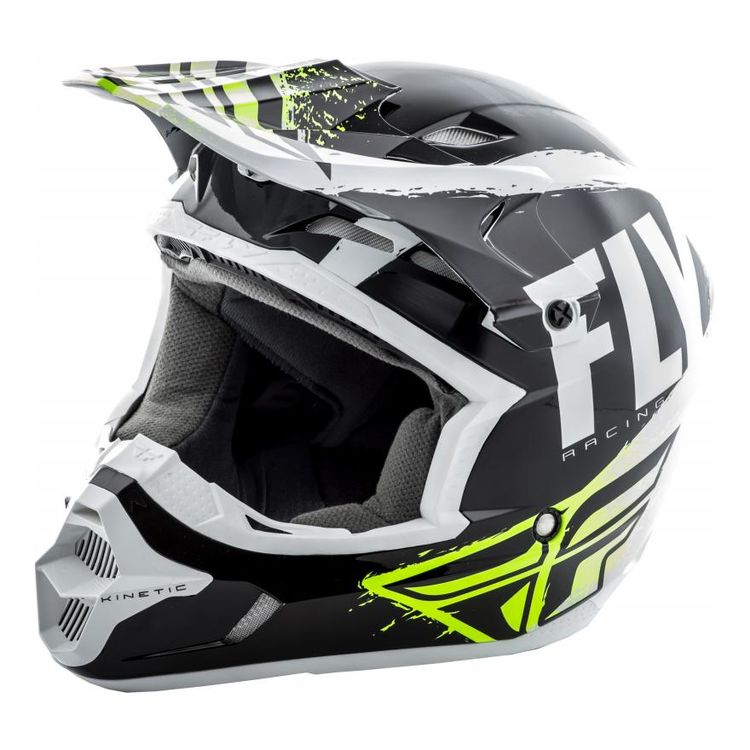 Another eye-catching option is the Fly Racing Dirt youth Kinetic Burnish Helmet. The bold graphics, smart and lightweight design, and quality protection make it a great youth helmet. Fly Racing typically gives you a good return on your investment, and this helmet is no different.
The most noticeable feature of the helmet is its venting system. The system features 10 vents aligned perfectly with the EPS foam. This helps keep air flowing around your child's head and keep them comfortable while riding. Here are some of the other features of the Fly Racing helmet:
Durable and lightweight poly alloy shell
Dual-density EPS
Removable and washable comfort liner
Removable cheek pads
High-flow chin vent
8. Answer Youth AR1 Helmet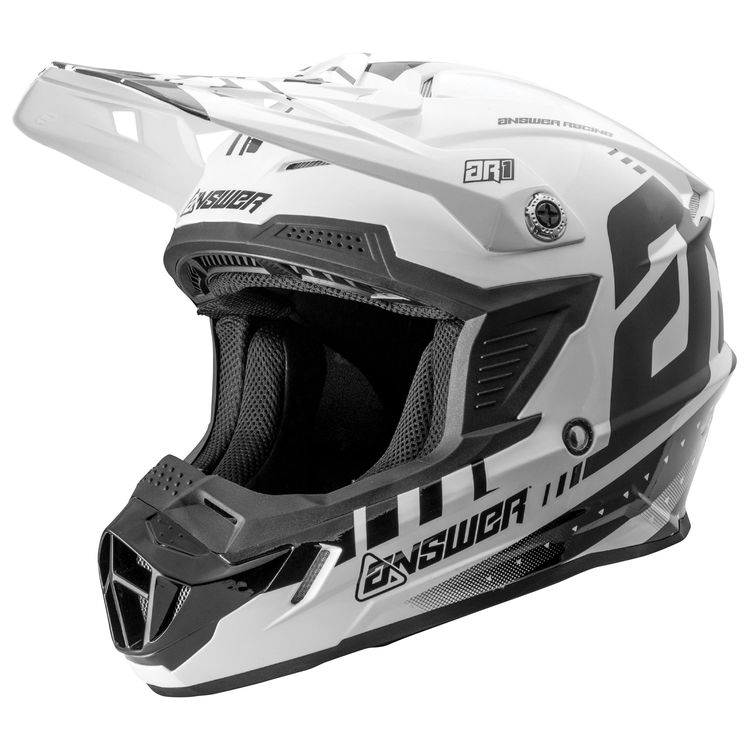 This lightweight helmet provides a fantastic value in a off-road dirt bike helmet designed for youth riders. Answer might not be the most well-known brand out there, but it provides a good product for the money
Something that stands out for this particular helmet is the large intake and exhaust vents, which help keep a rider's head cool. This isn't the only helmet with a good ventilation system, but the vents are larger than some others. Here are some additional features of this helmet:
Acrylonitrile Butadiene Styrene shell
Dual-density EPS
Removable and washable liner
Rubber nose protector
9. 6D Youth ATR-2Y Aero Helmet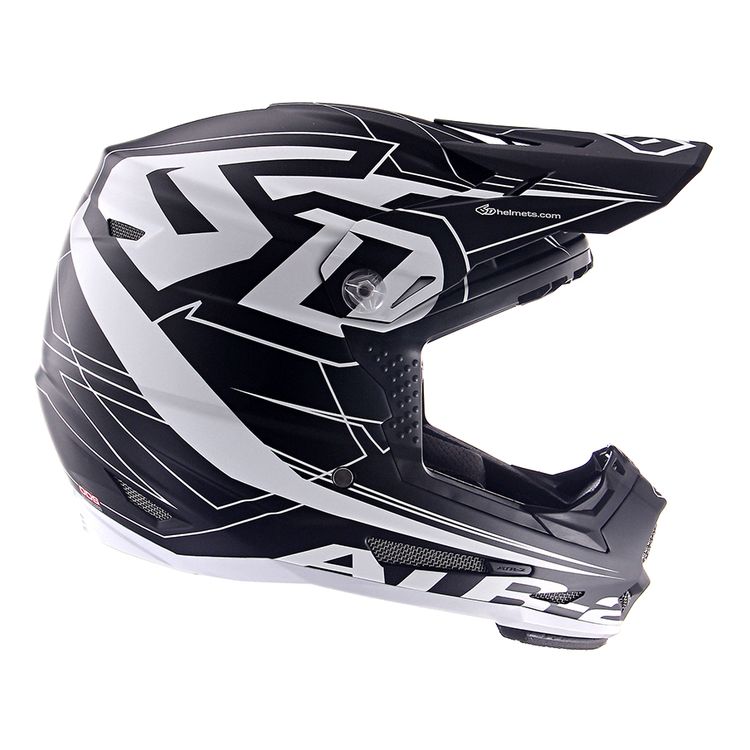 The helmet company 6D might have a short name but its list of merits and commendable products are anything but. One helmet that stands out as a high-quality youth motorcycle helmet is the 6D Youth ATR-2Y Aero. It offers some of the best protection in an off-road helmet for kids out there.
6D's high level of protection comes from the advanced ODS system. This system lets the interior of the helmet better absorb impacts of all levels by letting the interior of the helmet move to absorb those forces. Here are some of the other features of the helmet:
Replaceable EPS inner liner allowing you to size up
Multi-impact EPP outer liner
Tri-composite shell
Brow rib reinforcement
16 intake vents and 6 exhaust vents
Removable and washable Dri-Lex liner
Quick release cheek pads
Progressive damping towers and low-friction discs
10. Leatt Youth GPX 5.5 Jr V19.2 Helmet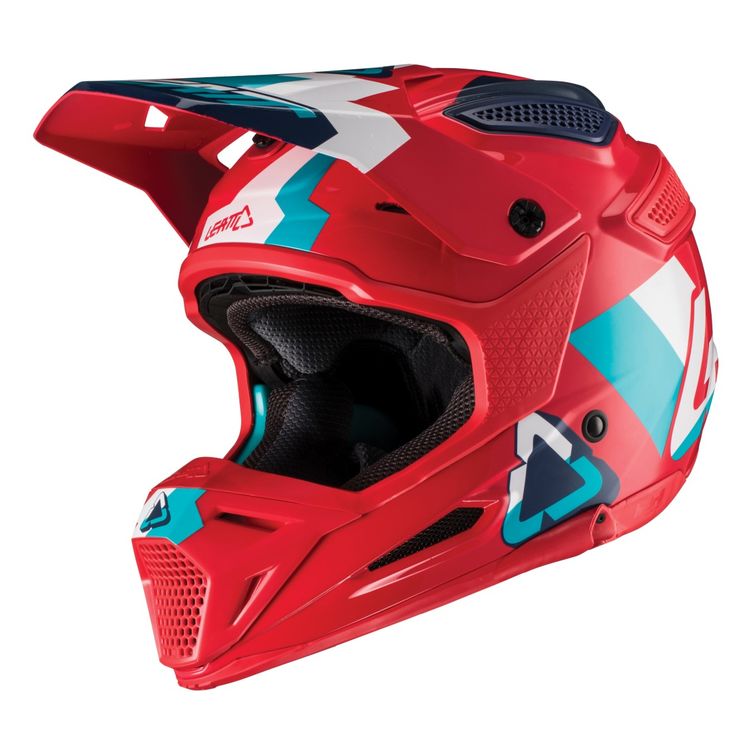 The Leatt GPX 5.5 Helmet is made with one thing in mind. That younger riders crash a lot, especially younger riders who ride off-road. With that in mind, the company wants to make a helmet that will keep them safe and comfortable.
The most interesting aspect of this helmet is the 360° TURBINE system that helps manage low-energy impacts and rotational forces better than many other helmets. This unique system is helpful for all riders but makes a lot of sense for youth dirt-bike riders who are learning and improving. Additional features include:
Composite matrix shell
Multiple density V-Foam Plus
Can be integrated with Leatt neck braces
Smaller outer shell volume to reduce rotational forces
Over 190 honeycomb vent holes and 11 exhaust vents
Hydration kit ready
Removable cheek pads
Anti-microbial removable and washable liner
Breakaway visor