BILT IRON WORKERS Women's Iron Motorcycle Jeans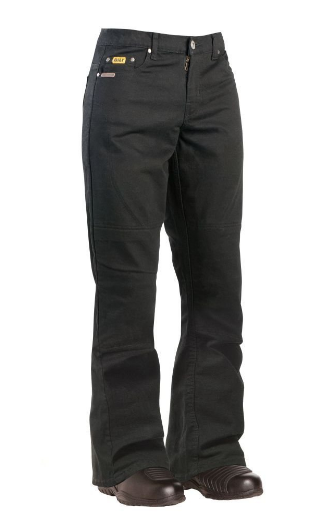 These black motorcycle jeans come with a form-fitted boot cut and are made with hand-washed and finished black 100% denim. The short, two-part zippers connect and the knees are reinforced with CE-approved armor inside the leg rather than outside. To the normal observer, they look just like any normal set of black denim jeans – it's the rugged construction and hidden reinforcement that distinguishes it from traditional jeans.
These jeans use a Kevlar/Polyester blend on all bike-riding impact zones such as the knees, hips and seat. This adds not only comfort while riding but extra protection in the unfortunate case of any kind of accident. Despite all the extra reinforcement, they run true to size and there's lots of room for larger bottoms.
Most calf-length boots can be tucked into or kept inside the pant leg – it all depends on your preference. It comes with a zipper on the back intended to connect to a motorcycle jacket for extra snug fit for all your riding clothes with less drag as you ride down the road. But the best benefit to such sturdy jeans is the fact the they are visually indistinguishable from normal jeans. Whether you're on the road on in the bar, you won't be able to tell that these are motorcycle jeans at all. This is especially useful for those who like to ride their bike to a more formal setting like work but don't want to attract curious eyes while wearing all leather and knee pads.
Since you can't tell these jeans from traditional ones, they can be used for any occasion instead of just riding. Stylish and attractive, they blend in to any social environment setting. You can wear them to church even – that's the extent of how stylish and unassuming these jeans are. Even better, there's extra room in the hip and bottom areas for those who like to flaunt their curves. For those looking for motorcycle jeans that match dark colored tops, these are definitely the ones you want.
Drayko Drift Riding Jeans Women's Denim Sports Bike Motorcycle Pants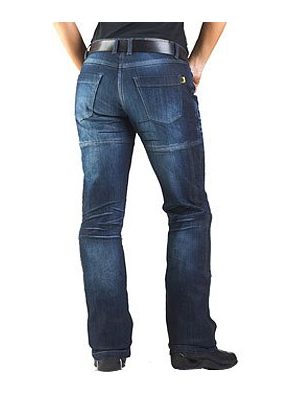 Description: These motorcycle jeans are also virtually indistinguishable from everyday jeans due to the majority of their extra padding inserted inside them as well as their gradual enzyme washed indigo color. Along with stretch lining, wax coatings and colorful detailing, these jeans use hand distressed denim to give then an organic, worn look.
They come with a low-rise, relaxed fit, but are comprised of extremely strong fiber. This in addition to the loose leg for comfort over riding boots and wide belt loop makes them fashionable striking and chic. A large coin pocket on the left allows for easy access to keys, change, etc. This makes them look more like formal-casual jeans that are appropriate for a nice dinner out with family rather than the kind built for motorcycle riding. But this look is extremely deceptive.
Benefits: Despite appearing to be designed more for comfort and style rather than function, Drayko has made these jeans with safety in mind. These are made with military-grade Kevlar and Dyneema- the world's strongest fiber. Coming with matched stitching, reinforced seams, a zip fly and no rivets on the back (this is to prevent them getting caught up and being less safe), Drayko isn't necessarily messing around when it comes to protecting women who love to ride the open road on their Hogg.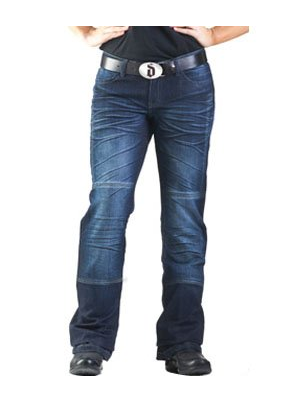 Being CE-approved means that (according to European standard -which American manufacturers have unofficially adopted) these jeans have met the kinds of safety standard required in European countries for use while riding a motorcycle. Though they don't have pockets for the knee armor, the fact that the protective panels are so effectively hidden makes this a rather trivial nuisance. The seams around the Kevlar are extremely snug, so you may want to buy them in a size larger than normal. But the extra comfort this provides is actually a benefit rather than a detriment. The main selling point of these jeans, however, is safety and functionality in addition to style.
Alpinestars Kerry Tech Women's Denim Road Race Motorcycle Pants – Indigo Blue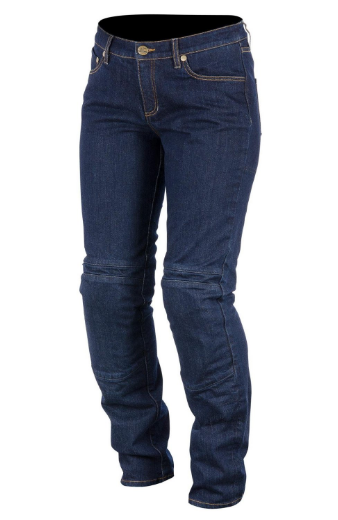 These blue denim motorcycle jeans appear almost indistinguishable from everyday blue jeans, but it's their construction that separates the two. It has CE-certified knee protectors, yet these are hidden inside the pant legs. Using Kerry Denim, these jeans can ensure a flattering fit that's custom-made to accentuate the female form yet functional enough to offer excellent protection.
There also hip and seat reinforcement, but those are also in the interior. Their leg construction is optimized to fit snugly over the legs yet provide enough range of movement. It has a modern print design on the inner waist and pockets, while the exterior boasts a leather belt patch and leather logos on the front and seat. It even comes with custom detailing on its YKK zipper, buttons and rivets to give it a sense of style.
Benefits: Alpinestars blue denim motorcycle straight-fit 13 oz. jeans offer excellent abrasion and impact performance resistance and is also resistant to tearing. It comes with strong twin-stitched main seam construction to make it extra durable. This durability is also due to it's Kevlar reinforcements and CE-certified knee protectors. The protectors in the hip are removable with hook-and-loop attachments while the seat and knees are also reinforced with interior Kevlar panels.
But all this protection doesn't meant you have to sacrifice showing off your flattering figure, as these jeans are design to accent rather than tone down female curves. It also comes with internal knee compartments that allow you to adjust the leg length to make it able to fit different leg lengths. But best of all, these motorcycle jeans can blend in to any other social situation, so you won't have to turn eyes when you walk into work because you rode your bike that day and wanted extra leg protection. These jeans are visually no different from the kind most people who aren't motorcycle enthusiasts wear.