We Picked The Best Motorcycle Helmets for 2019
At Badass Helmet Store we understand that what works for one rider won't work for another. We also know that some riders want the ultimate protection when it comes to a motorcycle helmet while others prefer to look good above all else. We don't judge. What we do try and do is help you find the best motorcycle helmets for whatever your riding situation and style might be. This page will help you find the appropriate expert-created helmet guide which lists our favorite helmets for every helmet category.
Full-face helmets offer the best protection, most secure fit, and highest level of comfort you're going to find. While full-faced...
Read More
Free shipping, no hassle returns, the best brands & amazing service.
BANE If you search the dictionary, 'bane' is defined as the source of annoyance or anything that causes distress. The fictional character "Bane" certainly personifies...
Read More
Badass Venom Motorcycle Helmets Who is Venom? Anyone who has read the Spider-Man comics or seen the Spider-Man comics has heard about Venom. Venom is...
Read More
I am Iron Man. You might find the science subject to be boring. After all, who would want to know that two atoms of hydrogen...
Read More
Are you ready to turn a few heads while you are riding on the road? Well, in that case, these chrome helmets will definitely give...
Read More
Daytona Helmets Slim Line Skull Cap D.O.T. 1/2 Shell Helmet Motorcycle Helmet This ½ shell helmet is from the popular brand Daytona Helmets and is...
Read More
Article Contents: Intro How & Why I Picked These Helmets Helmets Under $250 Helmets $250 – $500 Helmets $500+ There are a lot of helmets...
Read More
Scorpion EXO-R410 Sugarskull Helmet Review We all know that riding a motorbike without a helmet is a bad choice. Riding without a helmet exposes one...
Read More
What is an EPIC motorcycle helmet design? I'm glad you asked. Epic is defined as…. Extending beyond the usual or ordinary especially in size or...
Read More
1. Custom Paint by https://www.instagram.com/rw_d3signs/ @billy_anderson_777 -photo @gw_snapshot -paint @rw_d3signs #simpsonoutlawbandit #teamsimpson #simpsonrider #mysimpson #simpsonhelmets A photo posted by SIMPSON MOTORCYCLE HELMETS (@simpson_motorcycle_helmets) on Jan...
Read More
Kylo Ren is a power sensitive human male who was a former Jedi trainee. This fictional character was first introduced in 2015 through the film...
Read More
Making his first appearance on the comic cover of The Amazing Spider-Man (#129) in February of 1974, the popular fictional character the Punisher (Frank Castle)...
Read More
Cool Boba Fett Motorcycle Helmets Now Available! Spring 2017: HJC announced the RHPA11 Helmet will be available featuring the Boba Fett look. Creation of Boba...
Read More
With the easily removable front mask, this cross bread between Half Shell Helmet and 3/4 shell helmets lands this badass lid into the hybrid category....
Read More
Halloween is one of those times of year that you can almost get a free pass on misbehaving. Don't ask me why, just take full...
Read More
We all love a little attention on the road. Loud pipes, neon lights, or custom paint jobs – we like a little flair in our...
Read More
HJC Marvel helmets impress with stunning visual effects & no real compromise to comfort or safety. The time is now to ride into the sunset...
Read More
The Coolest Aviator Style Motorcycle Helmets for the Inner Iceman & Maverick In All of Us OSBE GPA Open Face Helmet The new GPA helmet...
Read More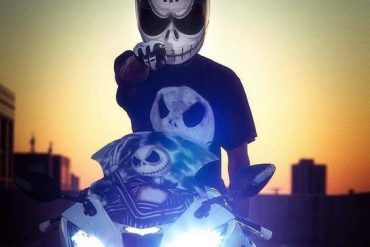 Jack Skellington is the main character in the Disney movie "The Nightmare before Christmas." The 1993 movie was about a town which was built around...
Read More
Celebrating the 75th in the Down Under (Austraila and New Zealand that is) Marvel Comics and Harley-Davidson dealers teamed up to build an HD "Comic series...
Read More
Birth Name – Wade W. Wilson Height – 6'2" Weight – 210 lbs Special powers and abilities – Deadpool has superhuman healing powers, agility, natural...
Read More
A full range of gear, from helmets to accessories and much more.