Much as dashcams have become increasingly useful for drivers, both in terms of insurance and for recording odd or crazy things happening out on the road, helmet cameras have been growing in popularity year after year. In fact, some motorcyclists have made riding their bikes their full-time jobs, doing daily motovlogs on a variety of subjects.
But no matter what you want to do with your camera, you do need to get a good one. If the video is unclear, shaky, doesn't record an incident, etc., it has been a pointless purchase.
In general, you want to avoid the $10 bargain basement camera. While there are some excellent budget cameras available, you realistically should expect to look in the $150 price range to get anything with the tech and firmware to smooth out video and capture audio clearly.
This list is split into two sections. The first lists the cameras that will get you good quality video at a reasonable price ("Value Options"). The other section will highlight the best cameras with the highest quality video and/or features ("The Best You Can Get").
Value Options
SENA PT10 Prism Tube Wifi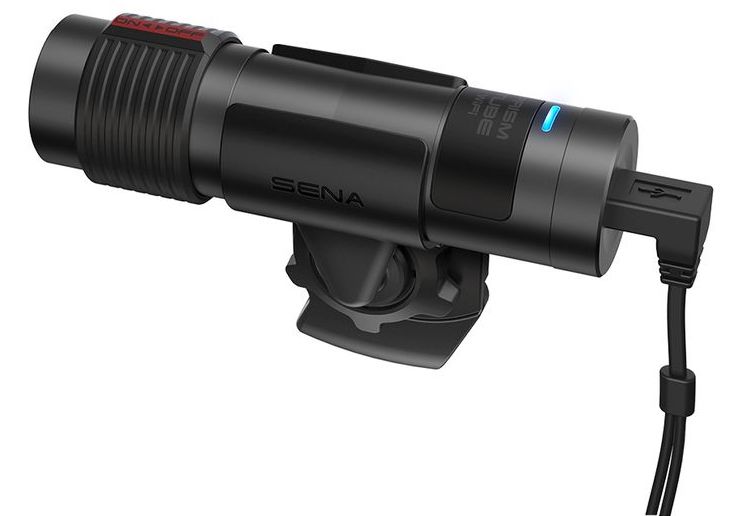 For years on end now, the SENA PT-10 Prism Tube has been a mainstay of our recommendations—and 2022 is no different. If all you need is a functional helmet camera with a 125-degree wide field of view that is water-resistant, sleek, and can capture both road audio and in-helmet microphone audio, the Prism Tube Wifi does it all.
As evidenced in the name, the camera can connect via WiFi to your smartphone (Android or iOS) to play back recordings, start and stop recording, or help you get the camera angled just right before you set off.
All of the above is done via the SENA App, which had a bit of a rough go of things when it first came out but has been refined and patched throughout the years to be a stable (if somewhat simplistic) app.
As well, the PT-10 is famous for its One Touch Recording feature, the button for which is easy to find—even with a gloved hand. Depending on which resolution and capture rate you choose, from 1080p (Full HD) at 30 or 60 fps, or 1440p (2K) at 30 fps, you can expect more or less 1.5 hours or more from the battery.
The Prism Tube WiFi is a mainstay for rider safety and insurance coverage for plenty of good reasons: it comes in at an affordable price, is easy to use, and is so light at 100g that you barely even notice it's on your helmet.
Honorable Mention: Older GoPro Hero 6 or 7 Cameras (When They're on Sale)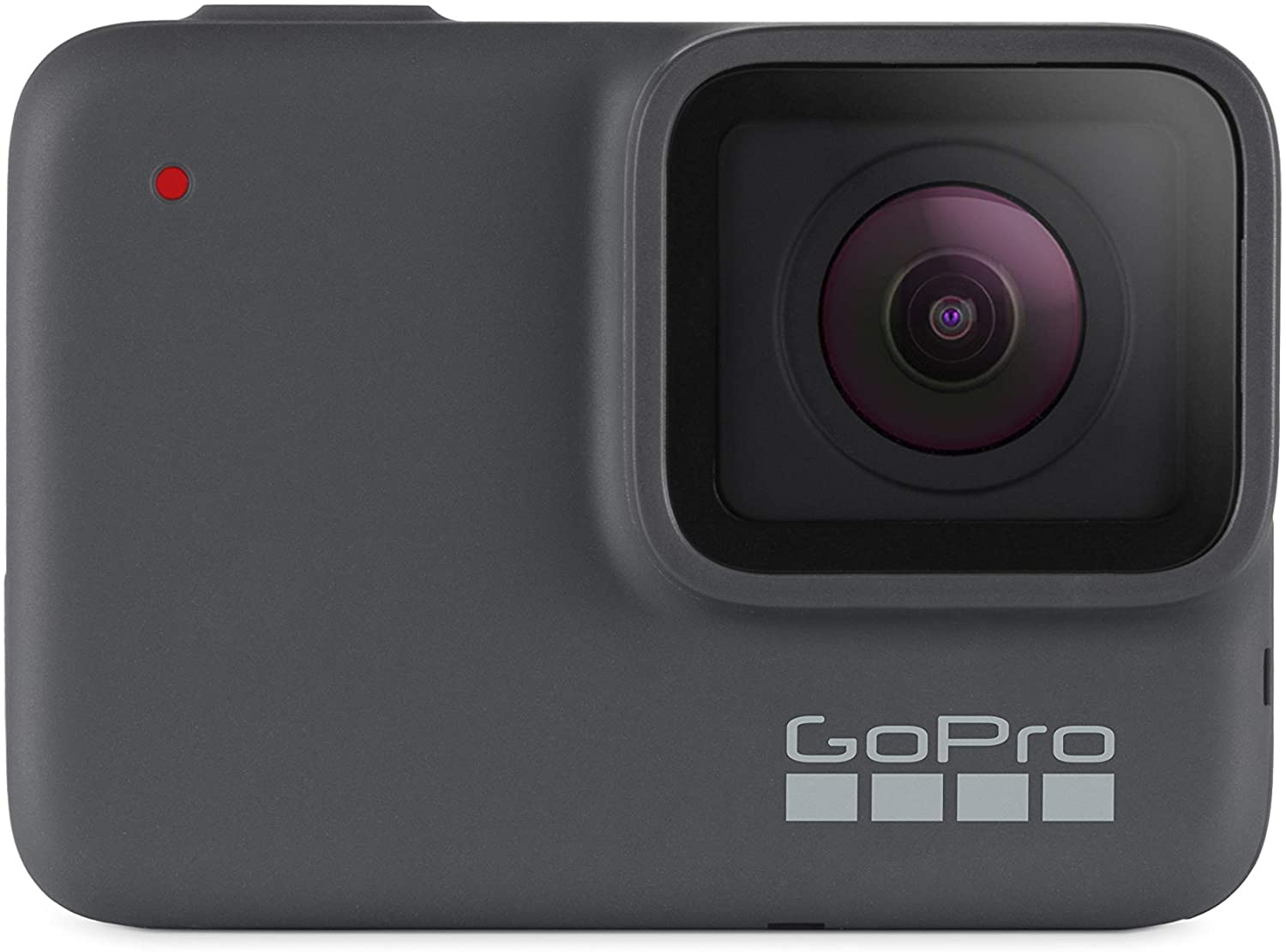 We listed this as an honorable mention for one reason: Amazon's frequent sales. Be it a Prime Day, an inventory clearout from a reseller, or even an end of line sale, you can often find GoPro Hero cameras from previous generations with some significant cuts to their regular retail prices.
You can still find HERO5 cameras out there, but we would recommend starting at the HERO6 if you are looking for an older camera, as they are the first generation of GoPro's that recorded 4K video at 60 FPS, using the H.265 MP4 compression. This gives you amazingly smooth video in mildly unbelievable file sizes, and if you snag one during a sale, you might even pay less than half the retail price ($239.99 as of Q1 2022).
The other reason that you should start with the HERO6 is that it comes with the longer-lasting 1,220 mAh lithium-ion battery (instead of the 1,000 mAh you got with the HERO5). Also, since the HERO6, all GoPros have used USB-C for charging and communication, which is a very common USB port on notebooks and desktop PCs in 2022.
The final reason for going with a HERO6 or later is that, as always, GoPro's mounts and cases are universal—meaning that even if you upgrade to a HERO10, the same case you have for the HERO6 will fit. As well, the HERO6 is the lowest recommended camera by many motovloggers if you're looking to give that a go, as it has all the audio connectors and enough battery life to be able to get a good hour or two of content.
The Best You Can Get
GoPro Hero10 Black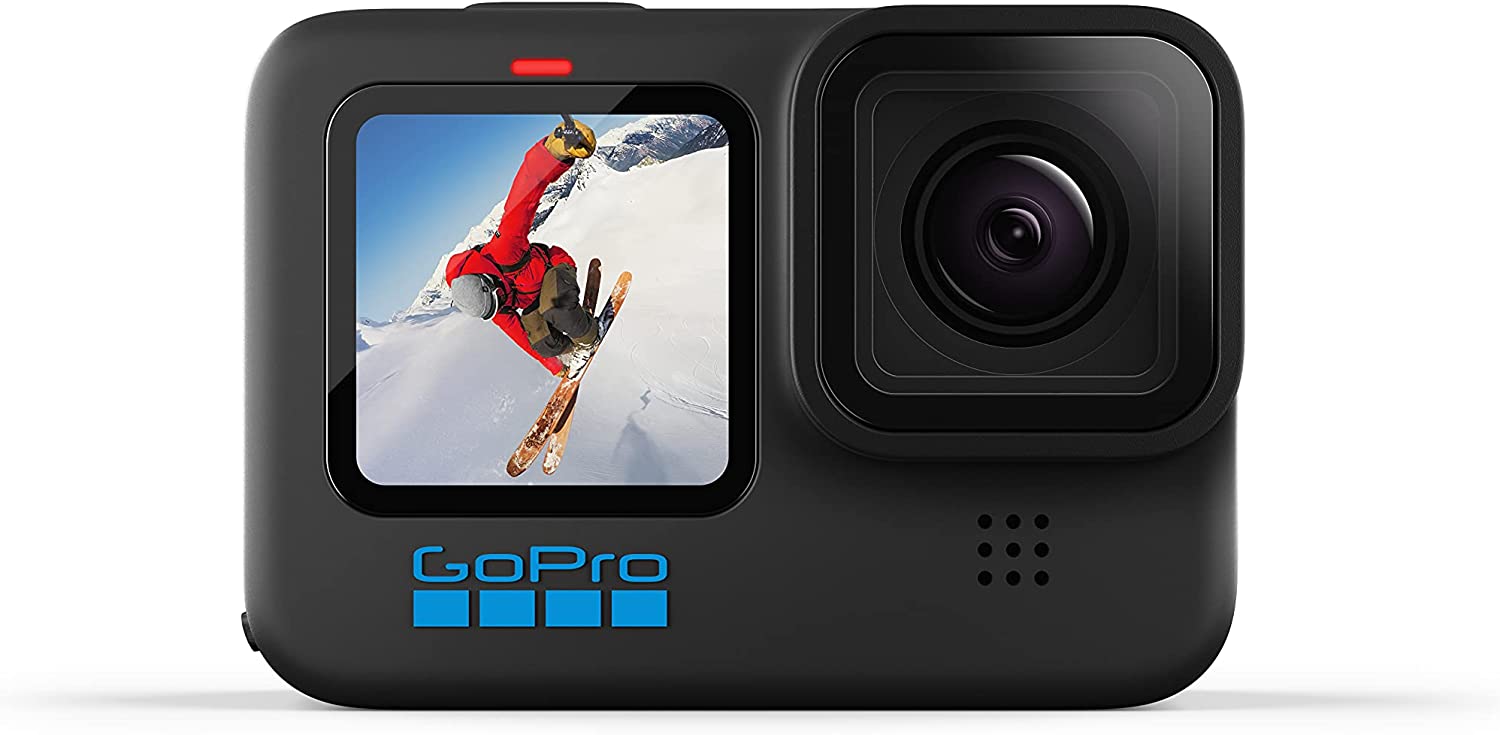 In September of 2021, GoPro revealed the HERO10 Black action camera and put it on sale shortly after. It is, quite simply, the most powerful camera they have ever released, and the absolute tip of the spear in cutting-edge action cameras.
The biggest feature of the HERO10 is its new GP2 processor, which is exponentially more powerful than the GP1 CPU in previous models. With the GP2, the HERO10 Black can capture 5.3k video at 60 fps, while applying a new HyperSmoothing algorithm (HyperSmooth 4.0) and stabilizing the video and noise-canceling audio inputs. If you want 4k video, you get it at 120 FPS, making slo-mo edits extremely easy to do, and if you need to do super-slo-mo, both 2k and 1080 video capture at an insane 240 fps.
The HERO10 also packs WiFi, Bluetooth, and GPS into the tiny camera for easy connectivity, and both the front and rear screens are full-touch capable. As well, if you subscribe to it, the HERO10 is fully GoPro Cloud enabled, meaning that the moment you start charging it and there's a known WiFi source (such as your home router) connected, it uploads all your still and video captures to the cloud in the background.
Probably most important to motovloggers, however, is that this camera is effectively waterproof in the rain. It is rated for underwater use to 33ft (10 meters) for up to 60 minutes, and can go even longer if you have a waterproof case. It's the HERO9 Black that we recommended last year, but it's spent a year in the gym and has entered the ring swinging hard. Don't miss out.
GoPro MAX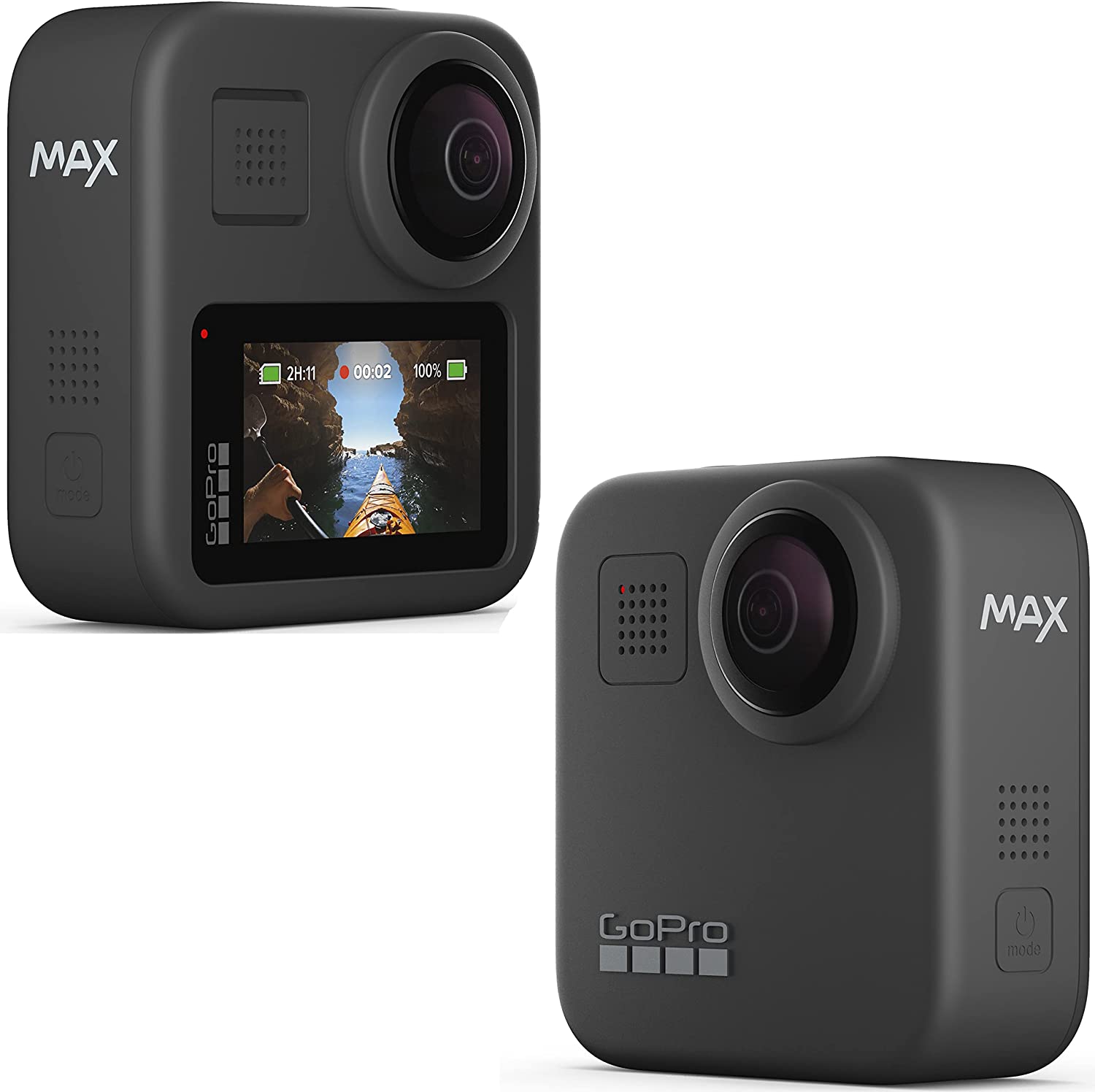 You've probably seen videos on YouTube of people riding trails, driving race cars, or doing adventure and urban sports with a video you can click and drag around in 360 degrees. The GoPro MAX is quite likely the camera they are using. Using two capture sensors with 180 degree fisheye lenses on each, you can get a full 360-degree spherical capture from the helmet of your ride.
You can also save quite a few dollars over the retail price for one of these cameras if you're willing to buy online. They are powerful little beasts, too, capturing at 5.6k at 30 fps for about 2 hours, with image stabilization and automatic scene stitching—so it's all saved on one microSD card and can be uploaded to YouTube without the need to edit in a separate program.
The only sticking point with the MAX is that it is not exactly small, and you will have to mount it to the top of your helmet to get the best capture. This presents a couple of problems, since it will stand out from the top of your head if you go anywhere near a freeway—and in several States, anything that protrudes from a helmet and isn't included from the factory can be ticketed as an illegal modification of personal protective equipment. Before deciding to go with a MAX for your helmet camera, check your local and state laws to make sure affixing one to the top of your helmet won't get you a ticket and a fine.
SENA 10C Pro Bluetooth Headset & Camera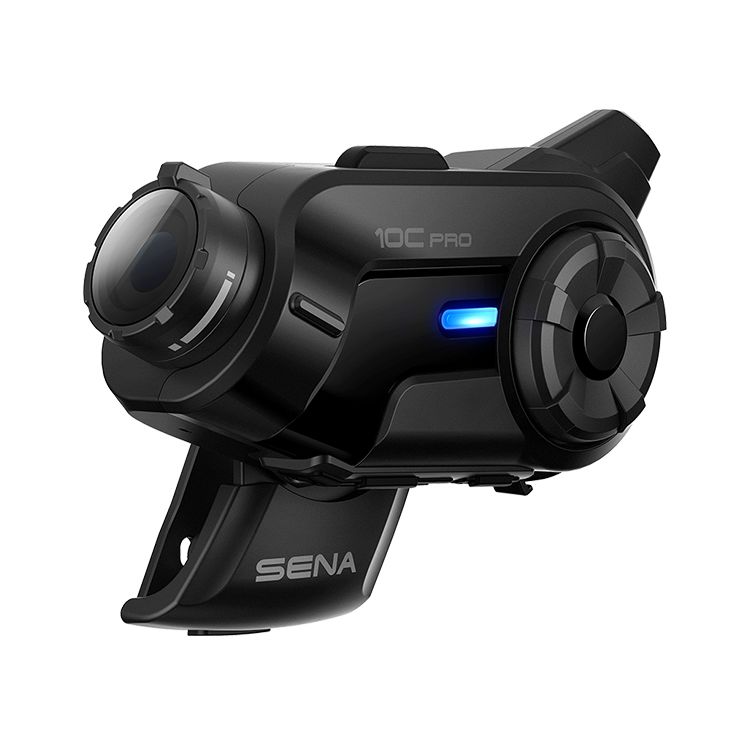 SENA is well known for their bike-to-bike intercom systems, having become the standard for many years while other manufacturers rushed to catch up to their technology. This time, they integrated a camera into their 10S comms device to make the 10C Pro.
This allows for the camera to be operated via either the fingers or voice command, and provides the ability to integrate conversations using SENA comms into the recording. It records at 1440p at 30 fps or 1080p at 60 fps, with a 135 degree field of view. This is the perfect camera for those that want to record a long trip while also chatting about it with other riders in your group.
It also works as a decent starter motovlogger camera—although most if not all motovloggers that can support their hobby eventually move to a GoPro, due to the much higher quality data stream and optional mic input jack it provides. This is not to say the SENA 10C Pro is useless—far from it. It is still a reliable, solid piece of camera tech that just happens to also have a very good communication system built into it!