Battery chargers, perhaps, an essential accessory to any biker, helps in boosting the bike's battery power when it is flat. You see, not all seasons your bike will actively be in use, with seasons like winter seeing less use of the motorcycle. It is bad news to your battery since it will go flat quickly when it lays there waiting to hit the road after the cold weather. However, you don't need to sweat about this; there is always a solution to everything.

While you have the option of disconnecting the battery from the bike before the cold season starts, it is imperative to have a battery charger, to charge your battery when not in use. It acts as a life support machine for your charger, boosting its power, before taking your next ride after storing the bike for a long time.
Top Battery Chargers and Tenders (2017)
Battery Tender 12 Volt 1.25 Amp Plus Battery Charger/Maintainer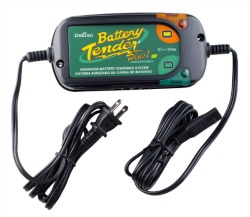 The Battery Tender Plus offers high power efficiency to charge your battery faster. Originally designed for the Californian market, the charger pulls enough voltage for your bike's battery.
Check Price Here
.
The charger comes with a lightweight metallic body design; bikers enjoy the easy portability of this charger. It draws little electricity with an input of 100-240 VAC at 50/60 Hz while producing an output of 12 Volts DC at 5 Amps, for your motorcycle or ATV.
More Details
For effectiveness, the charger comes with a complete four-step charging program; Initialization, Bulk Charge, Float Mode and Absorption Mode. It automatically switches from full charge to float charging mode, hence uses less electricity. This way, the charger preserves energy hence taking the bike a step closer to green energy.
A reverse polarity protection and a fuse promote extra safety defined through the red and green flashlights, when flat and fully charged. To promote easy usability, the Battery Tender Plus charger comes with connectors for small screw terminals, alligator clips for large terminals and the standard connector for motorcycles.
Pros: Compatible with many auto machines, small cars, ATVs, motorcycles, speed boats and lawn mowers.• Well, vented hard case.• Draws less electricity.• Extended warranty, five years. 
Battery Tender Battery Tender Plus 12V Battery Charger True Gel Cell Model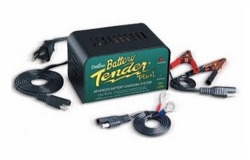 One of the most advanced chargers on the market is the Battery Tender Plus Gel Cell Model, designed for motorbikes' acid battery. It uses a microprocessor technology in a four charging profile to charge and float your battery when need be.
Check Price Here
.
With an improved voltage pattern and constant current charging capacity, you are sure of fully recharging the battery, safely without the worry of overcharging. It uses a lower voltage, best for keeping batteries requiring 12 volts optimally powered, before use.
More Details
BT has micro-cracks form in its gelled electrolyte, to provide paths for the oxygen recombination reactions between the positive and negative plates. Here, the recharge voltages become more sensitive, reducing adverse reactions coming from overcharging the battery.
An adjustable four step internal software allows for the easy use of the fully automatic mode, hence promoting the safety function. The Gel technology, having a higher store rate and lower charge rate, ensures the battery charges to the max.
The unit comes with spark proof connectors, short circuit and reverses polarity protection, a simple charging status LED indicator, a quick connect harness for use in hard to reach areas.
Pros • 10-year warranty.• Versatile charging unit.• A secure unit to have around you.
Cons • Charges batteries at a slow rate. 
Battery Tender- Battery Tender Junior 12V Battery Charger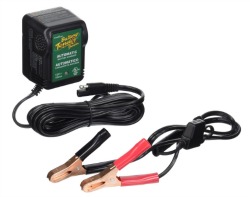 Battery Tender Junior 12V Battery Charger offers more than a trickle charger. It has software to guide its operations, which is a complete 4-step charging program. It allows for Initialization, Bulk Charge and Float Mode, bringing the best out of the battery hence offering optimal power without getting an overcharge.
Check Price Here
.
It is a lightweight, compact charger providing a fully automated secure usability capability when it comes used in tight spaces. The charger will keep the battery fully charged, preparing it for use anytime.
More Details
A microprocessor controls the fully automated charger and maintainer, perfect for charging all 12-volt lead-acid, flooded or sealed maintenance free lead acid batteries used in automobiles, motorcycles, ATVs, personal watercraft, RVs, boats, golf carts and lawn mowers among other small battery powered units.
It also has solid-state two colour LED indicators, to show the batteries charging capacity.
An automatic charge cycle functionality can switch to float mode after fully charging the battery. It prevents overcharging while the float mode maintains the battery power for an indefinite period.
Battery Tender Junior comes equipped with alligator clips and ring terminals to hook it up quickly. There is a 12-foot extension cord and a five-year warranty, after buying the charging unit.
Pros • Trickle charges a variety of lead-acid batteries used by small machines.• Microprocessor extends the life of batteries.
Cons • Misleading ads claim that the charger can charge an auto battery, which is not the case. 
Black & Decker BM3B 6V and 12V Battery Charger / Maintainer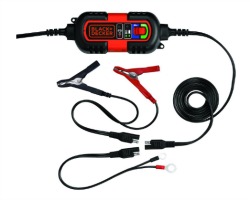 The Black & Decker BM3B battery charger/maintainer solves your entire battery-charging problem with the 6-volt and 12-volt charging selective system. Excellent for battery maintenance, charging RVs, antique and classic autos, motorcycles, lawn mowers, ATVs, snowmobiles, personal watercraft among others.
Check Price Here
.
The unit has three connector sets, which are; Battery clamps, O-Rings that charge the battery for an extended period and in off-seasons, DC plug for those preferring to charge their batteries when connected to the motorcycle.
More Details
There are built-in circuit protection guards, protecting the battery overcharging, reverse polarity or short circuit. It comfortably charges WET, GEL and AGM batteries.
To use the charger efficiently, just choose either the 6-volt or the 12-volt option, plug it in and walk away. It thinks on your behalf as it is fully automated and stops charging when the battery is topped off.
Alternatively, connect the clamps, O-rings, or DC plugs to the battery. Proceed to select your preferred mode of charging the battery and connect it, using the quick connect attachments with the charger/maintainer. After this, slide the switch to either 6 or 12-volt, plug it in and only leave it to charge.
Pros • Small and portable charging unit.• Inexpensive battery charger.
Cons • Short warranty period, one year to be exact. 
Schumacher SEM-1562A-CA 1.5 Amp Speed Charge Battery Maintainer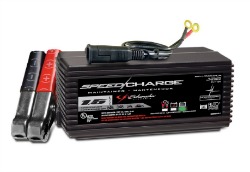 Schumacher's Speed Charge Maintainer charges both 6-volt and 12-volt batteries, maintaining them at full charge using float-mode monitoring. It is after the unit fully charges the battery hence preventing damage.
Check Price Here
.
It comes with smart display LEDs indicators, showing when the unit charges fully and when there is charging trouble. With such a constant monitoring, the SEM-1562A reacts to fast, efficient and accurate charging, allowing different charging cycles to go on and off in the same way.
More Details
It features a quick disconnect harness for easy removal, and reverse hookup protection in case the clamps are accidentally connected to the wrong terminals.
During cold seasons, the charging unit is indispensable as it keeping batteries warm overnight and ready for use. It is through the automatic temperature compensation, which adjusts the maximum charge voltage depending on the ambient air temperature.
Additionally, the thermal runaway automatically minimises the current heat on the battery is detected. An auto-start keeps power from flowing until a proper connection exists, or in the case of a reverse hook-up.
Microprocessor controlled charging and maintenance only keep batteries at optimal power levels.
Pros • Fast recharging of different battery types and sizes.• Worth the price.
Cons • Great maintainer not a battery charger.• Small warranty, two years. 
NOCO Genius G750 6V/12V .75A Ultra Safe Smart Battery Charger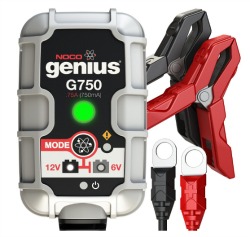 NOCO Genius Smart Battery Chargers, probably one of the safest and most advanced chargers on the market, charges 6-volt and 12-volt batteries up to 30 Amp-Hour.
Check Price Here
.
Uses cutting-edge technology that delivers superior performance. Here, it charges twice as fast as ordinary chargers, repairing drained and damaged batteries then accommodating micro-hybrid start-stop vehicles and CANBUS electrical systems.
More Details
Comes with an onboard microprocessor to monitor battery activity for safe and efficient charging. It automatically reduces energy consumption, providing excessive levels of safety protection, such as spark-proof technology, reverse polarity and overcharge protection.
Remains safely connected 24/7 and thanks to its ultra-compact compact, it easily portable and incredibly lightweight. Additionally, its impact, UV and water-resistant and easily mounts to any AC wall outlet.
An intuitive LED indicator provides visual state-of-charge feedback and diagnostic information, when charging and still in maintenance mode. It can use on 120-volt 50-60Hz electrical systems, including X-Connect battery clamps and eyelet terminals. Charger comes with a 5-year limited warranty.
Pros • Lightweight and portable size, easy to mount on wall sockets, store and carry around.• The charger can tell the health of your battery with 'Diagnostics' feature• Repairs 'sick/dead' battery, when flat, sulphated or damaged. 
Black & Decker BC2WBD 2 Amp Waterproof Charger/Maintainer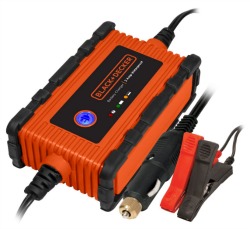 The Black & Decker BC2BDW is one of the best-rated charger/maintainers in today's market. With it, you will enjoy a unique waterproof battery charger system, charging your batteries anywhere; indoors and outdoors, without worry of an accident.
Check Price Here
.
Since it is a high-frequency battery maintainer, the charger can stay connected for any length of time. It allows you to maintain a charge on all of your batteries used in lawn mowers, motorcycles and even boats or personal watercraft.
More Details
The BC2BDW is completely automatic. Therefore, you will not worry about charging in any of the charging modes. It comes with three different types of connections; battery clamps and battery rings offering a more secure connection to battery terminals, not mentioning the 12-volt DC plug in its packaging.
The charger also has an inbuilt AC low voltage compensation, assuring users of maximum performance when used with an extension cord. It also includes built-in circuit protection, which guards against overcharging, reverse polarity or short-circuiting.
Pros • Works exactly as described in the operating instructions.• Very study, lots of connectivity options.• Magnetic mounting and soft rubber feet come into play in keeping the unit in position.• Cheap and easy to use for charging any 12-volt battery.
Cons • Does not say when the voltage should be turned off. 
Extreme Max 1229.4000 Battery Buddy Intelligent 6V / 12V Battery Charger / Maintainer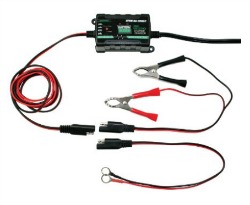 Battery Buddy Battery Charger is one of the smartest little trickle chargers in the world. It gets to power your battery within a short time. It charges all large and small 6-volt or 12-volt lead-acid, flooded or sealed maintenance-free batteries, which is AGM and gel cells.
Check Price Here
.
It comes with an inbuilt battery brain or microprocessor that controls a precise 4-step power program; Initialization, Bulk Charge, Absorption and Float Modes. You only have to connect the charger and leave it to charge then use the battery afterwards.
More Details
While you are away, the Battery Buddy Intelligent carefully calibrates its output to your battery. Here it maintains a full charge without necessarily overcharging the battery. If the battery slips below a full charge, Battery Buddy Intelligent automatically resumes a normal charging cycle.
Battery Buddy is best suited for batteries in cars, boats, ATVs, motorcycles and any other vehicle in long-term off-season storage whether on extreme heat or cold. Battery Buddy perfects suits any weather, powering and taking care of your battery in the end.
The charger comes with a waterproof design, a single LED status indicator light drawing almost no current, spark proof connectors, 8-foot output cord, short circuit and reverse polarity protection.
Users also enjoy a 1-year warranty, with the Battery Buddy Intelligent charger.
Pros • Good quality product that is easy to use.• Value for money.
Cons • Limited warranty. 
In conclusion, these chargers and maintainers offer the fastest, most advanced charging capability in the market. However, a charger must protect your battery for the long haul with an actual charge, making it run for years to come. They will juice up your battery in multiple stages to keep you on the road longer while lengthening the overall battery life.