Modular helmets occupy a much-loved territory in the riding world, that of convenience tied together with almost all the safety of a full-face helmet. Instead of having to remove your helmet entirely at the gas station, you can flip-up the chin bar to see what you're doing better. Need to take a water break on a long ride? Flip-up the face and swing as much as you want from your water bottle or camelback without needing to take the helmet off.
The safety comes from the fact that most, if not all, modular helmets have a steel pin-and-lock system to close the chin bar down. While not as "safe" as a full-face helmet, they come damned close. In fact, some of the newer advances in 2020 and 2021 have some of these helmets equivalent to the safety and impact ratings of their full-faced cousins, but will not be able to get Snell or FIM certifications as only full-face helmets gain those.
We here at BAHS are always value-oriented shoppers, so we look for the best features at the best price, and many of these helmets have either been tested by our diverse rider group, or are highly rated by our partners. We will separate the helmets into three value segments: Entry Level, Mid-Range, and High End.
Entry Level: Modular Helmets Under $300
Fly Racing Street Odyssey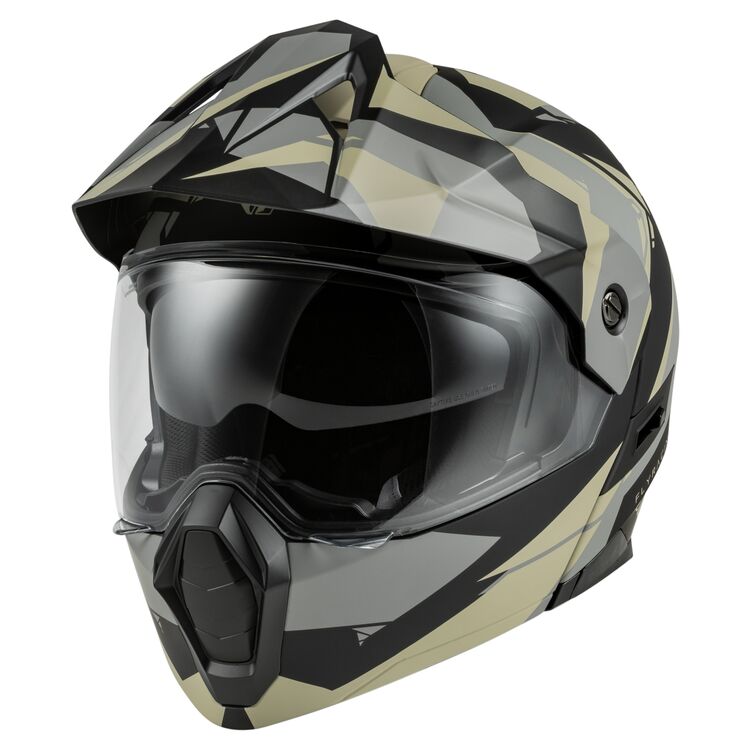 Fly Racing is a relatively unknown name in the mainstream helmet market, as they are mostly geared towards motocross, supercross, and supermoto style competition gear. However, through that experience, they have gathered crucial data regarding impact dissipation, comfort, and durability.
The Street Odyssey is placed into the modular adventure segment, designed more for bikes with windscreens than without. However, the sun peak is removable if you want to use it as a pure street helmet, and it has undergone aerodynamic testing in both setups to stop the helmet lifting.
The shell is formed of lightweight polycarbonate blended with other fibers and resins, giving it some natural extra durability over straight polycarbonate. The shell is lined with dual-density, multi-layer EPS foam. A drop-down sun visor is standard, and the visor itself is shaped to be able to give a better forward vertical view for ADV riders.
Visor is removable via a screw system that requires minimal tools, and can be either left off or switched out for a different visor with ease. The opening is meant for supermoto use with goggles, although it is a bit small for the larger pairs. Ventilation is provided by a large mouth vent, as well as a ram air vent on the top that also feeds the exhaust system, using negative pressure to pull hot air out of the helmet.
The Street Odyssey is DOT and ECE certified in closed position only.
HJC C91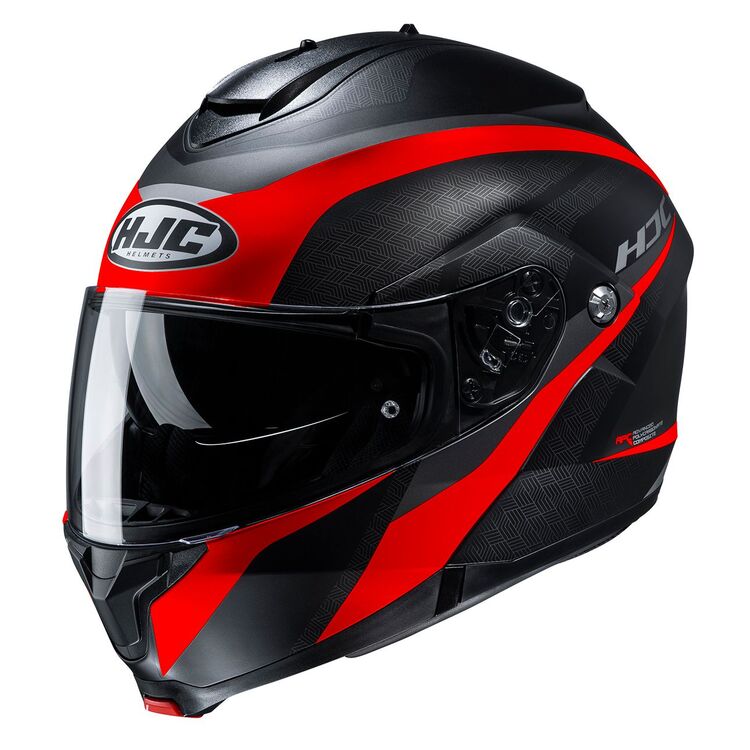 Price: RevZilla $209.99 to $215.99
Price: Amazon $194.99
Warranty: 5 years
Head Shape: Intermediate Oval
Weight: 3.73 lbs 
By far the newest helmet in our recommendations, the HJC C91 is not a jack-of-all-trades helmet. It is not meant to be the fastest-looking, nor pretend to be a racing helmet with a flip-up chin bar. What the C91 is, however, is a helmet that HJC themselves say "focuses on doing what is important, right."
It is formed with a polycarbonate shell backed by multi-layer, dual-density EPS foam. Ventilation is provided by what HJC calls the "SuperCool" system, which flows air around the entirely of the head, not just the top, to wick away as much head as possible before exhausting up through the top rear. A drop-down sun visor comes standard, and the visor is pinlock compatible, although no pinlock comes in the box.
Where the value starts to come in, however, is with the premium feeling padding and liner, which are all removable for washing and cleaning. It also comes in with the helmet being pre-formed to accept any Cardo or SENA comms device on the lower left of the primary shell. It also has a ratchet-back visor, pulling it tight to the helmet seals when in the down position. This reduces air bleed and noise, despite the sub-$200 price point.
The HJC C91 is DOT certified.
Scorpion EXO-AT950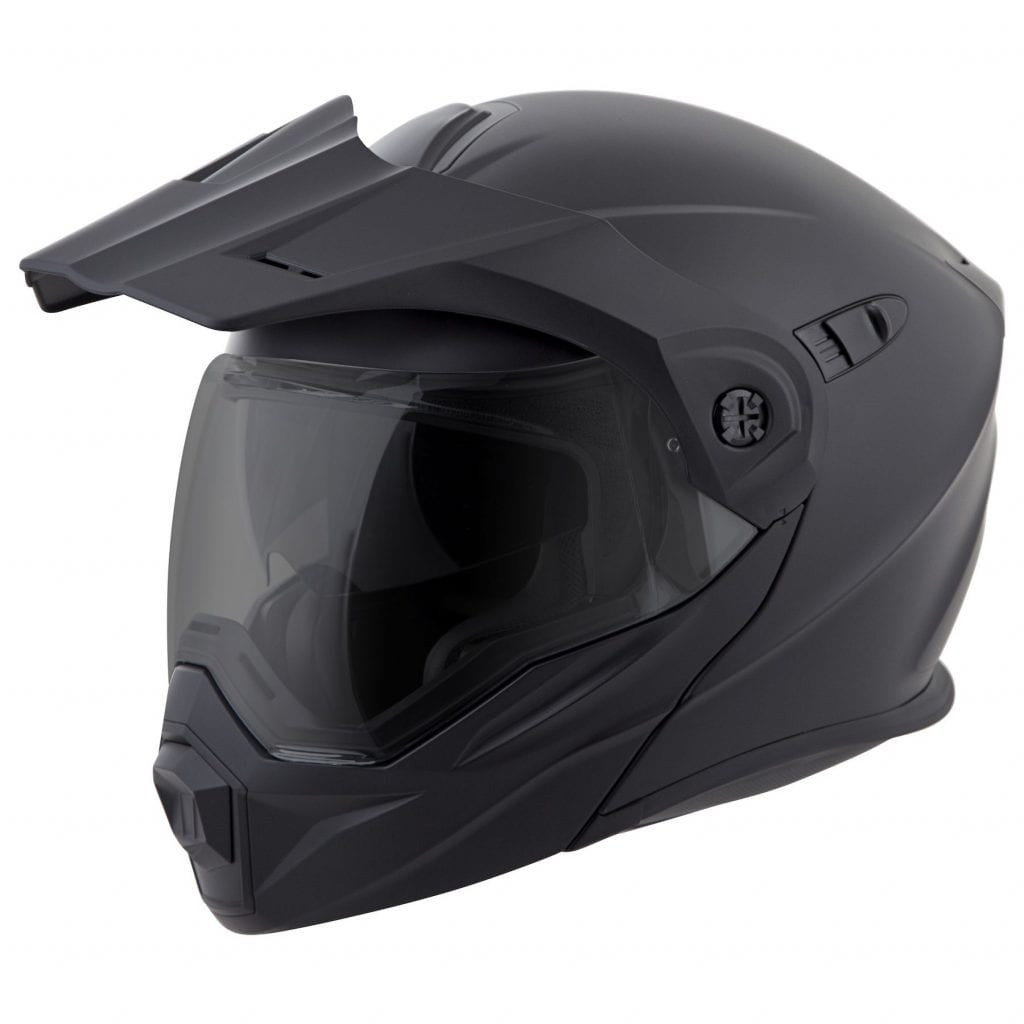 Price: RevZilla $269.95
Price: Amazon $269.95
Warranty: 5 years
Head Shape: Intermediate Oval
Weight: 3.77 lbs
Scorpion has quite quickly positioned itself as the budget-friendly rider's manufacturer of choice. This is not only because they have affordable helmets with excellent features, but because they resist the temptation to put even their top-level gear outside of a budget-conscious riders' reach.
With the EXO-AT950, which is already about 4 years old on the market, you still get one of, if not the, best value-for-money helmets out there. It is a helmet that is realistically three helmets in one. With the visor on and the peak installed, you have an adventure touring helmet. Remove the visor and leave the peak on, add in some goggles and you have a supermoto modular. Take off the peak and leave the visor? Street helmet.
On top of that, it has a built-in sun visor, and the main visor is extra large to give the best visibility, especially forwards and down, for the adventure rider to see what is coming. Made of LG polycarbonate, the shell is backed by multi-layer dual-density EPS foam. The top of the helmet and the chin bar both have glove-operable air vents, and flow a surprising amount of air despite their size.
The lining is of Scorpions KwikWik II, meaning it is anti-microbial and quickly wisps away sweat to be either cooled and carried out via the ventilation system, or absorbed into the machine-washable padding. It also features Ellip-Tec ratcheting on the visor, meaning when lowered, the visor is snugly pulled back into the helmet, reducing aerodynamic leaks and keeping the helmet a little quieter.
The Scorpion EXO-AT950 is DOT certified.
Sedici Sistema II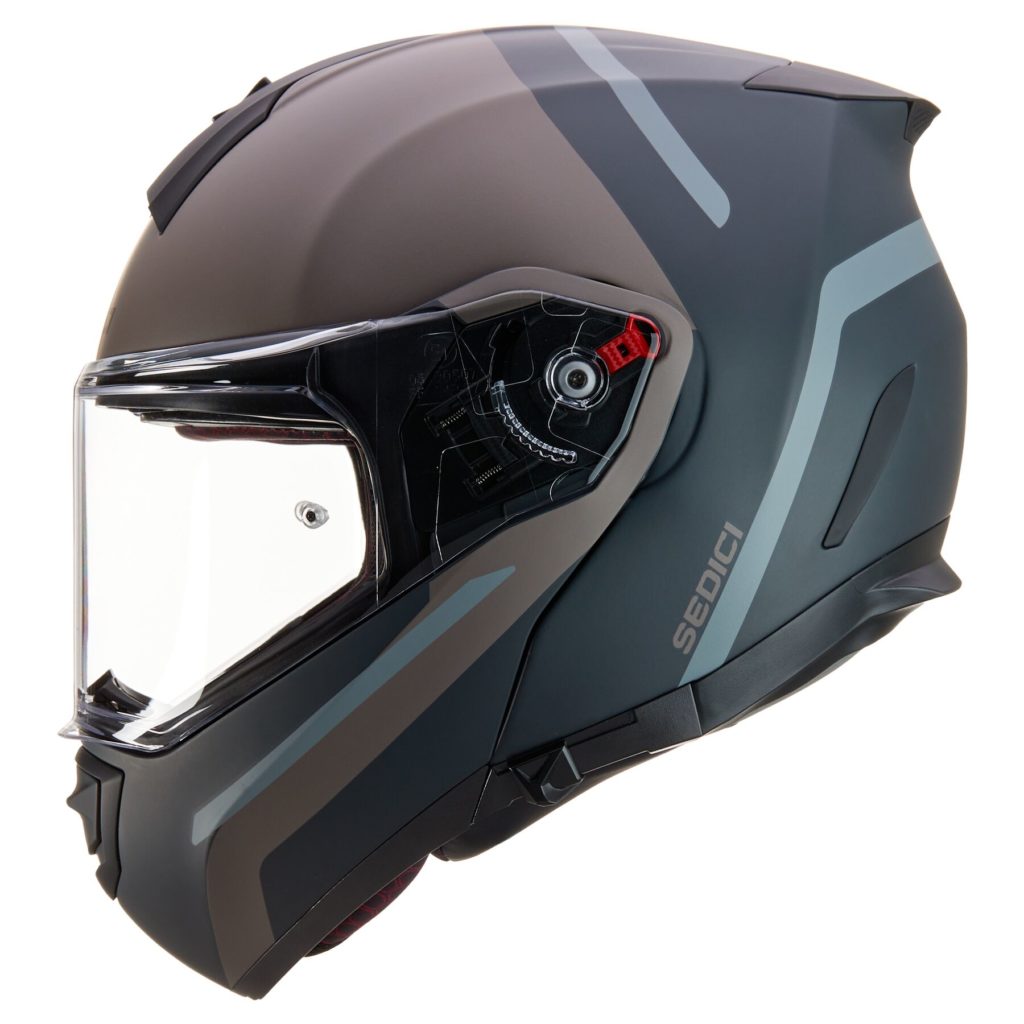 A top pick from the staff at Revzilla, the Sistema II is a killer value.
The shell is a blend of fiberglass and aramid fibers and has been nicely updated and tuned for much better flow through the air compared to the original Sistema. No more wobble head actions when shoulder checking at speed.
The ventilation design is a fairly tried and true set up with an adjustable chin vent and top vent. There is good channeling through the EPS liner and a good-sized exhaust vent out the rear spoiler portion, meaning you won't have an issue keeping your melon cool and dry. Of course, there is a drop-down internal sun visor that is simple to deploy with the slider.
Here is my favorite feature of this Sedici helmet. It has a nice moisture-wicking liner that is easy to remove and wash, but what I really appreciate is the adjustable temple padding. There is 5mm of customization at the forehead and temples to help get the fit just right. This is a rare feature at this price level. Well done Sedici.
Sizes range from XS to 3XL, thanks to the 2 shell and 4 EPS liner sizes. You can also choose between 5 solid colors or the 3 new Horizon graphic options.
The Sedici Sistema II meets or exceeds DOT and ECE-22.05 standards.
Mid-Range: Modular Helmets Between $301 and $600
HJC RPHA 90S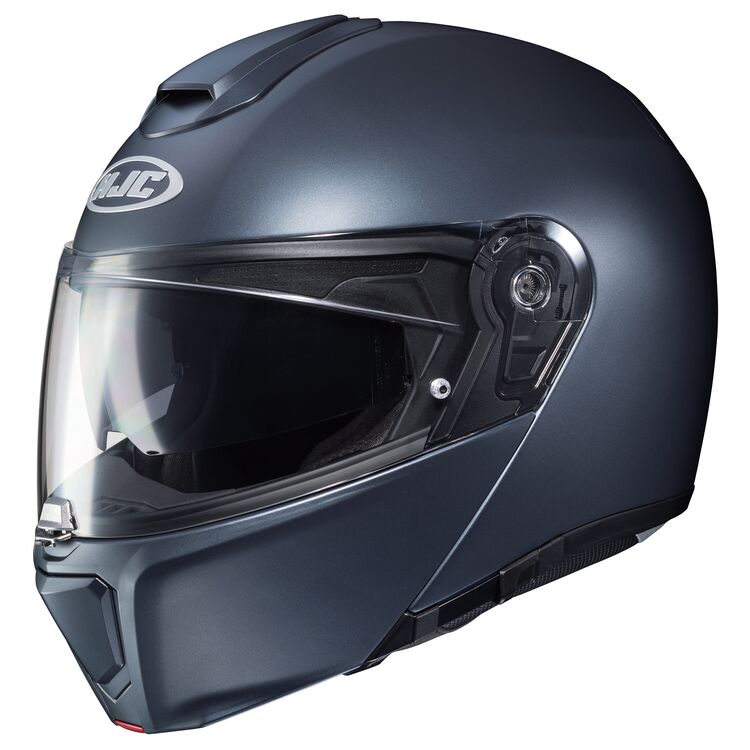 Price: RevZilla $459.99 to $474.99
Price: Amazon $269.95
Warranty: 5 Years
Head Shape: Intermediate Oval
Weight: 3.61 lbs
The HJC RPHA 90S is a helmet that meets at the intersection of a premium high-end helmet and an affordable price. The RPHA branding is used on HJCs best full-face helmets. To have a modular helmet branded as such is not overstating the fact that this modular has more than just a few hand-me-downs from the high end.
First and foremost is that this is a mostly-carbon-fiber helmet, with a mix of carbon fiber and carbon-glass hybrid fabric to make the shell super strong, but also super light. This is backed by multiple layers of multiple density EPS foam for the best impact and shock resistance possible. This is the same construction used in the RPHA 11 Pro, a full-blown competition racing helmet.
Adding to this is HJCs MultiCool interior ventilation, cooling the entire head efficiently with the minimal amount of grooving needed in the EPS foam to keep its structural stability. A flip-down sun visor is standard, as is a visor with an included pinlock anti-fog and anti-UV insert already installed. The visor system is also toolless, meaning that you can swap out visors as needed in seconds, another innovation brought over from the racing helmet side of HJC.
Altogether, it combines to make a super-strong, super light, durable, and comfortable helmet that is among the best of the best for the price.
Bell SRT Modular Transmit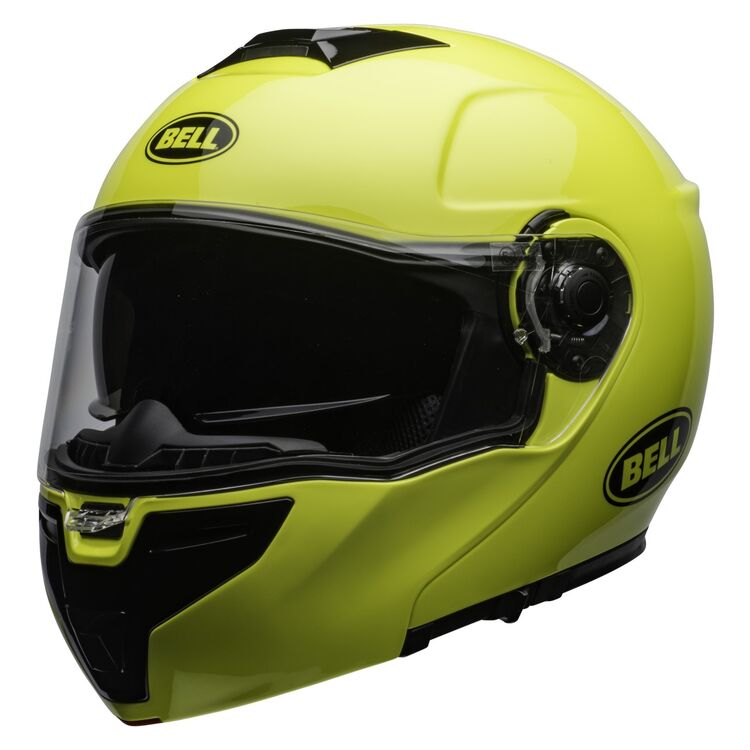 Price: RevZilla $379.95
Price: Amazon $379.95
Warranty: 5 years 
Head Shape: Intermediate Oval
Weight: 3.89 lbs
Bell is amongst the oldest helmet makers in the industry, having just recently passed their 70th anniversary. This is to say, Bell knows a thing or twelve about making helmets. In fact, they were the first helmet manufacturer to produce racing helmets for both bikes and cars, and have been refining their design and engineering ever since.
Made of lightweight fiberglass composite, the shell is lined with motorsports-grade EPS multi-density, multi-layer foam. This is despite the helmet, being modular, not suitable for track use, where full-face helmets are mandated. A very comfortable fabric covers excellent padding, is semi-porous and sweat-wicking, and is fully removable for washing.
There is, of course, a drop-down sun visor, and a "panovision" visor that allows much more use of peripheral vision. The chin bar is also reinforced across the entire bar with stiffer EPS foam, designed to take the brunt of a face-first landing off of a bike without sacrificing structural stability. A steel pin-and-lock system keeps it firmly in place when down.
The visor is pinlock ready, and while not quick-release, it is possible to switch out visors with minimal tools in under five minutes. A wide range of visors are available as accessories, and you can have everything from dark smoke for super-bright days to double-layered clear for cold nights when you can't risk having fog forming.
To have a fiber-composite helmet, with race-grade technology, from one of the original helmet manufacturers at this price point is ridiculous. We stated that we're about value for the money, and if your head fits into a Bell SRT Modular, of any subtype including the Transmit, then it's a helmet that must be in your collection.
Shark EVO One 2 Solid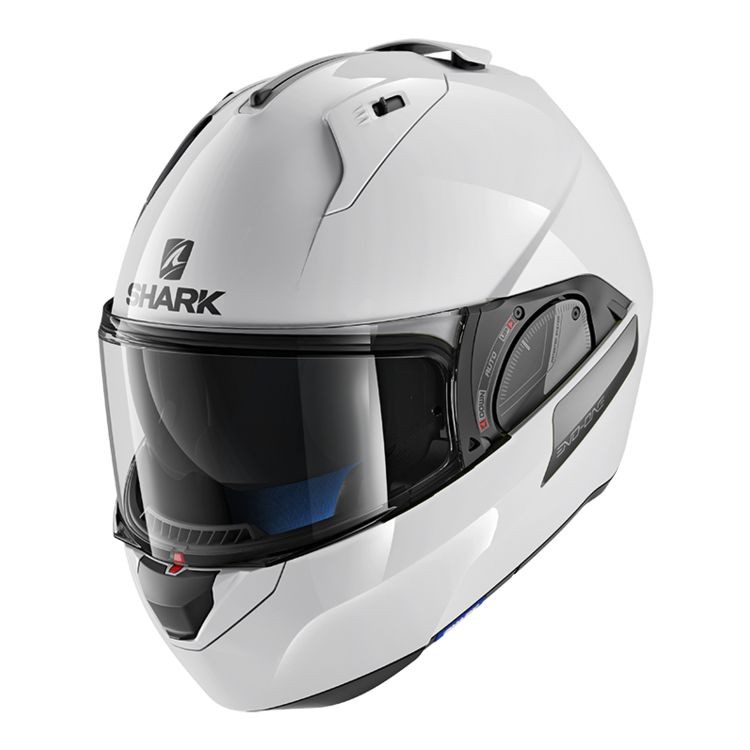 Price: RevZilla $449.99 to $469.99
Price: Amazon $469.99
Warranty: 2 years base, 5 years if registered with Shark online within 90 days of purchase
Head Shape: Round Oval
Weight: 4.03 lbs
The Shark Evo One 2 is, in the simplest terms, a modular helmet with a nifty trick up its sleeve. We'll go over that later. For the more important bits, the helmet is made from resin-reinforced injected thermoplastic, and is backed with the expected dual-density, multi-layered EPS foam. The liner and padding is fully removable, is anti-microbial and sweat-wicking, and is machine washable.
Now, for the trick with the helmet: Most modulars allow the chin bar to be rotated up 90 degrees. This is not entirely safe during riding, and can cause the helmet to lift in high winds. What Shark has done is made the chin bar rotate 180 degrees, to slot tightly to the back of the helmet. This brings it out of the airflow, and lets the helmet convert from a modular full face to a three-quarter helmet.
To prevent the visor from having to go through that same rotation, it has an intelligently designed system where if you push beyond 90 degrees, it will drop out of the way of the chin bar, and then lower back over the face as the chin bar is rotated via a reversing ratchet. In three-quarters mode, the clip in points for the chin bar become air intakes, to allow cool air to flow down the sides of the helmet to join the two top mount intakes and two venturi exhaust.
Other features are a drop-down sun visor, a pinlock MAX compatible visor, three front intakes and two venturi exhausts out back. Those clasp-in points are also magnetic for when the chin bar is down, and are reinforced with a standard steel pin-and-lock system to make the chin bar double secure.
For the price of the helmet, it is feature-packed, and works as a helmet both for the scooter and the motorcycle, if you have both. The Shark EVO One 2 is DOT and ECE certified.
Simpson Mod Bandit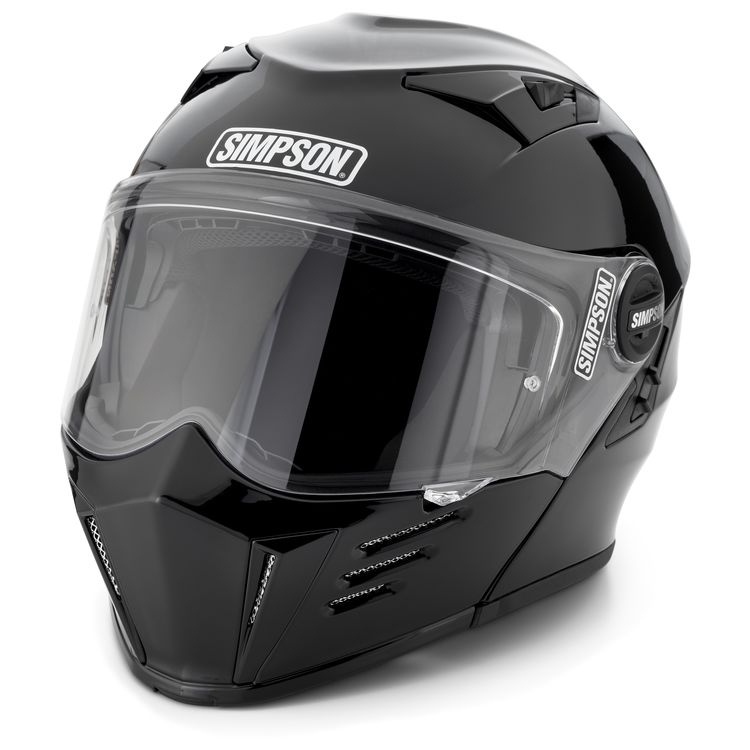 The Simpson name is quite popular, and the Bandit style even more popular, thanks to a certain tame racing driver on a fairly small, not-well-known, low-budget British motoring show that rhymes with Pop Steer. Well, they have a motorcycle version of it, and even better, it's modular!
What makes the Mod Bandit a great helmet is both aesthetics and functionality. While the aggressive shape makes it one of the most fearsome-looking helmets on our recommendations, it also does add to creating some wind noise if your bike doesn't have some kind of windshield or wind deflector. The functionality of it, however, is that the helmet flows an unbelievable amount of air. The front and top vents can flow so much cooling air that it has been noted by reviewers and users of the Mod Bandit that at times, it doesn't feel like they are wearing a helmet at all.
The helmet does have a few flaws, most notably the previously mentioned wind noise. This is a helmet where good quality riding earplugs are definitely recommended. It is also somewhat difficult to operate the chin bar release with gloves on, until you learn where it is and can hit it by memory.
Apart from a few of the downsides, however, the helmet is definitely worth looking into if you live in a place where a large portion of your riding is going to be in hot weather, as this helmet will keep you both looking and feeling cool. The Mod Bandit is DOT certified.
Nolan N100-5 Modular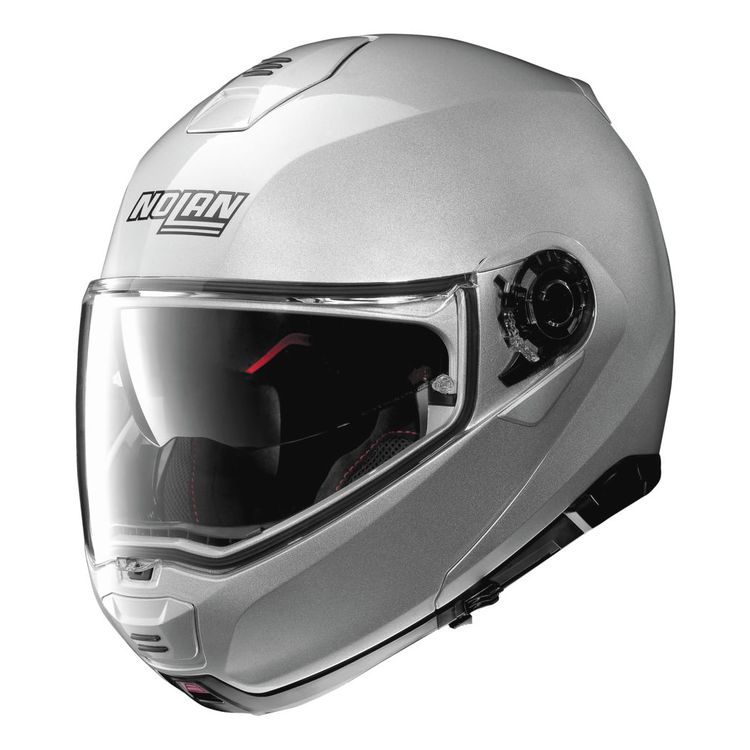 Price: RevZilla $409.95
Price: Amazon $343.73
Warranty: 5 years
Head Shape: Intermediate Oval
Weight: 3.96 lbs
The Nolan N100-5, and all of its graphic helmet versions, is one of the best value options for the mid-range buyer. It is also one of the most compact to have a modular system, with a join seam that flows much more with the air, reducing wind whistle. The reason for this is that unlike other modulars where the chin bar raises along a circular motion, the chin bar in the Nolan raises in an elliptical motion.
This also allows for the visor to be extra wide and deep, giving excellent peripheral and vertical vision. As well, since the chin bar drops down lower, it deflects more wind away from the neck than other modulars. As with almost any modular, an included sun visor drops down.
The shell is pressure-formed polycarbonate, and the EPS foam is dual-density and multi-layer. The liner and padding are fully removable for cleaning. The ventilation, while not looking spectacular, is on par with Scorpion in that it's impressively effective through smaller openings.
There are a few downsides to the Nolan, however, as due to the longer seam shape, most comm units will not fit. Nolan only certifies their own N-Com bluetooth unit as compatible, although some smaller third-party units have been jerry-rigged to the helmet. As well, the slider for the built-in sun visor is small and can be difficult to hit with a gloved hand.
The N100-5 is DOT certified in both open and closed configurations
High End: Modular Helmets $601 & Above
AGV SportModular Carbon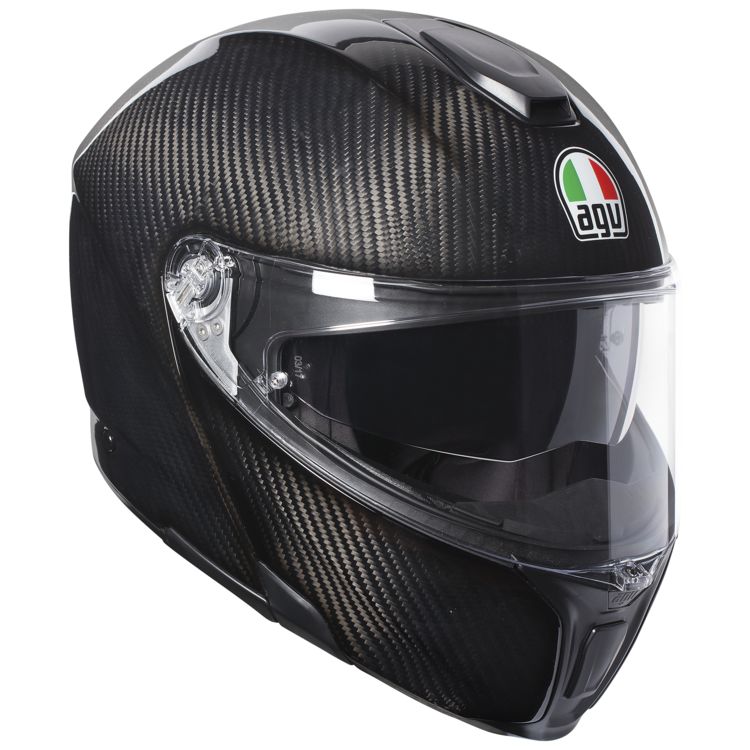 Price: RevZilla $749.95 to $799.95
Price: Amazon $773.05
Warranty: 2 years standard, 5 years if registered within 60 days of purchase with AGV
Head Shape: Intermediate Oval
Weight: 3.2 lbs
As you would expect from AGV, the SportModular Carbon combines the race-proven technology of the Pista GP R carbon helmet with the convenience of a modular setup. Made of pure 100% carbon fiber, this helmet has 5 density EPS impact protection under the super lightweight shell. As well, the ventilation in the helmet is hollowed into the shell and EPS foam to allow maximum air channeling with minimal interruption of the aerodynamic shape of the helmet. The large crown vent and the chin vent combine to flow air around the entire head, with a venturi exhaust under the adjustable spoiler at the top back of the helmet.
Of interest, the crown liner of the helmet is fully reversible, and all of the liners are completely removable as well for washing. On one side of the crown liner is a synthetic wool padding, the kind used to make modern-day fleece linings for rides on cold days. On the other is a sweat-wicking and cooling fabric that works with the ventilation to keep the head cool.
The visor is the same as on the Pista GP R, namely the GT3 face shield. It is Pinlock MAX ready, and comes with a pinlock insert in the box. The visor lock is also up to spec for the price, easy to operate with a glove but very solid when locked in place. The double-D chinstrap rings are made of race-grade titanium, which is almost 50% lighter than standard stainless steel.
The AGV SportModular Carbon is both DOT and ECE certified, in both chin bar open and closed positions.
Shoei Neotec II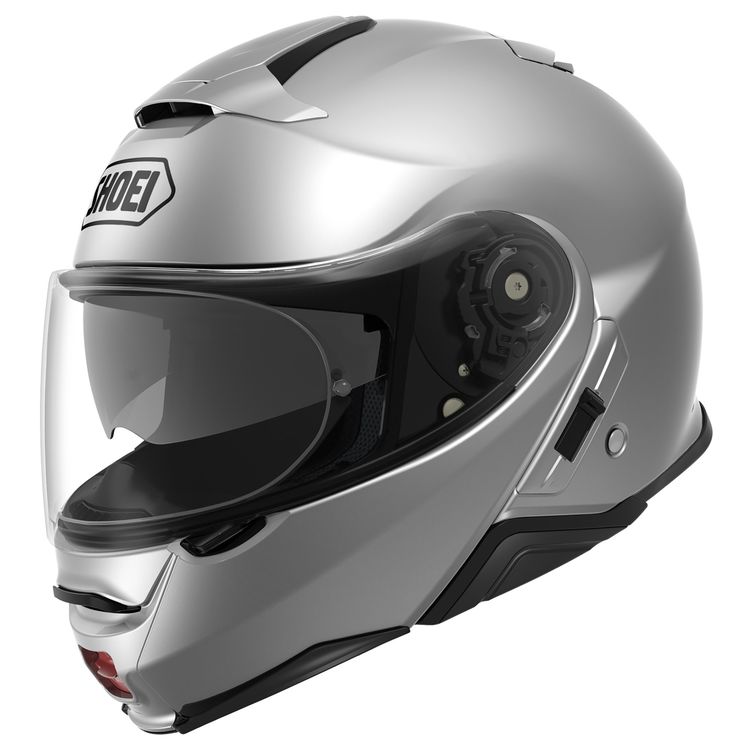 Price: RevZilla $749.99
Price: Amazon $749.99
Warranty: 5 years from date of purchase or 7 years from date of manufacture, whichever comes first
Head Shape: Intermediate Oval
Weight: 4.12 lbs
The Shoei Neotec II helmet is a constant presence on almost every recommendation list for the past couple of years. It is no different in 2021, as despite it being a slightly heavier helmet, it is still the class of the field in modular helmets, even often considered the standard by which all others are measured.
It is the most complete package available. It has a special pullout on the lower left to attach a comms system flush with the helmet. It has some of the best ventilation in the class, with multi-position chin and crown vents. Extremely comfortable liners and padding make the helmet feel lighter than it's 4+ lbs. The sun-visor is ANSI Z80.3-2010 certified to be distortion-free (that certification is used for prescription eyeglasses!).
The chin bar is also double-reinforced with EPS, and has a very glove-friendly front-mounted pull switch that you simply pull down on, and the chin bar releases. The helmet is aerodynamically shaped to push wind and air away from the chin bar and helmet crease, to reduce wind whistle and noise.
The visor is Pinlock EVO ready, and comes with a Pinlock EVO shield installed. The entire helmet is DOT and ECE certified in the closed position.
Schuberth C4 Pro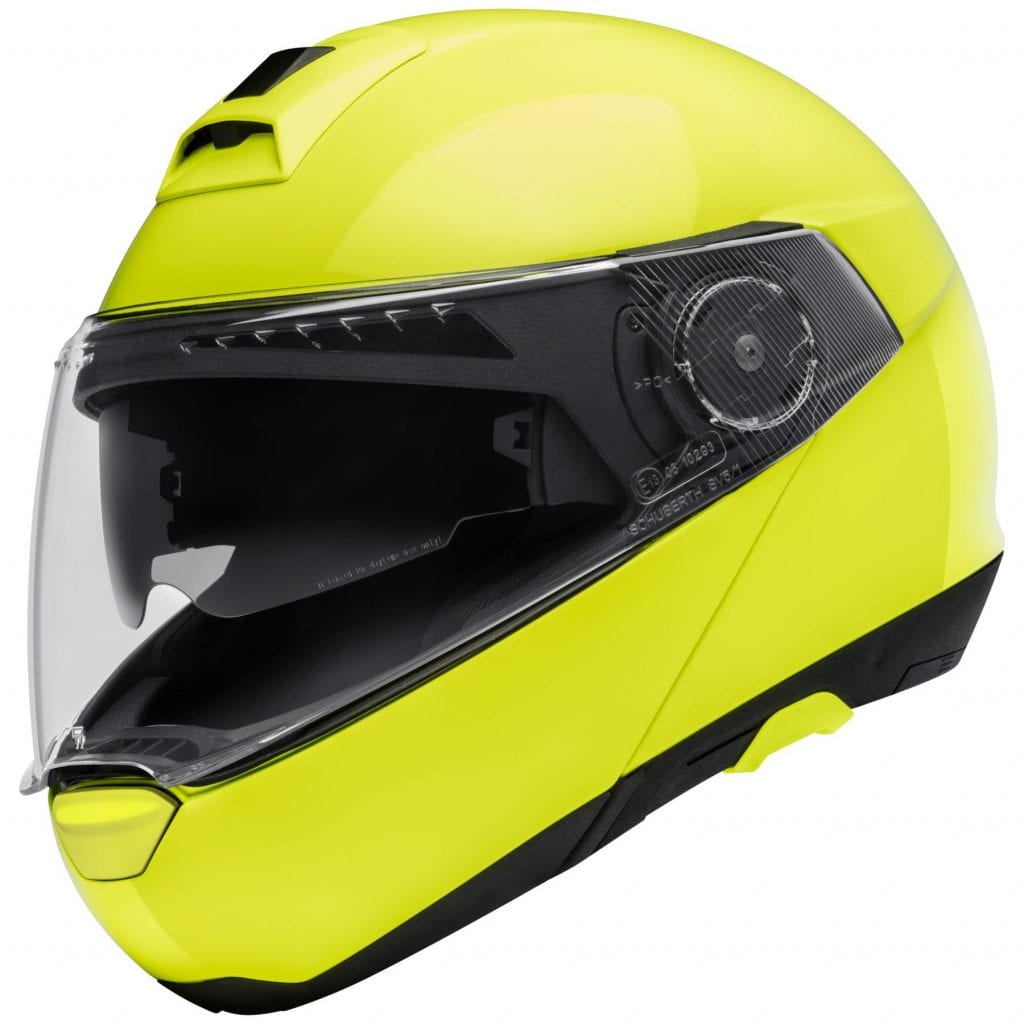 Price: RevZilla $699.00
Price: Amazon $804.99
Warranty: 5 years
Head Shape: Intermediate Oval
Weight: 3.91 lbs
The Schuberth C4 Pro is another helmet you will find on most modular helmet recommendation lists, even in 2021. This is because, despite being about 3 years old now, it is still a class-leading example of how the Germans are known to engineer perfection.
The shell is made using very fine fiberglass laid down in one continuous strand, so there are no starts or ends to the fibers to present even the smallest weak points. The interior is multi-layer EPS under some of the most comfortable padding and liner fabric you can find on the market today.
What makes the Schuberth C4 Pro exceptional is that, in partnership with SENA, it has pre-fitted a microphone, speakers, and a range boosting antenna in the helmet. This works with the SC1 system, an optional $229 add-on from Schuberth, that slots into the back third of the left side of the helmet, and gives you full connectivity using Sena connectivity systems. It is also voice-command capable, and has two glove operable buttons just behind the sun visor slider.
The visor itself is aerodynamically tuned to both move wind away from creases in the helmet to reduce noise, as well as give you excellent visibility. Of course, it is Pinlock compatible and comes with a pinlock shield installed.
There is a new Schuberth C5 helmet coming soon. Keep your eyes peeled.
The Schuberth C4 Pro is DOT and ECE certified.