Ah yes, motorcycle pants; the most neglected category of gear when it comes to purchasing new threads for riding. Typically when getting into riding, this will be the last piece of equipment that you'll buy.
Why? Let's face it, we've all heard the famous-last-words of "a good pair of jeans will get you through the season, get the pants next year" touted by some jean-wearing skull-cap adorned cruiser-riding badass. Unfortunately, that's not me.
Although jeans offer more protection than say, sweatpants, they sure aren't going to stop your legs from being shredded down to the bone when you get pinned under your low-sided motorcycle at 70 miles an hour. That's what leather pants are for.
Riding-specific leather motorcycle pants will offer you the maximum amount of leg protection possible when braving the harsh realities of a concrete jungle or racetrack. Often built with protective armor and reinforced in all the key 'shred-zones', these pants will be your best option to combat road rash and bruised hips.
We've collected a list of what we think are the best leather riding pants to buy in 2022, split into three categories: casual, sport, and finally, some great options for women riders. Not only are they split into those three subcategories, but each category has two products selected in two separate price-ranges—in case you're looking for something on the higher end or are perhaps a first-time buyer not wanting to break the bank in your initial round of gear purchases.
Best Casual Leather Pants
A protective leg-wear option that is safe and also stylish can be very enticing to some riders. Having the ability to walk into your local coffee shop without needing to strip-down to enjoy an hour of reading over a refreshing beverage is always a plus.
Here's a little scenario for you; you're cruising with your motorcycle buddies to grab fish and chips somewhere. Do you take your $1500 Dainese full-leather racing suit off when you get there? Where do you put it?
You shouldn't have to bother with any of that, because thanks to this blog post, you now have a great pair of casual leather pants that are both comfortable and safe, negating the need to remove them at your destination so you don't look like a Power Ranger getting a drink on his day off.
First Manufacturing Smarty Pants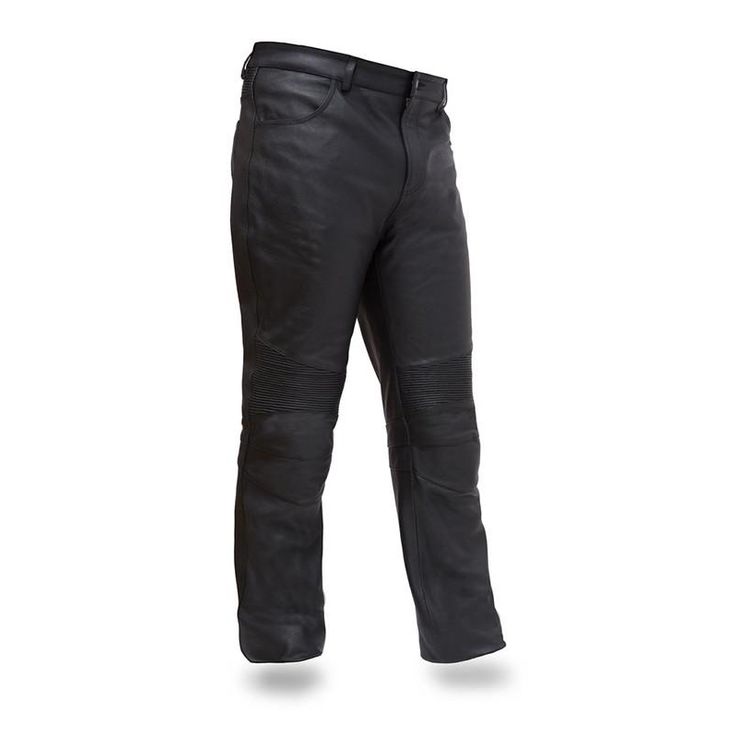 What you have here is a pair of leather jeans. BadAss leather jeans. Thanks to stretch panels above the knees and above your butt, you can ride, sit, and basically maintain your BadAss image all day in total comfort.
These are great, regardless of whether you prefer Cruiser, Naked, Cafe, or Scooter bikes. You will have excellent abrasion protection and a 2 point level up of your swag factor.
Street & Steel Richmond Leather Chaps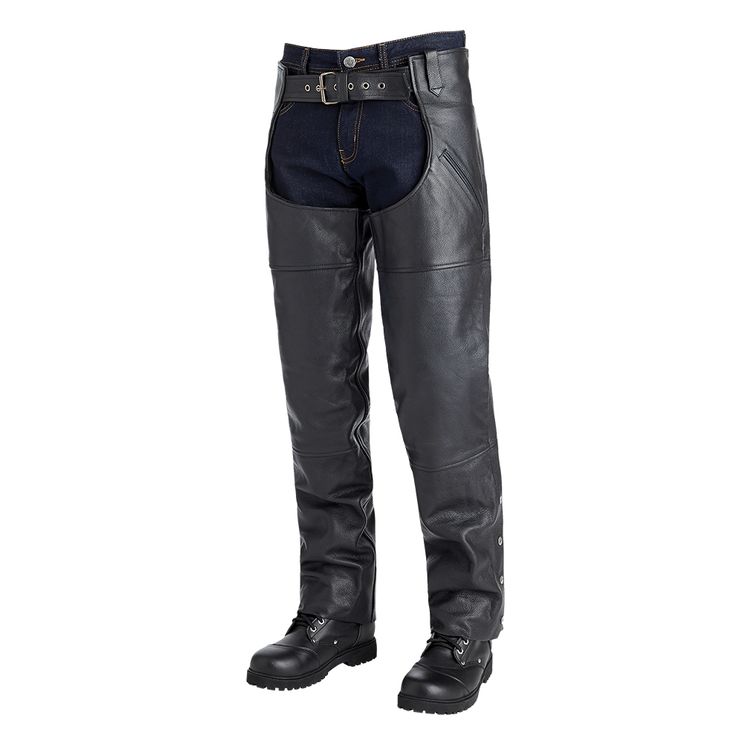 Street & Steel's Richmond Leather Chaps are the perfect pant for getting the job done when a pair of jeans simply won't cut it for safety standards. Chaps can be a great option because they give you the ability to throw them on top of your pre-existing outfit for a layer of added protection.
These chaps are constructed with a matte finish high-quality leather and feature a poly/mesh liner down the legs to be more comfortable. Getting into your pockets can be a little difficult at times when you have pants on top of your pants, so these come with deep pockets to remedy that issue.
Icon Contra 2 Leather Overpants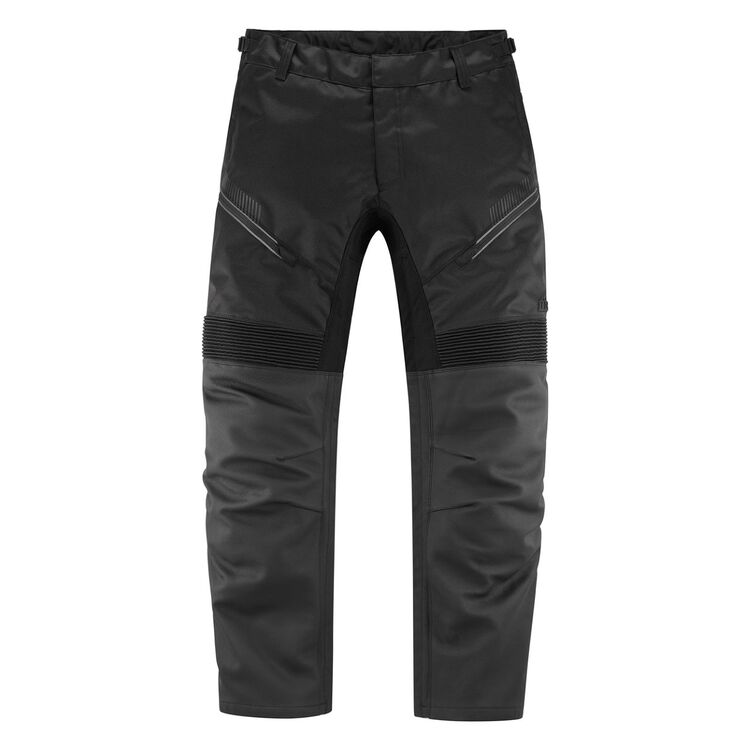 For a slightly pricier option in the over-pant/casual category, we have chosen these Icon Contra 2 Leather Overpants, due to their careful blend of premium leather and textile construction. Sometimes wearing a pant that is 100% leather can be uncomfortable for longer riding sessions, due to the stiff nature of leather. You won't have that issue with the Contra 2.
With the extra $100 you'll be paying over the chaps, you will find D30 armor plates in the hip and knee areas, plus adjustable waist straps and reflective accents. And if you happen to own the Contra 2 Jacket, an excellent added bonus feature is that you can zip it to these pants so they stay in place and remain comfortable at all times.
Best Sport Leather Pants
Dress for the slide, not for the ride. Regardless, if you're planning on doing any spirited riding, you're probably going to want a little more protection than what a standard pair of leather pants is going to give you.
There may not be much room for error when sitting in traffic and commuting into work, but when you're tearing up the racetrack or dragging-knee down some 'filthy twisties' (I'm here for the squids), the added features you can find in a proper pair of sport-riding leather pants—such as sliding pucks—can prove themselves to be quite valuable.
REV'IT! Ignition 3 Pants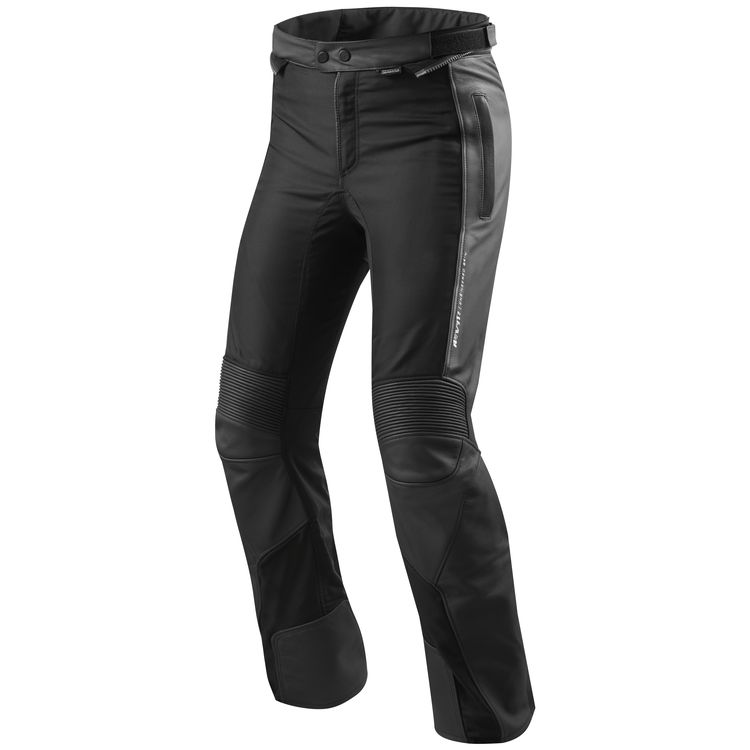 The REV'IT! Ignition 3 pants are a brilliant mash up of leather and mesh (Monaco Performance cowhide and dynax mesh, to be exact). While not a full-on sport-level pant with sliders, these are a step up from casual pants, thanks to SeeFlex CE level 2 armor at the knees and SeeSmart CE level 1 armor at the hips.
REV'IT! includes a removable waterproof Hydratex liner. On warm days, you can leave it out, open the ventilation panels, and enjoy the airflow the mesh provides while still having the protection of leather.
Naturally, these pants will pair perfectly with the Ignition 3 jacket and complete your safety and style requirements.
Alpinestars Missile v2 Airflow Pants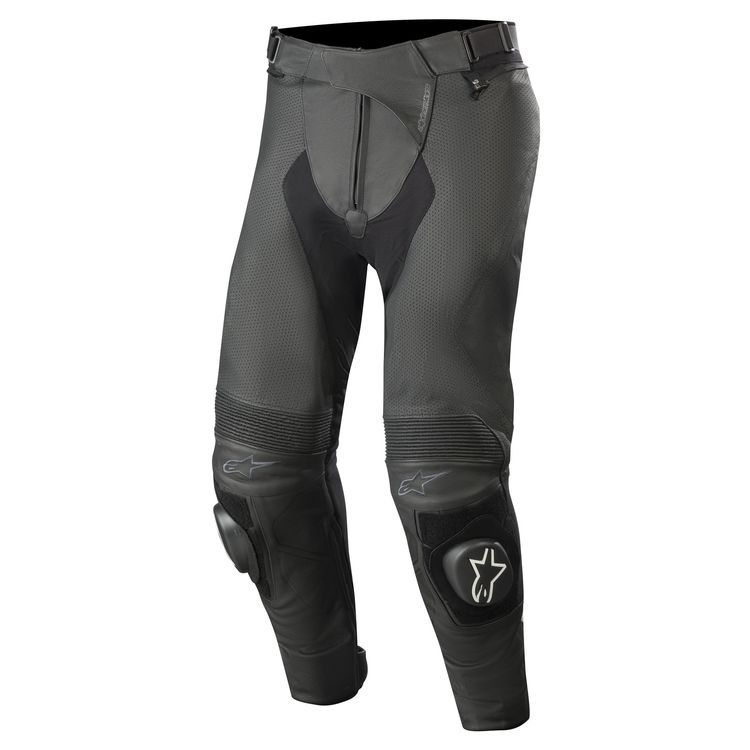 High-performance riding requires high-performance protective gear, and the Alpinestars Missile V2 Airflow Leather Pants deliver. These CE certified pants are constructed from 1.3mm bovine leather with tons of features to keep you cool and safe when out on the track.
The thigh areas feature high-density perforation panels, and all the stretch zones are accordion leather to ensure the pants move with you. If you're getting hot while riding on top of a 100-degree superbike engine, you needn't worry—as these pants come with zipper vents and an internal mesh lining to keep you cool and mobile.
Unfortunately, these pants don't come with pre-installed hip protectors (only armor in the kees), so if you're looking for an option that covers all your bases for CE armor, you'll have to buy the hip armor plates separately. That's unfortunate to see in a $450 pant, but it seems to be a trend that's becoming the norm these days.
Dainese Delta 3 Perforated Leather Pants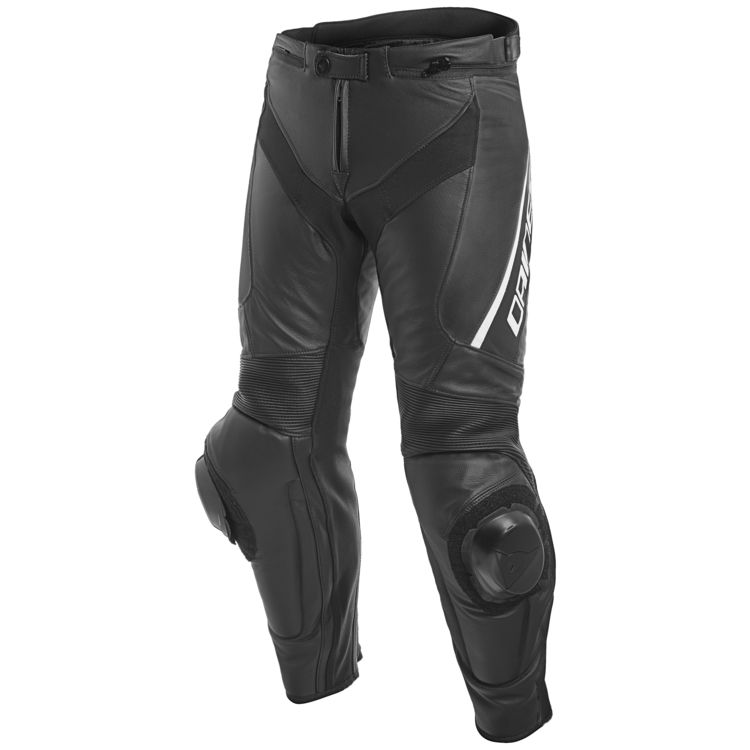 The Dainese Delta 3 Perforated Leather pants are ideal for SuperSport riders and the weekend track crowd. Dianese uses the very same tech in these pants that they have in their top-tier Race Suits. Tutu cowhide leather with perforated cooling zones, S1 bielastic fabric, and Nanofeel Silver Ion liner ensure you stay comfortable and have excellent movement in the saddle.
The pants will zip to most Dianese jackets, and they have a pant-to-boot fastening system to ensure everything stays in place. CE-certified protectors at the knees and hips supply track-level protection (along with interchangeable Pista knee sliders).
If you made the investment in a top-level Dianese jacket, then these might well be exactly the pants you need.
Best Women's Leather Pants
My colleague, Brittany, did a more in-depth list of the best women's motorcycle pants on our sister site, webBikeWorld. Check it out, or keep reading to see some of our favourite pants in this category.
First Manufacturing Alexis Women's Leather Pants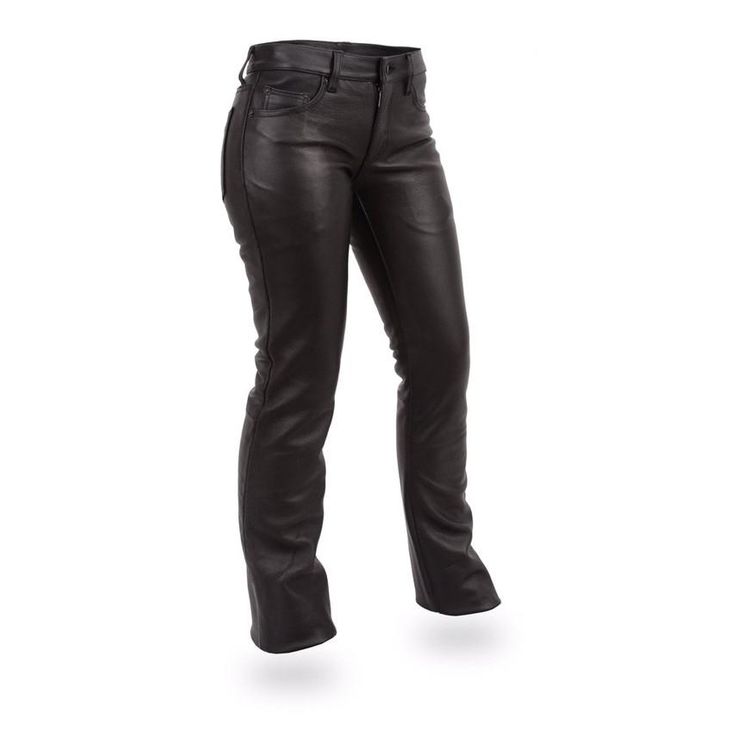 Although they may not offer the most protection possible, the First Manufacturing Alexis Leather Pants are definitely an upgrade from your standard run-of-the-mill jeans. These pants are made out of soft-milled cowhide and have a low rise fit.
Companies can sometimes be a little bit odd when it comes to making sure women's pants have pockets, but these have a total of 5 to keep your valuable on-the-go items close to you at all times.
The internals of the pants features a satin liner to aid in easy removal (skin and leather don't always play well together; trust me). Although these don't have any armor, they're pretty hard to ignore for the price.
REV'IT! Ignition 3 Women's Leather Pants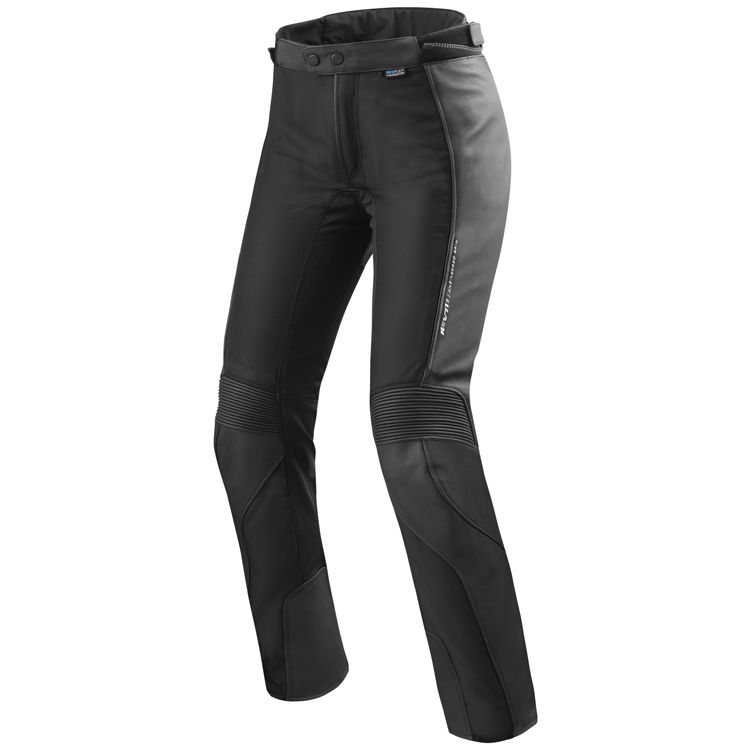 The REV'IT Ignition 3 Pants are the apex of women's riding safety gear. Due to them being the third iteration in the series, REV'IT has had many opportunities to update the pants and refine them for a totally complete product. A feature you'll find in these pants (and not many others) is the Hydratex removable liner that makes them highly waterproof.
The outer shell features Monaco Performance cowhide, Dynax mesh, and PWR | shell 500d stretch material in all the movement areas to keep them comfortable and safe. Reflection panels are also featured in these pants to keep you visible in low-light scenarios, making them the perfect pant for long rides or touring late into the night.
On the safety side, the Ignition 3 pants come fully protected with Seeflex CE level 2 protectors in the knees and level 1 type B hip protectors, offering a true gold-standard of protection.
When purchasing a $400+ pair of pants, it's important to not miss out on any key features or safety components. REV'IT's Ignition 3 pants cover all the bases—making them the best pant option on this list (sorry boys).