Despite this site being called the Badass Helmet Store, we do also like to cover other gear. And while your head is the primary thing to protect while riding, fingers, hands, and wrists are also vital. Not only because we use our hands and fingers to do daily tasks of all types, but they are also what we use to manipulate the throttle, front brake, and clutch of our bikes.
Another quite vital reason to have the best gloves you can is because we, as humans, instinctively will put our hands out to brace if we fall or are thrown from something. With bad gloves, inappropriate gloves, or, in the worst case, no gloves at all, your hands can sustain a massive level of damage.
Finding the right gloves, with the right fit and right aesthetic for your riding style is a lot easier these days than even 20 years ago. We have searched high and low, done the research, and found the best leather gloves for your riding in 2021, based on three types of riding: casual & retro, sport, and adventure.
Casual & Retro
Casual riders are the ones that like to enjoy the ride without screaming at 100 MPH tucked over a supersport. They are about the feel, the relaxation, the freedom, and the fun of riding a motorcycle. Often, they like their gear as relaxed as they are, not shouting out with bright colors and flashy logos. And if it looks a little retro, even better!
Dainese Blackjack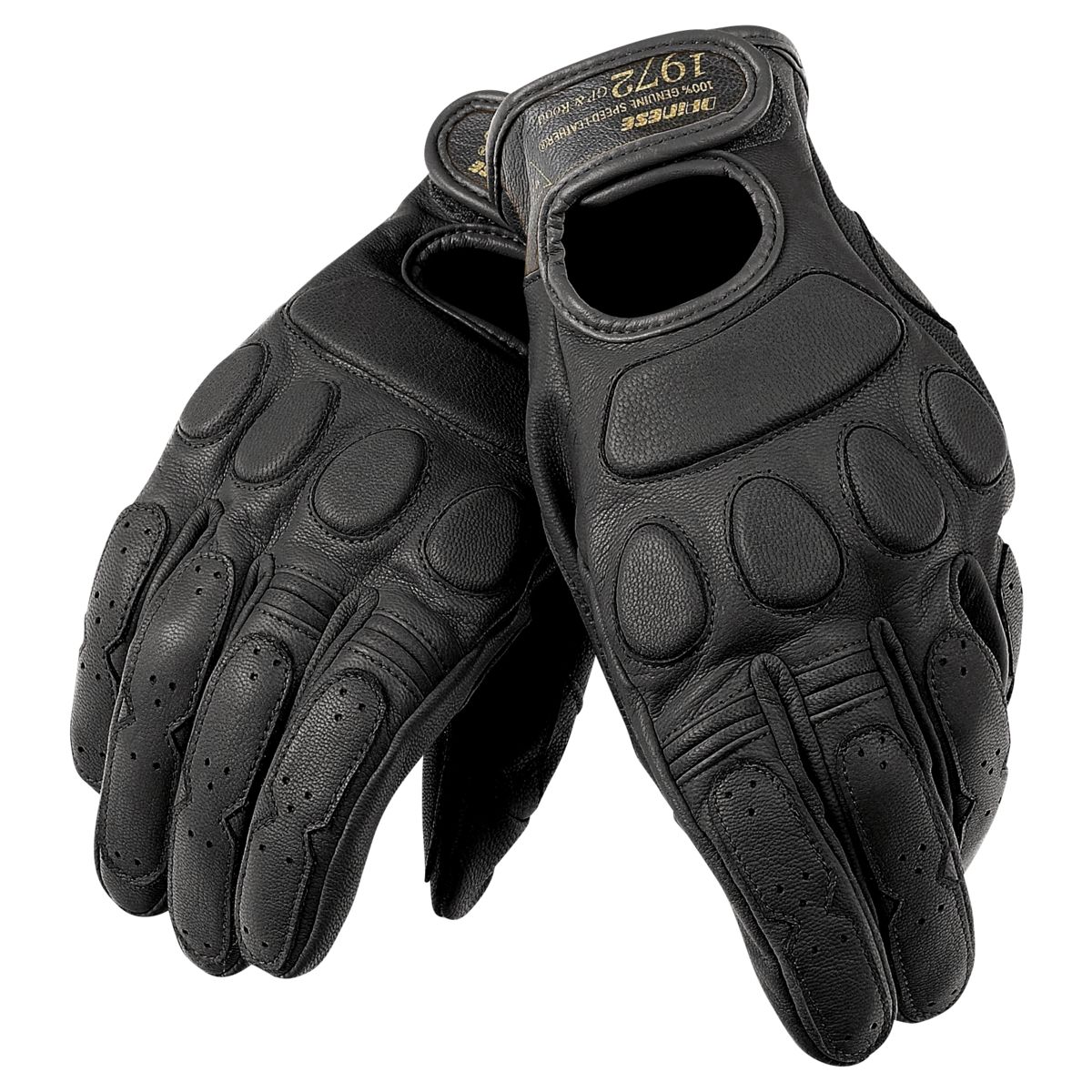 Carrying over from our 2020 list, the Dainese Blackjack gloves are still a prime choice for those that want the retro cafe look without having to deal with the retro cafe quality. Made of goatskin, these gloves are soft and comfortable without sacrificing any protection.
Soft armor covers the fingers, with harder armor over the knuckles. There is a subtle but present knife-edge pad as well, in case you need to slide out on the edges of your hand. The palm is nicely padded to absorb both handlebar vibrations as well as asphalt slides.
It is noted that these are specifically warm weather gloves, but if you have a jacket that has thumb hooks to pull down an insulating liner, these gloves will marry well with those jackets. An excellent set of gloves for the retro rider.
Scorpion EXO Klaw II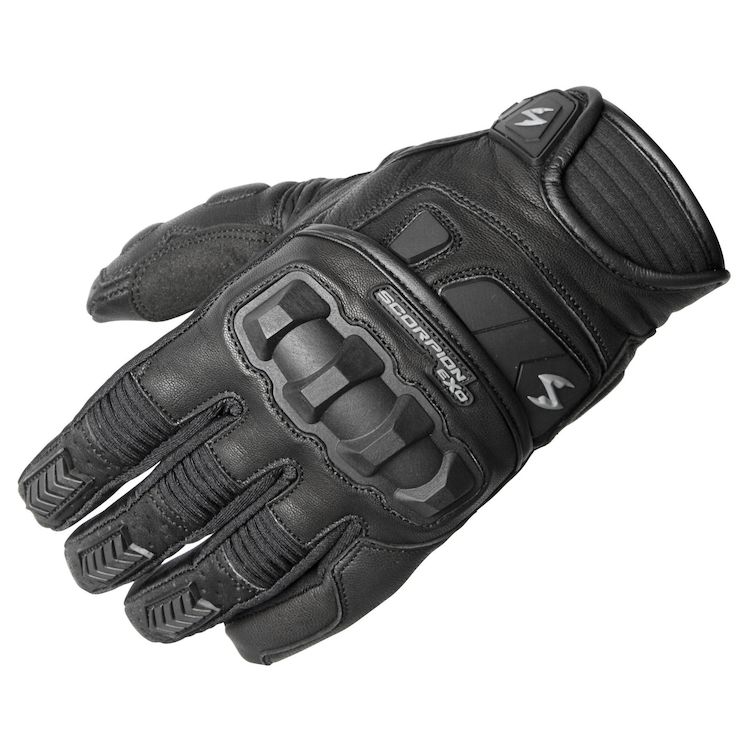 Scorpion has been making great strides in gear other than helmets in the past few years, and we're quite happy to recommend the EXO Klaw II gloves. Made of goatskin throughout, key areas are reinforced with TPU armor, especially across the knuckles and down the fingers. There is a water-resistant neoprene cuff that is soft and is designed to repel light splashes.
Not exactly subtle, the EXO Klaw II's are still a casual style glove. They would pair well with a modern day naked or even possibly a streetfighter, with subtle but casual aggression about them.
Highway 21 Black Ivy (Women's)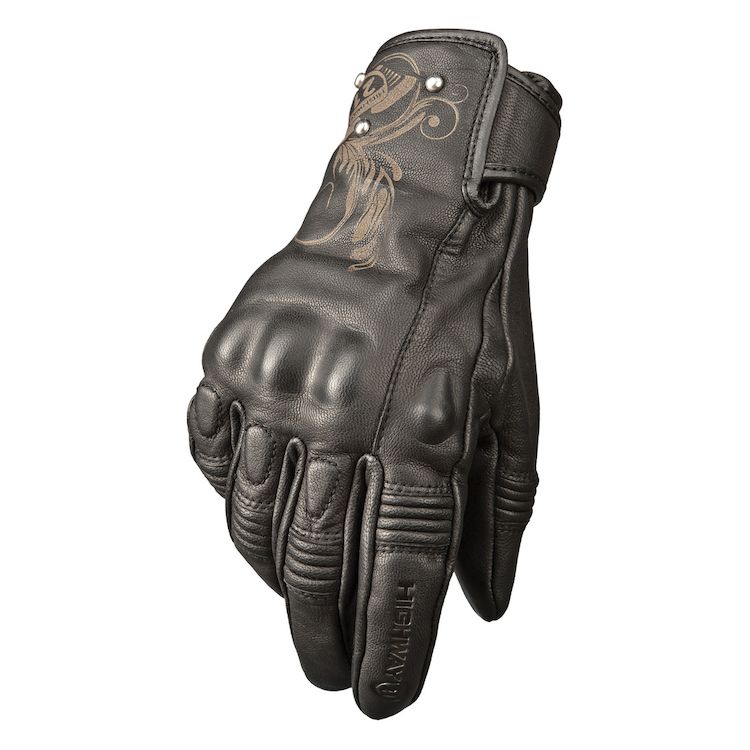 Price: $49.95
Fit: Short cuff slim / cafe
While the two previous gloves do carry unisex fitment, we do also understand that there are ladies out there that like to ride their cafe or standard bikes with a bit of an understated look. For them, Highway 21 has made the Black Ivy, a cafe-inspired glove that features a full goatskin leather construction.
There are impact foam knuckles, double stitched fingers and thumbs, impact padding on the heel and palm, and accordion stretch zones so that you can have a full range of motion despite the pre-curved fingers of the glove. They are also quite understated when looking at the range of women's gloves available, as many are quite simply leather without and impact protection, or sport gloves with flashy logos and massive, protruding protection features.
Sport
Sport riders are the ones that prefer the most protection. Gauntlet style gloves, with full armoring on the knuckles, fingers, palm, edge of the hand are par for the course. The common downside to the added levels of protection offered by sport gloves is that they can be quite expensive.
REV'IT! League & Xena 3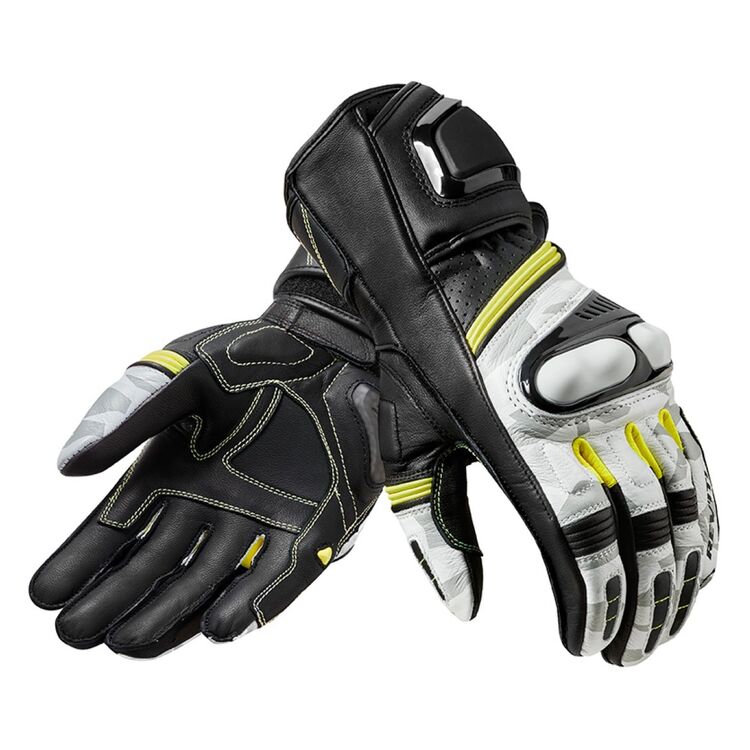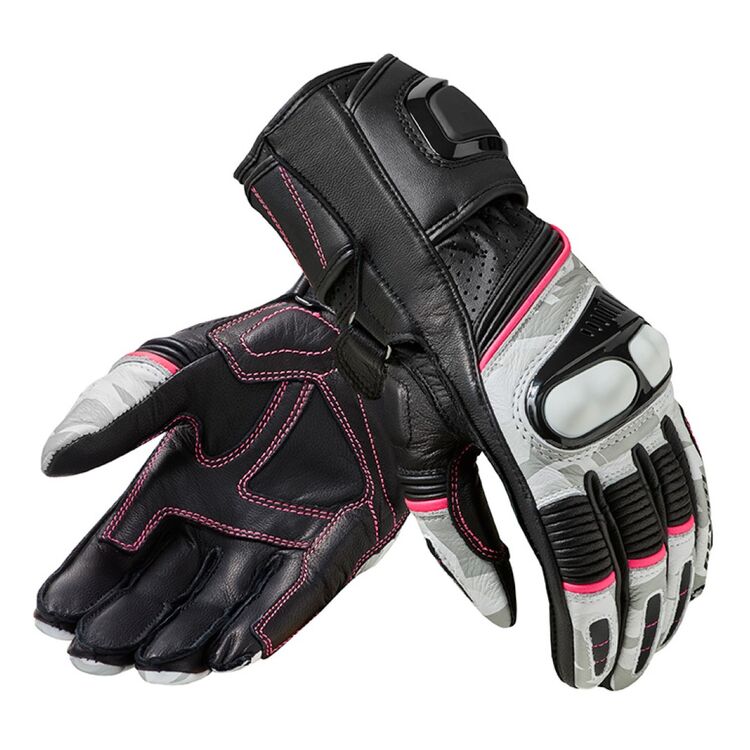 Fit: Gauntlet, street sport fit
A carryover from 2020, the REV'IT! League and Xena 3 gloves are technically the same glove, but named differently for men and women. They have carried over mostly due to the fact that next to buying actual racing gear, these gloves are some of the best you will find for the street.
The fact that the knuckles are protected by not one but two layers of TPU armor, with a deformable foam shell underneath that, just makes them more and more sensible. TPU armor sliders in the most common contact areas, including the palm and edge of the hand, is just common sense. The wrist closure is doubled to ensure the gloves don't get ripped off in case of a crash, and, despite the $160 price tag, for that level of protection, these gloves are a bargain
Held Phantom II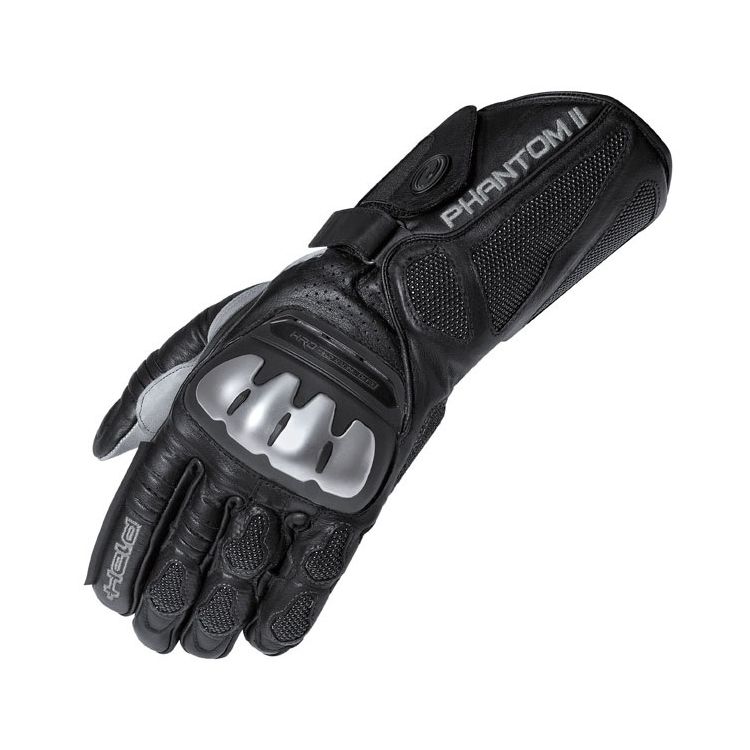 Believe us, we, like many, have been impacted by the 2020 global pandemic, and it may seem a bit out of place to recommend a $360 glove. However, looking at the tech and features of the glove, we actually believe that this glove is severely underpriced.
First of all, it is made of kangaroo leather, which is tough as all hell as well as pliable and durable. On the knuckles, actual titanium guards set into a massive TPU armor pad give excellent slide characteristics without being ground off as one slides, like carbon fiber will.
As well, multiple pads of super-fabric, which is a tight mesh with ceramic reinforcement for both impact and sliding, cover the wrist and fingers. The thumb gets an additional layer of stingray leather over shock-absorbing gel for extra protection. Lastly, the back of the hand is reinforced with combat-grade kevlar weave, providing excellent tear resistance.
Basically, come off a bike at 160 MPH down the front straight of Laguna Seca and these gloves can handle it as well as proper $1,000 racing gloves.
Cortech Apex RR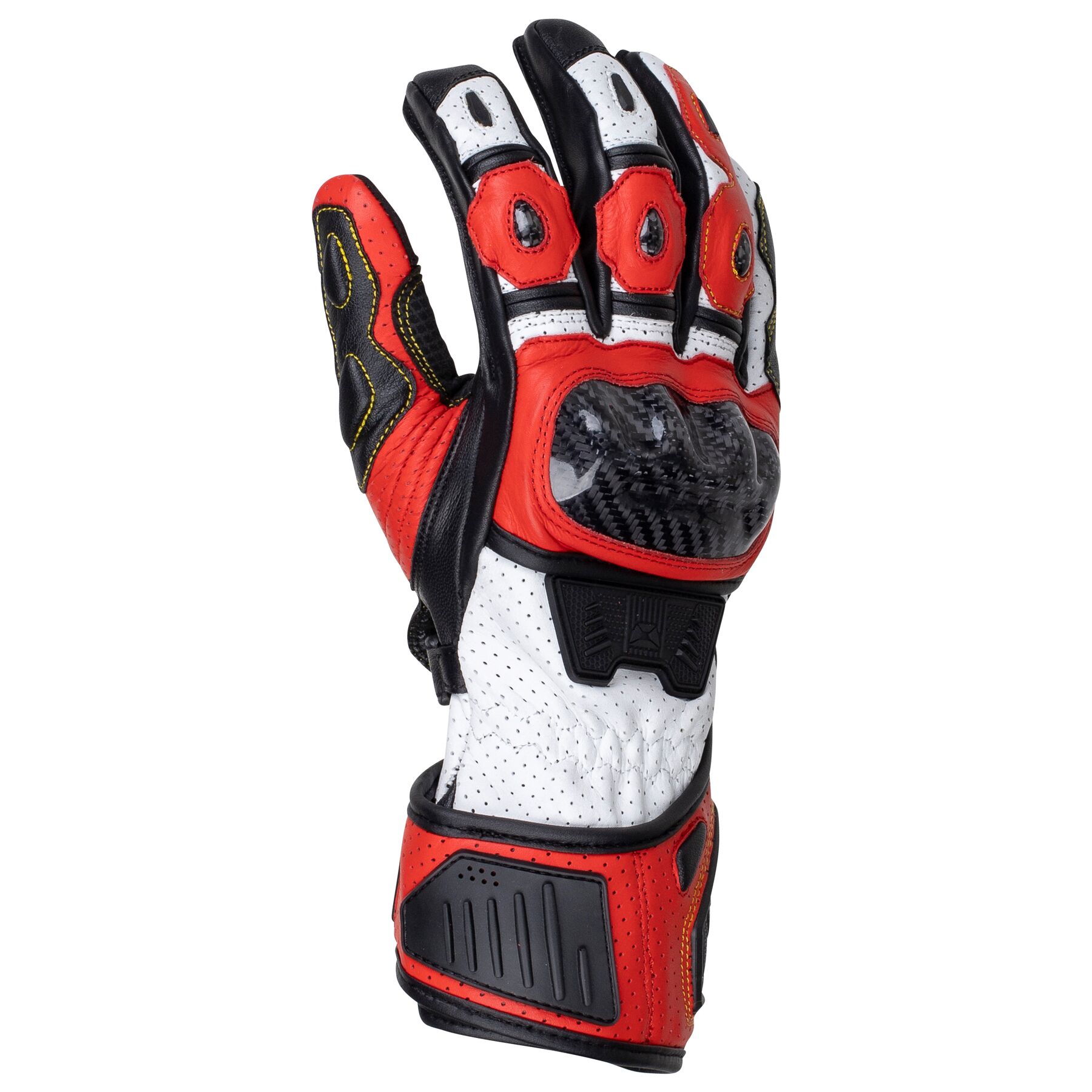 Fit: Gauntlet, street sport fit
Cortech seems to be the right company if you want feature-packed gloves at a really decent price. The Apex RR gloves feature full carbon fiber backed with impact foam on the knuckles, palm heel, and fingers, as well as TPR armor around the wrist to protect the ulna bone.
Goat leather forms the body of the glove, with microfiber inserts on the inside to help wick away sweat. The thumb and index finger have conductive pass-throughs for use with smartphones. Of importance for a sport glove, the seams are double-stitched and reverse-seamed, meaning the majority of the stitching is on the inside of the glove, where it can't be torn by sliding or incidental contact.
It may not be a full race glove, but it is the next best thing, and at a great price to keep your hands intact!
Adventure
The adventure rider is one that wants a combination of high quality, durable leather, with breathability and moisture wicking linings to keep their hands dry. They also look for something most other riders don't look for: penetration resistance, as adventure riding can take one over rocky fields or gravel.
Rev'It! Volcano Gloves
Fit: Semi-short, with some wrist coverage
The Volcano Gloves are the newest offering from Rev'It, and are quite interesting gloves at that. They are lightweight gloves that are fully CE rated for off-road and on-road use, and are penetration resistant and have some water resistance as well. What makes them particular is that they don't use natural leather, instead being made of artificial leather.
Combined with 3D mesh, this artificial leather is extremely durable, and as it was manufactured, the consistency of quality is even across all parts of it. Protection comes in the form of TPR knuckle guards, TPR finger guards, and a foam-and-doubled-leather palm and thumb, with a TPR palm slider.
Klim Dakar Pro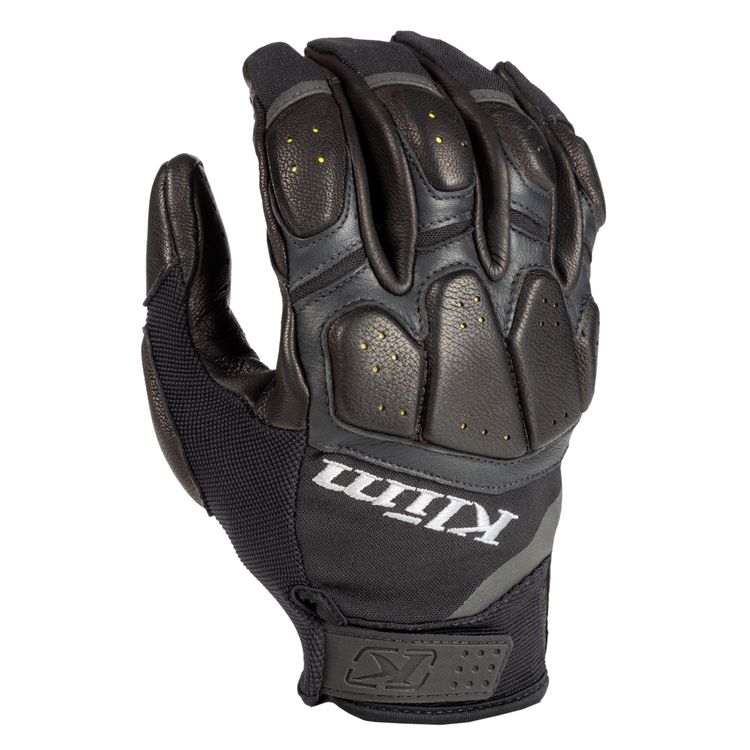 Price: $69.99
Fit: Short cuff, race fit
If there is one thing that Klim does well, it is off-road gear. Carrying over from 2020 is the superb and affordable Klim Dakar Pro glove. Made of goat leather and stretch woven fabric, they are both superb at protecting your hands while also letting them breathe in hot conditions. TPU armor protects the knuckles, fingers, thumb, thumb slider, and edge slider areas of the glove. The palm of the glove is double layered and double padded to provide both impact and penetration resistance.
The glove, at $70, is so durable that it has been used by riders during trials riding, as well as hill-climbs, despite not being officially a competition-grade glove. If you're needing to go anywhere off-road, you really cannot go wrong with a piece of Klim gear.