Despite this site being called the Badass Helmet Store, we also like to cover other gear. And while your head is the primary thing to protect while riding, your fingers, hands, and wrists are also vital. Not only because we use our hands and fingers to do daily tasks of all types, but they are also what we use to manipulate the throttle, front brake, and clutch of our bikes.
Another vital reason to have the best gloves you can is because we, as humans, instinctively put our hands out to brace ourselves if we fall or are thrown from something. With bad gloves, inappropriate gloves, or, in the worst case, no gloves at all, your hands can sustain a massive level of damage if you do this while falling from a moving motorbike.
Luckily, finding the right gloves with the right fit and the right aesthetic for your riding style is a lot easier these days than it was even 20 years ago. We have searched high and low, done the research, and found the best leather gloves for your riding in 2022, based on three types of riding: casual & retro, sport, and adventure.
Casual & Retro
Casual riders are the ones that like to enjoy the ride without screaming at 100 MPH tucked over a supersport. They are about the feel, the relaxation, the freedom, and the fun of riding a motorcycle. Often, they like their gear as relaxed as they are, not shouting out with bright colors and flashy logos. And if it looks a little retro, even better!
Dainese Blackjack Gloves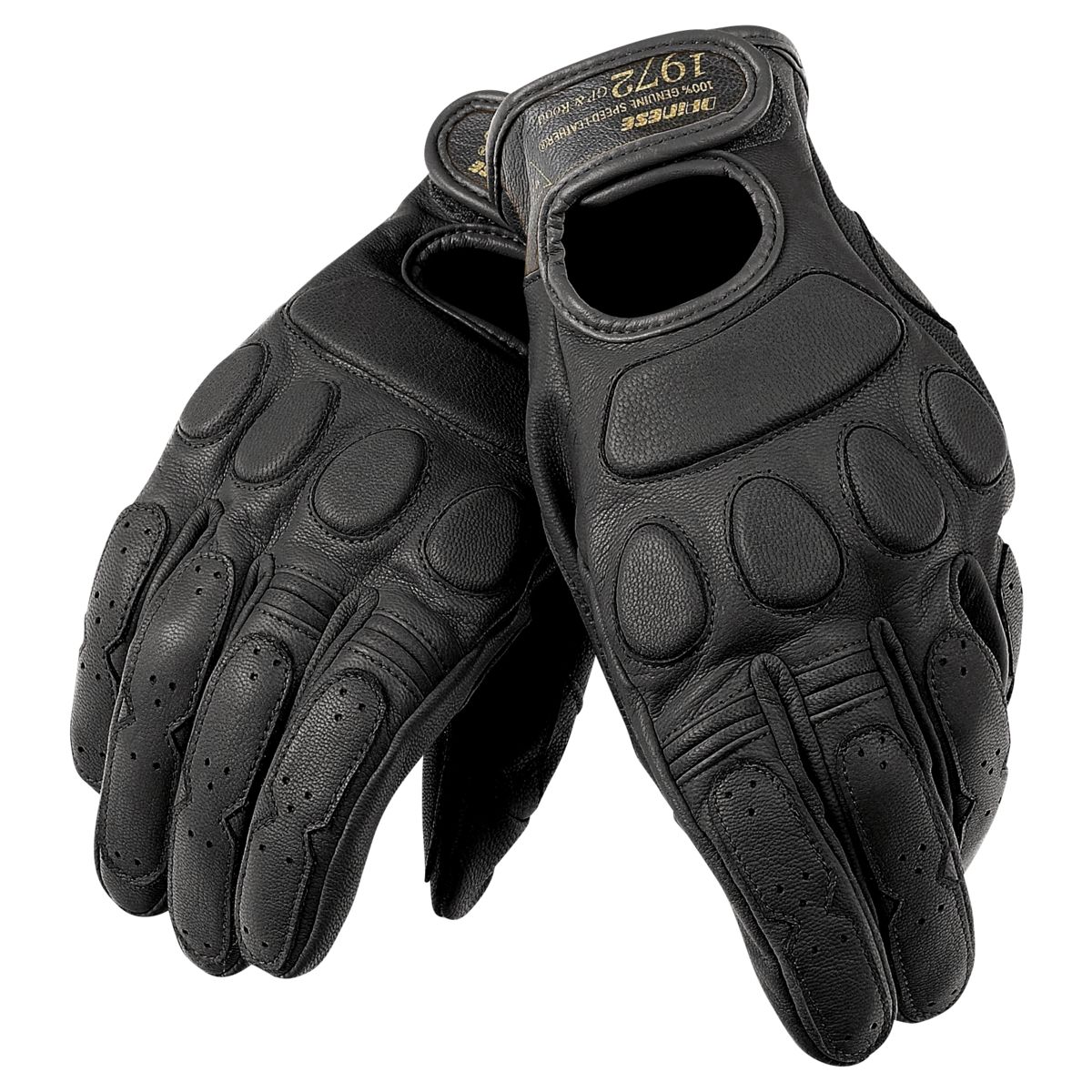 The Dainese Blackjack gloves belong on this list for several very good reasons. To start with, their quality and style both deserve recognition. Made of goatskin, these gloves are soft and comfortable without sacrificing any protection.
Soft armor covers the fingers, with harder armor over the knuckles. There is a subtle-but-present knife-edge pad as well, in case you need to slide out on the edges of your hand. The palm is nicely padded to absorb both handlebar vibrations and asphalt slides.
It is noted that these are specifically warm weather gloves, but if you have a jacket that has thumb hooks to pull down an insulating liner, these gloves will marry well with those jackets. An excellent set of gloves for the retro rider.
Held Paxton Gloves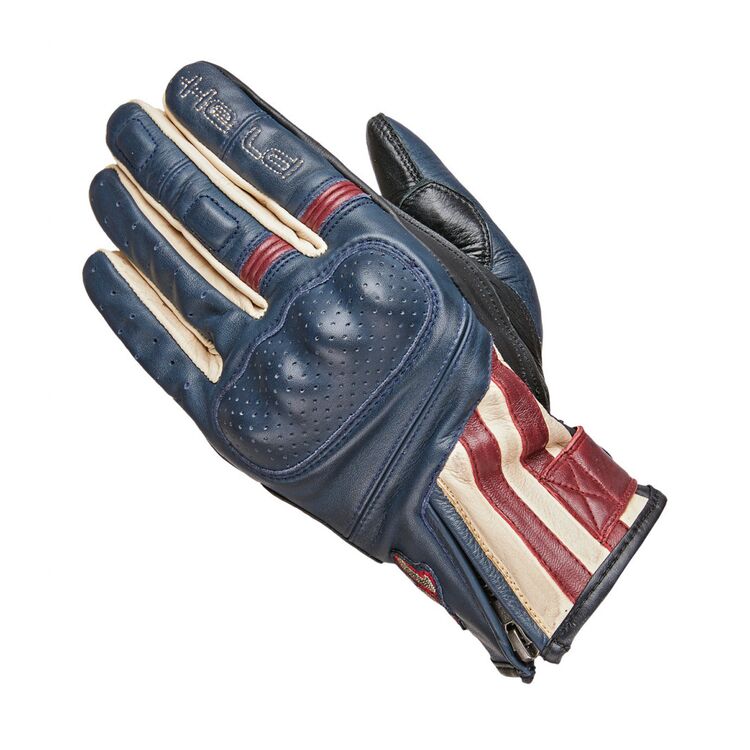 Yes, these are also available in straight black, but I had to show you this ultra-cool old skool Capt. America style that Held has done for their Paxton gloves. This is an amazing retro look for those wanting to up their swag factor.
They're beautifully made with durable cow skin outers and deerskin palms, and for a custom fit, there is a velcro cuff. Maybe a bit for style, but also to hold your wrist adjustment in place, Held provides a zipper to make quick work of taking these gloves on and off.
There is hard TPU knuckle protection, plus foam knuckle & finger protection. Overall, these are well made and offer good protection, but the style and feel are really where your dollars are going.
Highway 21 Black Ivy Gloves (Women's)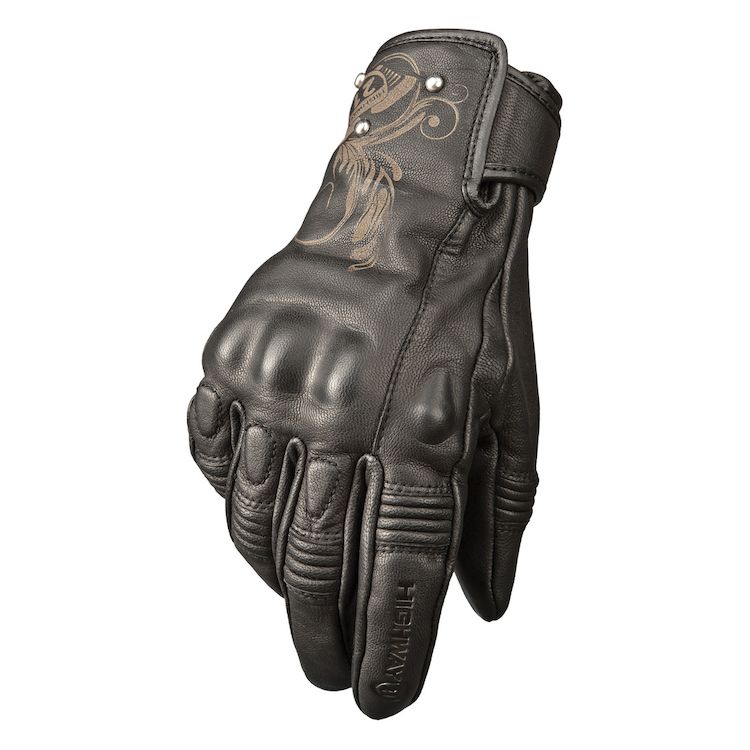 While the two previous gloves do carry unisex fitment, we also understand that there are ladies out there who like to ride their cafe or standard bikes with a bit of an understated look. For them, Highway 21 has made the Black Ivy, a cafe-inspired glove that features a full goatskin leather construction.
There are impact foam knuckles, double stitched fingers and thumbs, impact padding on the heel and palm, and accordion stretch zones so you can have a full range of motion despite the pre-curved fingers of the glove. They are also quite understated when compared to the range of women's gloves available—as many of those are simply leather without any impact protection or sport gloves with flashy logos and massive, protruding protection features.
Sport Gloves
Sport riders are the ones who tend to prefer the most protection. Gauntlet-style gloves, with full armoring on the knuckles, fingers, palms, and edges of the hand are par for the course. The common downside to the added levels of protection offered by sport gloves is that they can be quite expensive.
Alpinestars GP Pro R3 Gloves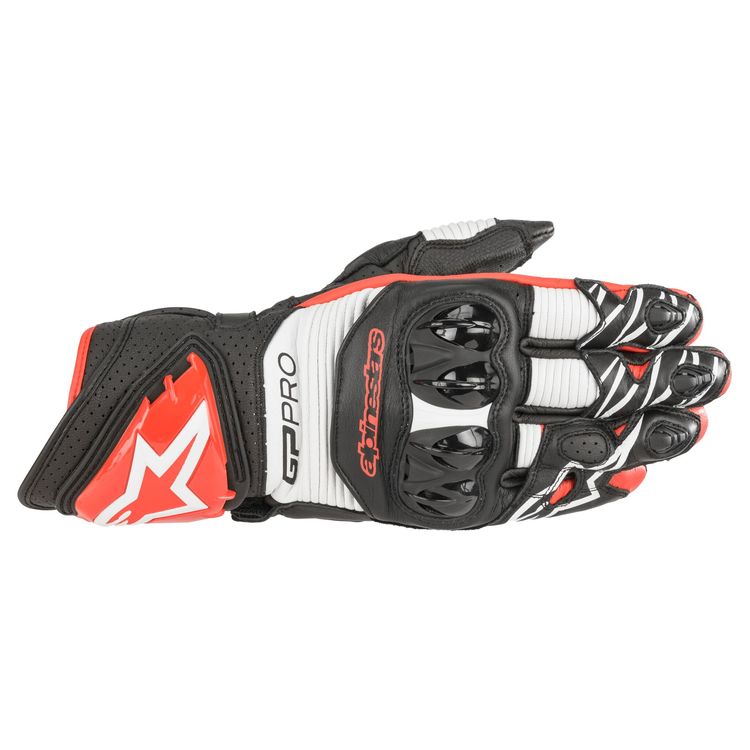 The GP Pro R3 gloves from Alpinestars have earned a staff pick from Revzilla (and a long list of positive reviews) because they improved everything about the beloved R2s and also lowered the price. Win, win!
Why just stick with one type of leather when three could be used? Cow, goat, and kangaroo leather at different areas of the palm provide abrasion resistance, tactile feedback, and durability. There are sliders and reinforcements at every key spot around the hand and wrist, but none of those affect the mobility or feel these gloves provide.
With CE Level 2 certified protection, you can be assured these gloves will elevate your safety level, both on and off the track.
Held Phantom II Gloves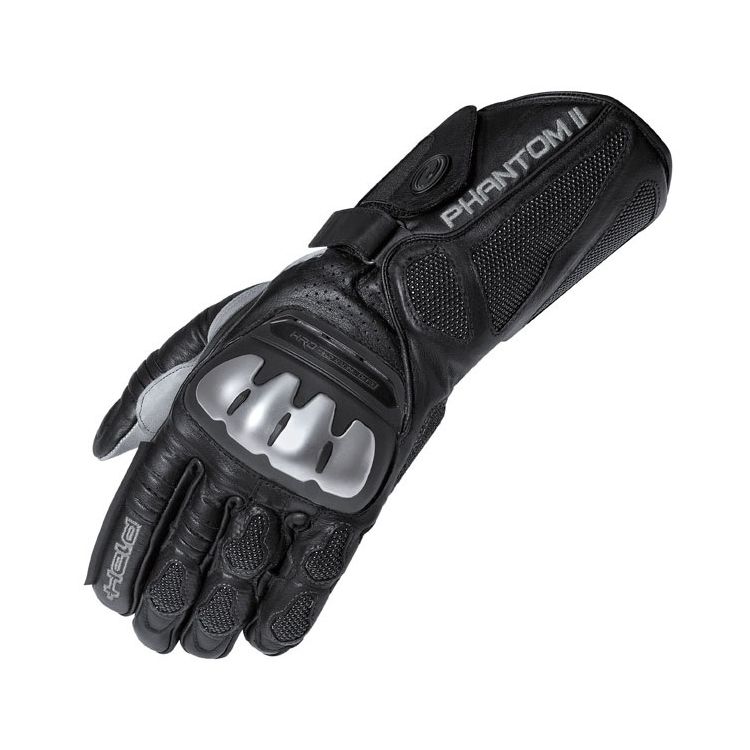 Believe us: we, like many others, have been impacted by the never-ending Covid pandemic, and it may seem a bit out of place to recommend a $400 glove. However, looking at the tech and features of the glove, we actually believe that this glove is severely underpriced.
First of all, it is made of kangaroo leather, which is tough as all hell, as well as being pliable and durable. On the knuckles, actual titanium guards set into a massive TPU armor pad give excellent slide characteristics without being ground off by a single slide, like carbon fiber will be.
Moreover, multiple pads of super-fabric, which is a tight mesh with ceramic reinforcement for both impact and sliding, cover the wrist and fingers. The thumb gets an additional layer of stingray leather over shock-absorbing gel for extra protection. Lastly, the back of the hand is reinforced with a combat-grade kevlar weave, providing excellent tear resistance.
Basically, come off a bike at 160 MPH down the front straight of Laguna Seca and these gloves can handle it as well as proper $1,000 racing gloves.
Scorpion EXO SG3 MK II Gloves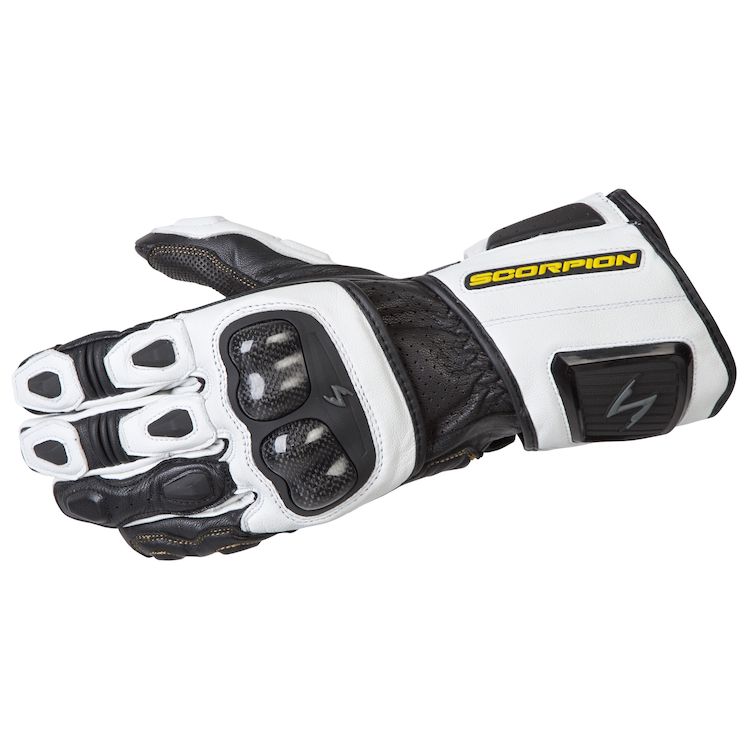 It is absolutely possible to get great protection and looks in 2022 without spending all your cheddar.
Scorpion is the value-conscious rider's best friend; their gear always punches way above its price level. The EXO SG3 MK II gloves are a premium full gauntlet sport offering made from supple and durable goat leather and packed with sliders and quality protectors at every key sport on the fingers, knuckles, and wrists.
They even have touchscreen-compatible index fingers if you feel the need to change songs at speed. Not that we're recommending that, mind you—stop the bike before touching your phone!
Adventure Gloves
The adventure rider is one that wants high-quality, durable leather gloves with breathability and moisture-wicking linings to keep their hands dry. They also look for something most other riders don't look for: penetration resistance, as adventure riding can take them over rocky fields or gravel.
Rev'It! Volcano Gloves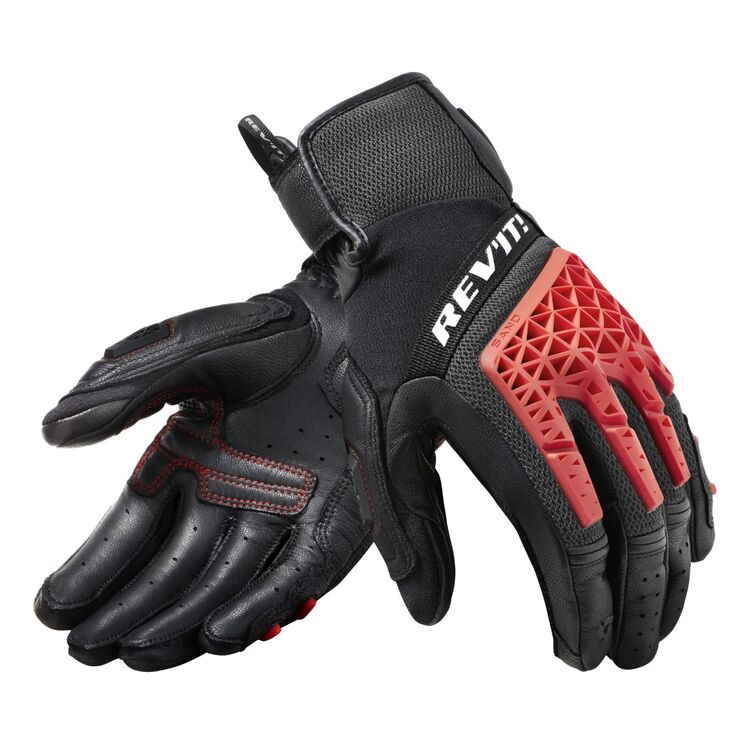 These gloves combine protection with ventilation in an exciting-looking package that will likely appeal to adventure and street riders alike.
The backside of the hand is a mix of abrasion-resistant synthetic materials that provide an aggressive and dynamic appearance. At the same time, a combination of 3D air mesh fabric and PWR 500D stretchy fabric provides excellent airflow and the dexterity ADV riders need.
Designed with adventure in mind, the Sand 4s offer good protection. REV'IT also offers a version of the Sand 4s with waterproofing for a small upcharge (for those who ride in wet conditions a bit more often).
Klim Badlands Aero Pro Gloves

Klim is a legendary name in the ADV gear world—and when they affix the Badlands moniker to a piece of kit, you know that gear is going to be badass.
As the Aero name suggests, these gloves are all about airflow and hot weather performance, but they still offer a level of protection the ADV segment demands. There are oversized perforations to allow for air movement, but Klim also has Ceramic print on the palm, which resists abrasion. There's even more ceramic overlay on the knuckles.
I can go on and on about things like the Klim-engineered rider grip articulation, but let's just leave it at this: these gloves are gnarly and worth way more than the $150 price tag.
Merlin Minworth Heated Gloves (Women's)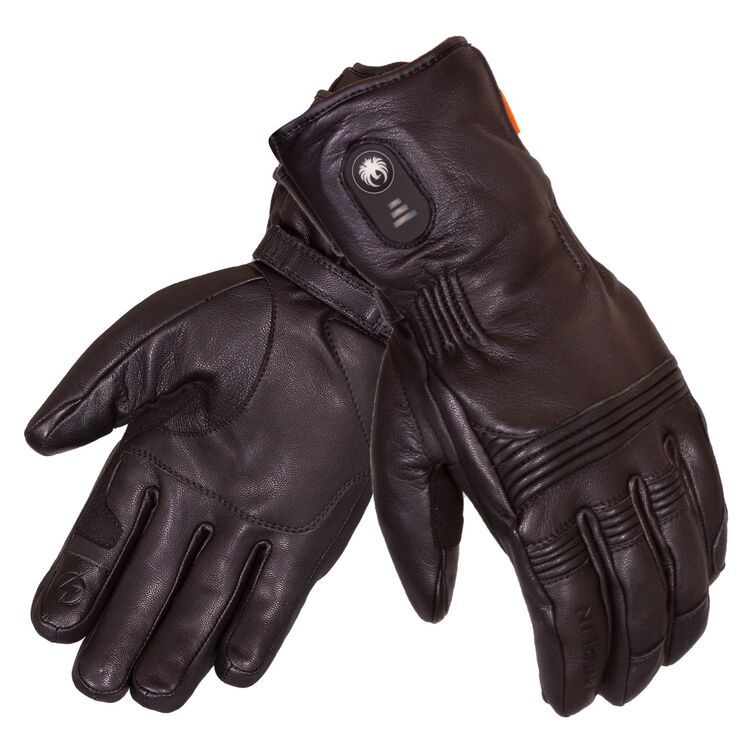 These gloves are equally suitable for Adventure and Touring riders because foul weather claims riders of all styles. The gloves are constructed from cowhide leather infused with a Hipora waterproof membrane, plus there is added Thinsulate to trap the heat.
Speaking of heat, the Minworth gloves are hiding heating elements powered by rechargeable batteries that provide about 4 hours of run time at normal settings. The cuff has a controller to select between the 3 different heating levels.
These are an excellent option for those not equipped with heated grips, or who have a passenger that needs added comfort. The cowhide leather is very durable and D30 knuckle protection offers average levels of impact and abraision resistance, but these gloves are all about being warm and dry.