Safety while riding is a very valuable thing for those of us that partake of the two wheeled lifestyle. We don't have any crash structure to protect us other than the gear we wear, and our body's natural ability to absorb and resist certain impacts.
One of the most overlooked bits of gear, in terms of safety and preventing life altering injuries, are the boots we wear while riding. Incorrect footwear can cause severe damage to our feet and legs, and in some cases can obliterate the foot entirely. This is not to panic you, but to make you realize that riding in sneakers is definitely not OK.
However, many options are available for correct footwear, some of which don't even look that far off from regular streetwear shoes or boots. In today's article, we will be looking at leather boots designed to keep your feet safe, no matter the riding style.
TCX X-Blend WP & Blend WP Women's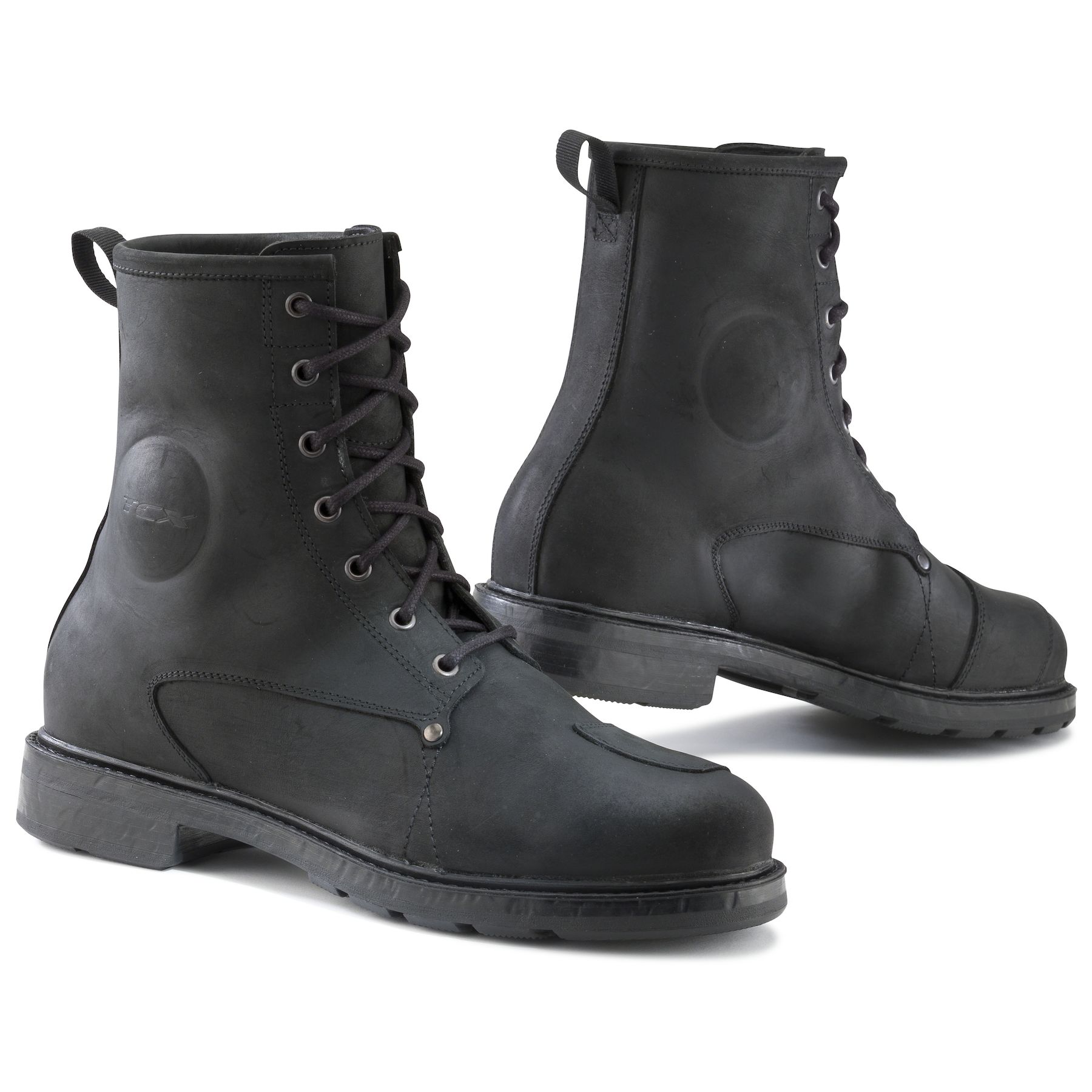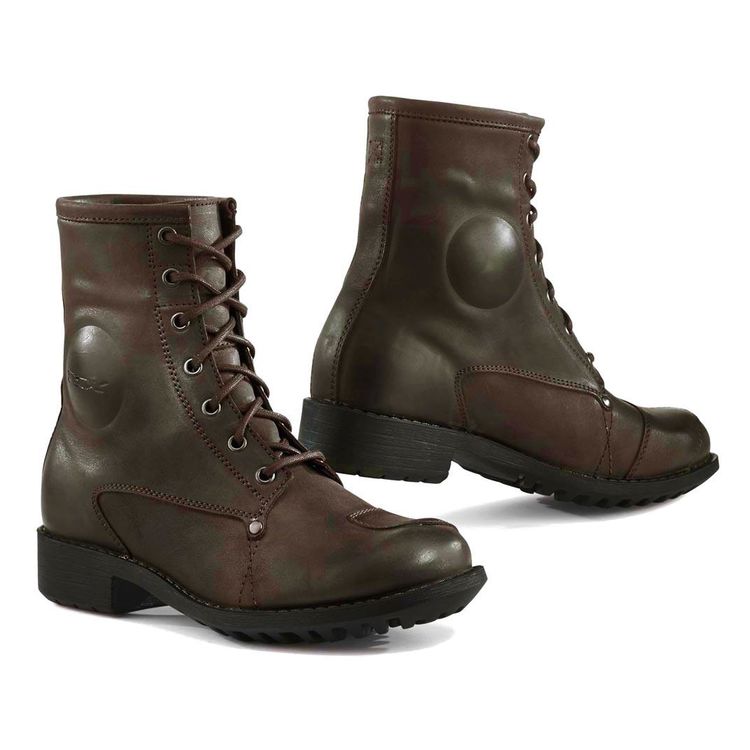 The TCX X-Blend WP and Blend WP Women's boots are both designed with the cruiser or retro-modern rider in mind. Intentionally made to look like work boots, they nonetheless hide some very good protection within, and are even waterproof, making them three season viable.
The leather is full cowhide, and is double stitched on all seams. Toe and heel armor is fully CE certified and impact absorbing. There are ankle protector soft armor pads built into the leather itself, and the boots are lace up high tops, coming up to just under the calf muscle. This is very important, as a properly fitted boot can prevent your ankle from twisting or bending in ways that may cause severe injury.
Joe Rocket Trixie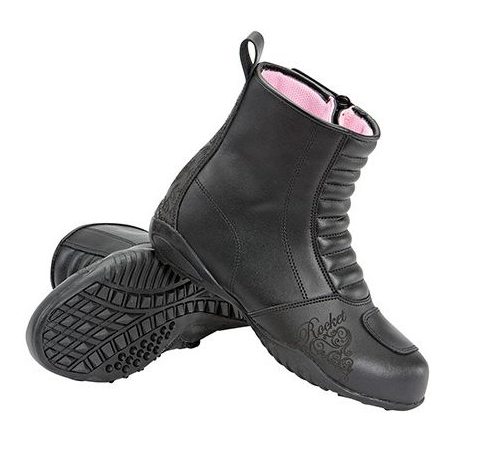 The Joe Rocket Trixie boots are designed from the outset to be subtle. A lot of boots aimed towards women are either cruiser style boots, or sport boots with garish colors and logos on them. The Trixie's allow a woman to ride in comfort all day, while keeping low key and protected.
The body is made of cowhide split grain leather, with double stitching throughout. There is a DryTech waterproof but breathable liners, and an accordion flex zone across the shin and upper foot to allow for comfortable flexibility. Full heel and toe armor protects the rider, and hidden ankle deformable soft armor helps keep your foot from being injured.
Forma Adventure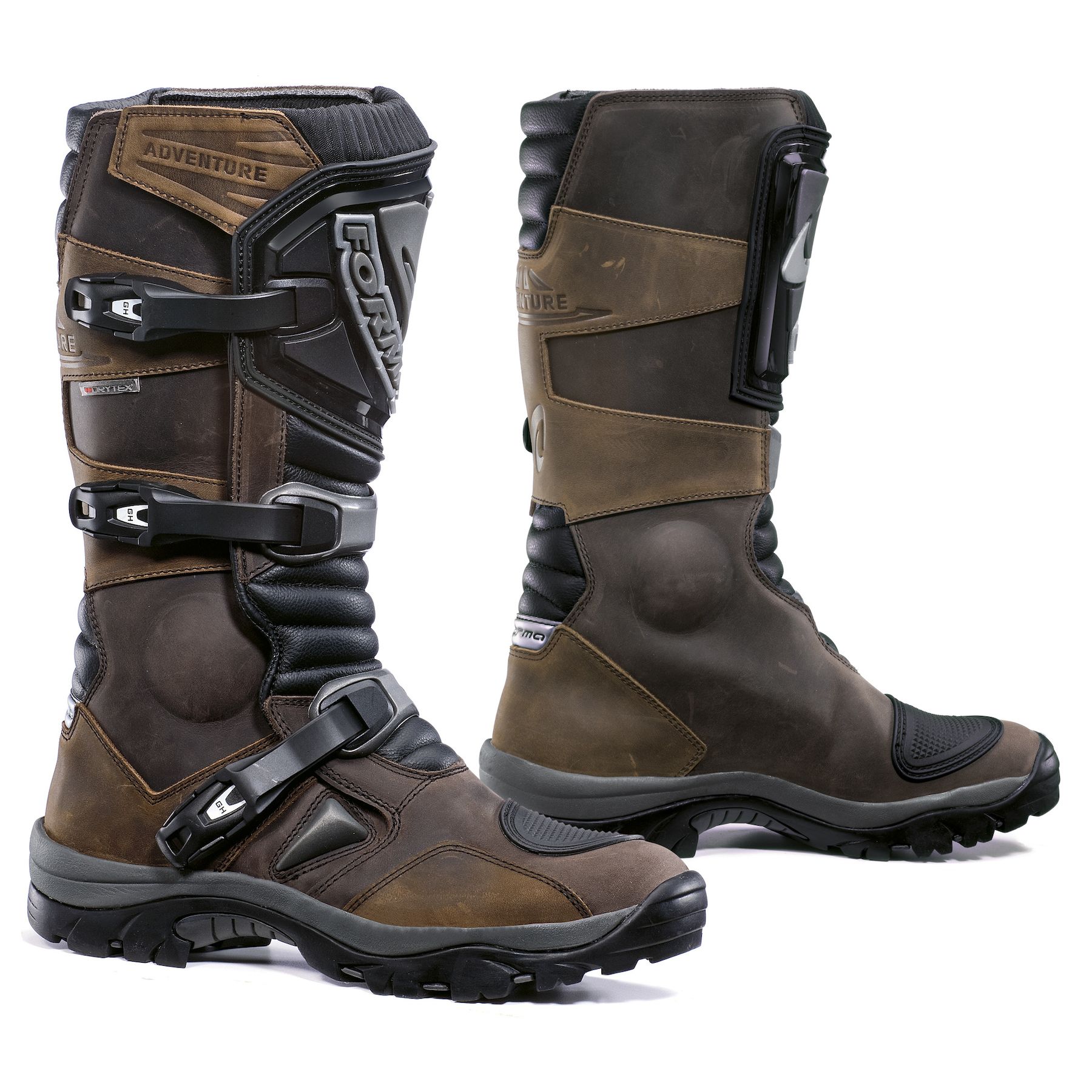 The Forma Adventure boots are the perfect companions for the adventure rider. The leather is full-grain cowhide, oiled and vintage finished. This provides some natural waterproofing, but there is also a drytex liner to provide 100% waterproofing while allowing the boots to breathe.
Full shin armor runs up the inside, with a hard TPU external deflector. Heel, ankle, and toes are fully protected with hard CE rated armor. There is a rigid mid-sole that encases a steel shank to provide penetration resistance and extended durability when standing on pegs. You can also adjust the fit with the buckles to find the best comfort level.
Oxford Tracker & Valkyrie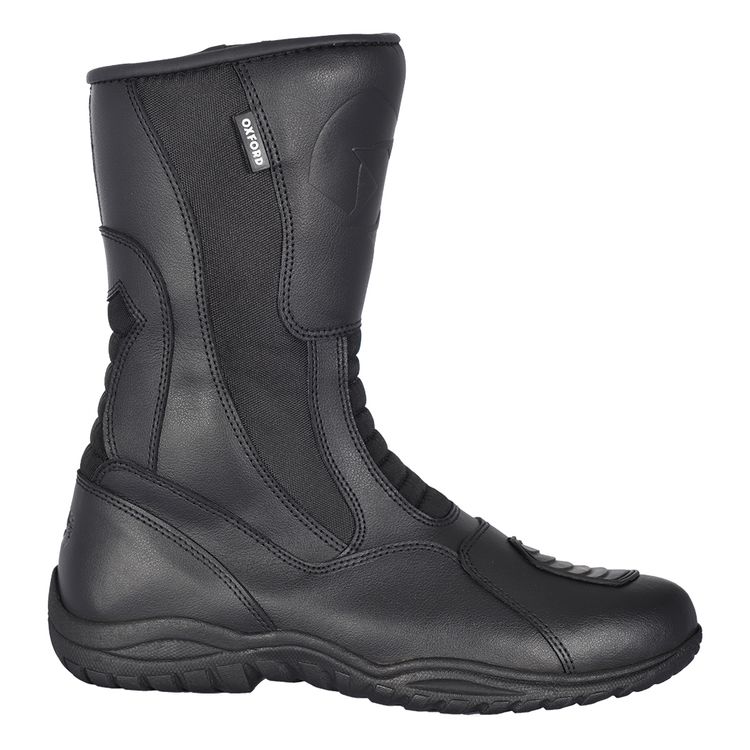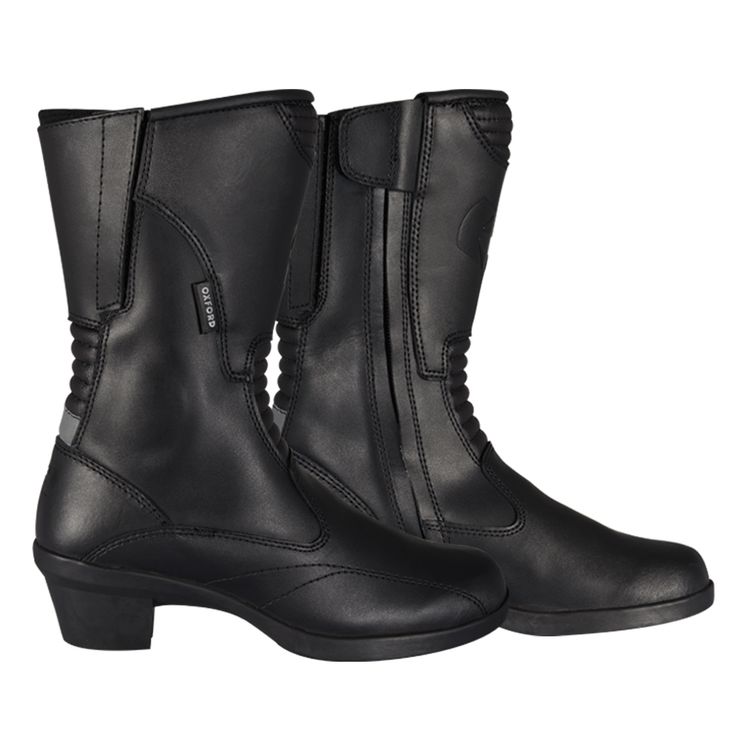 For those looking for a slightly stylish yet effective sport touring or retro-modern boot on a budget, the Oxford Tracker and the Oxford Valkyrie are the mens and womens version of the same basic boot, with slight stylistic differences. Both boots are made with full cowhide leather, and reach mid-calf on the average rider. Both have full YKK locking zippers with velcro covers over the top of the zipper.
Ankles are fully armored with reinforced leather over the ankle bones. Heels are covered with deformable plastic armor, and there is internal reinforcement on the Valkyrie, and external on the Tracker, for the shifter. Both boots also have a reinforced counter and shank sole.
TCX Street Ace WP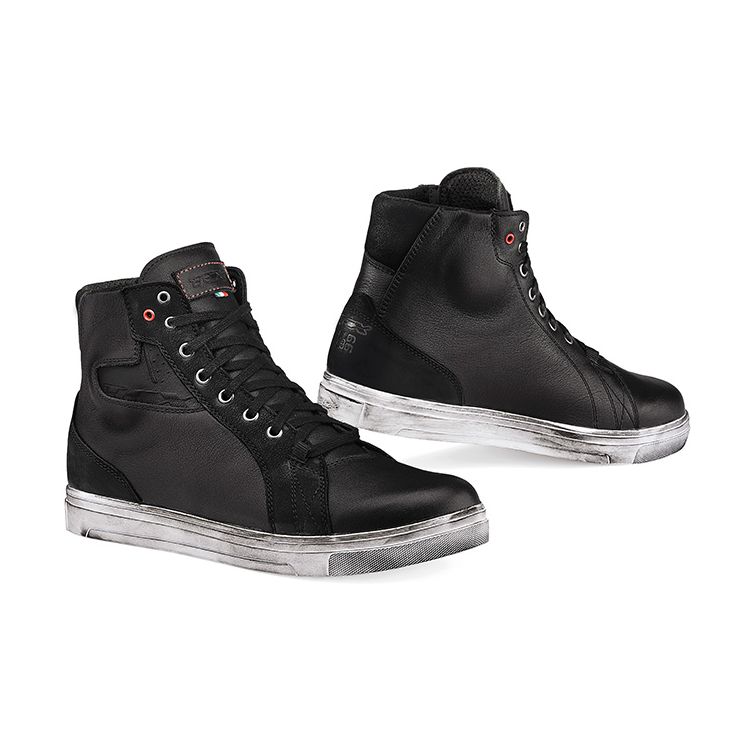 Fit: Mixed European (womens) and American (mens and some womens)
Aimed squarely at the cafe and casual rider crowd, the TCX Street Ace WP boots are meant to look like your everyday skater shoe with a bit of a high top to them. Made of full grain cowhide, they are nonetheless breathable and waterproof via an internal lining. The soles are made of highly wear-resistant vulcanized rubber.
Protection is incredibly in depth for these riding boots. Heels and toes are fully armored with modern deformable armor that is impact absorbing but won't pinch or push on your feet. Medial and lateral armor on the ankle bone provides impact resistance while being malleable enough to fit tight to you. The insole is replaceable and various types of insoles can be bought from TCX to fit your feet precisely.
Alpinestars Andes V2 Drystar & Stella Andes V2 Drystar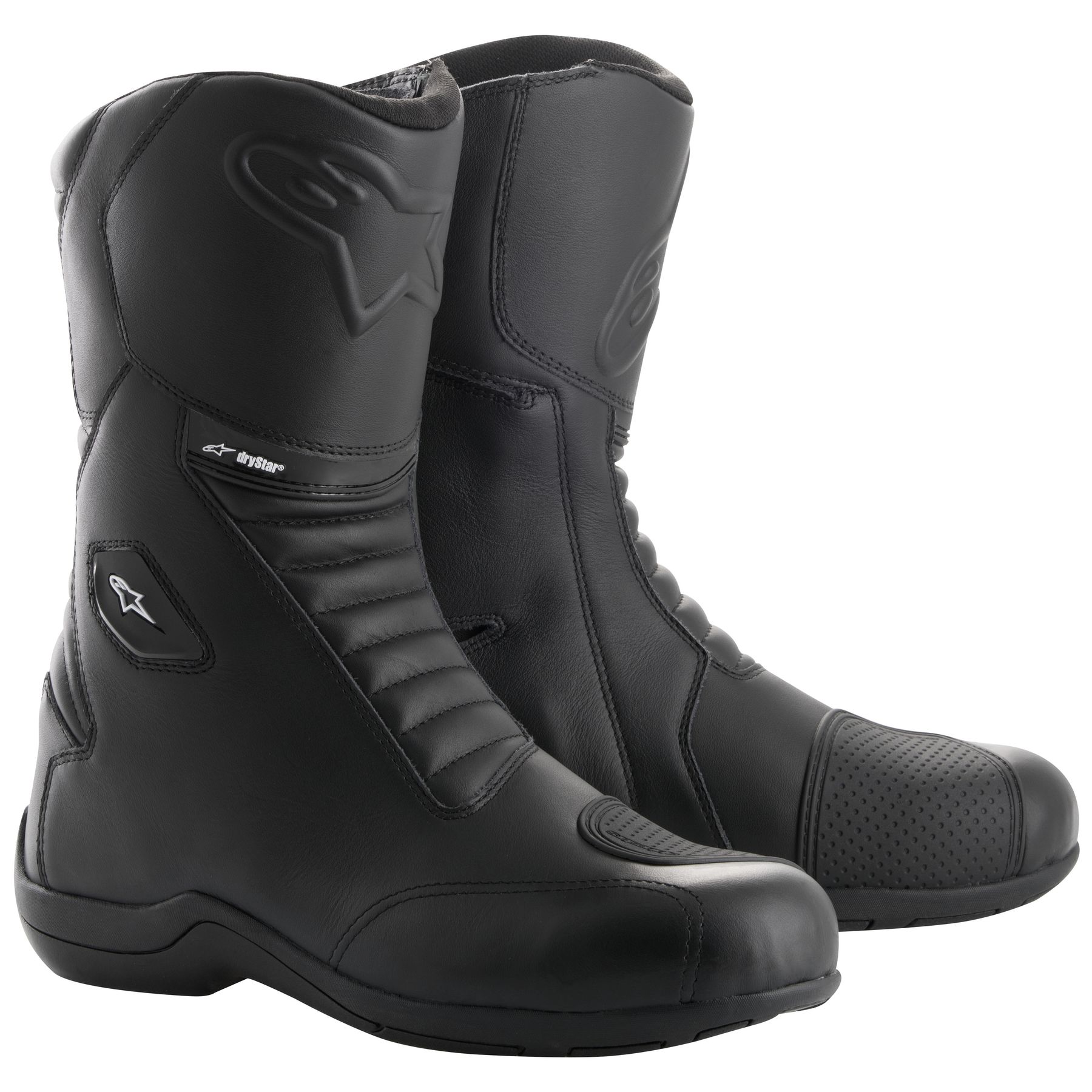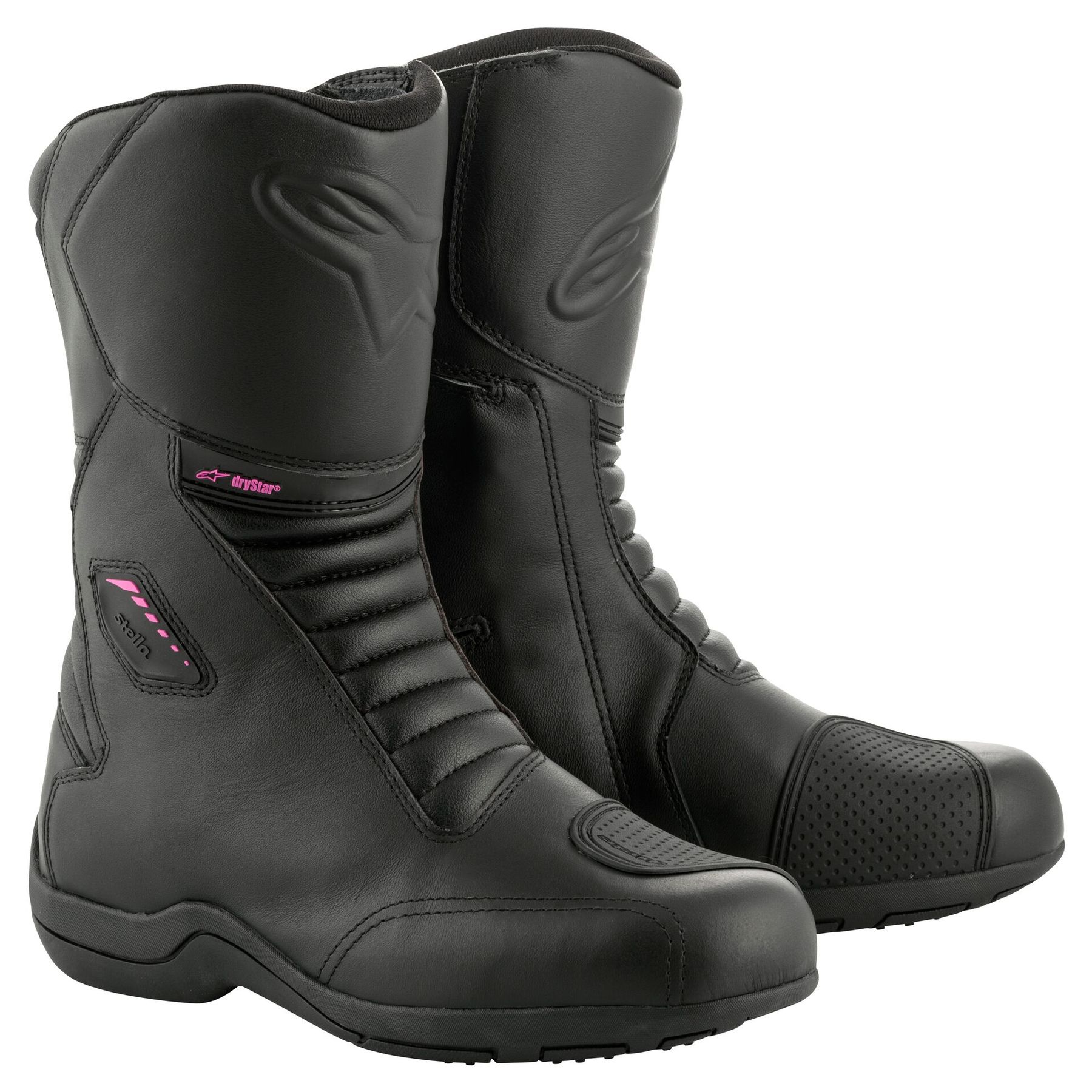 The Alpinestars Andes V2 boots are the quintessential sport riding boot for those that do not want to have to jump up into the $300+ range where high end racing boots generally live. By trickling down 95% of the protection their racing gear provides, Alpinestars have made a superb full leather sport boot that will give both men and women something stylish and protective to wear when carving corners at insane lean angles.
Fully waterproof with a Drystar lining, the Andes V2 boots have a medial entry that securely closes with a full length zipper and velcro covering to ensure the zipper isn't ripped out during a crash. The subtle exterior hides a full length TPU shin armor plate, as well as full TPU medial and lateral ankle bone guards. Ankles and toes are fully enclosed in race grade armor. A vulcanized rubber sole ensures full grip on your pegs even in wet conditions, and a reinforced shank provides day long comfort.
Daytona Boots Road Star GTX & Lady Star GTX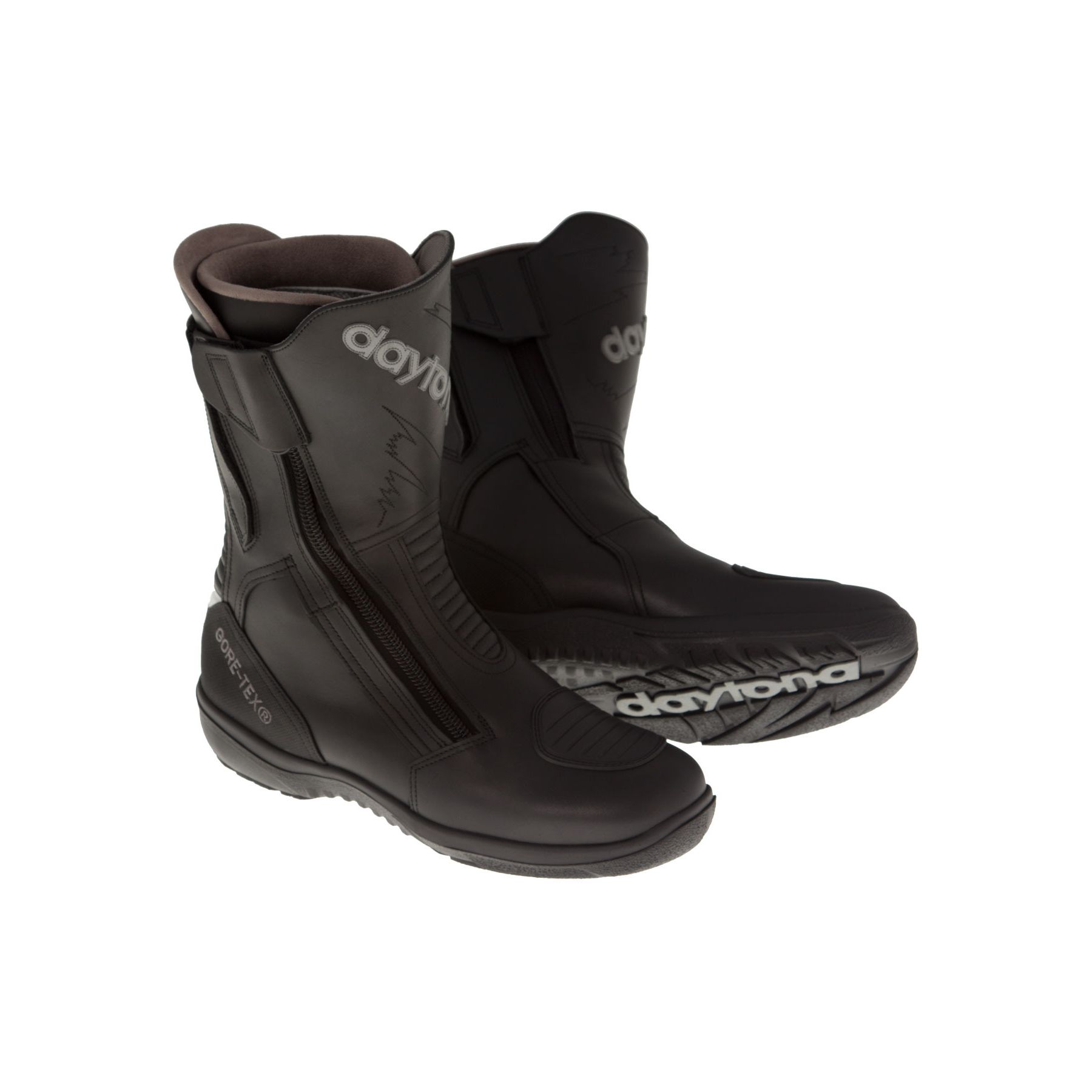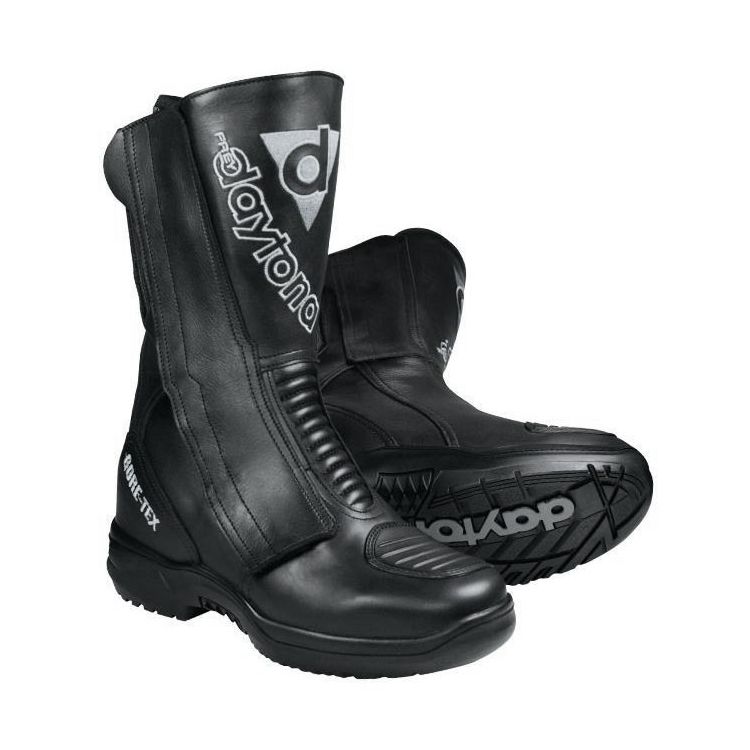 Without mincing words, the Daytona Road and Lady Star GTX boots are definitely in the premium boot range. Using specially selected cowhide, the boots are fully waterproof both from the leather treatment as well as a GoreTex backing liner. Dual zips per boot, one per side, allow for the boots to be easily slipped on, and each zip gets a full velcro flap cover.
Protection is almost like putting your foot into a vault. Full width and height shin armor inside the boot provide nearly 180 degree front protection to your legs. Ankle armor is hard armor backed with malleable latex foam for comfort. Heels and toes are fully encased in TPU plastic. The soles are vulcanized rubber with hot-dipped steel shanking for extra protection and durability. There is also internal malleable foam armor along the outside of the foot in case of side impacts. The insole is both PU foam with gel inserts to provide vibration dampening through your feet as well as walking comfort.
Put simply, outside of a full facing boot, you won't find better protection for the money.