One of the most often overlooked bits of gear in terms of safety are boots. Much like our hands, our feet are vital to riding a bike as they operate primary controls. Wearing incorrect boots, like steel toe work boots, can cause devastating injuries. And wearing incorrect footwear such as sneakers or canvas shoes can lead to the foot being obliterated entirely.
We say this not to panic you. We say this to let you know that spending even $50 to $100 on proper, reinforced, armored riding boots, of the right size and done up correctly, can make a lowside into a little bit of road rash instead of a snapped ankle. And thankfully, there are boots for every type of riding situation, from adventuring to casual and back again.
However, many options are available for correct footwear, some of which don't even look that far off from regular streetwear shoes or boots, but definitely have the right level of protection to keep your feet intact and your riding days comfortable!
TCX X-Blend WP & Blend WP Women's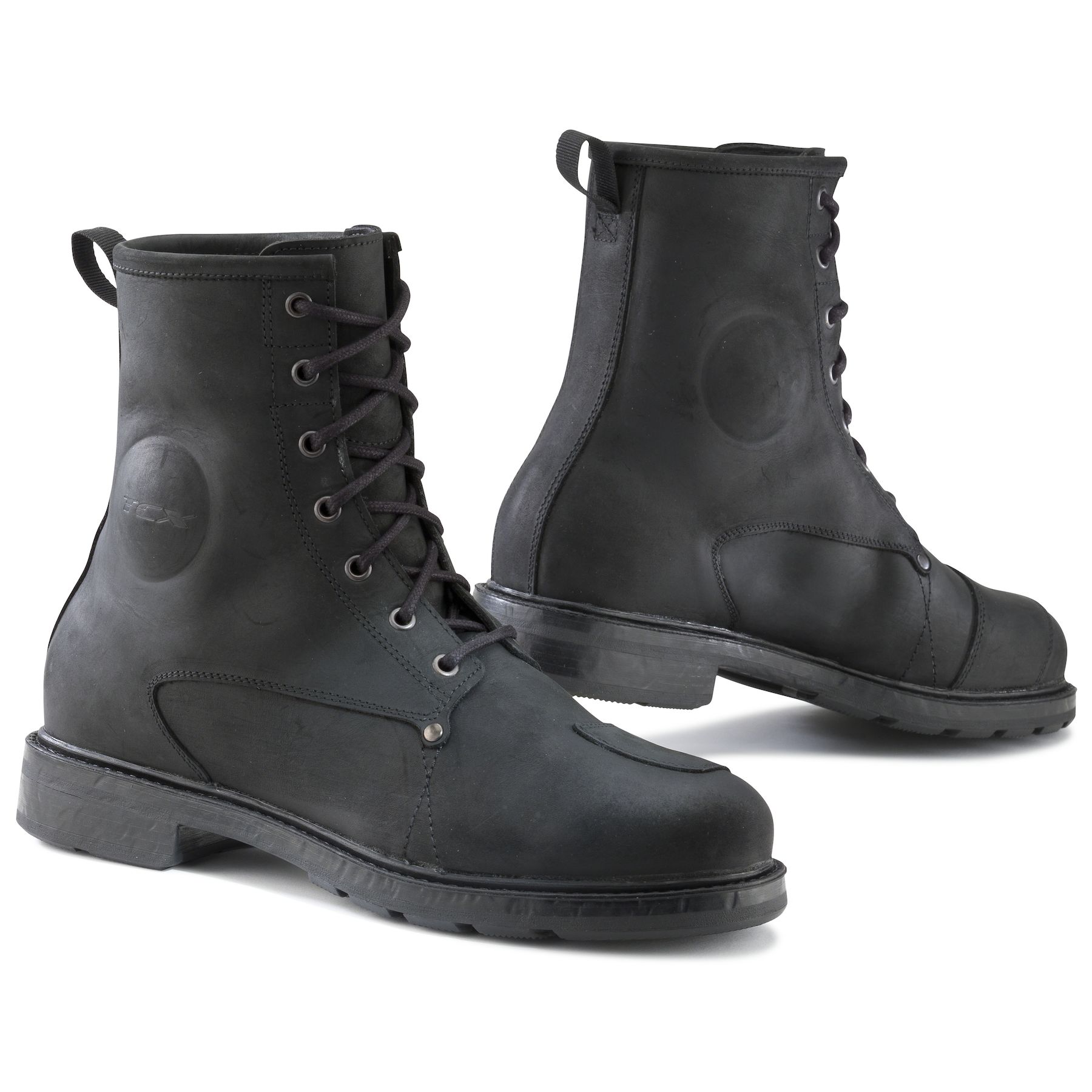 A carryover from our 2020 list, and one that we've reviewed on our other site, webBikeWorld. With the cruiser or retro rider in mind, these boots are full cowhide and double stitched on all seams for the durability you'd expect at this price point. They are three season viable as despite the ventilation and comfort provided by these boots, they're also waterproof.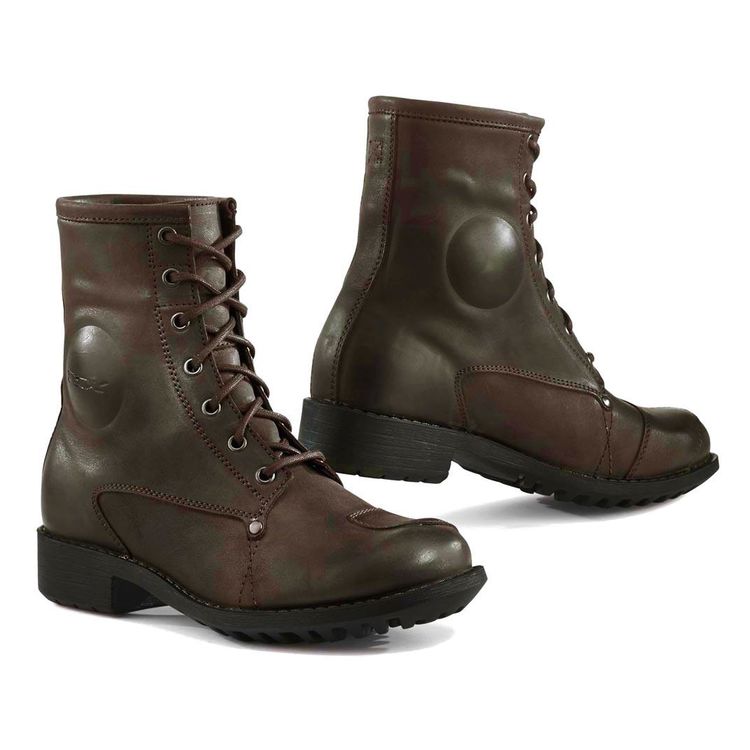 Protection comes in the form of toe and heel armor that is CE certified for anti-penetration and impact absorption. There are soft armor pads on the ankle to protect the bone and keep your foot aligned correctly should you come off your bike. The boots lace up all the way to just under the calf muscle, making them hightops that can be worn under riding jeans or pants. This is very important, as a properly fitted boot can prevent your ankle from twisting or bending in ways that may cause severe injury.
Klim Adventure GTX

If you're going to be going adventure riding on anything other than a dirt trail, then Klim, for 2021, has brought out the ultimate adventure boot. It costs a pretty penny, for sure, but the features it packs for safety and endurance riding are Dakar Rally levels of overkill.
Featuring ruggedized leather throughout, the Adventure GTX sports a breathable Gore-Tex interior membrane that allows great ventilation, but keeps your feet and socks dry. The sole is full Michelin rubber… yes, the same company that makes tires. The midsole is reinforced with polycarbonate and 5mm of impact absorbing gel pad.
The shin and calf are both fully armored and reinforced, with the toe and ankle being fully surrounded by armor. The lacing system is shielded to prevent it getting snagged on branches or bushes. A full ortholite insole keeps your foot comfortably cradled as you ride the pegs over rocks and ridges.
With the amount of protection, armor, and reinforcement in the Klim Adventure GTX, you realistically should be able to kick a mountain and not even feel it. Not that we suggest you do, however!
Forma Adventure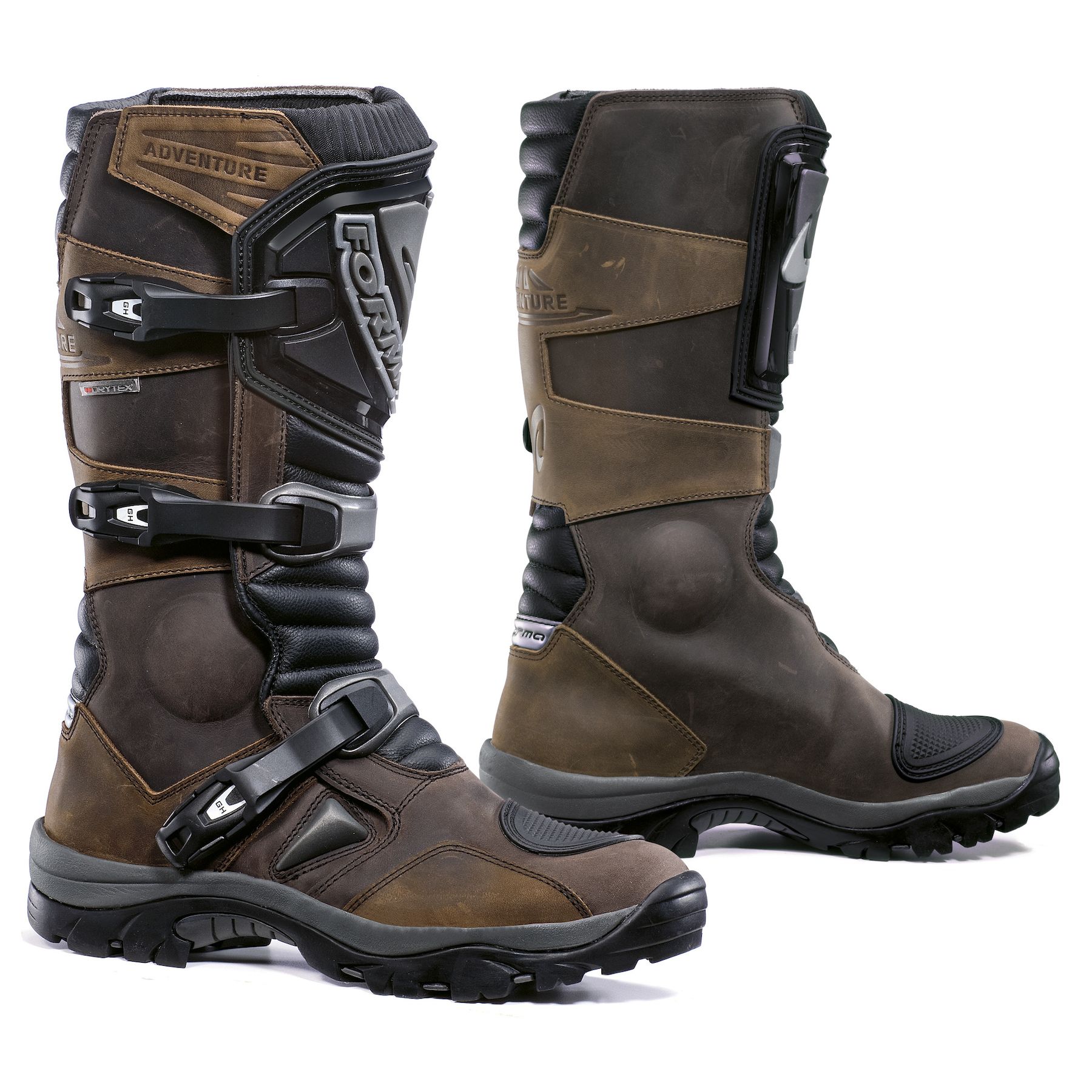 If those Klim's above are a little bit outside of your price range, the Forma Adventure boots, another carryover from 2020, are a great alternative. Full-grain cowhide, oiled and vintage finished, provides a level of natural waterproofing that is backed up with a drytex liner, making these boots you can ride across a stream or shallow river with and keep your feet dry.
Full shin armor inside the leather is reinforced with a TPU deflector on the outside. Your heel, ankle, and toes are all protected with hard CE level 1 armor. A steel shank rigid midsole gives you both penetration resistance as well as durability for when you need to stand on the pegs. The sacrifice comes in that the calf is not fully armored, and the boot uses ratchet clips instead of a lace-and-cover system.
Sedici Vertice H2O

The Sedici Vertice H2O is a just-released set of road touring boots that pack attractive features, unisex sizing, and goot looks into an affordable package. Made of full-grain cowhide, a waterproof Hipora lining guarantees dry feet in all weather. The boots feature a double reinforce shin guard which clasps closed over a full length gusset to ensure that the nasty weather you may have to ride through stays out.
The toes, ankles, and heel are all TPU armor protected. The Vertice in the name comes from the fact that inside the boot, portions of microfiber are sewn in to allow for a more natural range of motion without sacrificing protection. The midsole and shifter are are both double padded for comfort, and the sole is has a high-grip pattern for when it's wet and you'd be slipping around in most other boots.
Street & Steel Oakland

In the introduction at the top of this page, we spoke about having a pair of riding boots that are indistinguishable from regular day to day footwear. The Street & Steel Oaklands are exactly what we were meaning. With the Oaklands, you get 100% full leather with double and triple stitched seams throughout. They are waterproof with a Hipora breathable liner.
The toe, ankle, and heel areas are armored with TPU, and the midsole and shifter area are double padded for comfort. The laces and eyelets are extreme heavy duty, and should take a pounding without breakage.
These boots are aimed squarely at the casual or retro rider, and possibly at the cruiser rider. And at $100, they are less expensive than a lot of sneakers out there!
Alpinestars Andes V2 Drystar & Stella Andes V2 Drystar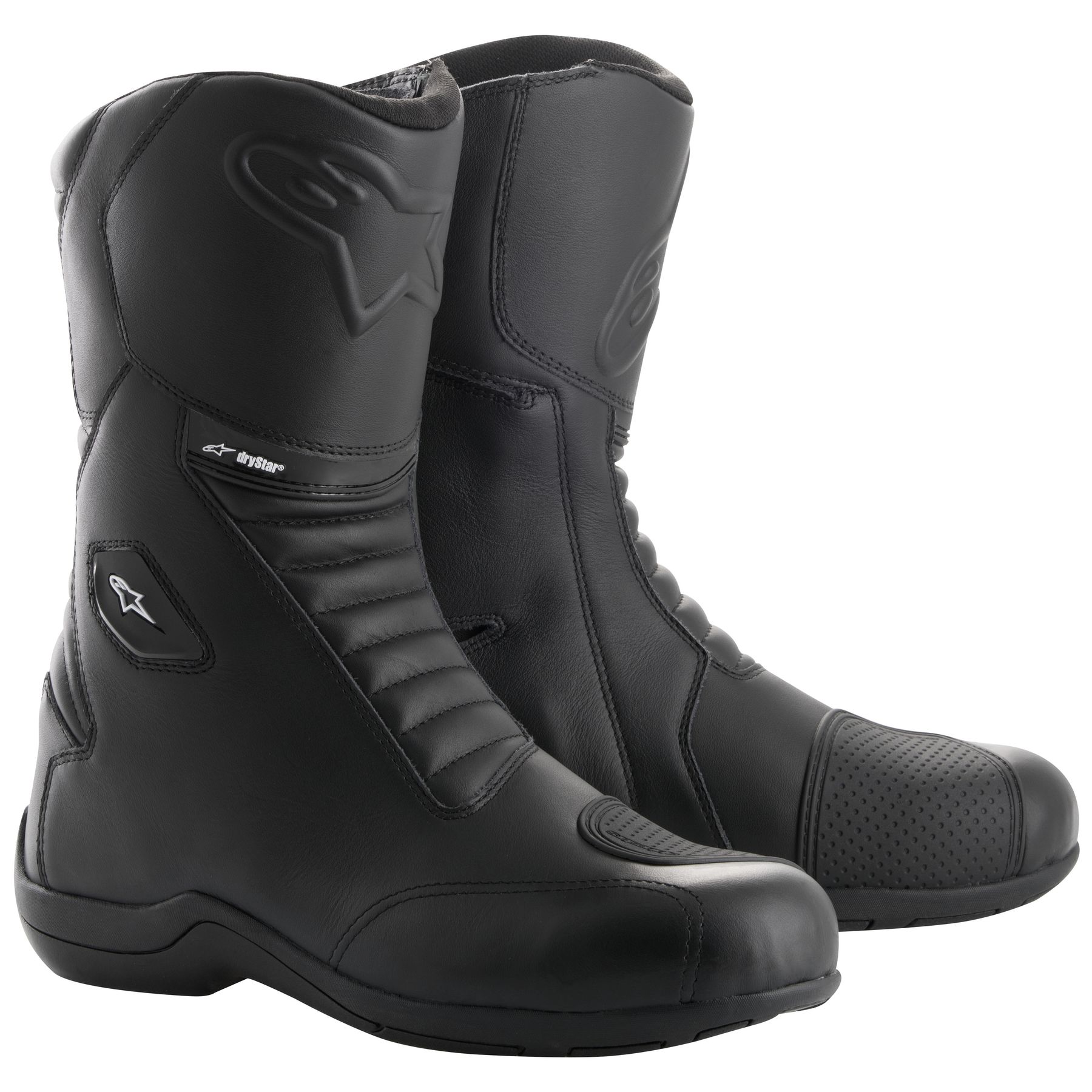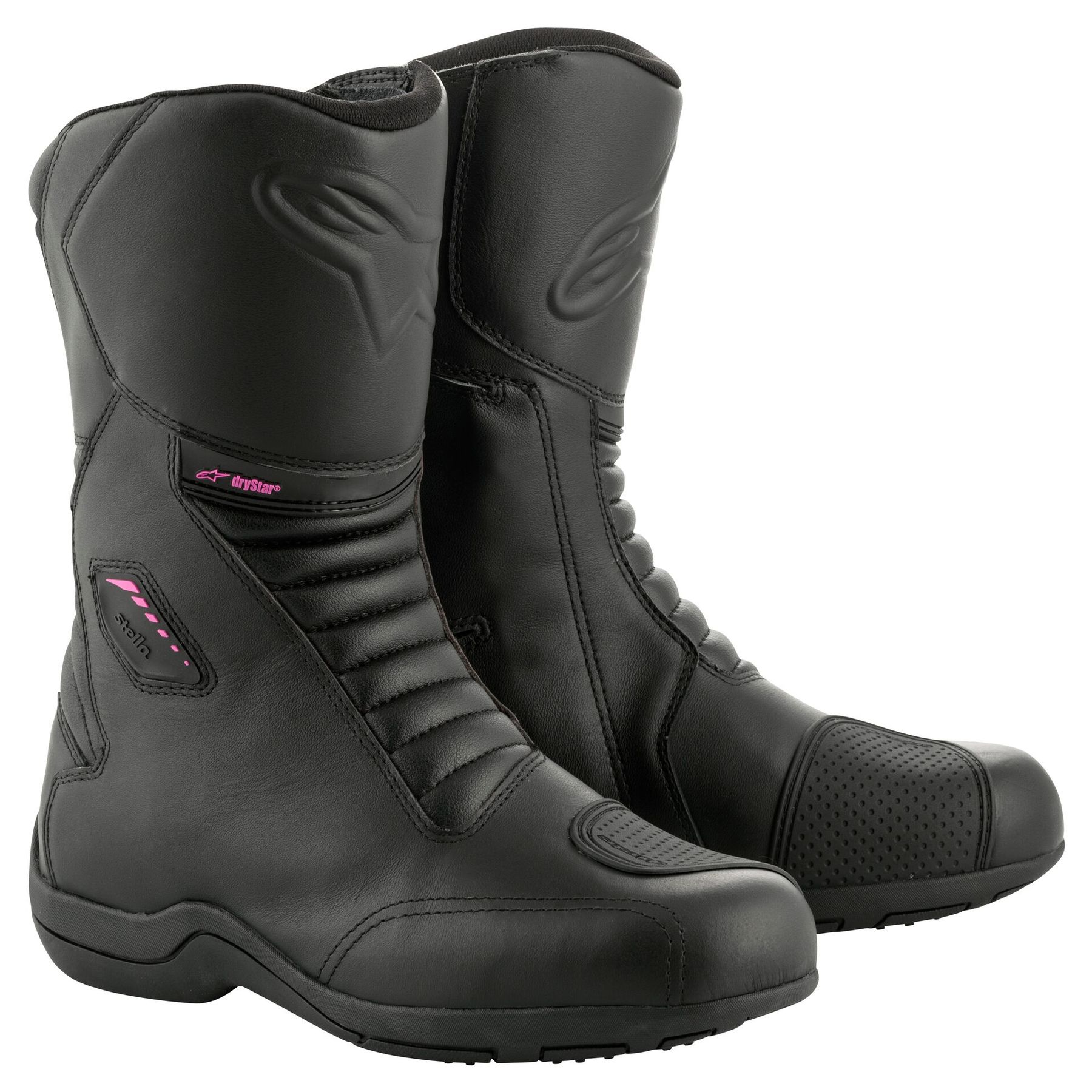 Another 2020 pick makes it to 2021! The Alpinestars Andes V2's are simply the best sport riding boot you can buy for $200 or less that has all the features of a full Alpinestars GP boot that costs nearly triple that you want, and trims off the excess.
Fully waterproofed, these uppers of these boots are full cowhide leather, reinforced for durability and abrasion resistance. The understated exterior hides a full length shin TPU armor plate, as well as full TPU ankle surround. The toe and heel receive the trickle down from the GP boots, and are reinforced with full race grade armor. The soles are made of vulcanized rubber to ensure the best grip on your pegs as you carve the next corner on the track, and a full length reinforced shank guarantees all day comfort.
BILT Canyon

Fit: American, wide option available
If you absolutely, 100% must ride with what looks like sneakers, the new BILT Canyons are your best option. Made of Amara treated suede, with an inner microfiber mesh to wick away sweat and reinforce the boot, they look like your regular Saturday basketball sneakers.
However, hidden inside is a full length shock absorbing midsole and lugged outsole for excellent peg grip on the bike, and ground grip off it. The toe and heel caps are CE rated armor. The ankles are protected on the outer and inner sides by soft CE rated armor. The tongue and collar of the boot are padded for extra comfort while riding. There is also a shock distribution design along both heels and ankles, pulling shock out of the sole and into the laces to distribute across your entire foot if you happen to have a heel strike when riding.