Why do we wear helmets? For safety. What is the safest helmet design you can buy? A full-face crash helmet, of course.
The full-face helmet market happens to be the most over-saturated and highly populated market in the helmet world. Every manufacturer provides a ridiculous number of options when it comes to full-face helmets, so we have created this list to help clear some of the air and guide you on your helmet purchasing experience.
I am one of those humans who happens to live in a region that only has 2 seasons, winter and riding. I seriously think they split the calendar at 6 months each. There have been many times that I will try to get a bike out of the garage despite there still being snow around so I may need the best helmet money can buy. Although clearly, I may not have much for a helmet to protect.
Now that you clearly understand my level of expertise I have broken down these helmets into three separate price ranges. These are what I think are the best bang-for-your-buck options when it comes to finding the best full-face helmet for you, and your budget, in 2022.
Entry-Level Full Face Helmets (Priced Under $250)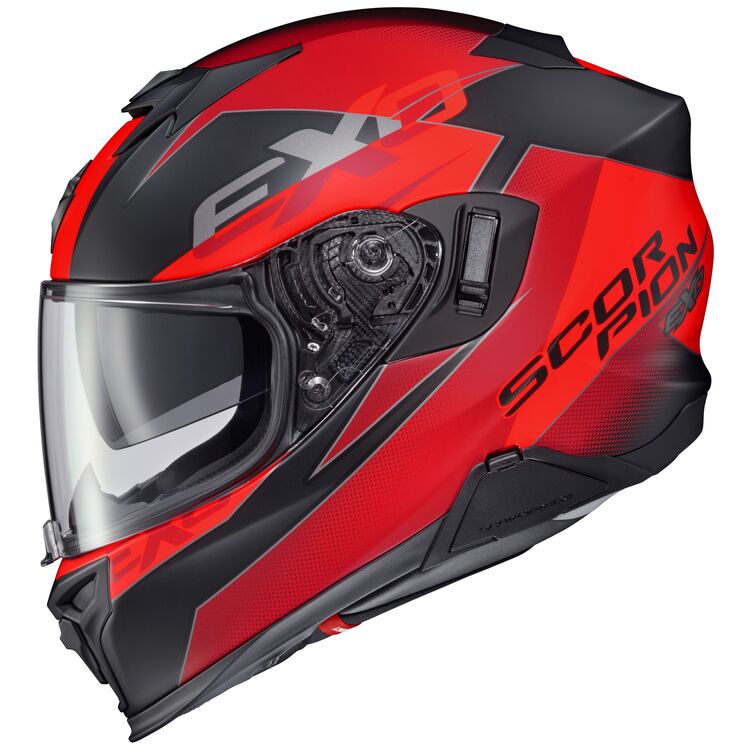 Scorpion EXO-T520 Factor
Price:

$219.95

Warranty:

5 years

Head shape:

intermediate oval

Weight:

3.7lbs
Scorpion USA has definitely made a name for themselves providing excellent products at budget-friendly prices. The new EXO-T520 series helmets incorporate a huge number of Scorpions best features for less than $250.
This is a great all-around helmet that will serve you well on long rides or just city commuting. The polycarbonate shell is aggressive-looking and well-tuned in the wind tunnel. The Airfit cheekpad inflation pads ensure a snug custom fit, and I find the Kwikfit liners to be great against my head. 
Although there are a good number of vents, I expect airflow to be decent but not a best in category rating. Keep that in mind if you regularly ride in very hot weather. The Speedview visors provide great optics including the internal drop-down sun visor.
Finally, the new T520 is purposely designed to accept the new EXO-COM BlueTooth® Communicator Kit. You can spend a little more and get this helmet with it preinstalled or add it in later. Using technology from UClear, this should be an easy-to-use and high-quality system.
Why you should buy this helmet:
Specifically designed to integrate with the new EXO-COM BlueTooth® Communicator Kit

Quick-release face shield

Affordable

Comfortable

DOT and ECE certified 

AirFit® Inflation System adjustment system allows you to custom fit your cheek pads
Other considerations to make:
On the slightly heavier side of average for new full face helmets

Average amount of airflow with all vents open.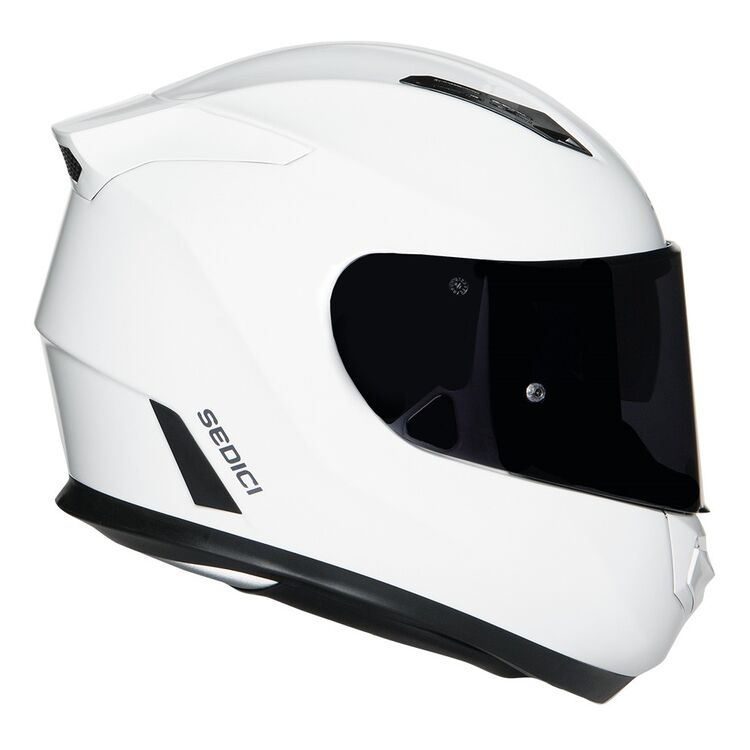 Sedici Strada II
Price:

$249.99

Buy it:

RevZilla

,

Review:

webBikeWorld

Warranty:

1 year

Head shape:

Intermediate oval

Weight:

3.5lbs
This helmet lands dead center on a Ven diagram showing quality, price, and performance. The Strada II proves you can indeed spend less and still have a great helmet. Is it perfect? No. But for $250 I am awfully darn impressed. I have linked a review from wBW writer Jim Pruner, seems he and I share the same opinion on this one.
Here is a quick rundown. It's a well-made fiberglass and kevlar shell that looks great and modern. It weighs in about average at 3.5lbs. It will accept a communication system easily, thanks to some good speaker cutouts. 
The airflow is decent. The lower chin bar vent flows well, but the temple vents are so-so. When looking at the EPS core it is apparent why. The channeling is not that pronounced, which limits the airflow on top of your head. But that EPS provides great impact protection, I can see the compromise that's made to maintain this price point.
The Strada II has an integrated sun visor that works well, and in this configuration it meets or exceeds DOT and ECE-22.05 standards. If a SNELL rating is something you are after, Sedici has you covered there too. The Strada II Primo meets SNELL M2020 standards but loses that sun visor.
Why you should buy this helmet:
Affordable

Proprietary shell of fiberglass and DuPont™ Kevlar® fiber is lightweight without sacrificing strength

Aerodynamically tuned shape reduces lift and turbulence

3 shell sizes: XS-SM, MD-LG, XL-3XL

4 EPS liner sizes: XS-SM, MD-LG, XL-2XL, 3XL

Integrated drop-down sun visor

DOT and ECE certified

Great for all riding styles
Other considerations to make:
Upper air vents aren't good enough

Visor leaks water through the seal easily

Pinlock not included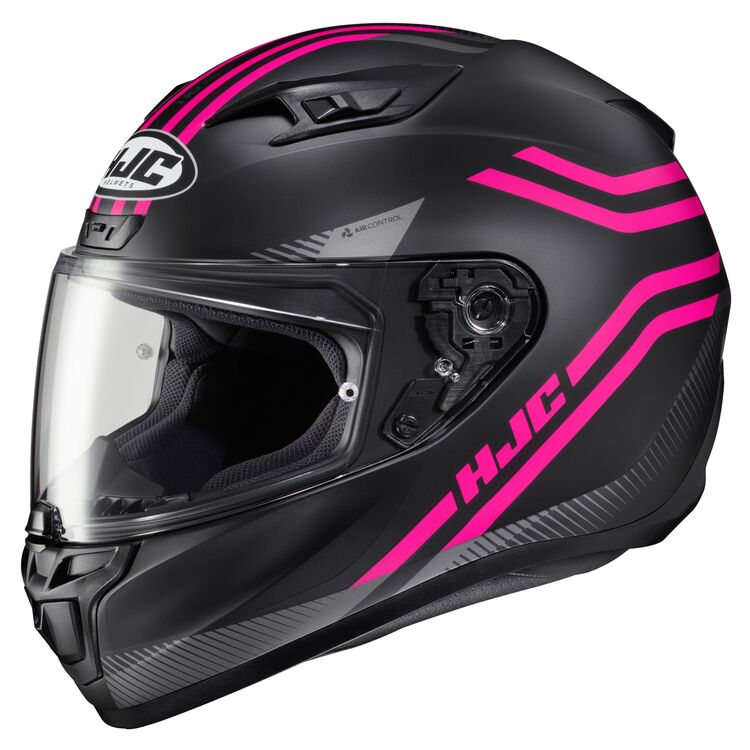 HJC i10 Strix
Price:

$184.99

Review:

webBikeWorld

Warranty:

1 year

Head shape:

Intermediate oval

Weight:

3.7lbs
HJC is a well-respected brand that fills the budget segment of the market with many good lids. The i10 series is fairly new and was built to replace the CL-17, one of HJC's best sellers.
It is no easy feat to find a helmet for less than $200 that can meet a SNELL 2020 rating, but HJC makes it happen with the i10. Track days on a budget anyone? Now besides being track-ready the best aspect of this helmet is the hot weather performance. It flows air like you forgot to wear a helmet. Thanks to great ventilation ports with nice adjustability, you can expect a cool dry head during your ride. 
The HJC i10 lineup offers many color and graphic choices, for this I chose the Strix graphic. Needless to say, there will be no issues finding a size or look that you like with the i10.
Why you should buy this helmet:
Affordable

DOT and SNELL M2020 rated 

Aerodynamically tuned shape reduces lift and turbulence

sizes XS-5XL (sizes 3XL-5XL are DOT only)

Bluetooth-ready design accepts SMART HJC 10B or 20B Bluetooth communicators (sold separately)

Multiple accessories and visors to make the helmet perfect for your use
Other considerations to make:
The strap is not fully padded across its length

The surface finish on the shell marks easily

Most of what is included in many other helmet packaging require extra spending for the i10 (chin curtain, pinlock, etc)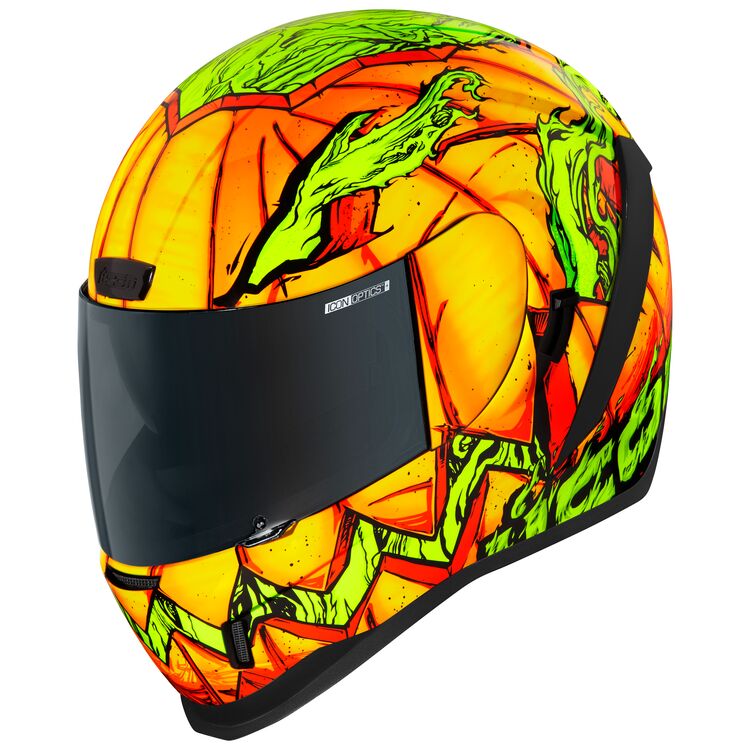 Icon Airform Trick Or Street
Price:

$225.00

Buy it:

RevZilla

,

Warranty:

1 year

Head shape:

Intermediate oval

Weight:

3.7lbs
Icon is brilliant when it comes to creative and awesome graphics on their helmets. Trick or Street is not just wild to look at, but it glows in the dark to ensure you can always get the looks.
Of course, it takes more than just a cool look to make one of my lists, and the Airform lineup from Icon has the goods under that paint to be worthy of your $$$. Like most budget-priced lids this one is a polycarbonate shell with a decent EPS core well channeled for airflow.
It has some great features like an internal sun visor and well-placed speaker cutouts for the comm system. Icon makes me happy by including not only the smoked outer visor, which looks great with the graphic, but also the clear visor. Switching between the two is simple and requires zero tools.
The Airform lineup has a huge selection of badass graphics besides the Trick or Street, all staying below the $250 threshold.
Why you should buy this helmet:
Glow-in-the-dark graphic exterior

Includes fog-free Clear & Dark Smoke Optics Face Shields with Rapid-Release System

Fog-free internal Dark Smoke Dropshield with external switch

Removable Hydradry moisture-wicking liner

Internal airflow geometry

Continuous venting system

Sculpted neck roll reduces jacket/suit interference
Other considerations to make:
Not all the vents close, meaning there is always some airflow.

Louder than average due to no chin curtain and those always-open vents

A 1-year warranty is a little weak.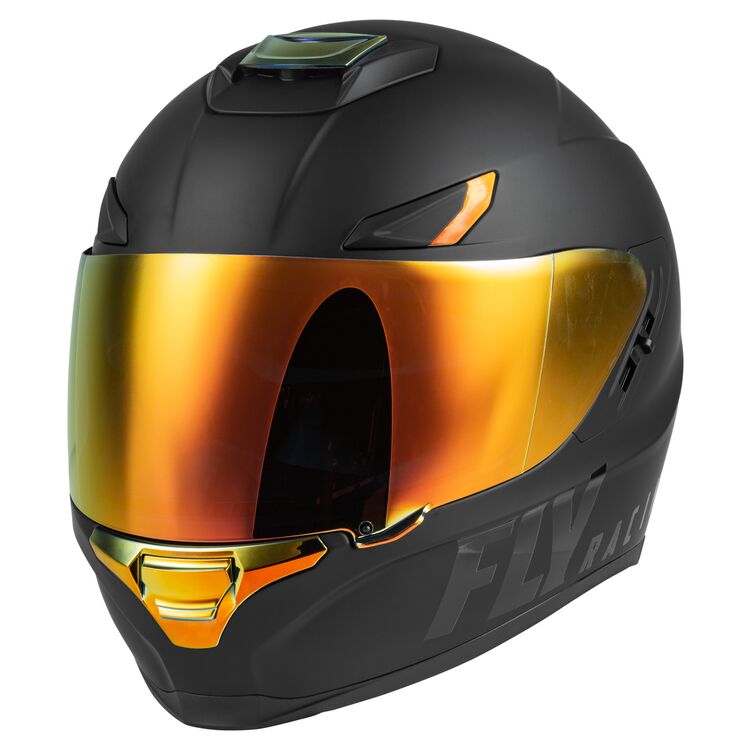 Fly Racing Street Sentinel Recon
Fly Racing might not be a brand you have had much exposure to, but they have been around since 1998. This is not a helmet that is cutting edge, but it offers a cool look in the tried and true format of polycarbonate outer shell and dual-density EPS liner. A well-proven recipe for an affordable lid with great impact protection.
I have not yet tested this helmet on the street, but it has all the right elements. A good quality moisture-wicking liner that is easy to remove and wash. Speaker pockets, so the comm system of your choosing is easy to add. A good internal sun visor that deploys without a fuss. A nice viewport, and visor optics of good quality. All the things you could ask for under $250, plus lots of adjustable vents. 
Like I said I have yet to ride with this on my head, but I expect it will flow better than the average amount of air. The Sentinal Recon won't be the quietest, but it will be right in line with all the others under $250, and you should be riding with earplugs anyway.
For me this helmet is about the look, I love it, and knowing it will be exactly as good as I expect based on how it's built. The styling is modern and aggressive, and the gold, matte black combo is sick.
Why you should buy this helmet:
Durable and lightweight polycarbonate blend shell

Dual-density EPS liner

2 shell sizes

Optically superior clear face shield  with anti-fog coating and durable hard coating for scratch resistance

Tinted drop-down inner sun shield

Great Price

Loads of adjustable vents
Other considerations to make:
Only DOT and ECE rated, no SNELL option here

Less brand recognition, if that's important to you.

A 1-year warranty is a little weak.

A bit on the heavy side.
Mid-Range Full Face Helmets (Priced $250 – $500)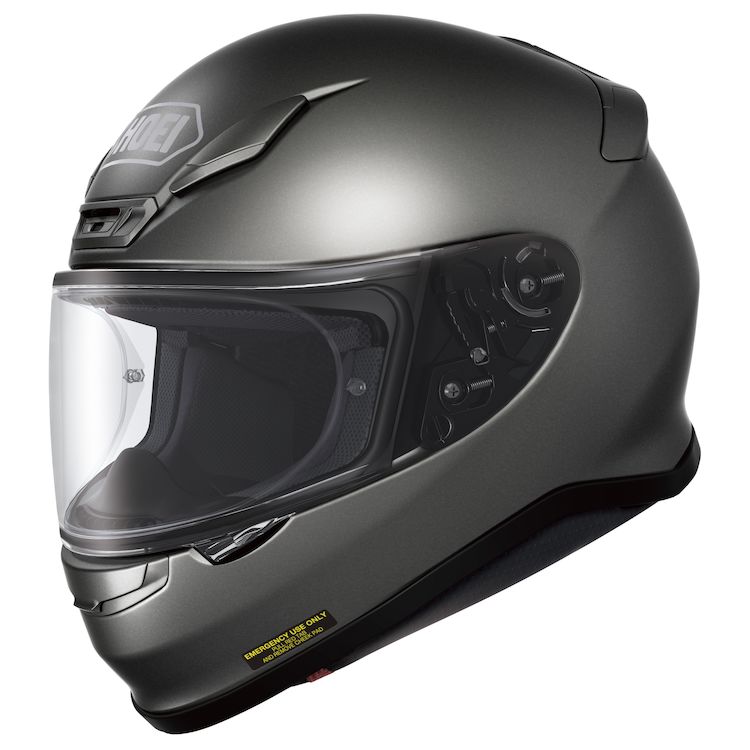 Shoei RF-1200
Price:

$485.99

Review:

webBikeWorld

Warranty:

5 years

Head shape:

intermediate oval

Weight:

3.5lbs
As the saying goes, if it ain't broken…don't fix it. The Shoei RF-1200 has been around forever, and that's for good reason.
When you are typically looking at buying a Shoei the first thing you are going to notice is the very steep price tag. The RF-1200 gives you the option to ride with Shoei's MotoGP-backed safety technology at a lower price, making it one of the cheapest helmets they sell.
If you read some of the negative reviews, you'll see the main caveat RF-1200 owners have with the helmet is how loud it is at speed due to wind noise. If you have loud pipes, you're probably wearing earplugs anyway. But if you don't mind a little wind noise and are looking for a safe option with tons of premium features this is the helmet for you. If you go to the helmets section of Revzilla.com and sort by popularity, you'll see thousands of people have bought an RF-1200 making it one of the most popular helmets on the site.
Why you should buy this helmet:
Built by Shoei, one of the worlds premier high-end helmet manufacturers

I own one, it's great.

Comfortable

Snell and DOT certified

Four shell sizes (many helmets will have three)

Pinlock lens shield and lens insert
Other considerations to make:
7 years old

Outdated style

Some owners complain that it is very loud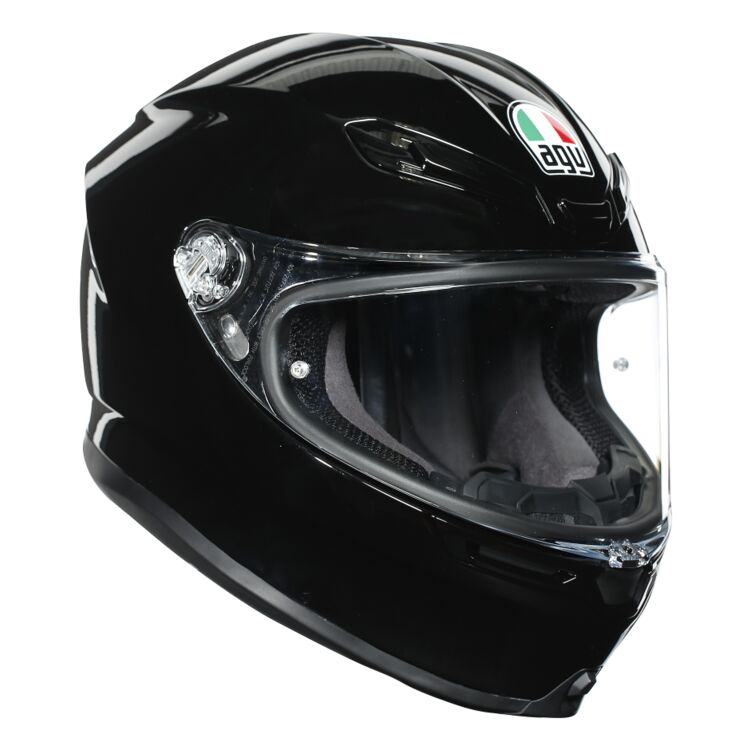 AGV K6
Price:

$499.00

Warranty:

2 years with an extra 2 years if you register the helmet within 60 days of purchase

Head shape:

intermediate oval

Weight:

2.95 lbs
The AGV K6 is a great helmet featuring an insanely light-weight construction for the pricepoint.
While some helmets are better suited for sportbikes vs touring bikes due to how the aero works with turbulent air, this helmet is designed with all riding styles and seating positions in mind minimizing any form of wind turbulence you may experience on your ride. If you require glasses while on your ride, this helmet perfectly accommodates that.
The face shield is well designed, easy to use with gloves, and is pin lock ready with the insert included with purchase. The only way you'll be disappointed with this helmet is if it doesn't fit.
Why you should buy this helmet:
Very light due to its carbon-aramid shell. Like,

REALLY

light. Carbon fiber light.

Shape optimized for all riding positions i.e. upright/bent over

Pinlock lens

DOT and ECE approved
Other considerations to make:
Although there are 5 vents, they are quite small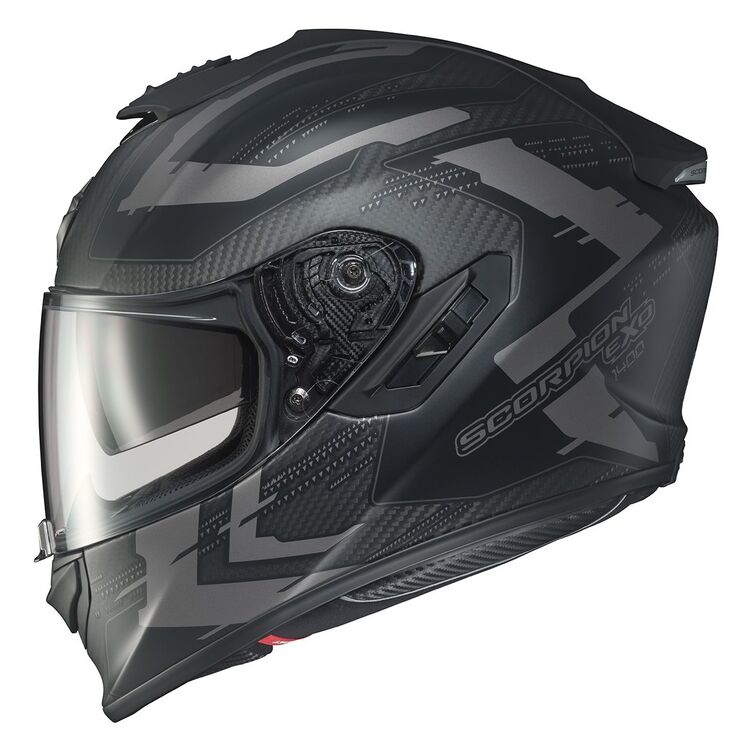 Scorpion EXO-ST1400 Carbon Caffeine
Price:

$449.95

Review:

Motorbikewriter.com

Warranty:

5 years

Head shape:

intermediate oval

Weight:

3.05lbs
Once again Scorpion delivers a helmet that packs a lot of features for the $$$. 
First off the shell is a resin-infused TCT-U™ 3K carbon fiber construction, made in 3-Shell sizes for a precision fit. It is light as you would expect from carbon fiber, but still better than I expected with all the features.
Inside is the luxurious Kwikwick® III liner, plenty of room for speakers thanks to the deep cutouts, and the AirFit® inflation cheek pads. The EXO-ST1400 has a well-formed neck roll and combined with the chin curtain, helped to block out wind noise and keep drafts from creeping up. 
The Scorpion visors, both main and internal are nice to look through, my only issue is the visor lock. I found it annoying to use, especially with my gloves on it was frustrating to release. It is possible mine is a one-off issue, I have not heard others complain of this problem.
Why you should buy this helmet:
Very Light at only 1,383 grams

AirFit® custom inflation system

Comm-Ready speaker pockets

Excellent visibility through the visor

FMVSS 218 DOT approved and ECE 2205 certified

Three shell sizes

Integrated SpeedView® Sun Visor

Shipped with additional pinlock visor and pinlock inserts

5-Year Warranty

Excellent price for this level of helmet
Other considerations to make:
Visor lock hard to operate, and even worse with gloves on

Sunvisor slider action is fussy

I am not a fan of Double D ring straps, give me my ratcheting quick release!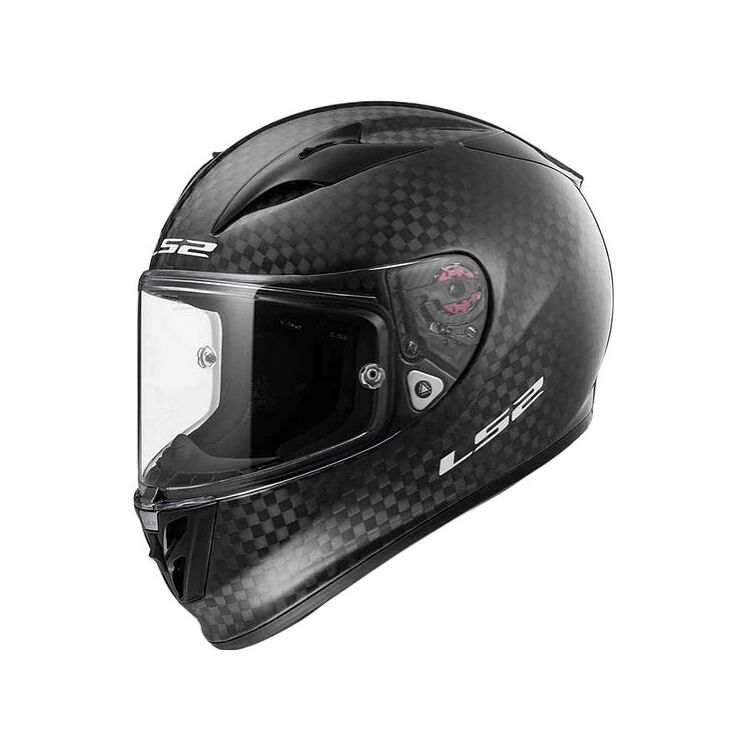 LS2 Arrow Carbon EVO GP
LS2 swings for the fences with this premium helmet at a mid-price level.
This is a helmet that was designed by racers, so I expect solid track-level performance from this carbon fiber lid. It has FIM certification making it track-capable, which is great news for the sportbike crowd that likes to hit the track a couple of times a year and needs that do-it-all head protection.
Why you should buy this helmet:
12K Carbon fiber shell

Multi-density EPS

3 Shell sizes

Emergency release cheek pad system.

3mm thick "A Class" Polycarbonate clear face shield for optically correct clarity

Meets or exceeds DOT FMVSS 218, ECE 22.05, and FIM FRHPhe­01
Other considerations to make:
If you don't go to the track you may want to look at the others

It is more of a long oval fit, so best to confirm the fit before buying.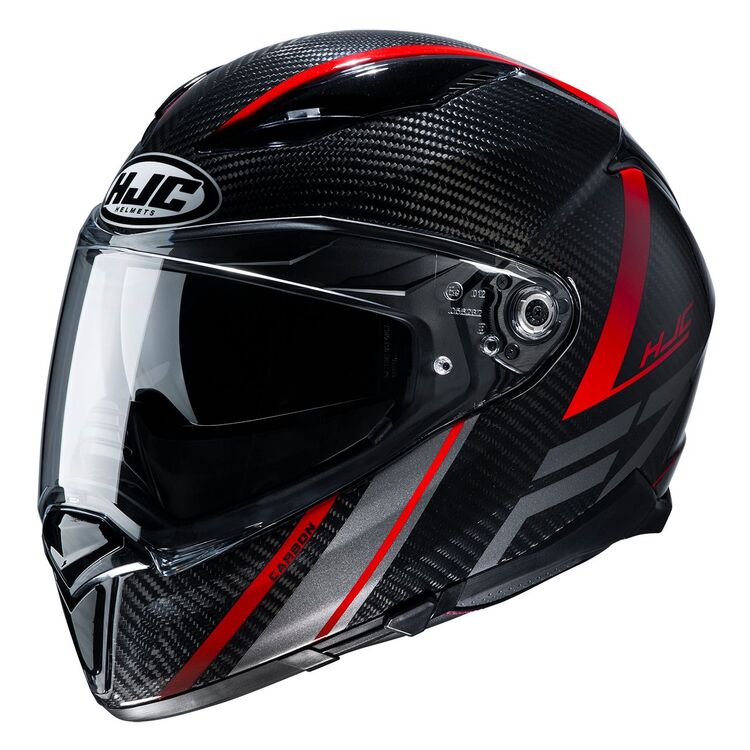 HJC F70 Carbon Eston
Price:

$469.99

Warranty:

5 years

Review:

webBikeWorld

 
Head shape:

long oval

Weight:

3.4lbs
Here is a carbon fiber helmet for all of us who aren't riding a crotch rocket or heading to the track every weekend. The F70 Carbon from HJC is perfect for all-around riding in a more upright position. You get all the goodies like an internal sun visor and a lid that was designed with a communication system in mind. HJC partnered with Sena to develop SmartHJC and it will fit seamlessly into this helmet.
This new shape from HJC really looks sharp, with plenty of vents that are nicely hidden in the helmet lines. The weight savings with the carbon construction is only about a ¼ lb but where it is really felt is the change of balance with this lid on your head.
Plenty of time was spent during development by HJC to get the ventilation right, and yes this lid flows air nicely through excellent channeling in the EPS liner. 
Overall this is a great step for most riders who still want the features while keeping the weight down.
Why you should buy this helmet:
Lightweight and strong carbon shell

Aerodynamic advanced CAD shape with enlarged eye port for greater visibility

ACS Advanced Channeling Ventilation System with front to back channels for airflow

Larger HJ-V9 drop down internal sun visor 

Patented One-Touch sun shield mechanism deploys and retracts quickly and easily

Bluetooth-ready design accepts SMART HJC 10B or 20B Bluetooth communicators

DOT and ECE approved
Other considerations to make:
If a more muted style is your preference, the standard F70 Carbon will save you $40

You want a helmet you can also use at the track? This one won't work for you.
High-End Full Face Helmets (Priced $500+)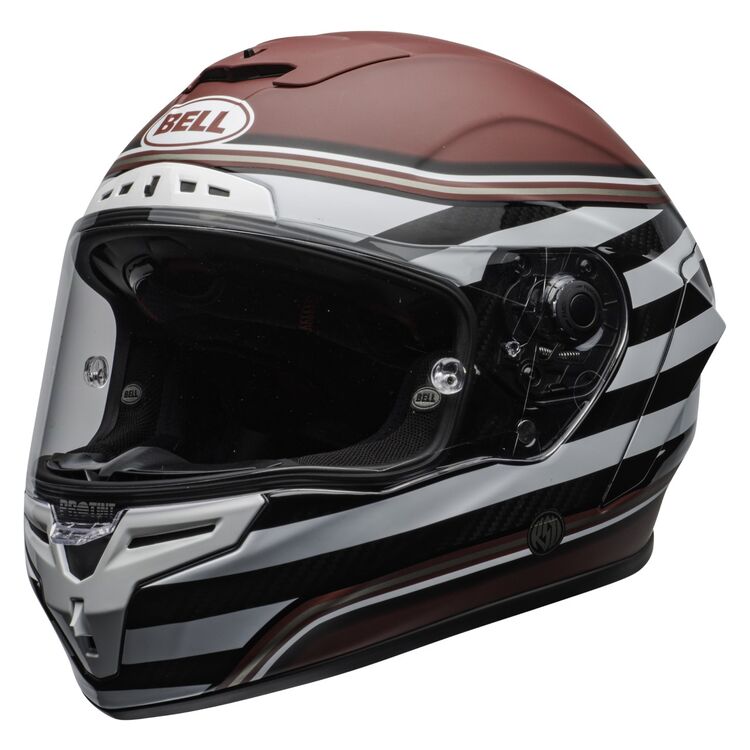 Bell Race Star Flex DLX RSD The Zone
Price:

$869.95

Review:

Bad Ass Helmet Store

Warranty:

1 year

Head shape:

intermediate oval

Weight:

3.57lbs
Ah, here we are. The premium helmets section. While all of the helmets above are excellent choices, these high-end helmets are for those that want the creme de la creme, with all the bells and whistles. Personally, I find it valuable to invest in the most important piece of safety gear for my ride.
This is the pinnacle of Bell helmets, the full trim package with every option they offer. Want to talk about premium quality? This helmet has recycled jade woven into the mesh liner to keep you cooler on long and hot rides.
This is essentially the Bell version of Shoei's X-14 racing helmet and competes with ease. The new Race Star doubles down on what the original model got right while bringing new features like speaker pockets and a 10% reduction in weight.
Why you should buy this helmet:
A sizable update to the original Race Star

Bell's top-of-the-line option

Speaker pockets

3K carbon fiber shell

5 total shell sizes for the perfect fit

Comes with Bell's ProTint shield
Other considerations to make:
Expensive

No pinlock feature

Optimized for riders in tucked racing positions, not the best for up-right riding or touring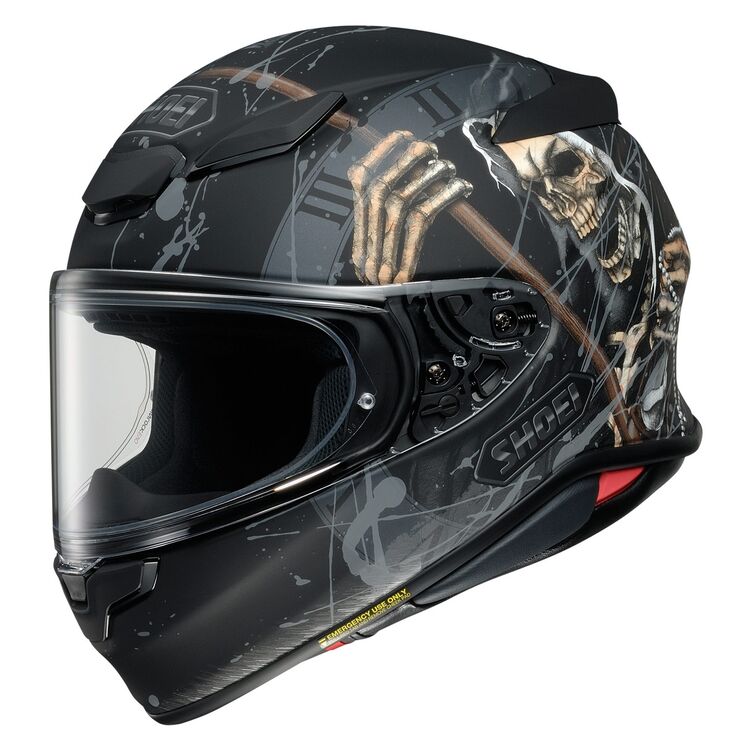 Shoei RF-1400 Faust
Price:

$629.99

Review:

webBikeWorld

Head Shape:

Intermediate Oval

Weight:

3.62 lbs
The latest flagship helmet from Shoei, the RF-1400 is considered by many to be the best you can get for riding on the street. 
Endless hours of wind tunnel development led to a 4% reduction in drag and 6% reduction in lift over the outgoing RF-1200. It also ensured that the RF-1400 has superb ventilation and remains a very quiet helmet.
Shoei completely re-engineered the shield system for the new RF-1400. It seems like a nice improvement from the RF-1200 and doesn't have the hard clunk like the GT Air II does.
Pretty much you cannot go wrong with this helmet. It is fully SNELL 2020 approved, it is very quiet, has great ventilation, every part of this lid feels premium. 
There are currently 23 different color options, solid colors being $100 less than the Faust graphic pictured here. Now take my money Shoei and send me this badass Grim Reaper lid.
Reasons to buy this helmet:
Lightest Shoei in the lineup

4 shell sizes

Advanced noise reduction

Dual density EPS liner

Superior ventilation

3D Max-Dry System II Liner

E.Q.R.S. (Emergency Quick-Release System)

CWR-F2 Shield System

Neatly secured chin strap

Includes Pinlock EVO pins and lens insert

Includes breath guard and chin curtain

Snell M2020 and DOT Certified
Other considerations to make:
You don't want to have to keep explaining to other bikers just how awesome it is.

As good as this helmet is, there are some awesome choices at this price level.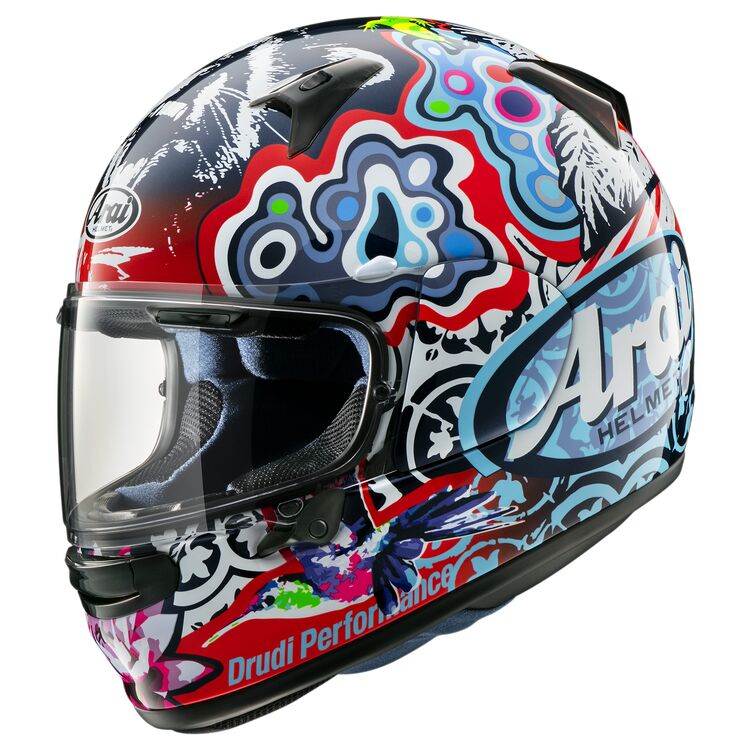 Arai Regent-X
Arai is the light to Shoei's dark side. They are both deeply rooted in MotoGP and utilize top-of-the-line technology to make their helmets high quality, and most importantly safe.
The Regent-X is a great helmet with it's ~$600 price point, it's hard to lose with its PB-cLc shell construction and room for speakers. When you choose an Arai, you're paying for safety. If you're torn between choosing the Arai Regent-X and the Shoei GT-Air II (they have the exact same price) ask yourself: do you value added safety, or added features? While this helmet doesn't have all the bells and whistles that the GT-Air II includes (built-in communications device, drop-down sun visor, etc) what it has is a Snell certification where the Shoei does not.
Reasons to buy this helmet:
The perfect all-arounder

Round shape for 'glancing impacts' making it safer than other alternatives

Arai is a highly respected helmet manufacturer and happens to be Shoei's arch-nemesis

Comfortable

Good face shield ventilation
Other considerations to make:
No drop-down sun visor

Many owners say it is quite loud

A little bit bulbous looking (it's a safety feature, but perhaps not for everyone)

Pinlock shields are not provided but are compatible

Noisey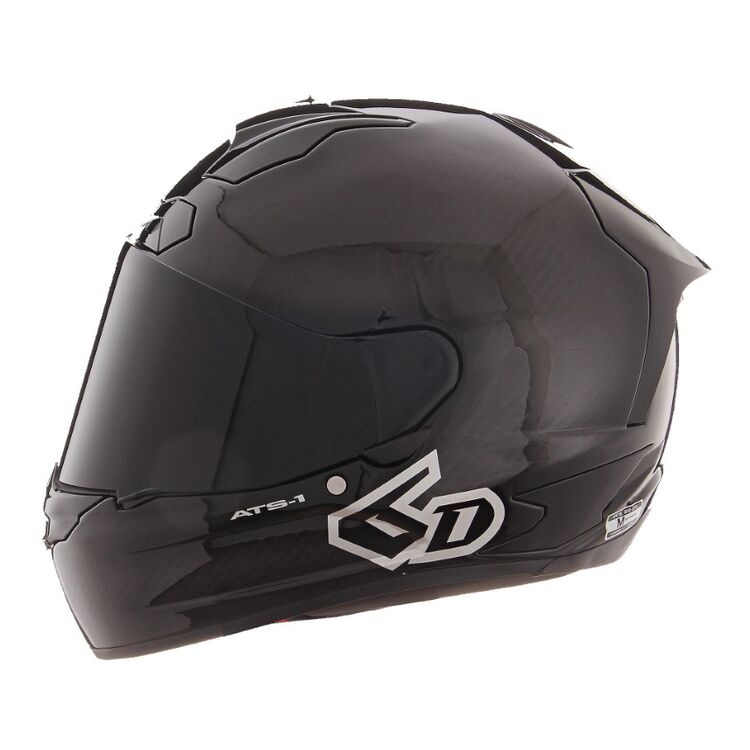 6D ATS-1R
Price:

$774.95

Head Shape:

Intermediate Oval

Weight:

3.58 lbs

Warranty:

3 Years
To those not in the know, the ATS-1R may just look to be another MotoGP-styled high-priced brain bucket, but you would be wrong. This is one extremely safe, and well designed MotoGP-styled brain bucket well worth its asking price.
Inside the helmet are two nested EPS liners that 6D patented into a system called Omni-Directional Suspension. In basic speak, the outer shell moves independently of the head and independent testing has shown it makes a very significant reduction to the energy transferred to the rider's head during impact. The innovation and wide-ranging applicability of ODS helped 6D win the Grand Prize in the NFL's Head Health Challenge III competition. So yeah, 6D and ODS is kind of a big deal.
The shell is carbon fiber, it has good venting and speaker cutouts, of course.
Reasons to buy this helmet:
100% carbon fiber shell

ODS (Omni-Directional Suspension) energy management system

It is among the safest helmets you can buy

Removable and washable moisture-wicking comfort liner

Speaker pockets

9 total vents

DOT and ECE approved
Other considerations to make:
No drop-down sun visor

It might not feel as high-end as some others. At least until you bump your melon.

Not SNELL rated, or had a SHARP test yet.