Article Contents:
Motorcycle technology has greatly advanced in the last several decades, and so has gear technology and how it is made. A helmet used to be nothing more than a hard case with a liner on the inside for comfort.
Now they're extremely advanced pieces of equipment with things like carbon fiber and MIPS systems in some cases. New helmets take things up a notch by adding in multi-density EPS, antibacterial liners, advanced ventilation systems and more.
With all of this said, we shouldn't forget the helmets that came before and paved the way for the most advanced lids of today. These helmets helped make some of the most advanced protective gear ever. They also inspired retro, classic-styled helmets that many people—including myself—like to wear to today.
These new classic helmets are the best of both worlds. They offer up an older-school look with a new-school tech.
Why Should You Care About Classically Style Helmets?
Some of you might be thinking: "Why even give a crap about classic helmets? Haven't we moved on?" Apparently not. Helmets with a classic design and style are big sellers. People who ride old bikes, cruisers, cafe racers, scramblers, and custom bikes love classic gear.
When it comes to a helmet, it's better to have something new that looks old than actually rock a vintage lid with outdated helmet technology. Not to mention that helmets don't particularly age well. The recommendation is to get a new one every few years or so, especially if it has been damaged in any way.
Why/How I Selected These Helmets
You might be wondering why I'm the person you should listen to and why my recommendation should mean anything to you at all. Well, I've been riding motorcycles for years. Before that, I rode go-karts like a madman around in the dirt. I always wore a helmet.
Many of those helmets were what some folks would call classics. They were simple open-face designs without many features or amenities. Over the years, I've learned that a newer, better-constructed helmet is the best way to go. All of the helmets recommended below at least meet DOT approval standards.
Also, I should note: I write about helmets, motorcycle gear, motorcycles, cars, and other motoring topics for a living. I know this stuff intimately. I don't get paid when you buy a helmet. This isn't a commission deal. I make my money by writing about the best stuff out there and educating people. So, if you don't like my recommendations, that's fine, but I genuinely believe in the products I recommend.
Classic Open Face Helmets
Bell Custom 500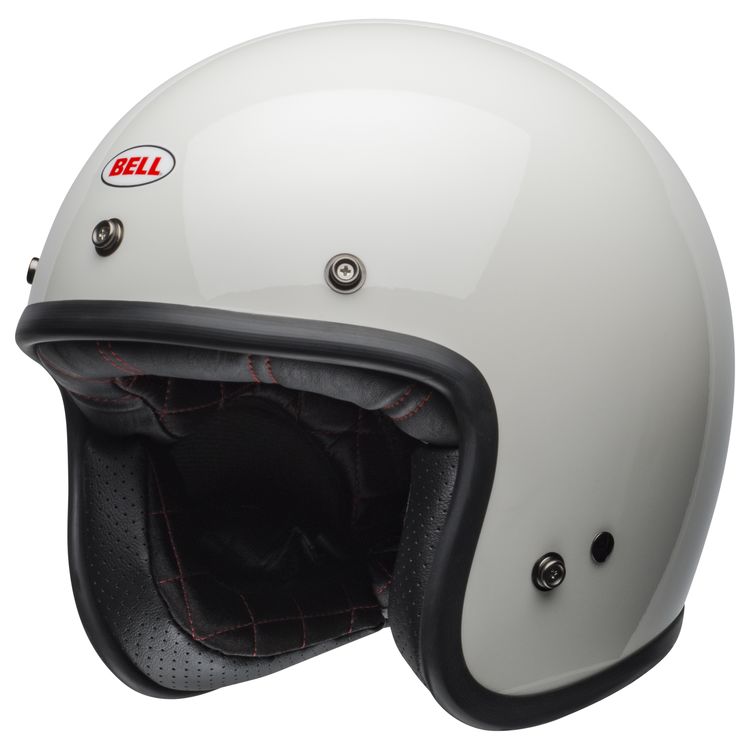 Price: $119.95
Review: webBikeWorld
Head Shape: Intermediate Oval
The Bell Custom 500 is the company's latest take on the helmet that started it all, the Bell 500 TX. Bell launched the original 500 back in the late 1950s. Today the Custom 500 carries on its legacy with better construction, better materials, and an overall better and safer design.
The Bell Custom 500 comes in five shell sizes, has a multi-density EPS, a five snap design for visors or face shields, a D-ring chin strap, and a five-year warranty. It's designed to fit low-profile so you don't get the silly mushroom look.
AGV X70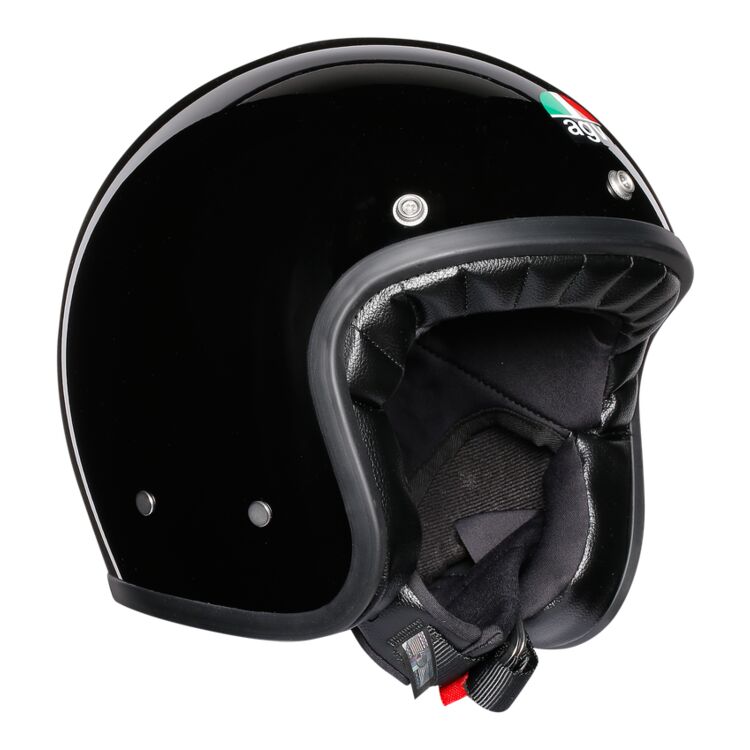 Price: $199.95
Review: The Drive
Head Shape: Round Oval
The AGV AX70 is essentially AGV's take on the classic open-face three-quarter lid design. It's very similar to the Bell Custom 500 and offers much of the same in terms of features and amenities. If Bell's intermediate oval head shape doesn't work for you, try out the AGV.
The AX70 offers an advanced composite fiber shell, three shell sizes, an eco-leather fabric liner with an embossed logo, a removable and washable interior, a neck roll, and a double D-ring retention system on the chinstrap.
Scorpion Belfast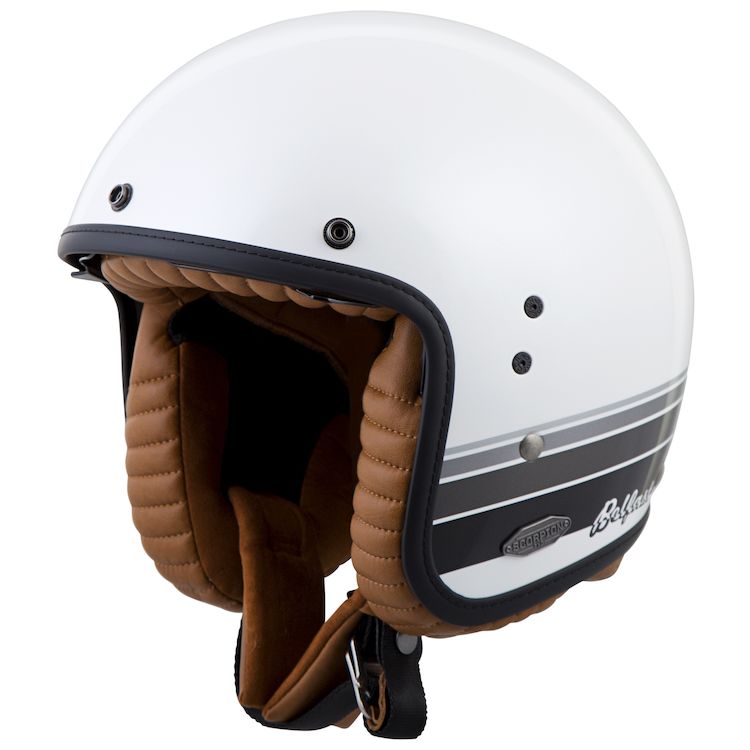 Another good round oval head-shape helmet is the Scorpion Belfast. This one is a little more stylish than the Bell Custom 500, but it's not all the much more feature-packed. It's a simple open-face lid just like the others.
The Belfast offers a fiberglass shell that comes in three sizes, a retractable and interchangeable internal sun visor, Nappa leather accents, Kwikfit cheek pads, a hand-stitched and soft liner, and a five-year warranty.
Classic Full-Face Helmets
Bell Eliminator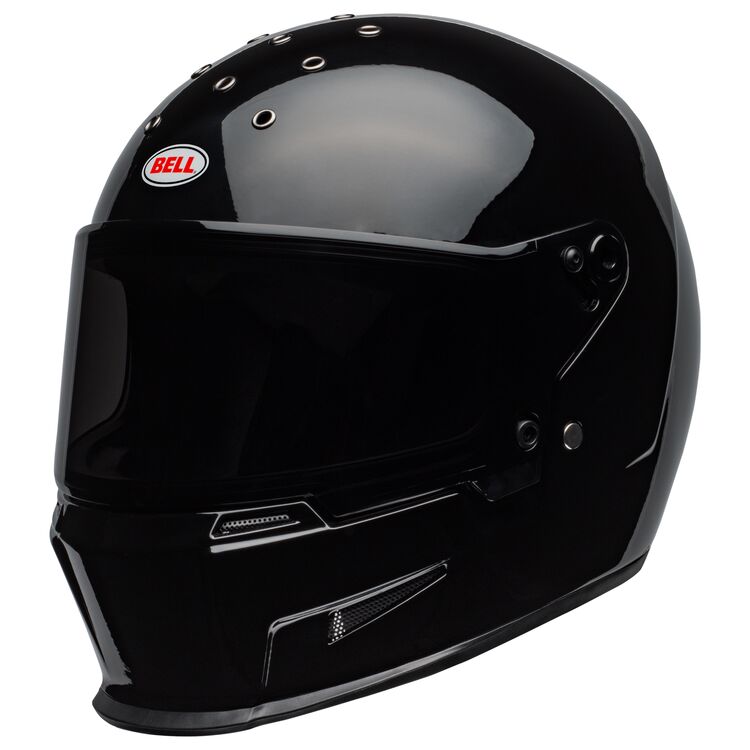 If you like the old-school style but want something that is a full-face helmet and looks a little different, then the Bell Eliminator should be on your radar. The helmet offers a vintage automotive-racing-inspired look to motorcyclists.
The helmet comes with a fiberglass composite shell that comes in three sizes, advanced EPS that is available in five sizes, an anti-fogging face shield, an anti-bacterial liner, contoured cheek pads, pockets in the EPS for speakers, eyeglass compatibility, and ECE approval. Bell helmets come with a five-year warranty, and you can get this one with a peak visor (sold separately) if you want it.
AGV X3000
The AGV X3000 looks like it came out of a vintage motorcycle movie. It's a full-face lid that just oozes with style. Luckily, for anyone who finds it attractive—which is likely quite a few people—the helmet also delivers some good features.
The lid offers an advanced composite fiberglass shell that comes in three sizes, visor vents with air channels throughout the EPS, genuine leather and suede fabric interior liner that's removable and washable, and a double D-ring retention system.
Bell Bullitt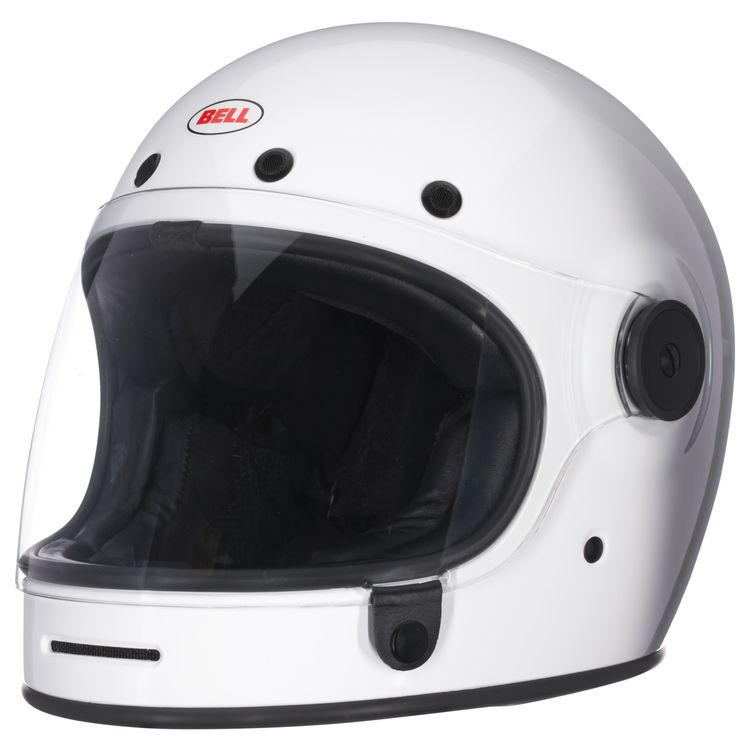 The unique Bell Bullitt helmet is a real winner. It's a throwback to the Bell Star 120 helmet, but it brings with it some modern features to help make it a helmet worth owning. The Bell Bullitt might not have the Star's name but it carries on its legacy.
The helmet features an ultra-low-profile look thanks to a fiberglass shell that comes in three sizes. There's also multi-density EPS, a face shield with a leather pull tab, a padded chin strap, mesh intake vents along the brow, a rear exhaust vent, speaker pockets, and a five-year warranty.
Biltwell Gringo S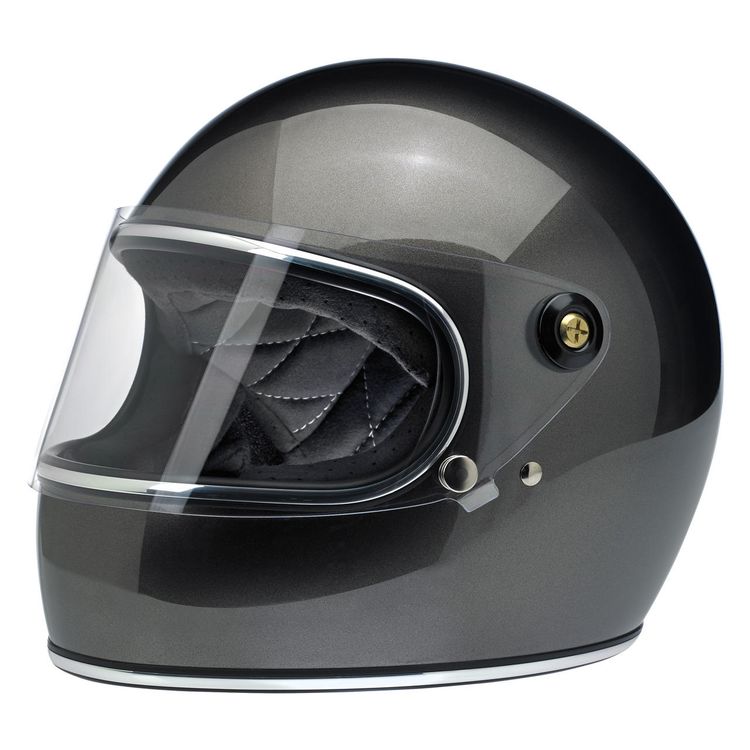 If you want a classic helmet similar the to Bell Bullitt but don't want to pay the pretty high price for that lid, then you should check out the Biltwell Gringo S. The Gringo S has a similar overall shape to the Bell Bullitt but comes in at a much lower price thanks to a couple of clever cost-cutting measures.
The helmet comes with an injection-molded ABS outer shell with a hand-painted finish, an EPS inner shield, a Lycra liner with diamond-quilted stitching, internal BioFoam chin pad, D-ring chin strap, polycarbonate face shield, and rubber or chrome accent edging around the bottom of the helmet and around the eye-port.
Biltwell Lane Splitter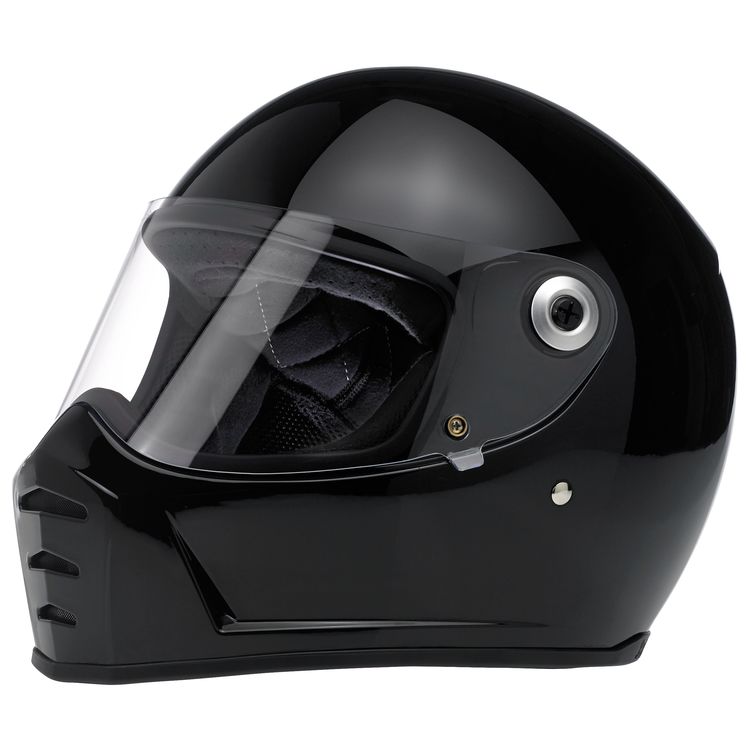 The Biltwell Lane Splitter offers a unique street-fighter badass vintage style. It also has an almost old school enduro quality to it. If you want to look like a badass and rock some vintage style, then you most definitely have to check out the Biltwell Lane Splitter.
The helmet features an injection-molded ABS outer shell with a hand-painted finish, an EPS inner shell, a hand-sewn Lycra liner with diamond stitching, pockets for speakers, a chin curtain, and a polycarbonate face shield.
Bell Moto-3
Price: $289.95
Review: Cycle World
Head Shape: Intermediate Oval
The original Bell Moto-3 came out in the 1970s. It looked more or less the same as the helmet you see here. Bell reengineered its icon to be a truly amazing piece of equipment. It's simple. it's awesome-looking, and it provides you with ample protection.
The helmet features a lightweight fiberglass composite shell that comes in three different sizes. The EPS foam comes in four sizes for a more personalized fit. The helmet also comes with an EPS-lined chin bar, a removable and washable terry cloth liner, a five-snap visor, and ECE approval.
Simpson Street Bandit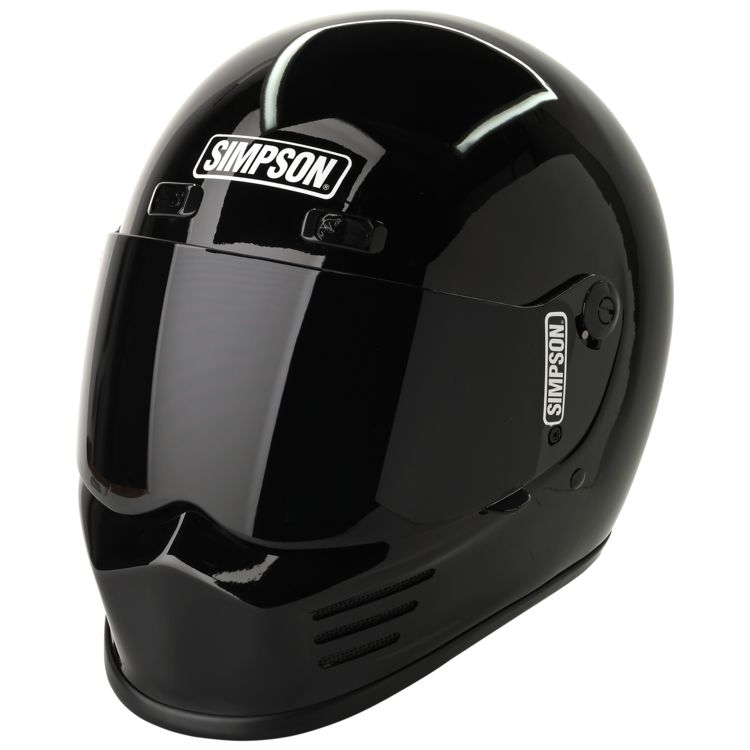 Price: $299.99
Review: webBikeWorld
Head Shape: Intermediate Oval
Is the Biltwell Lane Splitter not badass enough for you? Then you need the Simpson Street Bandit helmet It's the original badass helmet and it's a style that's been around since the 1970s. The helmet style is a staple in the industry, but the new version is a modern helmet.
It gets three chin vents to either side of the chin bar, a uniquely shaped face shield, some top vents that can be closed, a fiberglass shell that comes in three shell sizes, and a removable and washable liner. It also meets Snell M2015 standards, meaning it's one tough cookie.