Bluetooth motorcycle helmet communication devices are the best way to stay connected while you ride. Whether you want to take calls, listen to music, or communicate with other people you're riding with, a quality Bluetooth motorcycle helmet communication device is exactly what you need.
There are numerous options out there these days, but not all are equal. When it comes to communication equipment you need it to work and for there to be plenty of features. Here are the best ten communication devices for motorcyclists.
1. Sena 10C Pro Bluetooth Headset & Camera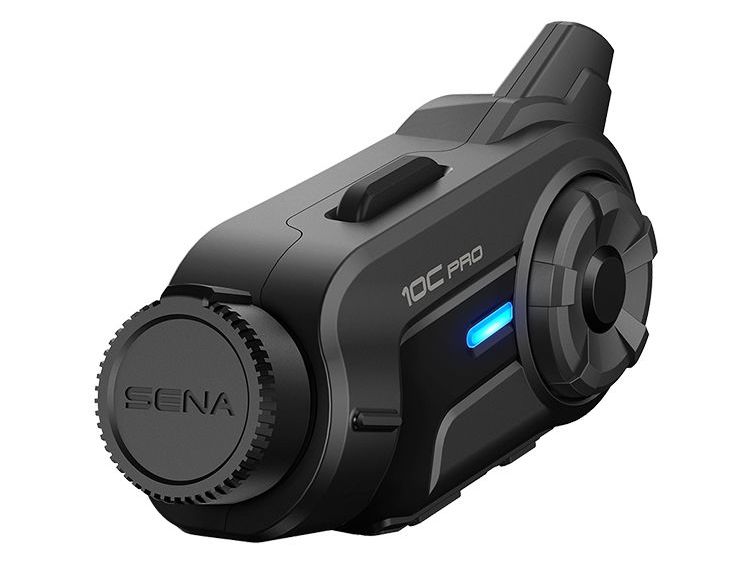 First up, we have the Sena 10C Pro. This is a unique option that won't be for everyone, but that doesn't stop it from being one of the better choices out there.
Why is it good but not for everyone? This Bluetooth headset combines a communication device and an action camera into one unit.
The built-in camera technology adds 1080p:60fps video capabilities as well as time-lapse video capabilities. Pair that with Sena's renowned high-quality communication technology and you have a killer product.
The product offers Bluetooth 4.1, Wi-Fi, four-way intercom with a range of up to one mile, advanced noise control, smartphone connection, and an app for Android and Apple, smart audio to mix music with your video, and water-resistant for use in inclement weather.
You get about 17 hours of talk time or two hours of recording time per charge and each charge takes 3.5 hours.
2. Cardo Q-Solo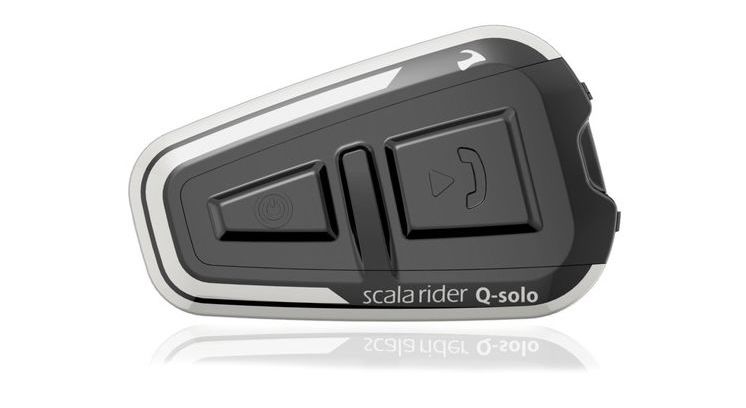 Another good option that's a lot more basic than the Sena discussed above is the Cardo Q-Solo.
This Bluetooth headset is unique in that it's designed for a single rider with one Bluetooth connection. This means you're most likely to connect straight to your phone while riding, though you could connect to a designated GPS system if you wanted to.
The Cardo Q-Solo isn't very fancy, but it gets the job done and does what it's designed to do well. It has an integrated microphone, automatically raises the volume to compensate for ambient noise, is waterproof and dustproof so you can ride in the rain or take it off the beaten path.
The battery will last up to 10 hours of constant use and can last up to a week in standby mode.
3. Sena 20S EVO Bluetooth Headset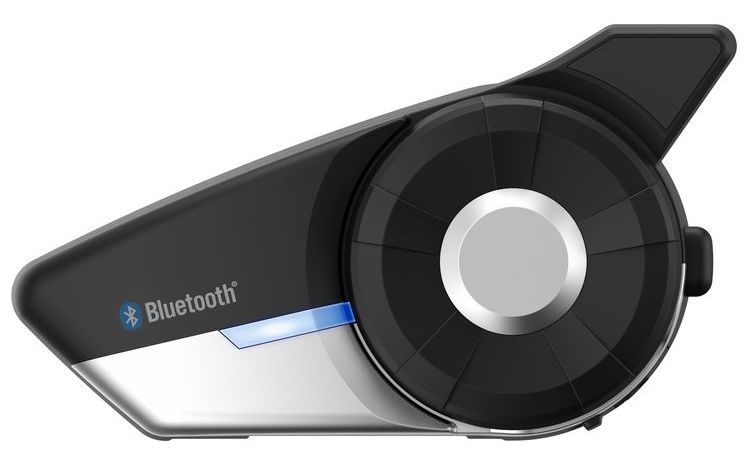 The Sena 20S EVO is an updated version of the original 20S Bluetooth headset. The 20S was and still is a fantastic headset, but the 20S EVO adds to that equation and comes out as the better product. Sena added some nice new features to make this model, including a new shark fin antenna and making the charging port a little more waterproof.
The Sena 20S EVO comes with 13 hours of talk time, 10 days of standby time, the ability to intercom with up to eight different riders at a distance of up to 1.2 miles, and listen to FM radio.
The headset also integrates with your phone for additional features such as music and GPS, and you can set up all of the intercom and other settings through the app for the device.
The speakers that come with this waterproof headset also offer some of the best sound quality of any premium Bluetooth headset.
4. Sena SMH5 Bluetooth Headset Dual Pack – Universal Mic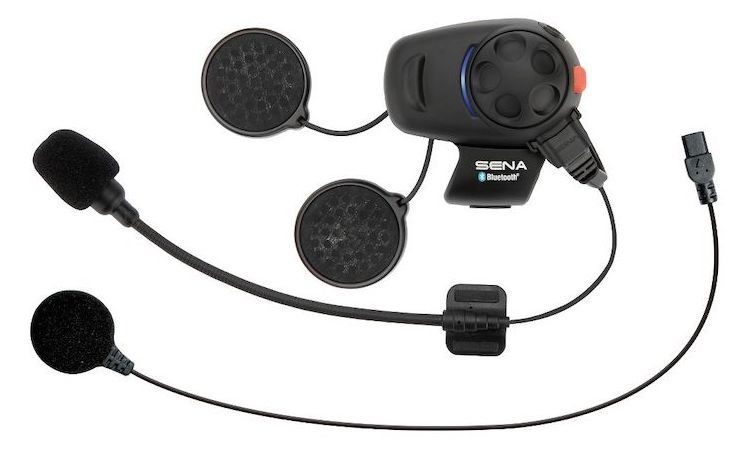 Another excellent product from Sena is the SMH5 Bluetooth 3.0 headset. While it's not nearly as capable of a headset as the 20S EVO, it's a smart option for people who are new to the Bluetooth headset game or just want something that offers a good number of features for a very reasonable price.
The SMH5 offers Bluetooth intercom ability with up to 4 riders for a distance of up to 400 meters. It also comes with a small boom microphone and two small speakers that do a good job of delivering sound whether it be from music or communications.
The jog dial control offers a quick way to move through the different functionalities of the headset, and you get up to 8 hours of talk time and 7 days of standby time. You can also use the unit while it's charging.
While this unit isn't the most advanced, if you're just looking for something simple with a few more capabilities than the Cardo Q-Solo, this is not a bad choice.
5. Sena SMH10 Bluetooth Headset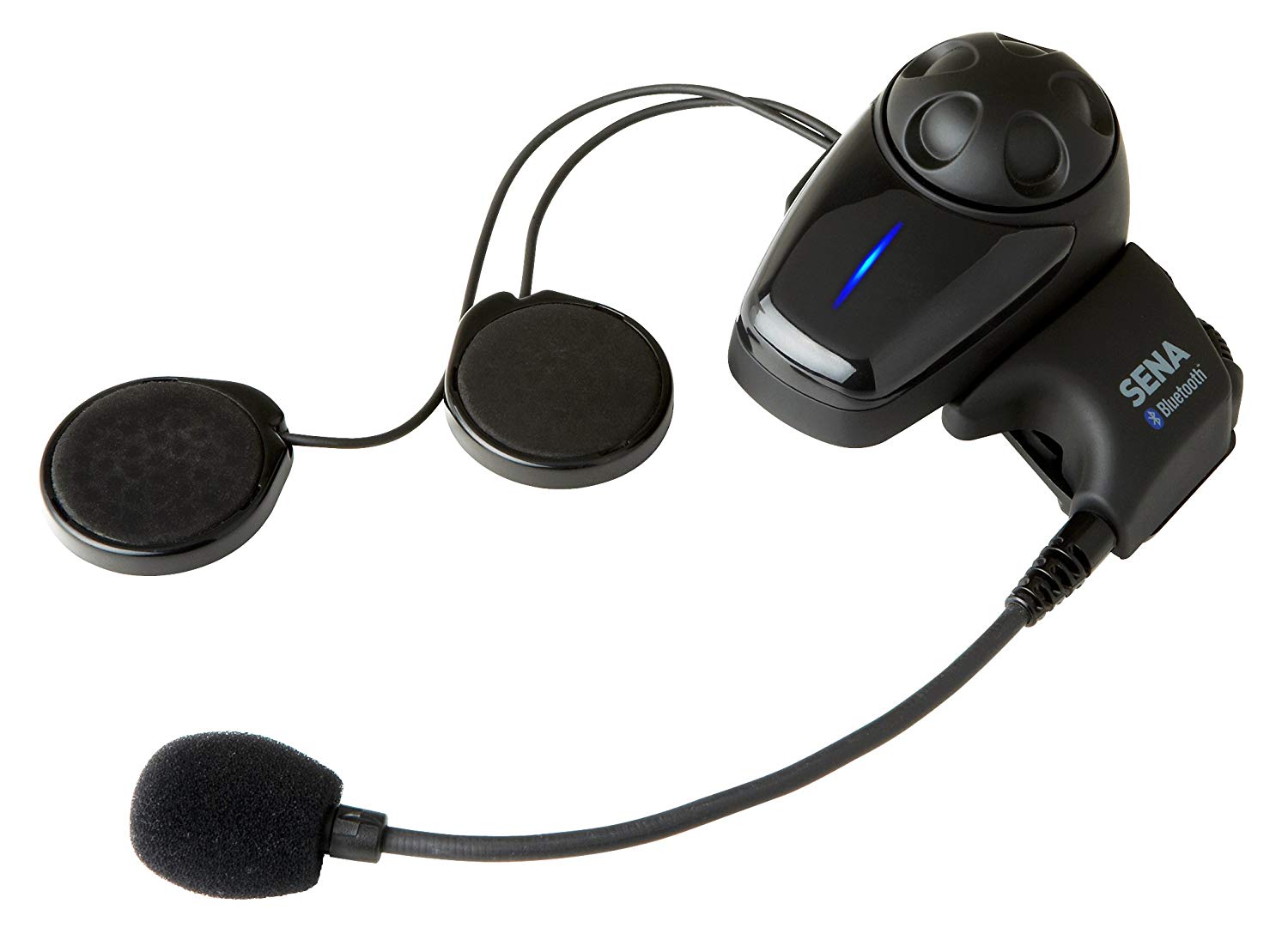 The most immediate upgrade from the SMH5 unit we just discussed is the Sena SMH10 Bluetooth 3.0 Headset. This headset has many of the same features as the SMH5 but it takes things up a notch, improving on the range, battery, communication capabilities, and quality of the speakers and headset itself.
The SMH10 has a universal setup that allows you to intercom with other various types of Bluetooth headsets, features an audio booster, individual volume control, the jog dial for easy control of the unit, and advanced noise control.
You can talk on this unit for up to 12 hours and you get a strong 10 days of standby out of a single charge. When it comes time to charge the unit it takes quick 2.5 hours and you can continue to use the headset while it charges.
Again, the SMH10 may have some great features and be waterproof, but it isn't the most advanced out there. With that said, for the price, it's a quality product.
6. Sena 30K Bluetooth Headset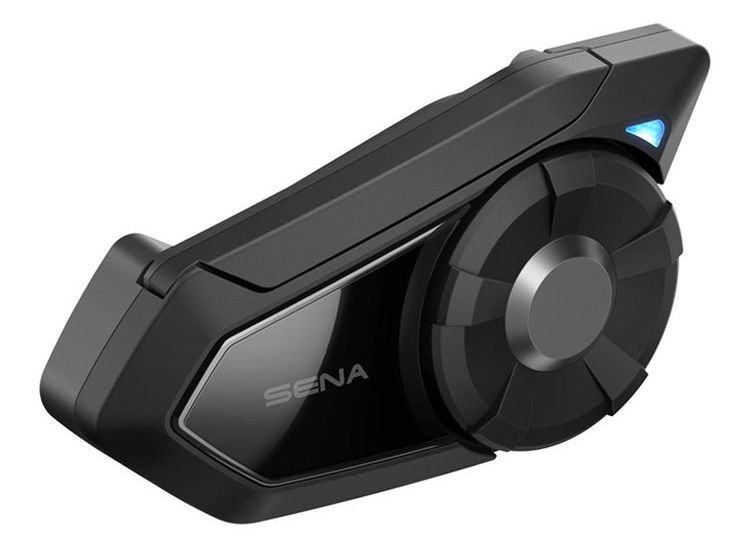 The Sena 30K is the successor to the 20S, so the 30K is the top of the line. What makes this Bluetooth Headset special is the unique mesh technology. It helps make connecting with a large number of riders easier than ever before.
The Sena 30K can connect up to 16 riders at a distance of 1.2 miles. Dropping down to 4 riders can extend connectivity up to 5 miles. Also, if one rider disconnects due to dropping too far back or taking a wrong turn, they will automatically reconnect with the group once they're within range.
Just because the mesh system is the big news for this headset, don't think Bluetooth is being left behind. The latest Bluetooth is here too and you can connect to up to 3 other riders at a range of 1 mile.
Additionally, the system comes with all the other goodies you'd expect from a premium waterproof Bluetooth headset. You can listen to music, connect to your phone for navigation, etc. The 30K comes with 13 hours of use for just Bluetooth connectivity and up to 8 hours of use for the mesh connectivity. Charge time takes 1.5 hours.
7. Cardo PackTalk BOLD Headset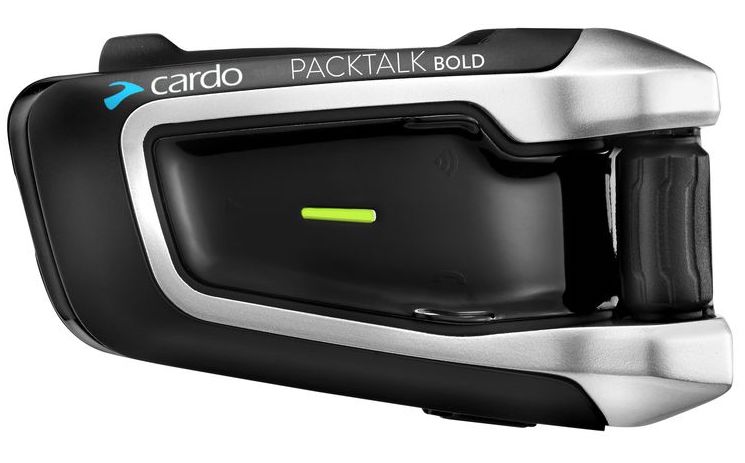 Cardo's PackTalk Bold Headset is a special unit that also utilizes mesh technology for large groups of people—up to 15 riders at a range of up to five miles.
The big news for the Cardo PackTalk Bold is that it has natural voice command, meaning you can do voice commands as you do with Siri on your iPhone, Amazon Alexa, or Google Assistant. You can even access voice commands through the system for your phone.
In addition to those innovative features, the Cardo headset is waterproof and dustproof, supports Bluetooth 4.1 connections with up to nine riders at a distance of one mile, and connects to your phone calls and other features.
The system also provides seamless transfer from intercom to phone calls, offers noise reduction technology, self-adjusting volume based on speed and noise levels, and offers a customizable hot-dial number.
8. Sena 10S Bluetooth Headset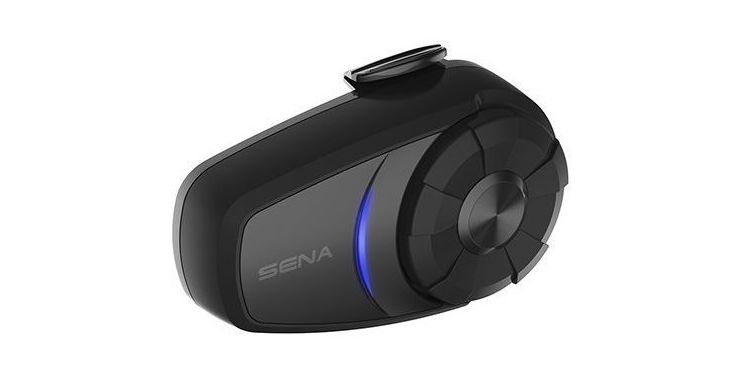 The Sena 10S is another product from the company that stands out as a good one. While it's not as advanced as the 20S, it still offers some very good quality in a Bluetooth headset, and it shouldn't be overlooked for its price. It's a nice product that comes in at a lower price point than the 20S but it's more advanced than the SMH models
The 10S features Bluetooth intercom connection with up to 10 other riders and can connect up to 2 different Bluetooth devices, so you could connect to a GPS and an iPhone if needed. It also gets quality speakers, a boom microphone, and you can intercom with other riders up to a full mile.
Additionally, this unit comes with advanced noise control, wide volume control, and a built-in FM radio. The 10S provides up to 12 hours of talk time and 10 days of standby time. When its time to charge, it takes only 3 hours.
9. Cardo FreeComm 4+ Motorcycle Bluetooth Headset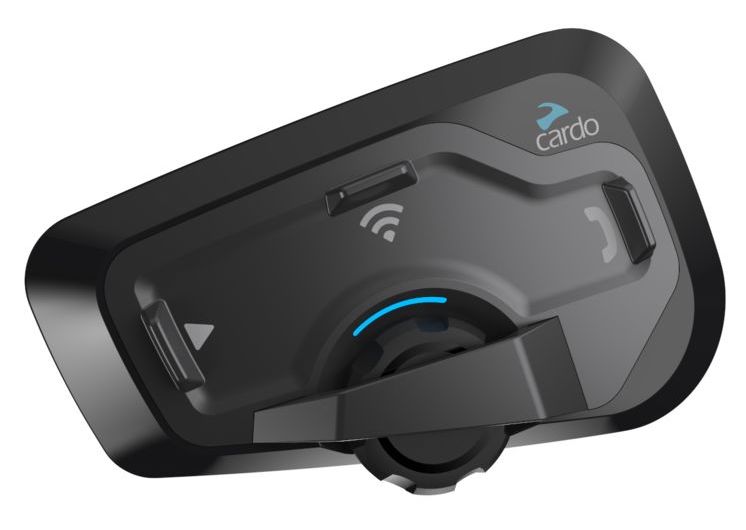 The Cardo Freecom 4+ is not the highest grade Bluetooth headset from Cardo. What it is, is a step down from the PackTalk system. It comes in at a lower price point and therefore has fewer features, namely it lacks the mesh technology. With that said, It's still a very good system and one that comes in at a reasonable price.
Cardo partnered with JBL to give you an extremely high-quality audio experience. It can be easily paired to a smartphone for music streaming or utilize the built-in FM radio.
When it comes to intercom connectivity the Freecom 4+ allows you to connect up with 4 other riders at a range of .75 miles thanks to Bluetooth 4.0 technology.
The unit is waterproof and dustproof and it offers up to 13 hours of talk time.
10. Sena 10R Motorcycle Bluetooth Headset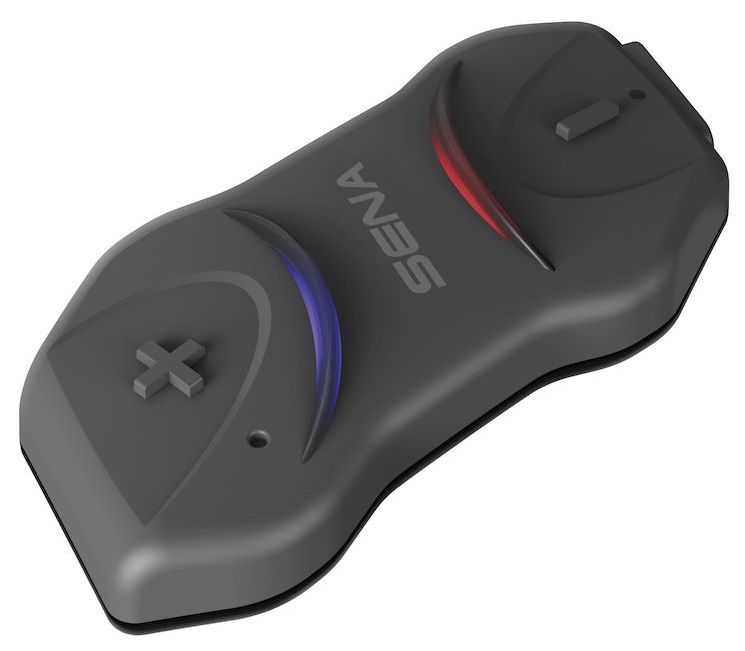 The most low-profile of any of the externally mounted Bluetooth headsets. This unit comes with Bluetooth 4.1, which is a significant move forward from the previous comparable Sena units. The 10R replaces the SMH10R, which had Bluetooth 3.0. This means the new 10R will have longer battery life and better connectivity.
The 10R can support up to 4 riders for intercom capabilities. It'll also connect to your phone for various functions and a new feature for this style unit is FM radio. It can connect to 2 Bluetooth devices, meaning you could connect it to your phone and a designated GPS unit if you wanted.
It also has features you'd expect in a Sena unit, including advanced noise control, wind noise reduction, and wide volume control. You're looking at up to 10 hours of talk time, and a 3 hour charge time.