When participating in extreme sports it is important to stay safe at all times. When a person goes on a motorcycle, quad, or extreme sport they need to be protected by helmet.  The Bell Pit Boss Helmet comes in many different sizes.The look of this helmet is basic. It is black in color and has a shiny finish. There are straps that come down and offer additional padding around the ears and is designed for a tight fit so it will be safe and offer protection. It comes in many different sizes to fit a variety of people: x-small, small, medium, large, and even x-large for people that need a little more room.
Features of the Bell Pit Boss Helmet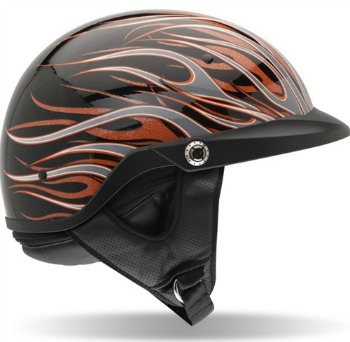 One of the features that people like best about this helmet it that it offers a great deal of protection while still being lightweight. It will not be heavy on a person's head or start to hurt after wearing it for a while. The shell of the helmet is made from TriMatrix as well as a Kevlar carbon fiberglass blend. This allows the helmet to be strong without hurting a person and weighing them down. The Bell Pit Boss even offers a special design that allows it to be comfortable – there is a Speed Dial that is used for adjustment. This will allow the helmet to fit perfectly vertically and horizontally.
When a person is riding the helmet may open a little causing it to feel like it will fly off a person's head. This fit will prevent that from happening. Since the helmet has an open face the fit will reduce this feeling from affecting a person as they are riding. Even though there is no covered facial portion there is an internal sun shade that will help protect a person's eyes from sun glare. This will also help keep a person cool and comfortable when they are riding. There is a neck curtain that can be removed during the warmer riding days and put on when the weather is a little on the cooler side. This helmet also comes with speakers and it is easy to set up. A person can listen to their favorite music and other features and is compatible with all other Pit Boss communication devices.
Pitboss Helmet Specifics
This helmet is only three pounds in weight and is certified for safety by the Department of Transportation. This helmet has met all safety and quality standards so it is great to use on the road.
Helmet Description
The Pit Boss helmet gets right down to business. There is nothing too fancy or frilly to deal with. This helmet is the class style designed to allow a person as much freedom as possible when they are still allowed to have their freedom while riding. This helmet has an adjustment that can be customized to match the speeds that a person is traveling at. There is a low speed setting that can be set when a person is just cruising around. There are other settings that offer additional protection when a person is traveling at a higher rate of speed. This will help a person customize their helmet and prevent what is known as lift. This helmet comes with a five year warranty as the manufacturers are confident that it will offer the highest in protection.
The Pit Boss Pros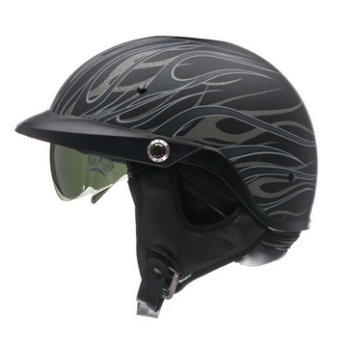 This helmet has received many positive reviews from actual customers. Customers have liked the freedom provided by this helmet. They did not feel restricted by it or weighted down. This helmet is unisex and can be worn by both a man and a woman. This helmet is quick and easy to adjust and offers a snug fit without feeling tight. A person can relax knowing they helmet will stay put and will not try to lift off. Customers suggested to order a size smaller helmet then what is normally worn, and will allow a person to have a snug fit without being painful. Customers also like that the helmet can be adjusted as needed to fit their heads.
The helmet is light to wear but is protective – It is designed to be hard and tough in order to offer enough protection – The helmet allows a person to adjust it to go along with the wind conditions. As the wind changes with a couple of snaps the helmet can be adjusted for a more comfortable and more secure fit. Many also like the drop down sun visor to help keep the sun out of their face as they ride.
Cons
Based on real customer reviews there are some features of the Pit Boss helmet that no everyone is pleased with. According to some customers the helmet was not stylish enough for their liking. It was described as "dorky" looking. People with prescription eyeglass have stated they are not satisfied with the drop down shield. Users have said they could not see clearly out of it with their glasses. The shield may reduce the field of view making it difficult for a person to see clearly. Being able to see well at all times is very important when on the road so this is something to take seriously.
This half helmet from Bell offers great protection and is compliant with all the Department of Transportation (DOT) safety features. The helmet is comfortable and will stay securely on a person as they are riding. This Pit Boss helmet has speakers so a person can keep their device in their pocket and listen to music as they are riding. It is compatible with all devices that were designed for Pit Boss. A person can listen to their music as they enjoy the ride. The helmet has a classic look and is stylish for a man or a woman to ride. This helmet is a great choice for safety and comfort as it is light weight.
–> Check out all the different styles of Bell Motorcycle Helmets here.