A Modern Classic Helmet
The Bullitt helmet is a modern take on the very first full-face helmet, the Bell Star released in the 1980s. For the rider who seeks a vintage look with full-face protection, this is the perfect one. The Star revolutionized the helmet and motor sports industries and set a new safety standard: Since its invention, motorcycle helmets have been made in all shapes and sizes, but the simple, classic Star has remained at its essence. Its inherent simplicity has made it an effective and esthetically pleasing piece of motorcycle gear that has stood the test of time.
To pay homage to the golden days of motor sports, the Bullitt has inherited the Star's classic style but has been infused with modern comforts and crash protection. Constructed from a low-profile fiber composite shell and multi-density EPS liner, the Bullitt meets modern Transportation Department regulations while coming as close as possible to how the original Star looked and felt. Such luxurious appointments as a micro-suede lining with leather trim, rear exhaust vent, metal-mesh circular intake vents and 3D-cut cheek pads with speaker pockets complement the vintage styling, shooting the helmet into the 21st century.
The Bullitt began as a concept helmet created by a young student at the University of Cincinnati named Chad Hodge as part of his senior thesis. Hodge — who now lives in New York City and does freelance industrial and product design,tinkering on café-style vintage bikes— says that while shopping for helmets, he found nothing he liked, so he asked friends and ended up building his own. Using 3D printing, he created a prototype and hand-stitched the interior. When Bell caught wind, they and he immediately joined forces to help bring that concept to life.
"I really value functionality, and I like letting that drive the form. I don't like things that don't belong," says Hodge in an up-close interview about his inspiration for the helmet. This can be clearly seen in his helmet — even the retro features are limited to functional things like the real metal vents at the top and the side rings that operate the visor. Amazingly, the prototype is practically identical to the current production model. Hodge had built it correctly and posted it on a forum, where a Bell representative saw it and asked if Hodge wanted to make it a reality. The rest is history.
Named for the 1968 thriller movie starring Steve McQueen, a motor-sports enthusiast, the Bullitt is an exercise is design as much as in rider safety, breaking the mold and providing the market with a premium retro option. Put your vintage helmet back onto the shelf where it belongs, and put on a Bullitt to fulfill all your retro motorcycling dreams.
The Bullitt, whose features are described in detail in the next section, may resemble a new-old-stock Bell Star, but it is much more than a relic from the 1970s. It eliminates many objections to wearing a full-face helmet: It is lightweight and offers a wide range of vision, making it ideal for general all-around safety but especially for heads-up city riding. It is also highly adaptable — run it with either the included straight clear shield or any of many straight or bubble-shaped aftermarket shields. In addition — thanks to a slick leather-clad magnet tab — the shield can be cleanly removed and the helmet worn with glasses or goggles of your own choice.
A full carbon shell is also available.
Besides its modern safety standards, the Bullitt has creature comforts that separate it from other retro-face helmets. Instead of snaps, it has circular steel-mesh vents. There is a hidden switch inside the chin bar to toggle airflow on and off, and the superb fit: Modeled after Bell's über-comfortable RS-1, which features an intermediate-oval head form, the Bullitt comes in three shell sizes and has a washable interior (see next section).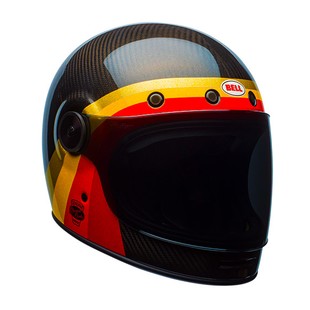 Bell Bullitt Carbon Chemical Helmet shown left
From a design perspective, the flip-down bubble visor will be loved by some and disliked by others — I personally like it because the inside offers a little more breathing space. If you look at the hinge mechanism, you will notice that it is removable; you might thus infer that Bell will offer a variety of aftermarket visors and will also —for those who prefer sunglasses or goggles —make the helmet usable with no visor fitted.
The beautifully minimalist shell design, which follows the prototype very closely, also has four ventilation studs across the front, above the visor, to provide airflow — these studs are then blocked by the visor's lower lip when it is in the raised position. Another, letterbox-style, ventilation port is fitted in front of the mouth to let in the fresh air when you need it; this port will also help if you need to talk with the helmet on, without needing to shout.
Functionality is often sacrificed for appearance. Design precedes use, and function is not stylish, but the new Bell Bullitt hit the market by breaking every rule, being stylish even as it is functional and legal. One would be hard-pressed to find anything that this helmet sacrifices for another. Its retro styling resembles that of all the killer antique helmets we wish we could wear, but it is safe and legal with the latest tech, passing DOT and European road certification.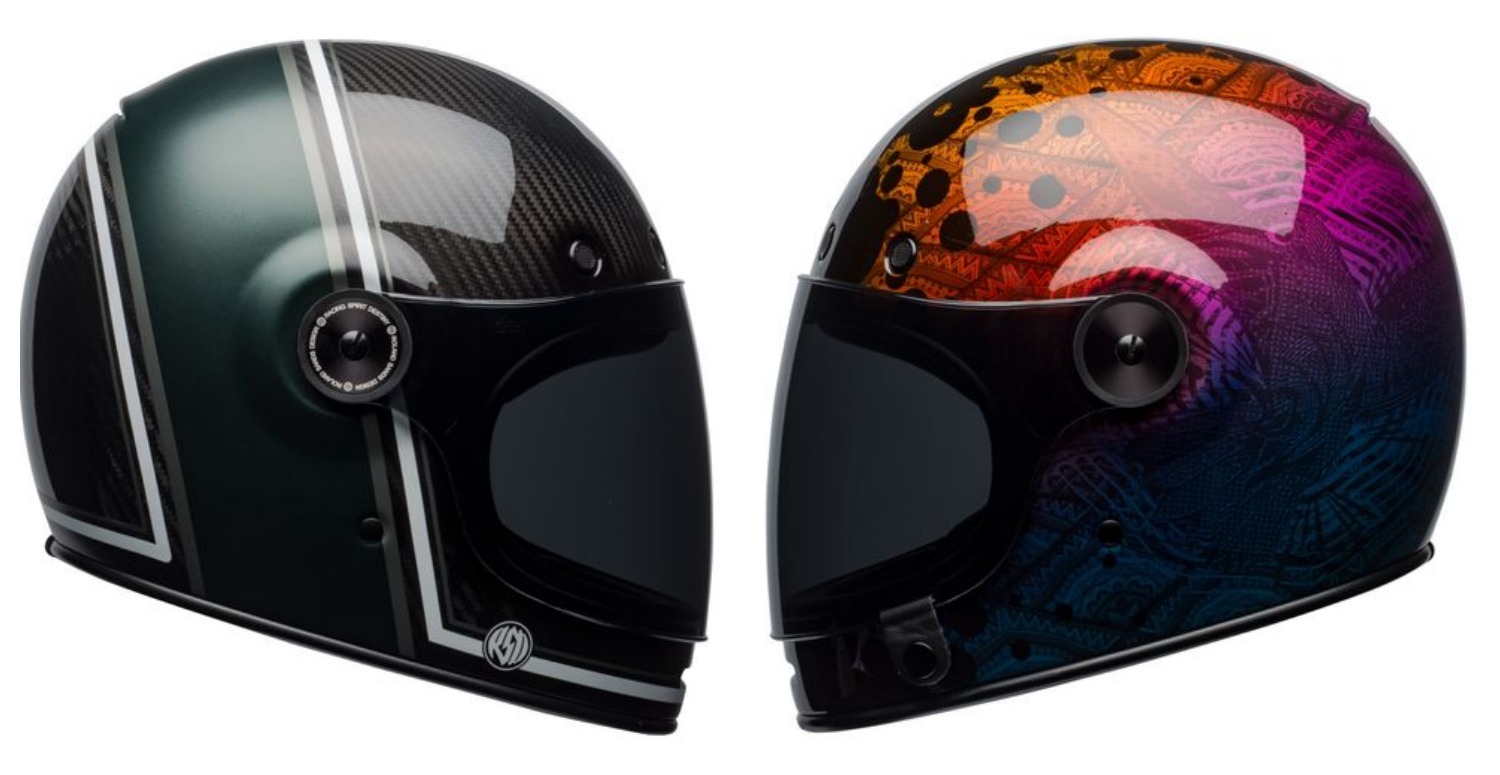 Helmet Features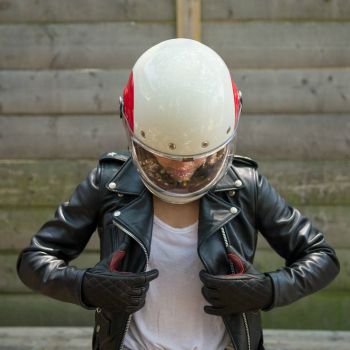 an ultra-low-profile fiber composite shell that comes in three sizes — SM (for XS and SM helmets), MD (MD and LG) and LG (XLG and 2XLG)
a multi-density EPS liner
a perforated micro-suede interior that is removable, washable, anti-bacterial and has a leather trim
a padded chin strap that has a stainless steel D-ring closure with a leather pull tab
five metal-mesh intake vents and a rear exhaust vent
3D-cut cheek pads with speaker pockets
a magnefusion shield closure system
accessory shields available for personalized look
industry-leading five-year warranty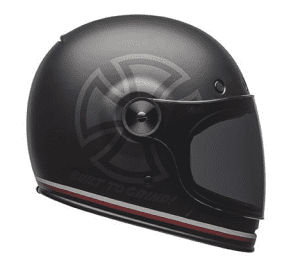 Black & blue flake and matt black & white helmets have brown and black interiors respectively, and both face shields included have pull tabs of the same colors.
Stock shield and interior configurations
Certifications: DOT and ECE 22.05
sizes: XS, S, M, L, XL, XXL
Weight: 3.09 pounds
Helmet Price
The only drag about the Bullitt is its price — $399 MSRP — though you will get what you pay for. If you are a retro rider who is more interested in a CB750 or a hard-tail Ironhead, you are familiar with such helmets as the Bitwell Gringo, which retails for $159. You might also know the full-face Ruby ¾, which is ridiculously expensive and reserved for the hipster of the hip at over $1,000. The Bullitt is the golden mean here.
Custom design your own on 10+ paint layouts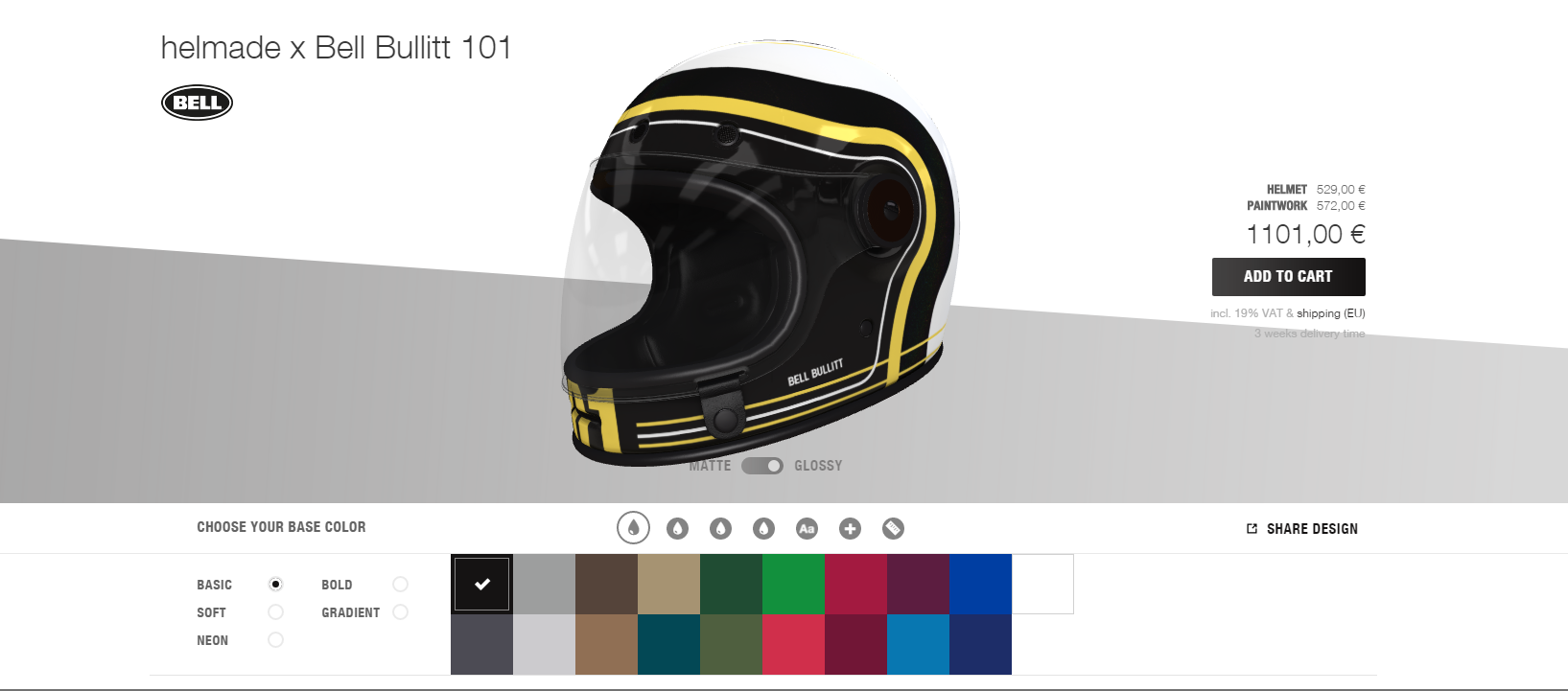 Now you can design your own one of a kind custom bell bullitt helmet with Helmade.com. Choosing which paint layouts and colors, you can easily design the exact helmet that you have been dreaming about, and have the team at helmade paint it for you.
Say goodbye to finding a custom painter to interpret what you want and hope he does a good job at it too and get it right the first time!
Conclusion
The style of the Bullitt is not for everyone, but we love it. The price "is what it is" — the helmet breathes, is safe and comfortable, and rides great in the wind.
We hope to keep it for a long-term helmet, maybe even long enough for another Bell helmet to pay tribute to this classic.