Oddly enough, scrambler bikes are not a universally loved style of motorcycle. For many, they are beautifully designed cousins to their often street oriented brethren. For others, they are silly little bikes that are trying to squeeze in on dual-sport and adventure bike territory.
This list is squarely aimed at the former of those two types. In 2021 a whole slew of new scramblers are either already on the market, or are planned to be on the market by the time spring rolls around in full.
Often easily spotted by their high mounted exhausts, longer front forks, beefed up rear suspension, and more ground clearance, they don't necessarily have to go off-road. Some scramblers are designed purely for the aesthetic and are designed to be used in the city. Some scramblers, on the other hand, are ready to get dirty, and have fun doing so.
Today, we present to you our five favorite 2021 scramblers, in no particular order.
2021 Triumph Bonneville Scrambler 1200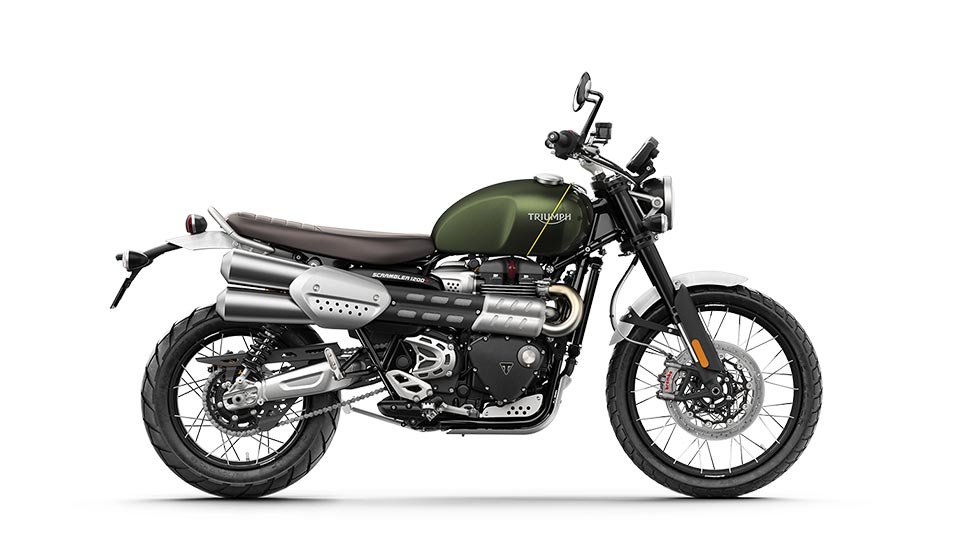 Those that know their motorcycle history know that the Bonneville T series, in one form or another, has been the main bike of Triumph's range dating all the way back to the 1950's. For 2021, after the success of the Street Scrambler over the past few years, Triumph decided it was high time their mainstream Bonneville T120 got the off-road makeover.
Using the same 1,200cc parallel twin, except tuned to produce 89 HP (9 more than the T120) and 81.1 lb-ft of torque (4 more than the T120), the Bonneville Scrambler 1200 also keeps the frame and the fuel tank from the T120. After that, it's a complete rework. The exhausts exit high and stay high along the side of the bike. The front forks are beefed up and an extra couple of inches of travel are added.
The rear is completely redone, with uprated dual shocks pushing the bike higher up into the air, along with a much more highly angled swingarm keeping the chain up and out of the possible brush and dirt that you will be scrambling over. This gives the Bonneville Scrambler 1200 a good 2.5 inches of extra ground clearance over the T120.
All in all, it takes the perfectly retro-modern Bonneville, and turns it into a bona fide on-road and off-road bike, something that follows up the success of the Street Scrambler with what we think is another home run gorgeous model for Triumph's lineup. Read more about the 2021 Bonneville Scrambler 1200.
2021 Honda Trail 125 ABS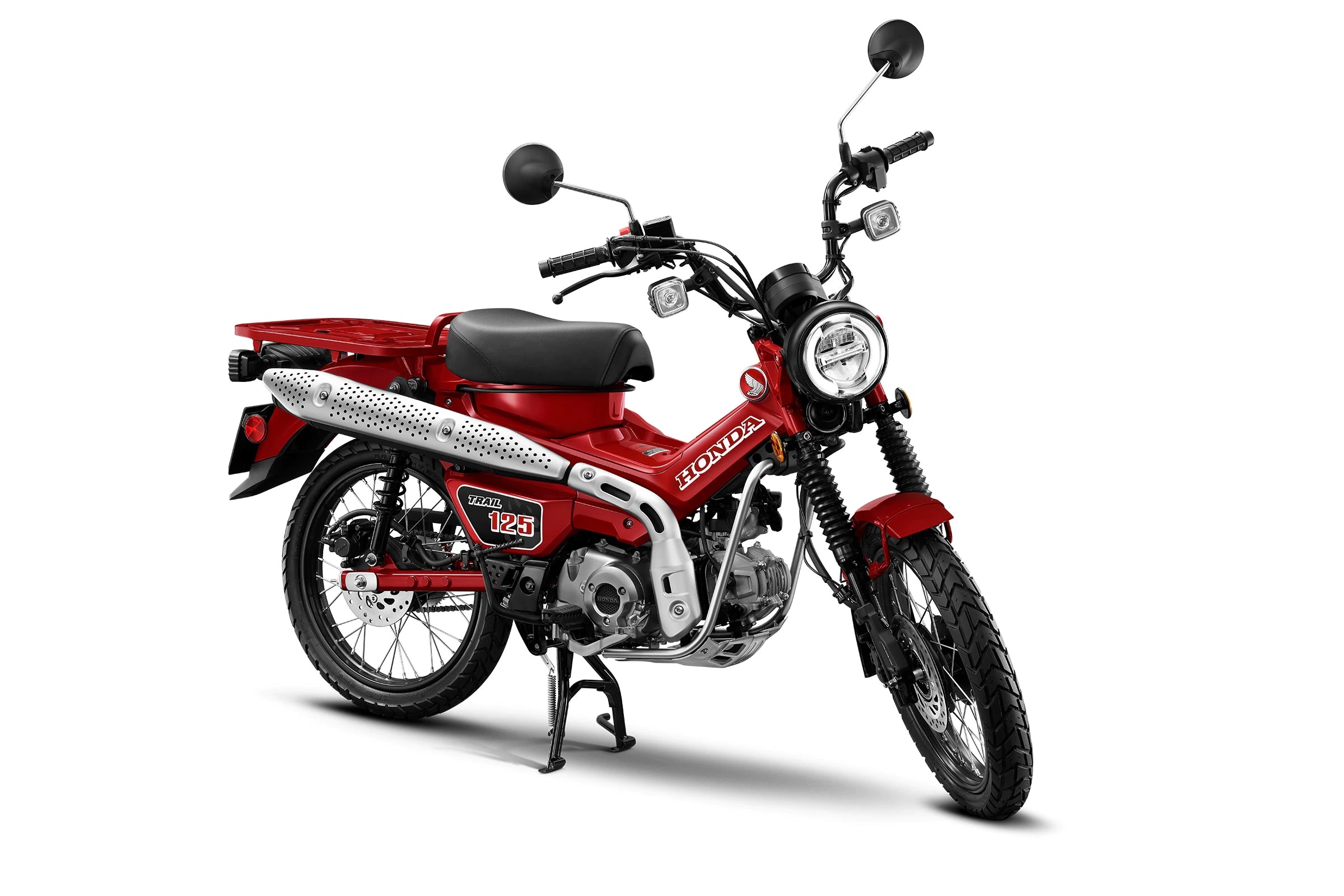 Last year, we posited that the tiny Honda Monkey was designed as a mini-scrambler. However, for years, Japan has actually had a proper mini-scrambler that after petitions, begging, and probably more than a few emails, has now landed on American shores.
That bike is the Honda Trail 125.
Just look at it, and tell us that it isn't a first ballot, hall of fame, checklist completing scrambler. High exhaust? Check. Bash plate under the (tiny) engine? Check. Dual shocks on the back for rebound and grip? Check. Massive front forks to take the bumps and ruts in stride? Check. Fun and funky? Check and check.
It even has mounting points for panniers if you want, and a decent cargo shelf that will easily handle a weekend's worth of supplies for a fun scramble through the backcountry. It's not the most powerful. It's not the fastest. It's got a 125cc single cylinder that is shared with the Super Cub 125.
But what it is, and what makes it so extremely special, is that it's fun. Uncomplicated, unassuming, pure fun. Read more about the 2021 Honda Trail 125.
2021 Ducati Scrambler Nightshift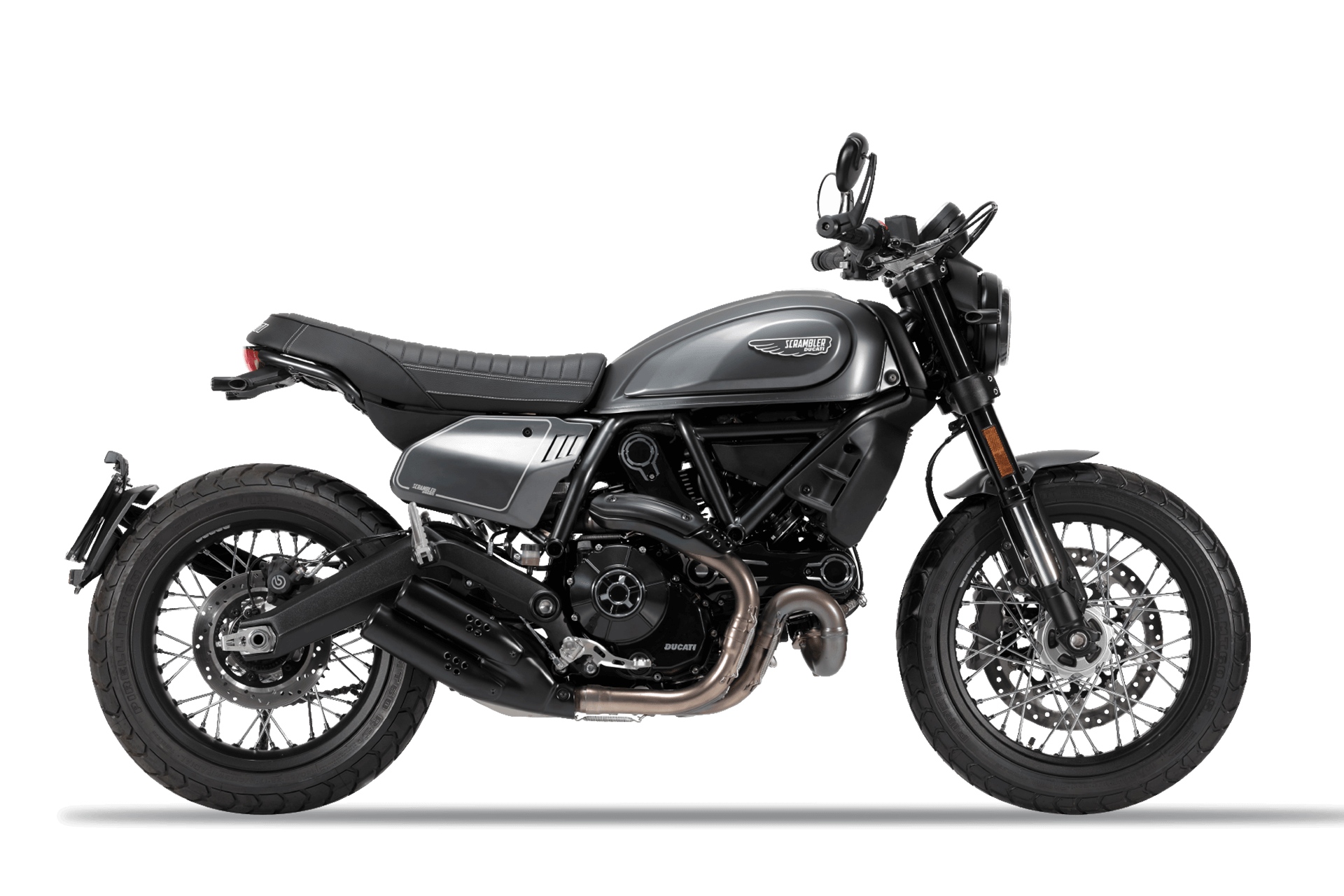 Ducati has been making scramblers for over a decade now. Maybe it's from the fact that there are mountains and hills in the North of the country, or that rural Italy is mostly old cobblestone and packed dirt roads. Whatever the cause, scramblers are fairly popular there.
However, Ducati Scramblers of all models and makes have been increasingly popular in the major cities, and rarely if ever used for their designated mildly rough terrain purpose. For those people, Ducati decided that they would take a page from the country's history with motorsports, and introduced the Scrambler Nightshift for 2021.
Instead of the high mounted exhaust, the pipes are slung low along the side of the engine on the right hand side. The 803cc L-twin engine pushes out 73 HP and 49 lb-ft of torque. The handlebars are higher than a normal scrambler, and the seat is rearward, with weight shifting to the back wheel. All of this speaks to a motorsport that was popular when bikes were still new.
The Scrambler Nightshift is a modern take on a flat track racer. It even has blank spots on its side fairings to chalk in a number, as if Ducati actually expects you to take this little monster onto a flat track. Being honest, we suspect it would do extremely well if it was taken out to one, as Ducati's built with motorsport in mind are usually direct descendants of their racing bike cousins! Read more about the 2021 Ducati Scrambler Nightshift.
2021 Norton Atlas Ranger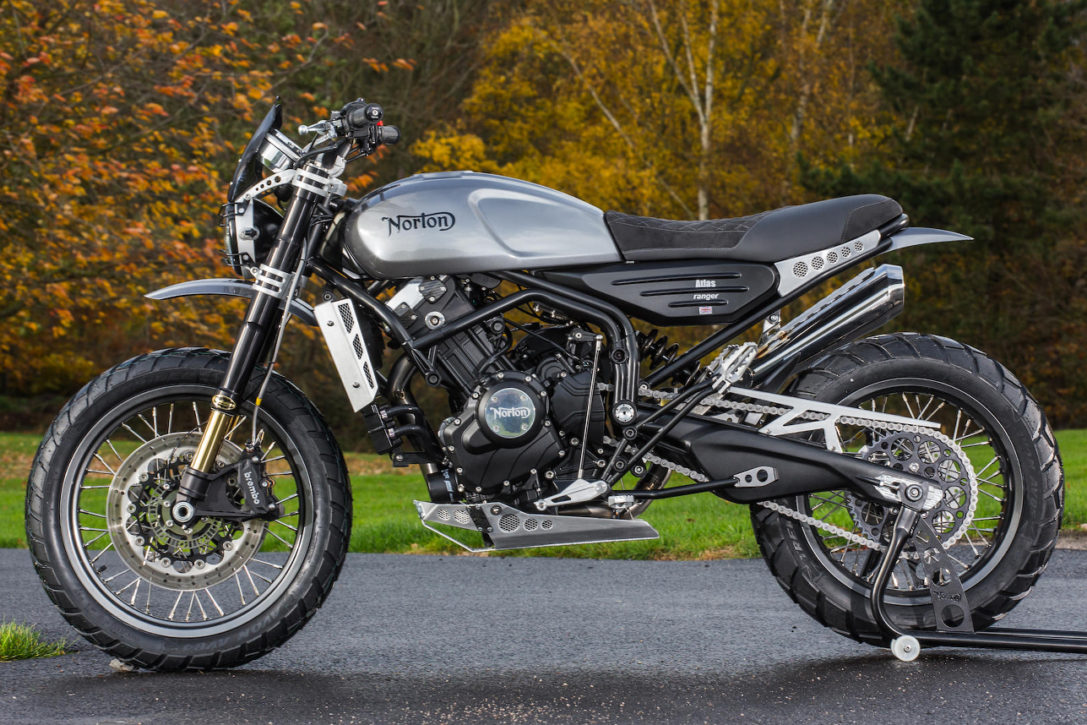 This scrambler comes from Norton, and all of us here at Bad Ass Helmet Store are going "phew!" with a dramatic wipe of sweat away from our brows! Norton nearly disappeared in 2019 during administration to cover their debts, but an 11th hour investment from the TVS group rescued one of the oldest motorcycle companies in the world.
And as part of that investment, they announced new models. One of those that were at first "out there, will never be made" was the Atlas Nomad and Atlas Ranger series of on-road and dual-sport scramblers. Lo and behold, two years later, the Norton Atlas Ranger is slated for release in the summer of 2021, and it captures the beauty of a proper British bike with every angle, nut, bolt, screw, and chain link.
A 650cc parallel-twin engine with 84 HP and 47 lb-ft of torque. A lightweight steel and aluminum frame and fairings. A high slung exhaust. A very strong bash plate. And just for style's sake, a cross-stitched seat that looks like it belongs in a Victorian museum, not a scrambler. It just oozes style while also looking to be a very capable bike.
We honestly can't wait for the first reviews this summer!
2021 Royal Enfield Himalayan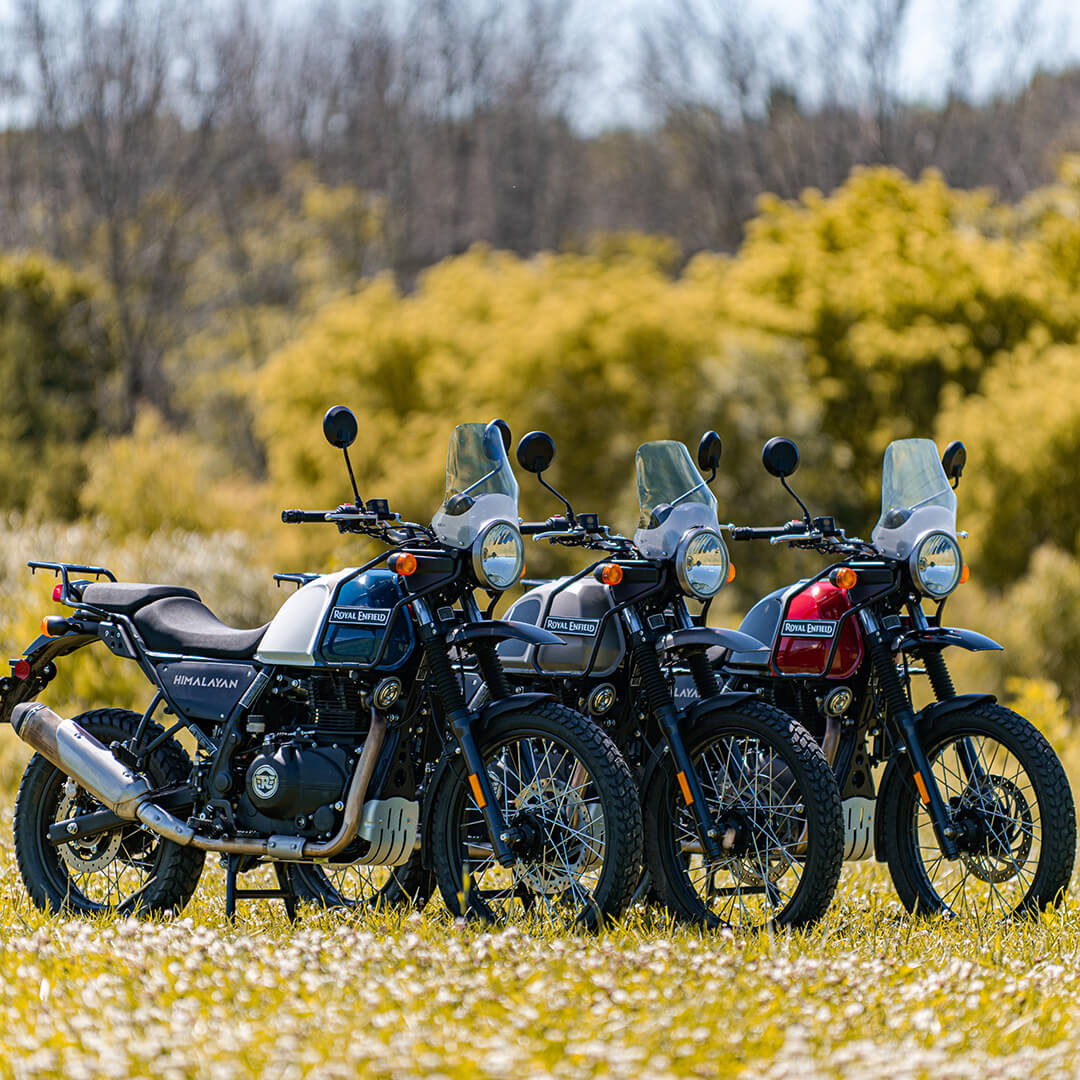 This one is a bit of a push, but hear us out. While the Royal Enfield Himalayan is supposed to be an adventure bike, it fits every criteria of a scrambler save one, the windscreen. High slung exhaust, beefed up suspension front and rear, bash plate, you name it, it's got it.
It is also beautiful in that retro-modern way that Royal Enfields of late have been. It has the aesthetic of a 1960's scrambler (before adventure bikes existed, mind you!), yet has up-to-date engine management systems, and it even has a rear ABS disable button! And since that windshield is removable with four simple screws, it's not that much trouble to to get the right aesthetic if it really bothers the eye that much.
While the Himalayan has been around in other countries of the world for a bit, this all-new version of it is the first truly global version, with North America finally receiving it. And if you're looking for an affordable, decently grunty, and cheap-to-repair-after-the-inevitable-drop-all-bikes-go-through motorcycle, the Royal Enfield, in all its simplistic retro glory, may be your answer. Read more about the 2021 Royal Enfield Himalayan.