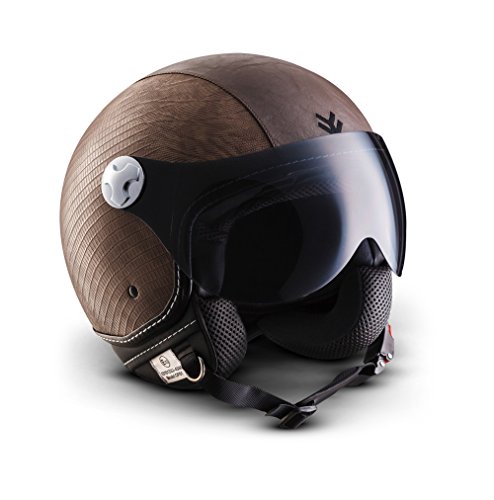 If you are into retro looks, then chances are high that you will love this helmet for it comes engineered with the perfect retro look that is more reminiscent of the police helmets of the 80s and 90s. From its rich textured outer shell to the visor, everything screams retro but it comes loaded with many features which make it the perfect helmet for those vintage bike aficionados.
The helmet is a design edition with an exclusive finish, from the vintage matted look to the interior lining. The helmet comes with a tinted visor, with moisture wicking in place to prevent overheating and is padded with high density impact foam to provide the rider with adequate protection from any impacts and collisions. Check price here.Check price here.
The Helmet: What Would You Love?
The helmet itself is made out of thermal polymer outer casing, and therefore is not heavy to lift or wear. Moreover, the helmet has a proven track record of being both durable and strong, which is a must where headwear protection is concerned. So if you happen to love that vintage look, then this is the helmet you need to take a closer look at.
The thermal polymer casing is extremely low weight, and provides better protection from hard impacts. And the inner lining, which is designed to soak up any extra moisture, is partially removable and washable as well.
The visor itself is designed to protect your eyes from sudden glares, UV radiation and is completely flippable, should you feel the need to remove the tinted visor. Additionally, the helmet also comes with a click and secure, an option that allows you to secure the helmet onto your head with a single click and also enables you to remove it in one go.
So it is easy to strap on and remove the helmet, thereby enabling you to save on some valuable time which could be better used for something else. While the helmet is certified for use in Mainland Europe, the US is yet to provide certification to this helmet so you may want to check that part out when purchasing the helmet.
Key Features
Here are some of the key features of the Arrow AV – 84 that you would love:
Click n Secure
It comes with a chin strap underneath that helps in keeping the helmet fixed on the head. This safety lock sliding plate is made of thin material and has a one click clasp. Thus, you can secure or release the safety lock with just one hand itself.
Designer look
The custom built helmet features a new retro look with the perfect matte finish, leading to a glossy retro look. It comes in various shades from brown to black and is perfect for those riding vintage motorcycles.
Vision
The helmet comes with a perfectly sized visor which allows for a glare free vision and clear line of sight. The visor is completely flappable and is tinted to protect your eyes from UV radiation and sudden glares when out on the highway. The visor is also scratch resistant so you need not worry about your line of sight being impaired with sudden scratches appearing on your visor.
Easy to secure
The helmet is fairly easy to secure with its new click and secure feature where by you can strap the helmet on with a single click and remove it again with one hand and in one go.
Thermal polymer casing
The thermal polymer casing is designed to provide you with a lightweight but sturdy protection for your head. And its lightweight casing is designed to prevent any additional transfer of G forces to your head in case of an accident.
Optimal fit
The arrow helmet comes with an optimal fit; it also comes with a three dimensional lining which provides for an optimal fit. The helmet comes in various sizes and if you are not sure what your size is, all you need to do is to wrap up the tape around the crown of your head and that should give you an idea of your head size.
Pros and Cons
Here are a few positives regarding this helmet:
Thermal polymer casing – It provides for an extremely lightweight helmet but at the same time comes packed with extra durability and residence in case of impacts.
Well ventilated – The helmet comes with a few vents which allow for good ventilation. This is a must especially during long journeys on the road as the ride can get very uncomfortable if the helmet is not well ventilated.
Certification–It comes with EC 22.05 certification which means that you can use this helmet in Europe. The helmet is yet to get a US certification so for the moment, you can use it without any restriction in Europe.
A few negatives:
There is no tint free visor, which means that for the moment the helmet comes with only a tinted variant.
The helmet does not really offer much protection from peak winter.
The eye protection is a bit short.
As you can see, the helmet is indeed perfect for you especially if you happen to love the retro look. The larger sized ones may seem a bit pricey but it is definitely worth it, from the tinted look to securing the helmet in one go. Just make sure that you are purchasing it in the right size and if you do not have your head size, you can always use the tape, measure your head and use the info to get the right helmet.
Click here for more information.