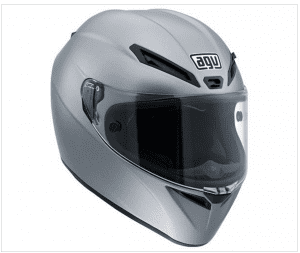 In 1947, Amisano Gino Valenza founded this company in Italy after his own name. The company is famous for producing high-end bike gears with supreme quality. A large number of their products are used in the MotoGP and also by all the passionate riders.
Surpassing its predecessors, a new AGV model was launched recently. An AGV GT Veloce packs a punch with its top end features and premium quality. It is surely regarded as the most versatile helmet.
Benefits
You are getting a helmet composed of carbon fiber flexed with Aramid fiber and built on SSL (Super Super Light) outer shell at 3 pounds, 4 ounces along with the advanced and fascinating features.
The improvements on the helmet really prove their worth, including the ventilation and increased aerodynamics. It is a great choice of helmet fulfilling every necessary feature priced at around $400 – $500.
Features
Originally developed for long road tours, this helmet has its origin from Pista GP. At about 3 pounds and 4 ounces, it is equipped with a carbon fiber shell. The Integrated Ventilation System has been improved with rigorous wind tunnel testing. The area of the helmet's visor mechanism has been reduced, giving a proper seal.
This supreme quality helmet has an ultimate and intelligent safety mechanism. It is a full face helmet that comes with a clear visor.
Shell Design and Build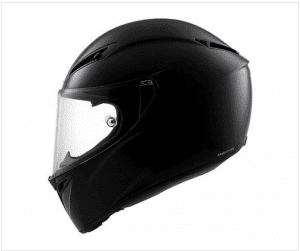 AGV with its GT Veloce has produced a helmet that would be more stable and comfortable, especially when you are riding in upright positions. The shape of this helmet is the same intermediate oval as seen in other helmets of the company.
However, AGV has installed what they call 'rabbit ears.' These rabbit ears are nothing but two strips which can be tuned with your head shape toward the edges or below the center line. You can adjust this intermediate oval helmet to neutral.
Like its predecessor AGV Corsa, the shapes and sizes are shaped by disintegrating the medium sizes, like small, small-medium, medium, large medium, large.
The shell is made of composite fiber using Aramid and carbon fiber to make it lightweight while offering superior protection.
Ventilation
The Ventilation system of GT Veloce is almost similar to that of Corsa. The chin vents are operable from inside the helmet. The helmet comes with two passive vents at the back and three active vents at the front.
These vents can easily be adjusted even while wearing gloves.
Like other helmets, Veloce has an IVS (Integrated Ventilation System) which has been worked upon to increase its air circulation. The passive vents are effective for producing the Venturi effect that sucks out the air running through the back, thus providing hard-core aerodynamics.
Face Shield and Sun Visor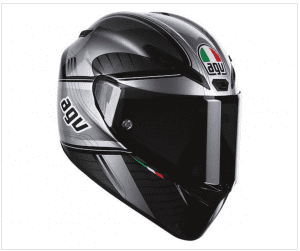 Having its inspiration from the race tracks, the face shield is comfortable to be operated by both hands. The new catch in this shield is the fantastic spring-loaded city position which allows you to lock it, and supply ventilation inside for defogging, as well as proving proper air-flow.
The breath deflector is fully removable. The one drawback is that the tear-off posts at the sides are not completely removable.
It has also adapted the Extra Quick change release system, almost similar to its XQRS in its facial mechanism.
Even beneath the pad system, there are 10 millimeters of vent holes that maintain the vacuum pressure between the pads and the body of the helmet.
Interior
In the front, the helmet is fitted with two stretchable and removable lycra breath guards. It is also surrounded by an integrated sheet pad, and even the neck-roll is nicely integrated. Being a lycra liner, it is very soft and antimicrobial.
The neck-roll is all in one piece, including the tune fit cheek pads. In the crown area of the comfort liner, AGV has added mesh which is almost similar to previous models like Corsa and Pista GP. The comfort liner can also block air with big discs. The mesh is responsible for deviating the ventilation, cutting out the wind noise effectively.
Safety
Safety is considered to be the pre-eminent characteristic of this helmet. The integrated pad system is nicely intact and held in position. It passes the DOT safety standards to offer ensured protection on the road. The Double D retention system also plays an important part in the safety features.
Other Factors for Consideration
AGV is a high-edged bike gear company producing premium bike gear. It is going to launch a helmet with a Bluetooth system in coming years. So, riders who want to communicate or enjoy music while riding may not find this helmet appropriate. But there is a way around it!
Behind the rabbit ears, there is enough space for a battery system for the communication unit. Even at the jaw sides, there are cutaways that can be fitted with the speakers and microphone for the Bluetooth units. So, maybe you can integrate that system in your GT Veloce.
Ranging from dynamic colors and simple but first class graphics, the AGV has surely maintained its fantastic design and build in this helmet.
Also, as this helmet is for long rides, AGV has conducted various tunnel tests to ensure its quality and fineness.
All in all, it is a helmet that has an improved ventilation system, with not so good face shield fitting. It has an all new padding system and features within helmets of the $500 range. The helmet is a sure shot buy for riders who love long distance trips with their superbikes.