Do you want to advertise with us? Great. You are in the right spot.
The visitors that frequent this site – primarily through organic search engines – are looking for information and details on Motorcycle Helmets and Motorcycle Gear. That is it. Not motorcycle news, racing news – crash pics- or drama in the news – or some other flash in the pan trend…. just Motorcycle Helmets, and Motorcycle Gear–  and that is the way we like it.
Written by bikers – for other bikers.
We do not buy cheap traffic, or risk some crazy penalty with cheap tricks. This site runs by publishing content about motorcycle helmets, helmet accessories, and the many shapes/sizes/ styles and custom options that go right along with them.
Ad Purchasing Options:
This is a screenshot of the homepage of this site. In it there are 3 positions from which you can choose. Top #1, #2, or #3 position. The top spot obviously gets the most views and click throughs of the 3. Your Description and Link text are placed to the right of the 250×250 image.

Homepage Position #1  – $500/mth
Homepage Position #2 – $400/mth
Homepage Position #3 – $300/mth
All ad images are also sent out on social media channels too.
Pinterest Page (60,ooo+ followers)
Facebook (3,330+ followers)
Instagram (<500 followers) new in Nov 15.
*Text overlays on images are not accepted.
Email the details of your ad with 250×250 ad image to [email protected] (Paypal same address.)
Product Reviews
Want a full blown review of your helmet? You're gonna have to send me one, (big surprise there right?) I'll write-up an honest review and it will stay live on this site – for good.  More details about that at this link
We also use Amazon Affiliate links on this site which drive traffic to those product pages and increase the sales velocity of the product listings. Shoot me an email if you are interested in boosting your amazon listings.
Sponsored Posts
If you want to display your motorcycle gear in more of an organic fashion than on the homepage or in the side bar, send me an email about your guest post and I will take a look at it. These stay live and are promoted on social media as well. $500 for a sponsored post.
Sidebar Ads
Ads are rotated in the side bar, spot one is under "Helmet of the Month" and spot two is "Popular this month."
$200/mth for the #1 spot, and $150/mth for the #2 spot. Max of 4 in rotation at any time.
Statistics
Stats for this site for the last 6 months or so (update every 6 months- APR 2016 current.)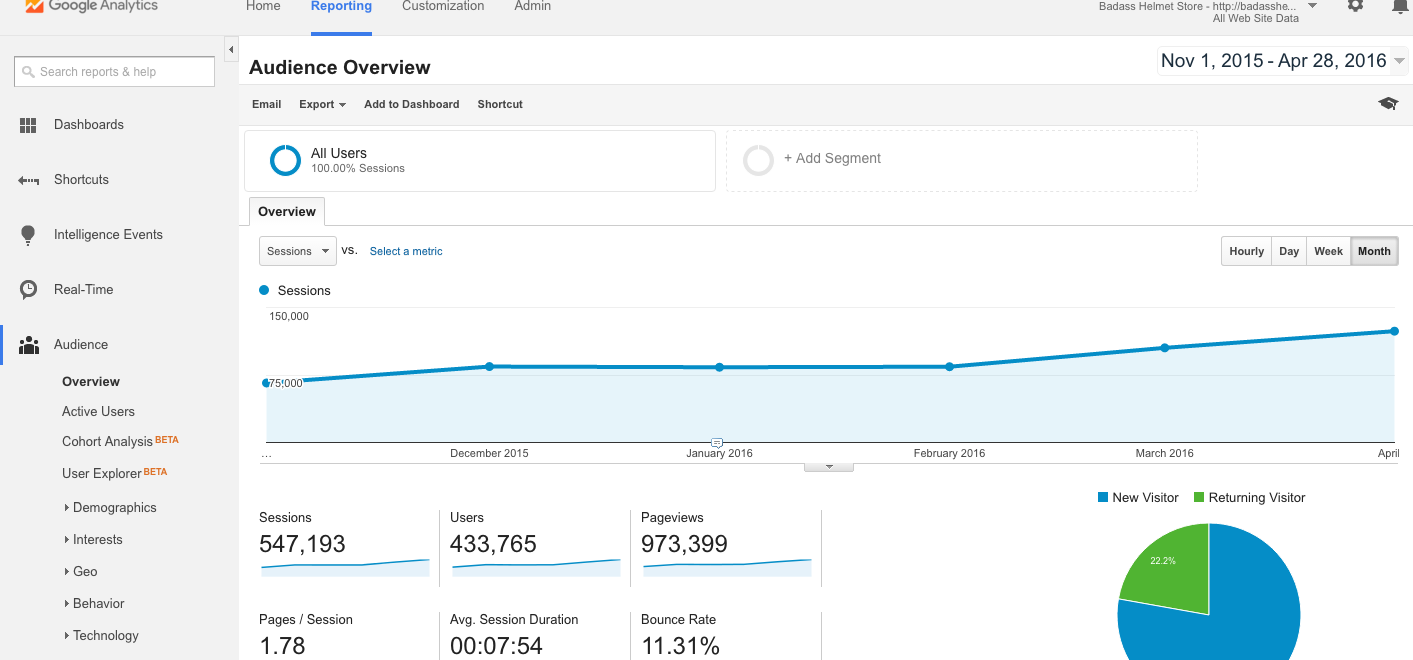 Yup, that is almost 1,000,000 page views in the last 6 months.