30. Helmets for Dogs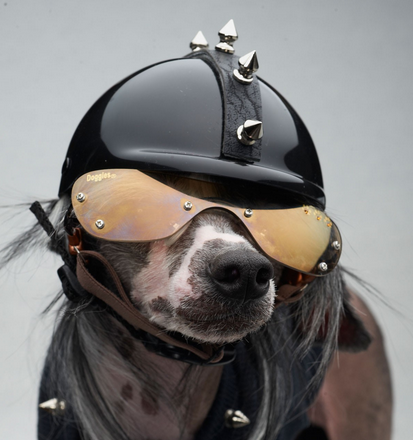 Not your everyday novelty helmet, you best 4-legged friend is gonna need himself a skull protector like yours. I'm more of a dog kind of guy myself, so I'm biased. You just don't see a lot of cats on motorcycles… but you do. More Dog Motorcycle Helmets.
29. Halo Master Chief Helmets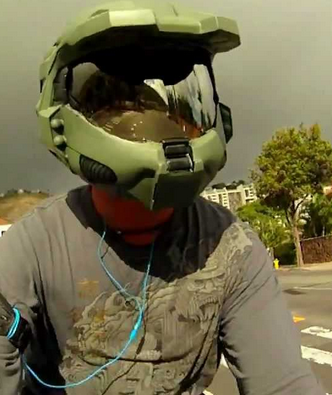 Battlefields are jumping out of the video game console and onto the roads with a modified Halo Motorcycle Helmet. You and all your man-child friends can reenact your best battle scene replays, while riding your bike.  We call that a win. 
Here is how you can make one for yourself with a little glue and a cosplay helmet, or you can pre-order a DOT Master Chief Halo Motorcycle Helmet here.
28. Redhood Helmet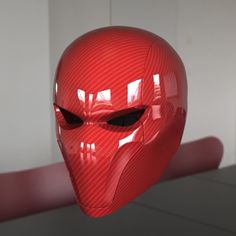 Another iconic comic book character. The Redhoood does not see as much of the lime light as his Iron Man and Spiderman counterparts. However, he can stand toe to toe with them on the street.
27. Bluetooth Helmets – Wireless Schuberth S2 Helmet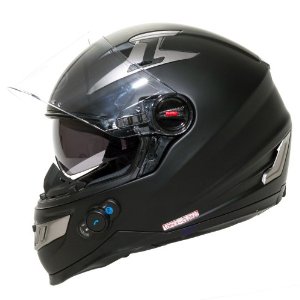 Chatting and listening to you tunes on the road with a Bluetooth helmet can change the way that you ride.
The Wireless Schuberth S2 Helmet is setup for FM comms and bluetooth, which is pretty nice if you are a media junky.
Riding more is a common side effect of adding a bluetooth headset to thy helmet.
Here are the top 5 bluetooth helmet kits to add one to your own.
26. Whiskey Helmets – Jack Daniels Edition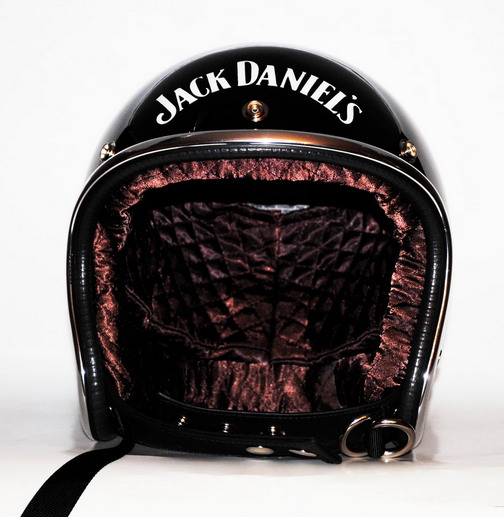 Whiskey and Motorcycles? That's why I started riding in the first place. No really. Now that I am a little more mature (very, very little), I ride the moto and then drink the whiskey – not the other way around.
25. Darth vader – The Steampunk Edition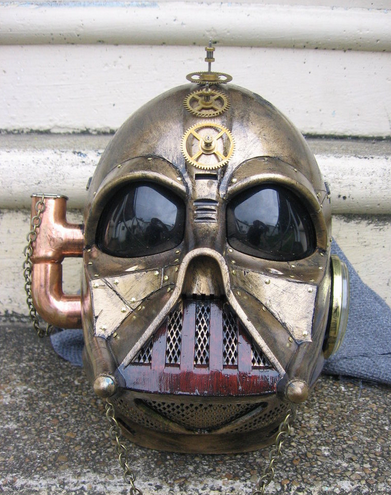 Cosplay on the road, I say "why not?" The force can ride the open road too. A Darth Vader Helmet is a +2 on the geek scale, just don't think that you are going to pick any girls with this fancy lid on, unless she's wearing one too.
24. Offensive Stickers – Not pictured *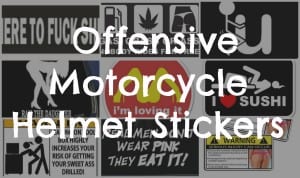 Sorry hun, sorry mom. These stickers are going to make you slightly angry. But we all have a reputation to uphold, and these will keep your Biker street cred in tact.
Prepare to be *slightly* offended.
23. Pinup Girl Helmets
"Pinups" add a little old school style to a helmet like adding some "nose art" does to an airplane.
You name it, and then you love it.
22. Vintage Helmets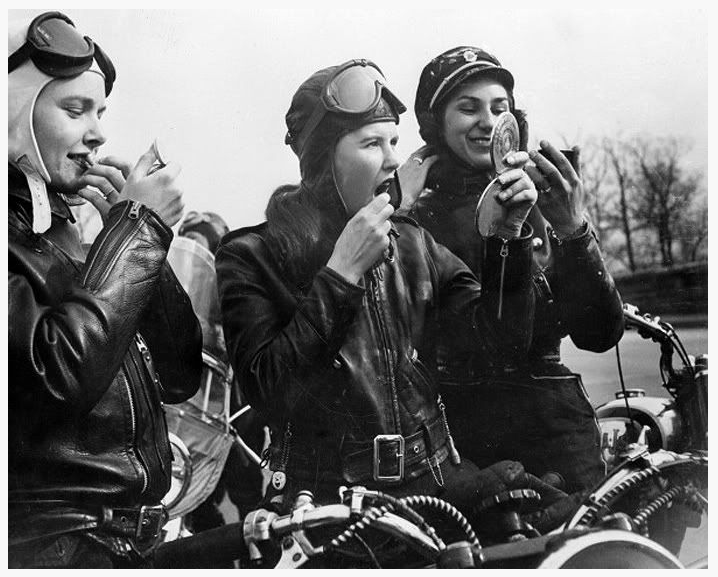 Going back a little further than the old school vibe, a vintage helmet is hard to find and  classic piece of art. Nothing but a thick piece of leather between you and miles of asphalt. Ah, the good ole days.
21. Joker Helmets
Batman doesn't get all of the glory with joker helmets stepping in on his fun. Airbrushing helmets to look this good does take some artistic skill that I certainly do not have.
And you can see from the inside out through the visor – just don't ask me how.
20. Transformers – Bumblebee Helmet
The Best Transformer (yeah I said it) Bumblebee has gone biker. Not really, but you can take the bits and pieces from a novelty helmet and attach them to a plain motorcycle helmet.
With a little paint it is a fairly complex task, but not too hard. Check out the Iron man conversion for some ideas.
19. Cat Ear Motorcycle Helmets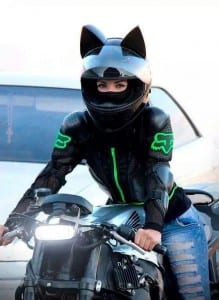 Nitrinous Helmets has a cool setup with a pair of cat ears on top of the helmet. You may be thinking that will create a good amount of wind drag, but after looking a little more into it you'll see that the front piece is a screen and there are vents in the rear to pass the air right through.
Pretty cool, pretty badass.
Here are some more cool cat ear helmet designs. 
18. Diamonds, Crystals, and Jewels on a helmet.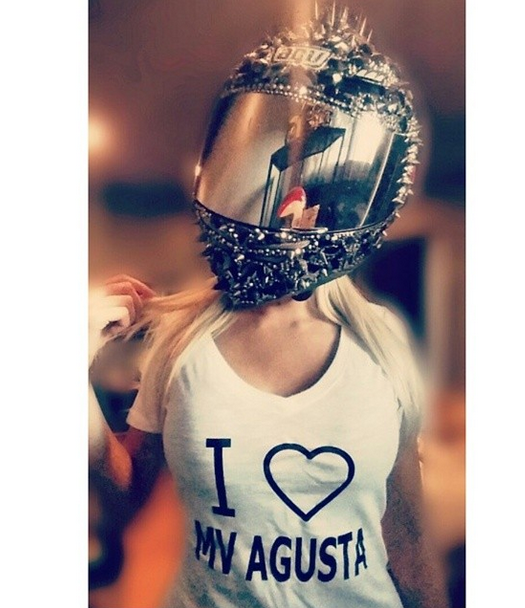 A girl can have her sparkly things on a motorcycle helmet too. Go ahead and try not to be amazed by it, I dare you.
17. Aviator Helmets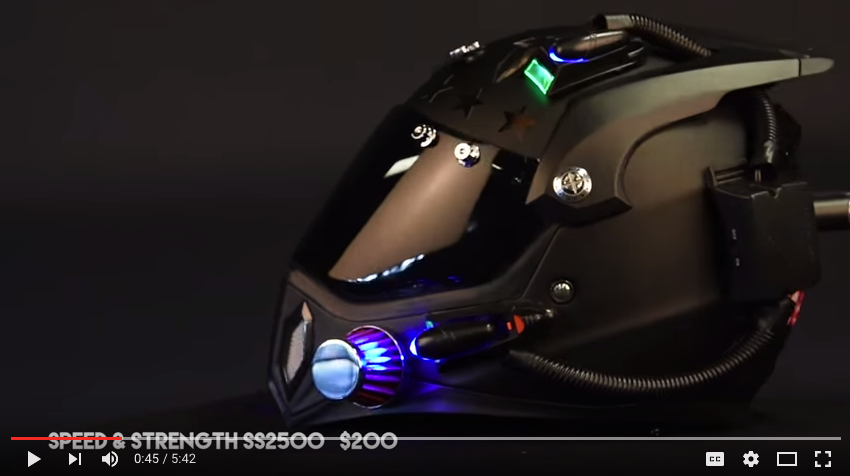 Motopilot put together a great walkthrough on how to transform your boring old bland helmet into an aviation work of art.
Here are some more Aviator Motorcycle Helmets.
16. Carbon Fiber Full Helmet Wrap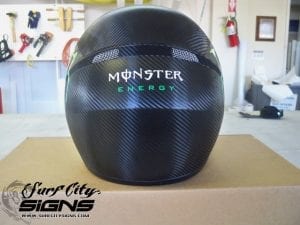 Love that carbon fiber look, but as broke as me? Surf city signs has carbon fiber helmet wraps you can DIY on a budget. (Update* – Looks like they have since closed though.) Better try amazon.
Not worried about dropping $1k on a helmet? You the man.
Get a real carbon fiber helmet here.
15. Pinstriped Pink Helmet- by Hot Rod Jen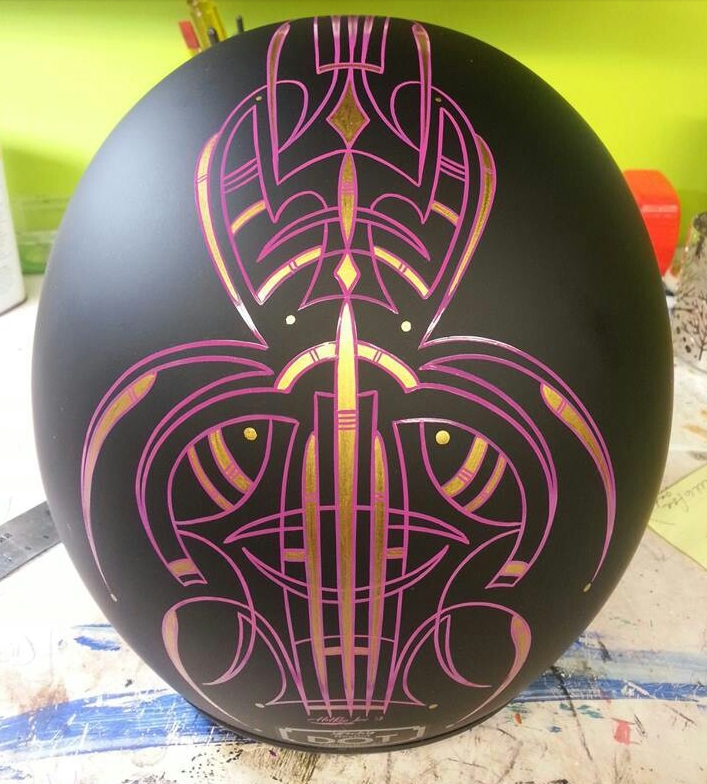 Pinstriped helmets are pieces of artwork on the road. There are pinstriper's and then there are professional pinstripers. A glance at their portfolio and you shall quickly find out the difference in the 2. Here are a few more awesome pinstriped motorcycle helmets.
14. Lightmode Helmets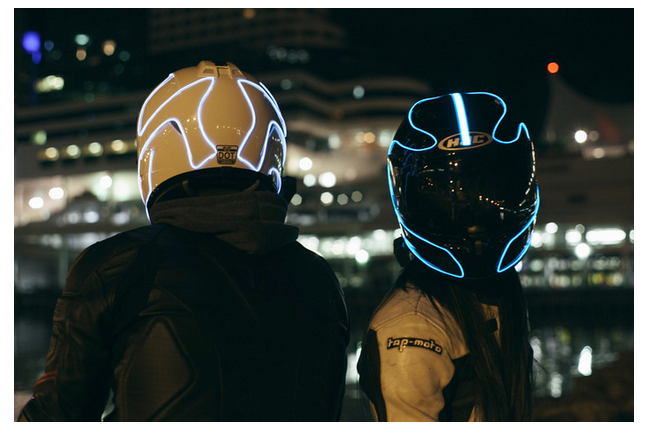 A recently successful Kickstarter campaign for Lightmode helmets was what turned me on to this style of custom helmets. Lightmode uses EL wire to light up the night and increase your road visibility and safety. Looks pretty sweet too if you ask me.
Here are my top 10 Favorite Lightmode Helmet Designs.
13. Skulls 3D Helmet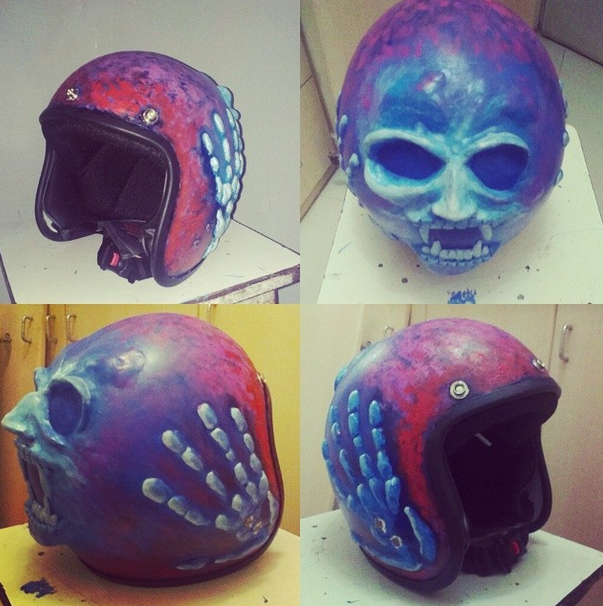 There are skull helmets, and then there are 3D skull helmets. Riding behind one of these for to long on the road might just give you nightmares.
12. Batman Helmet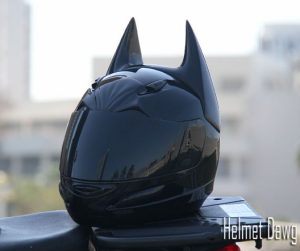 Batman by Helmet Dawg – I think the only appropriate response every time that you see this helmet on the road (even if it is a friend you ride with all the time) is :
"I'm Batman!"
11. Shiny Bull Horns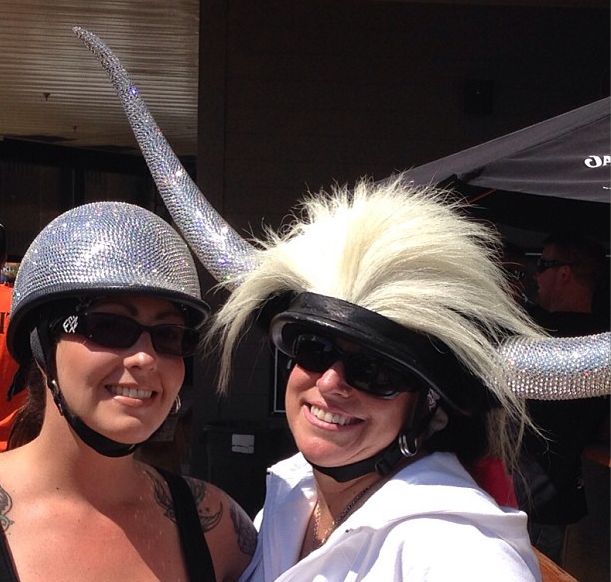 Their Bull Horns with crystals attached! Why didn't I think of that.
11. Black Crystals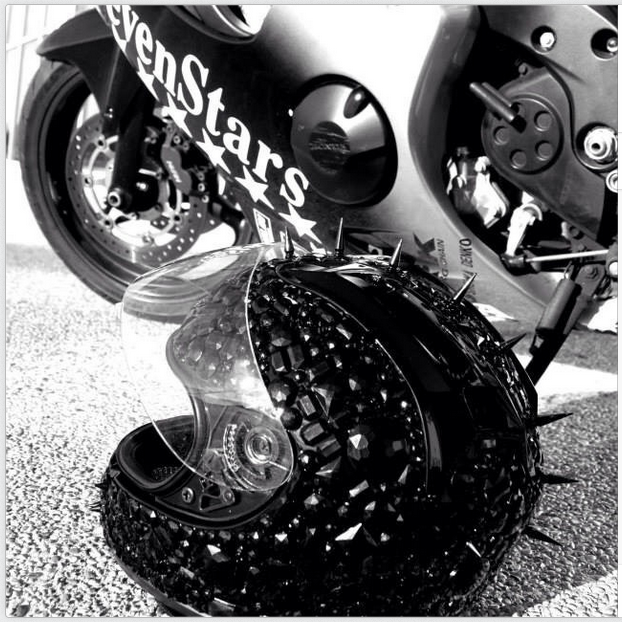 While you will not find any manufacturers putting out helmets with spikes and crystals attached to them, doing it yourself makes these helmets works of art- that you can say you did yourself!
Go ahead, do not fear the glue.