Helmets are what protect you on the two wheels if you are met with an accident. And you know that you can't go wrong with your choice here – a reason many bikers prefer carbon fiber helmets.
Carbon fiber, a material known for its high strength to weight ratio, offers everything a rider needs, from rigidity, corrosion resistance, to electrical conductivity and fire resistance.
With a good tensile strength, the only drawback of carbon fiber that you have to worry about is that it's brittle. However, when it comes to carbon fiber helmets, it doesn't matter as much.
If you are looking for the best affordable carbon fiber helmets in the market, here is a list that we have made.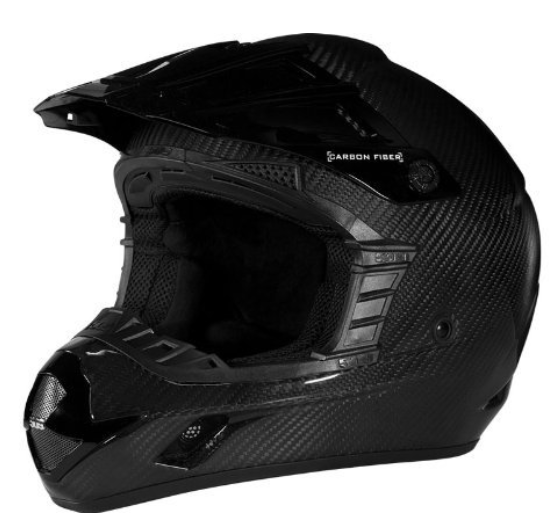 Surpassing US DOT and ECE safety standards, this one is a completely a new version of 509's C2 carbon fiber helmet.  A mere 2.6 pounds, the outer shell is purely fabricated of carbon fiber, which determines the uncompromising strength of the helmet.
The inner shell is removable as well as washable while the air channels ensure a comfortable ride. Apart from this, the helmet contains ten ventilation ports for the uniform circulation of air, moisture and heat. What more can you expect from a helmet?
Adding on, you have a complete carbon fabrication that facilitates high strength and tested to protect you during accidents.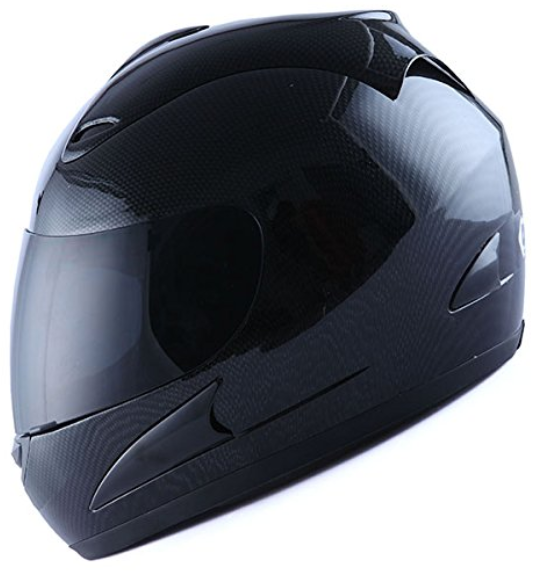 A product by Wow, it weighs merely 5 pounds. Also US DOT certified, you have the outer shell made of a unique composition of fiber carbon and thermoplastic alloy.
A UV protective finish with gloss adorns its body that makes it perfect to adorn your head along with safety.
Talking about its interior, it's heavily cushioned with foam for your comfort and fits well with your chin. Another advantage is that it can be easily removed and washed – a prerequisite after day-long travel.
The in-built visor is available with tinted, as well as a clear shield, depending on your preference.
Also, since it's full-faced, it is preferred by most of the riders.
One of the drawbacks of this helmet is that it can't be folded which makes its storage and portability difficult. Else, the product is fine and good enough as per the penny you're paying for it.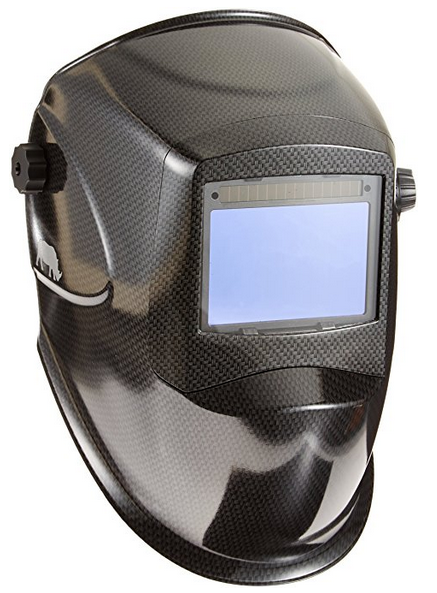 One of its own kind, the helmet meets the ANSI Z87.1 / CE / CSA / AS/NZS / EN379 / ISO9001-2008 safety standards.
It has a Rhino large display and contains a viewing area of 10 square inches which is large enough than the standard viewing area included in other helmets.
Secondly, the external shell is fabricated of nylon which provides a UV and infrared shield.
The helmet is lightweight at just 1.2 pounds, as well as flexible, that makes it optimal for long distance journey. You won't get back and neck pains after covering miles wearing this helmet.
Apart from this, another feature that makes it unique is its GRIND auto darkening capability. In order to facilitate this feature, the helmet uses a solar panel as well as two lithium CR2032 batteries. The use of sensors makes it adaptable to variable light conditions.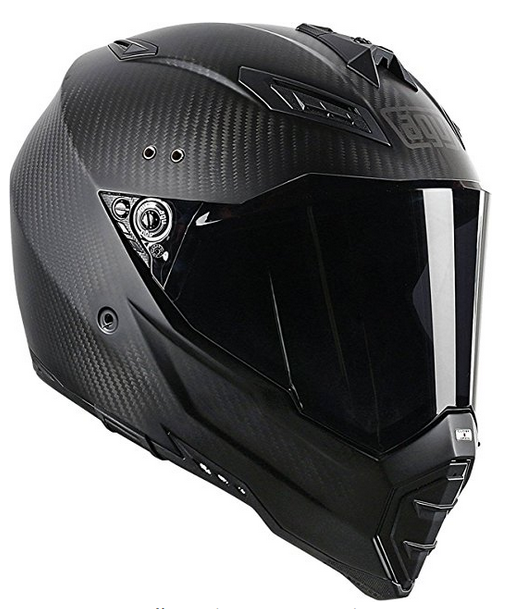 Another US DOT certified product, it is built by ABV Helmets. Lightweight and small in size, it offers great portability and storage.
Its external shell is made up of SSL carbon, Kevlar and feverless glass.
Talking about the internal shell, it's removable and washable.
Also, the Dry-Lex lining facilitates absorption of sweat and moisture.
The lining is heavily cushioned and offers a cool and cosy ride with a high comfort level.
The helmet also has an integrated ventilation system with three front vents, one at the top and two at the bottom.
The in-built visor in the helmet is available in clear type only. Good news for you is that the visor has characteristics like anti-scratch and anti-fog. Also, the inhibition of an adjustable visor system makes the operation quite easy while riding.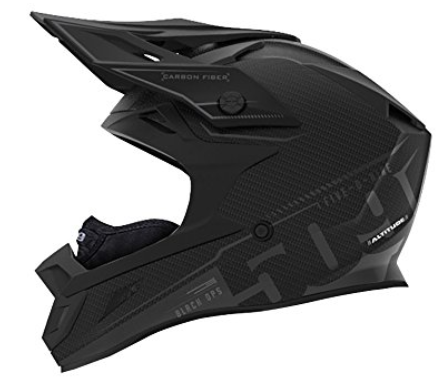 First released on August 1, 2017, the helmet surpasses ECE 2205 safety standards and holds a US DOT certification. It's quite lightweight – about 5.95 pounds – and has an exquisite external shell design, all done keeping your safety and comfort in mind. The inner lining is heavily stuffed with foam in order to provide high protection during severe accidents.
The factor that distinguishes this helmet from others is the incorporation of fidlock chinstrap technology. The front impact protection is provided by the incorporation of an expanded polyurethane near the chin area.
An eight integrated ventilation system is used to ensure a uniform circulation of wind, heat and moisture. This product also has a cold weather breath box. This can be used on cold days to overcome the harsh breeze and obstacles created by the climate.
The visor comes with a locking-top that keeps and hold the visor intact, keeping status quo to prevent it from unnecessary movements.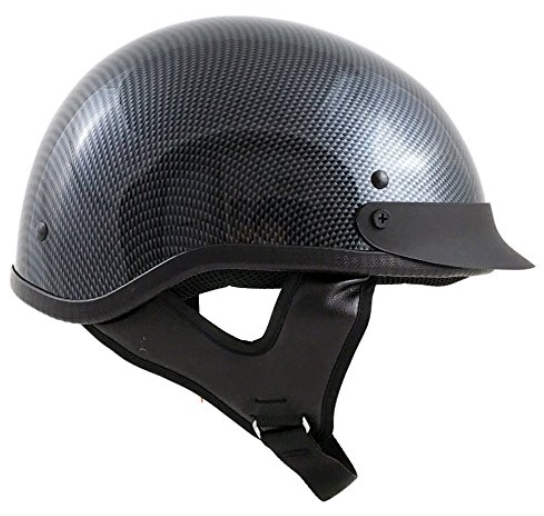 The product meets FMVSS 218 safety standards and is US DOT certified. It's quite lightweight and while you may not like that it's half faced – hardly preferred by the motorcyclist – you do have a sturdy design.
The inner shell is made up of ABS thermoplastic resin that ensures the steady absorption of sweat and leaves behind a cold and cosy aura.
The in-built visor is kept intact at its place with the help of screws.
The helmet is not actually made up of carbon fiber, in fact, it's made by carbon fiber graphic. It's available in various sizes ranging from teenagers to the adults.
In order to safeguard chin apart from the head, an adjustable nylon chin strap is incorporated in the helmet.
A comfortable inner padding and intact visor make it perfect for your safe and a thrilling journey.
Apart from these features, a care bag is also provided with the helmet that ensures its higher durability.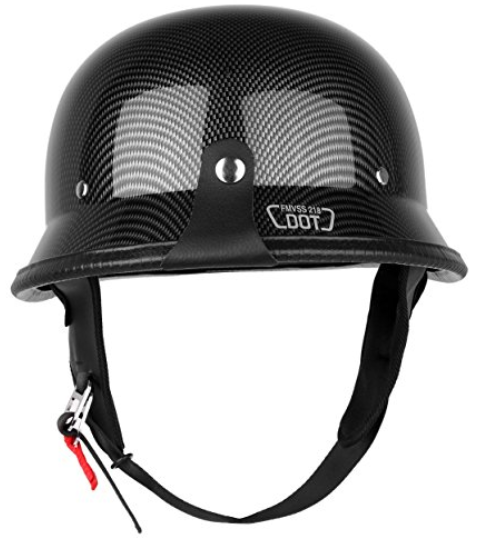 A helmet by Iglobalbuy, it is US DOT certified and meets the FMVSS 218 safety standards. Motorcyclists love it because of its classic and cruiser look.
The interior shell is heavily cushioned leading to a comfortable ride. The cheek line completely fits into it, facilitating even toning.
Also, it's worth noticing that the ventilation system used in this helmet is of top-notch quality that yields an easy circulation of aerodynamics and moisture.
The fabric used for the inner lining is sweat-absorbent that doesn't cause fuzziness and irritation while driving.
The external shell has a UV protective finish.
Another advantage of purchasing this piece is that a helmet cover is accompanied by it, ensuring its safety and durability. The helmet is lightweight and available for adults. The gloss black color of the helmet complements its cruiser look. This is usually recommended for the cruiser, touring and scooter.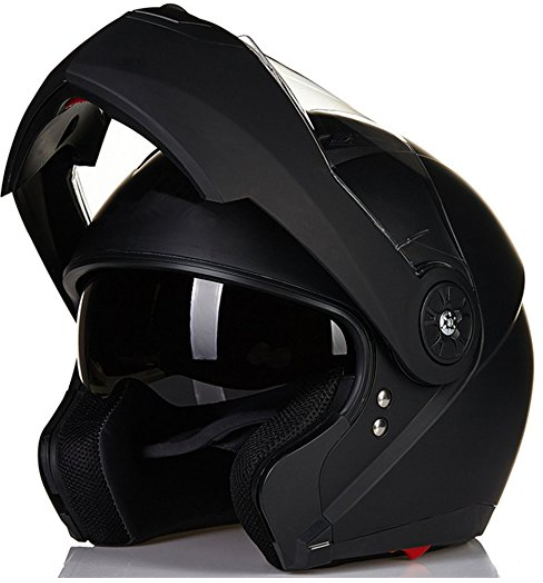 ILM 8 Colors Motorcycle Modular Flip-up Dual Visor Helmet is a product by ILM that meets US DOT standards and FMVSS-218 standards. The helmet weighs merely 3.31 pounds.
This lightweight and a sleek design facilitates a reduction in the wind noise, another important issue rendered by the motorcycle riders.
The internal shell is heavily cushioned that makes it soft and comfortable. Secondly, it's removable and washable.
The exterior of the product is made up of the ABS shell that corresponds to the durability and lightweight.
The inner line has EPS impact absorption fabric that facilitates the absorption of sweat and leaves a cold and cosy impact.
The features that differentiate this helmet from others in its category are the anti-scratch and anti-fog visor. Also, the visor is wide enough to provide a clear, wide range view for you. The modular flip-up function of the visor is quite helpful while driving.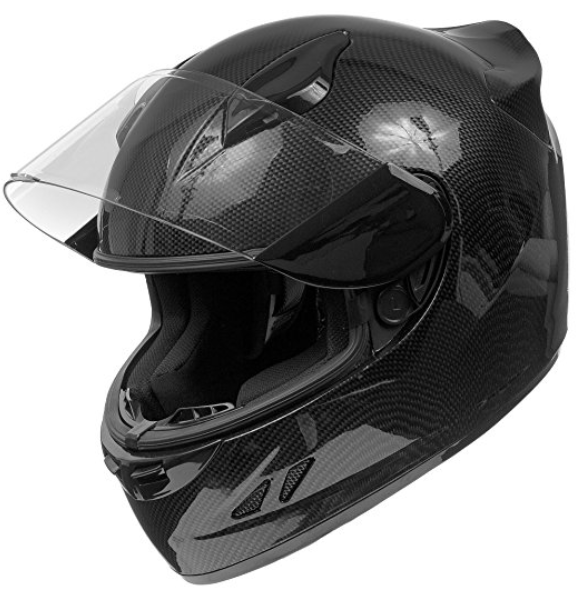 A US DOT certified helmet by the KOI Helmets, it meets the FMVSS-218 safety standards. KOI Helmets is a high-quality helmet manufacturing company known for the durability of its products.
The helmet has a sleek and lightweight design that ensures a reduction in the wind noise.
The in-built visor that's used is clear with additional features like anti-fog and anti-scratch.
The interior of the helmet is heavily cushioned leading to soft and comfortable wearing.
The internal shell is easily removable and washable. It uses a prolific ventilation system for an even circulation of heat, moisture and air.
Talking about the external shell, it's shaped aerodynamically that reduces the stress your neck.
Because of its aggressive shape, it is quite popular among the bikers of today's time.
The glossy finish and carbon fiber color of the helmet complement the sports bike for a sporty and a stylish look.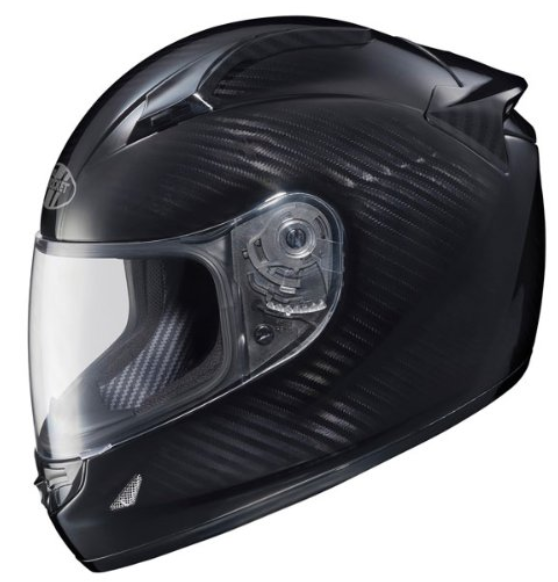 On February 11, 2013, Joe Rocket released yet another gem from its treasure trove of passionate bike riders – namely: Joe Rocket Speedmaster Full Face Helmet, made up of carbon fiber.
This is US DOT certified helmet with a weight of just 5 pounds. It also meets Snell standards. The product is designed keeping in mind the rider's safety and satisfaction, YOUR satisfaction!
This motorcycle helmet is best known for its 3D face shield which is a hard coated anti-fog shield.
Another feature that differentiates it from others is its Quadport 2.0 ventilation system. The helmet has two intake channels in the front and an aerodynamic rear end that ensures the tranquil flow of heat and moisture through the helmet.
The interior shell is removable and washable with an advantage that it facilitates and removes perspiration. Also, since it is a full face helmet, it becomes one of the best choices for you.
In short, this helmet is worth every penny you pay for it.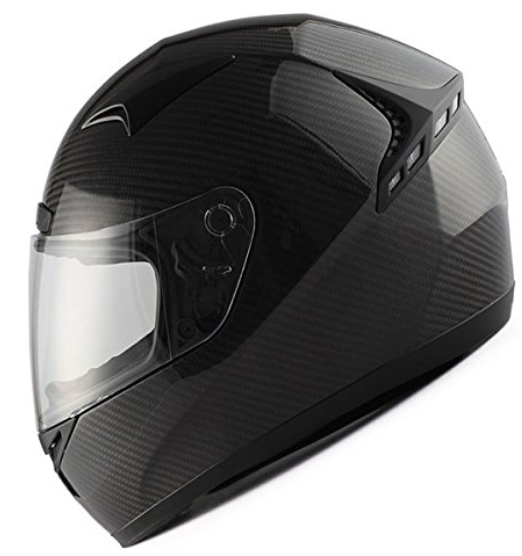 Another motorcycle street bike full face helmet by 1Storm is the Genuine Carbon Fiber helmet, with a net weight of just 3.4 lb. The external shield has a sleek, glossy UV protective finish.
The interior shell has a heavily cushioned interior for protection and comfort. Secondly, it's removable and washable. Like other full-face helmets by 1Storm, this also has a three-level top ventilation control and a five-position ventilation channel.
The feature that distinguishes this helmet from others is that the company provides tinted, smoky, as well as a clear visor for all sizes depending on your interest and comfort.
It is spacious enough to fit in your sunglasses but the condition is that you should have chosen a correct size for yourself.
Sadly, apart from the impeccable features it supports, the helmet is not fog-resistant. That's the reason it's less preferred by the people who usually propagate to the north and deal with smog and fog.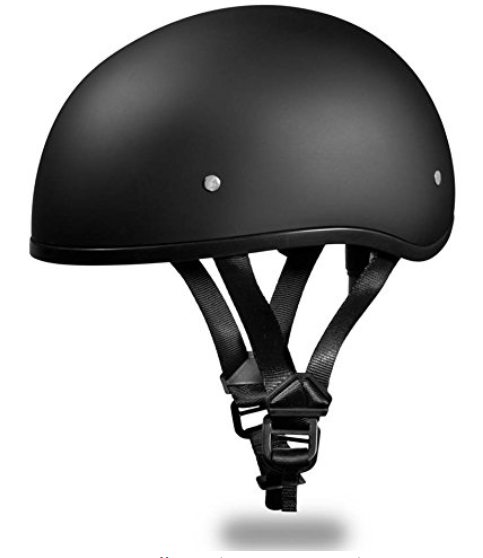 One of the lightest half shell motorcycle helmets in the world weighing just 2.4 pounds, you have the skull cap certified by the US Department of Transportation (DOT).
You would love it for long highway rides. The interior of the helmet is made up of a special fabric that absorbs the sweat and keeps you cool and cosy.
Since it's a half shell helmet, many users complain about the safety and feel protected in full shell helmet. Since its DOT certified, you should not worry about the safety issues.
Next, the helmet incorporates a super low profile shell to minimize the mushroom look. Still, few claim that the fit of the helmet gives a mushroom look.
Another shortcoming of Dayton Slim Line Skull Cap is that it doesn't have an in-built visor which is available in other products. Well, the lack of visor is compensated with the extremely light weight of the product.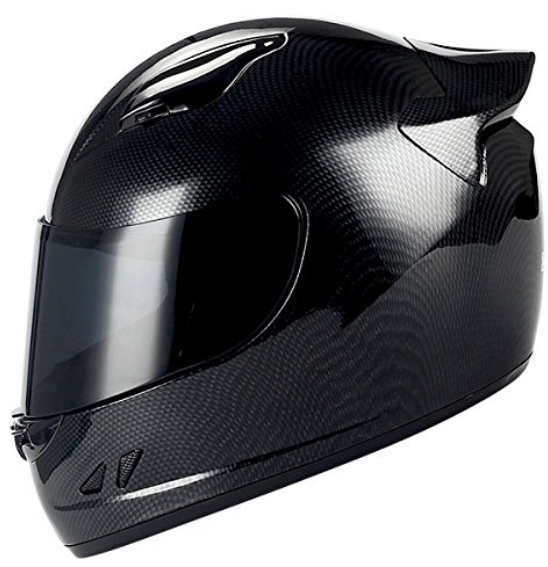 Another US DOT approved helmet on the bucket list is the full face helmet by 1Storm. The problem of half shell faced in Dayton Slim Line Skull Cap is overcome here. It is also known for being ultra-lightweight.
The external shell of the helmet is provided with a glossy UV protective finish.
Talking about the interior shell, it has a very cosy and comfortable interior with cushioning. The best part is that it is removable and washable – a key aspect most riders look for.
Also, it comes with an in-built visor, and extra visors are also available on demand. The visors are perfect for daylight, but are not recommended for the use in the night.
Another feature that makes this helmet optimal for you is that it has a three-level top ventilation control. In all, there are five-position ventilation channels. What else do you need for an enticing and safe riding experience?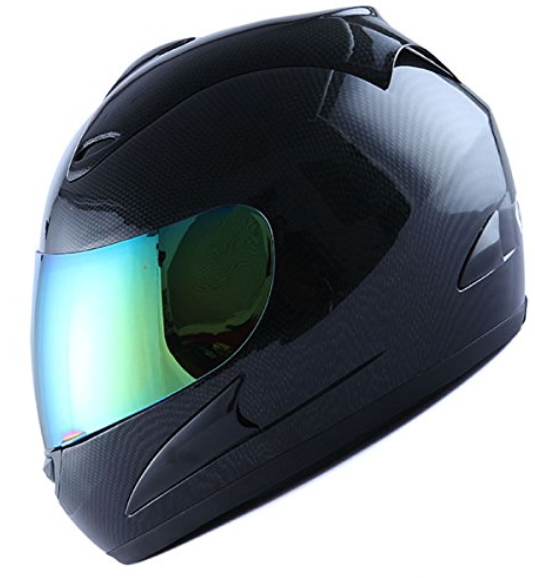 A US DOD certified helmet, was which released on November 4, 2011, it still remains a top choice for many motorcycle riders.
An invention by Power Gear, the external shell is made up of aerodynamic thermoplastic alloy along with carbon fiber that makes it suitable for the protection in severe accidents. Also, the external shell has a UV protective finish that gives the helmet a stylish look as well as protection.
What Would You Love?
The helmet is very lightweight measuring merely 5 pounds.
The inner lining is heavily stuffed with foam to provide a comfortable interior and is suitable for covering long miles.
Also, the interior shell is removable and washable, which is a required feature of all helmets.
Talking about the visor, you'll be surprised that it comes with a tinted shield as well as an extra clear shield. It plays the role of two by incorporating two types of the shield in the single product itself.