If you are a motorcycle junky, it goes without saying that you are always looking out for interesting accessories to make your ride even more enjoyable. The accessories shouldn't be only fancy and look good but also increase your comfort level and be actual use to you. While motorcycle accessories like riding gear, shoulder and elbow armor, and gloves are a must for long distance travels, there are some unique ones that are available in the market but you don't know about.
Top 12 Interesting Motorcycle Accessories
Let's take a look at 12 latest and interesting accessories that will make your riding experience more fun: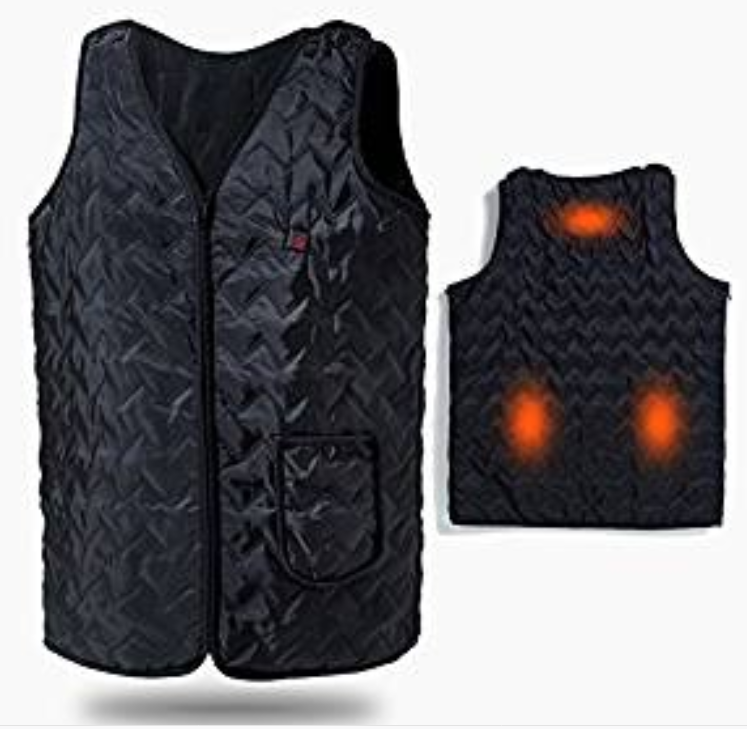 You might think why you need a heated clothing gear when you have a winter leather jacket that can keep you warm during the ride. Well, it is a no-brainer that you the gear if you are traveling to the mountains, snowy regions, or riding during monsoon when the temperatures drop below zero degree Celsius.
Features
Five levels of heating from pre-heating to very high
Can be powered by using 5V/2.1A power bank
Promotes blood circulation and relaxes pain in the muscles
Nano fabric with carbon fiber ensure that electricity doesn't generate radiation
Pros
Eight hours of battery charge
Adjustable temperature range
Comes with Bluetooth and charger
Cons
Doesn't fit as well as you would like
Doesn't come with batteries
USB cable falls out occasionally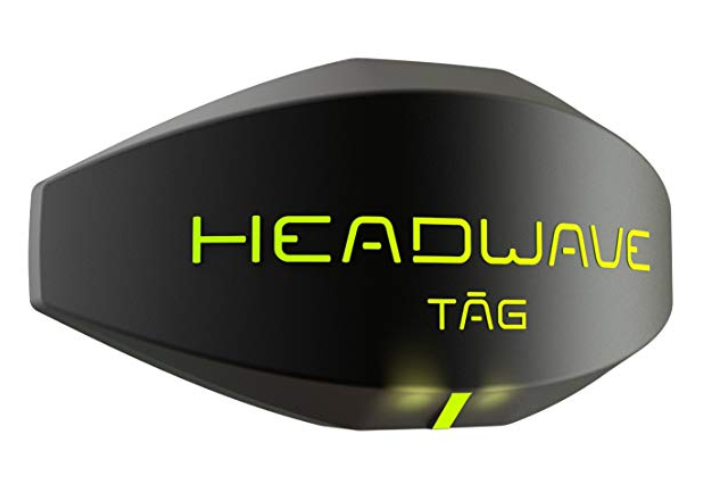 If you are a music lover, it might be impossible for you to step out of the house without your earphones let alone drive long distances. Helmets that come with a built-in sound system don't work really well and are often short-lived. You can instead opt for the Headwave TAG that sticks to the back of your helmet and vibrates sound into it giving you a surround sound experience.
Features
Cable-free
Strong bass
Superior acoustic experience
Bluetooth connectivity of up to 1.2 miles
Pros
Streams navigation instructions
Curvature fits perfectly around the helmet
Lightweight and easy to install
Cons
It is an expensive investment
Using a phone while riding can be life-threatening. While riding your motorcycle switch to a media button, which plays songs for you, clicks photos, and also adjust volume. Satechi Bluetooth Button Series is the best media button available in the market that attaches to any part of the motorbike. It's small size and compact features make it an irresistible catch.
Features
Long battery life of two years
Automatic sleep mode to save power
Compatible with the latest mobile phone models of Apple, Samsung, and Apple iPad and MacBook Air
Wireless Bluetooth range of 40 feet
Pros
Amazingly long battery life
Easy to install on your motorcycle's handlebar
Aesthetically pleasing
Cons
Poor material integrity
Too much wind can separate it from the motorcycle's handlebar
Buttons take time to perform the said function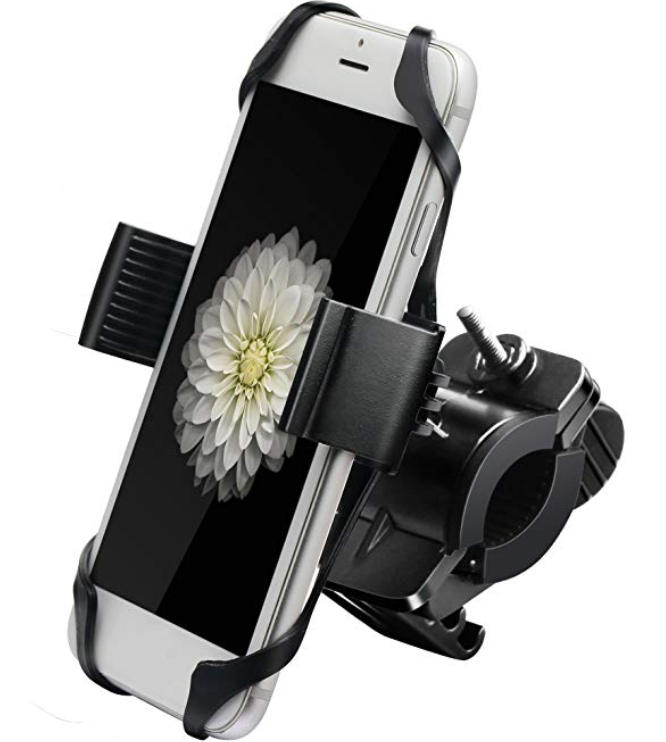 The attachable media button might not be a comfortable option for everyone and would want their phones to be doing the work for them. Phones, obviously, have more functions including Google Maps, click photos and shoot videos, and make calls.
Ipow Metal Bike & Motorcycle Cell Phone Mount is adjustable and can hold any kind of mobile phone from Apple to Motorola and Samsung. You don't need to do any drilling as all three are easy to install and the phone can be placed in both landscape or portrait mode.
Features
Buckle lock technology keeps the phone steady
Unbreakable metallic mount
12-month guarantee and a 100 percent satisfaction guarantee
Pros
Maximum protection from shock
360° Rotation Freedom
12-month warranty
Cons
The lock nut can't be tightened manually
Big phones like iPhone 7 + don't mount well and can fall down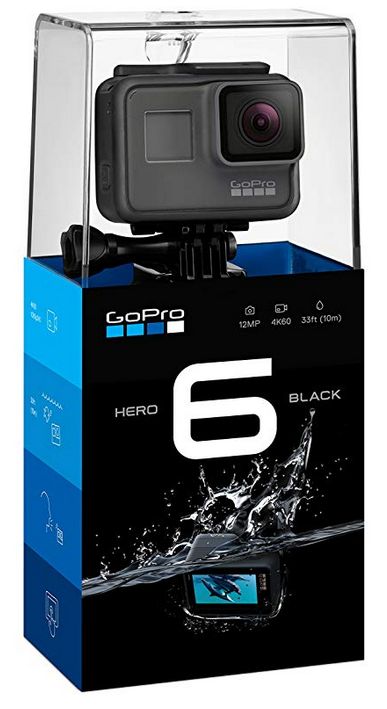 Nature's immensely beautiful, so why not capture every moment of your journey using an action camera. They not only track and record location data including acceleration, GPS coordinates, speed, and altitude but also capture slow motion videos. You can record wide-angle HD footage up at 30fps and slow-motion videos at 120fps.
If you are looking for something professional, go for GoPro Hero 6 that comes with extra features including automatically sending photos and videos to your mobile phone, video stabilization, and super smooth footage.
Features
Waterproof body and 12 MP camera
Two-inch touchscreen display
GP1 chip optimized for GoPro capture
State of art software edits videos automatically
Pros
Waterproof until 10 meters deep in water
Easy control using voice command
Most advanced video stabilization
Cons
Expensive
Poor battery life
Tap doesn't work sometimes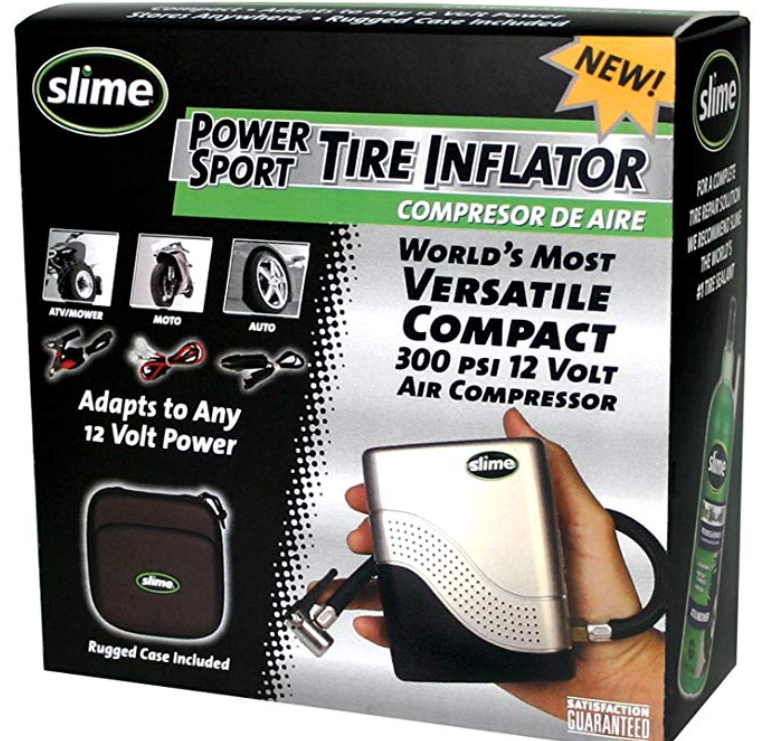 You never know when you'd hit a rough patch and your tire would deflate. Keeping a portable tire inflator is more than necessary. You might not find a gas station for more than a 50 miles and there isn't enough air, your motorcycle's tire can get damaged, which will be a costly affair.
Slime 40001 motorcycle tire inflator is currently the best one in the market, which you can use with a 12-volt power source. It weighs only 12 ounces and costs only $30, which is quite a steal. You can keep in your bag and can fill up a motorcycle tire in less than 10 minutes.
Features
Pack comes with pencil pressure gauge, harness wire with fuse, AC power cord, pre-wire cord, quick-clip air hose, and an alligator-clip cord.
Adapts to a 12-Volt power source
Interchangeable connectors
Pros
Can be used to fill the air in car and bicycle tires
Compact size
Pocket-friendly
Cons
Air filling process can be very loud
Material quality is poor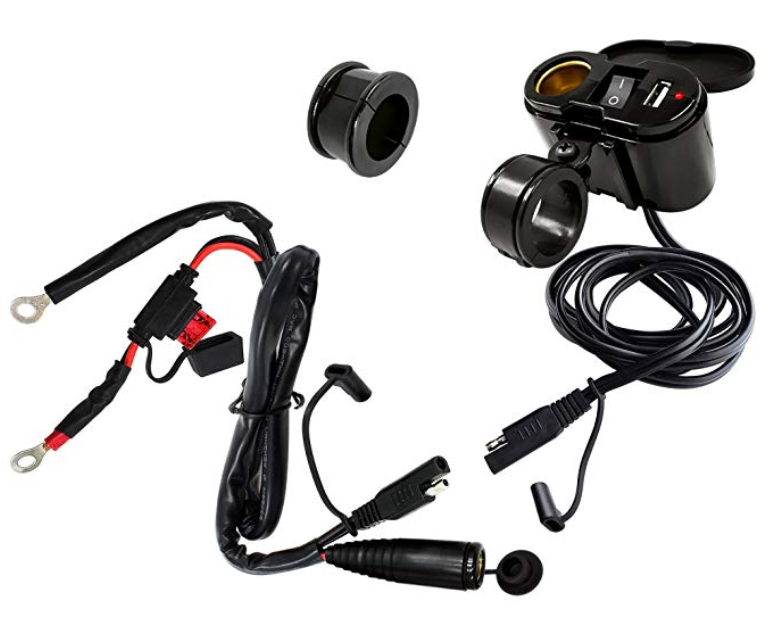 You are somewhere in a faraway land where there's no electricity and your phone's battery is dead. You won't feel so helpless if you have a portable charging system installed on your motorcycle. These charging systems can charge many devices including mobile phones, Bluetooth device, and many other devices. Most of them are under $30 and a must have motorcycle investment.
You can mount the EKLIPES EK1-110B on your motorcycle's handlebar and is waterproof as well. When not in use, you can take it off. It doesn't leave scratches on the motorcycle.
Features
EZ jump start battery harness
Waterproof caps to protect from dust and rain
Compatible with all mobile phones and laptops
Adjustable black steel handlebar mount
Pros
Six feet long cable
Easy wiring and installation
Cover cap keeps it dry during monsoon
Cons
Fake chrome look
Interferes with other electronics installed on the motorcycle
Takes long to charge mobile phones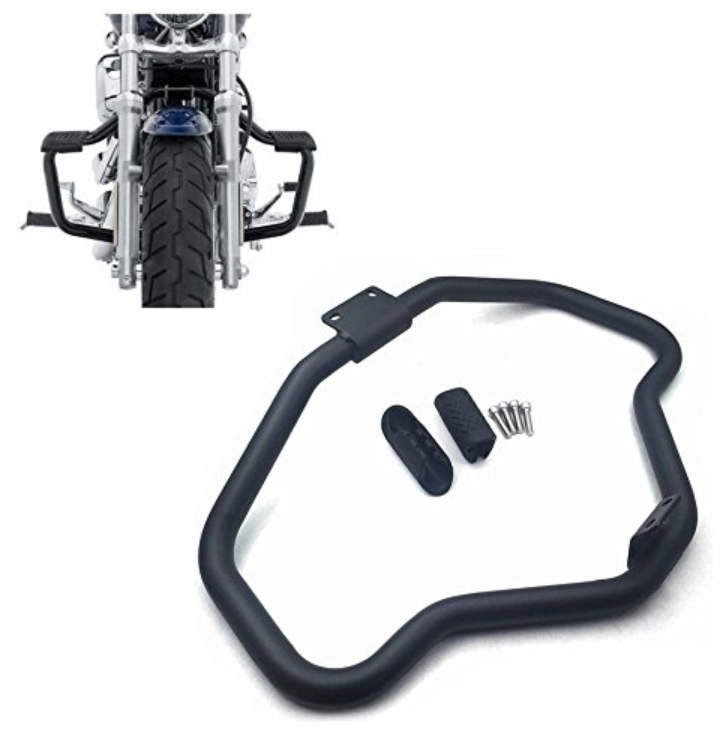 No one wishes you slid through and crash into the ground or trees but there's a fine possibility that it'll happen. You can either customize it or purchase protectors in similar colors as finding the same color would be rare. Most companies make crash protectors specific to motorcycle type so that it fits well and you won't need to customize.
Other crash protection that you'll require as well are fork frame sliders, swingarm spools, bar ends, safety bars, and bumper guard crash bars. Some motorcycles come equipped with certain crash protection, so check with the company before purchasing them.
Features
Strong frame connection
Made of durable metal steel and coated with superior quality paint
Pros
Superior quality materials
Easy to install
Paint stays even after a crash
Cons
Only compatible with Harley Davidson models
Requires heavy modification to fit it in other motorcycles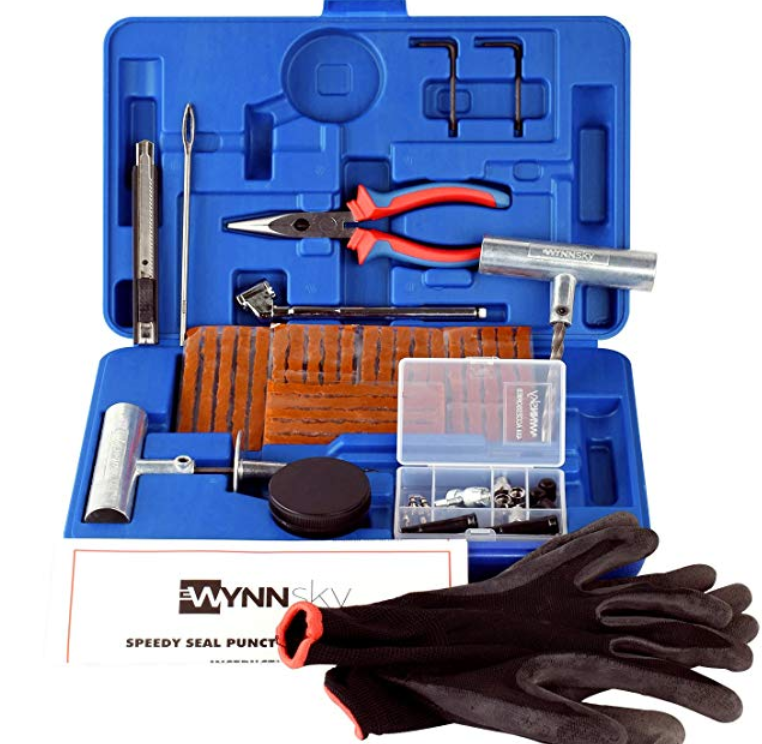 If you are traveling long distances, you often carry a spare tire with you. It is a rider's worst nightmare to find a flat tire in the middle of nowhere. In situations like this, keeping a portable toolkit is ideal as you can repair the fault temporarily until you come across a service station. You can use the kit to repair tubeless tires as well.
Features
Comes with 30-pc 4" string plugs for multiple repairs, insert tool, rasp tool, and sealing lubricant, long nose pliers, hex keys, knife.
T-handle design helps in better comfort and stability
Sandblasted finish
Hardened steel spiral rasp
Pros
Doesn't rust
Easy to use and repair flat tires
Affordable
Cons
Doesn't come with CO2 canisters to fill the air in the tires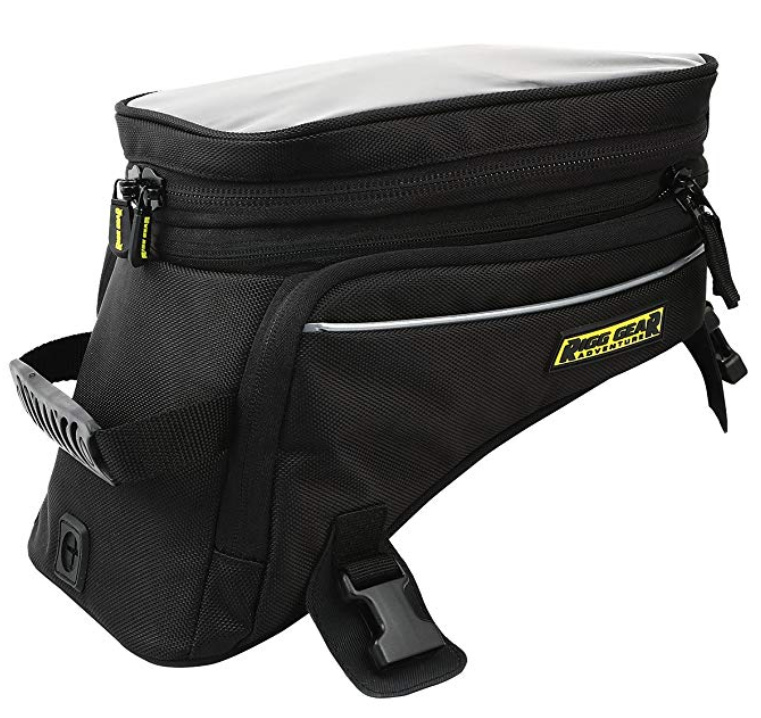 The Nelson Rigg magnetic tank bag is certainly the most innovative and useful motorcycle accessory to be invented ever. It is a backpack, tank, and helmet carrier in one. All you have to do is strap the bag on the tank of your motorcycle and you are good to go. You don't have to worry about leaving luggage on the bike because it is tightly secured with magnets.
Features
Made with Ultramax polyester that protects bag contents from ultraviolet light
Bag has reflective piping and lined interior, helps it to retain shape
Reverse coil zippers prevent it from getting dirty
Three mounting straps
Pros
Fits the tank perfectly
Pocket-friendly
Transparent and waterproof top pocket
Cons
Material quality is inferior
Needs to be a little bigger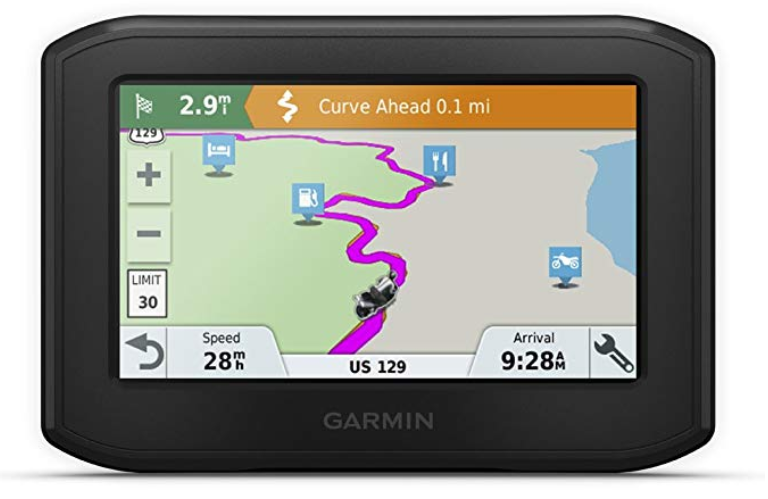 You can use the GPS system available on your phone but you'll keep worrying about the rains ruining it. A GPS system is a better choice since it has a bigger screen and waterproof. You won't be distracted by messages like you might when using a mobile phone. Most GPS systems have a battery power of up to eight hours.
Features
4.3-inch touchscreen display
Stays connected with a mobile phone for hands-free calling
Garmin Adventurous Routing software finds curvy or hilly roads
Touchscreen senses instructions through gloves
Pros
Gives loud and clear navigation instructions
Waterproof
Easy to install
Cons
Very expensive
Has trouble connecting with certain mobile phones
Needs multiple on-off cycles to finally start working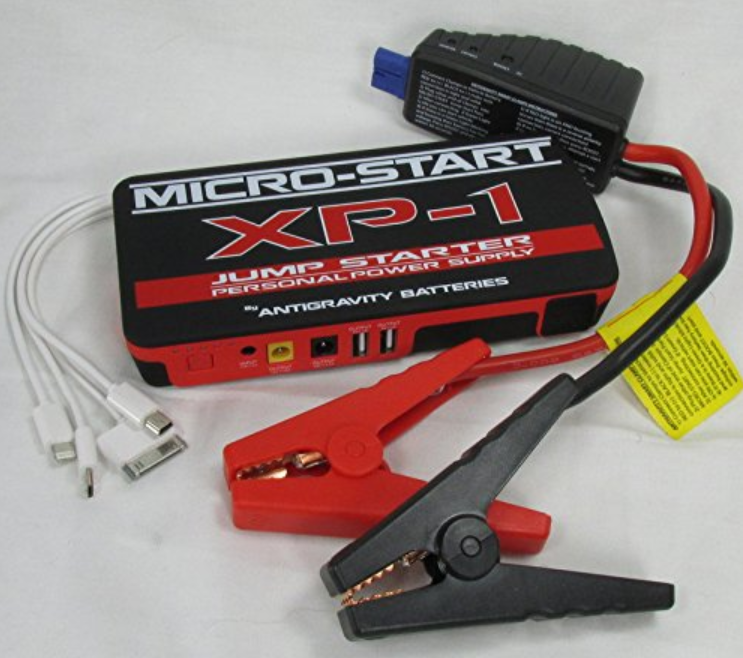 We've talked about many cool gadgets you need if you are a motorcycle junkie but none of them will work without a power supply. The charging system we talked about will charge only a few gadgets like mobile phones and GPS systems. You need a personal power supply system to jumpstart your motorcycle.
Antigravity XP-1 Micro-Start Personal Power Supply is the best one you'll find in the market. It weighs only 12 ounces, which means it is easy to carry in your backpack. It can start a V8 engine. The pack has varying sizes of charging adapters which include mini jumper cables. Antigravity batteries, and can also charge mobile phones and other gadgets.
Features
4 Power Ports – 12v standard output for all 12v accessories, 19v for laptops, and two USB 5v for charging or powering mobile phones.
Built-in High Powered LED light
1 Black Universal Cable with 8-different detachable tips
Pros
Lightweight and easy to carry around
Jump starts mobile phones and cars easily
12 month warranty period
Cons
Expensive investment
Micro start battery can swell up if used for a prolonged time
Takes many hours to cool down after charging
Purchasing accessories for your motorcycle are nothing less than an addiction. Before going for the fancy stuff, make sure that you have all necessities like a motorcycle cover, luggage cover, winter and summer jackets, and security system. You can also go for reflective license plate bolts and LED lights under the motorcycle to add a personalized touch to your motorcycle.