In the lexicon of motorcycles, there are many types. You have the supersports, road missiles that are basically race bikes with license plates and mirrors. You have the standard sports, more tailored for the road but still blisteringly fast. Adventure bikes do exactly what's on the label, adventuring down trails and less travelled roads.
And then there are the cruisers. Defined almost entirely by having forward pegs, low and comfortable seats, and two-cylinder engines either in parallel or a big V, they are the bike for many riders in the USA. With models ranging from multiple-day touring cruisers, to bobber-style street cruisers, to powerful muscle and sport cruisers, there is almost always a cruiser for any type of rider. Don't let any of that imply that there aren't some wicked-fast cruisers out there…
Throughout most of the 20th century, Harley-Davidson was a name that was synonymous with the cruiser. Competing against them was at times seemed as silly, at other times strategic. Through this competition and many manufacturers realizing that there is a large cruiser market to be had in the West, more and more cruisers that are not Harley's are coming to American shores.
In no particular order, the following are the best cruisers that do not come from Harley-Davidson for the 2021 model year. Here is the full list of the best cruisers to buy… Harley Included.
2022 Honda Rebel 1100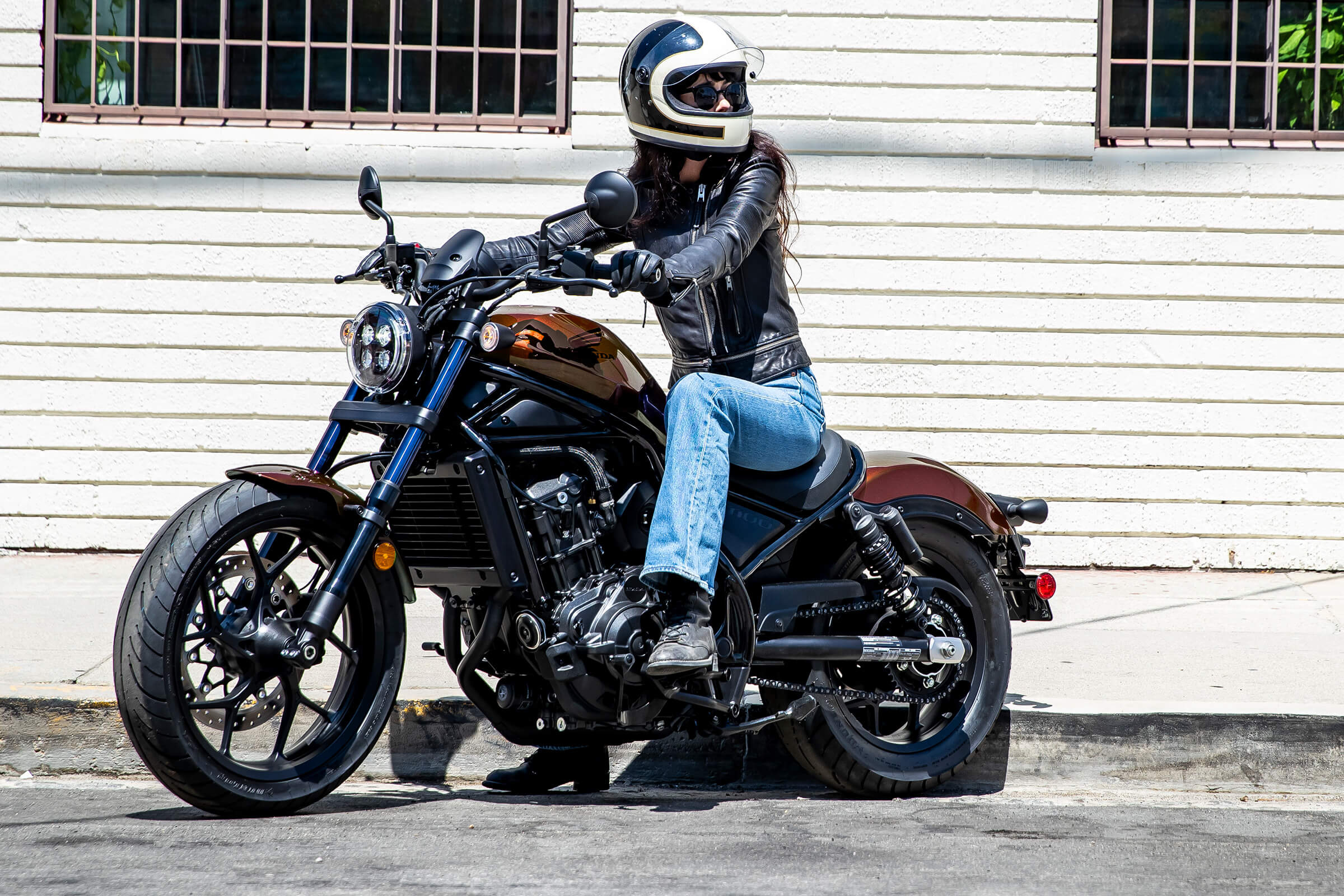 Throughout the past few years, the Honda Rebel has earned its place in the market. An incredibly easy to ride, comfortable, and decently powerful cruiser that was at the top of everyone's Best First Bike list. For most of the experienced riders, however, it always seemed that there needed to be a veteran level cruiser that had the same features, but had the grunt to go with it.
Honda remedied this last year when they finally decided to introduce the world to their Rebel 1100. Taking the torquey and strong 1,084cc parallel-twin from the legendary Africa Twin 1100, those same veteran riders will be overjoyed to know that not a single bit of power has been lost. With 86 HP and 72 lb-ft of torque, the 487 pound wet weight of the Rebel 1100 is easily motivated down the road.
As well, all of the ease-of-riding equipment comes upscale as well. ABS brakes front and rear, an easy shifting 6 speed manual with the option to have a DCT automatic instead, comfort for days, and the same surprisingly agile handling make it a fun machine as much as a cruiser can be.
Don't forget to check out the other 2022 models in Honda's lineup.
2022 Indian Scout Bobber Sixty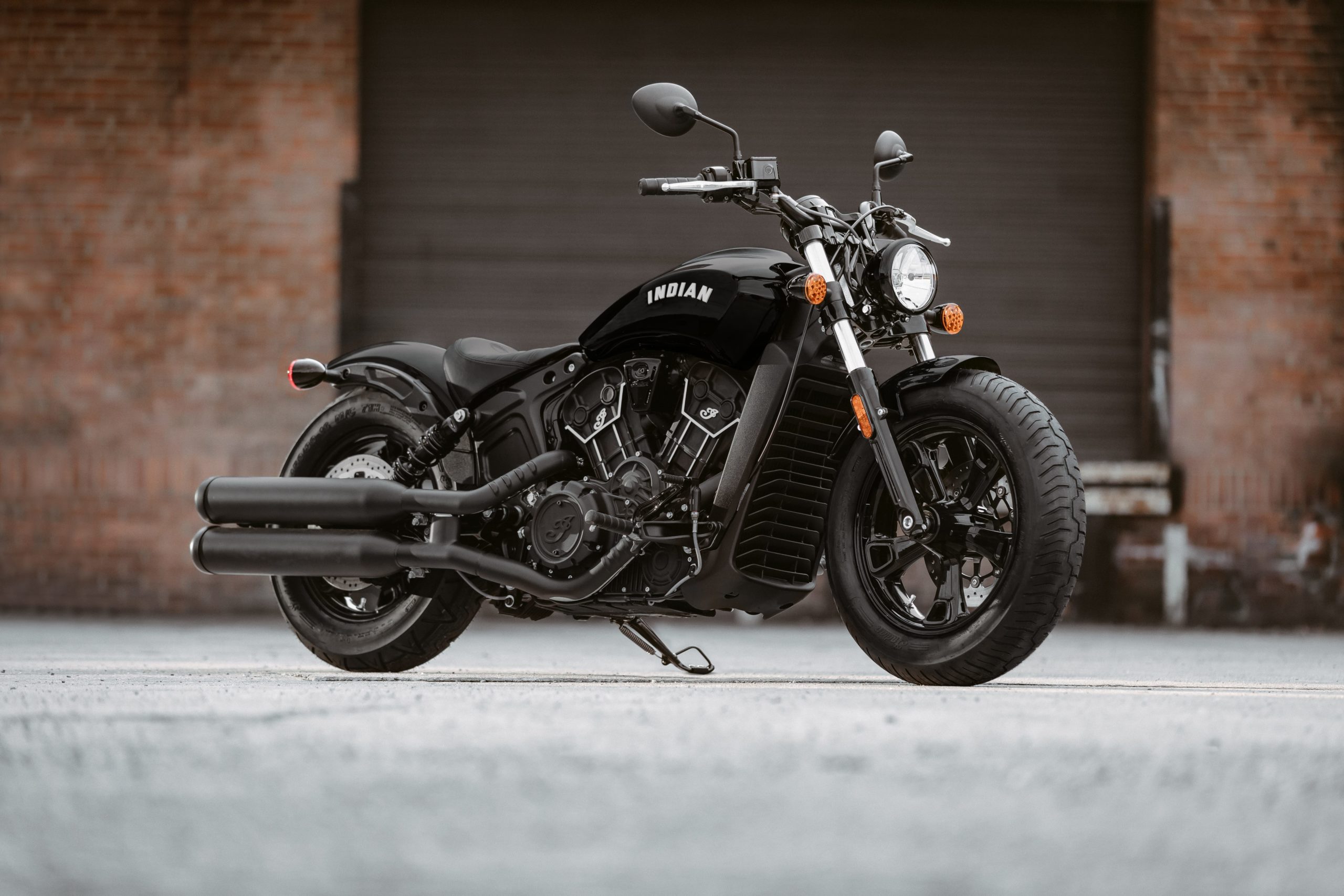 In 2020, the Indian Scout Sixty was widely proclaimed one of the best introductory cruisers for new riders, or even seasoned riders wanting something to blast around town and the surrounding rural areas with. Just one year later, Indian took it upon themselves to bobb-ify the highly successful Scout Sixty. This sleek intro-friendly Bobber saw great sales in its first year of production, and Indian hopes that carries over into 2022; the second year of sales for this model.
With Indian's full-sized Scout Bobber being a mainstay in their foreseeable lineup, it was only fair for the American motorcycle manufacturer to bring the same bad-ass styling over to its little brother.
The Indian Scout Bobber Sixty takes the winning formula of the Scout Sixty, lops a good chunk of the tail off, gives it the same seat as the more powerful Scout Bobber from 2020, and tucks a strong 1,000cc (61 ci) 60 degree V-twin under the fuel tank. With 5 decently spaced gears, 78 HP and 65 lb-ft of torque, the Bobber Sixty brings the power and style of much more uprange bikes down to introductory bike levels.
At 550 lbs wet, it's much like the Honda Rebel 1100, in that it has enough power to get you up and going, except that the Bobber Sixty will give you that throaty rumble and bark of a V-twin instead of the progressive roar of a parallel-twin. If you want made-in-America excellence, you seriously cannot go wrong with Indian. Great bikes, great features, accessible prices.
2022 Kawasaki Vulcan 900 Classic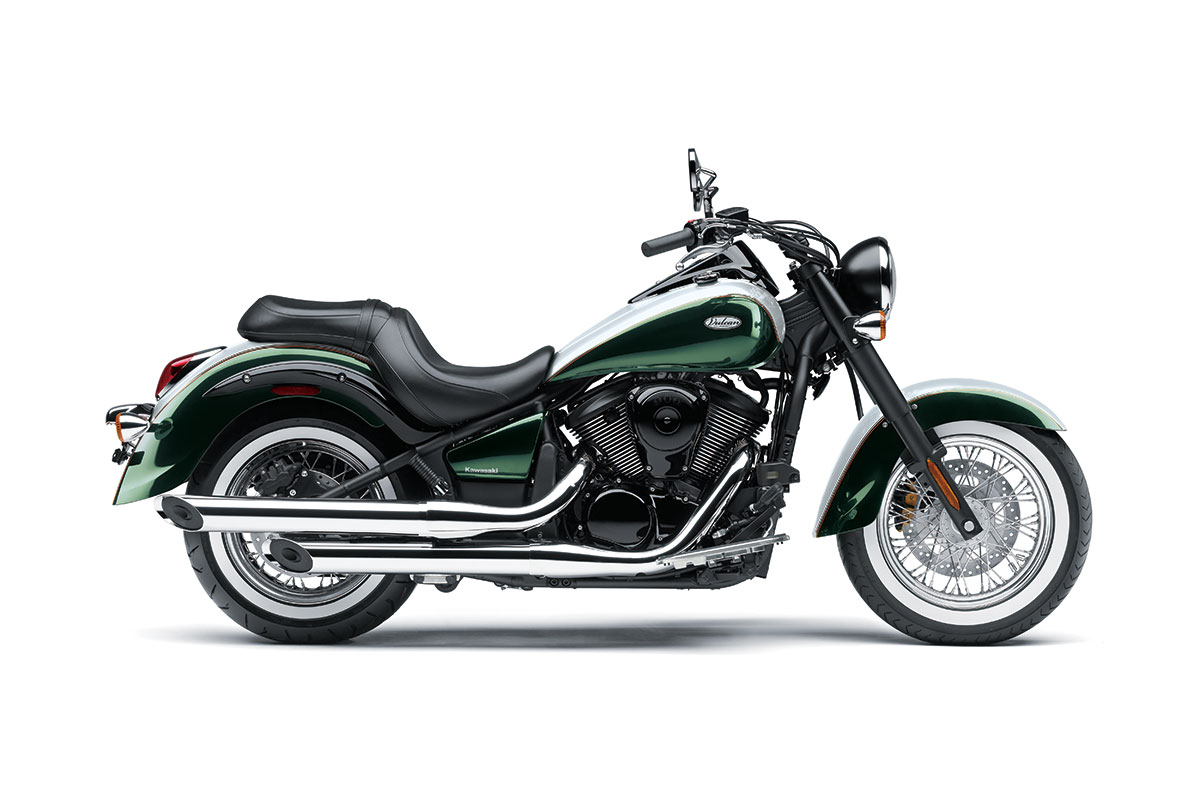 The Japanese certainly have a flair for gently understated perfection. While there is an entire lineup of Vulcan 900s, the Classic is just about the best cruiser you can buy on the market today if you're wanting a modern take on what made Harley's popular in the first place.
Low, wide, comfortable seat. Handlebars pulled back and easily gripped. Big 903 55-degree V-twin thumping away under the generous fuel tank, except liquid cooled instead of air cooled. Chrome on the exhausts, the wheels, the headlight surround, and in places that give it that American touch, but not overstating the fact.
On top of that, it keeps the American cruiser feeling alive with floorboards and a classic heel/toe shifter, and the burble and bark of a much larger displacement v-twin without needing to be a larger displacement v-twin. It may only have 50 HP and 57 lb-ft of torque, but this Kawasaki bike is a city cruiser, meant to look good cruising downtown, not the highway.
2022 Triumph Bonneville Speedmaster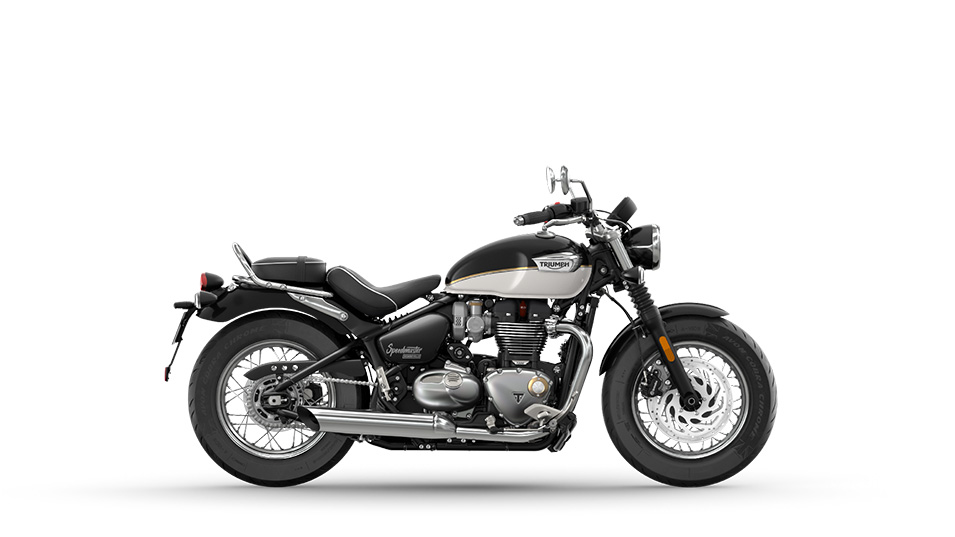 The Triumph Bonneville motorcycle has been a mainstay of the brand since 1958, when it was first introduced as a standard motorcycle. Throughout the years, it has had many variations, from scramblers, sport bikes, and specifically for this list, a few cruisers. While the Bonneville Bobber is arguably a more custom cruiser type bike, the Speedmaster has had a few minor changes for 2022 that make it much more friendly for the cruiser market.
The 2022 Triumph Bonneville Speedmaster packs some more punch in the midrange thanks to some ECU changes; but most importantly the suspension has seen some slight overhauling. The new Showa 47mm cartridge fork has kicked out the previous 41mm fork setup allowing for more travel and a smoother ride. Not only will the ride be smoother, but the Speedmaster should also benefit greatly in the handling department as well.
Need a comfier seat? The 2022 version has you covered. Tired of the old speedometer? The 2022 update brings a new dial face and bezel; and you can't forget the new LED headlight.
The 1200cc parallel twin engine pushes out a comfortable 78 horsepower and 78 lb-ft of torque.
2022 Triumph Rocket 3 R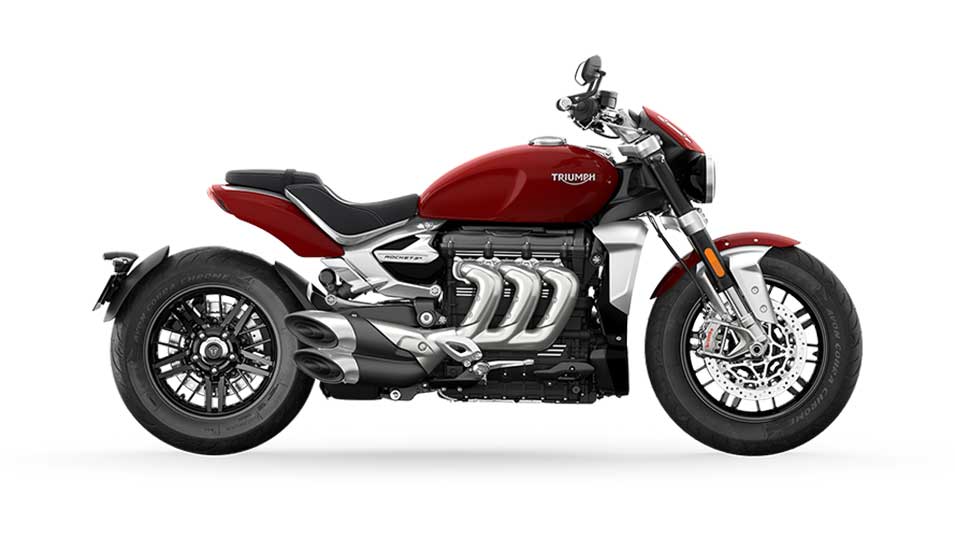 Well, this list is about cruisers that are not Harley-Davidsons. The Triumph Rocket 3 R, for all intents and purposes, is about as far from a Harley as you can get without crossing over into sport standard territory.
Powered by an absolutely monstrous 2,458cc inline-three, the 2022 Rocket 3 R punches out 167 HP and 163 lb-ft of torque in a bike that weighs about 660 pounds soaking wet. While it will cruise happily at pretty much any speed you choose, the special part of the bike is how it gets there. If you pin it and get every shift perfect, you will arrive at 60 MPH in under 3 seconds.
This is definitely not a first bike for anyone. However, if you have some years under your belt, want a cruiser that will both cruise smoothly and embarrass the Lamborghini that's pulled up next to you at the stop light, well, here's your bike!
2022 Suzuki Boulevard C50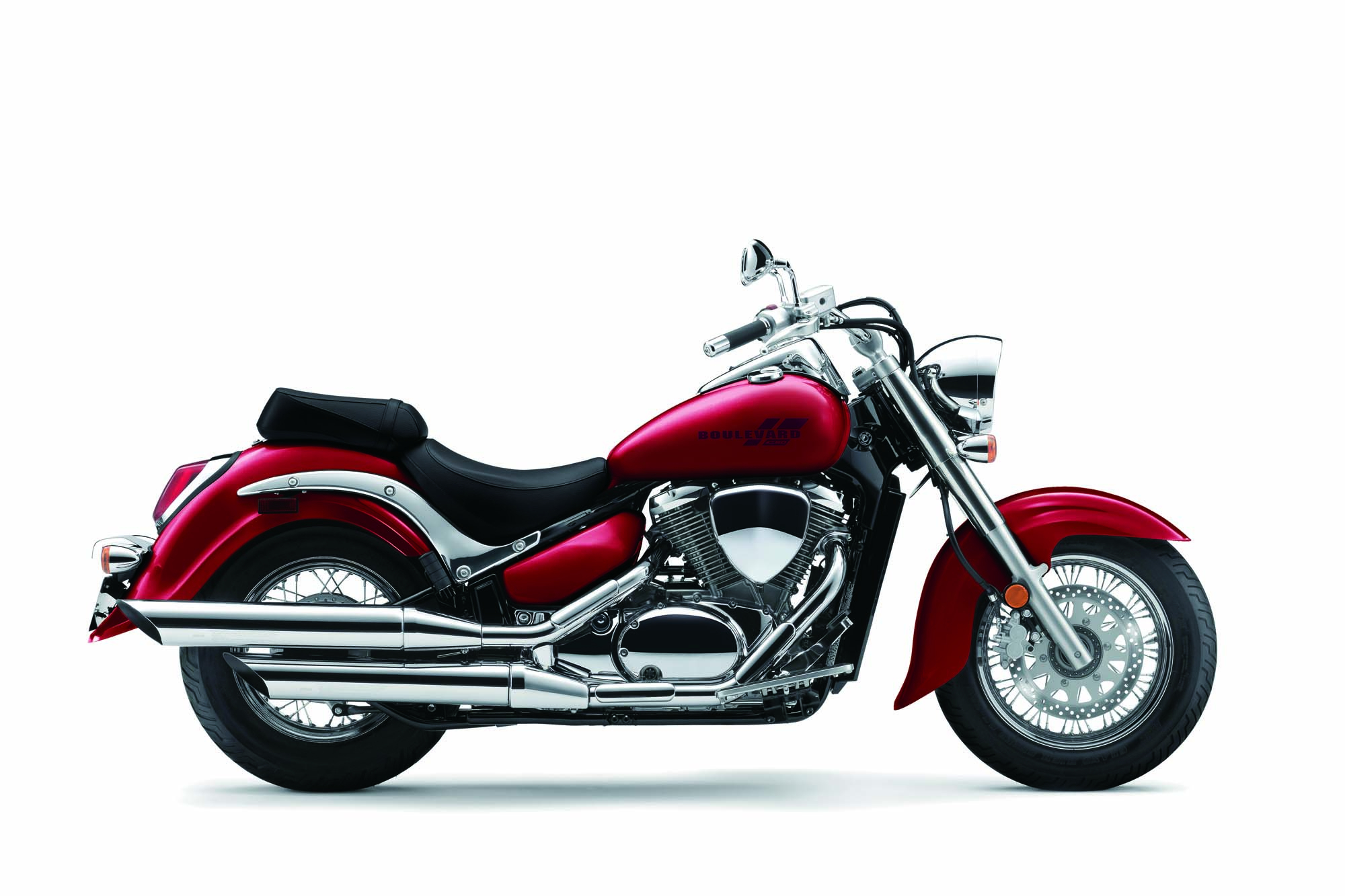 The Suzuki Boulevard C50 is a special bike. There, we said it right off the bike. While other brands will try to emulate the sportier cruisers, or in a few cases the muscle cruisers and power cruisers, Suzuki is perfectly happy to sit back and relax. And that's what they want you to do on the C50 as well.
As close as you will ever get to a pure softail out of Japan, it is a bike that doesn't need to jump up and down and be flashy. It's a subtle, rumbling bike that wants you to enjoy the trip as much as it does. It has an 805cc V-twin that is mounted very low and very forward, and puts out a smidge over 53 HP and 51 lb-ft of torque.
And at 600 pounds, that's just enough. Not too much, not too little. Just right. It won't leave you dragging your feet as you accelerate onto the freeway, nor will it let you down when you just want to rumble your way through downtown or down a country road. And we think that's how Suzuki planned it: "Just right."
2022 Yamaha Bolt R-Spec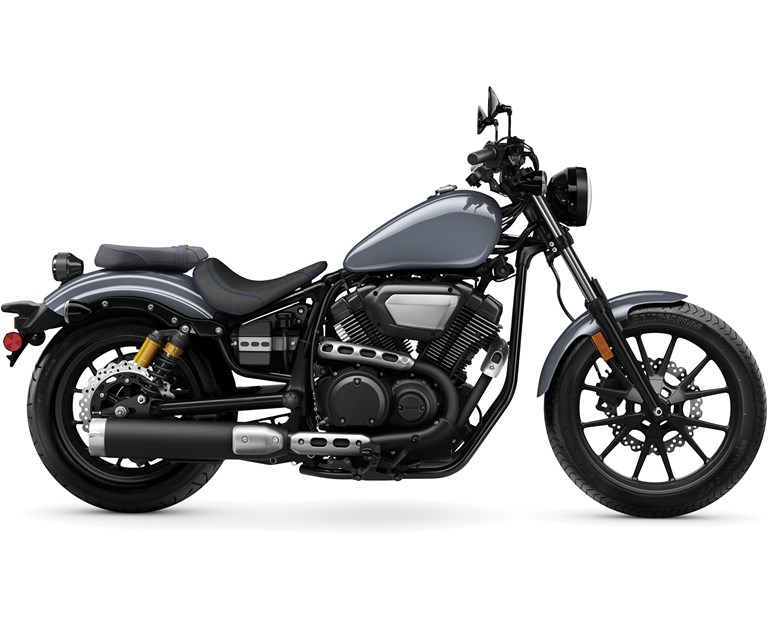 Admit it, as a fan of bikes in general, there is a part of you that likes to get a wrench out and tinker, tweak, and maintain your bike. Well, the Yamaha Bolt R-Spec is meant for those people. From the very outset, Yamaha cooperated with third party modding companies, their own in-house performance shop, and a slew of specialty modders to make sure that the Bolt R-Spec was customizable.
From the outset, even buying one off a dealership floor allows you to specify where the seat is, the handlebars, and the pegs, as part of customization to make the bike fit you. And once home, you can adjust the shocks, rebound, spring rates, brake takeup… you name it, they meant for you to be able to wrench it.
And it's no slouch either, with a 942cc air-cooled 60 degree V-twin that thumps out 65 HP and 55 lb-ft of torque, of which 95% of which is available at only 3,000 RPM. As part of cruising can also be the modding scene, never fear, for the Japanese have remembered that and made a cruiser just for you!
2022 BMW R18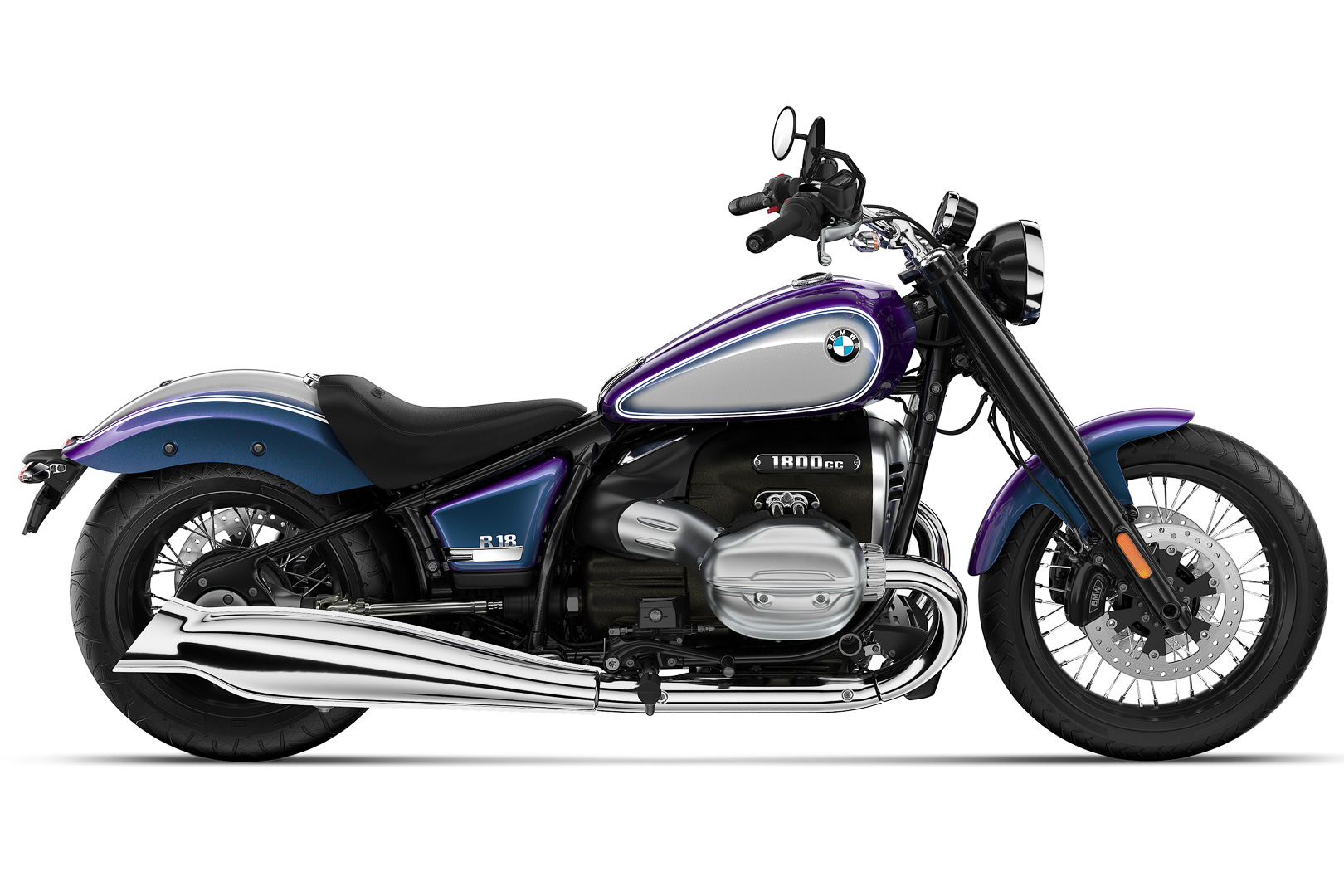 For the first time in over two decades, BMW has built a cruiser. While they have been legendary in Europe for years for their capable and reliable touring and adventure bikes, someone somewhere somehow talked them into making a cruiser again. And whoever that someone is, we thank you.
With a 1,802cc boxer-twin, the R18 comes roaring back into the motorcycle world with 91 HP and 116 lb-ft of torque. It's also not a light bike, with a wet weight of 761pounds. But what it is, and we do admit that this is entirely subjective, is beautiful. Looking back to the BMW's of yesteryear that existed in the 30's, 40's, and 50's, it has the long, flowing look that made those bikes classic.
It also has all the modern amenities a bike of this caliber should have. A double-cradle steel frame for rigidity. ABS front and rear, with two discs up front and one at the rear. A shaft drive powered through six speeds. Fully integrated BMW engine control systems as well as intake pipe fuel injection to give the engine the bark and rumble something this good looking needs.
Enjoy special paint options? 2022 brings a brand new (and very flashy) paint scheme that is sure to snap necks when taking this thing down the block. What can only be described as an indescribable mish-mash of blue and purple iridescent greatness completely shrouds this already amazing-looking motorcycle for the 2022 roll-out.
2022 Evoke 6061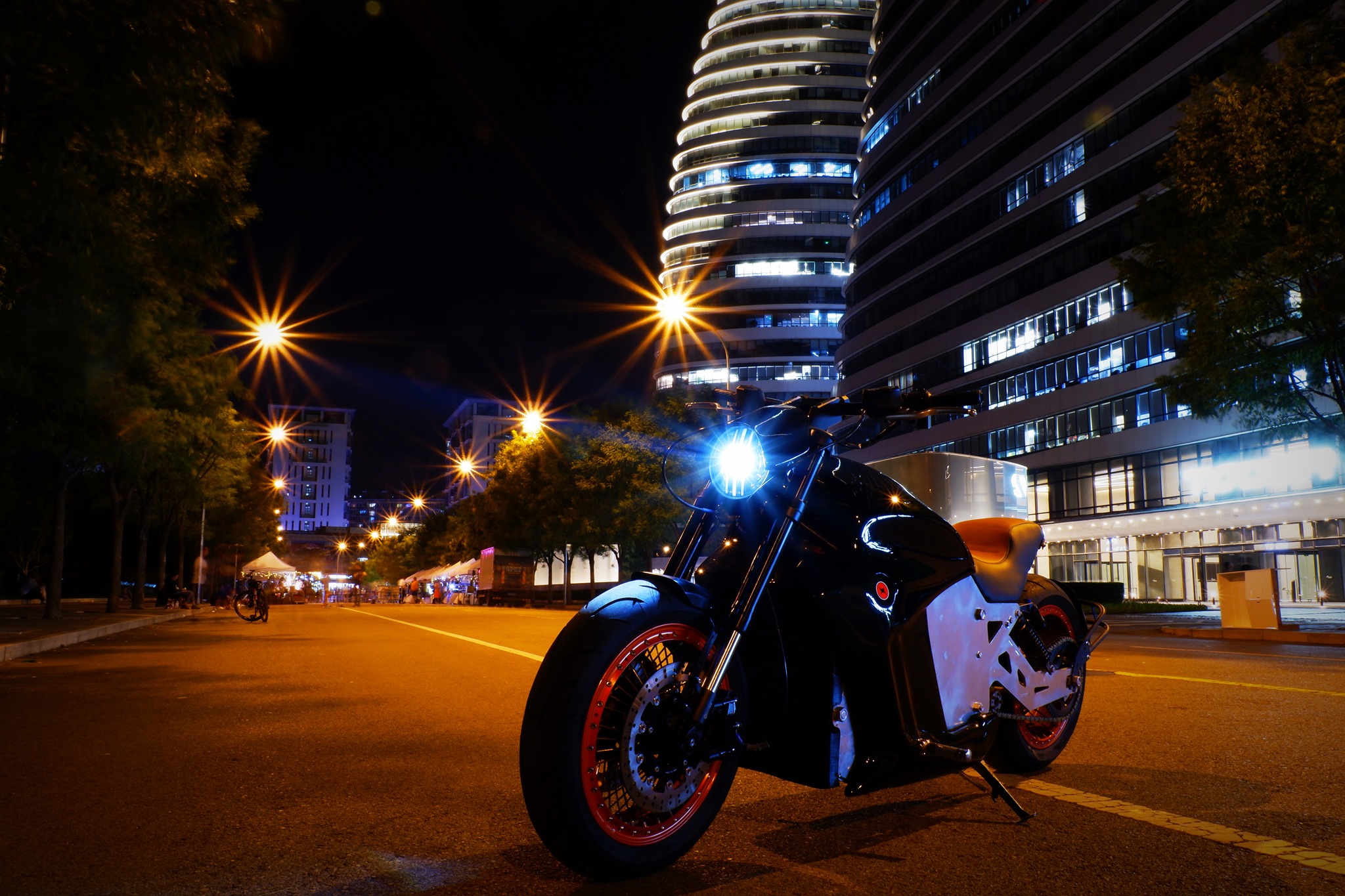 With Harley showing that electric sport cruisers were possible with the Livewire, it's no surprise that after their press announcement in the mid 2010's that other companies would step up to take on the big H in the electric market. One such company, founded in 2018 and screaming forwards is Evoke, who first unleashed the fully-electric 6061 to the market back in 2021. While their bike may not be the prettiest of things, it is undeniable that they just gave the big H a solid slap across the face.
A cooperative across multiple nations, including the US, Singapore, China, Taiwan, and others, Evoke built the 6061 specifically to be the top electric cruiser you can buy. While they are not cheap in the slightest at $25,000 USD, they do have some competitor crushing numbers. 160 HP equivalent HP from the DC motor. Over 200 lb-ft equivalent at 0 RPM. A top speed of over 140 MPH.
One of the best things about bringing together many minds from many nations, the Evoke is Tesla Supercharger compatible, as well as independent charging station compatible in Asia and the Pacific countries. As long as the Supercharger used has a 480 Volt, 150 kW charge rating, the bike will charge from empty to full in just over 15 minutes. In case that isn't available, a 120 Volt, 2 kW AC charger comes with the bike for overnight charging at home.
For 2022, Evoke has pumped up the range for all of their electric motorcycles in a bid to improve on their already successful formula. The Evoke 6061 comes in three variations: the CT, GT, and XR (each with bigger batteries as you climb the ladder).
2022 Indian Chief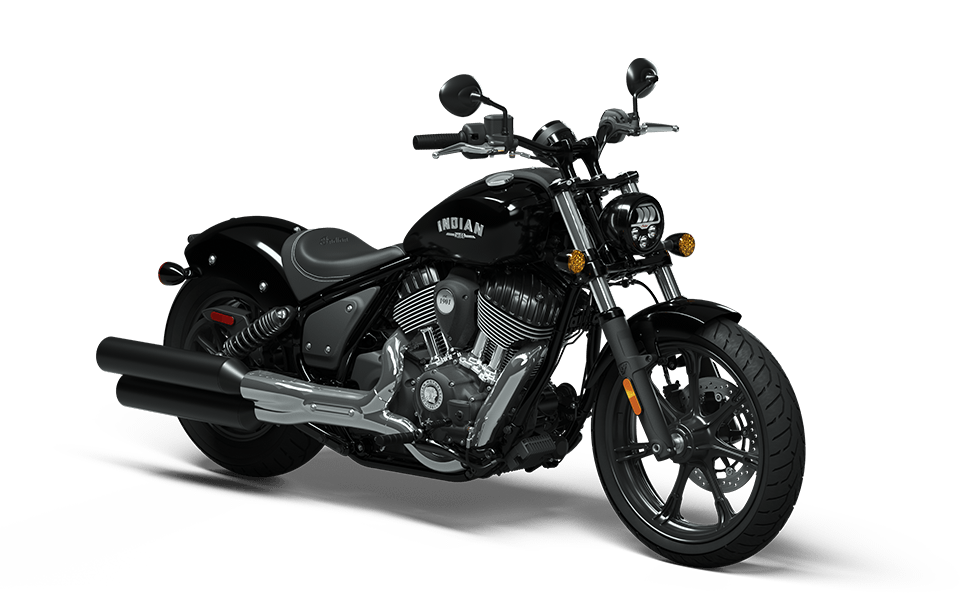 If you want to talk about brand staples, the Chief is truly the face of the entire Indian Motorcycles brand. First introduced in 1922, the Chief has faded in-and-out of the Indian lineups throughout the years; but the most recent iteration gives a good reason as to why it will stay around for the foreseeable future.
If you're already familiar with Indian's Scout, you could say that the Chief is its bigger brother thanks to the much more powerful engine configurations available. With trim options giving somewhat endless possibilities, you can have the choice between the 1811cc Thunder Stroke 111 or 1890cc Thunder Stroke 116 as the driving force behind this cruiser beast.
Designed with the idea of a minimalist cruizer in mind, the Chief is a subtle bike boasting smooth lines and a stripped-down profile serving as the perfect basis for Indians' infinite customization possibilities.
2022 has seen the wheelbase shortened in addition to a new 46mm front fork for better handling around corners, and Indian was even nice enough to include new mid-mounted controls and a drag bar.