We've all seen it when we walk into our local motorcycle dealership or gear shop: a wall full of helmets of every color, design, style, and price point. Some are special editions, some are normal helmets, and then there are those with matte finishes, the focus of this article.
What advantages does a matte helmet give you, you might ask? Firstly, matte finishes are usually more resilient to harsh impacts, which is why you will see more and more adventure and dual sport helmets sporting matte finishes. Secondly, and to some of us more importantly, matte finishes look badass.
For this list, I've taken a look at all price points of helmets out there, and then further broken them down into style categories, as I will attempt to recommend the best helmets possible. To cut down my final list from about 30 helmets to the 10 recommended here, I looked at the safety ratings, value for money, and overall construction of the helmet.
---
Helmets Under $250
Scorpion EXO-GT920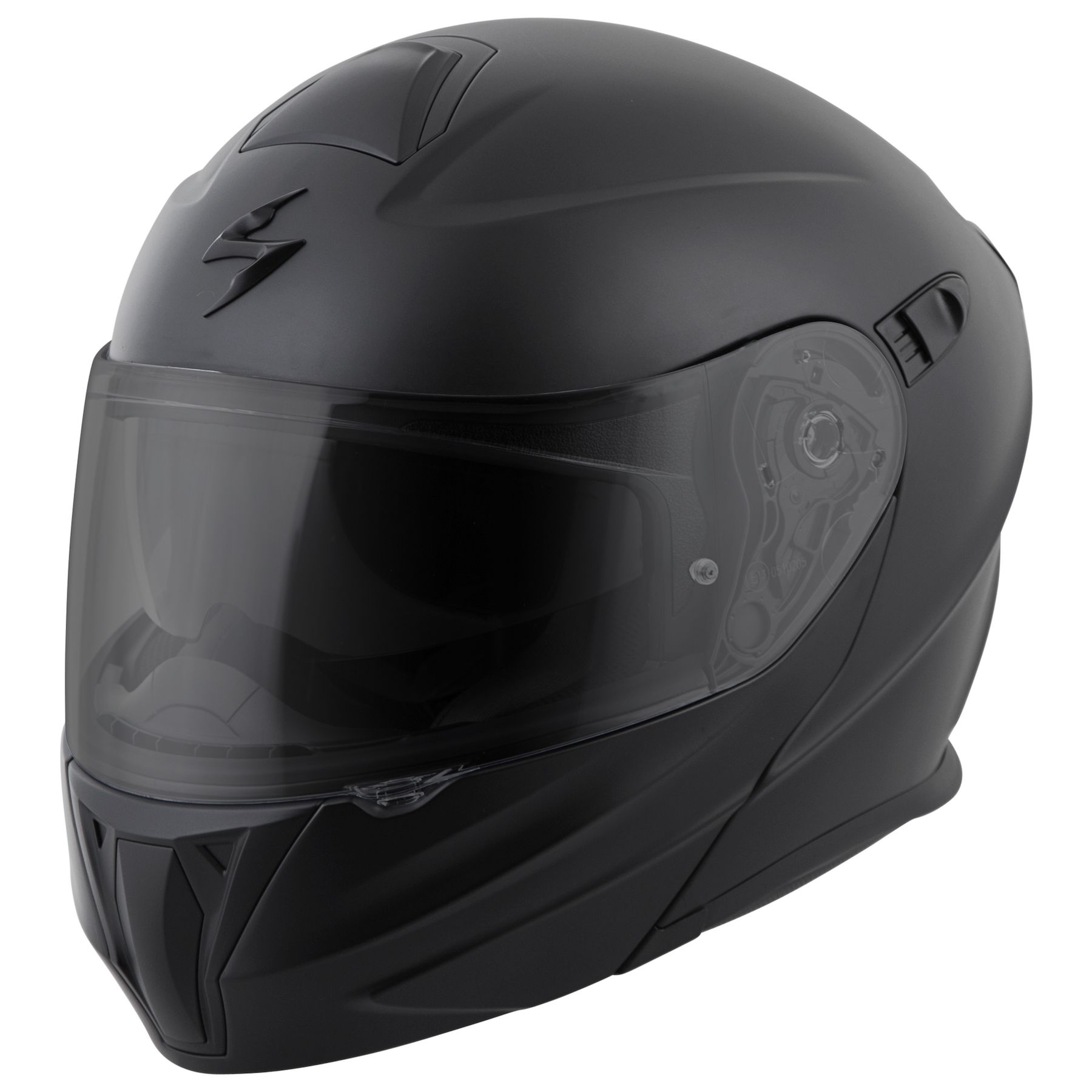 Price: $219.95
Buy it: RevZilla
Type: Modular
Warranty: 5 Years
Head Shape: Intermediate Oval
Weight: 3.71 lbs
First up, the old but reliable companion. The Scorpion EXO-GT920 has been on the market for a while now, yet still holds on as a go-to in recommendations under $250. Why?
It is available in a staggering array of sizes from XS to 3XL. The front and top vents are very easy to find while wearing gloves, as is the flip down sunshade switch at the rear of the left visor hinge. The EPS foam within is dual density multi-layer, the best type to absorb and disperse impact forces.
Most importantly, however, the chin bar has a metal-to-metal clip on either side of the helmet, instead of a plastic clip or other locking mechanism. Having that extra strength and stability makes this matte modular a bargain at anywhere under $300.
AGV K1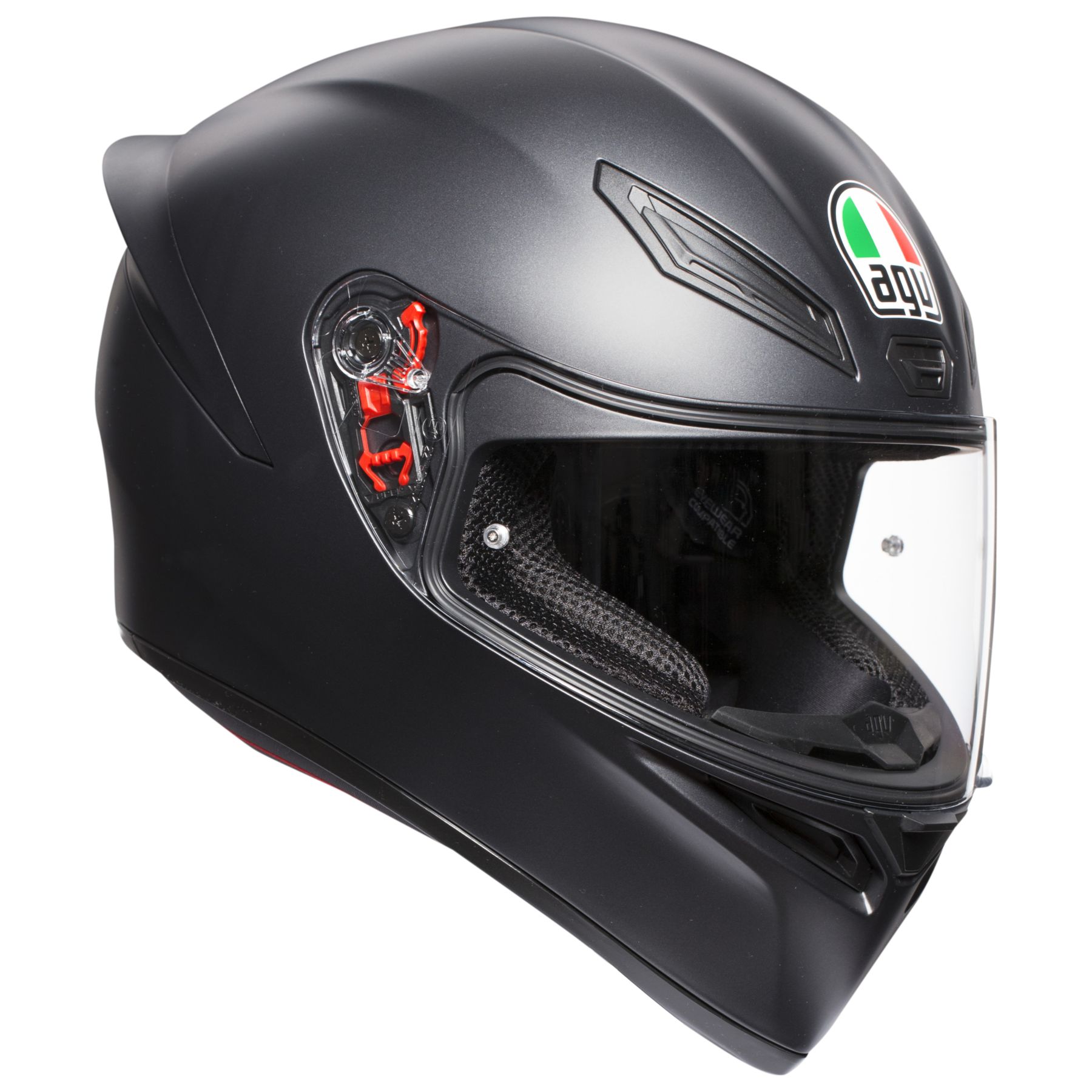 Price: $199.95 to $209.95
Buy it: RevZilla
Type: Full Face
Warranty: 1 Year
Head Shape: Intermediate Oval
Weight: 3.64 lbs
Drawing upon the design and features found on the Corsa R and the FIM-validated Pista GP R, the K1 is AGV's entry into sub $250 helmets.
Excellent ventilation with three intakes on the fore of the helmet and two in the chin guard, with extraction handled by two large exhausts built into the rear spoiler. Toolless, easy visor changes. Contours that allow the rider to be upright or tucked down to the tank without buffeting, and a dipping chin area to help prevent neck impacts from stones and debris while riding.
The only let down with this helmet is the 1 year warranty. Otherwise, it is a solid choice with racing research and development behind it.
Bell Broozer Arc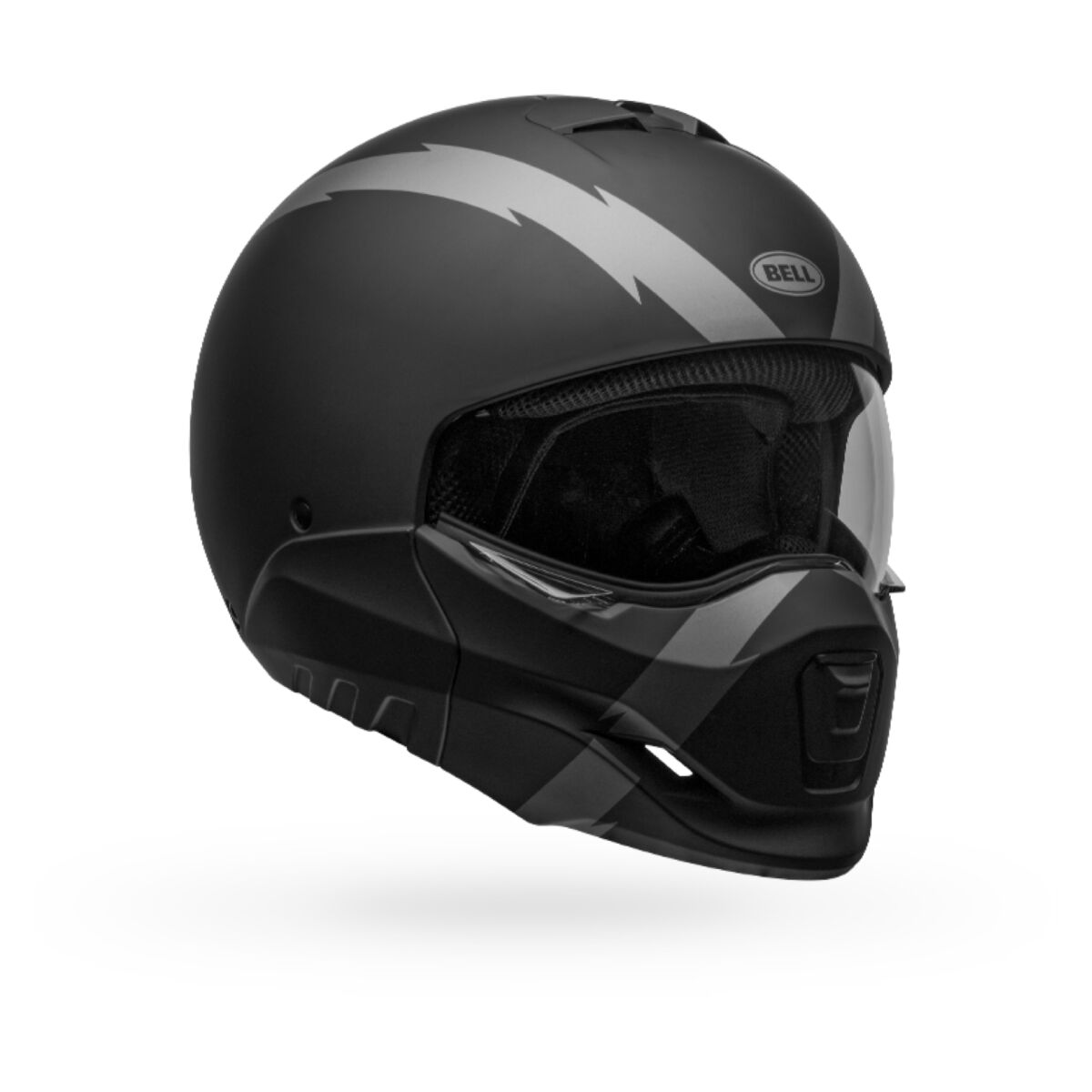 Price: $229.95
Buy it: RevZilla
Type: Convertible Open Face/Full Face
Warranty: 1 year manufacturing, 5 years otherwise
Head Shape: Intermediate Oval
Weight: 2.97 lbs
A new introduction into the market, the Broozer Arc from Bell is a radical shift away from what a conventional modular helmet should be. Instead of being a flip-up, the helmet features a fully detachable chin bar, and the visor slides into the front of the helmet, like a sun visor on an adventure or modular helmet.
Bell designed the Broozer Arc to be tough as nails too. Dual density, multi-layer EPS within a polycarbonate shell, the helmet is both DOT certified and ECE certified, in both configurations (chinless and chin bar installed). As well, with the visor being integrated into the helmet, if you want to wear goggles or riding sunglasses, simply slide it up into the helmet and ride on.
---
Helmets $250 to $500
Shoei RF-1200 Solid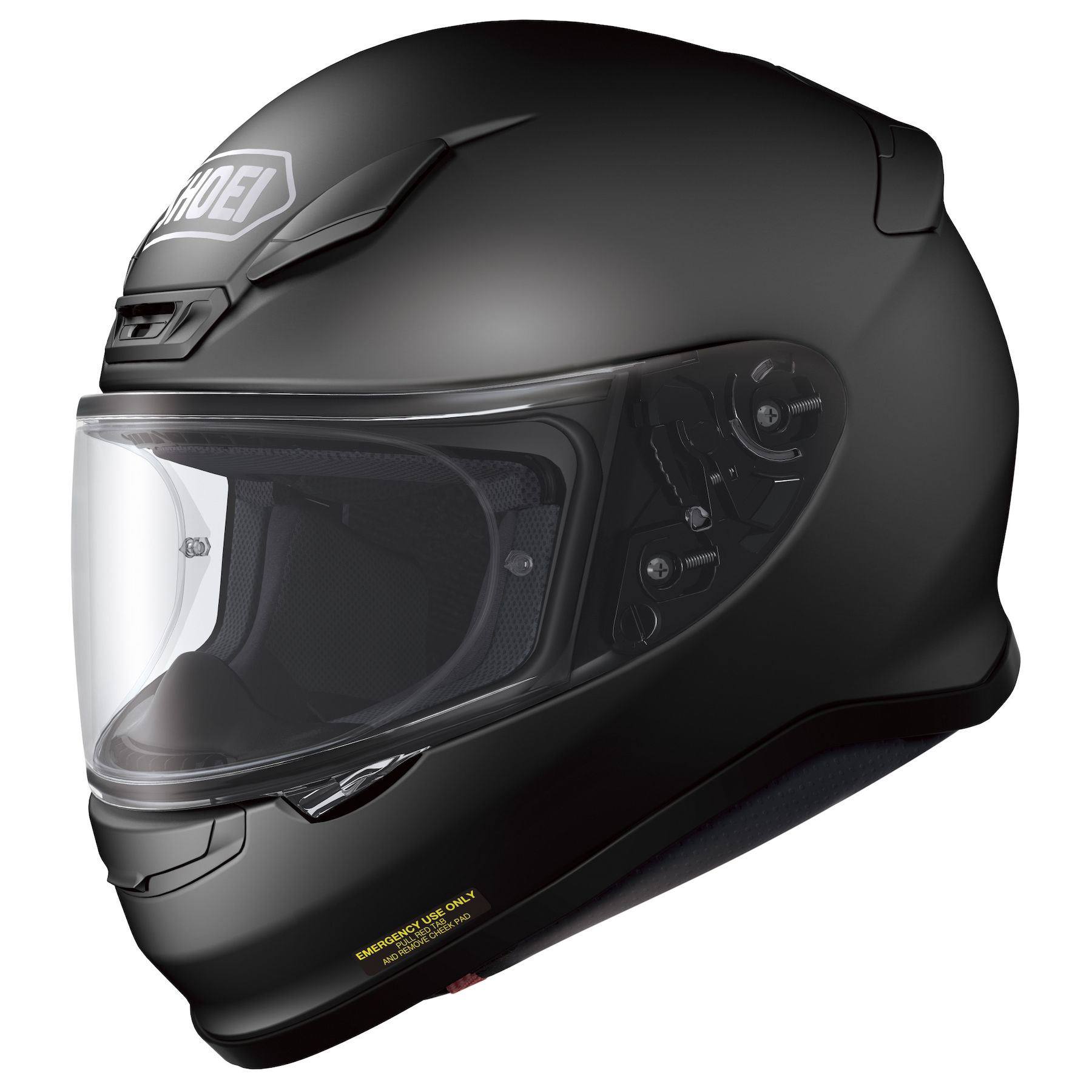 Price: $485.99 to $498.99
Buy it: RevZilla
Type: Full Face
Warranty: 5 years
Head Shape: Intermediate Oval
Weight: 3.5 lbs
Shoei's flagship mid-range helmet, the RF-1200 is widely regarded as the best introductory track day helmet due to its SNELL M2015 certification on top of DOT certification. The visor also includes an interface system with the helmet that seals tightly, not allowing any wind, rain, or debris to penetrate.
Featuring dual-density multi-layer EPS inside an AIM+ shell, the RF-1200 features excellent ventilation that ingeniously incorporates cooling channels into the EPS foam without affecting safety.
As well, the RF-1200 has emergency cheek pad release tabs in the unfortunate event of a crash. This is vitally important for rider safety, as it allows the helmet to be removed without having to wiggle, tug, or twist it off the rider's head.
Scorpion EXO-AT950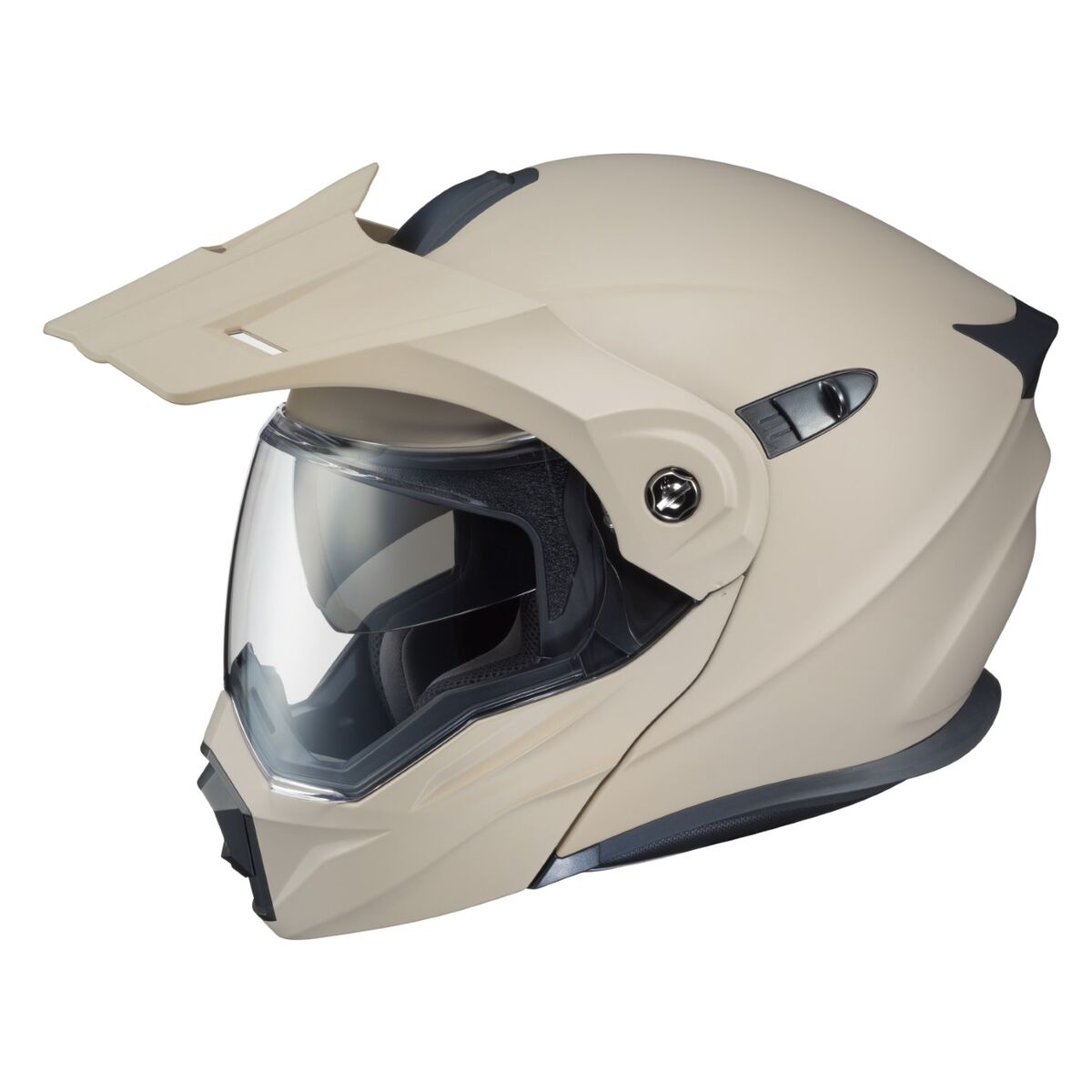 Price: $269.99
Type: Modular Adventure
Warranty: 5 Years
Head Shape: Intermediate Oval
Weight: 3.77
The big brother and originator of the Scorpion GT920 we recommended under $250, the AT950 shares the same dual density multi-layer EPS foam, the same flip down sun visor, and the same basic helmet shape and same metal-to-metal closure for the modular chin bar.
However, where the AT950 gains over the GT920 is in the longer chin area, with a much more direct airflow vent on the front. The peak is easily removed with a few turns of the flathead screws on each side of the visor.
As well, when the visor is open and the sunshade retracted, the shape of the visor allows for goggles to be worn if you'd rather have direct air flowing into your face while conquering the dirt and gravel that you will no doubt be adventuring across.
Arai Classic-V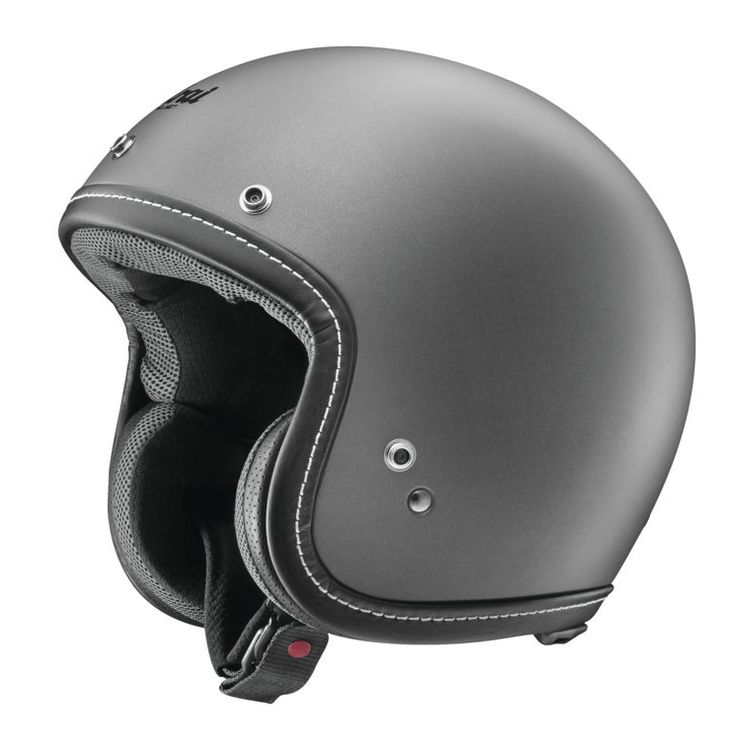 Price: $469.95
Buy it: RevZilla
Type: Open Face
Warranty: 7 years date of manufacture or 5 years date of purchase
Head Shape: Intermediate Oval
Weight: 2.62 lbs
I'll say it outright: any Arai, I repeat any Arai helmet is worth it at whatever price it is at. See this article by one of our writers, Jim, where he explains why: Arai Is The Helmet To Buy
That aside, the Classic-V is a marvel of Japanese engineering and design. A full PBcLc reinforced fiberglass shell over a full one-piece multi-density EPS foam interior gets the helmet all three major certifications: SNELL M2015, ECE, and DOT. Three hidden air intakes in the forehead liner and a cooling channel that runs the full length from forehead to nape of the neck, where hot air is exhausted through two hidden ports there, keep the rider cool.
As well, you have options for facial protection, either snap-on full shield or half shield/visor, both sold separately. If you wish to wear goggles, the Classic-V has a handy goggle strap holder. And like all Arai helmets, all the interior liners are sweat wicking, removable, and machine washable.
At $470, you cannot buy a better helmet. Full stop.
---
Helmets $500 & Over
Arai Defiant-X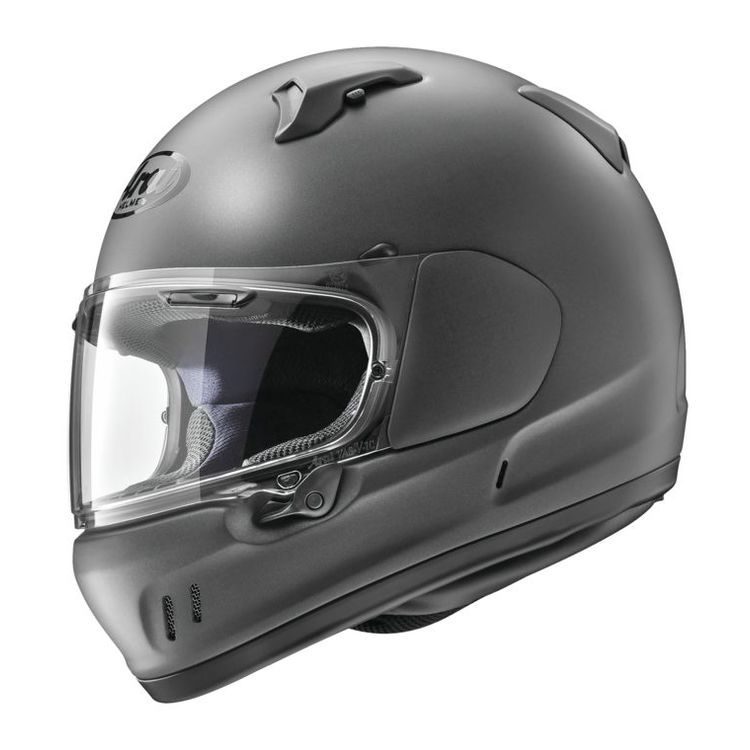 Price: $659.95 to $679.95
Buy it: RevZilla
Type: Full Face
Warranty: 7 years date of manufacture or 5 years date of purchase
Head Shape: Intermediate to Long Oval
Weight: 3.51 lbs
The second youngest helmet in the Arai lineup, the Defiant-X is one of the most impressive helmets to ever come out of the Japanese company.
Arai has added a lot of customization to this helmet, as the cheek pads, neck pads, crown and rear of head are all adjustable with multiple 5mm foam inserts, allowing you to find the perfect fit. The ventilation system incorporated into the helmet is also astounding, with a cheek cooling intake and exhaust along the lower edge, and four front facing vents and a gigantic rear exhaust that sucks all the hot air from the helmet.
In terms of safety, Arai as always has you covered. Multilayer reinforced fiberglass for the shell, multi-density multilayer EPS foam, and receiving certification from all three major bodies: SNELL M2015, ECE, and DOT.
Shoei X-14 Solid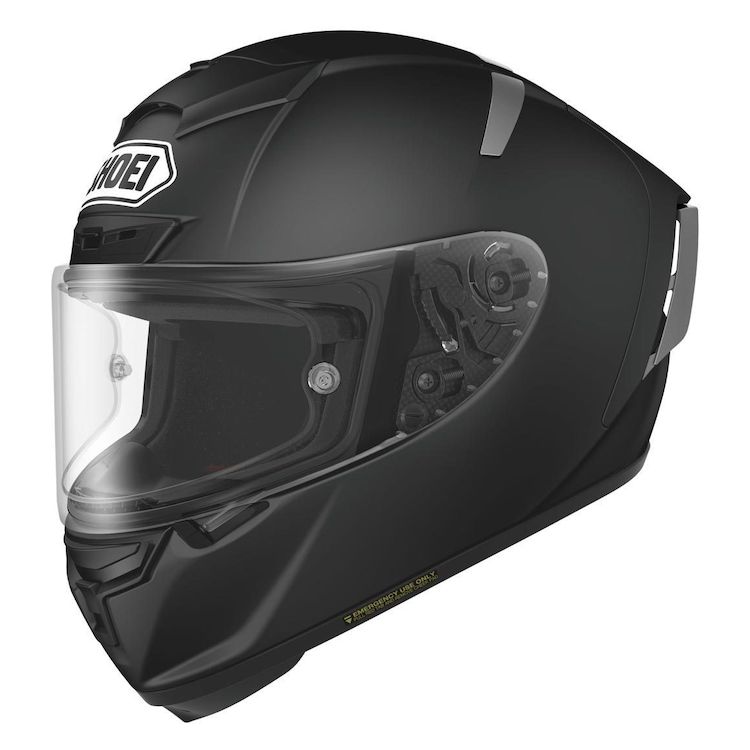 Price: $731.99 to 742.99
Buy it: RevZilla
Type: Full Face Motorsports-Homologation Helmet
Warranty: 5 Years from date of purchase with proof of purchase
Head Shape: Intermediate Oval
Weight: 3.62 lbs
This helmet was designed by Shoei with only one goal in mind, namely the 2018 and 2019 MotoGP and World SBK racing championships. As of January 25, 2019, the X-14 has passed all of the FIM (Fédération Internationale de Motocyclisme) governing body tests to be qualified as FIM certified for use in the highest levels of motorsport, and was only awaiting homologation.
If that wasn't telling enough, the X-14 has so many safety features that it would be impossible to list them all here. Of note, however, is the multi-fiber composite that makes up the shell, containing carbon, kevlar, glass fiber, and other compounds to make an extremely strong shell. Dual layer multi-density EPS lines the inside of the helmet, and unlike other helmets, also covers the entirety of the chin bar.
Ventilation is also superb, with microchannels along the chin bar and cheeks to wick away heat and exhaust it out the rear of the helmet via side vents, while the primary vent on the top of the helmet cools the rest of the head. And in the case of a crash, emergency releases for the cheek pads and an easy open chin strap allow for stable removal of the helmet.
AGV SportModular Carbon Solid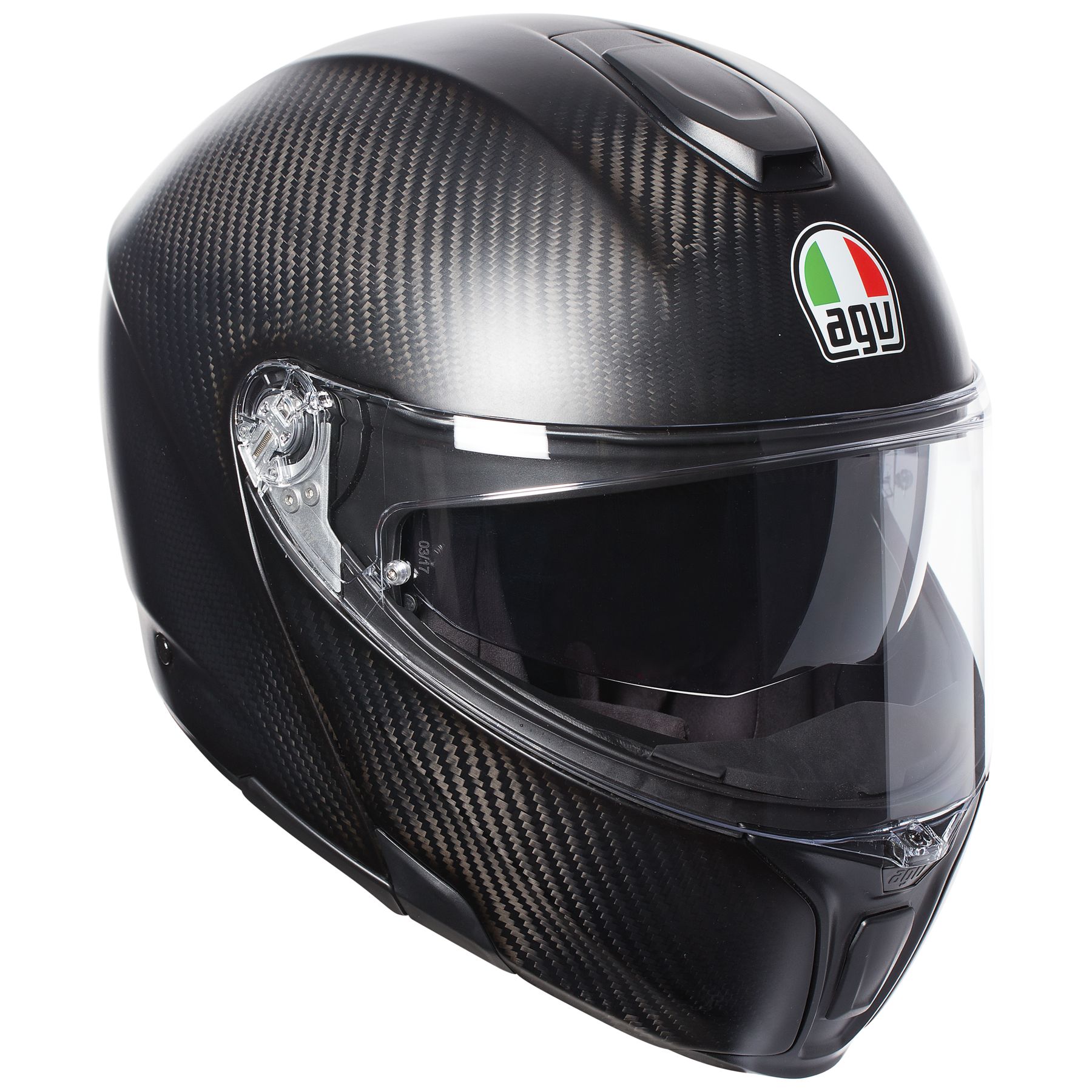 Price: $749.95
Buy it: RevZilla
Type: Modular
Warranty: 5 Years
Head Shape: Intermediate Oval
Weight: 3.2 lbs
There's nothing quite as badass as matte finished carbon fiber. And that's just the outer layer. The shell is, as the name says, 100% carbon fiber. The EPS foam within is 5 densities to disperse the maximum amount of impact energy.
If that wasn't enough, the modular closure is full metal-on-metal, with the pegs and clips fully integrated into the carbon fiber during manufacturing, ensuring the strongest mounting. The helmet also borrows the ventilation system from the Corsa R sport helmet, with multiple channels throughout the interior of the helmet to keep any head cool.
The cheek pads and interior liner are all removable and machine washable. There is an integrated drop down sun visor. And last but not least, the SportModular meets or exceeds all ECE and DOT certification requirements.
Klim Krios Pro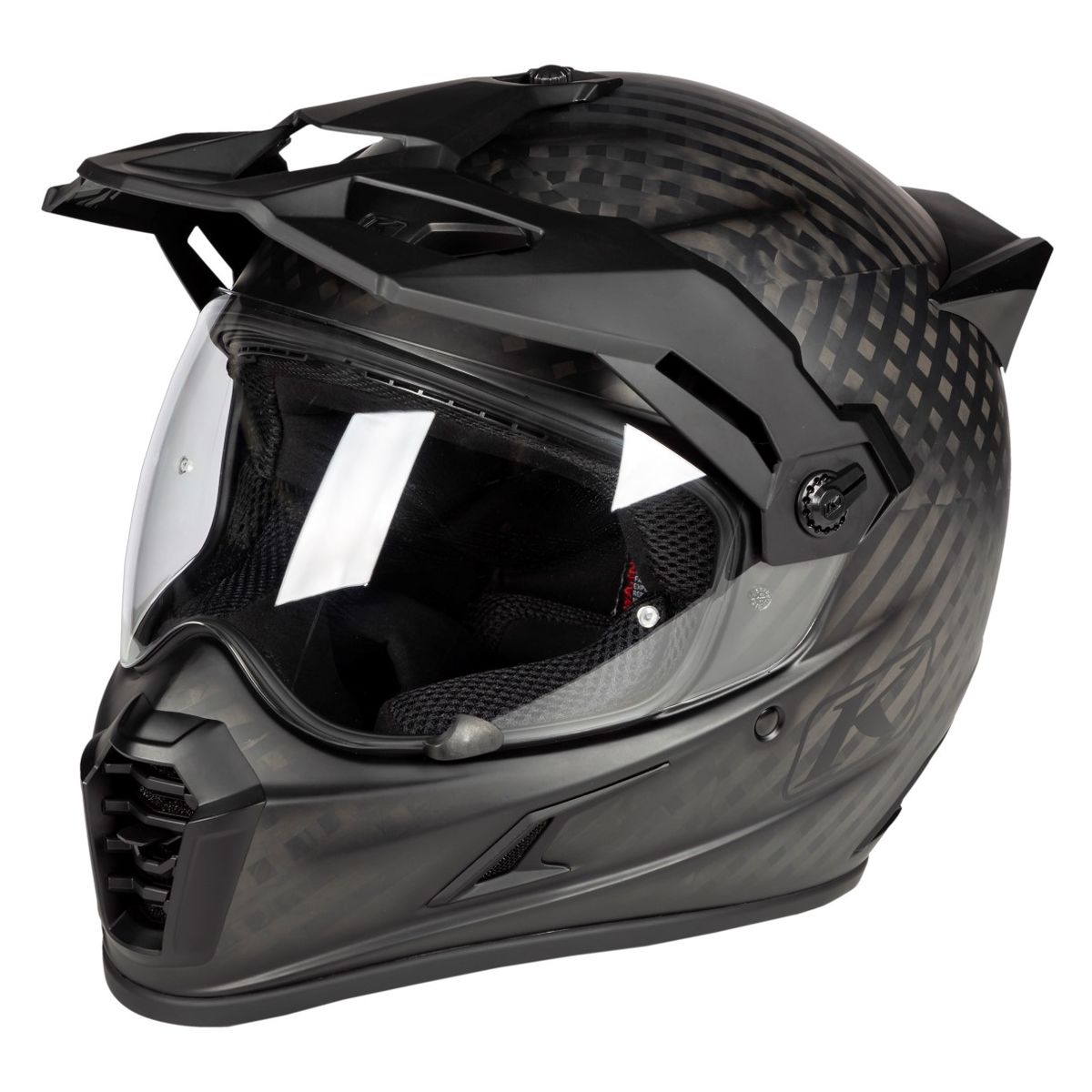 Price: $699.99
Buy it: RevZilla
Type: Full Face Adventure
Warranty: 1 Year manufacturing, 5 Years otherwise
Head Shape: Intermediate Oval
Weight: 2.86 lbs
The Klim Krios Pro is one of the most exciting helmets to be released in the last few years. Not because it has irregular carbon fiber as its shell, but because it offers an aerospace level impact resistance layer that is not EPS foam.
Called Koroyd Tubes, these absorb energy by crushing at a controlled, engineered rate, in the equivalent of five layers of dual density EPS. Much like those old TV commercials where they drop a bowling ball on a mattress and the bowling pins don't wobble, each tube in the Koroyd system internally absorbs maximum energy through self-destruction, preventing most of the energy of an impact from reaching your head.
On top of it all, the Krios Pro is modular, in that you can remove the visor and peak to use as a road helmet with goggles, or leave the visor and peak on to have a fully featured adventure helmet. The Krios Pro meets both ECE and DOT certifications.