As the sales season to clear out the 2020 helmets winds down, there is a reason to be excited looking towards spring. Not only does it become warm enough to ride every day again, it also means that the new designs of matte helmets are going to be going on those "first ride of the season" sales that we all wait for to get the latest and greatest!
But why a matte helmet over a painted or glossy helmet? Truth be told, matte finishes in general are more resilient to smaller impacts, such as bugs or accidental drops. They don't reflect sunlight into other riders' eyes. And lastly, they look seriously badass, which really is the #1 reason you want one anyways, eh?
For this list, we've broken the helmets down into sensible price points. Anything up to $250, from $251 to $500, and everything over $500. To keep the list sensible, at each price point we had about 10 helmets that made the final list, and we reviewed the safety ratings, the availability for fog-free pinlocks or visors, how easy and comfortable they are rated, value for money, and a variety of other factors to boil it down to the final 3 or 4 per price point.
Helmets Under $250
Scorpion EXO-R420 Solid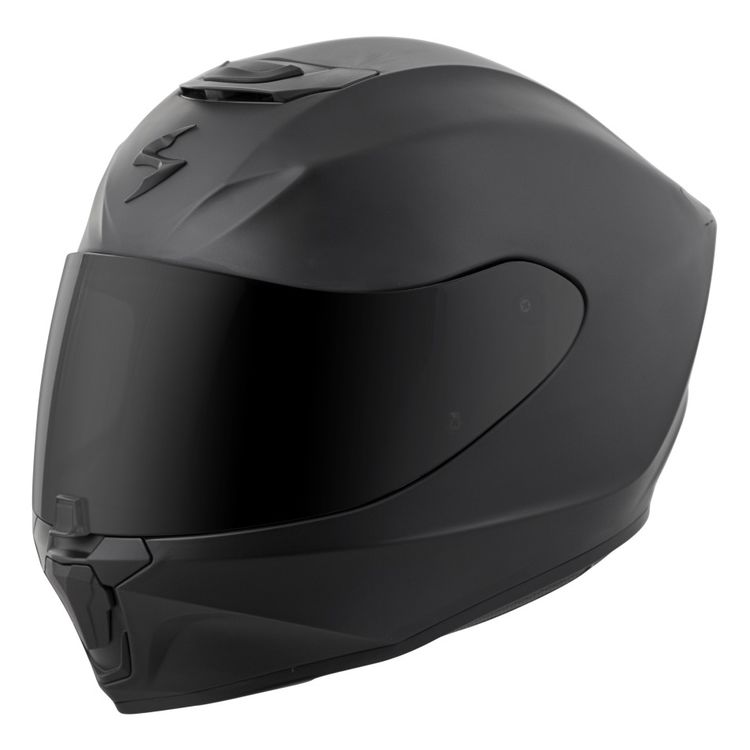 Type: Full-face
Warranty: 5 Years
Head Shape: Intermediate Oval
Weight: Unknown, estimated 3.5 lbs
Review: Scorpion EXO R420 review
Scorpion has been a stalwart of the "not expensive but damned good for the price" sector of the market for a long time. What keeps surprising us is how much technology they bring down through all of their lines from their race-grade helmets that are used in MotoGP and World SBK.
The EXO-R420 uses an LG polycarbonate shell with multiple layers, under which dual-density multilayer EPS foam is ready to absorb impacts. The helmet ships with a clear visor only, but it is 100% pinlock compatible. The visor also uses Scorpion's new Eliip-Tec2 ratchet system, which pulls the visor snugly to the helmet when it's fully lowered so that there are no annoying air leaks.
The padding is Scorpion's removable KwikWik II washable fabric, and the helmet does have cheek pad emergency release tabs for medical professionals. Lastly, and most importantly we think, especially at $150, the EXO-R420 is SNELL M2015 certified and DOT certified.
HJC i90 Aventa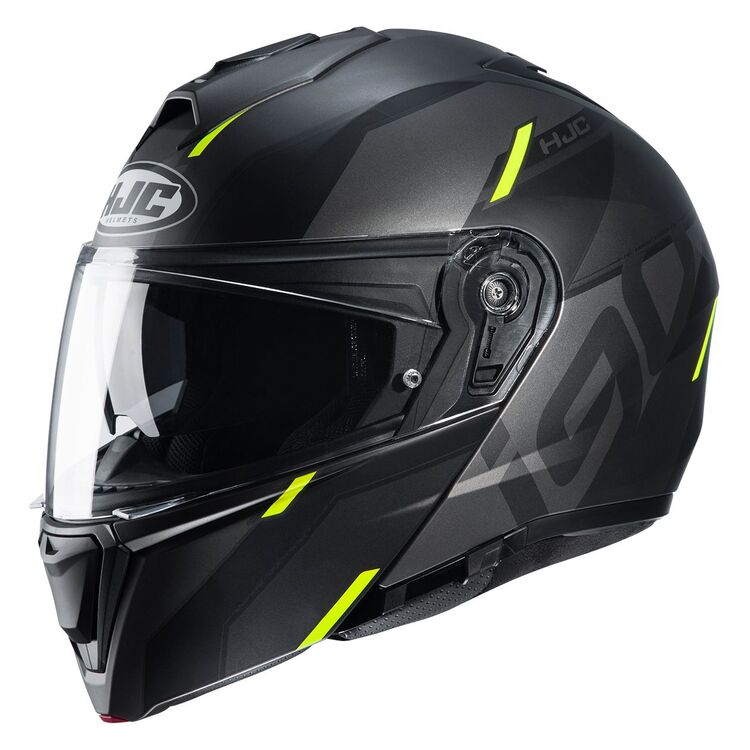 Head Shape: Intermediate Oval
HJC enters 2021 with a competitor for "best modular helmet under $250." THe i90 is an evolution of the iS-MAX range it replaces, and comes with a whole slew of attractive and useful features at a wallet friendly price point.
The chinbar connects solidly with a T-pin on each side, and the center chinbar release has been positioned lower in the bar to allow for easier opening wearing gloves. The major update over the iS-MAX series is that the i90 features 7 intake vents and 2 top-rear venturi exhausts in what HJC is calling their "Advanced Channeling Ventilation System." Part of this is that the venting blows across the entire width of the inside of the visor to prevent fogging, as well as other venting blowing your breath down and away from the visor.
The visor itself is pinlock ready, and has a quick release system to make visor switch outs quick and easy. The sun visor slider is on the left lower cheek line, instead of top mounted as before. A standard and durable D-ring chin strap keeps it secure on your head, and the crown and cheek pads are removable for washing. The helmet is DOT and ECE certified.
Icon Airflite Rubatone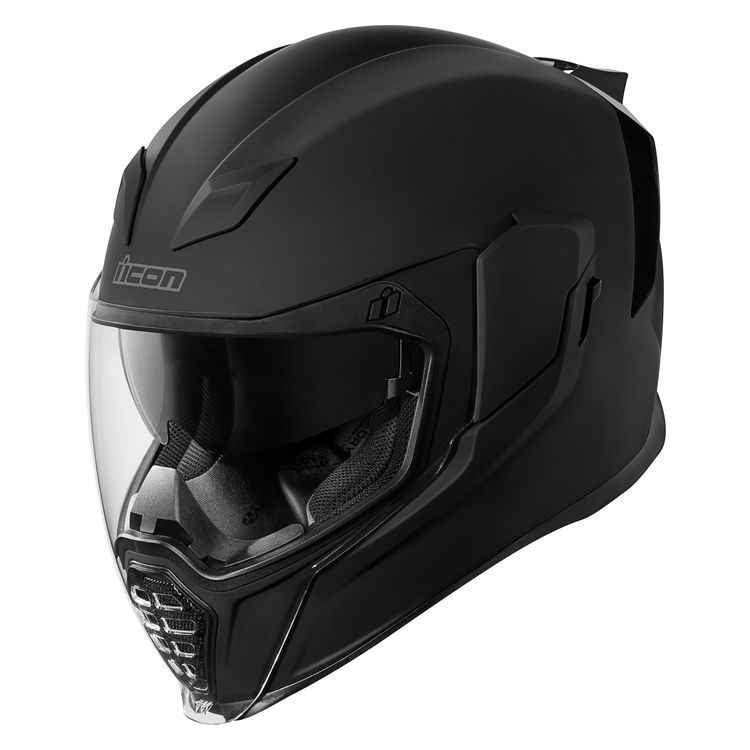 Price: RevZilla $250.00
Type: Full-face
Warranty: 1 year manufacturing and materials
Head Shape: Intermediate Oval
Weight: 3.79 lbs
Review: Icon Airflite Inky review
The Icon Airflite is not a new helmet in terms of design. Far from it, it's become one of the most well known, best reviewed, editor-picked helmets on the market. But it's never had a matte finish to it, always either having graphics or a shiny lacquer final layer.
No longer. With the new Rubatone version, Icon has finally made the Airflite matte and black. And that big chin vent isn't just for looks. It flows fresh air to both your mouth and along your cheeks, The top mounted vents cool the top of your noggin before it all exits through an oversized venturi vent at the top-rear.
In terms of safety, the injection molded polycarbonate shell is made in one piece for strength, under which you will find dual-layer EPS foam. The interior padding is sweat absorbent and fully removable for washing. The helmet meets or exceeds DOT, ECE, SAI, and SG certifications, making it a truly global helmet.
Shoei RF-1400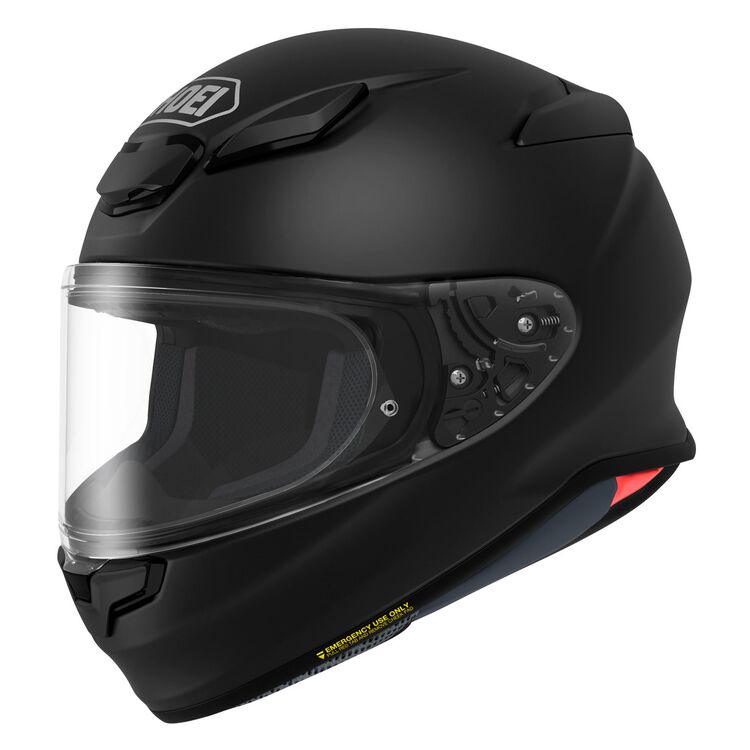 So, you're one of the world's best known helmet manufacturers, and SNELL testing labs come out with a brand new, extremely stringent, hard-to-pass test for 2020. What do you do? Well, if you're Shoei, you take your award winning RF1200 and update it to the brand new flagship RF1400 model.
Fiberglass interwoven with organic fibers make up the strong outer shell, with dual-layer, multi-density EPS foam underneath. An all-new visor lock-and-release system allows for changes in seconds instead of minutes. The RF1400 also adds a third vent on the crown of the helmet, which helps with routing cooling air down 6 distinct channels. Four venturi exhausts replace the two that were on the back of the RF1200.
The visor is designed to give an accurate real view in the center, and the sides have been slightly widened to give better peripheral vision. The visor is 100% pinlock compatible, as well as Pinlock EVO compatible. The RF1400 is one of the few helmets to so far pass the SNELL M2020 standard, and is also fully DOT certified.
Scorpion EXO-AT950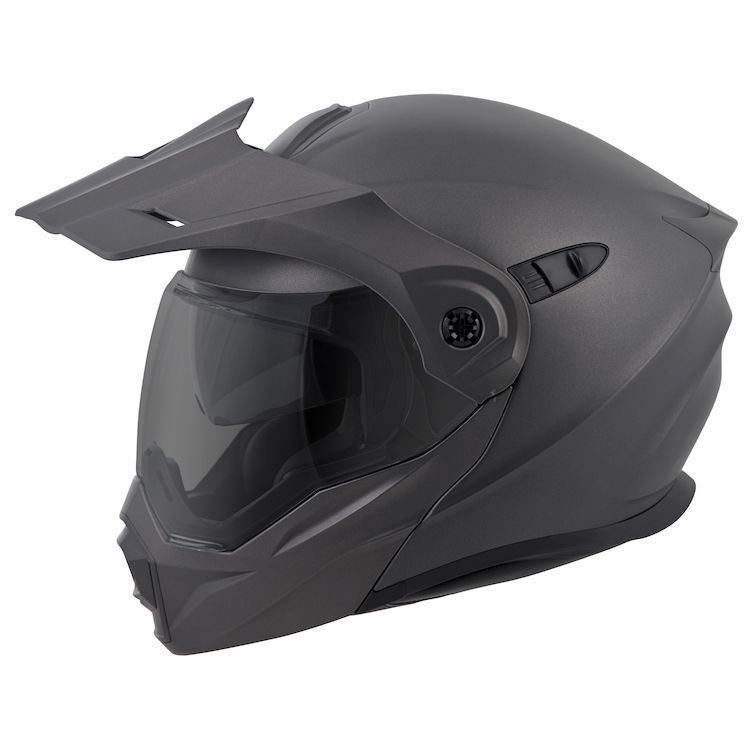 While not entirely a brand new 2021 helmet, Scorpion has added a few matte color options for 2021, including our favorite, a dark grey they label as "Anthracite." A fully featured adventure helmet at a stellar price, the EXO-AT950 retains all the features that made it a top pick in our 2020 list.
Metal-to-metal chin bar closures, flip down sun visor with a glove friendly over-the-ear slider, a strong polycarbonate shell, dual-density multi-layer EPS, and an oversized visor area that lets you see down and forwards to spot those little rocks that like to send you tipping. The peak is easily removed with a couple turns of a flathead screwdriver.
As well, the visor can be completely removed if goggles are your preferred manner of eye protection. As always with Scorpion, the helmet is fully DOT certified.
Arai XD-4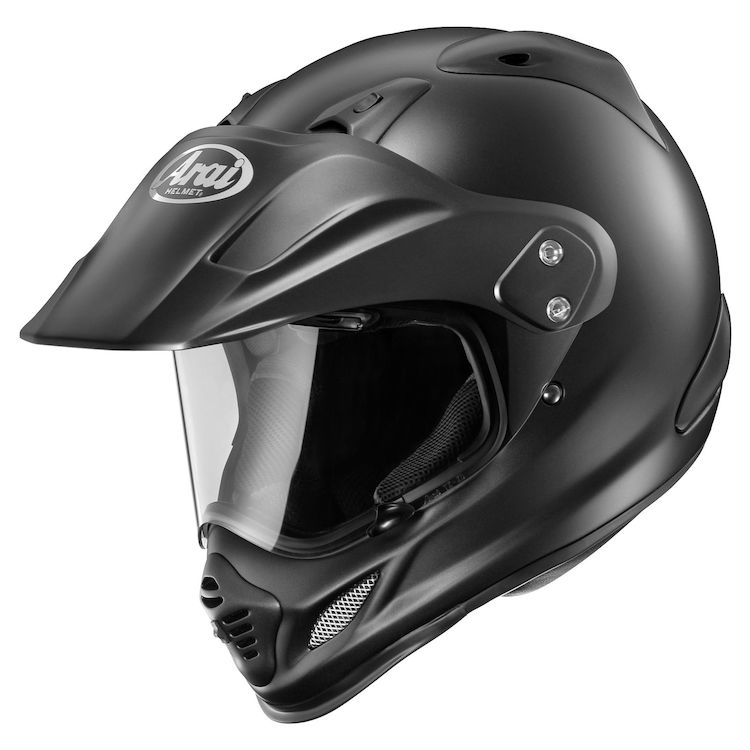 Price: RevZilla: $609.95 to $619.95
Type: Full Face Adventure
Warranty: 7 years date of manufacture or 5 years date of purchase
Head Shape: Intermediate Oval
Weight: 3.66 lbs
Review: Arai XD-9 review
The Arai XD-4 is a helmet that was released in mid-2020, so it's not technically a 2021 helmet. However, we will never not recommend an Arai helmet, and so this helmet makes an appearance. And while Arai makes custom racing helmets and full face helmets for the majority of their lineup, it's also noise that they have started to make Adventure touring helmets!
The XD-4 is pure Arai, through and through. Full fiberglass and organic fiber multilayer shell, dual-density multi-layer EPS foam, padding that is customizable to fit your face perfectly, and excellent ventilation. The floating peak is removable with a few screwdriver twists, and the oversized visor is contoured to give you the best natural vision while also fitting tightly to the helmet.
The biggest thing about the XD-4, however, is that it's an Arai at a reasonable price. Arai's usually start at $800 and go up from there, and you can get a fully fledged adventure touring Arai for $620. Add on top of that that it's one of the few helmets to pass the SNELL M2020 tests and is certified by pretty much every certification test you can find around the world, and this one is a no brainer if you are serious about Adventure Biking.
Schuberth C4 Pro Solid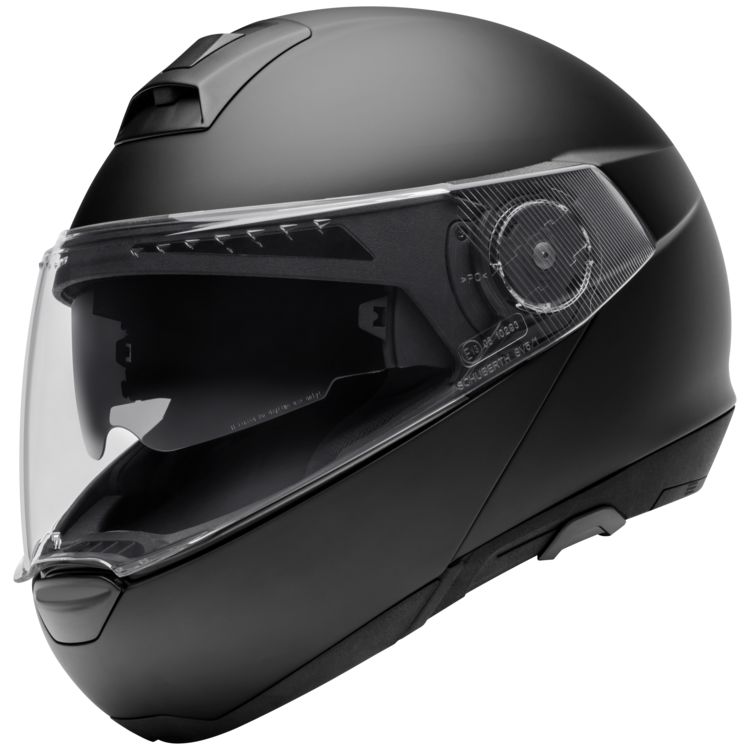 Price: RevZilla: $699.00
Type: Full Face Motorsports-Homologation Helmet
Warranty: 5 Years from date of purchase with proof of purchase
Head Shape: Intermediate Oval
Weight: 3.91 lbs
Review: Schuberth C4 Pro review
The Schuberth C4 was released in 2019 to wild acclaim and excellent reviews. A few months later, the C4 Pro was released. In may 2020, the helmet underwent a mild refresh with a new shell forming technology and a new interior liner, and that "version 2" is what we recommend today.
The new shell forming technology is known as Direct Fiber Processing, or DFP. Instead of multiple strands of fiberglass laid over each other, a single strand of glass fiber is precision laid with high pressure forcing the fiber outwards. Without releasing that pressure, resin and heat are added and bake the shell into its final form, causing it to be, in a word, ridiculously strong.
The interior liner is seamless and is made of antibacterial, anti-microbial, and hypoallergenic fabric. Of course, at this price point, the entire liner is removable and washable. The helmet is DOT certified and is scheduled to undergo SNELL M2020 testing in 2021.
Shoei GT-Air II Emblem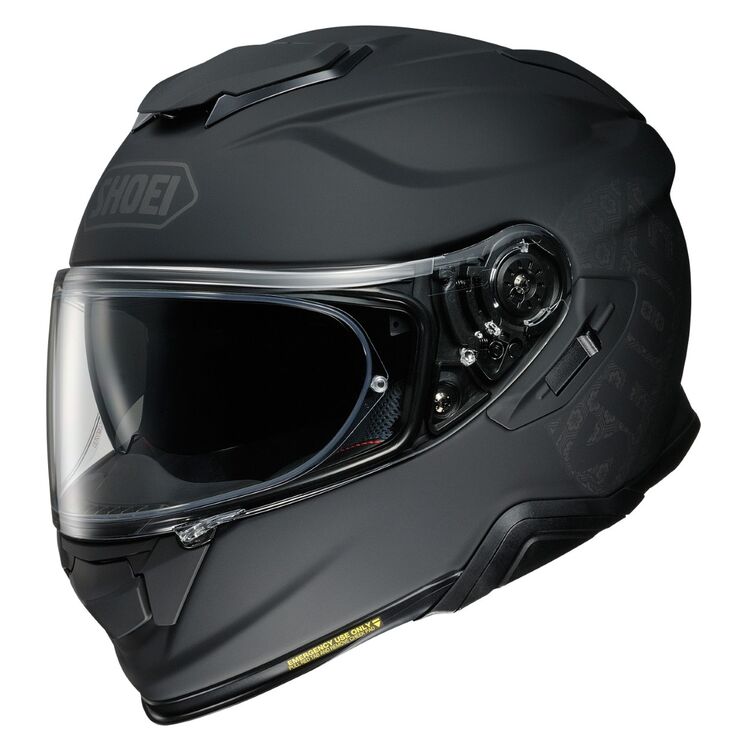 Price: RevZilla: $699.00
Type: Full Face Motorsports-Homologation Helmet
Warranty: 5 years from date of purchase or 7 years from date of manufacture, whichever comes first
Head Shape: Intermediate Oval
Weight: 3.79 lbs
Review: Shoei GT-Air II review
The Shoei GT-Air II Emblem is a new helmet for 2021 that came about because of its little brother, the Neotec II modular, as well as the original GT-Air needing an update. While the original GT-Air was a revolutionary helmet, the GT-Air II continues the legacy of being one of the best "all-rounder" helmets.
The GT-Air II features a more aerodynamic shape than its predecessor, and as a result, is much quieter at speed. The shell is made of fiberglass mixed in with some elastic fibers and kevlar, making it lightweight but extremely resilient. Multi-density multi-layer EPS foam forms the crush structure, and is shaped to allow the best fit for almost any rider.
The most important new things with the GT-Air II, however, are the fact that the visor has received ANSI Z80.3-2010 certification. What this means is that the visor has passed stringent anti-penetration and visibility tests, which is a guarantee that it provides the best view possible while also protecting your eyes from debris without shattering. As well, the interior flip-down visor has been upgraded and now provides 99% UV protection when used with the visor down.
Scorpion EXO-R1 Air Carbon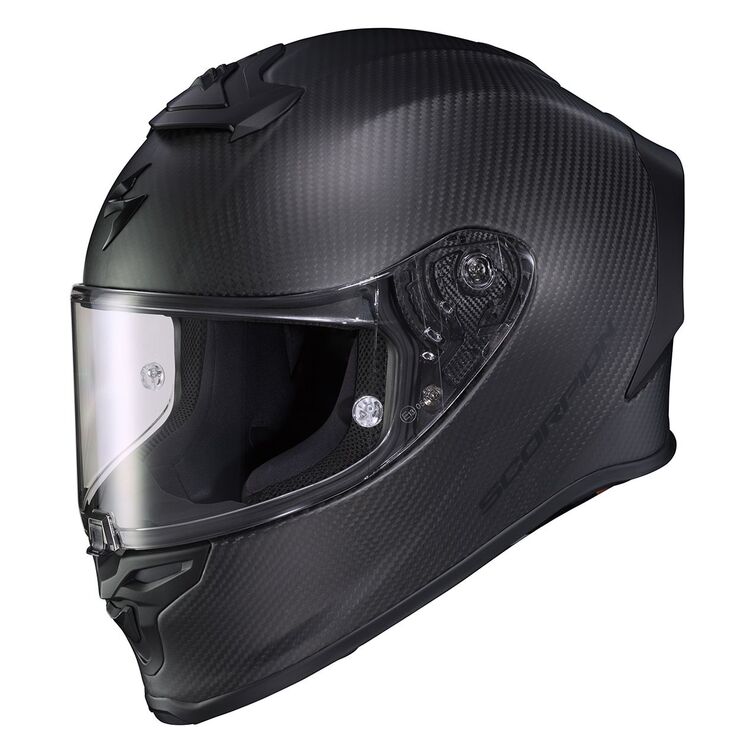 Price: RevZilla: $549.95
Type: Full Face Motorsports-Homologation Helmet
Warranty: 5 Years
Head Shape: Intermediate Oval
Weight: 2.64 lbs
Review: Scorpion EXO R1 review
We'll say right off the bat that this helmet at $550 is an absolute monster of a deal. This helmet carries the highest form of certification that can be found, the Fédération Internationale de Motocyclisme homologation approval. It is certified under FRHPhe-01 2018 standards, which are the current standards for any helmet to be used in MotoGP or World SBK.
The feature list for this helmet is nothing short of incredible. The shell is composed of woven carbon fiber with resin-infused TCT-U, which brings the helmet into impact ratings that are often used in relation to large passenger aircraft. The shell has been CAD designed to be as aerodynamic as possible, and the vision port as wide and tall as possible under FIM homologation rules. The large single vent intake is designed to act as a ram-air system, forcing cooling air around the head to be evacuated via four venturi exhausts on the top rear and back of the helmet.
Being race-certified means that the liner is also fully customizable for fit and comfort, and there are EMT emergency releases on the cheek pads for safe medical removal. The double-D chin strap closure is made of titanium for lightness and durability. The EXO-R1 Air Carbon carries DOT, ECE, and FIM FRHPhe-01 2018 certifications.
Bell Race Star Flex DLX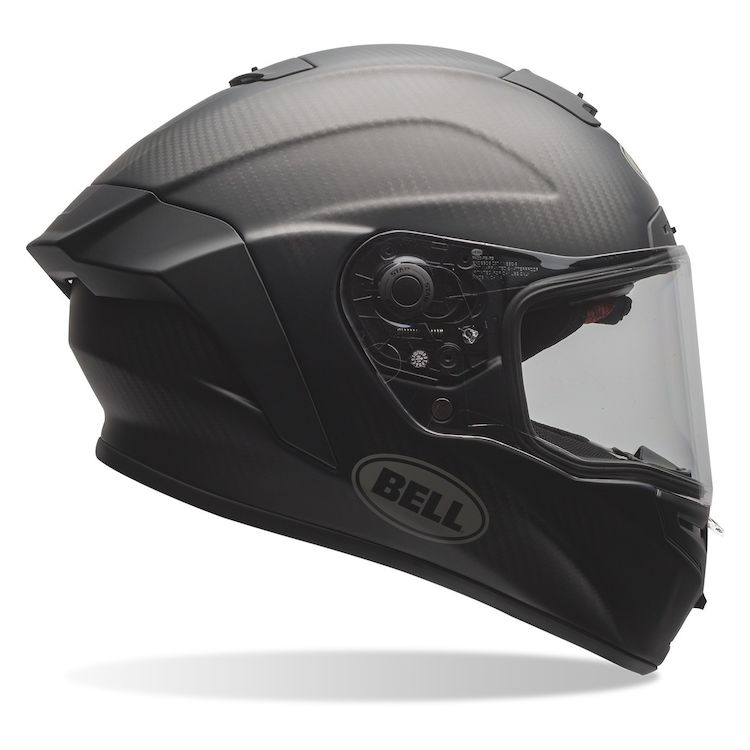 Price: RevZilla: $734.95
Type: Full Face
Warranty: 5 Years
Head Shape: Intermediate Oval with narrow neck
Weight: 3.57 lbs
Bell is a name that has been around motorcycle helmets since the first moments that motorcycle riders needed helmets by law. With that much history behind them, it should be no surprise that they make a superb helmet.
The Race Star Flex DLX builds upon its predecessor, the Race Star DLX, and improves on it in many ways. The shell is now made of 3K carbon weave, with 3000 individual strands of carbon fiber resin treated at high pressure and heat. This makes it 10% lighter than the previous Race Star. There is also a new liner material known as Flex Liner, a 3-layer impact liner designed to dissipate kinetic energy in different directions based on how the impact occurs, and prevents that kinetic energy from reaching the all important skull of the rider.
The liner is made up of hypoallergenic VIRUS fabric, which is combined with what Bell is calling "Cool Jade Mesh" to suck sweat and heat away from the skin, and use the ventilation through the air intakes and exhaust to wick away that heat and expel it. The Bell Race Star Flex DLX is SNELL M2015 and DOT certifed.