Matte is where it's at! At least in the world of helmets, for 2022 there are more choices than ever for a non-glossy style to suit every style of riding.
I have heard all sorts of rumors regarding the care and maintenance of a matte lid, let me just keep it simple. Just like a gloss helmet, they can suffer a scratch if the impact is strong enough or you scrape the painted surfaces against a rough surface, but they do not show swirl marks from regular wiping off of bugs and dirt. What some matte helmets will show can be fingerprints from sweaty or oily hands, but these are simple enough to clean away.
In 2022 the quality of the matte paint jobs is better than ever, and the styles continue to earn Bad Ass Helmet Store approval. Here are 10 Matte Helmets we think you should check out.
Scorpion EXO Covert X

Scorpion USA is well known for great quality gear at prices that are fantastic, now they can be known for unique and innovative design. The Covert X is really 3 helmets in 1, thanks to the removable components that transition this helmet between a full, open, or half helmet configuration.
The Covert X is made from Scorpions TCT-Ultra® process. The multi-layered shell combines fiberglass, aramid, and poly-resin fibers which minimize weight while maximizing strength and impact dispersal. Lining this shell is an expanded polystyrene foam core with well-designed channels for smooth airflow. To give comfort and softness the final layer is Scorpion's newest washable KwikWick® III interior. Finally, there is a drop-down sun visor, and provisions for easily adding a communication system.
LS2 Arrow EVO
 
According to LS2, The Arrow Evo was developed with design input from all levels of their racing teams, looks to me like they created a winner. 
The fiberglass shell is made in 3 sizes to cover heads from S-2XL and has a well channeled multi-density EPS liner that in conjunction with the adjustable, ventilation will keep you cool while you are tearing up the road.
The moisture-wicking liner and "A-class" optics round out a badass matte helmet, that won't let you down.
Shark EVO GT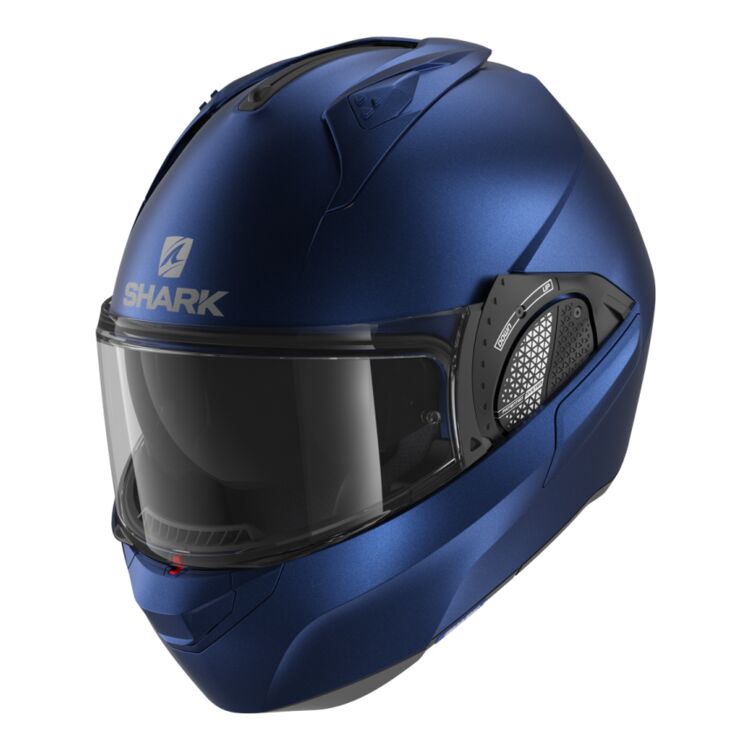 Type:

Modular

Warranty:

2 years legal warranty + 3 years free extension

Head Shape:

Intermediate Oval

Weight:

3.7 lbs

Review:

Shark EVO One-2
The Shark EVO GT is a premium-level touring helmet with a unique modular system. This new helmet looks to fix many of the small issues that riders found with the EVO One-2.
I will highlight the basics straight off, the moisture-wicking liner is fantastic and feels luxurious. Huge improvements have been made to the ventilation, and now this lid will actually keep your head comfortable. The optics are top notch and of course, there is a drop-down sun visor. I love ratcheting chin straps and Shark uses a micrometric buckle system, if you are a Double D ring person… sorry.
The key feature of this helmet is the full retractable chin bar. To open the chin bar, press the central button on the chin vent. The visor will automatically lift up to allow the chin bar to go on the rear of the helmet. When fully open in the "jet" position the weight of the helmet stays low and the chin bar is out of wind gusts.
A couple of final important notes. This is a quiet helmet, with noise levels down at 101db, right in line with the best of the best. The EVO GT also meets some very good safety ratings, scoring a 4 out of 5 on the tough SHARP test, and it comes with the ECE 22.05 safety certification.
All that's left now is to choose one of the 3 available matte colors.
Shoei RF-1400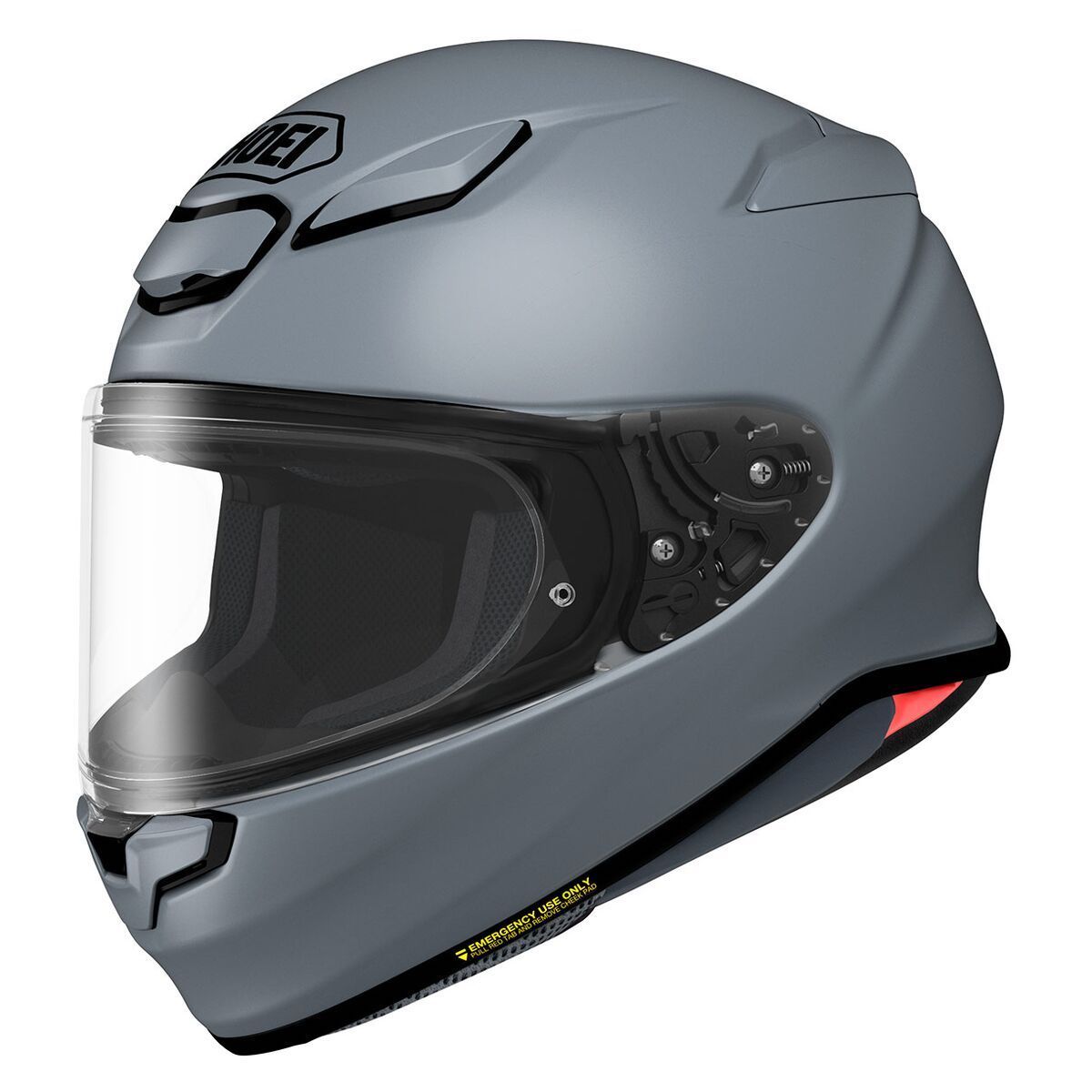 Type:

Full Face

Warranty:

5 years

Head Shape:

Intermediate Oval

Weight:

3.62 lbs

Review:

Shoei RF-1400 review
The Flagship model from a Flagship brand, the Shoei RF-1400 is a no-brainer if you want what is among the best of the best in full-face helmets. It also ranks right up there as one of the lightest non-carbon helmets available.
Fiberglass interwoven with organic fibers make up the strong outer shell, with dual-layer, multi-density EPS foam underneath. An all-new visor lock-and-release system allows for changes in seconds instead of minutes. The RF1400 also adds a third vent on the crown of the helmet, which helps with routing cooling air down 6 distinct channels. Four venturi exhausts replace the two that were on the back of the RF1200.
The visor is designed to give an accurate real view in the center, and the sides have been slightly widened to give better peripheral vision. The visor is 100% pinlock compatible, as well as Pinlock EVO compatible. The RF1400 is one of the few helmets to so far pass the SNELL M2020 standard, and is also fully DOT certified.
Sedici Sistema II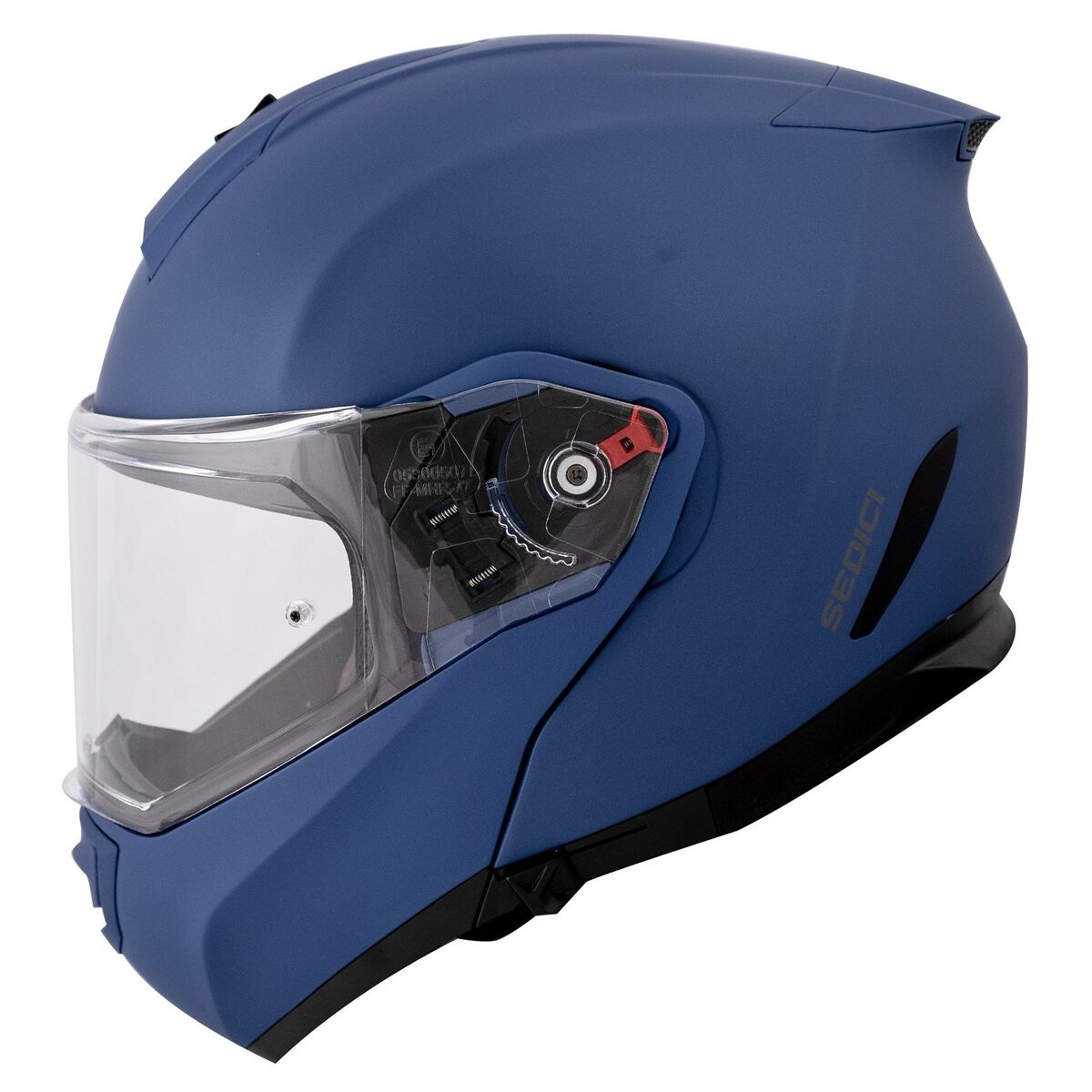 Price:

RevZilla:

$229.99

Type:

Modular 

Warranty:

5 Years

Head Shape:

Intermediate Oval

Weight:

3.7
This modular helmet has much more going on than just a great price and a great paint job, which is why the completely revamped Sistema is a Revzilla Staff top-pick.
The overall shape has been aero tuned for improved stability at speed, and improved ventilation flow through the EPS liner. The fiberglass and aramid fiber shell is produced in 2 sizes, and Sedici has 4 EPS liner sizes creating fitment options for heads XS thru 3XL.
Amazingly that at just $229.00 this helmet has a modular chin bar system that meets or exceeds DOT and ECE-22.05 standards, includes a drop-down sun visor, and 2 different matte color options. This is a great choice for Sport, Touring, or Commuting riders.
Icon Airflite Rubatone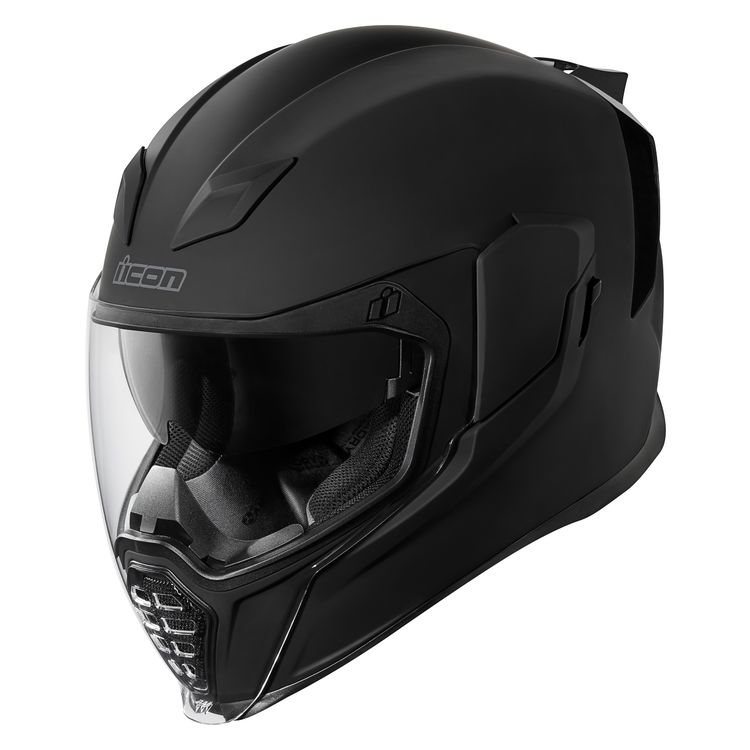 Because black goes with everything, and matte black is badass! Although I must admit, I think Icon's Airflight series just looks unreal period. 
This helmet is a long oval fit, with an overall design that is stable and provides decent airflow through the 4 intake vents and 2 exhaust ports. The removable sweat-wicking Hydradry™ liner in conjunction with the decent airflow does a good job keeping your melon chilled. 
Icon is one of the few manufacturers that meet safety standards worldwide, not just the USA and Europe, they take it further for their customers.
There is no shortage of optional colors for the external and internal drop-down visors, allowing plenty of ways to still add flair to the sweet matte black lid.
HJC IS-Cruiser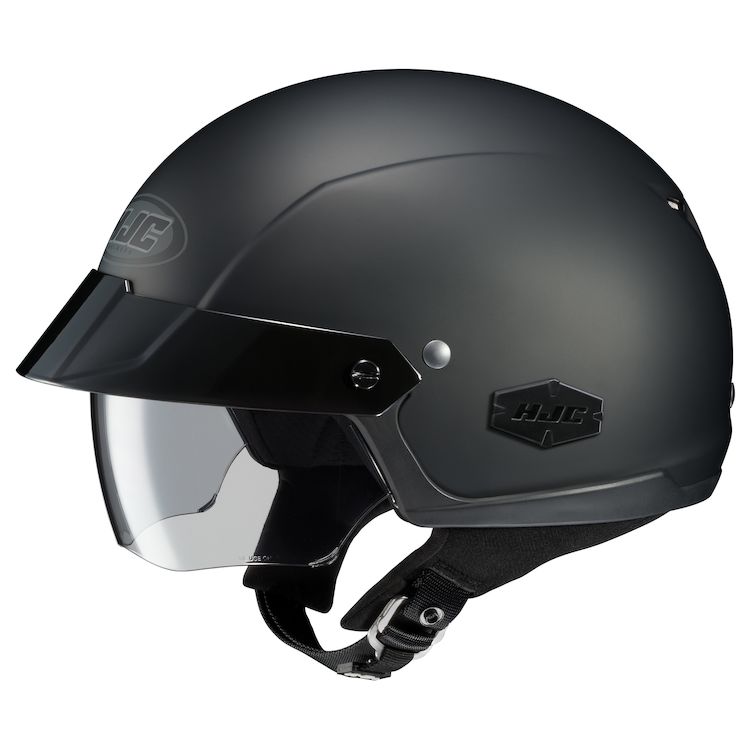 Price:

RevZilla:

$99.00-$109.00

Amazon:

$109.00

Type:

Half Helmet

Warranty:

3 years from the date of purchase or 5 years from the date of manufacture

Head Shape:

Intermediate Oval

Weight:

2.64 lbs

Review:

HJC IS-Cruiser
HJC is a trusted brand known for quality and value. The IS-Cruiser is their most complete half helmet, perfect for touring and cruiser riders.
The lightweight Polycarbonate Composite Shell provides better coverage than most half helmets around the back of the riders head and over the ears. The overall look is rugged and clean.
It is hard to add a long list of features to this type of helmet but HJC includes an easy to deploy internal sun visor and a soft moisture-wicking liner. Sizing range is from XS thru 2XL and this lid meets or exceeds DOT FMVSS 218 requirements.
Shoei GT-Air II Emblem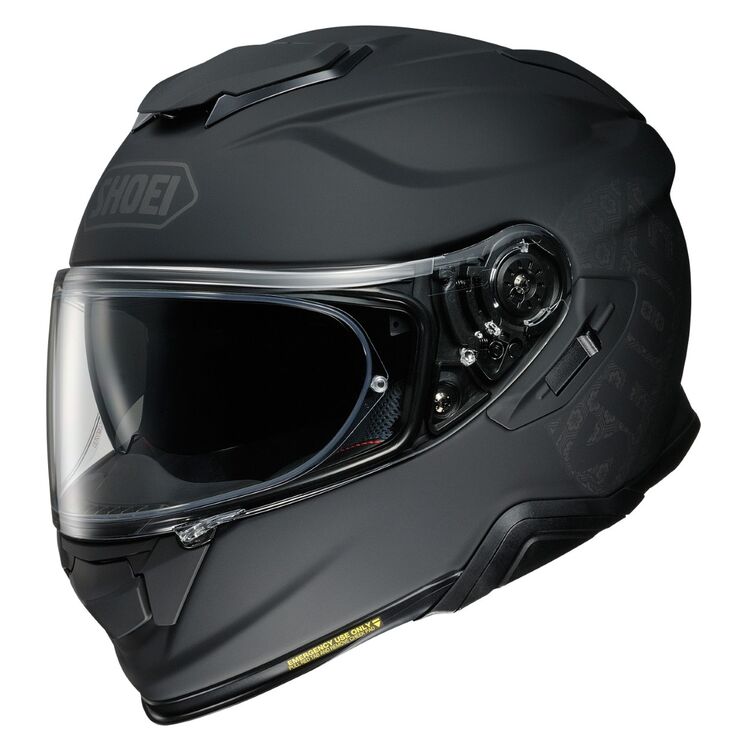 Price:

RevZilla:

$699.00

Type:

Full Face Motorsports-Homologation Helmet

Warranty:

5 years from date of purchase or 7 years from date of manufacture, whichever comes first

Head Shape:

Intermediate Oval

Weight:

3.79 lbs

Review:

Shoei GT-Air II review
The Shoei GT-Air II Emblem is a new helmet for 2021 that came about because of its little brother, the Neotec II modular, as well as the original GT-Air needing an update. While the original GT-Air was a revolutionary helmet, the GT-Air II continues the legacy of being one of the best "all-rounder" helmets.
The GT-Air II features a more aerodynamic shape than its predecessor, and as a result, is much quieter at speed. The shell is made of fiberglass mixed in with some elastic fibers and kevlar, making it lightweight but extremely resilient. Multi-density multi-layer EPS foam forms the crush structure, and is shaped to allow the best fit for almost any rider.
The most important new things with the GT-Air II, however, are the fact that the visor has received ANSI Z80.3-2010 certification. What this means is that the visor has passed stringent anti-penetration and visibility tests, which is a guarantee that it provides the best view possible while also protecting your eyes from debris without shattering. As well, the interior flip-down visor has been upgraded and now provides 99% UV protection when used with the visor down.
Scorpion EXO-R1 Air Carbon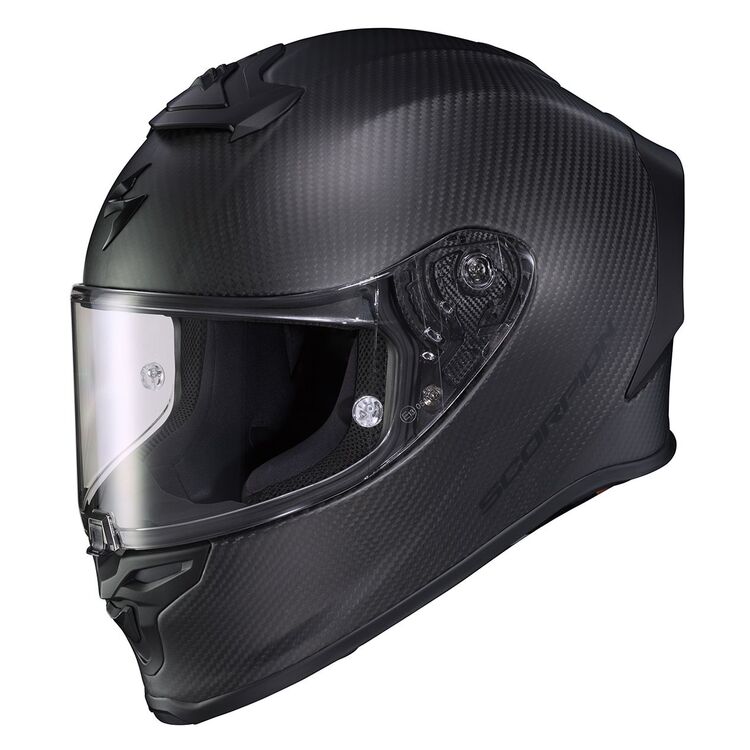 Price:

RevZilla:

$549.95

Type:

Full Face Motorsports-Homologation Helmet

Warranty:

5 Years

Head Shape:

Intermediate Oval

Weight:

2.64 lbs

Review:

Scorpion EXO R1 review
We'll say right off the bat that this helmet at $550 is an absolute monster of a deal. This helmet carries the highest form of certification that can be found, the Fédération Internationale de Motocyclisme homologation approval. It is certified under FRHPhe-01 2018 standards, which are the current standards for any helmet to be used in MotoGP or World SBK.
The feature list for this helmet is nothing short of incredible. The shell is composed of woven carbon fiber with resin-infused TCT-U, which brings the helmet into impact ratings that are often used in relation to large passenger aircraft. The shell has been CAD designed to be as aerodynamic as possible, and the vision port as wide and tall as possible under FIM homologation rules. The large single vent intake is designed to act as a ram-air system, forcing cooling air around the head to be evacuated via four venturi exhausts on the top rear and back of the helmet.
Being race-certified means that the liner is also fully customizable for fit and comfort, and there are EMT emergency releases on the cheek pads for safe medical removal. The double-D chin strap closure is made of titanium for lightness and durability. The EXO-R1 Air Carbon carries DOT, ECE, and FIM FRHPhe-01 2018 certifications.
Bell Race Star Flex DLX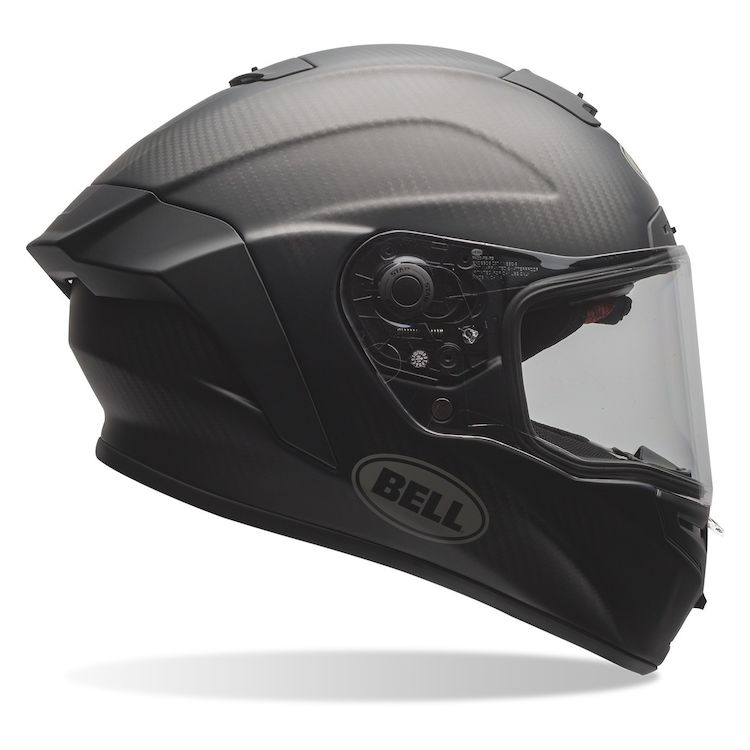 Price:

RevZilla:

$769.95

Type:

Full Face

Warranty:

5 Years

Head Shape:

Intermediate Oval with narrow neck

Weight:

3.57 lbs
Bell is a name that has been around motorcycle helmets since the first moments that motorcycle riders needed helmets by law. With that much history behind them, it should be no surprise that they make a superb helmet.
The Race Star Flex DLX builds upon its predecessor, the Race Star DLX, and improves on it in many ways. The shell is now made of 3K carbon weave, with 3000 individual strands of carbon fiber resin treated at high pressure and heat. This makes it 10% lighter than the previous Race Star. There is also a new liner material known as Flex Liner, a 3-layer impact liner designed to dissipate kinetic energy in different directions based on how the impact occurs, and prevents that kinetic energy from reaching the all important skull of the rider.
The liner is made up of hypoallergenic VIRUS fabric, which is combined with what Bell is calling "Cool Jade Mesh" to suck sweat and heat away from the skin, and use the ventilation through the air intakes and exhaust to wick away that heat and expel it. The Bell Race Star Flex DLX is SNELL M2015 and DOT certifed.