When You're Riding Vintage, Look the Part!

As far as vintage collectibles go, vintage helmets seem to be the favorites, and why not. These old gems look incredibly cool and can sometimes be worth a lot of money. Due to the recent rage of collecting vintage helmets, it is becoming increasingly harder to find a vintage motorcycle helmet that complements a classic motorcycle like the Triumph Bonneville.
If you want to go old school, there are a number of companies out there that make new helmets that look like they came right out of the fifties or sixties, but have modern features that can save you some brain damage. But for many people, that doesn't quite cut it. Many people look for the real thing when getting classic motorcycle helmets, which brings one question to mind: what makes a vintage motorcycle helmet 'vintage,' is it age or style?
Classic Motorcycle Helmets:  Style vs. Age
Vintage motorcycle helmets are well-known and are those that were manufactured during the World War II era. They are also in great demand by motorcycle helmet collectors with many of them vying to win one of these classic helmets.
For those who don't put emphasis on the popularity of the helmets themselves and treat it as a hobby, a classic motorcycle helmet transcends far above the style and age debate. The fact is that the helmets were made in different eras and this makes every vintage helmet unique in its own right.
Getting a Classic/Vintage Motorcycle Helmet:
There are many ways motorcycle enthusiasts and collectors can get their hands on a vintage motorcycle helmet. The following are some of the places where you can get a vintage motorcycle helmet.
Make a Decision: Which Helmet Do You Like?
First of all, you are going to have to decide what type of vintage helmet interests you. Make a search for a classic motorcycle helmet you want to buy. Write down your options and how much you are willing to pay for the vintage motorcycle helmet.
When making a list of the vintage motorcycle helmets you are interested in, make sure not to be too specific of the different styles. Remember, a vintage motorcycle helmet is a 'vintage' no matter what style it's made in. It would also be a good idea to write down the names of two or more vintage helmets, in case you don't find the one you are looking for.
Going online can open a world of classic motorcycle helmets and other motorcycle accessories you never knew existed. By searching on popular online shops, you can purchase a vintage motorcycle helmet at an affordable price, or can write the information down for future reference, I would start with a reputable brand, like RockHard American Classic Motorcycle Helmets.
Top Vintage Motorcycle Helmets
Taking your search for vintage motorcycle helmets online will also broaden your search to several online stores which deal specifically in them. This will allow you to read their reviews so you don't have any second thoughts on the type of classic motorcycle helmet you are buying. Online searches will also give you a chance to compare the prices on different websites, to make sure you get the best deal possible. There are many stores that offer free shipping deals for their merchandise, and reading those reviews will give you a great idea of what is good and what is not-so-good.
Making a trip to the local flea market is also a good idea when looking for something vintage like a motorcycle helmet. At the market, you can find certain stores that deal only in helmets and apparel, and this will allow you to check on the prices. When buying anything, there is nothing like trying it on and feeling the product to see if it's genuine or a reproduction. Making an effort and going to the store will allow you to make a more informed decision. The best part of going to the flea market is you will be able to try it on to see if you really like it -or just choose another one.
Combing through the yellow pages, whether on copy or online, will provide you with information on someone who deals in vintage motorcycle helmets in your neighborhood. If you do find someone, you can pay them a visit and check out their collection of vintage motorcycle helmets. Meeting somebody who is a collector themselves can provide you with useful pointers about what to check and where you can get good deals when buying a classic motorcycle helmet.
Leather Motorcycle Helmets also provide a little more protection than not wearing one at all – and have a vintage vibe to them. And German Motorcycle Helmets are a close cousin to the style and era of the vintage.
And my personal favorite; the Nexx X60 Vintage Open Face Motorcycle Helmet

Conclusion: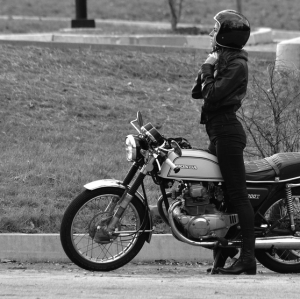 Although, the increased demand for 3D computer designed helmets means they are gaining in popularity, that has not eliminated the market for the classic motorcycle helmet. The truth is, a classic/vintage motorcycle helmet harkens back to the days when there were real racers burning rubber on the cold tar.
And when it comes down to the real motorcycle aficionados, actual vintage helmets provide more than just an all important style statement or adequate protection for your brainpan. It fulfills their craving that lets the whole world know that they are the real old-school traditionalists when it comes to the thing they love most (their motorcycles).
Choose wise, ride safe, and may your next ride be Badass!