You might have noticed that motorcycle helmet technology has moved very rapidly (which is the pace of most technology) and that today's bike-to-bike communication systems are affordable and work very well. There are also a variety of helmet accessories like helmet headphones and earbuds that use Bluetooth technology.
Although the range and specific details of helmet accessories vary between the units, these kits are universal and can work on most full face, open face, and even half helmets through either clamp-on systems or adhesives. But that is if you have a helmet that you just want to add some communication to. These are ready to go:
Top 5 BT (Bluetooth) Motorcycle Helmets of 2017:
Torc T14B Bluetooth Full Face Helmet with Flag Graphic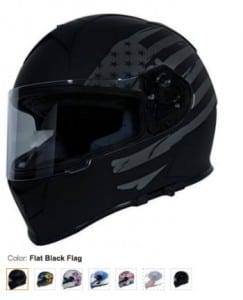 The DOT Torc T14B (B stands for Bluetooth) Helmet has a fully removable and machine washable inner liner.
The smooth drop down sun visor can protect your eyes from the glare of the open road while you are jamming away to the music or talking with your friends on the phone. (Not at super high speeds – of course)
The dual density EPS shell has and oval profile and is best suited for slightly oval shaped heads. 
O'Neal Commander Bluetooth Helmet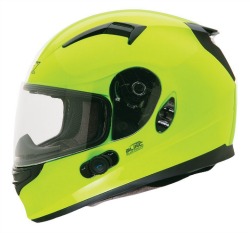 According to helmet reviews, die-hard motorbike riders who want a stylish, affordable helmet with a built-in Bluetooth device and good airflow love this O'Neal Commander Bluetooth motorcycle helmet.
The Commander is the second iteration of the popular O'Neal Bluetooth racing helmets that allows a Bluetooth compatible GPS, cellular phones and other media devices to easily sync with the system so you can listen to turn-by-turn directions while you stream to the built-in stereo speakers, with no wire hanging out against your mouth.
Hawk H-66 Flat Black Dual-Visor Modular Motorcycle Helmet with Blinc Bluetooth
The  Hawk H-66 Bluetooth Motorcycle Helmet has a Blinc Bluetooth system to offer MP3 music playback and rider-to-rider communication.
The drop down shield on the inside makes it easy to take off in the morning or afternoon and ride into the night. Just tuck it away when you don't need it down.
Alongside it's sleek style and stylish design, there are other stock colors to choose from when looking at this easy to setup helmet.
TORC T27 Full Face Modular Helmet with Integrated Blinc Bluetooth
This ready-to-go bluetooth helmet from Torc has a helmet shell that is 20% smaller than your typical size helmet, and offers equal rider protection.
Offer in 5 different colors, there is definitely one available that will suit your needs.
Go ahead and play music, talk on the phone and listen to turn by turn navigation right inside your helmet with this modular helmet from Torc.
TORC T10B Prodigy Full Faced Helmet with Blinc 2.0 Stereo Bluetooth Technology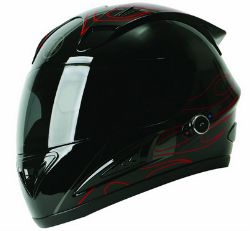 With 2 speakers included, a noise cancelling mic, full duplex communications with DSP filter, self-adjusting volume, glove friendly and waterproof controls – this helmet is packed with audio goodness.
You can also combine 2 or more blinc enabled helmets fro rider to rider communication (passenger or other bikers) up to about 100 feet away!
Now when you loose your buddy at the stop light that he was afraid to go through and you ran, you can meet back up easily just be telling each other the next turn, or where to stop.
HJC CL-MAX BT II Bluetooth Modular Motorcycle Helmet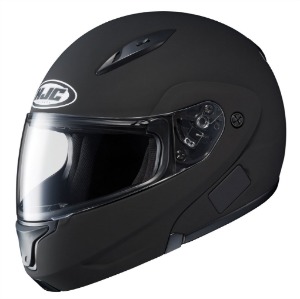 Intelligently designed and built for the savvy, do-it-all street motorcyclist, the HJC Bluetooth Modular Motorcycle Helmet is a great example of a first class display of comfort and convenience while on the open road.
Filled with great features, like the no tools required shield replacement feature, and Bluetooth capability built right in, HJC offers a touring helmet that is just as capable as the rider.
But you are going to have to install the bluetooth helmet comm of your choice, as this is "bluetooth-ready."
Sena Bluetooth Stereo Headset
Sena has got the Half-shell motorcycle helmets covered with the Sena Bluetooth Stereo Headset and Intercom with Built-in FM Tuner.
A simple ear pad attachment is designed for easy installation in your favorite helmet. The Bluetooth 3.0 ranges up to 760 yards and boasts a 4-way intercom for hooking up and chatting with the entire gang. Adding this as a stand alone motorcycle helmet music system without the mic is a great option for most bikers that prefer the half helmet style.
Hookup to your phone and listen to GPS navigation instructions, your own music, or tune in to the built in FM stereo and enjoy all that today's modern bluetooth technology has to offer.
Just make sure not to ride on my right side as my 3″ straight pipes will be all that you can hear 🙂
When You Are Truly Passionate About Riding Your Motorcycle… It Shows!Bluetooth motorcycle helmet kits
When You Are Truly Passionate About Riding Your Motorcycle… It Shows!
Picture this: first, the sun comes up, then it starts to rain and then gets cold and may even start snowing. Seriously, this worse case scenario can and most often than not, does happen to cross-country motorcycle riders. And guess who gets to bear the brunt? Not the guy in four wheels, but the hogs on two.
In these situations, one can only wish they had a full-face helmet, or any helmet for that matter. In this article, we are going to be talking about only the best of the bluetooth motorcycle helmets and their accessories, for jamming through those rain storms and on to more sunny roads.
If you are on the hunt for a next generation bluetooth helmet, you should give the following a look, which are only the best when it comes to fashion and more importantly – function.
What other helmet communication options are there?
Conclusion: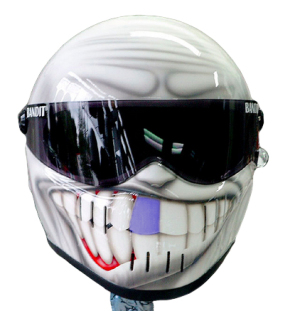 Someone once said that there are two kinds of motorcycle riders: those who have crashed and those who are going to crash. Like many, I too, suffered with the helmet 'to-wear-or-not-to-wear' dilemma and I have had my share of twilight rides. And where things didn't really go according to plan, I wound up sliding across the gravel with nothing on but sneakers & shorts and a "you can't fix stupid" tee-shirt (no pun intended).
Although I was doing the thinking with the wrong head, I was fortunate that I didn't break any joints or my head … and if my crotch didn't dive into the tank, busting my pelvis with it -I'd still be burning those miles on my Yammy. But enough said! If you too belong to the club where things changed in seconds, even if you don't want to cover the whole spectrum, you might want to consider wearing any one of these Bluetooth motorcycle helmets that are examined with a fine toothed comb to make sure nothing's overlooked the next time you feel like piloting your motorcycle out for a ride.
Where to buy your next Blue-tooth Helmet at the best possible price?
Choose wise, ride safe, and may your next ride be Badass!
Bluetooth Motorcycle Helmet
By riding with a bluetooth motorcycle helmet, you are able to listen to your favorite music, hear turn by turn directions, and communicate with other passengers and fellow bikers.
Date Published: 09/08/2015