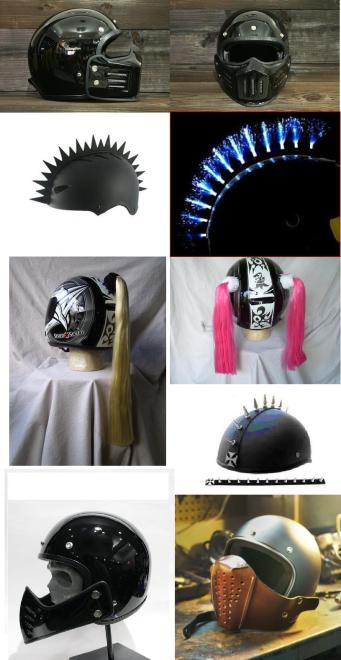 Top Motorcycle Helmet Accessories
Motorcycle Helmet Face Shields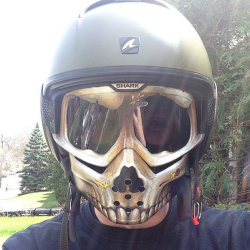 This is a not new concept to motorcycle safety. The face shields for motorcycle helmets which are UV protected and usually anti-scratch saves a person from being potentially blinded by the sun, which could be a dangerous situation if you happen to be cruising at seventy mph down the road.
Wind burn and sunburn are not the only protection here though. A sturdy leather or metal face mask can keep your face from skidding down the pavement at 70mph.
And let's not forget about the June bugs. 
The Shark Raw Motorcycle helmet is designed with a removable face shield similar to a modular helmet.
The benefits that these face shield visors provide are.
Allows you to ride safely into the sun
Stylish, aerodynamic, and vented
Fits all full face and open face helmets with a face shield.
Latest design upgrades introduced
Has an adjustable mounting height
Removable from the face shield
These motorcycle helmet face shield decals are extremely easy to install on your helmet's shield and protects you from the stray ultra violet rays of the sun.
Custom Face Masks:

An alternative to a full face shield is a motorcycle helmet face mask. These are a few custom ones, and they range in creativity from a flat piece of plastic, to steam-punk and more. Some paintball face masks make for awesome motorcycle masks to pound back the rain too. These are my 11 favorite leather masks from independent retailers on Etsy.
Motorcycle Helmet Lights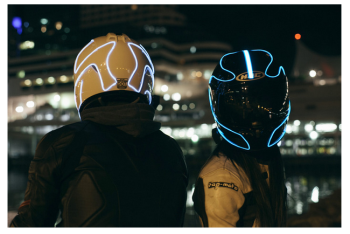 Helmet lights for the motorcycle night cruise are not a bad idea either. Increasing your footprint on the road, especially at night is easy by adding a few more lights.  How to Light up your helmet like Tron here.
You could put flashing LED's on your motorcycle with a kit, or neon rings around the inside of your wheels pretty easily. Some are even remote controlled! And lets be honest, who doesn't love neon lights? So, when lighting up your helmet – the highest part of your entire setup's footprint-  do you use EL wire or LED's? .
Here is a good primer on the differences and how to do it.        
Here's how to install a Lightmode Kit on your Helmet.
Motorcycle Helmet Pigtails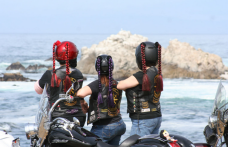 #36 on the 50 Coolest Motorcycle Helmets of 2014 – the Pigtail Accessory brings out that hair swinging, head banging biker bitch in the best of us. They vary in color, lengths, braids, and how they attach to you helmet. Some will stick on (and may fall off) and some bolt right on through for a more permanent fixture.
Some are also singles, while other are double pigtails. Browse more helmet pigtails here.    
Helmet Bows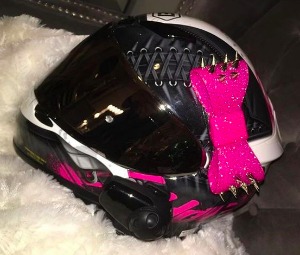 Bows are a fancy way to jazz up your favorite helmet too.
There are aa multitude of colors and patterns to choose from that will match up with your helmet. Pink, black, green, glitter, the choices are only limited by what you are able to dream up.
Check out all these by Lucky Yogi on Etsy and you will defiantly find one that you are just going to love!
Motorcycle Helmet Cameras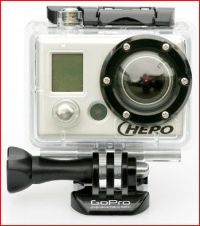 One of the best accessories that you can invest in is a helmet cam for riding your motorcycle. Recording your rides (all of them, of just the scenic parts) is a fun way to make even more memories. Hooking one up is not as hard as you may think.
And it's not like you're going to take a video of yourself while attempting a gnarly trick, biff it and then share it with the world in HD. That's what you friends are for!
But just in case you do, there are numerous wireless cameras available that enable you to record exciting videos while you are on the road in high definition.
Here are reviews of the top 5 Motorcycle Helmet cameras – including  the GoPro and Drift Helmet Cam.
Helmet Stickers and Decals
Motorcycle helmet stickers and decals are another easy way to customize your favorite helmet. And some of them get pretty raunchy!
Check out these offensive stickers if you are not easily offended.
Visor Decals are a great way to dress up your full face helmet on the cheap, if you don't want to foot the bill for a full custom airbrush paint job.
Helmet Ear Plugs, Ear Buds and Earphones:
Music Accessories and bluetooth helmet kits.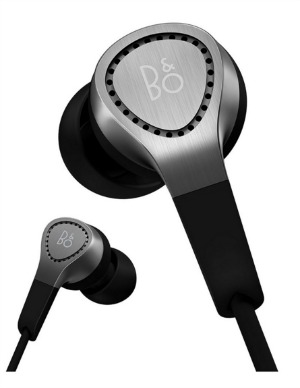 The importance of wearing ear plugs while riding a motorcycle has been discussed in countless blogs and articles. So I'm not going to get into the details. What I'm going to say is, riding a motorcycle is a noisy sport, and if you think otherwise, try taking the hog out during rush hour.
Though riding without ear plugs won't damage your hearing beyond the state of tinnitus or damage it permanently, still, wearing them won't hurt either, especially if you want to block out the constant cacophony all around. Ear plugs come in different shapes and sizes for your hearing protection and the latest technology in noise canceling earbuds will add an extra layer of protection.
If you're the kind that likes to blast their ears off, there are music accessories that hookup audio to bluetooth speakers from various manufacturers that allows you to sway to your favorite tune while taking a spin on your motorcycle. There are also helmets with bluetooth options already installed.
Just remember don't sway too much!
Motorcycle Riding Goggles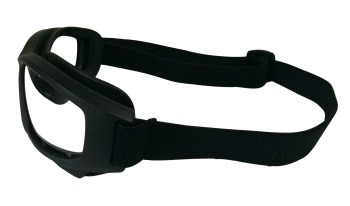 Let's not leave out the riding goggles in this awesome accessories article. There is really not any point to having music, lights, and spikes if you cannot see where you are going. During the day, I love wearing a great pair of photochromic goggles. They adjust to full sun, partial shade, or a full rain cloud black out.
But during those night rides I like to stay extra aware of my surroundings. There are deer, black holes, and drunk drivers to navigate. Because of this, I switch over to a pair of foamless clear riding goggles that keep all the wind out of my eyes so I can ride eyes wide open and keep watch of all these other hazards. These clear riding goggles have lasted through the toughest conditions that I put all my gear through.
Here is The Biker's Guide to Buying Motorcycle Glasses and Goggles.
Motorcycle Helmet quick release system
Not all helmets are easy to get on and easier to get off. For some reasons out of my own perceptions, helmet suppliers seem to think that a standard loop and hook strap is easy to work with a pair of thick gloves on. If you have ever thought "I wish it were easier to take this thing off," Then you need to get a motorcycle helmet quick release buckle.
Motorcycle CB Radios:
Even though, the CB radio comes in the domain of truckers, using CB radios in motorcycles make a great bike-to-bike communication alternative, especially when riding in pairs or in groups. It is also a must have for touring bikers. When scoping for a CB radio for your bike, make sure the one you choose supports other radio bands.
Blue-tooth Motorcycle Headsets:
So, you love technology? Who doesn't! The best thing about our time is you don't need wires to stay connected. Built in blue-tooth communication systems support HSP, HFP, A2DP, FM and AVRCP, you can also sync your phone to your blue-tooth motorcycle device.
The blue-tooth motorcycle headset ultimately eliminates the one major 'first world' drawback of hitting the road on your hog…communication. If you want to communicate with your fellow passenger, you definitely want to try out this cool accessory for the motorcycle helmet. If you don't want to, don't sweat it; you're probably married.
Custom Accessories:
Spikes and Crystals
Yeah, I love em too.
Spikes and Crystals can be used on a variety of biker related items like chaps, boots, helmets, and gloves. The potential for spikes to be added to just about anything with a little creativity.
And that is something that most all bikers have: a creative side.
Horns and Spikes
"If I have to explain, you probably wouldn't understand."
Motorcycle Glasses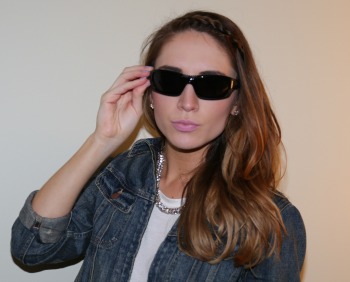 Having a great pair of riding glasses is an essential to an awesome motorcycle ride.
No one wants to wear eyewear that you cannot see through, fogs up, or lets in way too much wind.
Get yourself a pair of Motorcycle Glasses from Get Lost and get out there on the road.
Cold Weather Gear for the Face and Neck:
While motorcyclists enjoy the feel of the wind in their hair, that may not be the case, especially while traveling at high altitudes or during the colder months. Using neck and face warmers and wind protection are the key to staying warm and protecting yourself from frigid temperatures and frost bite in winter time.
My cheap-o biker buddies and I use old coat racks and gun racks to hang our helmets on. However, there are some sturdy metal hangers that are made specifically for hanging your motorcycle helmets on – which make for great Christmas gifts for the biker that has everything. And for the weekend warriors there are motorcycle helmet stands that will hold your helmet more than you wear it ( I kid, I kid.)
Motorcycle Helmet Locks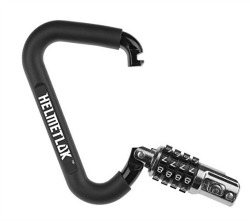 If you've ever wondered where your helmet goes whenever you return to your bike, this is going to be news for you. A helmet lock  protects your expensive helmet from thieves looking to make a quick buck off you.
Helmet loks are a carabiner style lock with a combination locking mechanism and rubberized coating on the loop. You can lock that precious helmet up to any part of your bike, or your bike and helmet to anything that you can park close enough to.
Helmet Hooks, and Hangers.
Do not put your expensive helmet on the edge your handlebars where passerbies and gawkers can knock it off for you. We all know that YOU would never drop it. But you would put it on you mirror so that it won't fall. Forget that too. How many times have you readjusted your mirror just from the weight of your helmet sitting on it? Yeah, me too. Here is a simple solution to that, The Helmet Hook. 
Got your helmet signed by the cast of Sons of Anarchy? Better keep it in a motorcycle helmet display case and stand around and drink beer and stair at it. (A girl can dream right?)
The How to Guide of Motorcycle Helmet Accessories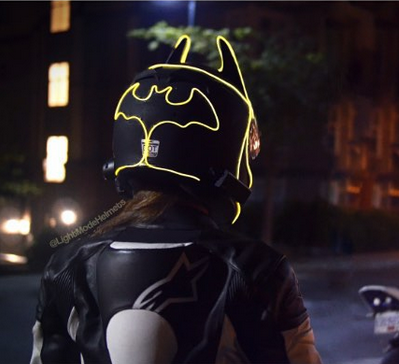 Prepare for the Crash, Dress for the Ride
If you don't have the stomach to face the car dealers just yet, getting a motorcycle will be the next best thing for you, I suppose. There's no denying that hitting the road on a motorcycle can be dangerous, which is why safety is one of the things that is always on the motorcyclist's mind. When hitting the open road on your motorcycle, the helmet, which is considered as its saddle, can make the long trip enjoyable or turn it into a nightmare.
So, if you're looking to have fun on your road trip, might as well find yourself a comfortable helmet along with the best accessories for your head that will make your long rides more enjoyable and comfortable.
Although, it is without a doubt that finding a motorcycle helmet can be a daunting task for some, finding the right accessories will be time consuming as well, but will pay off in the end. Over the weekend, I had the pleasure of taking a road trip that took me through Detroit, Toronto and Montreal (I know, Canada Ugh!!, Right!), what can I say, I needed the cheap meds (and maple syrup), but that's besides the point, while I was burning the miles, what got me thinking was how flippin hard it would be if I hadn't gotten these cool accessories for myself.
Bear in mind, that I didn't get all of the accessories mentioned in this article here, and linked to pages on them in more detail, and because I didn't need all of them for the trip.
Bottom Line = Your ride, your style.
So, there you have it! These are some of best motorcycle helmet accessories that will make you look pretty darn cool and should definitely be a part of your riding gear.
Motorcycle accessories are not only sleek and cool to look at, but can also be the difference between life and death if you happen to do some impromptu body surfing across the asphalt while riding down the interstate.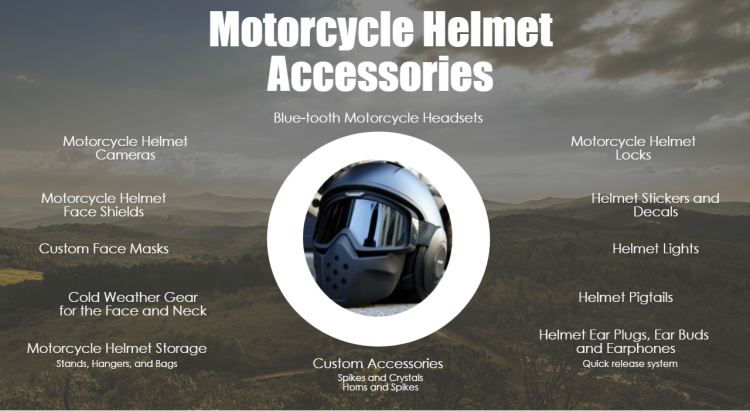 Motorcycle Helmet Accessories
Motorcycle helmet accessories aren't only sleek and cool, but can be the difference in life and death if you happen to go body surfing across the asphalt. Add bluetooth communications to your helmet, cameras, lights, and other awesome accessories.
Written by:
Karl Steinmeyer
In the end, I would just like to say, as a friend to all those riders out there, "Prepare for the crash, dress for the ride."  Wearing the proper riding gear does not have to mean suiting up in full body armor, but it does mean you should wear heavy clothes, like jeans and a jacket, and I would also recommend a good helmet and some of these accessories mentioned above, but then again, you already knew that.
Ride Safe, and may your next ride be Badass!